June 7th 2020.
As most of you know we are in lockdown back in Bristol, with Vega safely out of the water in a boatyard in Phuket, Thailand. Lots of time then to get up to date on my blog (only we just seem to be so busy although I'd be hard-pressed to tell you what with). I wrote a while ago about our last few weeks in Indonesia, so here's the follow-on from that:
Monday 28th October to Friday 1st November 2019
Rather than take Vega from Indonesia over to Singapore with the considerable expense and hassle of checking a boat in and out of another country, it was simpler to get the passenger ferry, which left from near to the marina, to stay for a couple of nights in a hotel there, no visa needed for U.K. citizens. We'd been having problems with the engine water pump on Vega and Hugh had managed to source one to be delivered to Raffles Marina in Singapore so, after three days of catching up on sleep, enjoying the pool and restaurant and getting on top of chores and laundry at Nongsa Point Marina, we caught the fast ferry  for the 30 minute trip across the Singapore Straits.
We were surprised by just how much we liked Singapore. Well planned as a garden city with wide open streets, a clean, spacious feel and an efficient public transport system. Despite our reservations about it being an authoritarian government which has a history of the suppression of free speech with mass detention of opposition voices in the 1960s, it is hard not to admire the results: good schools and healthcare, a corruption-free government, high home ownership, a prosperous, efficient and safe place. I recall visiting in 1981 when there was a ban on men with long hair entering the country, resulting in bands such as Led Zeppelin, the Bee Gees and Cliff Richard deciding not to play here. I had stayed then with a friend who was working in Singapore as an accountant and looking down from his apartment you could see where the narrow, crowded old streets were being flattened to make way for yet more modern high rise apartment buildings. It seemed sad to me at the time but that was the policy of Lee Kuan Yew, prime minister for 31 years from 1959, who was responsible for the large scale public housing programme then. Small pockets of these old neighbourhoods remain in the Chinatown, Little India and Arab Street areas, which are fun to wander around.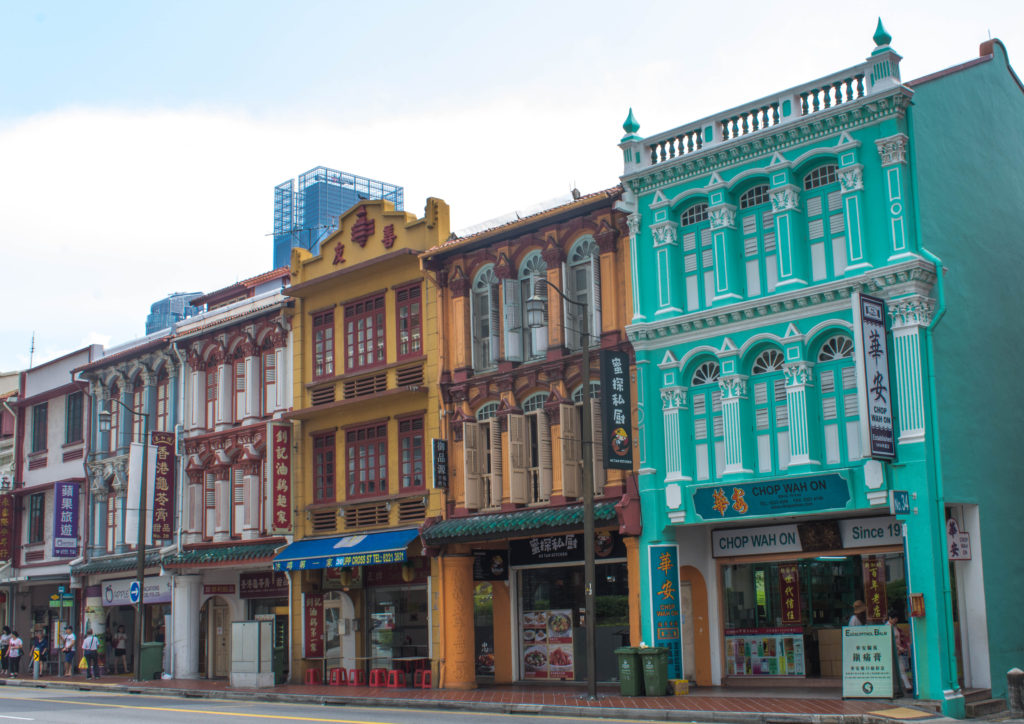 Although the ban on long hair was lifted in the 1990s, it is still illegal to bring chewing gum into the country and the rules on littering, smoking and eating in public are severe, with the death penalty for drug trafficking. The people hang their washing out of the window as they have always done but now from their apartments in high rise blocks. Male homosexual acts are illegal in Singapore and the gorgeous 'ladyboys', more beautiful and well groomed than most women, who I remember strutting around in extraordinarily high heels, have apparently gone underground but are still to be found in certain bars and through dating and escort agency sites.
We were good tourists and tried to fit in as much as we could in our short time there. Our first stop was the National Museum to brush up on the history of Singapore.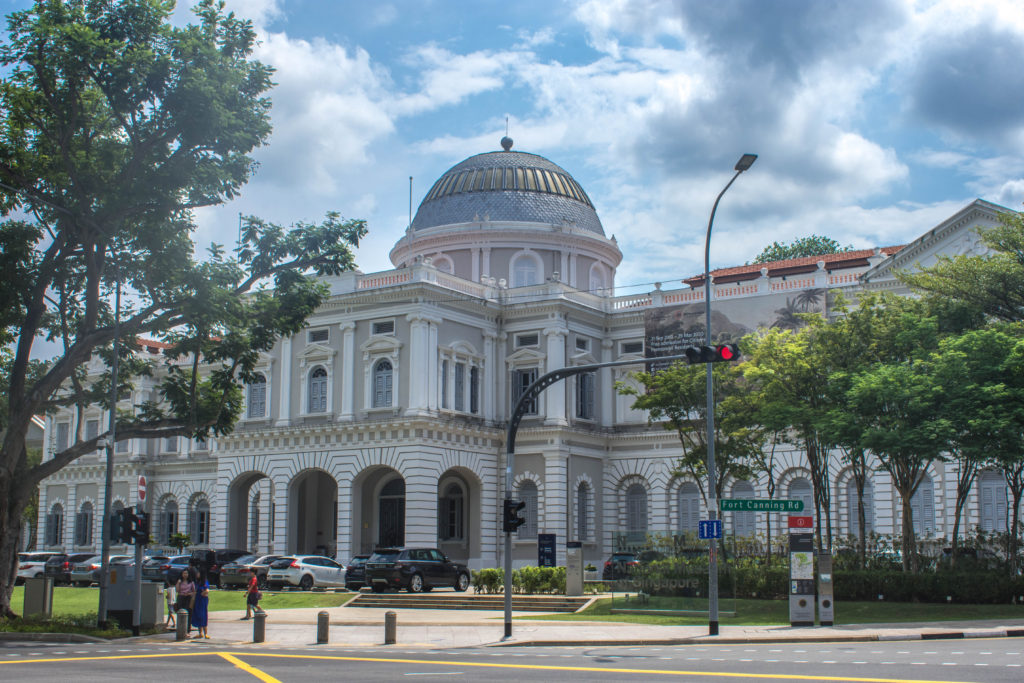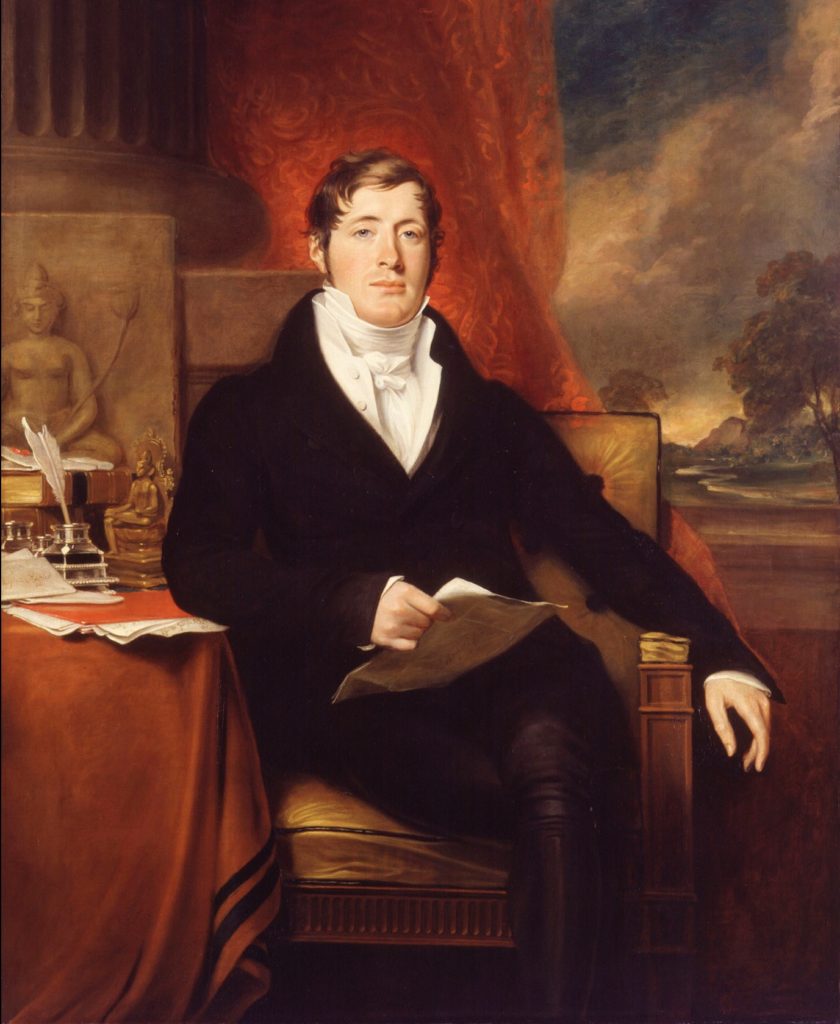 The swamp-covered island had been a strategically placed trading post for centuries when Sir Stamford Raffles arrived in 1818, negotiated a treaty with local traders and established a British Colony and trading station for the British East India Company here. The British surrendered to the Japanese during WWII and exhibits at the Museum recall a time of brutality, ethnic purging of young Chinese men and general hardship and starvation. Singapore achieved independence from the British in 1963 when it briefly merged with Malaya, before becoming a fully independent republic in 1965. Since then, under the 'soft' authoritarian leadership of Lee Kuan Yew and his successors, the city has moved on from its early problems of unemployment , poor housing and a low standard of living to thrive economically.
Singapore Slings at Raffles Hotel were obligatory so we dressed up smartly and joined the queue for a table in the Long Bar (the rest of the hotel is closed to non-residents, residents paying upwards of £1000 a night for a suite). The bar was authentic colonial style with overhead fans (mechanised now and no longer operated by coolies) and part of the fun was shelling peanuts and dropping the husks on the floor (the only place in Singapore where littering is encouraged). In 1915 the drinking of alcohol by the ladies was frowned upon and the pink Singapore Sling was created by a resourceful barman at the Raffles Hotel to look like fruit juice, although it contains copious amounts of alcohol, primarily gin but also four other liqueurs. They were absolutely delicious but at £22 each we passed on a second and headed off to Little India for supper.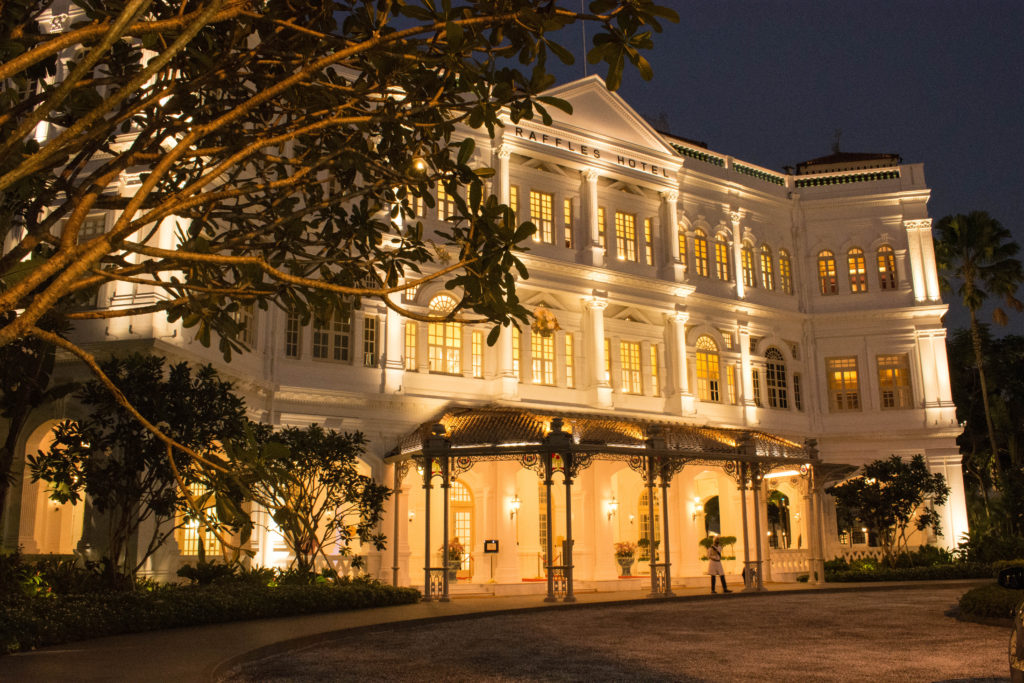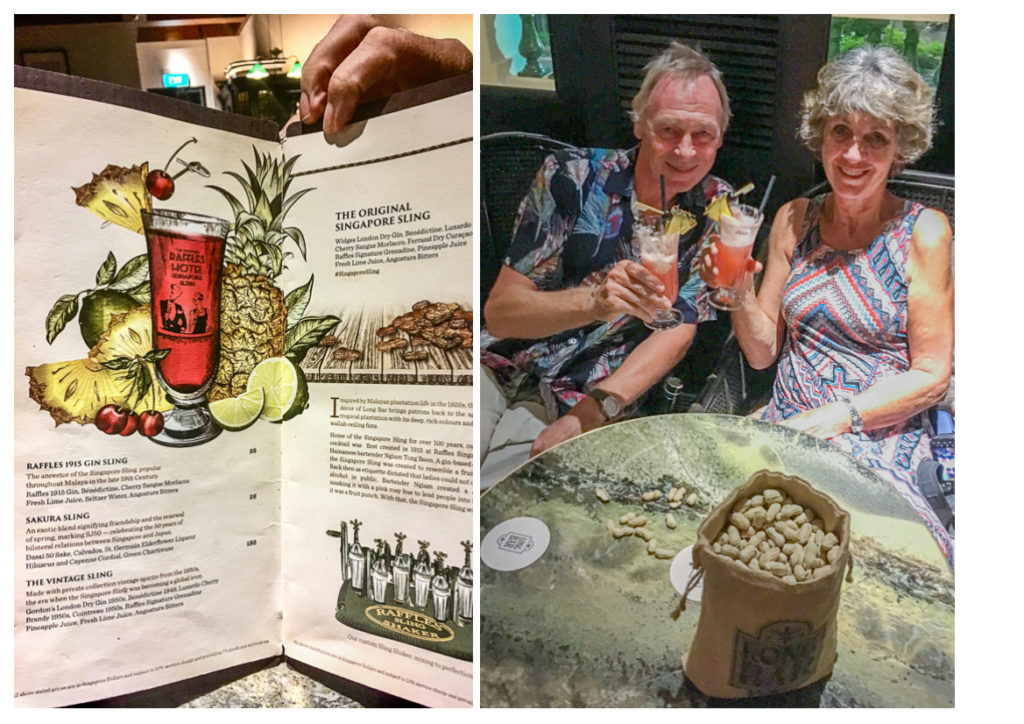 Little India is an area of pretty, colourful two-story houses. Hugh was keen for the authentic Indian dining experience so we waited for a spare table in a crowded, narrow restaurant which was packed with diners, all Tamils, eating chicken curry, rice and dahl from banana leaves using their right hands only (Hugh started using his left hand until corrected).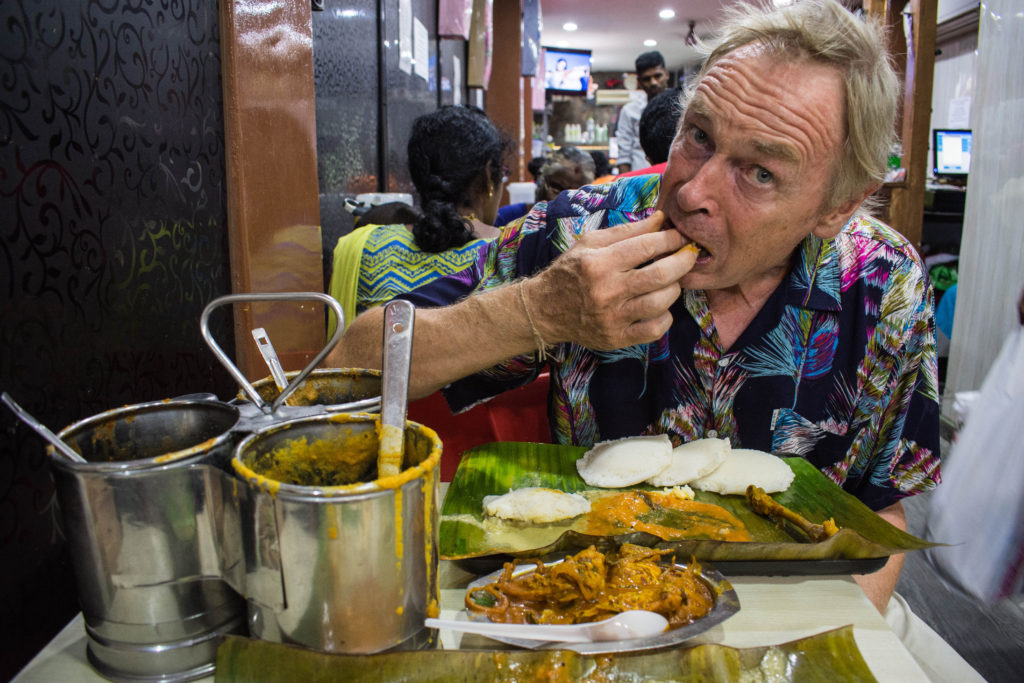 The next day we met up with our friend Priscilla from Hylite who is an enthusiastic cook and connoisseur of eastern and Chinese food (as well as Italian, Western and Mexican cuisines) plus an orchid lover, so she joined us for a visit to the Singapore Botanical Gardens and particularly the National Orchid Garden with its 1,200 species of orchid.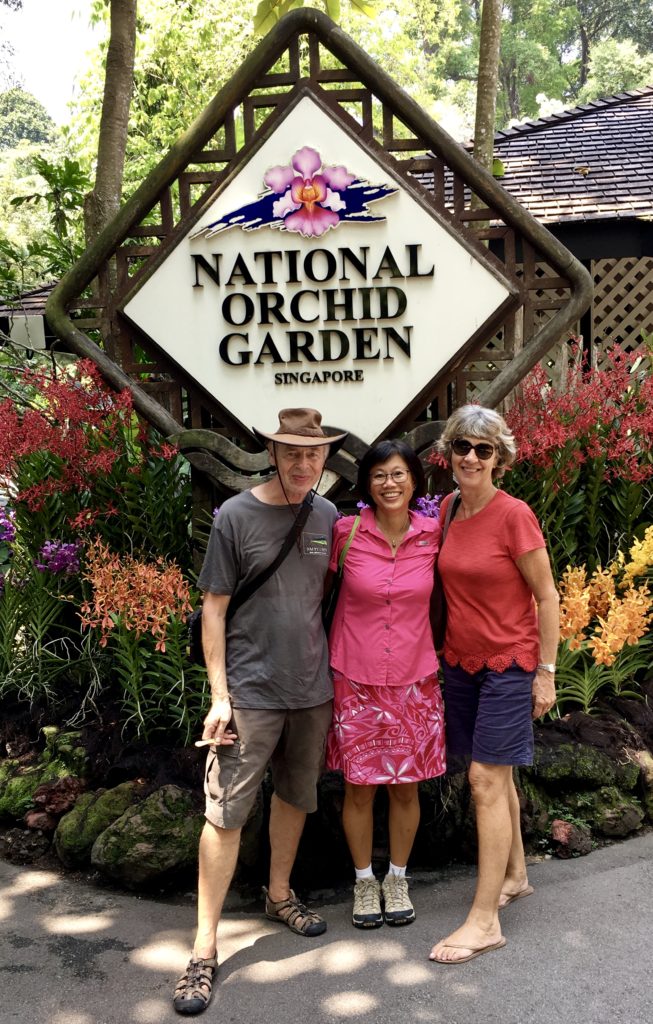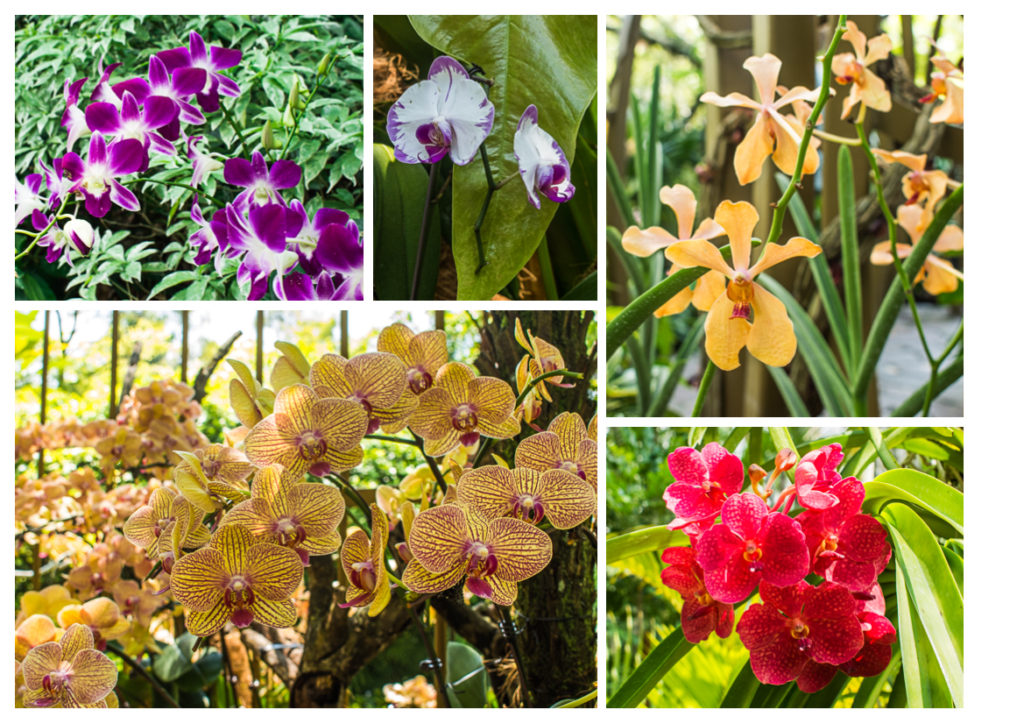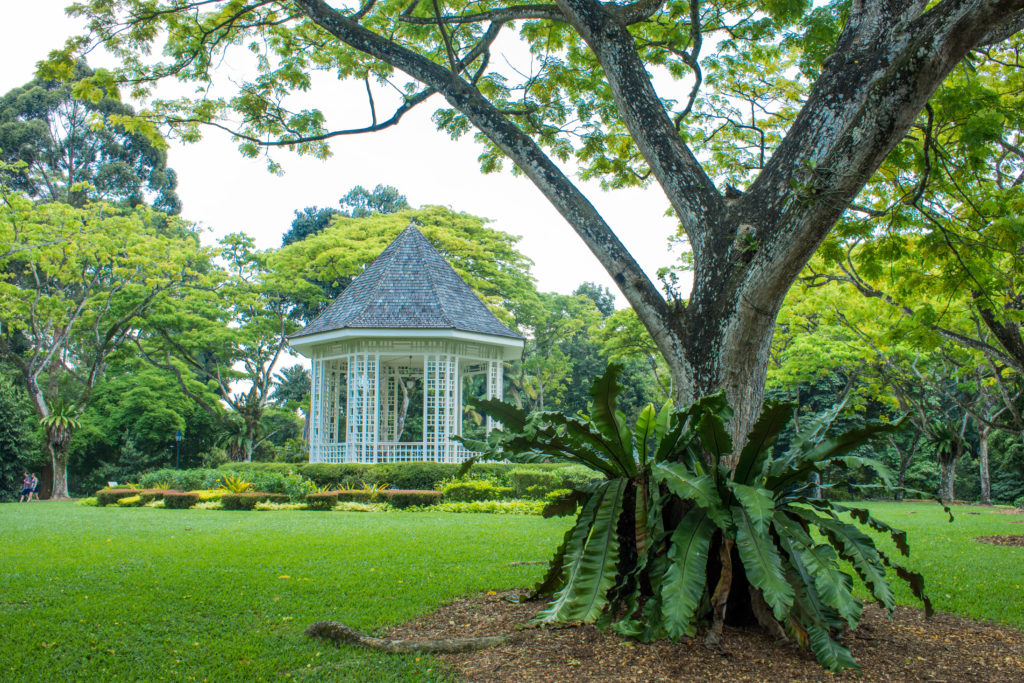 We then went on to the Chinese area, starting in a big shopping complex with a food market, for a lunch of prawns and noodles at one of the food stalls.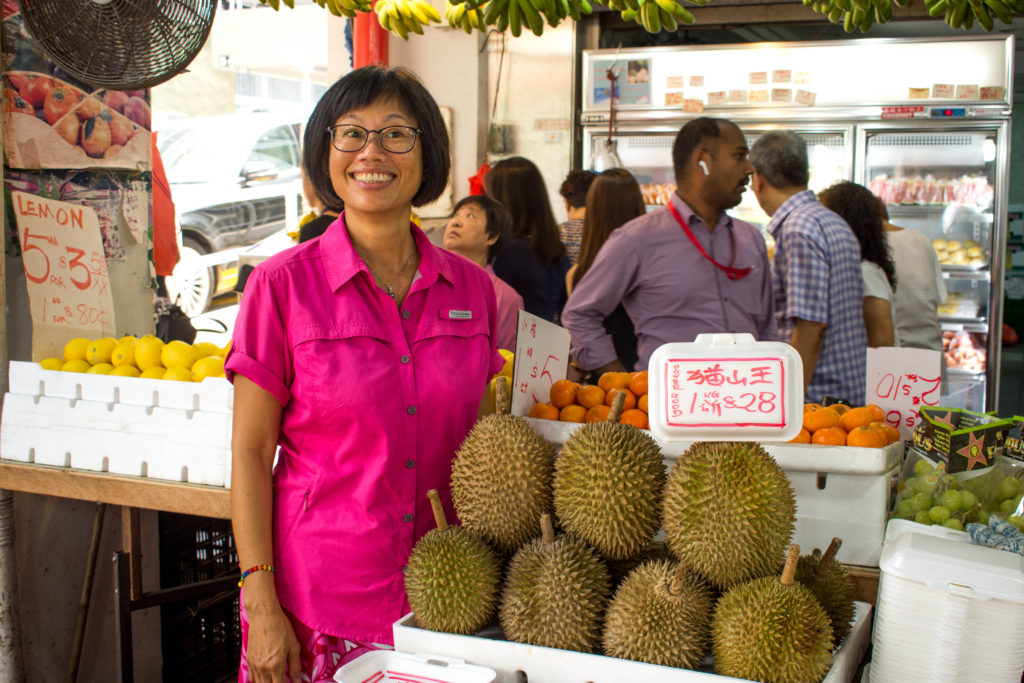 Nearby old China Town is a network of narrow streets with brightly painted houses and shops selling tourist tat, souvenirs and clothes as well as Chinese furniture and artifices.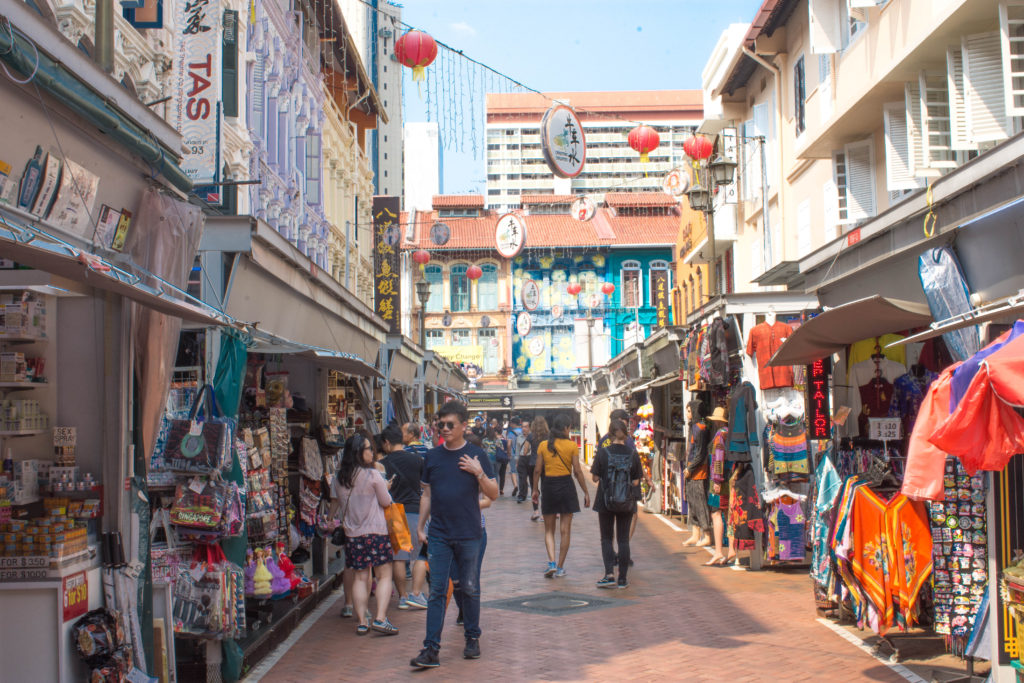 The population of Singapore is about 76% ethnic Chinese, 15% ethic Malay and with Indians making up most of the rest. After race riots in 1964 between Chinese and Malays the government has worked hard to promote Singapore nationalism in schools to try to eliminate racial tensions and has apparently been largely successful.
Back in 1967 the then prime minister Lee Kuan Yew introduced his vision for Singapore to become a Garden City which involved creating new parks and planting trees so that even the busiest of roads are wide and tree-lined.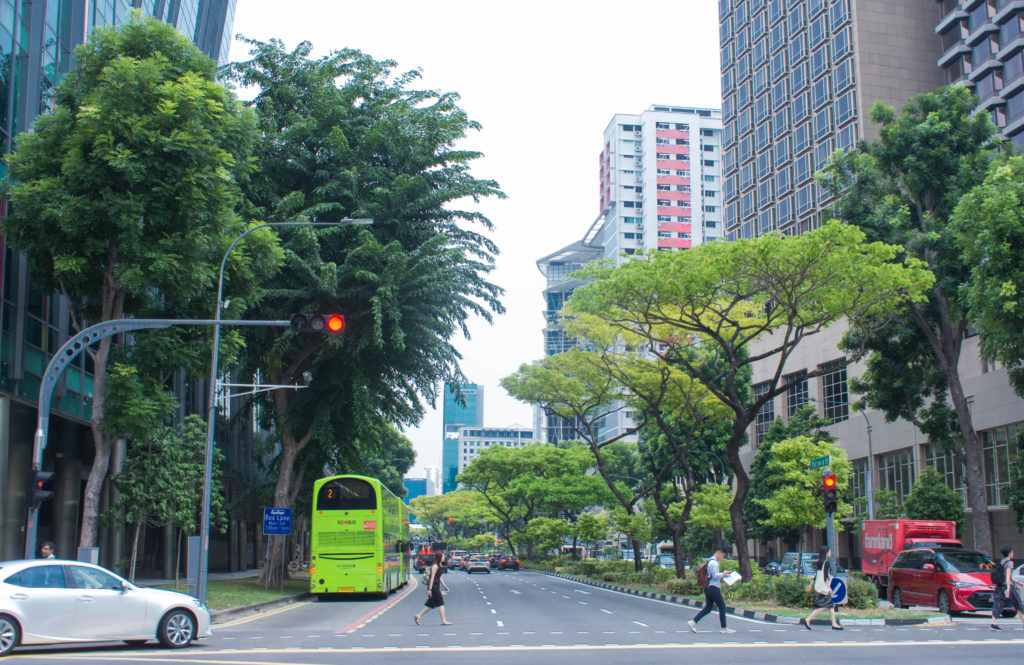 The Gardens by the Bay is a nature park covering 250 acres and developed in the last 10 years, with waterfront gardens, a Cloud Forest and Flower Dome, as well as the largest greenhouse in the world. The Supertree Grove here has 18 artificial trees up to 50 metres tall and every night there is a light show, all flashing different coloured lights in time to the music from Aladdin, The Lion King and other Disney films.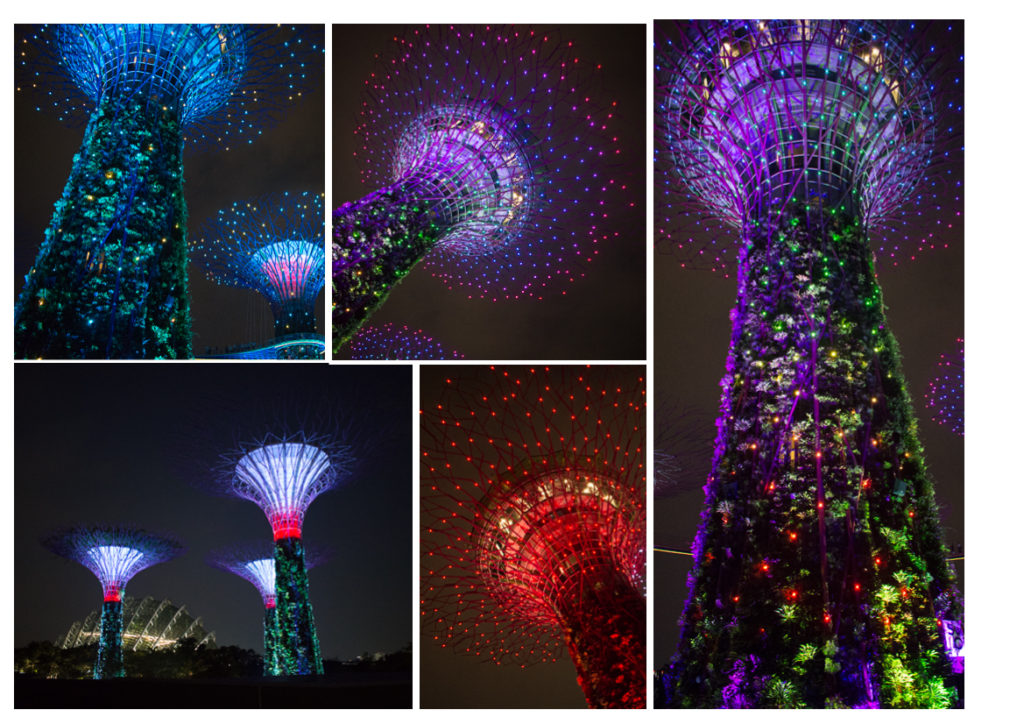 After the light show we headed on along walkways to the impressive Marina Bay Sands Hotel (built by the Las Vegas Sands Corporation, with three towers, a casino and a mall of designer Shoppes). Unfortunately we didn't have time to swim in their 150 metre long rooftop infinity pool during this visit to Singapore… definitely one for next time.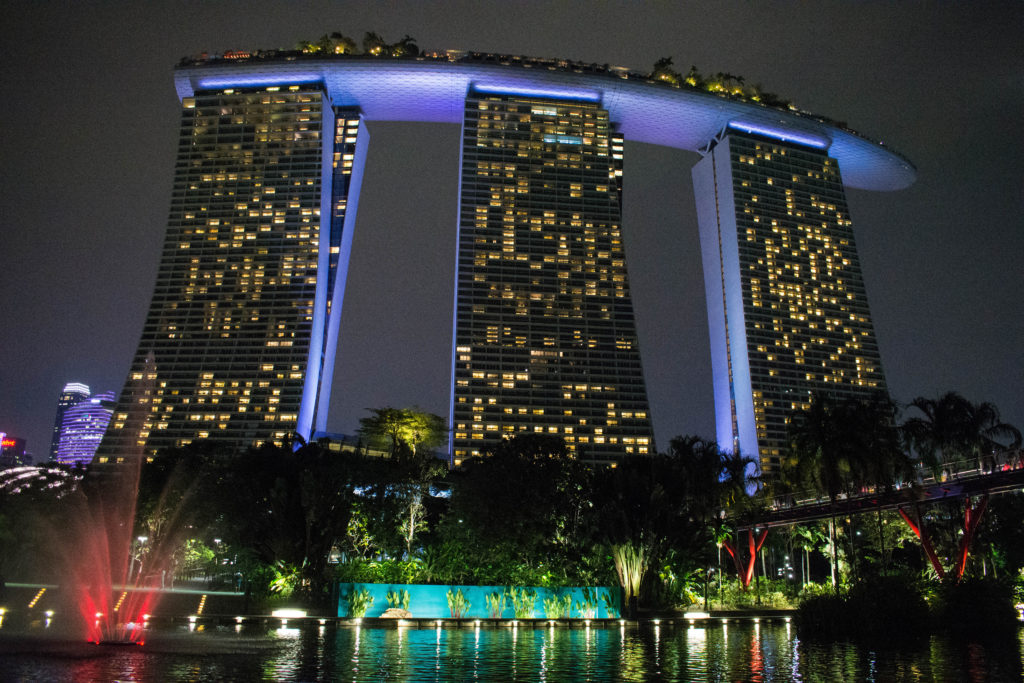 After watching another light show on Marina Bay we treated ourselves to a meal in an upmarket waterfront restaurant, Flavours of Asia. The bill was rather more than the £4 a head in Little India.
On our last day we picked up the water pump from the extremely smart Raffles Marina, had lunch in Arab Street and caught the last ferry back over to Indonesia.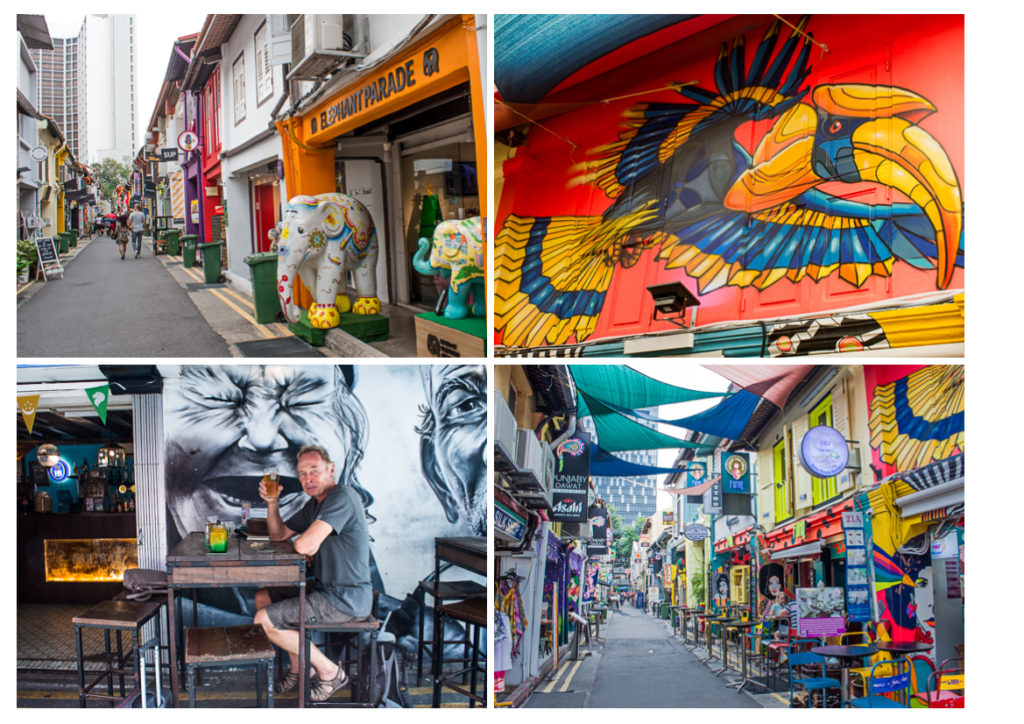 Back at Nongsa Point Marina Hugh successfully fitted our new water pump to the engine and was relieved that it worked perfectly. We checked out of Indonesia with Customs and Immigration, said goodbye to friends from the Wonderful Sail2Indonesia Rally –  Jon from Hecla and Colin & Izzi from Endorphin Beta who were heading over to Singapore in their yachts – and had a final lunch with Ingvar and Tuija from Hakuna Matata, a final swim in the pool and a final evening drink with Fred & Judy from Pit Pony and David & Robynne from Grey Nurse.
The next morning we were off early as the sun rose in the east and we finally left Indonesia to cross in Vega over the Singapore Straits, on our way to Malaysia, feeling sad that this part of our adventure was over.