Sunday 4th to Sunday 18th September
We left Grenada feeling rather sad to say goodbye, especially to lovely friends Jayne, Paul and Lily with whom we've shared some wonderful times, but we were also looking forward to moving on to new places. I was apprehensive about the long sail ahead, a trip of about 480nm, which should take up to four days at sea, partly because of the night watches that I find so wearing but also because of the perceived threat of pirate attacks from Venezuela. There have been several recent attacks on yachts crossing from Grenada to Trinidad which is, at its nearest point, only 10 miles from the coast of Venezuela, and although our route was in the opposite direction we still felt rather nervous and planned to sail a route well away from the coast of Venezuela. This beautiful country was once a popular place for cruising boats to visit but over the last ten years or so there have been many violent attacks on cruising boats including ones resulting in four deaths, so mainland Venezuela is now generally avoided although some of its offshore islands are still considered safe.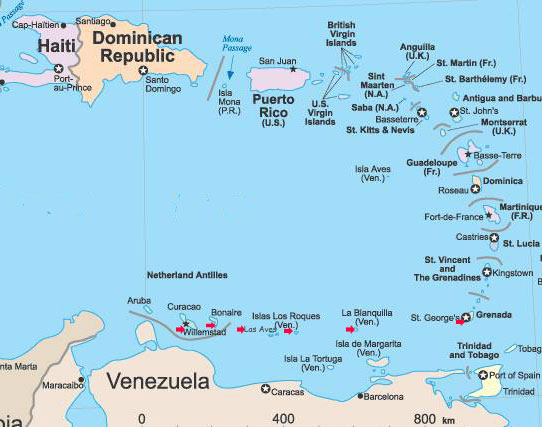 As we left the coast of Grenada in our wake a pod of dolphins swam alongside Vega, the first we've seen since being in the Caribbean, which felt like a good omen for the trip. I made a beef goulash in the pressure cooker for supper and as darkness fell white flashing lights from local fishing boats appeared around us. It is near impossible at night to judge just how big these boats are or how far away they are, especially as wooden boats don't show up on radar. We had been unsure whether to sail without lights at night to maintain anonymity, but decided that there was probably more risk of crashing into a fishing boat in the dark than being boarded by pirates from Venezuela, so we put on our masthead lights. Once we'd got 20 miles away from Grenada there were no more small fishing boats and it was large tankers, cargo ships and 300+ foot factory fishing boats that we were trying to avoid. On the morning of the second day we were hit by heavy rain squalls but after that it was hot and sunny with beautiful red sunsets. We had some great sailing with east to southeasterly force 5 to 6 winds and even the nights on watch weren't such an ordeal with clear star filled skies and spectacular lightning over distant mainland Venezuela. Due to the wind direction we ended up sailing much further south than intended and by the morning of the fourth day our route took us close to one of the Venezuelan offshore islands, Las Islas de Aves de Sotovento, which translates as the Leeward Island of Birds, so we decided to see if we could stop there for the night rather than arrive in Bonaire in the dark. We passed tiny islets, slivers of silver sand and low green vegetation sandwiched between sea and sky, surf breaking on the reef, and continued down past the coastguard station on the main island, Isla Larga, which was once a Dutch settlement mining guano.

It seemed deserted, a couple of single story buildings and aerials of the coastguard station, a desolate beach and a few ragged palm trees bent sideways by the wind. We had had no reply when we tried to contact the coastguard on VHF so we dropped anchor in a small bay surrounded by mangroves, hoping to see a multitude of birds. A solitary pelican flew past. I swam and we had a nap. It all felt rather spooky so we decided to leave and sail overnight to arrive at Bonaire early the next morning. As we left, picking our way carefully between the shallow reefs there were dozens of pelicans lined up on the beach and someone climbed onto the roof of the coastguard station to watch us leave.
We dropped all our sails and allowed the wind and current to carry Vega the 30 miles west to Bonaire overnight as we wanted to arrive at dawn, meaning we needed to do only 3 knots. A little barn swallow swooped around us at dusk before alighting on one of the guard rails where it spent the night clinging on despite the strong wind and violent rolling of the boat. At dawn it spent a while preening itself before heading off south towards Venezuela.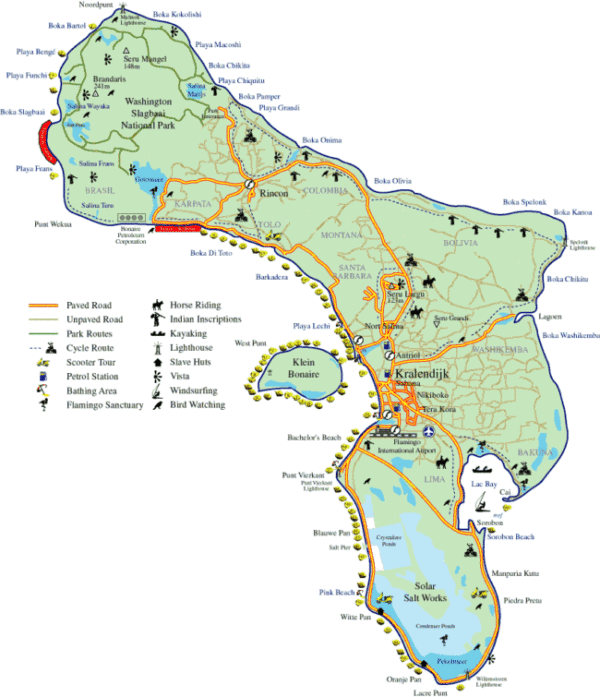 The ABC islands are part of the Dutch Antilles, the islands being Aruba, Bonaire and Curaçao. Approaching Bonaire from the south it appears very flat and as we got closer and dawn broke we could see the salt pier, a structure for conveying salt from the mounds heaped high by the coast waiting to be loaded. We moored on one of the official buoys just off the main town of Kralendijk which is halfway along the western, leeward side of the island. Bonaire and the uninhabited little island of Klein Bonaire are nature reserves and no anchoring is allowed anywhere here as an anchor chain might destroy the fragile coral. The water is crystal clear and the mooring buoys lie right over a coral reef, which means great snorkelling just jumping off the back of your boat.
Kralendijk is a small, neat town of colourful colonial Dutch buildings and shopping malls full of luxury goods, jewellers, expensive clothes and Swiss watches and real estate shops, but empty of customers. We realised that this was a cruise ship destination but it being out of season there were no cruise ships. It is also one of the top places in the world for scuba diving and there are many tourists from the USA and Europe, particularly Holland, with direct flights here from New York, Texas and Amsterdam. Bonaire also has strong South American influences in the mix of people and the music, which is more Latin than the reggae we'd been used to so far in the Caribbean. Although the official language of Bonaire is Dutch, the native language most widely spoken is Papiamentu, a mixture of Spanish, Dutch, Portuguese, French, English, Caribbean Indian and various African languages. I just about managed Bon Dia, meaning good day, and Danki, thank you. English is widely spoken as is Spanish and on the waterfront there is a small stall where Venezuelans sell fruit and vegetables brought over from the mainland.
Bonaire has the most wonderful scuba diving and we went out for two days with a dive shop boat to dive off Klein Bonaire and on the reefs to the north of Bonaire. There were fabulous soft and hard corals of all shapes, sizes and colours and numerous fish including lots of brightly coloured parrotfish chomping away at the coral with their beak-like teeth, bloated looking porcupine fish, beautiful angelfish and butterflyfish, long trumpetfish, moray eels, sharp toothed barracudas, tarpon, etc etc. Many visitors here will hire a truck and drive along the coast with their dive gear, stopping at one of the numerous dive sites marked on the roadside by a stone painted yellow and with the name of the site on it, to dive from the shore. We were able to go one better and, having borrowed the equipment from a dive shop, we sailed down the coast and tied Vega to the yellow buoy marking the dive site and went in off the back of our own boat. It felt pretty special as we went down a line tied to the stern of the wreck of the Hilma Hooker, a 236 foot cargo ship which sunk in 1984. She had run into mechanical difficulties when passing Bonaire and was found to be carrying 25,000 lbs of marijuana hidden behind a false bulkhead. When the owner didn't come forward and the hull was in such poor condition that she started taking on water, she was towed out and allowed to sink at a depth of 100 feet, so suitable for scuba diving. The fish quickly moved in to their new home and she is now a haven to all sorts of sea creatures and covered in a multitude of corals, with her large bronze propeller still in place. We also dived on the salt pier, tying Vega to a nearby buoy and swimming over to the huge pier. This was probably the most spectacular dive I have ever done, the pylons of the pier encrusted with sponges and corals, the sunlight filtering down from above, schools of fish hovering stationary around the vertical pylons, it had an ethereal cathedral-like quality. On the way back a small turtle was feeding on weed and I swam next to it for a hundred yards, our heads less than a couple of feet apart, until it had to surface to breath. It was just wonderful.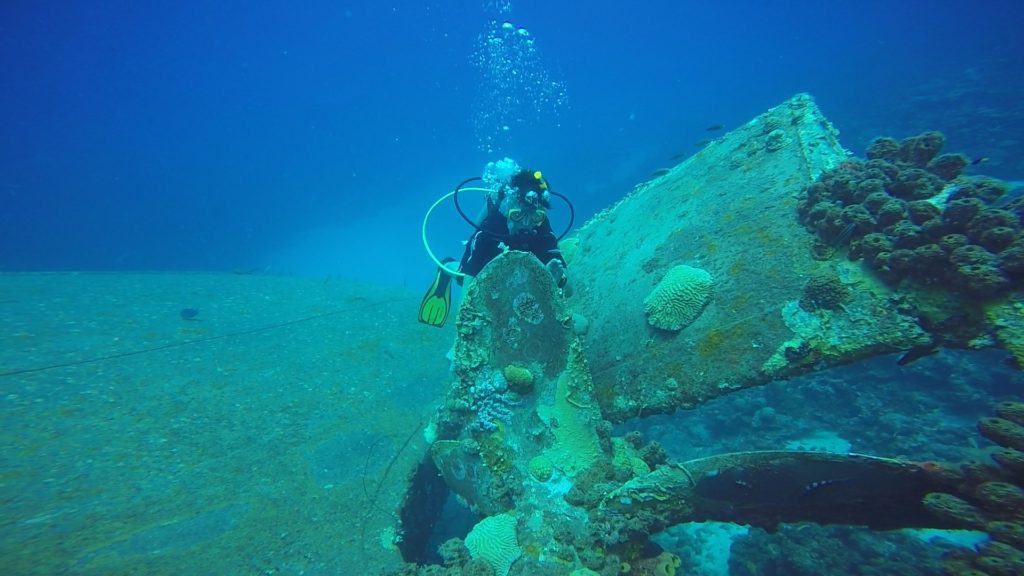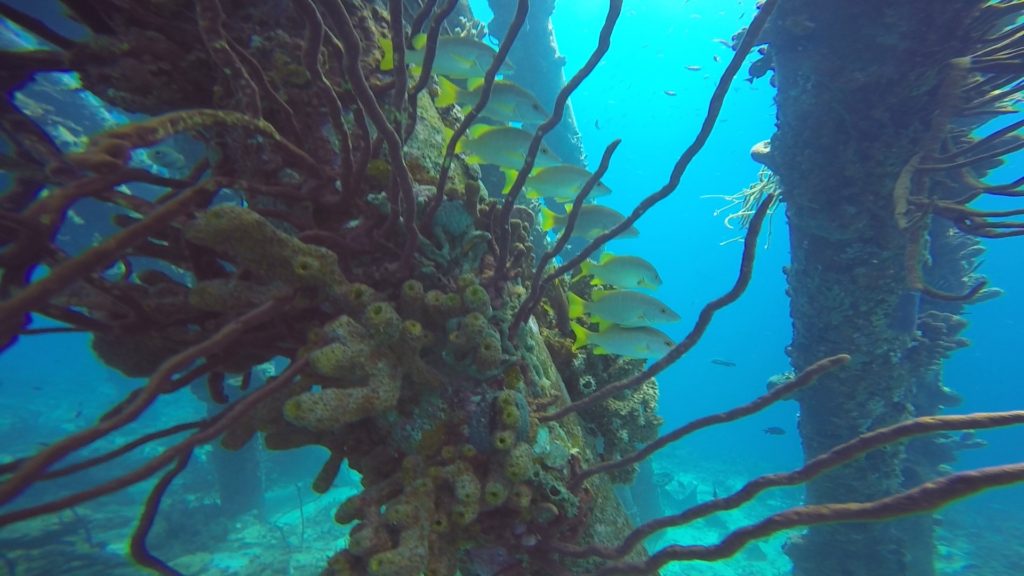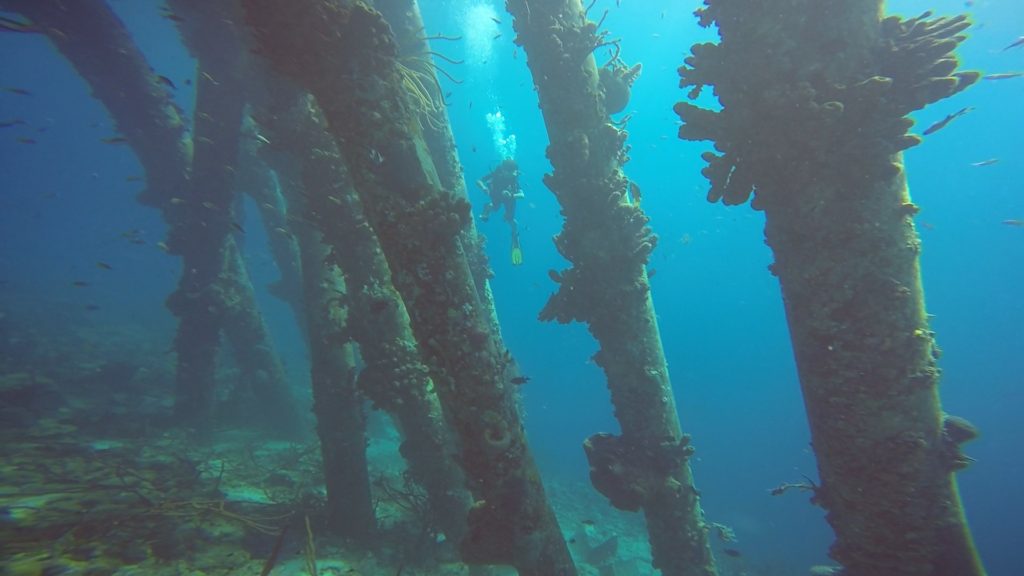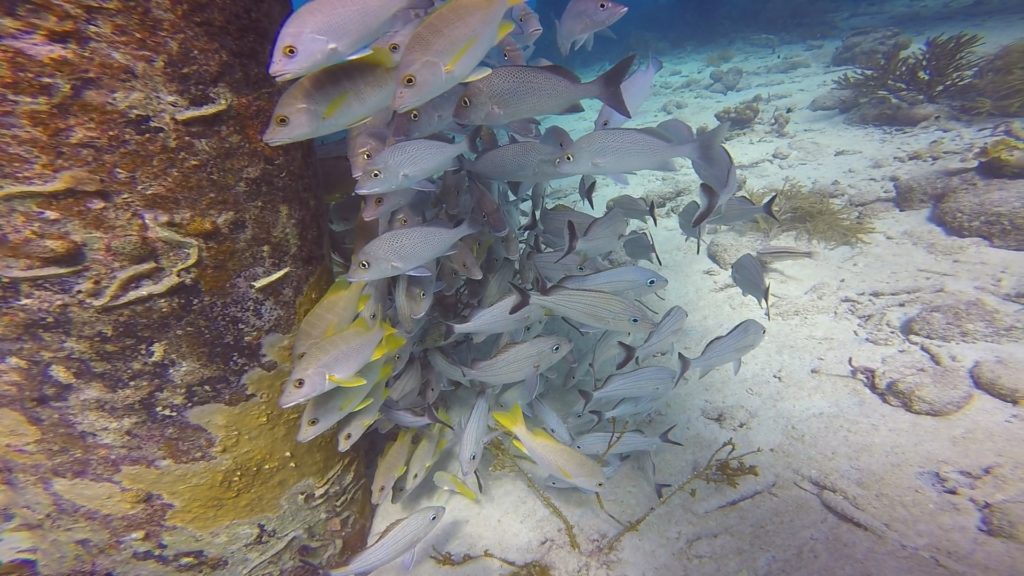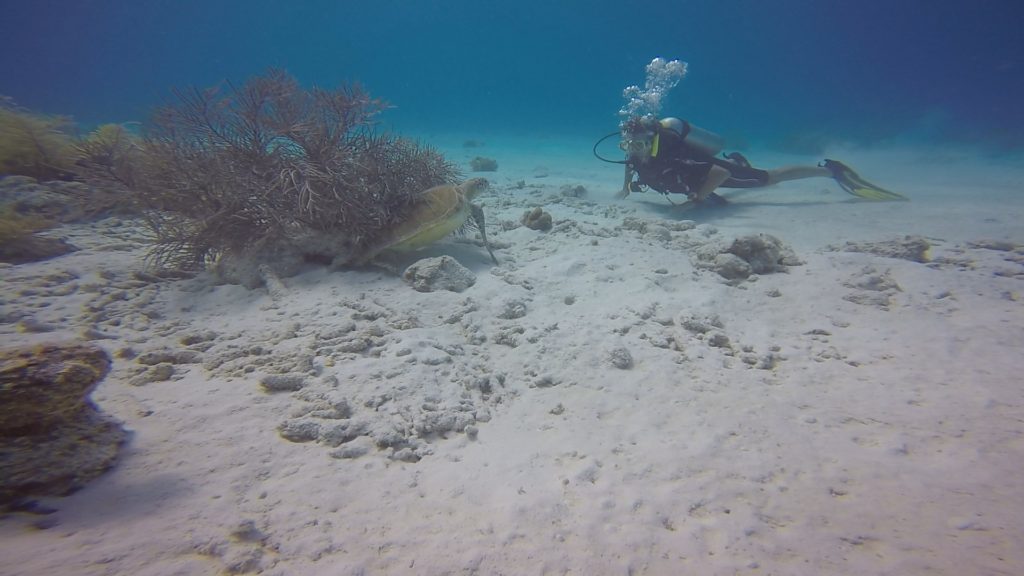 We hired scooters to explore the island. I had only ever driven a scooter once before, when I was 18 on holiday in Corfu having Eurorailed there with a girlfriend after leaving school and before starting at university. I remember coming off it on a steep hill, which I hoped wouldn't be a problem on flat Bonaire. Hugh owned a Lambretta when he was 17, although he denies being a mod, but I was still reluctant to ride pillion on such an unstable feeling vehicle. I was rather nervous to start with but as we accelerated up to a maximum speed of 20mph it started to feel quite exhilarating to be bombing along the coast road in the heat and sun. We seemed to be the only people wearing crash helmets and so were clearly missing out on the wind in the hair experience. Travelling south on our scooters we passed the salt pans, an extraordinary pink colour (due to the pigments in a microorganism that thrives in the salinity) and mountains of salt piled up near to the salt pier waiting for transportation by ship. Bonaire is too dry and arid for agricultural cultivation but one of its main exports over the centuries, along with aloe vera, has been sea salt, crystallised out in the salt pans on the south of the island and exported to Holland for preserving herring. Slaves were used to work here and the yellow slave houses where they could shelter from the relentless sun and store tools remain as a reminder of this, as do the four coloured obelisks which indicated to ships where to anchor to load up salt. We passed yellow windmills which pump water for irrigation, vivid pink flamingoes in the salt marshes further south, and a lighthouse at the very southern point of the island. We stopped for lunch at a beach bar on an enclosed lagoon with clear azure water popular for windsurfing and kayaking. The interior of Bonaire is scrubland with arid ochre red soil and further north rocky escarpments rise above the dry flat land and it becomes more hilly. The vegetation is a mixture of dense prickly bushes and tall cacti pointing long fingers up towards the sky. The whole of the north of the island is a National Park and there are wide lakes with flamingoes. Although it has never been able to sustain agriculture a certain amount of livestock was reared and there are wild goats and donkeys wandering around (as well as lots of lizards and iguanas).
We enjoyed the unusual beauty of Bonaire, the stark, dry, dusty desert of the interior and the striking pink salt pans, and being moored in such a peaceful spot in the beautiful clear water surrounding the island. We shared sundowners with our Swiss neighbours Gabrielle and Thomas and met some of the other cruisers there including Canadian, French, German, Brazilian and Dutch, although it felt very quiet and out of season; I counted only 14 other yachts tied up to the mooring buoys outside Kralendijk. After ten days we headed off at first light to the next ABC island, Curaçao, only about 40 nautical miles west.