I somehow ran out of steam on the blog after we left Santa Marta last October. We then spent two and a half weeks in Colombia visiting Cartagena, Bogotá and Leticia on the Amazon before flying home on November 2nd. So here is a catch up on our time there:
Cartagena – Saturday 15th October to Wednesday 19th October 2016
We left Vega at the marina in Santa Marta with her mooring lines tightly secured and with the staff at the marina keeping an eye on her. We had booked seats on one of the air conditioned minibuses that will take you door to door, from the marina in Santa Marta to our hotel in Cartagena, a four hour trip along the coast. At one point the road passes along a narrow spit of land between the Caribbean Sea and the Ciénaga Grande de Santa Marta (the large marsh of Santa Marta) where a shanty town of dwellings has sprung up with wooden boats fishing in the marshy lake. The bus made a stop at a roadside stall where we bought eggs fried in batter (strangely rather good) and an artificial tasting orange drink. On the way we passed through Barranquilla, a large ugly industrial city with apparently not much to recommend it apart from its Carnival each February, one of the biggest in the world and reputedly Colombia's best party.
We had booked a small hotel just outside the city walls, in an old Colonial house with heavy dark Spanish furniture, old black and white wedding photographs of former owners of the house in serious poses, a huge bed with a blue psychedelic headboard and a small swimming pool with a 70s style mural of a young woman. It was rather disconcerting having her watching you as you relaxed in the pool at night after a day of sightseeing.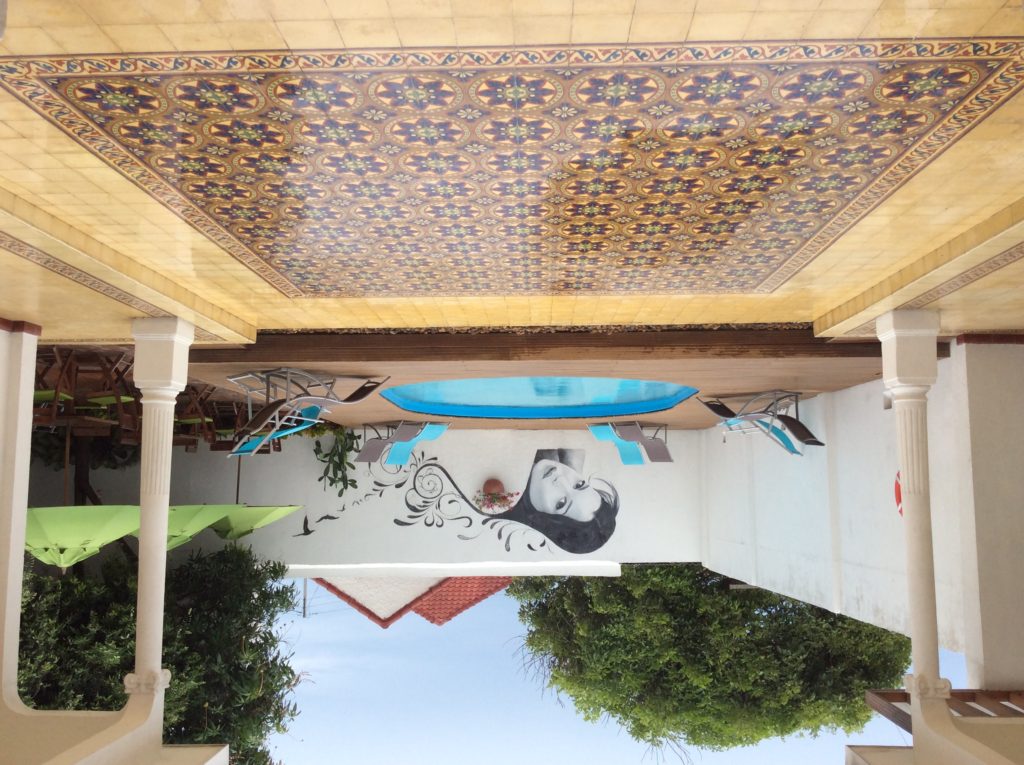 The hotel was one block away from the seafront where locals swam, pelicans sat on the breakwater and we watched fishermen haul in long nets from the beach, their meagre catch of small fish seemed rather pathetic for the effort involved.
Cartagena is an old walled city, resurfacing after decades of being neglected and rundown and very touristy nowadays, with narrow streets, brightly painted houses, shady squares, churches, a cathedral, women selling cups of fresh fruit pieces and street vendors who hassle you to buy bracelets and bags as soon as you sit down at an outdoor café. We wandered around and along the top of the wide ramparts surrounding the town, along with Colombian tourists taking their photos using selfie sticks. In one of the squares was a sculpture of a fat lady by Botero, the Colombian artist who mostly painted fat people and fat animals – we later visited the museum of his works in Bogotá. It was almost obligatory to pose by the fat lady statue, but unfortunately my pic of Hugh posing is on my broken laptop (not backed up…. yes, I know).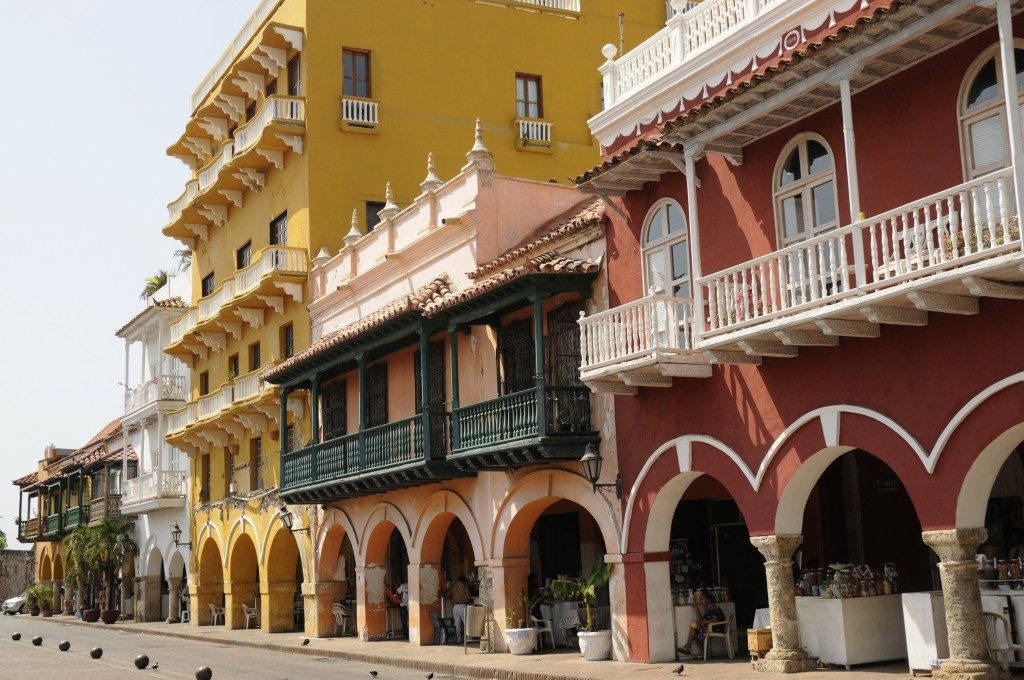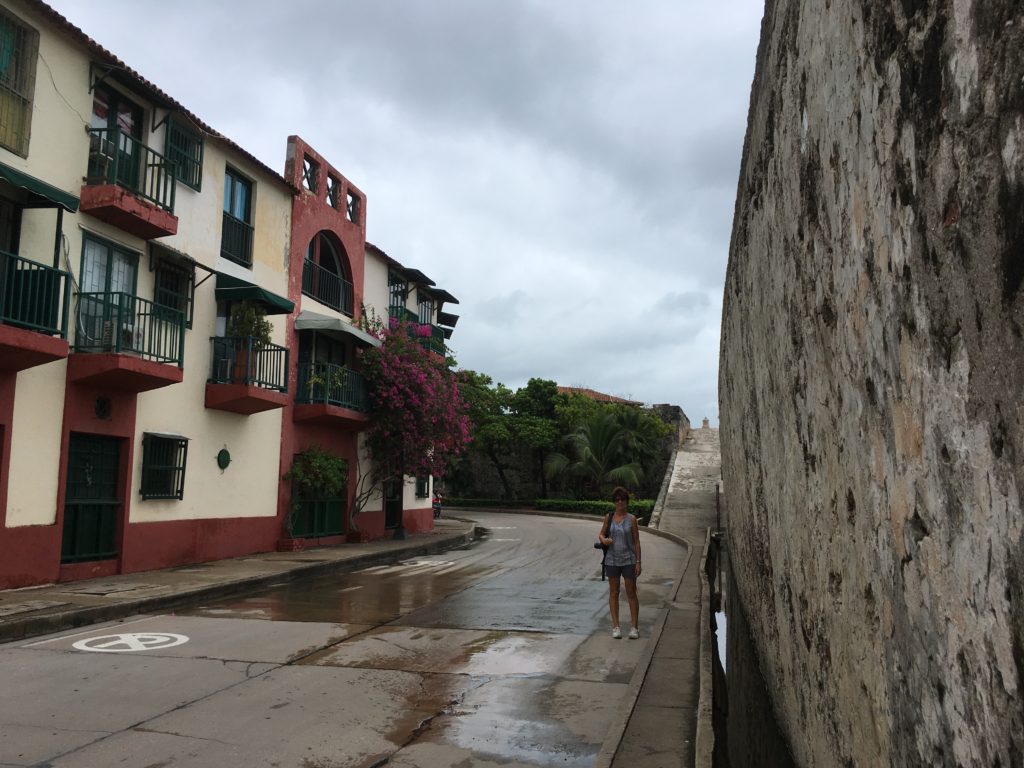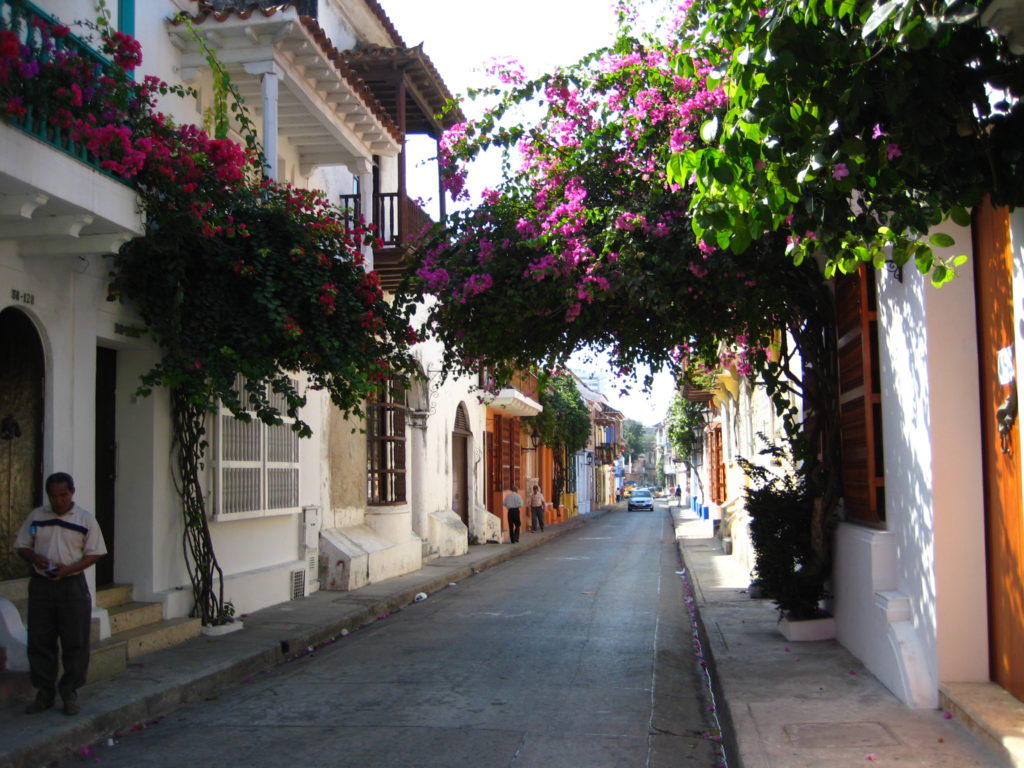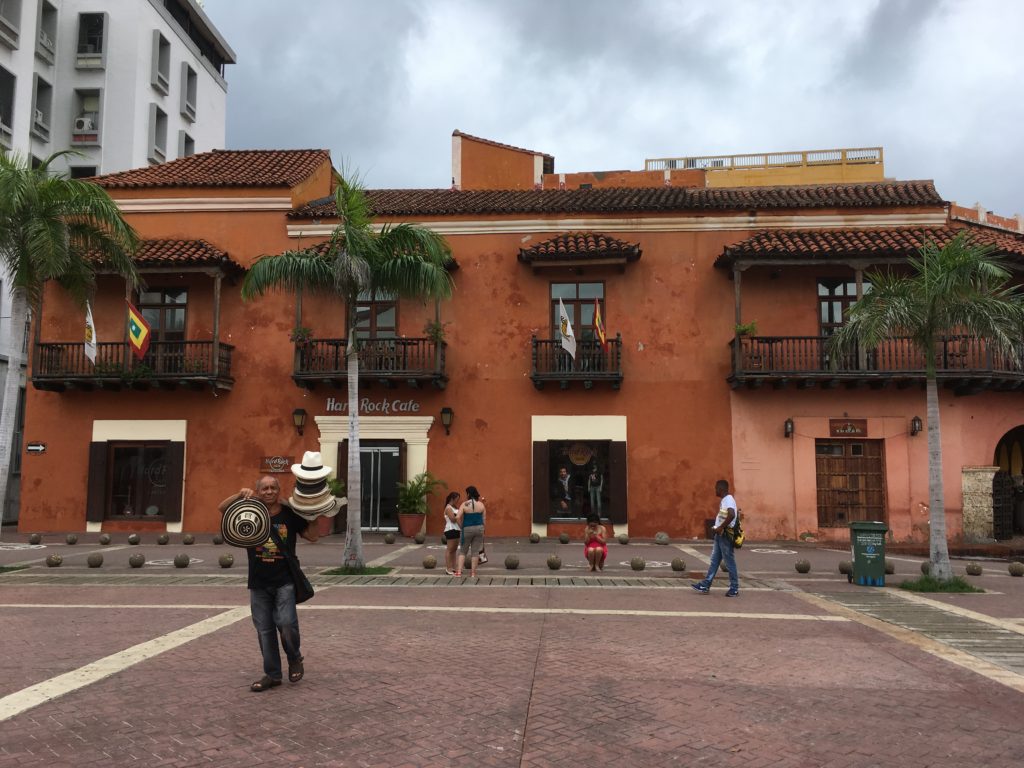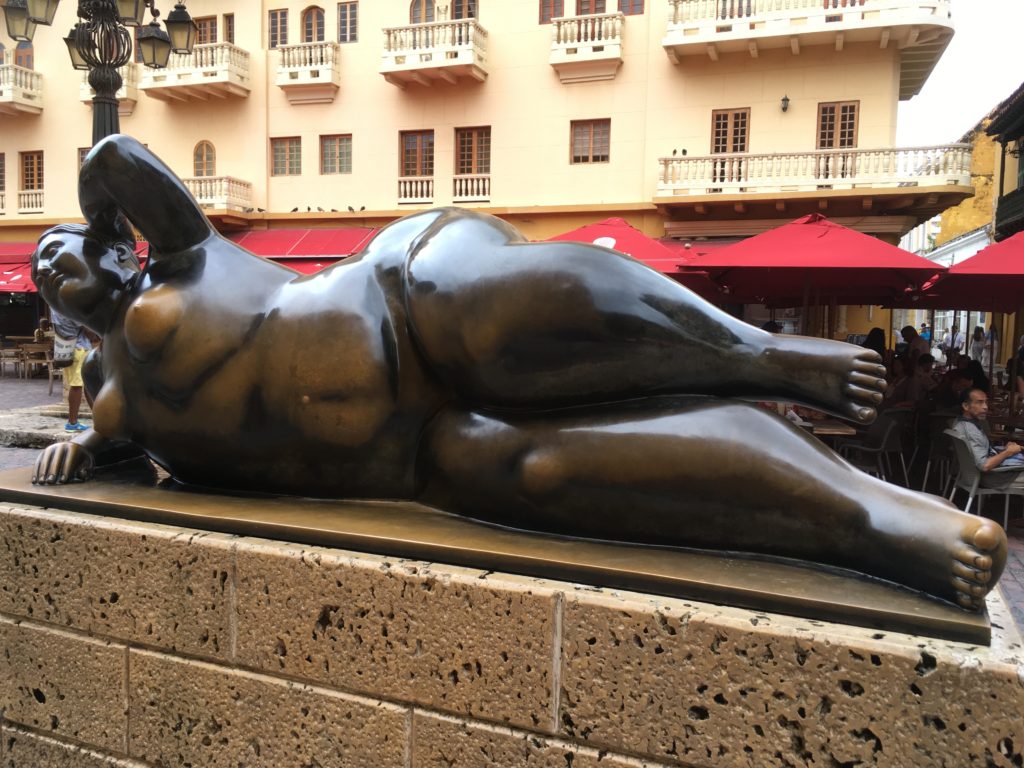 Gabriel Garcia Marquez had a home here although he lived for most of his life, and died in 2014, in Mexico City. Cartagena was the setting and inspiration for several of his books including 'Love in Time of Cholera' and we looked for his house. It was surprisingly modern, behind high, plain, orange walls, a private residence with no plaque or sign to mark it out although there was a mural on the café next door: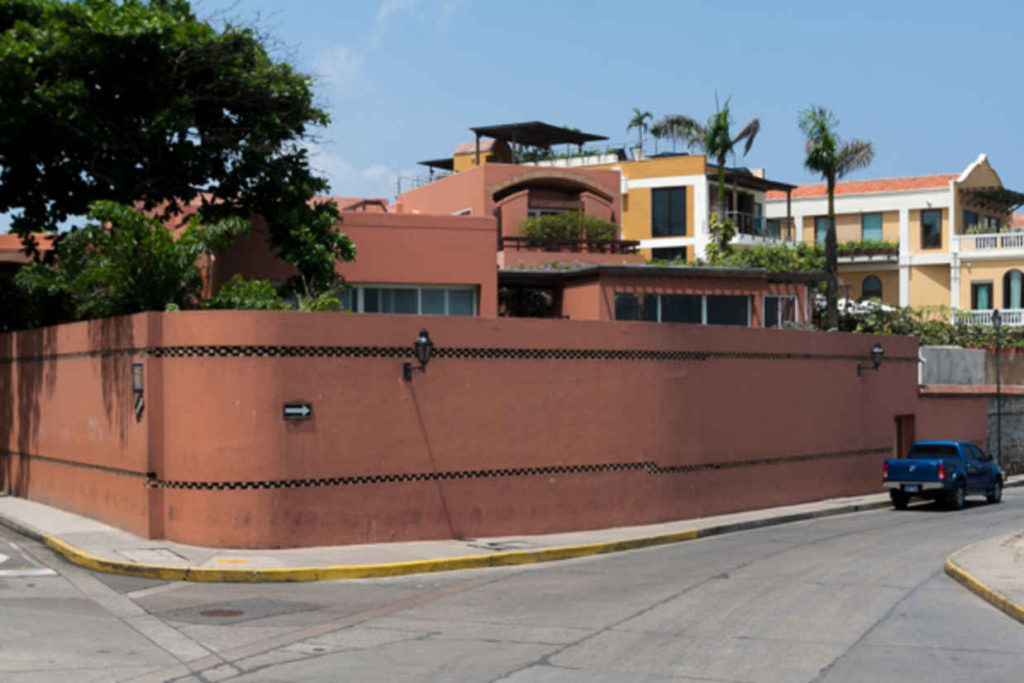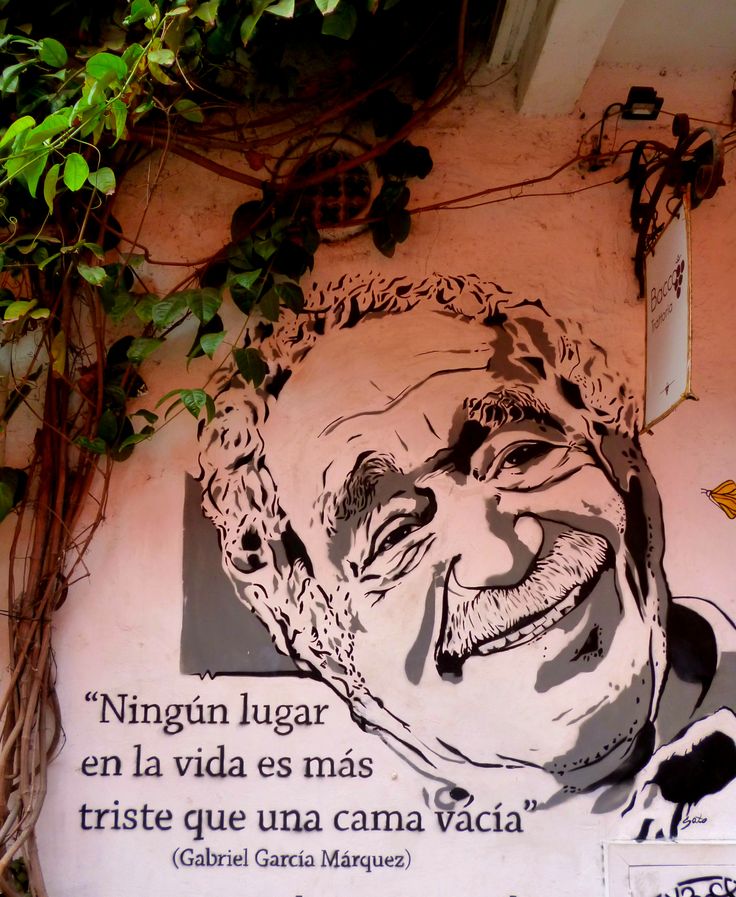 "There is no other place in life more full of sorrow than in an empty bed"
One night we were recommended by the young night manager at our hotel to a very basic restaurant where the locals eat in the Getsemani area of Cartagena, a vaguely seedy neighbourhood outside the walled city which is becoming the place to hang out and which was buzzing with music and with street performers, and people milling around. I had chicken and rice and Hugh chose Bandeja Paisa, the national dish of Colombia (a mega-calorie meal invented to provide peasant workers with enough energy to keep them going throughout the entire day) and was horrified when a massive plate of food arrived: rice, plantain, arepa (corn cakes), avocado, minced meat, chorizo, black sausage, fried pork and a fried egg on top for good measure. We shared our table there with two local men who were very chatty especially the one who spoke only Spanish and despite our minimal Spanish we had a good conversation.
Another of the tourist sights at Cartagena is Castillo de San Felipe, a 16th century fortress built by the Spanish around the hillside above the walled city. It was supposedly impregnable, helped by the then mosquito infested marshes around… you just pulled up the drawbridge and waited for the invading army to die of yellow fever and malaria. However in the 17th century the defending soldiers had become so complacent that they allowed a French privateer to effectively walk in and take the castle . By the 18th century they'd got their act together and decimated an invading army of British and Americans. We struggled through all 32 points of interest in the audio guides in the sweltering heat and explored the tunnels under the hill then gratefully got a taxi back into town for lunch at a teriyaki bar in one of the shady squares previously mentioned.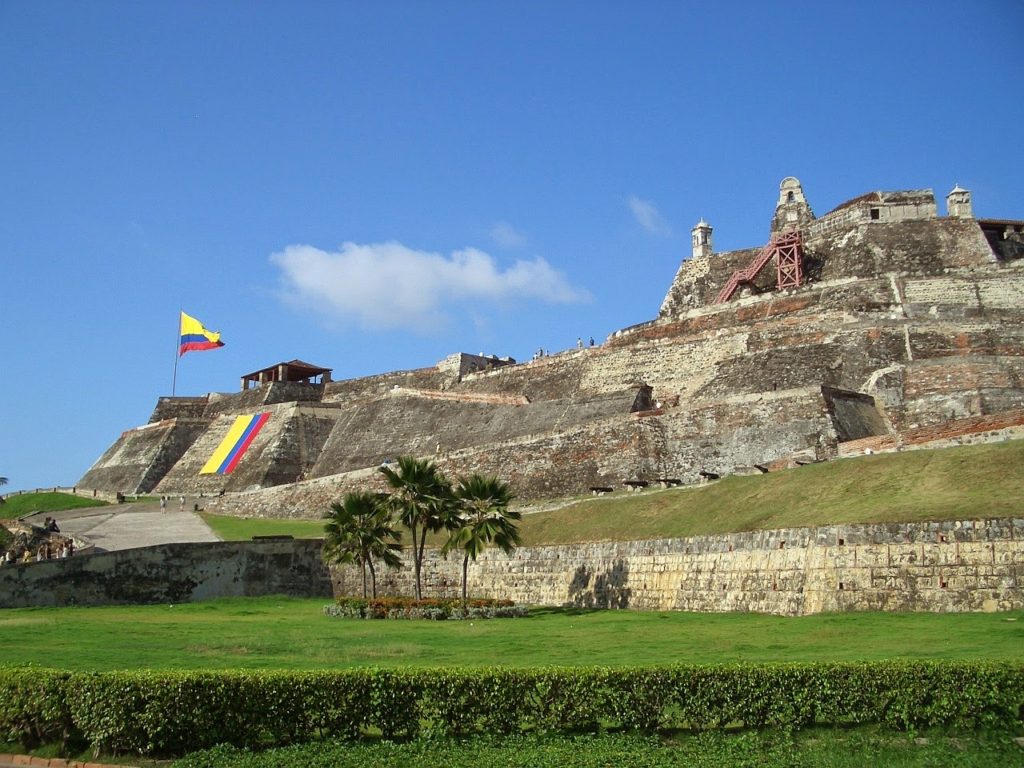 Bogotá – Wednesday 19th to Friday 21st October
After breakfast by the pool and a final walk along the seafront we got a taxi to the airport then an internal flight to Bogotá, a city of 9 million on a high plateau in the Andes mountains, at 2600 meters. The first thing we noticed about Bogotá once we got out of the airport was the cold. Coming from the heat of the Caribbean coast it was freezing. I hadn't brought enough warm clothes and my feet were getting increasingly chilly in sandals. I piled on a couple of extra layers. The second thing we noticed was the traffic. We had joined the queue at the airport for a yellow metered taxi and the taxi then crawled at a snail's pace through the congested rush hour traffic towards our hotel. It took almost an hour and cost 25,000 pesos. This is about £7.50. Taxis are incredibly cheap in Colombia and strictly regulated. We have never once got ripped off by a taxi driver here (well, not knowingly) and they have almost always been really helpful and friendly.
That night we ventured out into the cold and found a modern restaurant 'Al Agua Patos'… which means literally 'to the water, ducks' or 'get on with it, take the risk'. Our young waiter spoke excellent English and imagining him an impoverished student we tipped him generously, at his suggestion leaving cash so he didn't have to share it with the other staff. At this point he told us he didn't actually need to work as he was from a 'good family' but was just getting the experience so that he could set up his own restaurant in a prosperous area of Bogotá. No doubt he is a popular member of staff. We rushed back to the hotel to watch the second half of the Clinton/Trump debate on TV, with horror at the awfulness of Trump. He couldn't possibly win….
The next morning we tackled the Transmilenio which is Bogotá's main public transport system, buses running in dedicated lanes throughout the city and so bypassing the terrible traffic congestion. We wanted to visit the Museo Del Oro, the Gold Museum, near to the Candelaria, the old part of Bogotá city. We had a map… what could possibly go wrong? As our bus headed west instead of south we started to appreciate the true complexity of the system. We were rescued by a kind young Colombian women who had lived in Australia and who helped us find the right bus using the Transmilenio app on her phone.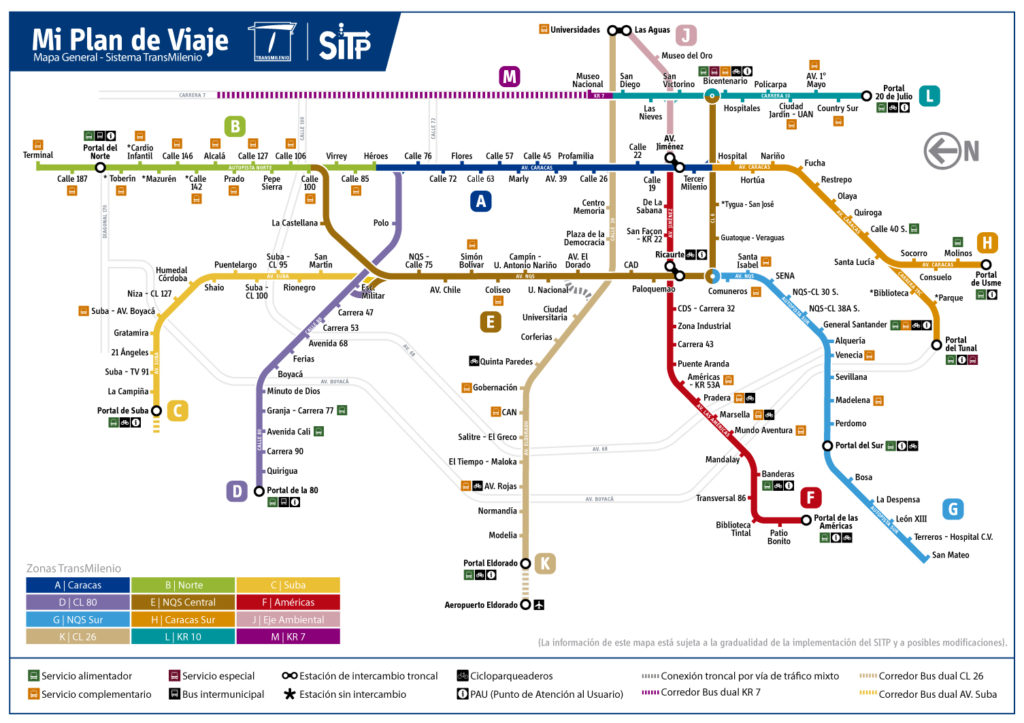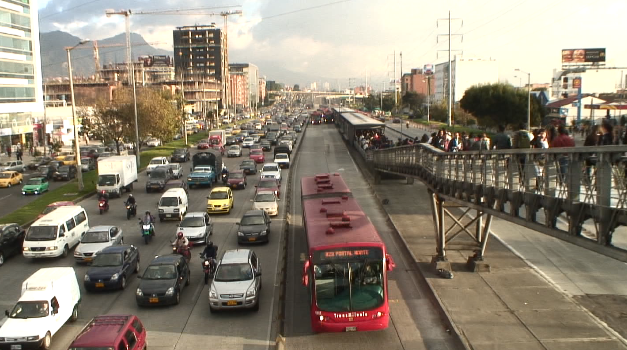 The Museo Del Oro had three floors of the most fabulous gold pieces: statues, ornaments and jewellery made by artisans from the different indigenous cultures in Colombia before the arrival of the Spanish conquerors, many in the form of animals: birds, fish, frogs, jaguars, butterflies and bats. Vast quantities of gold were shipped back to Spain but there are still 55,000 pieces in this museum of which 6,000 are on view, carefully lit and displayed they are astonishly beautiful. We spent several hours before deciding it deserved a second visit to see more.
We caught the Transmilenio back to the hotel, by now in the rush hour. The platform was heaving but we managed to shuffle our way forward and squeeze onto an already packed bus. At least the bus was moving, the rest off the traffic looked pretty gridlocked. And we had got on the right bus this time!
The next morning we flew south over the rainforest of southern Colombia for a week's adventure in Amazonia….. more to follow in my next post.