'Cross to the Caribbean in early January when the trade winds have really settled in and you can expect a solid breeze all the way across, with no surprises'
Saturday 23rd January 2016
We should be within sight of land by the early hours of tomorrow morning and in the marina in Antigua by tomorrow lunchtime.
The crossing has been a challenge at times and one I've not always risen to well, but on the whole it has been much better than I'd been dreading. Only two days of bad weather and even that wasn't too horrible, just difficult winds from the wrong direction and big seas. Also my usual problems with sleeping at sea, but helped by having Steve on board to share the night watches, as well as his great company. And what compensations!!….. Dolphins, whales, flying fish, sunsets and sunrises, huge night skies ablaze with stars, watching the changing phases of the moon, swimming in the sea mid-Atlantic, meeting up with the leading rowing boat in the Talisker Atlantic Challenge race, a chance encounter with a French racing yacht heading from Brazil back to France, and long, hot, sunny days at sea. Numerous sail changes and learning a lot about sailing and the boat. Time to read, think, write, talk, listen to music in the cockpit whilst eating supper and watching the sun set. I am so thrilled that I have done it.
For my own reminiscences and for those of you with stamina who have been left with appetites whetted by Hugh's daily posts on his blog, and who would like a day by day, mile by nautical mile account of our passage, read on:
For information:
The Beaufort Wind Scale. (developed in 1805 by Sir Francis Beaufort, U.K. Royal Navy)
Force Wind  Classification       Appearance of Wind Effects
in knots
0         <1      Calm                 Sea surface smooth and mirror-like
1         1-3      Light Air          Scaly ripples, no foam crests
2        4-6      Light Breeze   Small wavelets, crests glassy, no breaking
3       7-10     Gentle Breeze Large wavelets, crests begin to break, scattered whitecaps
4      11-16     Mod. Breeze   Small waves 1-4 ft. becoming longer, numerous whitecaps
5      17-21     Fresh Breeze  Moderate waves 4-8 ft, many whitecaps, some spray
6     22-27     Strong Breeze Larger waves 8-13 ft, whitecaps common, more spray
7     28-33     Near Gale         Sea heaps up, waves 13-19 ft, white foam streaks off breakers
8     34-40    Gale                  Mod. high (18-25 ft) waves of greater length, foam in streaks
9     41-47     Strong Gale     High waves (23-32 ft), sea rolls, dense foam, spray reduces vis.
10   48-55    Storm                Very high waves (29-41 ft) overhanging crests, sea white with foam, heavy   rolling, lowered visibility
11    56-63    Violent Storm Exceptionally high (37-52 ft) waves, foam covers sea, visibility reduced
12      64+     Hurricane        Air filled with foam, waves over 45 ft, sea white with driving spray, visibility greatly reduced
We would ideally sail in Force 4 to 5 winds all day. Anything above Force 7 is decidedly scary
Diary of a crossing
Day 1. Monday 4th January. 2100 miles to go to Antigua.
Winds from the north-east, Force 6 to 7, weather sunny, clear at night, sea state moderate to rough, visibility good.
I spent most of the day last-minute shopping, buying fresh fruit and vegetables at the market. Not one onion is to be found in all of Mindelo after the long bank holiday weekend; this may be a serious but hopefully not fatal blow for the exquisite cuisine we have planned for the voyage. Hugh and Steve cleaned Vega's decks so that she will be gleaming for the crossing, whilst I went to my favourite café, which has both good coffee and wifi, to upload podcasts to listen to on night watch and to update my blog. We filled the water tanks and, after an on-deck briefing by the skipper, were ready to leave to marina by 4pm, stopping at the fuel barge to fill up with diesel as we left.
There were winds up to 28 knots and a big swell in the straits between the islands of Sao Vicente and Santo Antao which made cooking supper that evening tricky. I attempted a Spanish omelette but soon realised that frying with the boat lurching from side to side was not the safest.
After 4 hours, as we passed to the south of Santo Antao, the winds were all over the place, dropped to 6 or 7 knots, and we had to motor. Where were the trade winds? We realised that the high, volcanic island completely masked the north easterly winds. As we passed out of the lee of Santo Antao the winds returned and we were able to unfurl the genoa and get sailing again around midnight, to our general relief.
Day 2. Tuesday 5th. 2005 miles to go at noon
Winds from the north-East, force 6 to 7, 5 later, weather sunny with some cloud, clear night, seas moderate to rough, visibility good.
It was still windy and bouncy with big seas. After a disturbed night we had a debate about the best watch pattern. Steve will start on watch after supper, I'll do the 9pm to midnight watch, Hugh midnight to 3 am, Steve 3 to 6am, and I take over at 6am, handing over to Hugh about 8am. I hope that this way I'll manage to establish a good sleep pattern,we'll all get a reasonable uninterrupted amount of sleep and catch up with naps in the day.
We are excited to find that the water maker is working. We had bought this in Portishead, had it fitted in the marina in the Canaries but it has never worked. Hugh spent the last two days in Mindelo rerouting the water feed but we hadn't been able to test it properly as the sea water in the marina was so filthy. It filters sea water to produce drinking water. The two tanks on Vega hold 400 litres of water in total and we have about 100 litres of bottled water for drinking. Without the water maker we would have to be conserving water, monitoring our usage, trying to catch rainwater to replenish the tanks, washing dishes in sea water and not washing ourselves.
A major discovery is Scopoderm patches for sea sickness. They seem to take the edge off the general feeling of unwellness at sea that I probably haven't previously recognised as sea sickness. This is at the expense of waking with the most parched dry mouth. Steve has brought a good supply of these but unfortunately they won't stay stuck on behind his ear. One of his disappeared after he applied it, to be found the next day stuck onto Hugh's leg.
Day 3. Wednesday 6th. 1862 miles to go
Winds from the east, force 5 to 6, some cloud, clearing later, sea moderate, slight later, good
I took over on watch at 6am. There is a crescent moon in the sky, and the star Vega (the fifth brightest star in the night sky and part of the constellation of Lyra) was visible in the northeast. The swell was easing and the sea more gentle today, with a more comfortable motion to the boat.
Steve and I sorted out the grab bag. This is a robust waterproof yellow bag which is kept on hand, to be grabbed as you abandon ship for the life raft. In it goes important documents, some water and food, a handheld GPS and VHF radio, a water-maker, a fishing line, sea-sickness tablets and first-aid kit, and other odds and sods that should aid survival. We debated the merits of tins of tuna compared to luncheon meat, dried fruit or peanuts. A packet of Haribos is an essential.
Hugh spent much of the morning writing his latest blog. We have an Iridium satellite system that enables us to get up to date weather forecasts and send and receive emails. Linked to this is a blog site that Hugh uses to post his daily blog. Unfortunately data transfer using the Iridium system is otherwise fearsomely expensive so I am unable to surf the net nor update Facebook or my own blog. It is wonderful however to get emails from family and friends throughout the trip.
After lunch a fishing boat, Nuevo Salmon, appeared on AIS in front of us, directly on our course. We tried to call them, but no reply, and as we couldn't be sure whether or not they were trawling, we turned to take a wide diversion around their stern.
(AIS stands for automatic identification system and we can pick up information transmitted by another vessel, including their name, size, speed, course, and our nearest approach to them, and which is displayed on our plotter in the cockpit).
Hugh made a delicious chicken casserole for supper in the pressure cooker. This is the only fresh meat that we have brought so hope to catch fish along the way to supplement our supplies. We have a small fridge but no freezer, a certain amount of cheese and sausage, eggs, some fresh fruit and vegetables and a lot of cartons, tins and jars, pasta and pulses. We have got used to UHT milk since fresh milk has not been available since leaving the UK. We did a major provisions shop in the Canaries and have been topping up at markets and supermarkets since then.
Day 4. Thursday 7th. 1731 miles to go
East, 5, 4 later, sunny with rain squalls overnight, slight to moderate, good
A more relaxing day. Hugh and Steve sorted out the duogen, the turbine we drag behind us to generate power. With the wind now directly behind us we erected the pole to allow us to goosewing, with the front sail, the genoa, out on one side of the boat and the mainsail out on the other.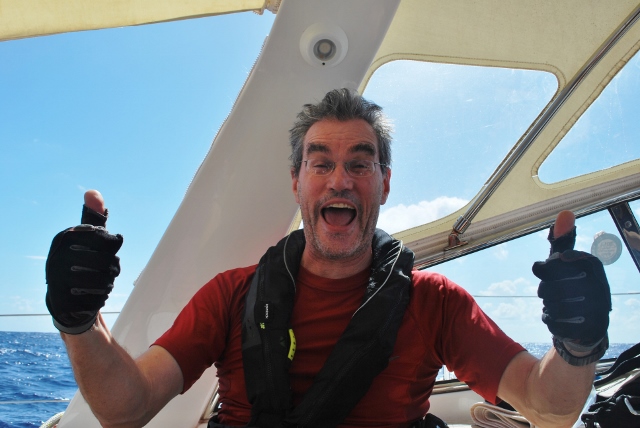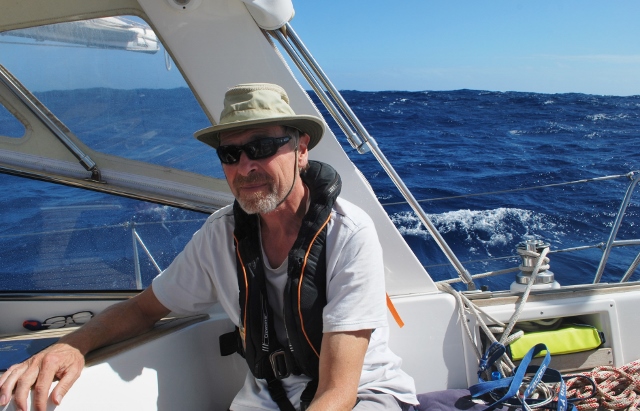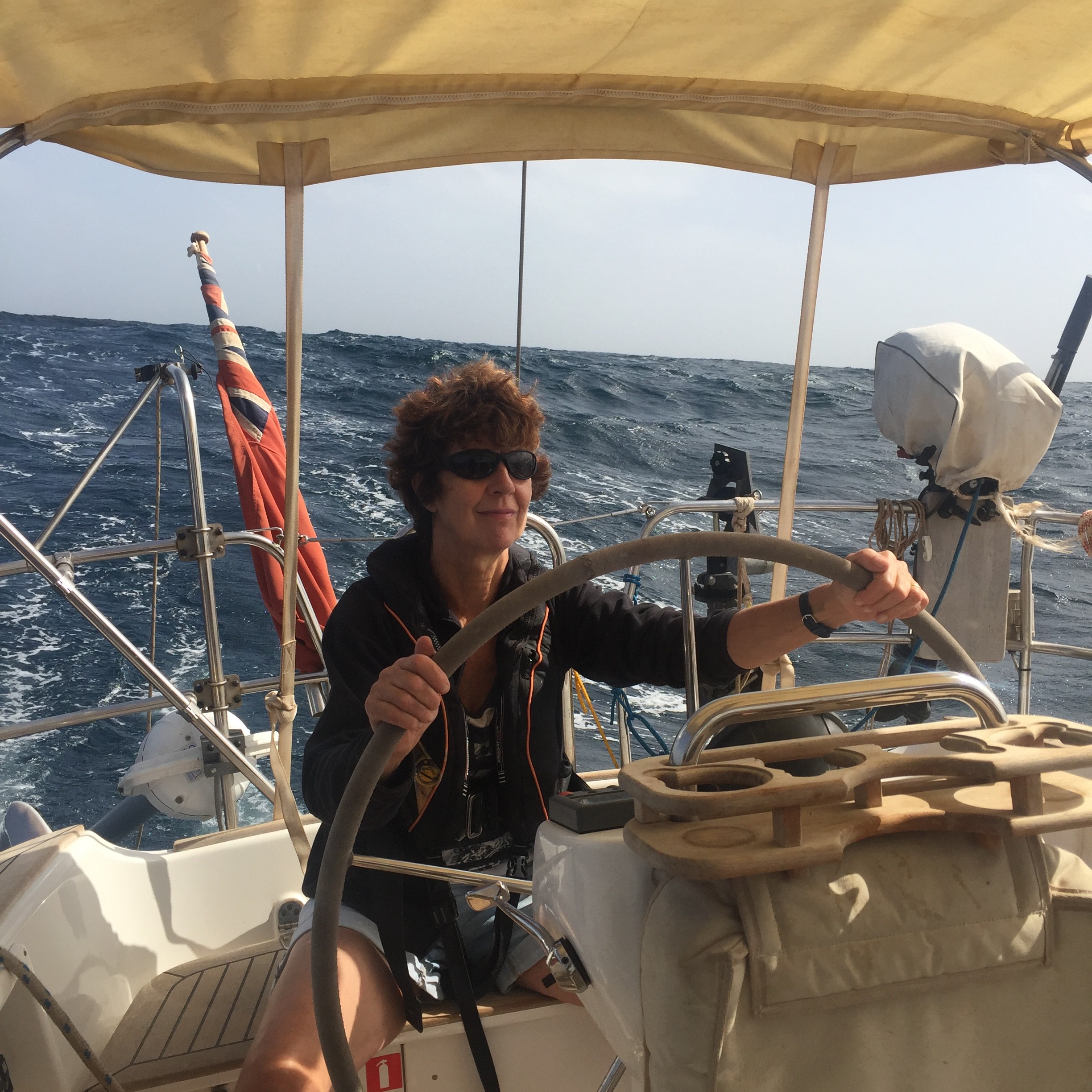 In the early evening we saw a sail on the horizon and were called up on the VHF radio by French racing yacht, Espoir, which came over to say hello, or bonjour, rather. A high tech, fast and manoeuvrable boat with four young people on board, returning from Brazil to St Malo. There is a large and very nasty looking low pressure system approaching, bringing gale force winds in the North Atlantic,and crossing from west to east directly in their path. When we expressed our concern for them they reassured us that they were 'gladiators'. We are also concerned not only how the low pressure system will affect us, but also the 26 rowing boats in the Talisker Whisky Atlantic Challenge, rowing from La Gomera in the Canary Islands to Antigua, who are scattered over the route, a few boats ahead of us.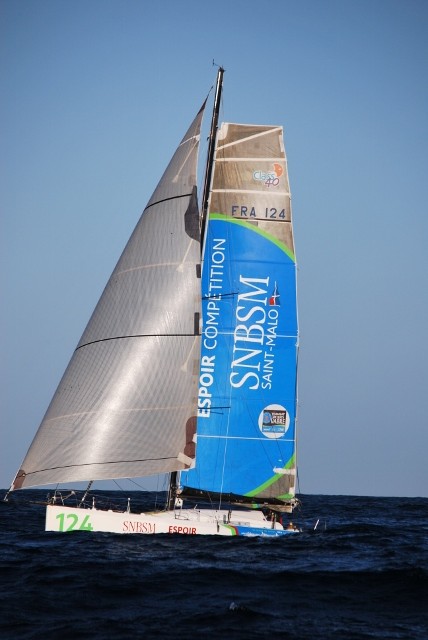 Both Steve and I had a shower earlier today and the smaller, 150 litre water tank is now empty. No more showers will be allowed and the watermaker will be working overtime. The downside is that this uses up battery power and the duogen and solar panel are not recharging the batteries fast enough to keep up. We need to run the engine occasionally to fully charge the batteries.
On my watch that night, on radar, there was a blip some 2 miles ahead of us to starboard, which appeared to be crossing our bow. Straining in the dark I was unable to see any lights ahead so became concerned it was one of the rowing boats on a collision course with us. I tried to call up the unknown vessel on VHF channel 16 but got no reply. The blip on radar moved swiftly across our bow from right to left, too fast for a rowing boat, and as I peered ahead into the darkness all I could see were low dense black clouds reaching down into the sea. It was then that I realised that I had been trying to call up a rain squall on the VHF radio.
Day 5. Friday 8th. 1601 miles to go
Wind from east, force 4, sunshine, sea slight, visibility good
I had a lie-in as Steve kindly let me sleep on at 6am, and a lazy morning. Hugh watched War and Peace on DVD. Steve is full of energy and has washed down the decks, cleaned the heads and sorted the rubbish. Most of our rubbish goes overboard, including paper and cardboard, glass and tins, on the basis that these shouldn't harm the oceans. We compact plastic and tetrapacs to stow away and will dispose of them in Antigua. We didn't seen any sign of plastic floating around in the seas on our Atlantic crossing, nor, thankfully, any bigger items such as containers. This is one of my worries; colliding with a container which has fallen off a cargo ship and is floating partially submerged. I am told that this is unlikely.
Today we were visited by Atlantic Spotted dolphins. They came to inspect us and showed off their formation swimming routines, playing under the bow of the boat. Most days we see flying fish, some of which end up as dried up corpses on deck. No one seems interested in frying them up for breakfast.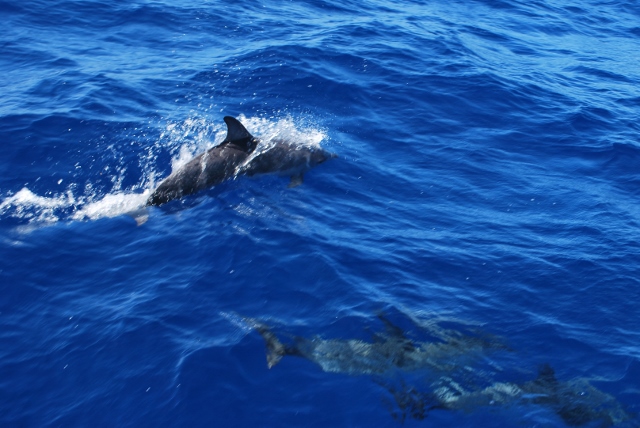 It is hard to believe we are crossing the Atlantic. 500 miles from land and 1600 miles to go. I am starting to feel much more relaxed on the trip. There is a gentle roll on the sea and we progress west with the sails goose winged. My night on watch is peaceful and I am managing to sleep well between watches. There is no moon so the stars blaze out across the night sky. The watch passes star gazing, reading my kindle or watching a film or an episode of the series 'Orange is the new Black' , kindly provided by my brother Rob, on my laptop.
Day 6. Saturday 9th. 1494 miles to go
East veering South-East, 3 to 4, sunshine with heavy rain squalls later, seas slight, visibility good, poor later
The wind has dropped and Hugh and Steve erected the cruising chute and we sailed all day in the sunshine with Vega making over 5 knots for most of the day in a gentle sea. At dusk the cruising chute was dropped and we sailed overnight with goose winged main and genoa. Again that night there were heavy rain squalls.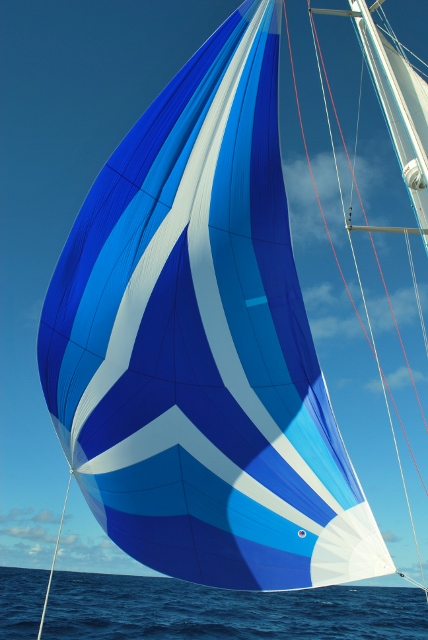 I made more bread and throughout the trip we had fresh bread. The bread has been a great success and I add a variety of seeds, nuts, wheatmeal, bran and even porridge oats to the strong white flour I'd managed to buy in the supermarket in Lanzarote. Good for the heads too.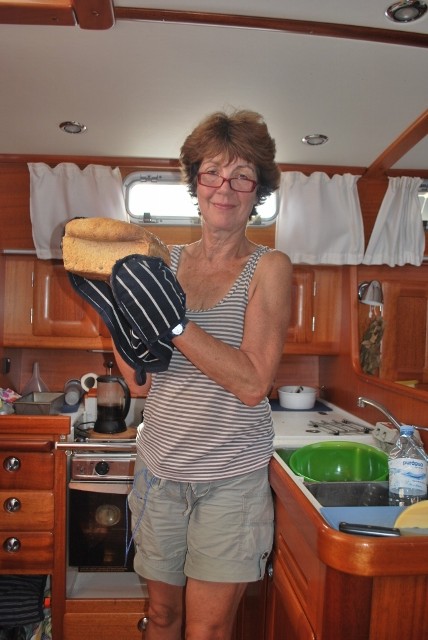 We have finally fixed the EPIRB in the gangway. The EPIRB (Emergency Position-Indicating Radio Beacon) transmits a distress signal when activated that is picked up by satellite and then passed to Falmouth Coastguard who will hopefully coordinate your rescue. We had been debating for six months since we left the UK the best place to site the EPIRB.
Day 7. Sunday 10th. 1391 miles to go
Winds south-East, Force 2 to 3, sunny, slight, poor but good later
We discovered that where we had put the EPIRB in the gangway impeded access to opening the engine cover fully. Hey ho.
We raised the cruising chute in the light winds. The low in the North Atlantic is moving nearer, bringing very variable winds, so we are heading further south to try to avoid the worst of it.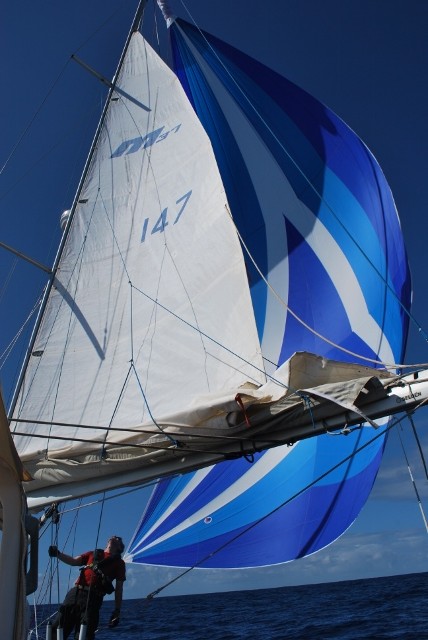 At first glance navigating from Cape Verde to Antigua seems simple. Since both are on the same latitude, 17 degrees North of the equator, we just need to head due west. By putting waypoints at the start and at the destination on the plotter and joining them with a line then you have a route to sail along. However the way to navigate the fastest route on long ocean voyages is to use a chart with a gnomonic projection which gives the shortest distance as a straight line, a 'great circle route'. The route shown on the plotter lies south of the great circle route. Which in the end doesn't really matter anyway, when the winds won't always let you sail in the direction you'd ideally like.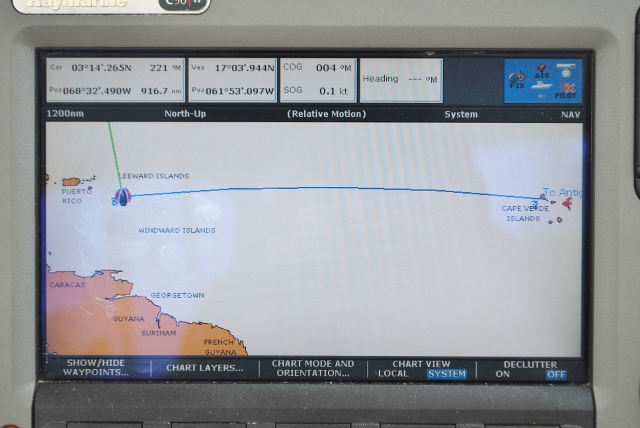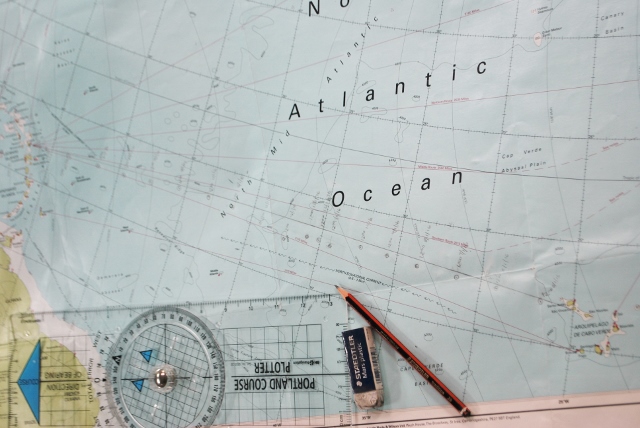 We had decided to learn to use a sextant during the trip and had brought along three volumes of sight reduction tables. The initial enthusiasm quickly waned when looking at the instructions booklets. Maybe on the next voyage.
I tried fishing again but no joy. We had bought a sea-fishing rod in Lanzarote, but the reel broke a while ago, so we fish with a spool of line with a lure, trailed from behind the boat as she sails along (or trolling as we anglers call it).
Day 8. Monday 11th. 1278 miles to go
South veering west later, force 4 increasing to 6, 7 later, cloudy, moderate, good, poor later
The wind has picked up to 15 knots and the sea has a big swell to it. It is more cloudy and the wind is coming around more from the west. The boat lurched as I was pouring boiling water and I was flung across the galley to the chart table, trying not to spill the kettle, and landed hard on my side. Apart from another bruise to add to my collection no harm done.
I left the fishing line out for much of the afternoon, checking it regularly. When I pulled it in the lure had gone. I hope this doesn't mean that there is a fish swimming around with the lure and hook impaled in its mouth. Horrible thought. I have rather gone off fishing.
The area of low pressure off the North Atlantic is moving towards us and it is going to be more stormy for the next few days. In anticipation we furled the genoa and raised the small foresail, the staysail, and put two reefs in the mainsail. The Talisker Atlantic rowers, who left the Canaries before Christmas, should be passing near our route. Friends Chris and Julia sent GPS coordinates of one rowing boat which is south of us. We feel sorry for them in the conditions forecast.
During my 9pm watch it was increasingly rough, the wind howling and gusting up to 29 knots, spray breaking over the cockpit. At 1.30am we tacked to head further south. By 3am conditions were horrible, with big rolling waves and we were trying to make way into force 6 head winds, and making little progress. We heaved to and all went to bed. Heaving to you start to turn the boat into and through the wind but don't release the sails, so that she effectively stops dead. The motion within the boat immediately becomes much easier and it is much quieter. With the wind from the west we were slowly drifting back in the direction we'd come from at about 2 knots.
Day 9. Tuesday 12th. 1232 miles to go
West veering north-west later, force 6, heavy cloud clearing later, rough, moderate
I woke at 6am to find Steve and Hugh still in bed. The sea was huge and furious, with high waves for Vega to climb and drop down the other side, the strong wind whipping up white horses on the sea. We stayed heaved to until after lunch then tried a starboard tack to head at an angle to the wind, and I helmed for a while to try to get rid of the feelings of sea-sickness. I spent the rest of the afternoon in bed trying to catch up on sleep, feeling pretty miserable and hating it. Steve and Hugh chatted in the cockpit whilst the hydrovane kept us heading in the right direction. By the end of my watch, at midnight, we had managed to get back to the position we'd been 24 hours earlier. Rather disheartening.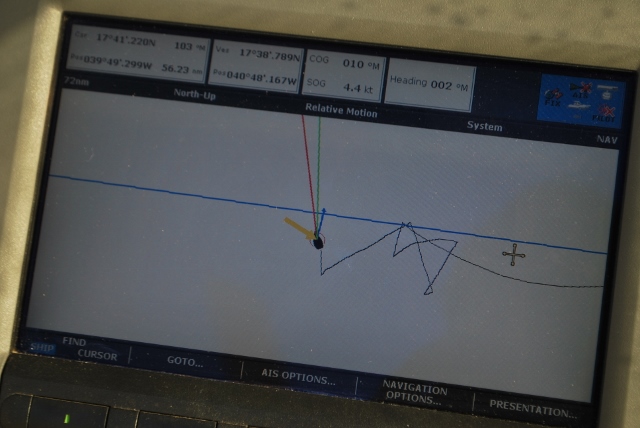 Day 10. Wednesday 13th. 1183 miles to go
Northwest, force 4, 2 later, sunshine with rain later, moderate, slight later, good
The wind was from the northwest all morning, so we were able to set a course heading west, towards Antigua again. We dropped the smaller front sail, the staysail, raised the genoa and shook a reef out of the mainsail. It was a hot, sunny day and the sea was a deep blue colour. The motion of the boat is much more tolerable although there are still big rollers moving in from the north. We hear that one of the rowing boats is 65 miles behind us. Apparently they were scattered over the seas during the bad weather, hunkered down in their cabins with sea anchors out to help stabilise them.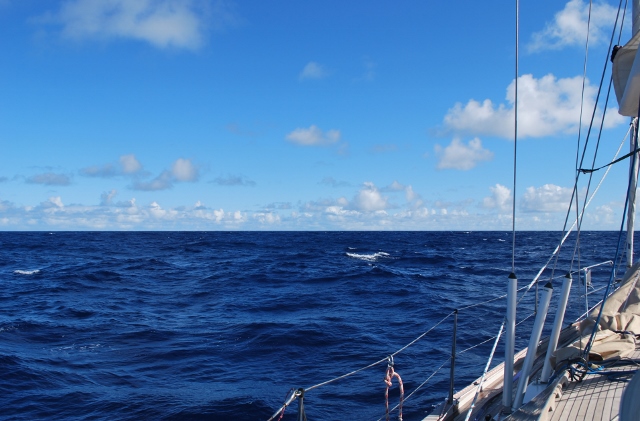 I made fruit loaf from a recipe my sister Di had emailed. I had bought a pair of electronic scales for the boat but it hadn't occurred to me that on a boat which is rocking up and down constantly it is impossible to weigh anything. I had to estimate quantities and my baking was not a great success, producing a rather flat solid loaf, although it got eaten. Subsequent baking attempts at making chocolate brownies and ginger biscuits produced similar near-disasters although again they were all consumed. I have stashed away a packet of Digestive biscuits to be brought out later as a treat. We are under provisioned with cakes and biscuits as I had seriously underestimated the biscuit eating abilities of the two men.
The wind dropped overnight, with rain squalls, so we motored much of the night.
Day 11. Thursday 14th. 1103 miles to go
North veering east, 2 to 3, cloud clearing later, slight, moderate, occasionally poor later
It was raining when I took over at 6am and everything was damp, but the sun soon came out and it was a glorious day. The wind had increased to 7 to 10 knots so we got out the cruising chute, but dropped it after twenty minutes as the wind was all over the place, so we motored again.
Steve and I went for a swim with over 1000 miles behind us to Cape Verde, just over 1000 miles ahead of us to Antigua, and over 4 km of water below us. Hugh turned Vega into the wind to slow down and we left a line floating out behind to grab onto, just in case…. The sea was a warm 30.6 degrees, and despite a slight nagging worry about sharks it was thrilling.
At night a bright crescent moon low in the sky lit our path ahead. Low heavy black squall clouds followed us, blotting out the stars, reaching down to the sea and threatening to engulf us, like a dark cloud of dementors.
Day 12. Friday 15th. 998 miles to go
North-East veering east, force 3 to 4, 2 later, cloudy, slight, good
At 3am we were sailing on a course rather near to that of a large cargo ship, MV Panther Max, which Hugh called up on the VHF radio. He got a friendly response and they were happy to keep out of our way!
Hugh announced yesterday that from now on Steve and I would take turns at being skipper for the day, running the boat, organising sail changes. Which had me on the foredeck, raising the pole and poling out the genoa so we could goosewing. Unfortunately there was so little wind we were making less than 3 knots, so after lunch we took down the genoa and pole, and motored.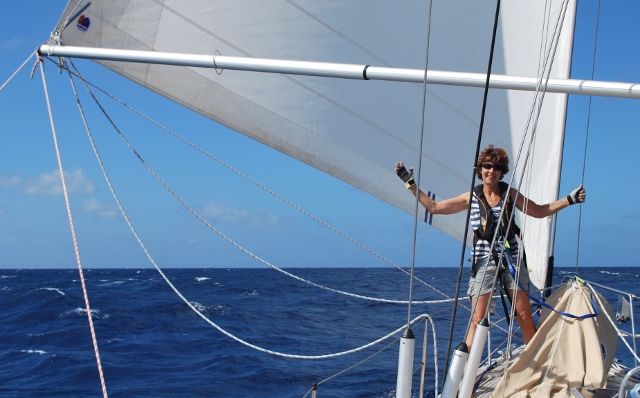 Hugh and I tend to fall into certain roles on Vega. His role includes almost everything to do with the sails and rigging. He will be the one to leave the safety of the cockpit and go forward to put a reef in the mainsail, and to erect the pole or the cruising chute. Whilst my natural laziness is inclined to favour this I know that I should learn to sail the boat more competently, especially in case Hugh should become ill or injured. So having another such enthusiastic sailor on board my concern was that I'd be further sidelined. In fact the opposite has happened. As Steve has been asking numerous questions and has been shown how everything works, it has also improved my knowledge. Now to have to skipper the boat is one step further.
We heard from Chris and Julia that the lead boat of the Atlantic rowing challenge, Ocean Reunion, is about 120 miles ahead of us, rowing at about 3 knots, so we decide to aim to catch up with them.
Tonight Steve cooked corned beef hash for supper. We have been eating well, taking turns at cooking, with such delights as the chicken casserole soon after we left Cape Verde, pasta bake, white bean and sausage stew, fusilli with pesto and parmesan, and even stir fri cabbage with luncheon meat. I can just about remember eating corned beef and luncheon meat as a child. Without wishing to disparage in any way the delicious meals served during the passage, I can understand why I have not eaten them since childhood.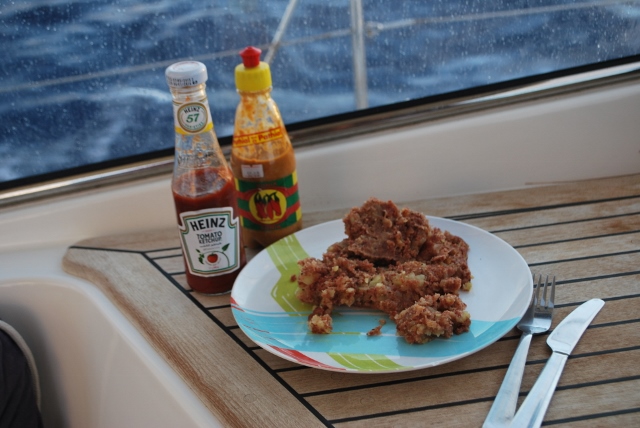 Day 13. Saturday 16th. 888 miles to go at noon
Wind from the East, force 3 to 4, cloudy, slight to moderate, good
A beautiful sunrise, low lying clouds golden, lit by the rising sun.
My lie in after my 6am watch was disturbed by the main halyard (the line that pulls the mainsail up to the top of the mast) breaking and needing replacing, so all hands on deck. As we were doing this we were visited by two whales..a mother and baby Minke whale, mum about 30 foot long, dark grey with small dorsal fins and white bellies. They swam, large and graceful, just below the surface of the water a few feet from Vega and under the boat several times. So thrilling..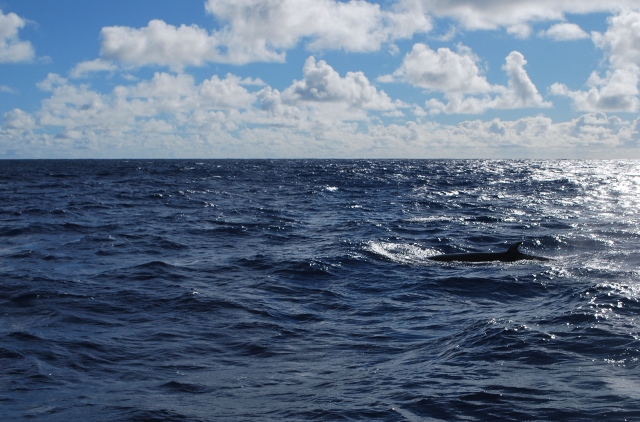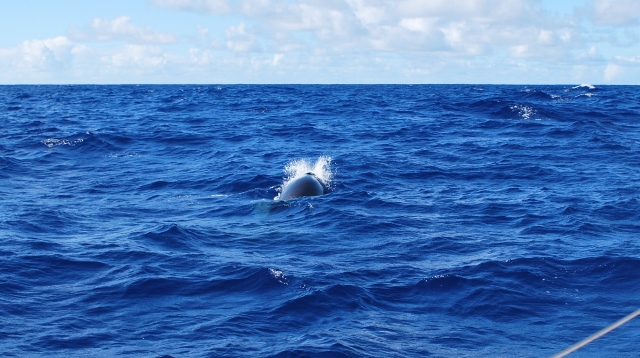 Day 14. Sunday 17th. 772 miles to go
East, force 4 to 5, sunny, moderate, good
We appear to be getting rather low on food. I had expected a 15 to 17 day passage and due to the unexpected winds we've been getting the passage is taking much longer than anticipated.
I put the fishing line out again off the back of the boat. I was checking it regularly and just before supper I checked it for a final time. It had gone taut. I expected weed but as I pulled in the line could see the turquoise and silver flashing of a dorado. I was both thrilled and horrified to have caught such a beautiful fish, almost three foot long, blue with brown spots, its colour changing to a dull brown within 15 minutes. Hugh gutted it and added chunks of fish to the curry he'd already cooked. It lasted us for three meals.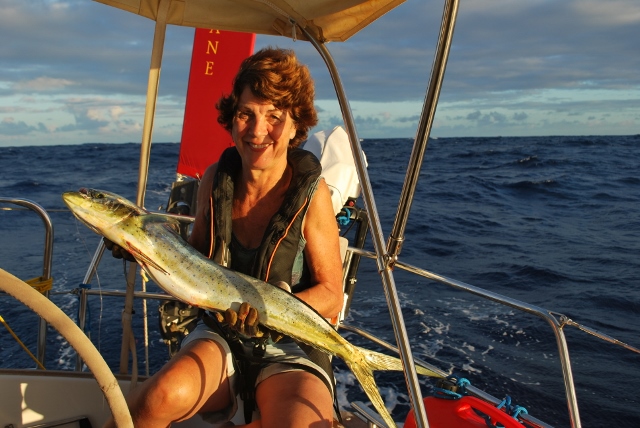 Day 15. Monday 18th. 641 miles to go
East veering southeast later, 4 to 5, sunny, moderate, good
Sailing steadily with reefed mainsail and genoa goosewinged, averaging 5.4 knots for the last 24 hours. The lead rowers, Ocean Reunion, are south of us so although we are on a good course for Antigua we need to sail further south if we hope to meet them.
We listened to more music from Steve's iPod on the cockpit speakers as we had supper…. film scores tonight, Aladdin and Cabaret. Pasta with ham, peas, walnut and cream for supper and tinned fruit for pudding. We even had a beer to celebrate two weeks at sea, although we had decided that we would on the whole be a dry boat, none of us functioning so well during a watch after drinking alcohol.
After supper the wind veered more south-east, so as we need to head more southerly Hugh and Steve had to furl the genoa, take down the pole and gybe the mainsail in the dark, whilst I cleared up and made bread. Then the duogen, the turbine we drag behind the boat to recharge the batteries, stopped working. At midnight the autohelm started beeping a warning message about low battery levels and shut down. I wondered what I was doing in the middle of the night, in the middle of the ocean, with everything packing up, when I should be getting a good night's sleep and calling someone out in the morning to fix the problem…..
Day 16. Tuesday 19th. 521 miles to go
East, force 4 to 5, sunshine, slight to moderate, good
Hugh and Steve have very kindly started to cover my 6am watch for me so after I get to bed at midnight I can sleep on. They are able to catch up on sleep with naps in the day, whereas I seem unable to and was getting increasingly exhausted.
I had a brief but wonderful shower and hair wash as my hair was caked with salt and I was concerned that my offensive smell might cause disharmony on board. Despite being frugal with water the tanks completely ran out soon after. I am praying the watermaker doesn't pack up as otherwise we only have bottled water now, although there is lots of it stashed away.
Daily emails from Chris and Julia have been updating us with the latest GPS position of Ocean Reunion, the lead row boat on the Talisker Atlantic Challenge. We have spent increasing time calculating when and where we should catch up with them and that was today! Ocean Reunion are transmitting their position on AIS and they finally showed up on our plotter when 7 miles away from us. I stood up at the mast looking out with binoculars but only spotted them when they were a mile away; a silver capsule with 4 oars sticking out. They saw our sails before we saw them and called us up on VHF radio. They were as excited to see us as we were to see them, as we slowed to their 3 knots and approached to within 20 meters of them, shouting across the gap, and talking on the VHF radio. Clearly they have no dirty laundry problems although apparently chafing and sores are an issue.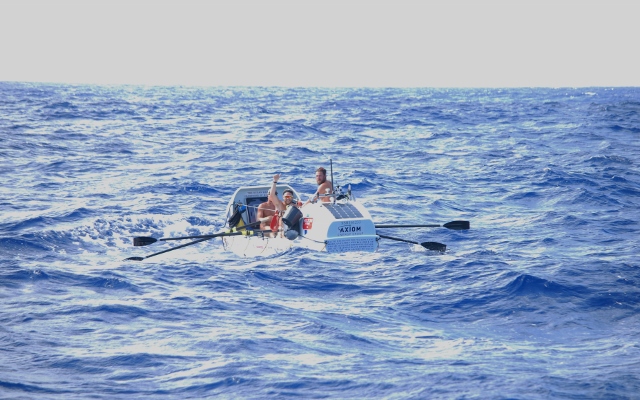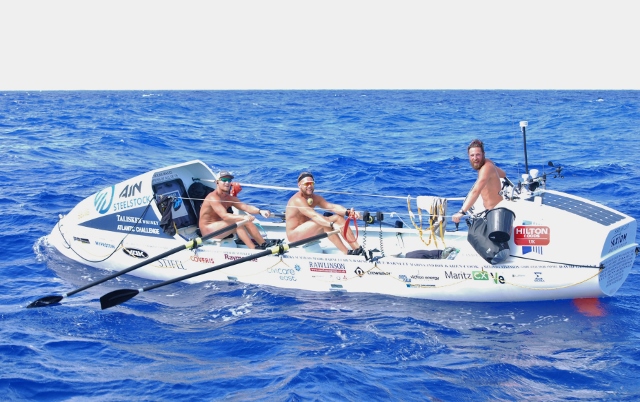 We saw a frigate bird today.. we are less than 500 miles from Antigua and these birds with 6 foot wingspans and forked tails can fly far from land.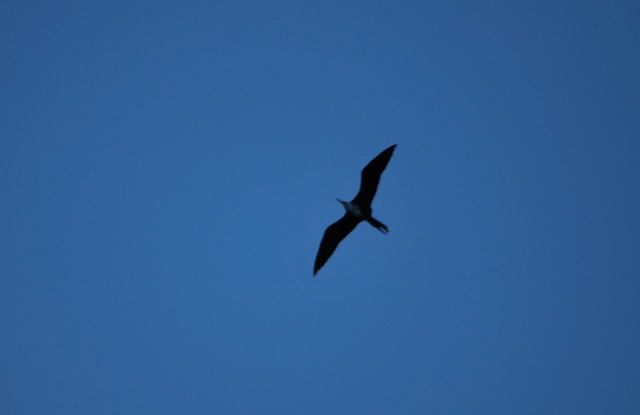 The sea is full of brown weed which keeps clogging up the duogen. We are continually having to raise it to clear off the weed from its turbine.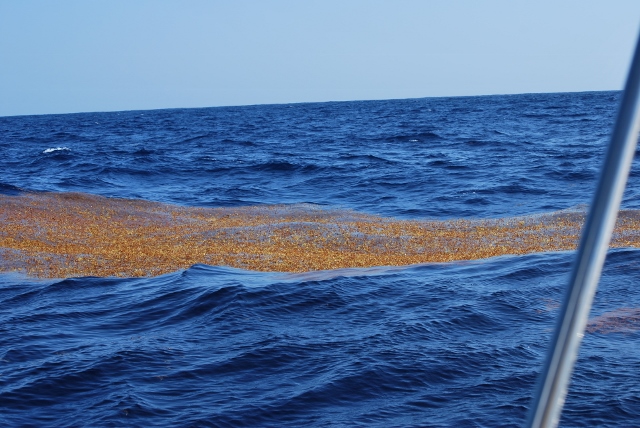 Supper of fish and chips and mushy peas.. fried dorado, tinned peas and the last of the potatoes from Cape Verde.
On watch at night there is a bright moon and the constellations Orion and Canis Major look very close. It is warm enough to just wear a t-shirt at night. I am feeling relaxed and enjoying the journey.
Day 17. Wednesday 20th. 410 miles to go
East, force 4 to 5, sunshine, slight to moderate, good
Another beautiful hot sunny day with gentle winds. We spend the day reading, talking, cooking and eating meals, making bread, checking emails on the satellite system. The days start to merge into each other. The hydrovane keeps the boat on course, the duogen recharges the batteries, the water maker makes fresh water. Time passes.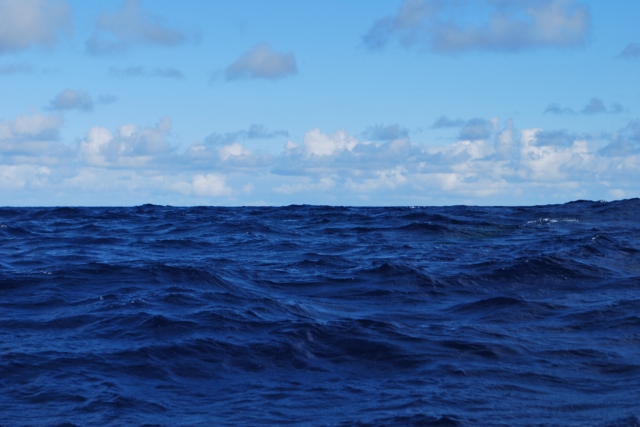 At this point I should mention the heads (the loo) as we have had an enquiry about problems with blocked loos at sea. After a serious blockage to the pipes a couple of years ago requiring them to be professionally dismantled and cleared, nothing goes down the loo except bodily byproducts. No paper, no wet-wipes etc. When in harbour the loo outflow is directed into the holding tank on the boat, which can then later either be pumped out in the marina, at a price, or emptied when far enough out to sea. Whilst sailing away from the coast the loo is emptied directly into the sea. One day I will do a more detailed post on this entitled 'The Effluent of the Affluent'.
Hugh cooked the last of the dorado in cream and paprika with rice for supper, and we ate as usual in the cockpit, listened to music and watched the sun set.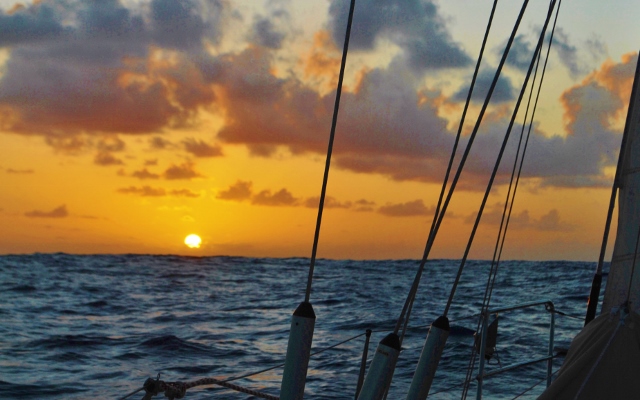 Day 18. Thursday 21st. 298 miles to go
Wind east southeast, force 3 to 4 dropping to 2, 3 overnight, sunny, slight, good
Steve was skipper today. The wind has dropped so we raised the cruising chute. Initially the big colourful sail pulled Vega along at 5 knots but as the wind dropped further it started to sag and swirl around, so after lunch we dropped the sail, furling it and passing it through the hatch into the front cabin, stowing it away in its bag.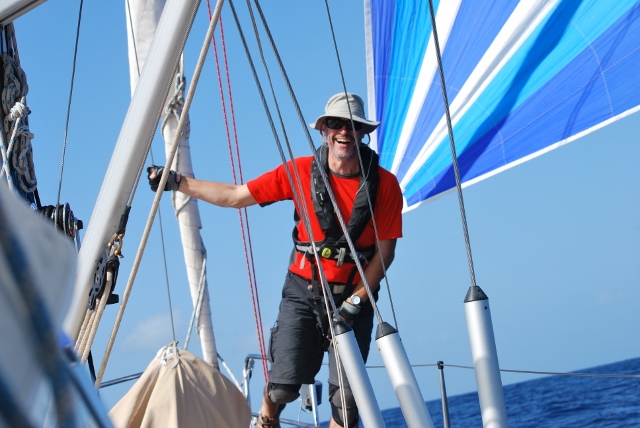 I think Hugh would have been quite content to drift around in the sea for days until the wind picked up, but Steve has a flight to catch and we're fast running out of food, so the engine went on.
For tea we had M&S Christmas pudding steamed in the pressure cooker and served up with UHT cream. We had brought it over to have at Christmas but had never got around to eating it then. On a hot, sunny day in the ocean, I don't think I've ever enjoyed eating Christmas pudding so much.
Day 19. Friday 22nd. 176 miles to go
Wind east southeast, force 4 to 5, sunny, slight, good
We continued to motor overnight. By midday the wind had increased to 12 knots so Steve and I poled out the genoa and goosewinged with the reefed mainsail and Vega sailed at 5 knots.
Steve managed to concoct a delicious lunch of couscous, tuna and cashew nut salad from the remaining packets and tins.
Hugh and Steve were pirates today. We also had poetry day and Hugh read us the Rime of the Ancient Mariner in appropriate West Country/ nautical accent. It is a very long poem.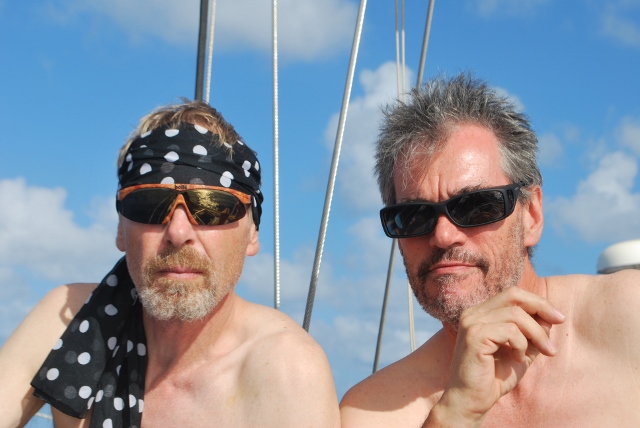 In the early evening we noticed that the second reefing line on the mainsail had broken, so the mainsail was dropped and we sailed thereafter on genoa only.
Day 20. Saturday 23rd. 70 miles to go at noon
Southeast, force 4 to 5, sunny, moderate, good
We will not make Antigua tonight before dark, and if we carry on at the speed we're going we'll arrive in the early hours. It is never a good idea to arrive in an unfamiliar harbour at night especially when it's on an island surrounded by coral reefs. Even with GPS and modern plotters it is still not a good idea, as electronic systems can always fail and aren't always completely accurate. So to slow our speed down we heave to for breakfast and then partially furl the genoa to reduce the amount of sail and hence our speed. We are still doing over 4 knots. We heave to for lunch too and then for supper. In the evening a 958 foot cargo ship, 'Besiktas', is visible on the horizon, en route to Puerto Bolivar in Columbia. As the wind increases we are sailing at up to 6 knots on genoa alone.
The excitement on board is slowly building and at midnight as I finish my night watch and hand over to Steve, my mobile phone pings back into life as it picks up a signal and a low glow of lights from Antigua is seen on the horizon.
Day 21. Sunday 24th.
Wind southeast, force 4 to 5, sunshine, some cloud, slight to moderate, good
We had worked out the waypoints to follow to get to the marina and I have entered them on the plotter. As backup they are also recorded in a notebook and we have the paper chart and cruising guide to Antigua, and a battery operated handheld GPS should the boat's electronic system fail. Steve is on watch as we arrive at the first waypoint at 3am to the south-west of the island. With a strong onshore wind we are keeping 3 miles off the coast as we skirt the south of the island to then turn north towards Jolly Harbour.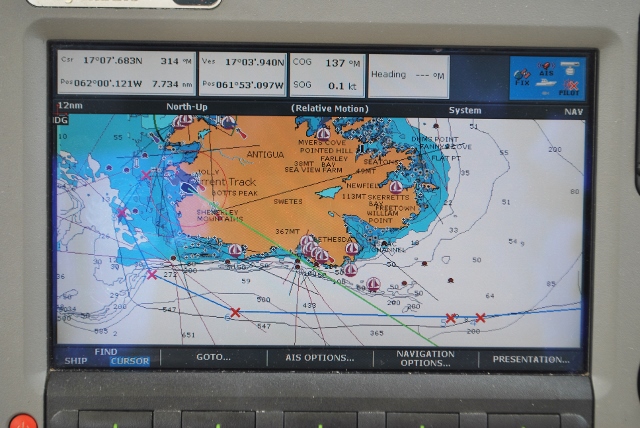 There was a glorious sunrise and overhead a Frigate Bird welcomed us to Antigua. The silhouette of the island was hilly with dense vegetation on the slopes. The early morning sun shone, the sea was blue, the land green, and as we approached the buoyed channel to the Jolly Harbour there were boats at anchor and pretty painted waterside homes. It looked like paradise after so long at sea. It was just like the Caribbean should look. We were all elated.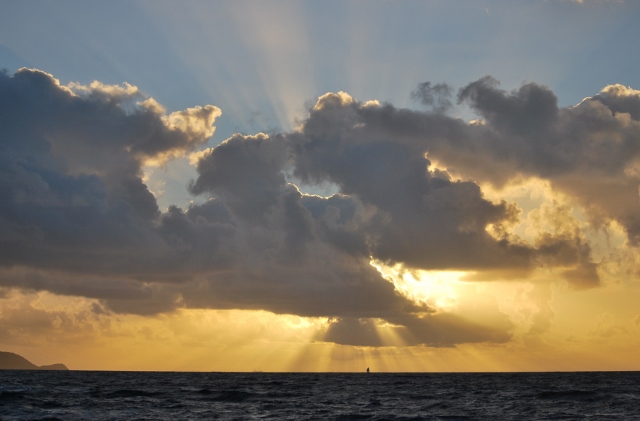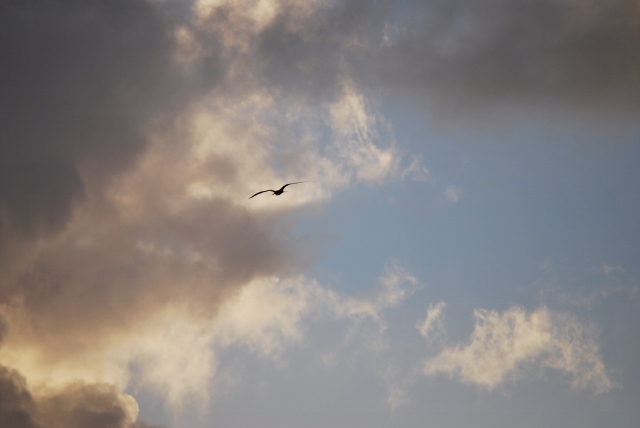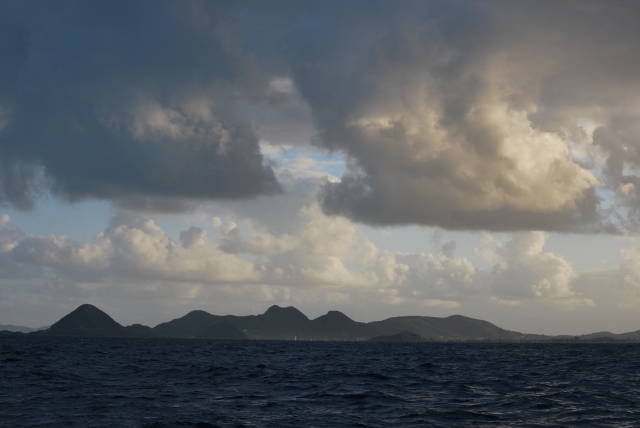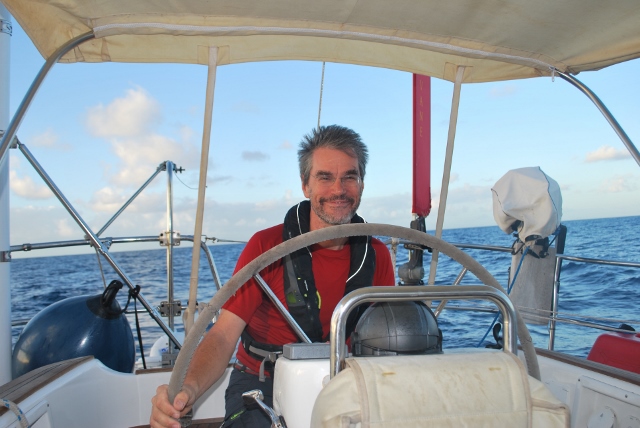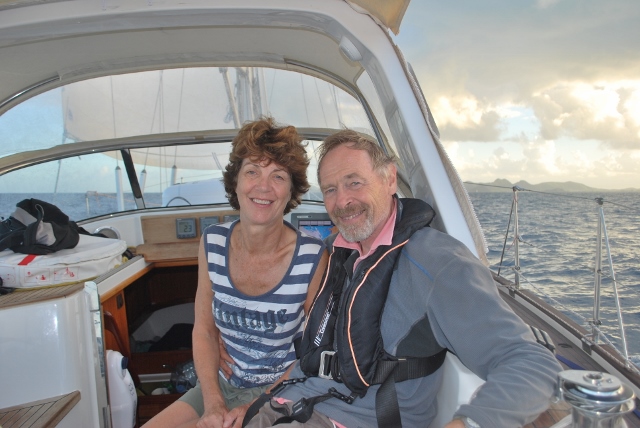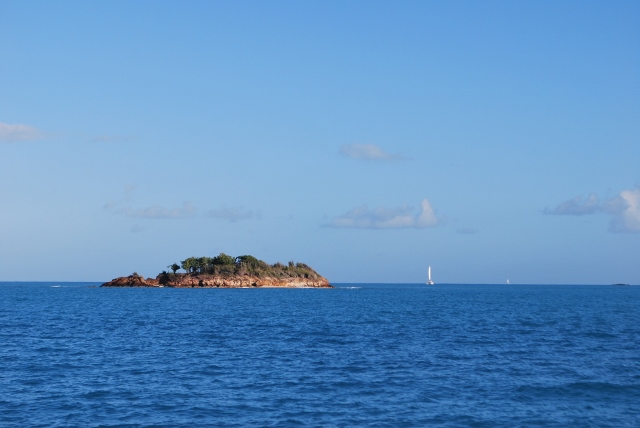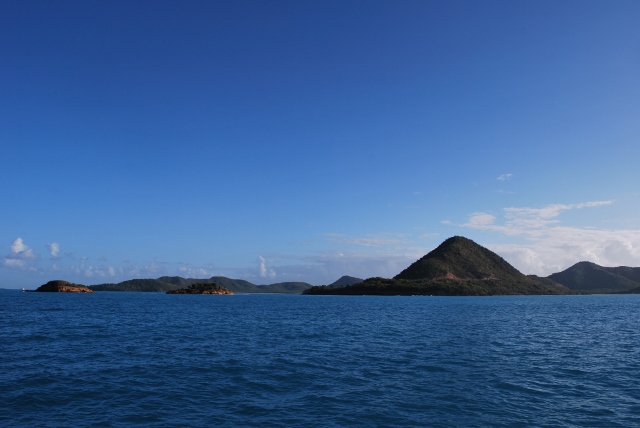 We had to sign in at Customs and Immigration before we could proceed to the marina, and we found their little yellow building on the harbour front. At 8.30am no one was at work yet so having tied up at their jetty we congratulated each other and got used to being on dry land again. It felt rather wobbly but nice and dry. The customs officer was very polite and reassured us that we didn't smell terrible, although after almost a week without washing I'm sure that we all did. Champagne was opened once we'd tied up in the marina then showers, beer and a meal in a restaurant.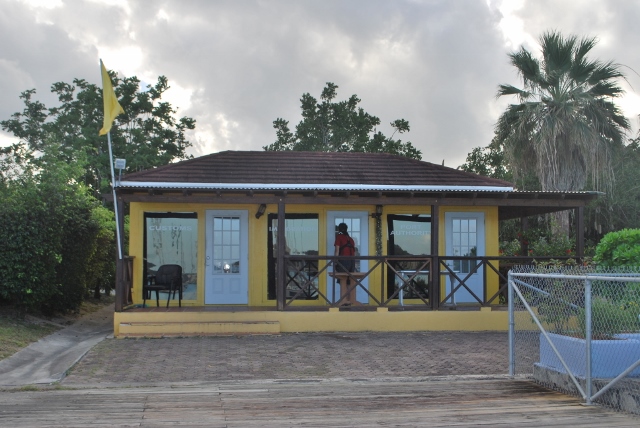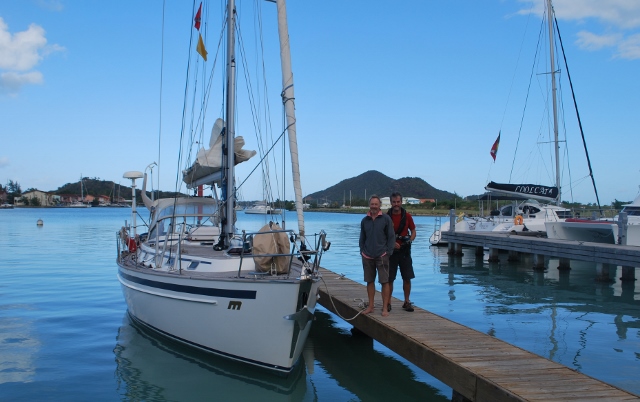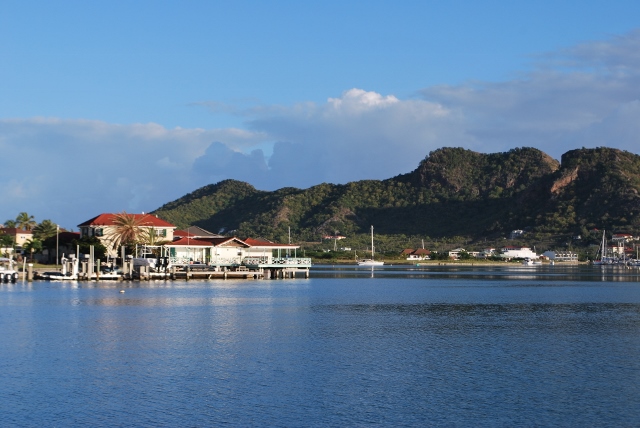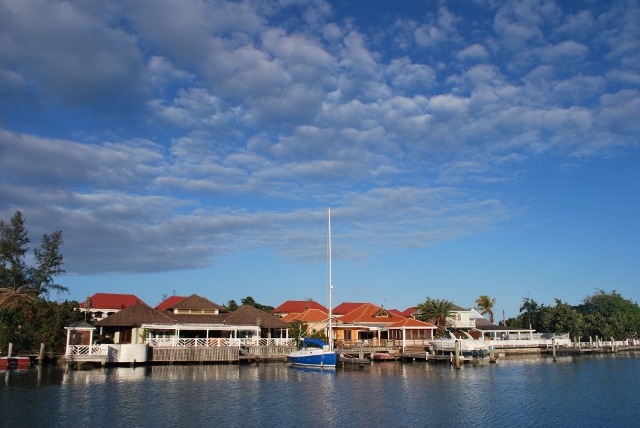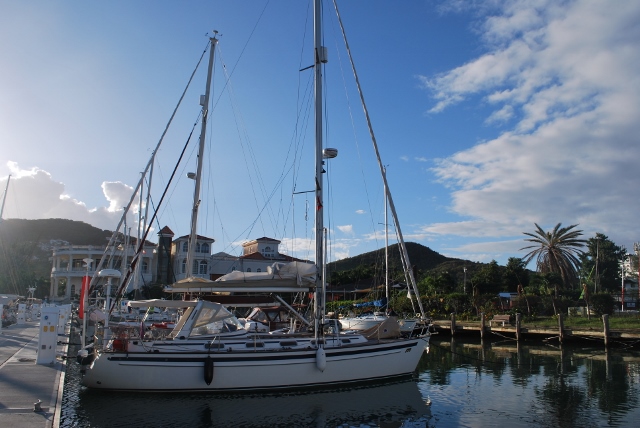 We will be in Antigua for a few weeks to catch up on sleep and get broken rigging repaired. Steve managed to get a flight back to the UK two days later and we will miss his company and diverse selection of music on his iPod.