Saturday 20th August to Sunday 4th September
You will all no doubt be glad to hear that the threatened hurricane that we were worried about in my last post never materialised but fizzled out mid Atlantic. Following shortly after this hurricane Gustav which had been heading towards Miami took an abrupt right turn into the North Atlantic, which must have been a terrifying experience for ships sailing there. Since then hurricane Hermine has hit Florida causing widespread damage and flooding and is now heading for New York. We are relieved not to be in the hurricane belt.
For the last two weeks we have been gently drifting at anchor in Mt Hartman Bay, in a peaceful spot by the mangroves surrounded by wooded hills and other boats at anchor, anchored near to friends Paul, Jayne and Lily's boat Delphinus. We can swim from the boat in water which is 36 degrees and Jayne frequently has a morning swim towing Sky, the abandoned puppy that they have adopted here, behind her in a child's dinghy. Just across the bay is the romantically named Secret Harbour marina with bar, restaurant and swimming pool. There is a large yachting community in the south of Grenada waiting out the hurricane season and at 7.30am the Grenada Cruisers Net broadcasts on VHF channel 66 with weather, events, services and 'Treasures of the Bilge' – to enable you to buy and sell or give away unwanted nautical goods. Regular yoga and Tai Chi classes take place each morning at one of the small marinas along this bit of the coast, there is a hash each Saturday and a hiking group, regular shopping buses visit the bank, hardware shop, supermarket and chandlery, there are pizza and movie nights, cookery classes and a Sunday BBQ at the pool. We have met up with other boats that will be sailing west, several of whom also plan to transit the Panama Canal and cross the Pacific early next year.
Grenada is a spectacularly beautiful island and is known as the Spice Island as it abounds with different spices, particularly nutmeg and mace, which have been valuable spices since medieval times. Nutmeg is nowadays vitally important in the Caribbean for grating on your rum punch. The south of the island feels busy, developed and thriving. There is St George's University with its medical school which takes a large number of students from overseas, in particular the USA, and contributes significantly to the country's economy. The capital, St George, is attractive for a Caribbean capital city, many of which are dirty and rundown. The centre is mountainous with extinct volcanoes, lush green forest and waterfalls. In the north it is much more simple with small, undeveloped villages.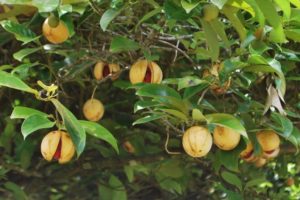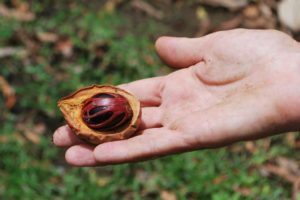 The weather is hot and humid at the moment, today 100% humidity was announced on the radio. Most days there are blue skies with wispy white clouds but rain can arrive suddenly and unexpectedly so when we go out we close all windows and hatches or can return to a flooded boat. On our first night back we had left all the windows open as it can get too hot to sleep without some breeze circulating and we woke to found rain pouring through windows and soaking books and shelves. Recently there has been lightening illuminating the sky and surrounding hills. Two nights ago Hugh woke me from a strange dream to help him put all our electrical equipment, laptops, phones and iPad into the oven which is apparently the safest place to have them should the boat be hit by lightning.
One of the downsides of being here are the mosquitos and minute sand flies known as no-see-ums which attack exposed skin leaving itchy wheals and even bite through thin clothing. Liberal spraying with 50% DEET before going onto land helps. Cockroaches can also be a problem no matter how careful you are with what you bring on board, old cardboard boxes apparently being the commonest way of carrying them onto your boat. We have so far seen two on Vega and are now well stocked with boric acid in case of further signs of an infestation.
We visited St George, the capital of Grenada, a pretty town set around a horseshoe shaped harbour called the Carenage with 19th century brick houses and warehouses and surrounded by rising hills. Looking down over the town is Fort George, built by the French in 1705. It was here that Maurice Bishop, the generally popular socialist leader of Grenada was executed (many say murdered) in 1983 by firing squad after a coup by his second in command. A week later the USA intervened with the pretext of rescuing the thousand or so American medical students here but also as they were unhappy with the Cuban involvement in Grenada. They had intended to target their missile attack on Fort Frederick on the hill above, where the army and many Cubans were based, but by mistake hit nearby Fort Matthew used as the island's mental hospital and killed 18 patients. The Queen was not amused, nor was Thatcher, as President Reagan had omitted to advise them in advance of the invasion, Grenada having only achieved independence from Britain in 1974.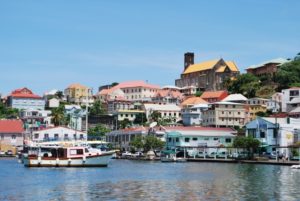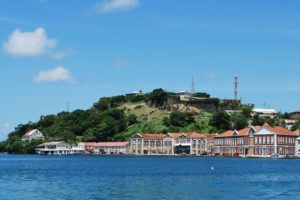 Along with some other cruiser friends we took a tour round the island with 'Cutty' (short for Cuthbert) renowned for his island tours. Climbing up though the centre of the island Cutty stopped and took us to only a few feet from the roadside where he showed how, within a small area, there was cultivated an abundance of the island's produce: papaya, grapefruit, coco and avocado trees, cinnamon bark. He pulled up ginger and turmeric roots and picked clove leaves and coffee beans. Along the way he stopped again to cut down cacao tree fruit pods, from which chocolate is made and we sucked on the bittersweet seeds. We also went swimming in a pool under the Annandale waterfall, met a rather tame Noma monkey and visited a small chocolate factory making dark chocolate with 71, 82 and 100% cocoa. At the Rivers Rum Factory rum is still made using centuries old methods. The sugar cane is harvested by hand using machetes then crushed to extract the cane juice, powered by a giant water wheel made in Scotland in the 19th century. The juice is gradually heated and moved from one huge cast-iron bowl to the next using a large wooden ladle. After fermentation in concrete vats (no longer wooden as concrete lasts longer) it is distilled in stills made in Kentucky (home of good bourbons in the US). The resultant rum is 85% proof but a rather weaker rum is also made since it has been illegal to carry any spirits over 70% proof on a plane since 9/11 as they can be used as an explosive (or so we were told). We tasted the rum afterwords and it burnt its way up my nose and all the way down.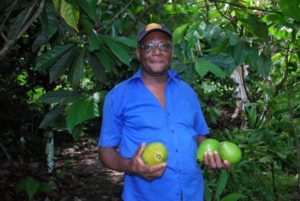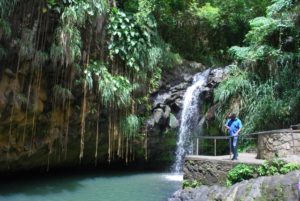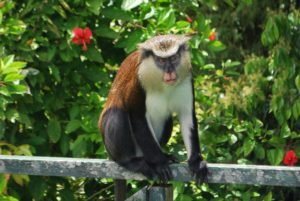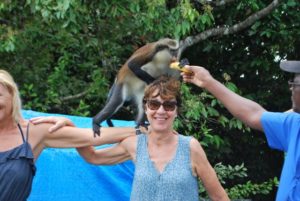 We have also been out into the countryside. Jayne is a keen birdwatcher and took a small group of us to a nearby nature reserve looking for the elusive Grenada Dove, a protected bird as there are only 200 birds left (an estimate I imagine). Although we heard the dove's characteristic call from a distance it remained elusive. Along the way Jayne identified 16 species of birds including hummingbirds, sandpipers, hawks and herons and the wonderfully named Bananaquit. We joined in the weekly hash and were relieved to find there were routes for walkers as well as the runners. The stunning scenery made the long climb up along a muddy trail worthwhile and I got chatting along the way to Cecilia, a retired lady who had recently moved back here having been born on Grenada but brought up in Weston-Super-Mare since early childhood. We also joined one of the Cruisers' weekly hikes in the rainforest. The group were mostly younger and fitter and headed off up steep tracks through the rainforest to a ridge high amongst the mountains with Hugh and me breathlessly trying to keep up. Coming down a long and extremely waterlogged track the main aim seemed to be to avoid a muddy butt as that meant buying beer for the group at the end of the hike. After I had slipped over twice I decided it was fastest coming down some of the more steep, muddy and slippery bits on my backside. At the end of the walk we drank beer and swam under a waterfall, and back on the boat I collapsed for the rest of the day. Some concerted effort is now needed to get fit enough for the planned 5 day trek to the Ciudad Perdida in Columbia.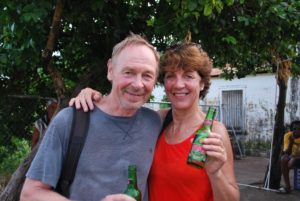 We have had our tanks filled with water delivered direct to Vega in a rather strange and unstable looking floating water tank towed behind a dinghy. 'Fast Manicou' – an American otherwise known as John- has deliver an order of basic groceries to Vega, including cases of Carib lager, Chilean wine and UHT milk. We are ready to head off to Bonaire, one of the ABC islands which are part of the Dutch Antilles and a four day sail west. We will be keeping well away from the coast of Venezuela, considered very unsafe now due to the political and economic situation there and threats of piracy.