Thursday 8th to Tuesday 20th August
We left Tifu soon after noon with Hakuna Matata for the 200 mile sail southwest to Wakatobi, our route crossing the shipping lanes for ships and tankers sailing between Australia and China. On the first night we were on a near collision course with a 984 foot cargo ship but after Hugh called it up on the VHF radio to explain we were a 37 foot sailing vessel with limited manoeuvrability it changed its course by 12 degrees to avoid us… very pleasing!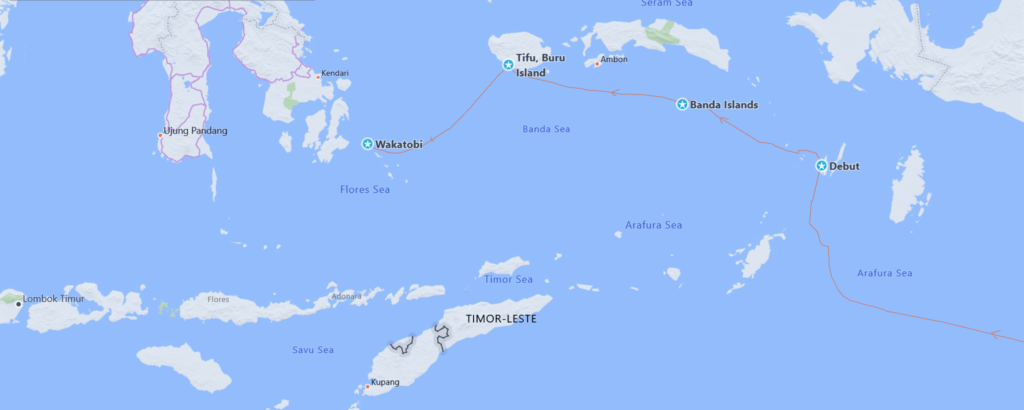 We had a good sail until dusk on the second night when the wind died and we motored. By daybreak we approaching the top of Wangi Wangi Island and had to dodge around numerous small FADs, which would have been almost impossible to spot at night.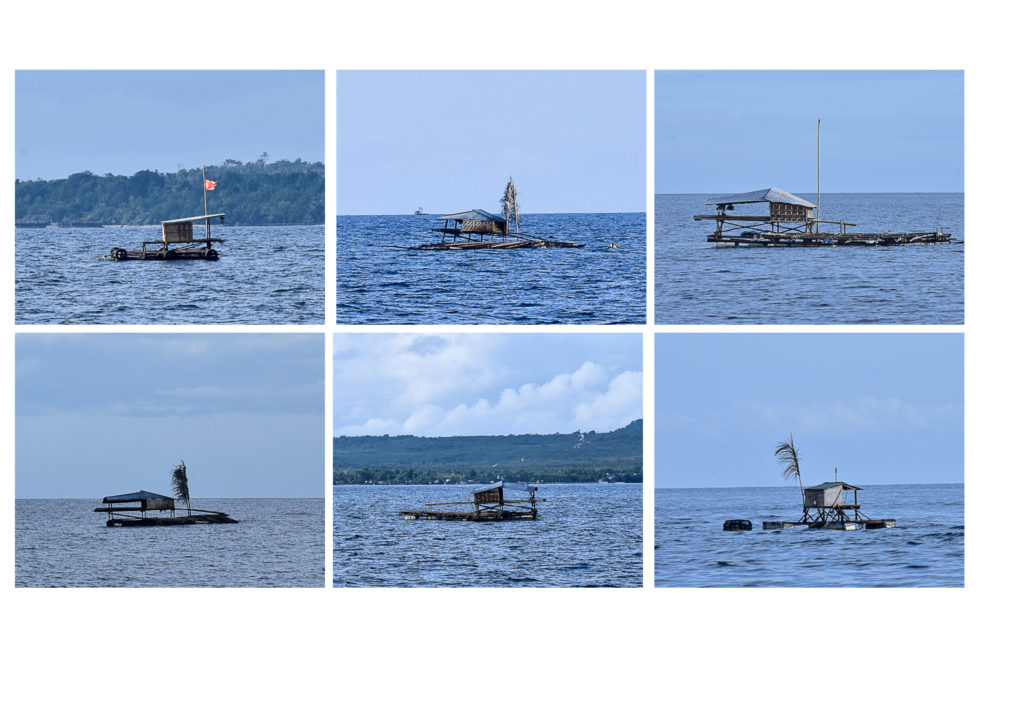 Wakatobi is named for the four main islands in the group, Wangi-Wangi, Kaledupa, Tomea and Binoko and the area is a marine national park, although fishing is permitted in the islands for the 100,000 people who live there and depend on fishing for their livelihood. It was not an official stop on the rally schedule but we were ready for a break from the speeches, tours and gala dinners and looking forward to some time to snorkel, dive and just relax. (Contrary to expectations Wangi-Wangi translates as 'nice smell-nice smell').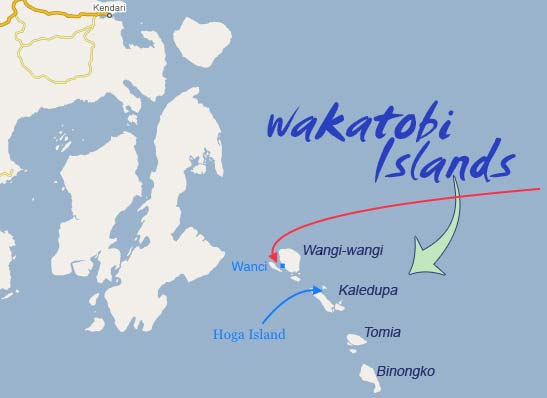 As we approached the entrance to the lagoon at the main town of Wanci on Wangi-Wangi Island, Gino's voice came on the VHF radio giving us directions through the pass into the lagoon where we anchored by the 8 or so yachts already there, out of the way of the car ferries that come and go. Gino is the organiser at the WIC, the Wakatobi Information Centre, a gleaming modern construction with a marble floor from which he coordinates the coming and going of visiting yachts. Gino will help organise car hire, diesel, laundry, water, even ordering trays of Bintang, the local beer. He is desperate to attract yachts ever since the Wonderful Sail2Indonesia rally stopped using it as an official stop a few years ago after there were protests about how the yachties were eating in public in the day during Ramadan and were being given such lavish hospitality in a country where some have so little – quite understandable.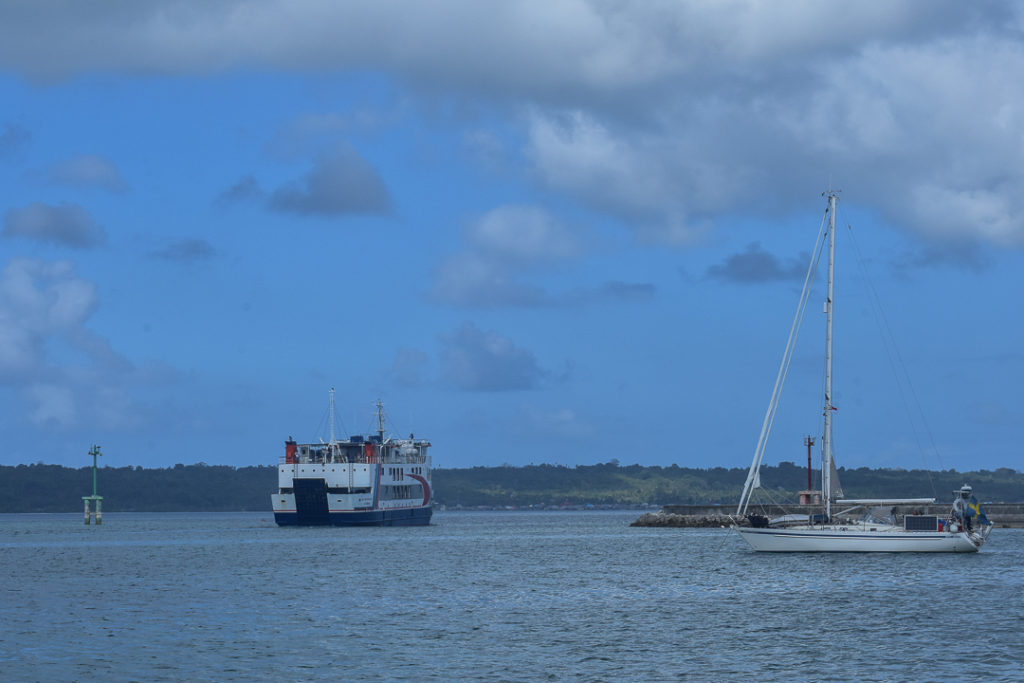 A group of 15 to 17 year old students hang around the centre, keen to talk to you and to practice their English and to act as your guide around town, and have been given time off school to do so. They are all charming and delightful. I had an interesting conversation with a young woman about the meaning of feminism in Indonesia.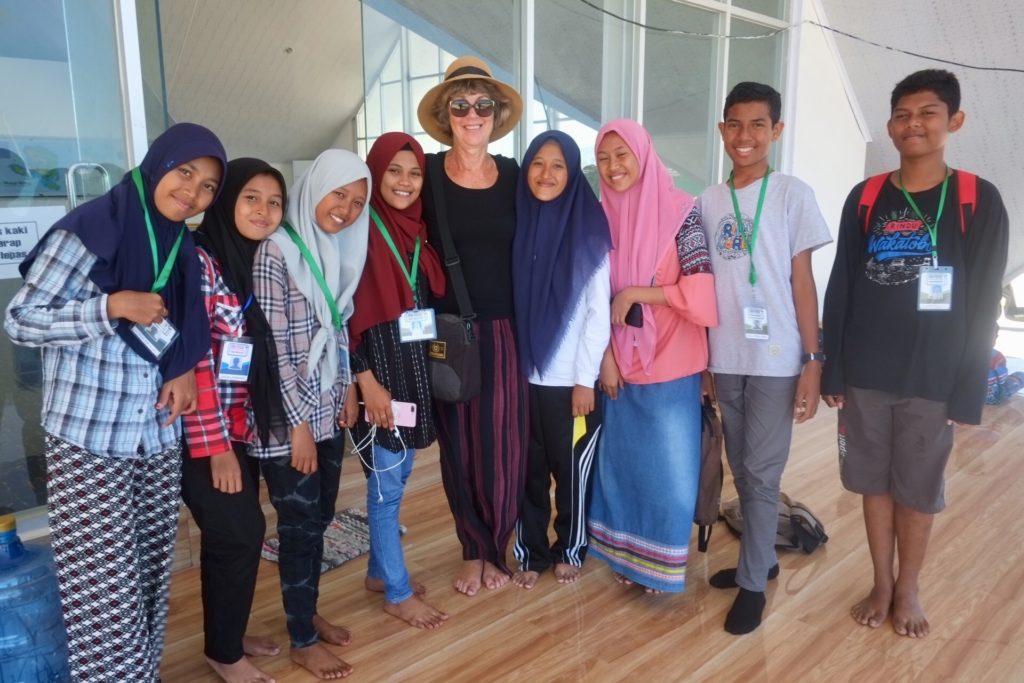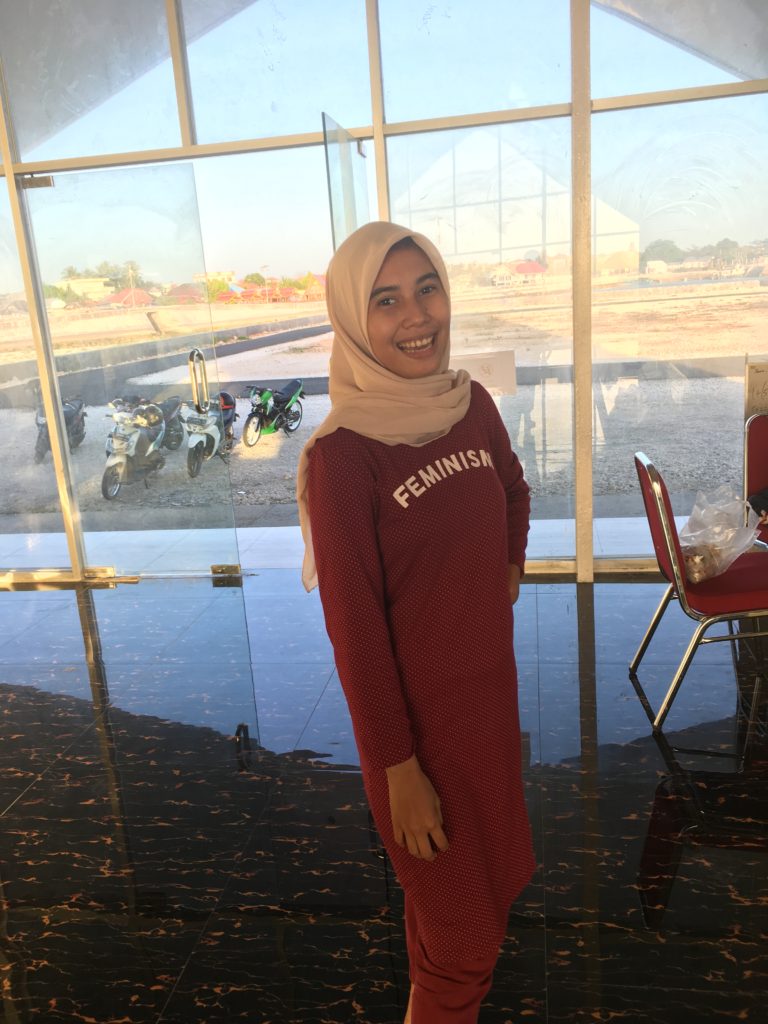 Five times a day the Adhan (call to prayer) rang from a nearby mosque with an azure blue, onion-shaped dome – the voice of the Muezzin sweet and plaintive…… 'Allah is most great…. hasten to prayer, and at 4.30am 'prayer is better than sleep'…. I'm not sure I'd agree as I turn over and go back to sleep but am beginning to enjoy the sound as a background to our time in Indonesia, especially when the singer has such a beautiful, melodic voice. I had assumed that the singing must be recorded but read that every call to prayer is live. Some are better than others.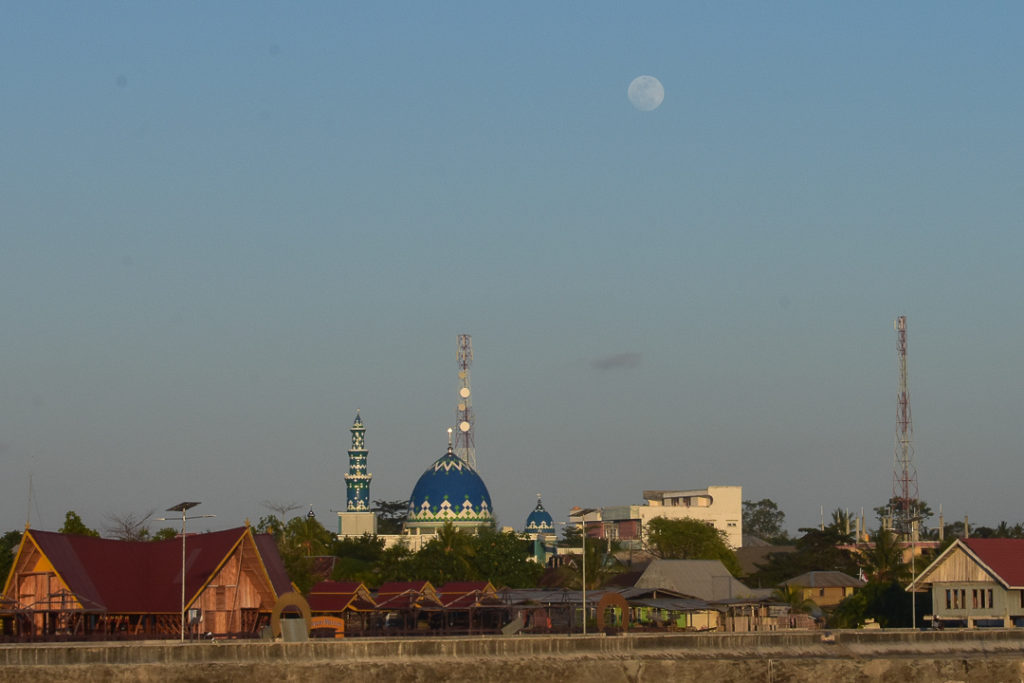 David and Susan from Enchantress hired a car to explore the island. Our first stop was the ATM in town where, whilst we waited in a long queue, we watched groups of young people marching, goose-stepping in military fashion in preparation for the Indonesian Independence Day celebrations.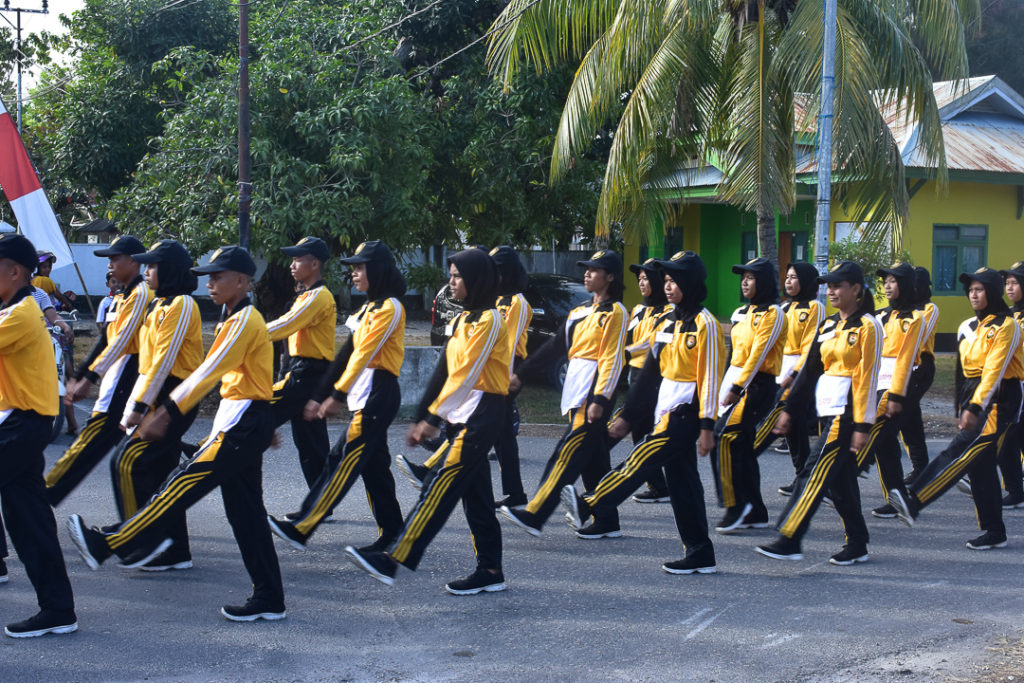 A bit about a Indonesian Independence:
For centuries Indonesia was at the centre of sea routes, trading with Arabia, India, China and Japan. Europeans finally discovered Indonesia in the 16th century, attracted by the valuable spices grown here especially nutmeg, mace and cloves, with the Dutch ultimately achieving dominance. Indonesia declared independence from the Dutch in 1945 at the end of WWII, after the Japanese, who had occupied Indonesia during the war, surrendered to allied forces.The constitution guarantees each person freedom of worship according to his/her own religious belief, which is important in a country where 87% of people are Muslim, 10% Christian (Catholic & Protestant) with the remainder Hindu, Buddhist and Confucianist.
After the ATM we headed to the outskirts of Wanci to visit the Bajo village. The Bajo are the indigenous people of these islands, a nomadic sea-faring tribe of fishermen who have been forced by the Indonesian government to settle in villages. They build their houses on land and on stilts above the water and we wandered along narrow paths beside canals, the canals and streets full of plastic litter.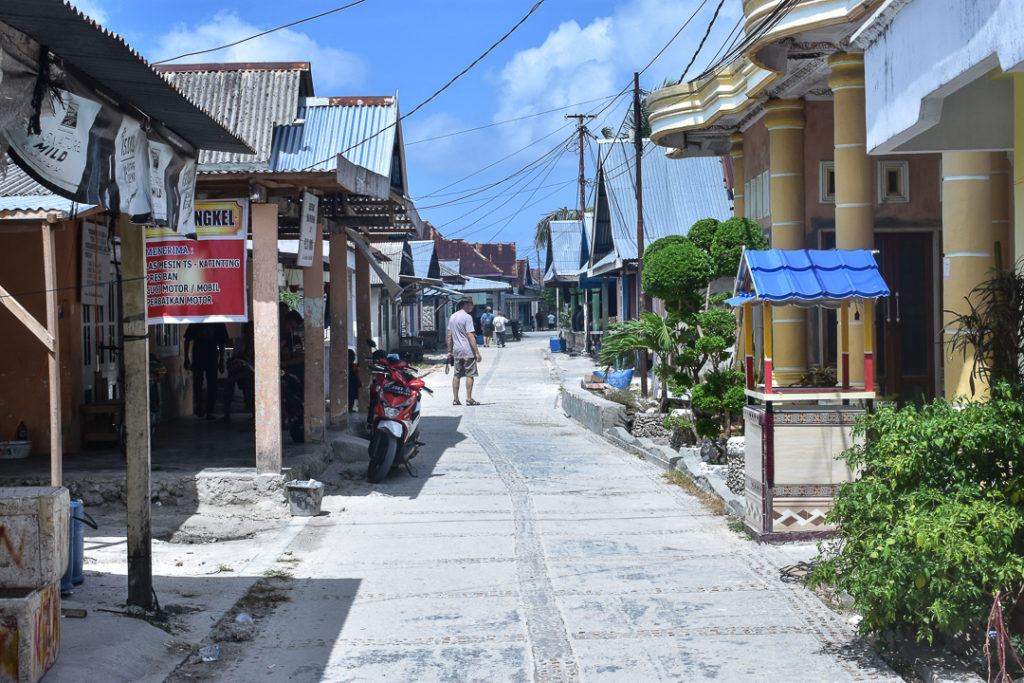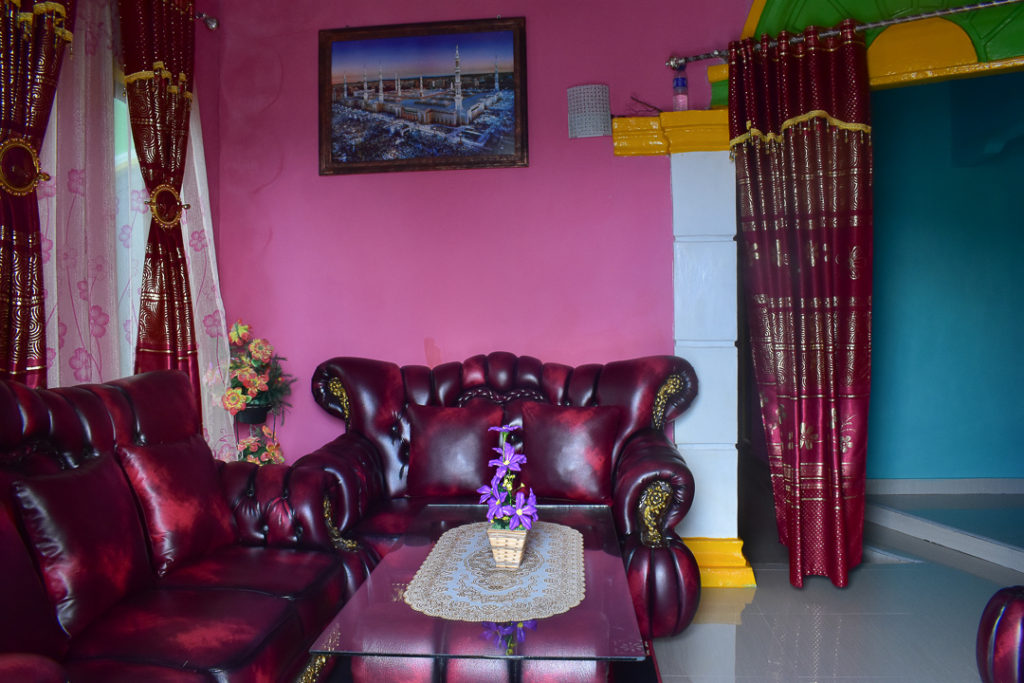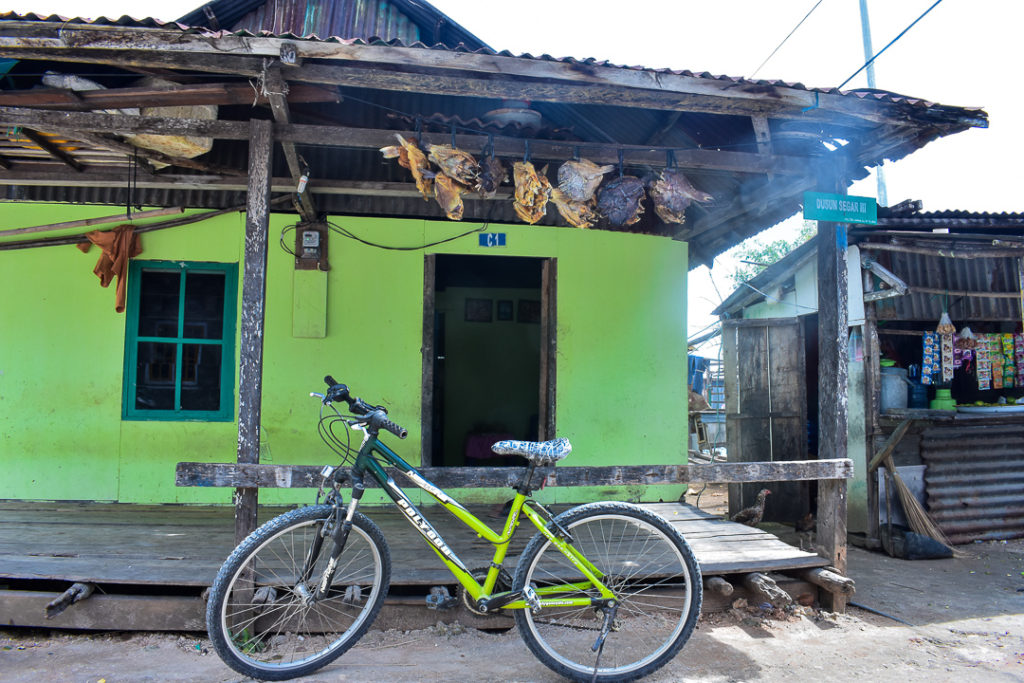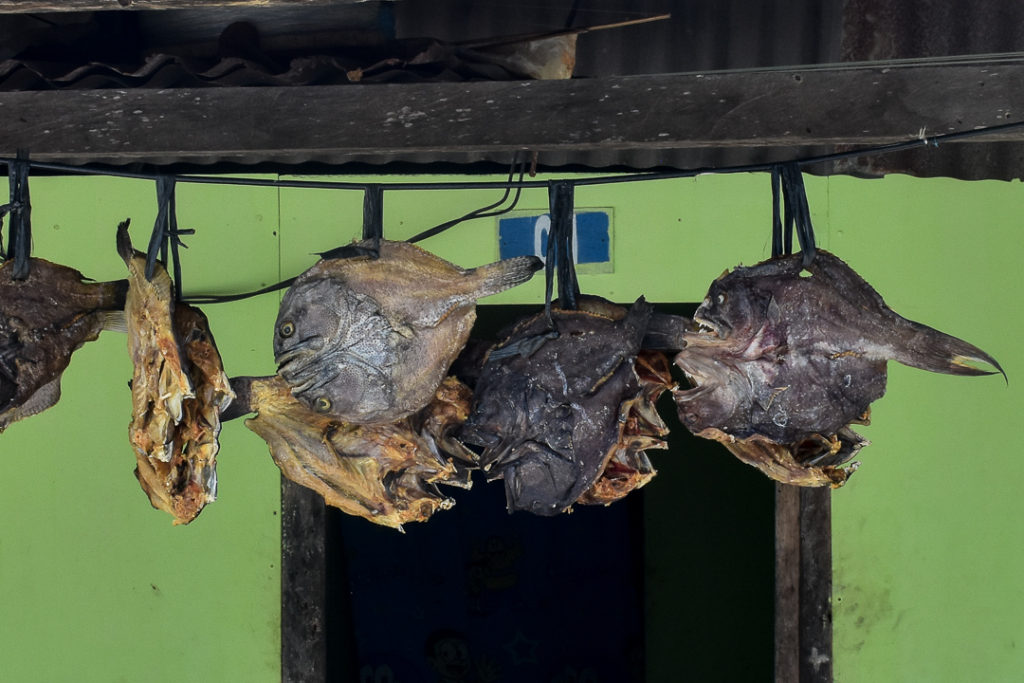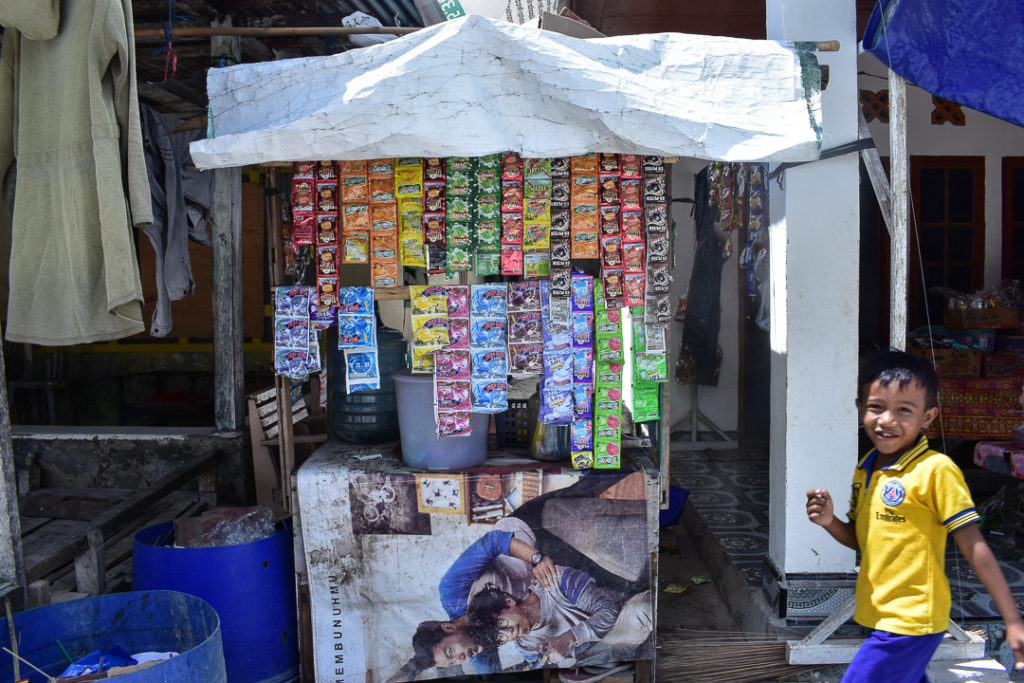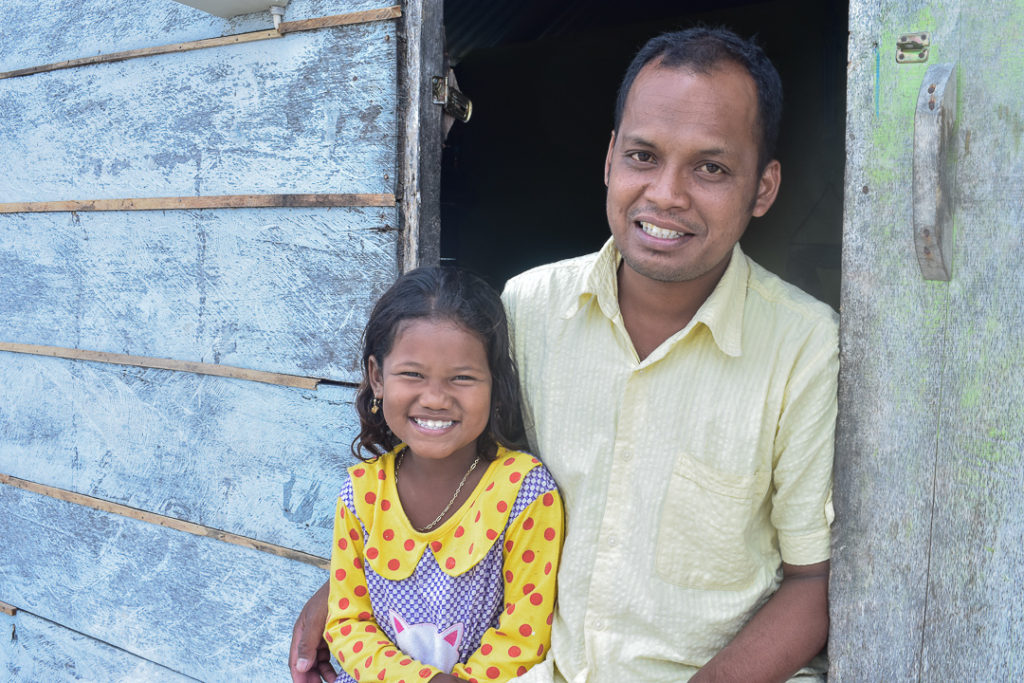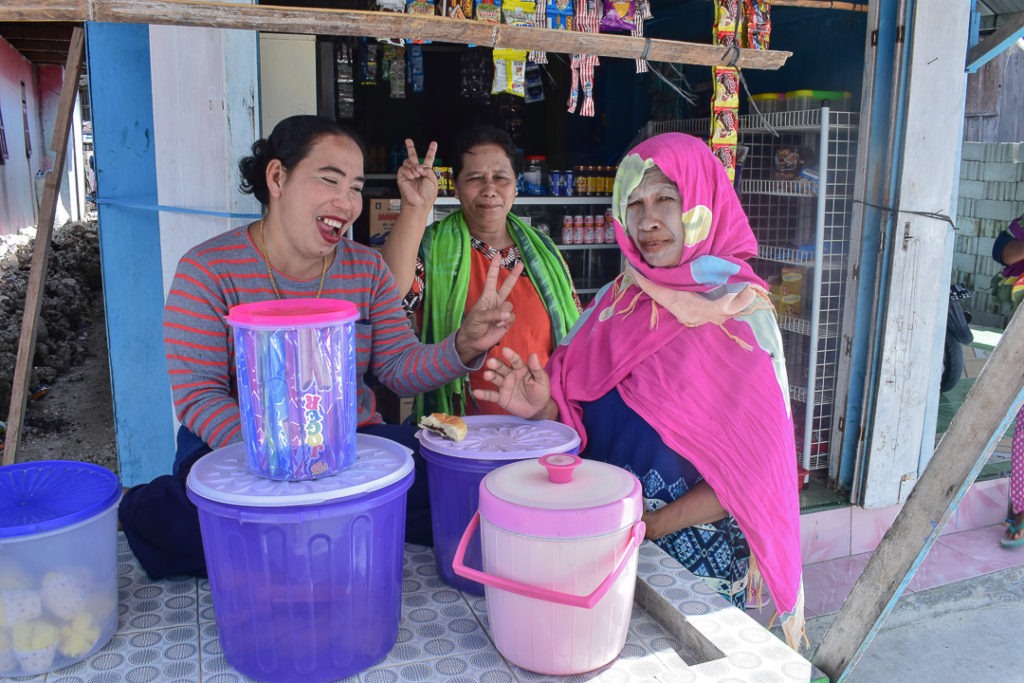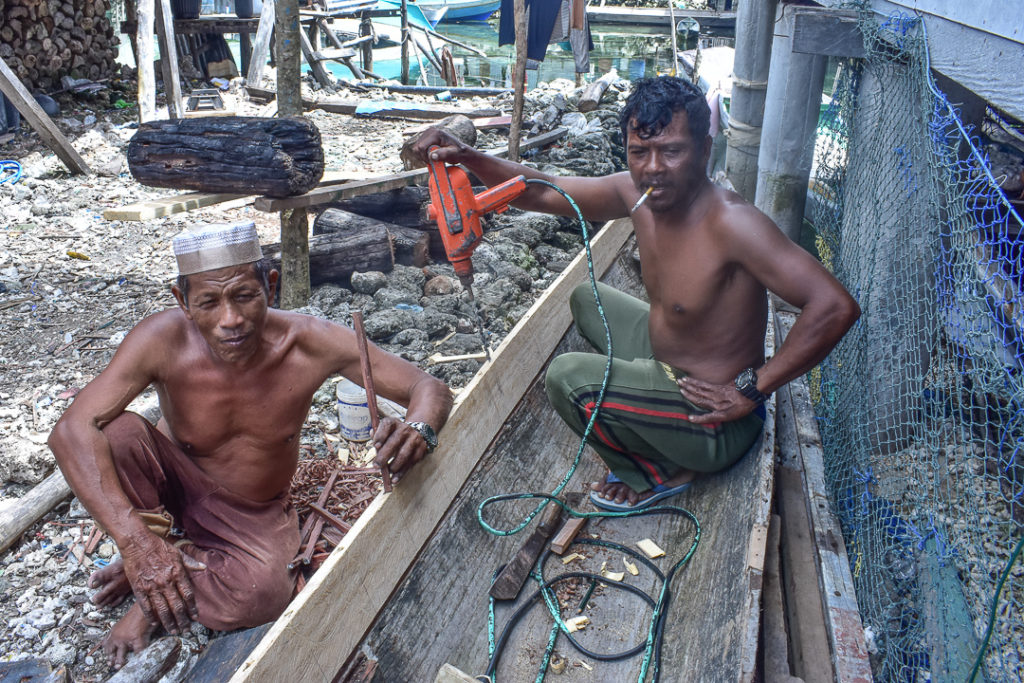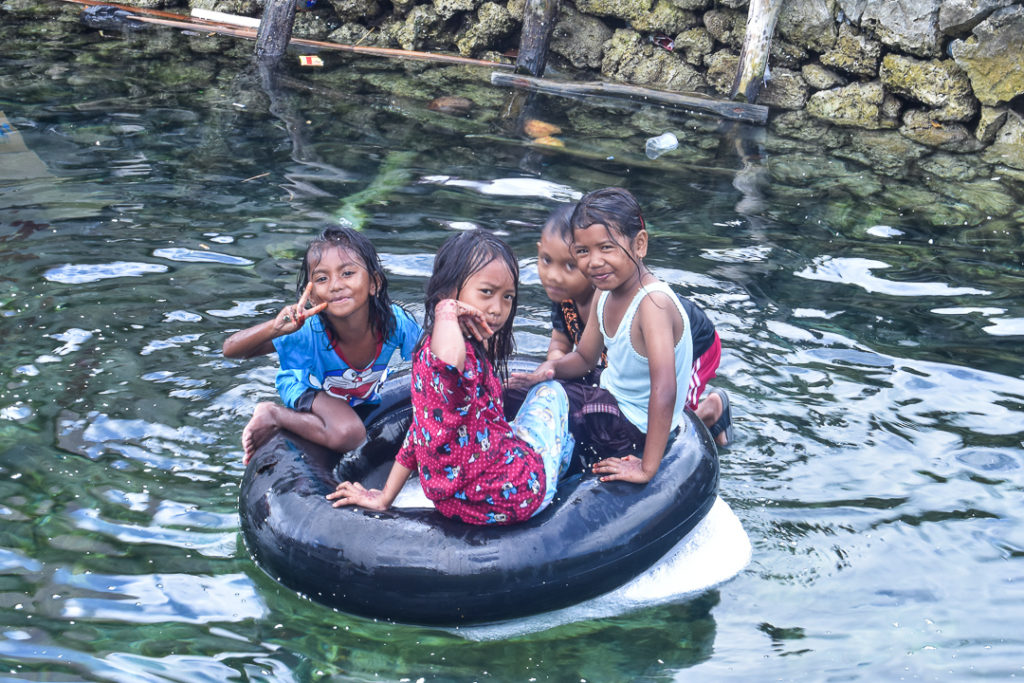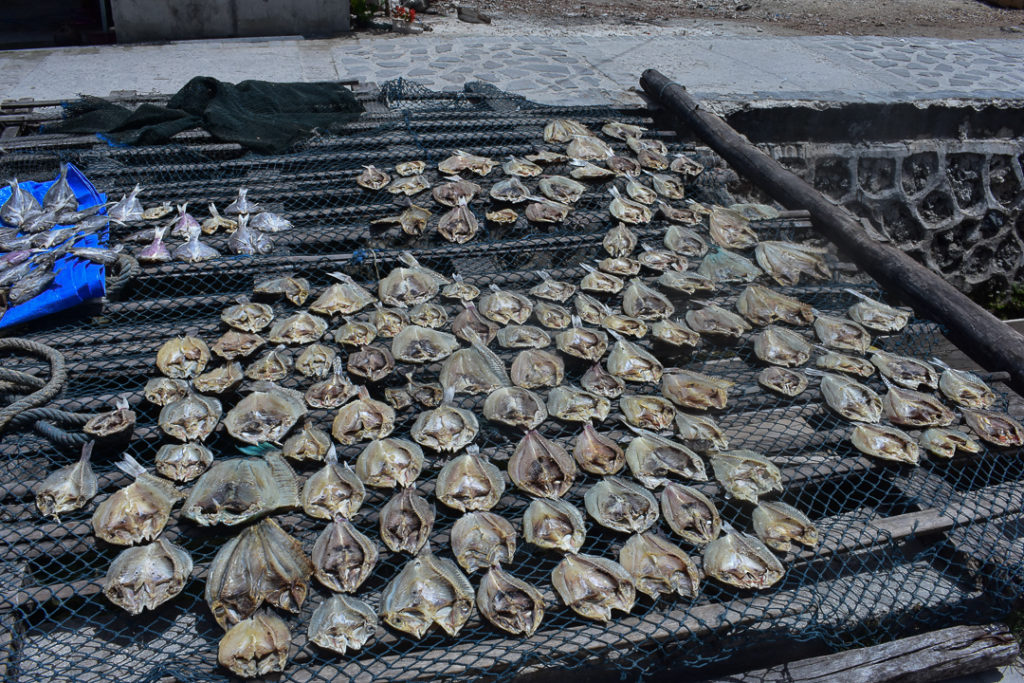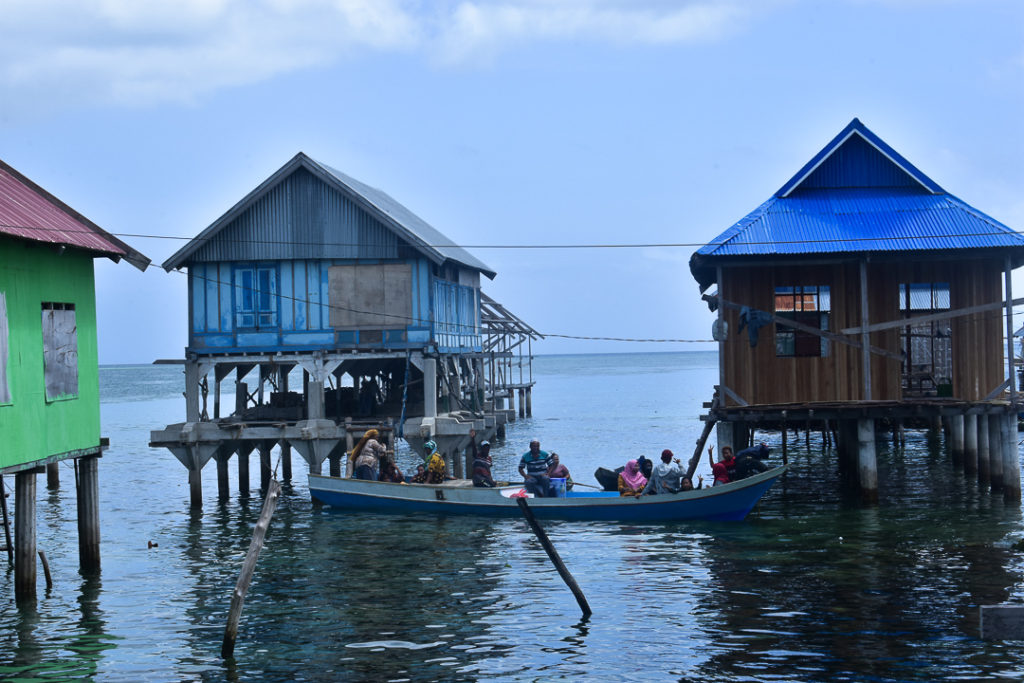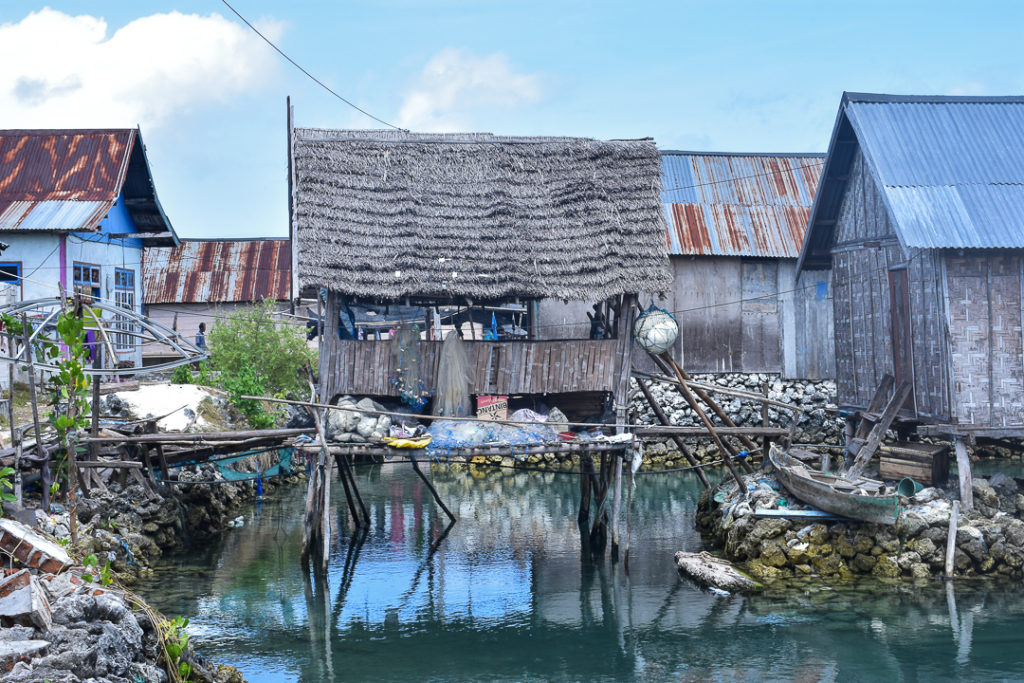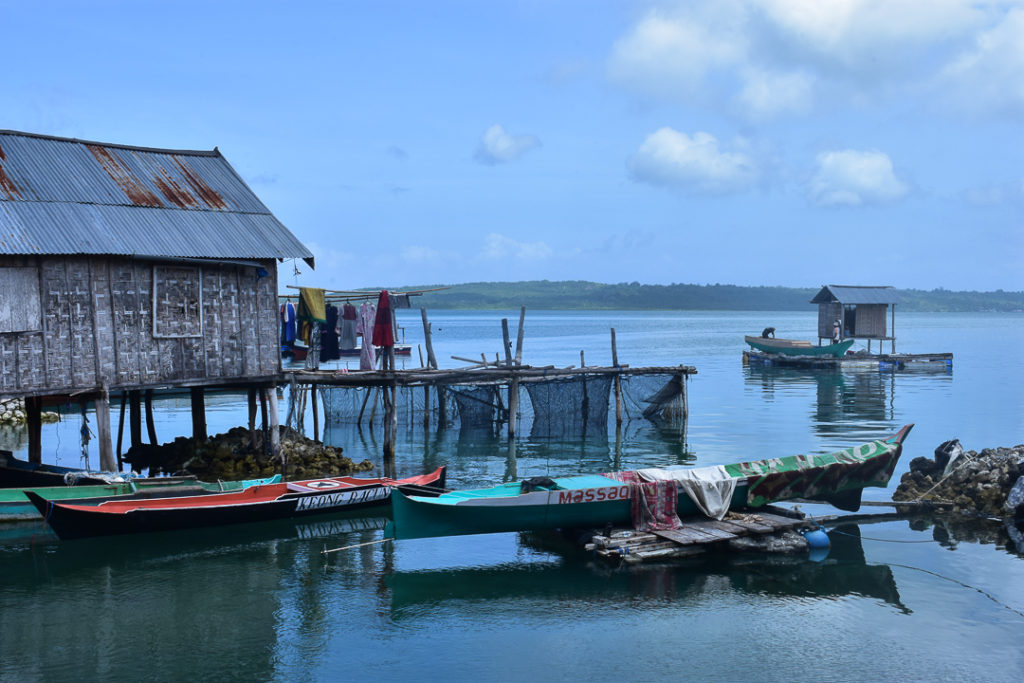 Many Indonesians seem to have little awareness of the problems caused by plastic and it is everywhere…. every time you buy something you are offered a plastic bag, drinking water comes in plastic cups and bottles which are dropped in the streets and the sea is full of plastic rubbish. On the rally we have come across examples of teachers trying to educate about plastic waste in schools and individuals encouraging recycling and there was this billboard by the vegetable market in Wanci. We hope things change soon.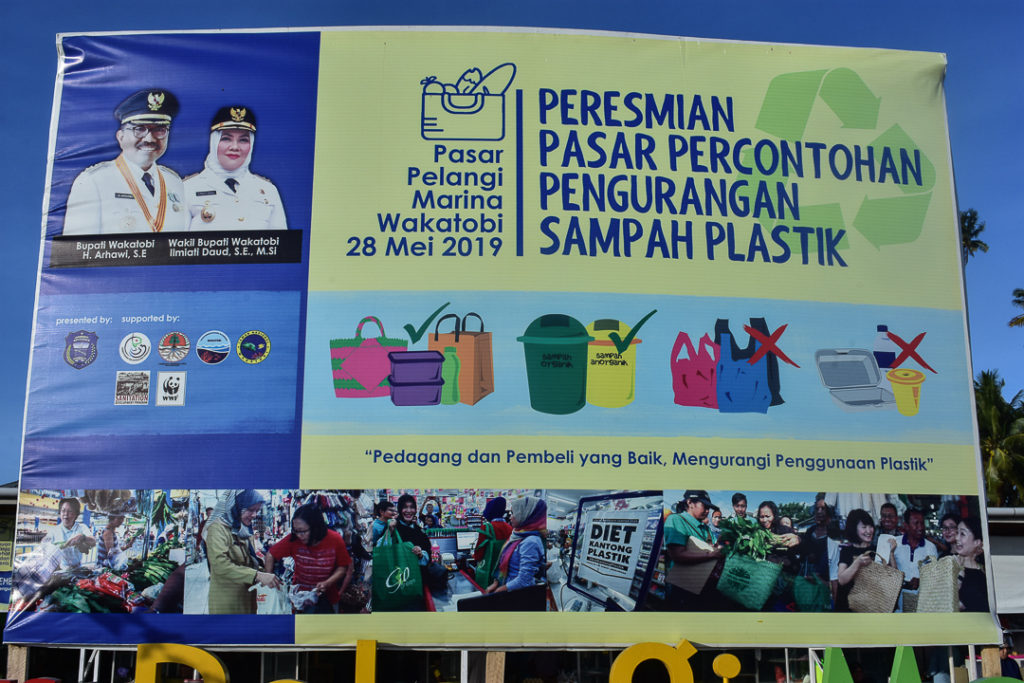 We also visited the Liya Togo Fortress built from coral rocks by the ancient Buton Sultanate, now with a village sprawling down the hillside within its walls….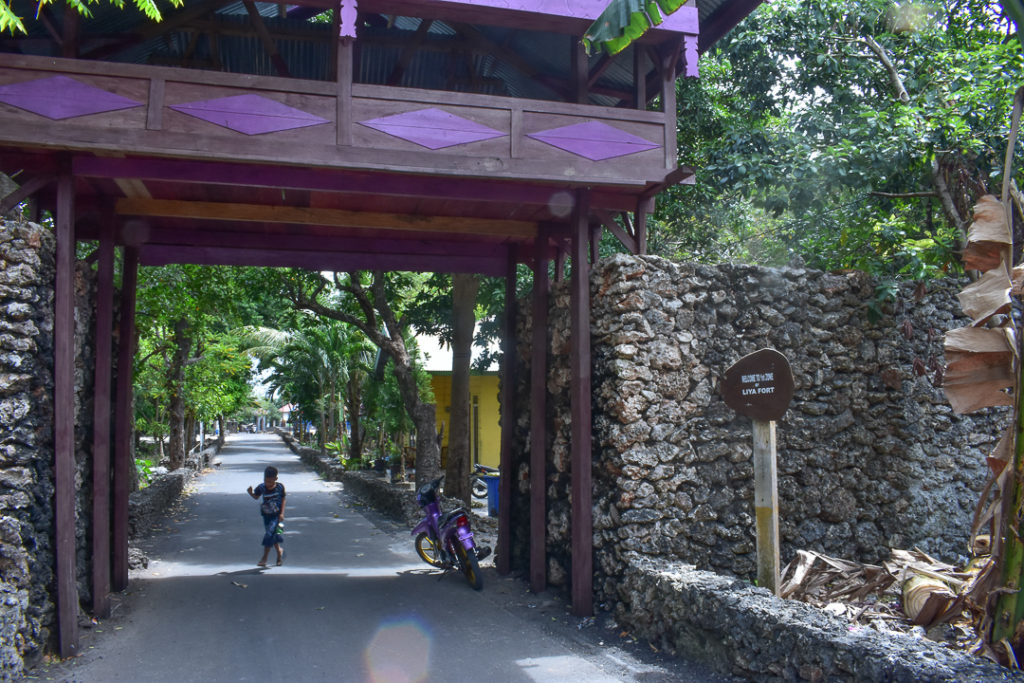 …and a seaweed farm where clumps of seaweed are suspended from numerous plastic bottles in the clear waters around Wakatobi, to grow and then be harvested and dried in the sun on racks. I believe it's exported to Japan.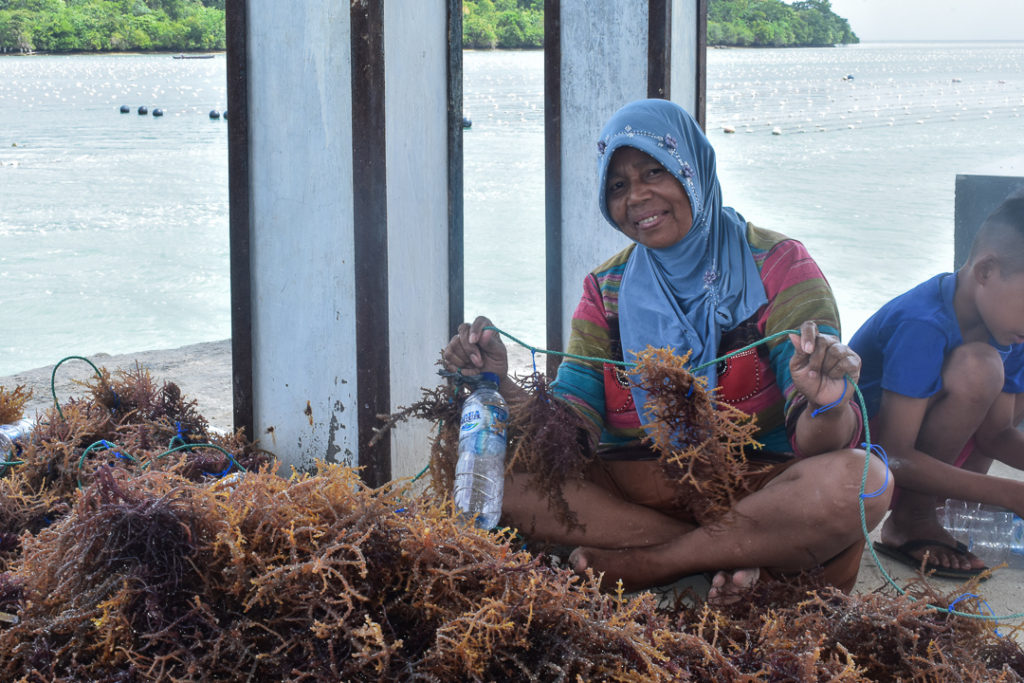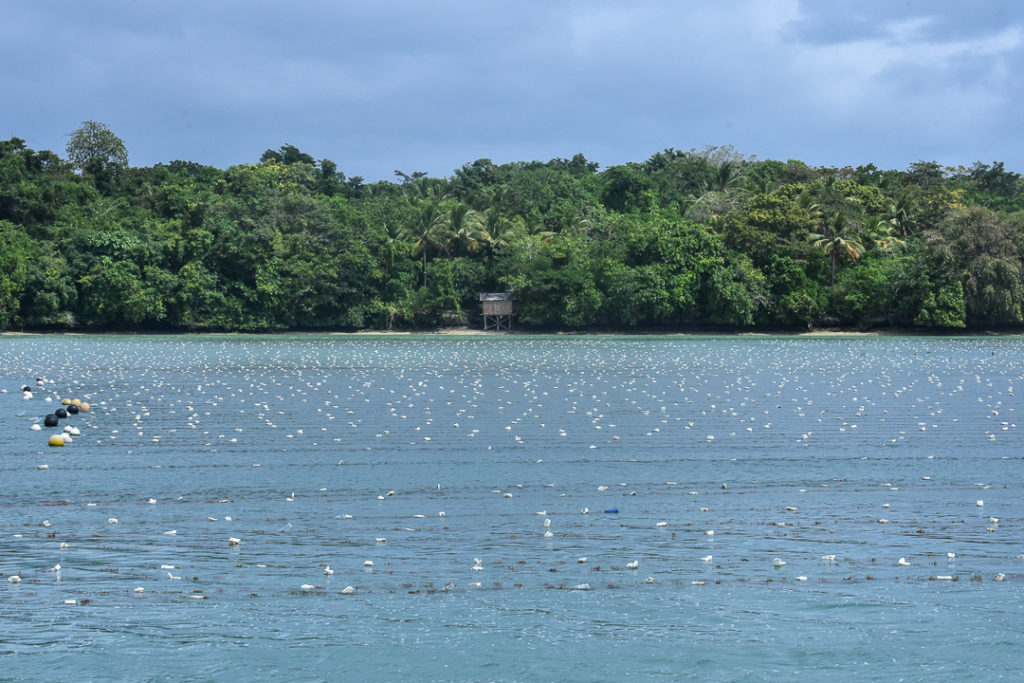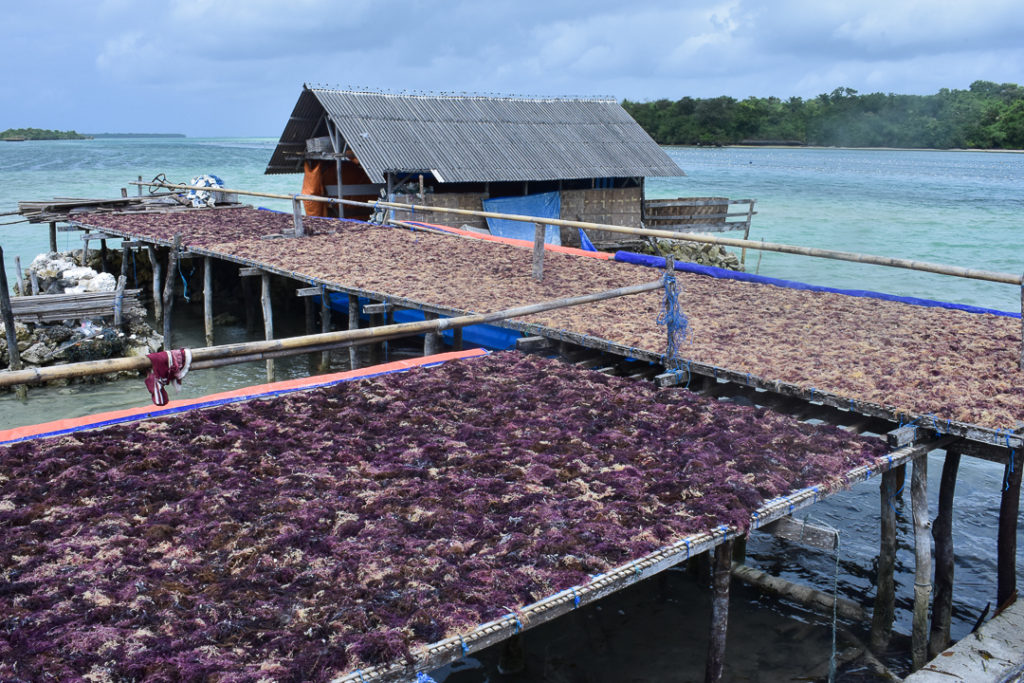 On another day we were shown around Wanci town by Yuyun and Eki, two bright and delightful young students.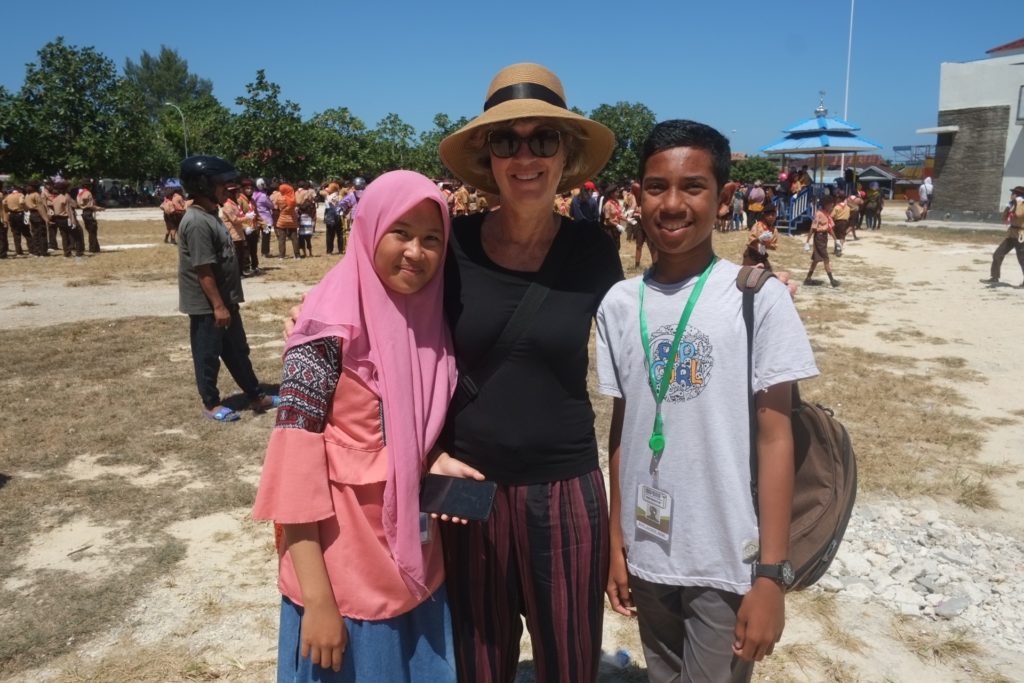 They took us to watch the rehearsals for the Independence Day celebrations on August 14th with schoolchildren marching in uniform and being judged to determine the best group. The girls, both Muslim and Christian, were heavily made up, with pancake foundation, red lipstick and even false eyelashes. We found it hard to reconcile with the Muslim religion and the requirement for women dress modestly and to cover their hair. It is important for them to look beautiful if they are to win the marching competition, our guides explained. Certainly any preconceptions about Muslim people are being challenged on this voyage, especially by the warmth and relaxed friendliness of the people here in Indonesia.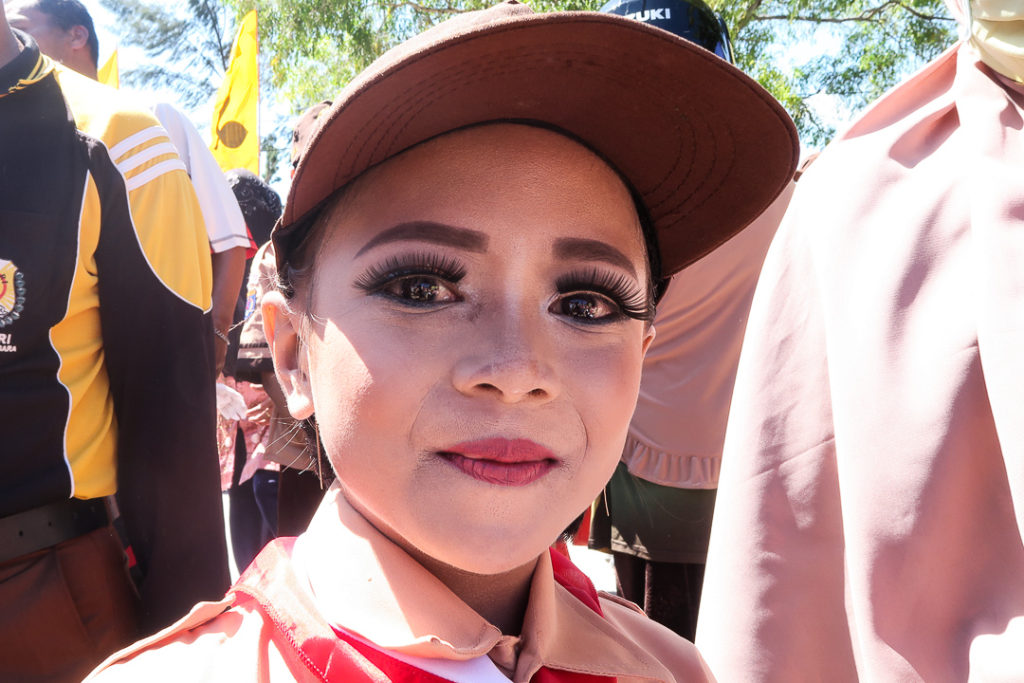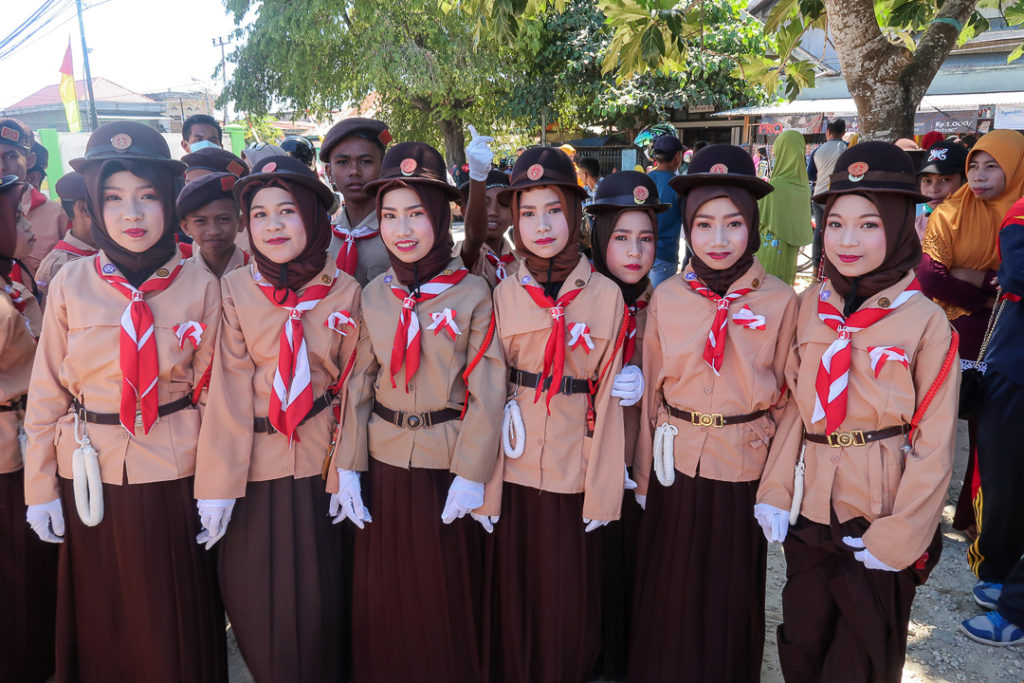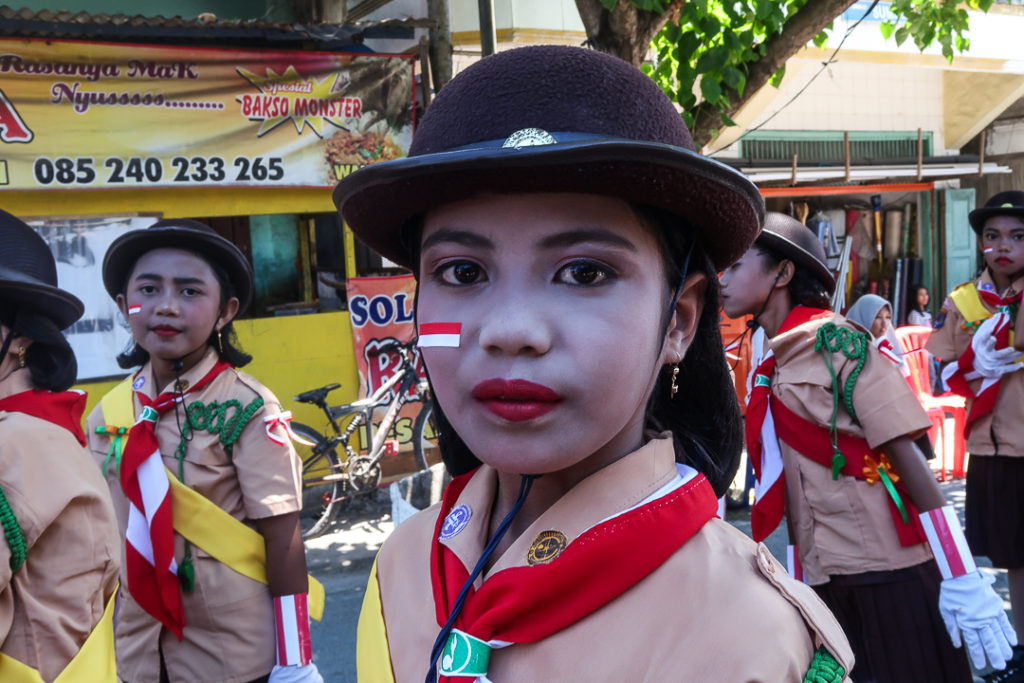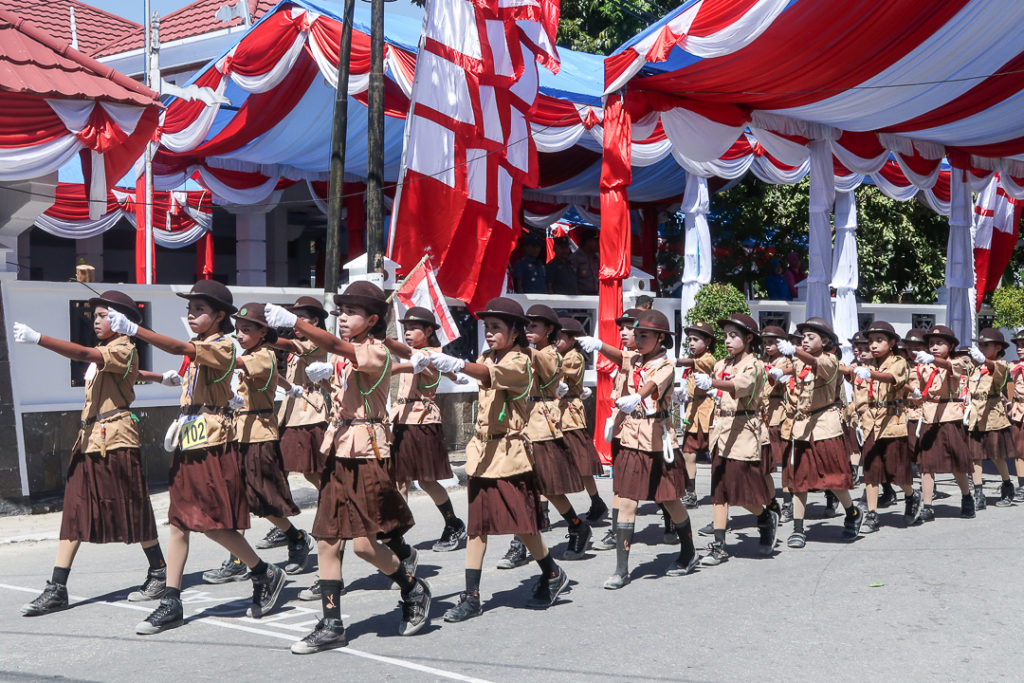 Yuyun took us to her aunt's house where we met some of her family and were given banana pudding in cassava. The aunt was preparing for her son's wedding where there will be 4000 guests to feed, not all at the same time she explained.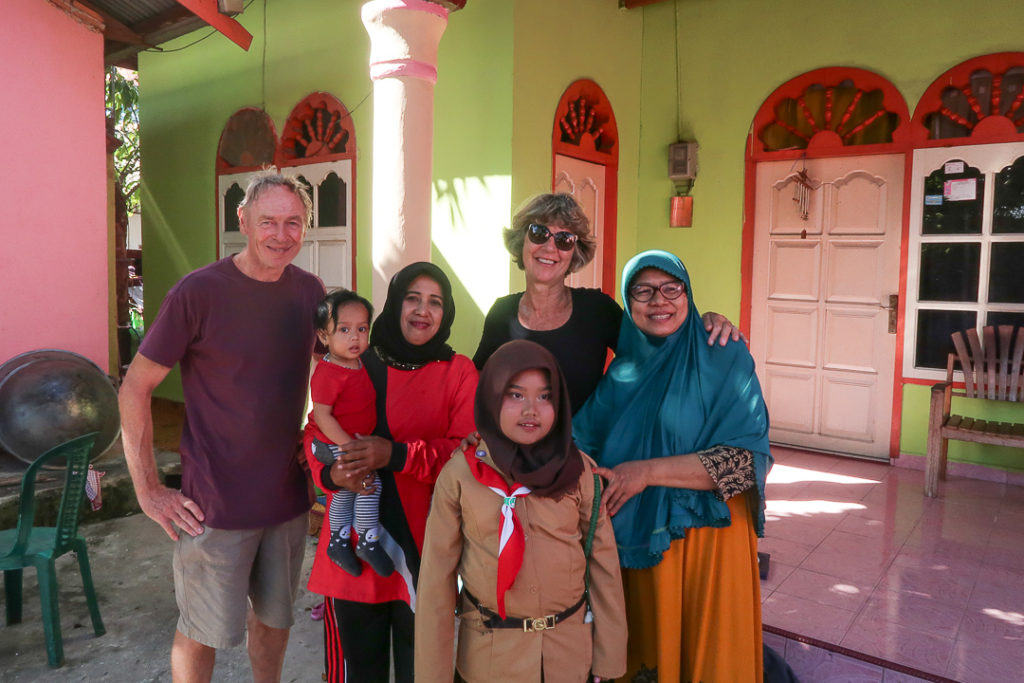 We also walked to the nearby caves where I swam in the clear, fresh water. The Indonesian women swim fully clothed but as there so were few people around I had a quick dip in my bathing costume.
A trip to the fruit and vegetable market with our young guides acting as translators was fun and their presence ensured the best prices too! After that they came back to Vega for tea and biscuits…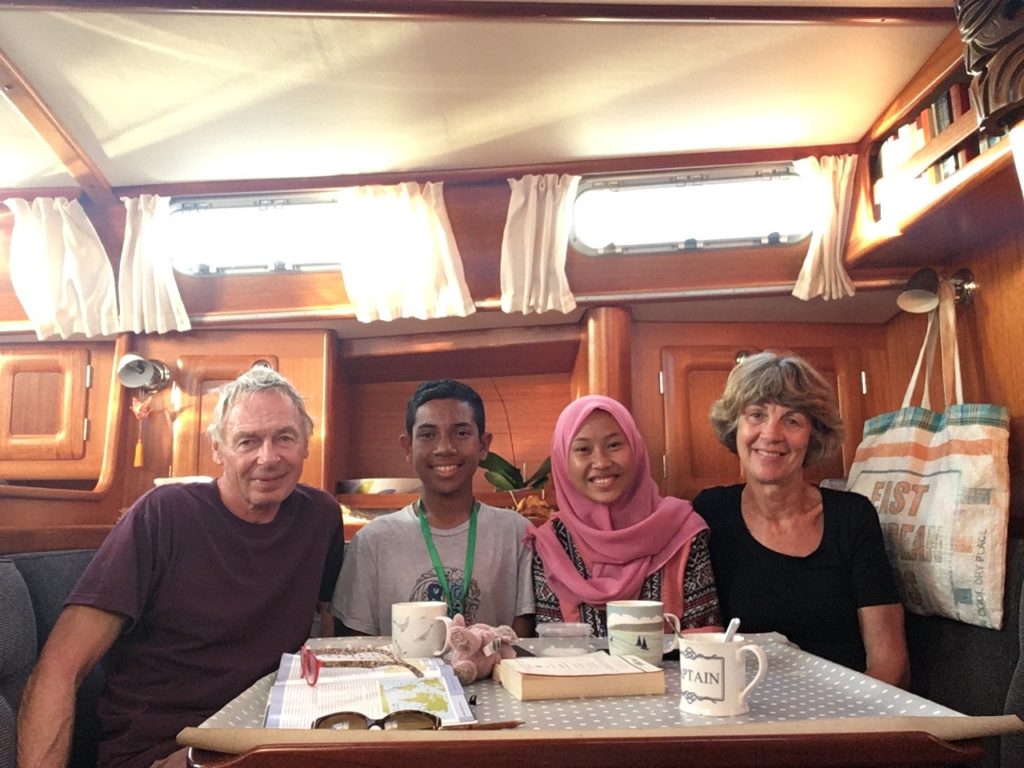 Hoga Island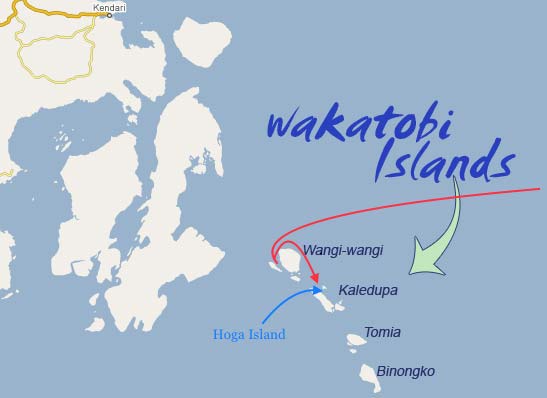 From Wangi Wangi it was a hard day of motor-sailing into the wind to reach Hoga Island, a small island off larger Kaledupa Island, where we dropped anchor in 20 meters of water by the reef. Hoga is a paradise with silver sand beaches, crystal clear water and beautiful, unspoilt coral with wonderful snorkelling and scuba diving.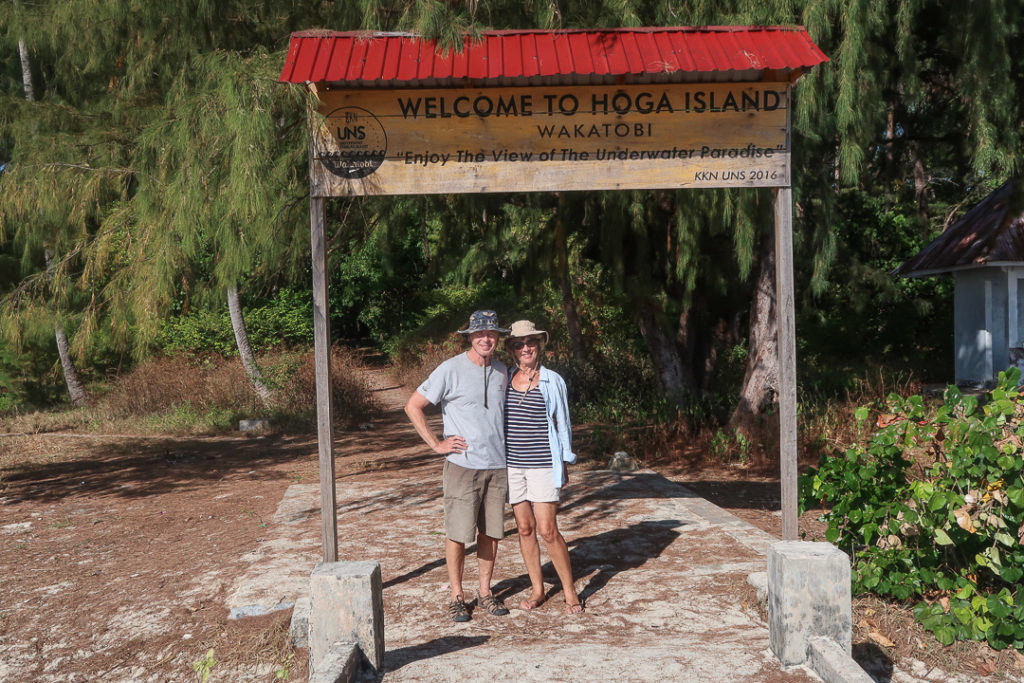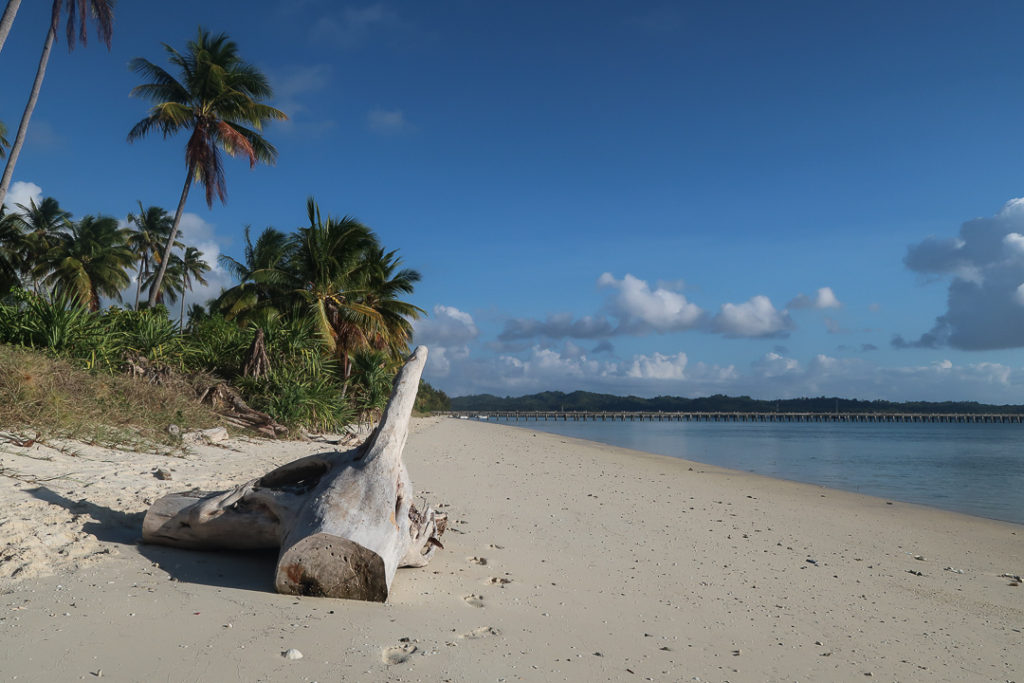 The corals and fish here are amongst the most beautiful we have seen: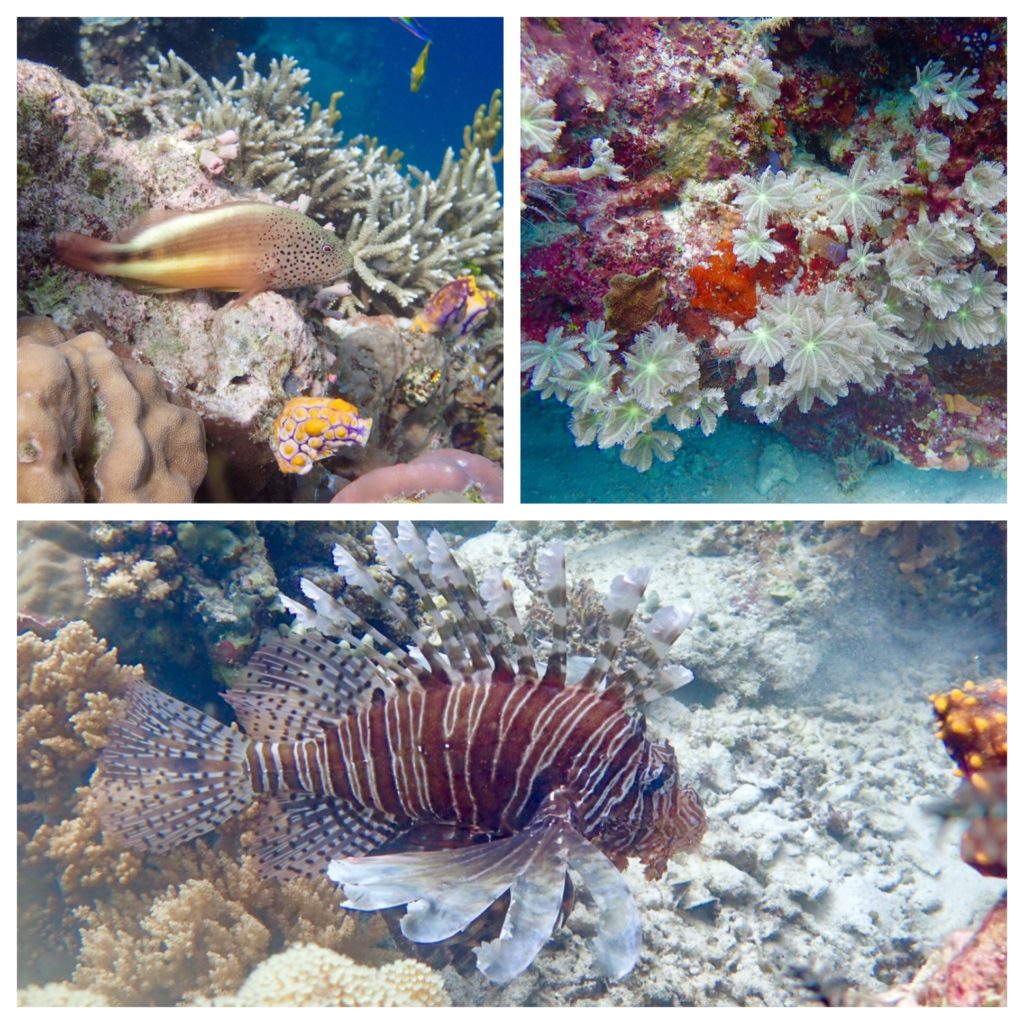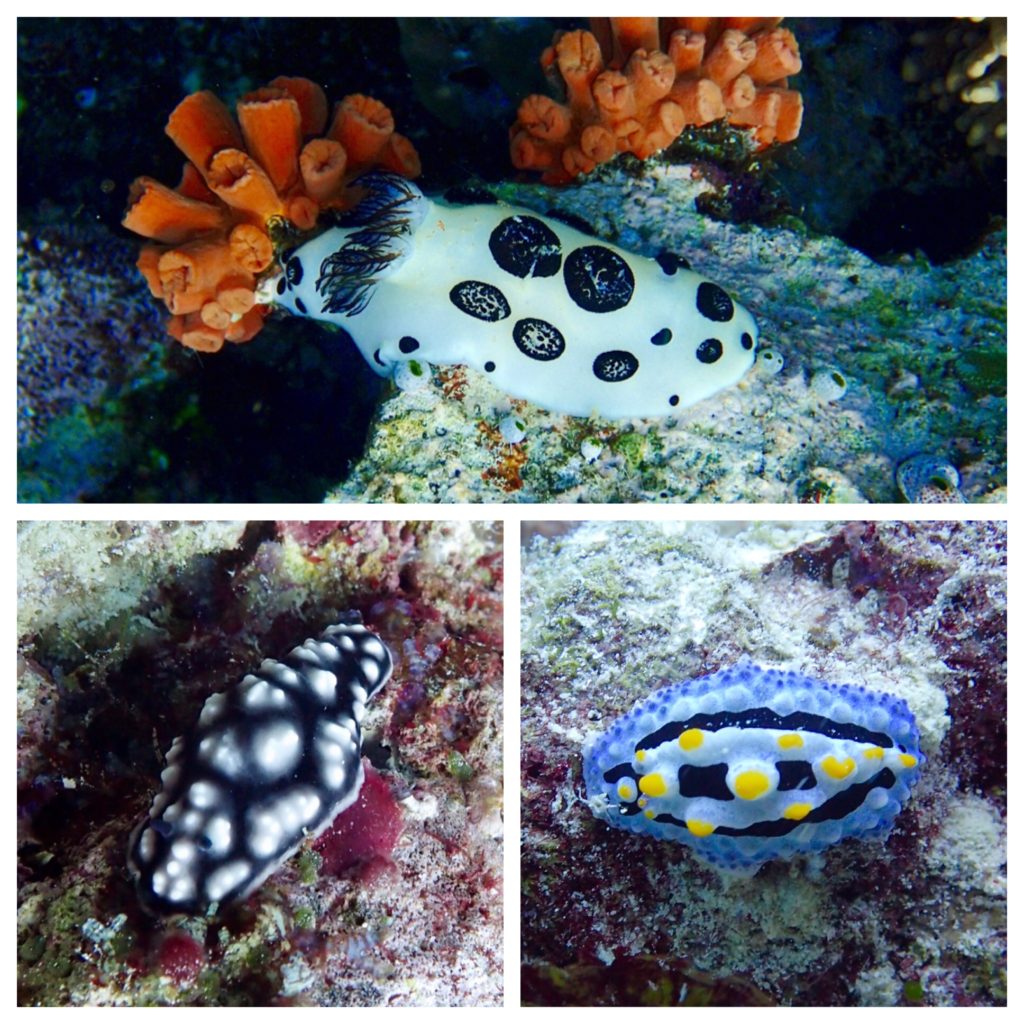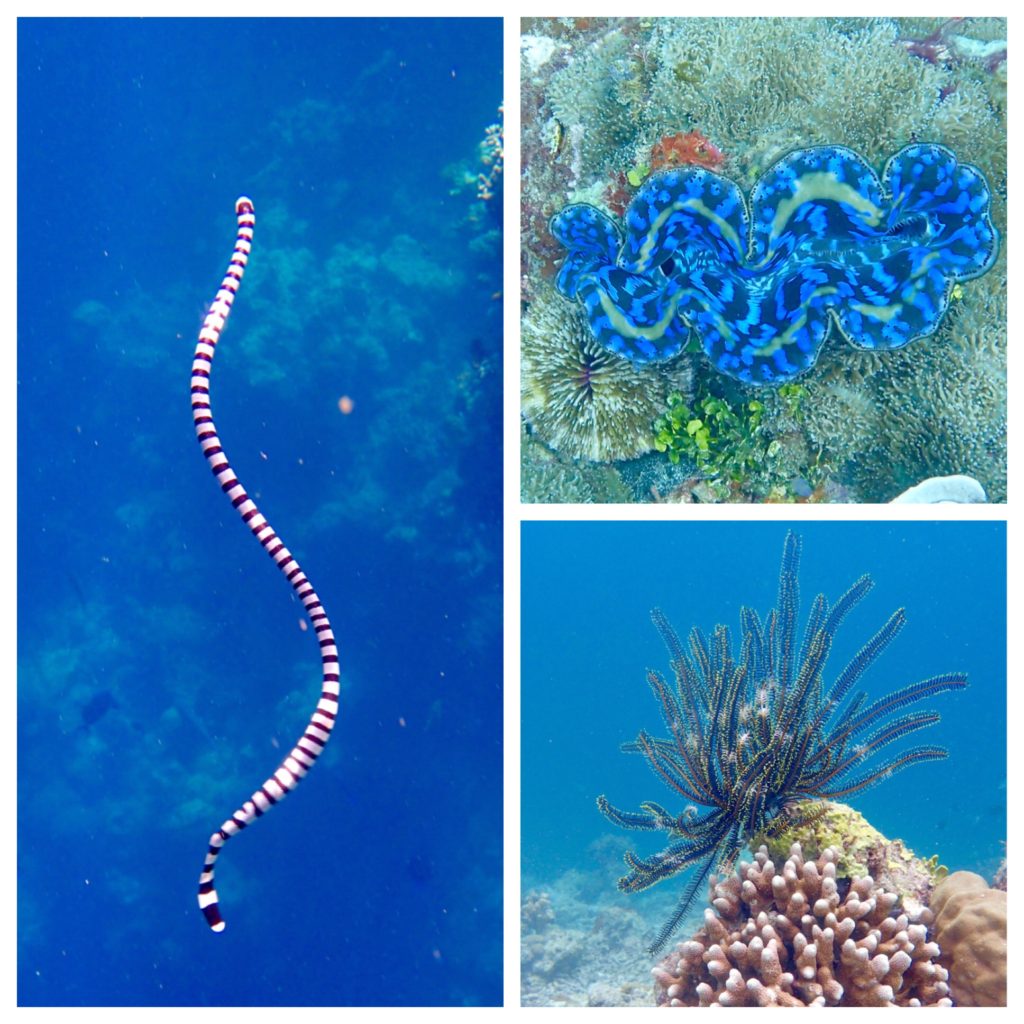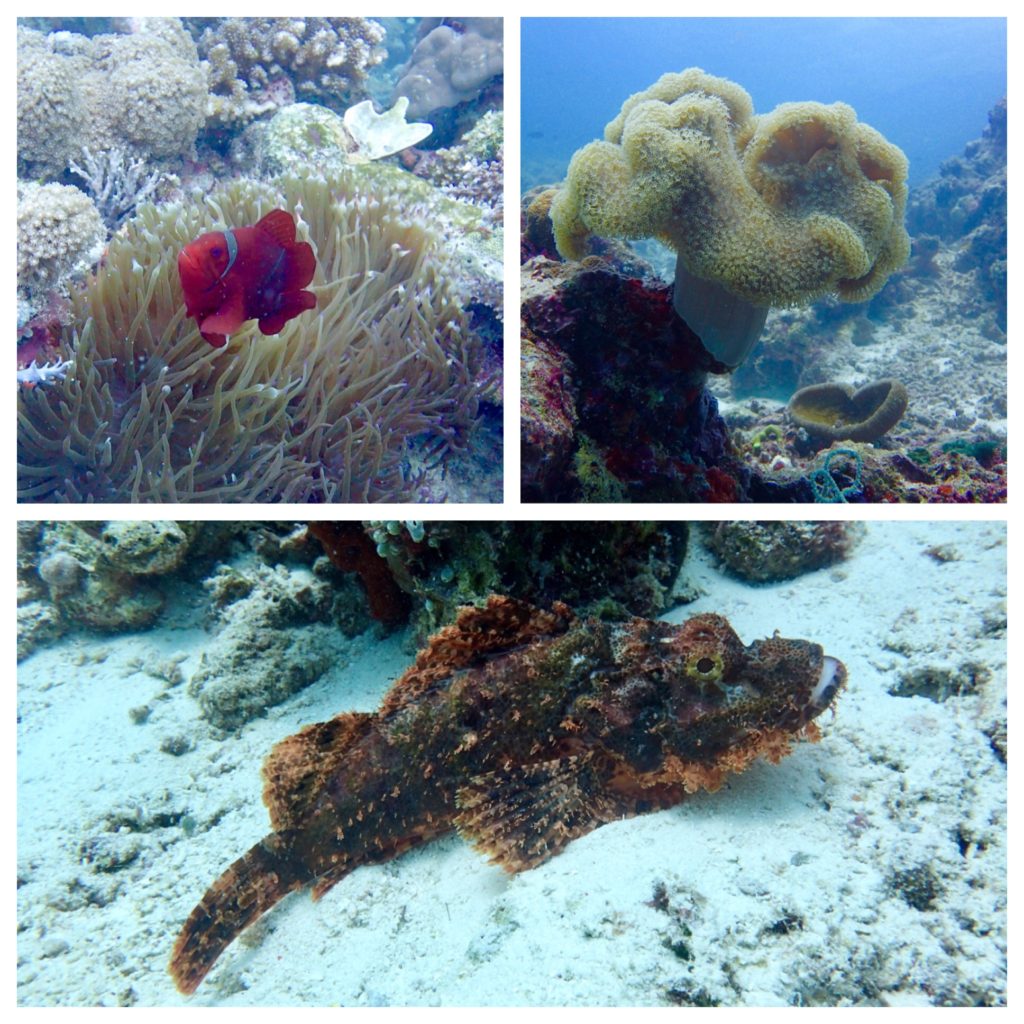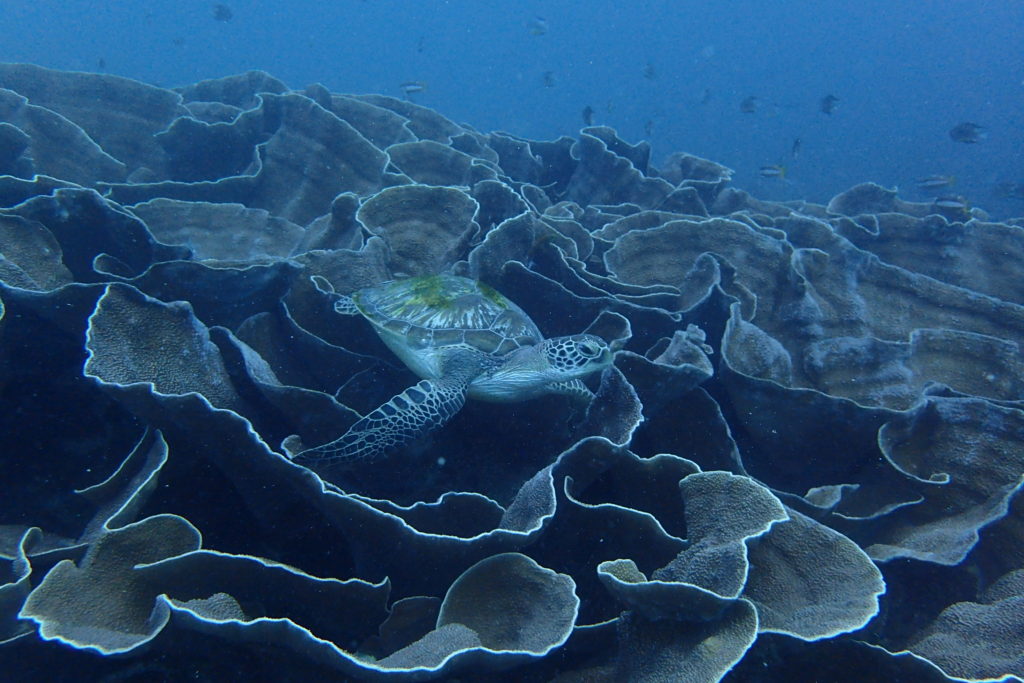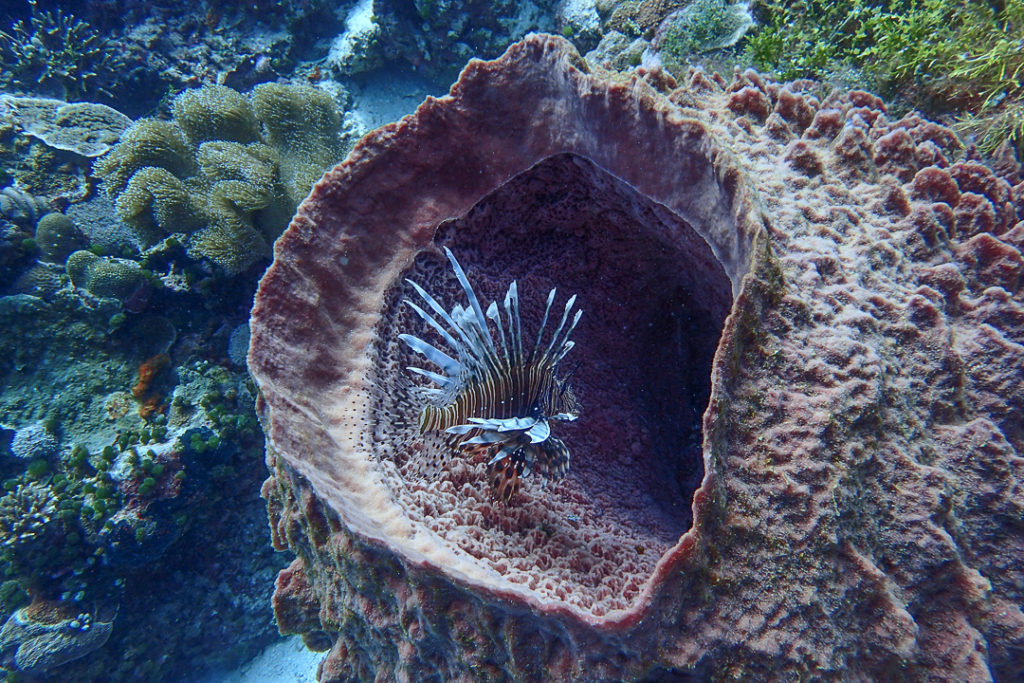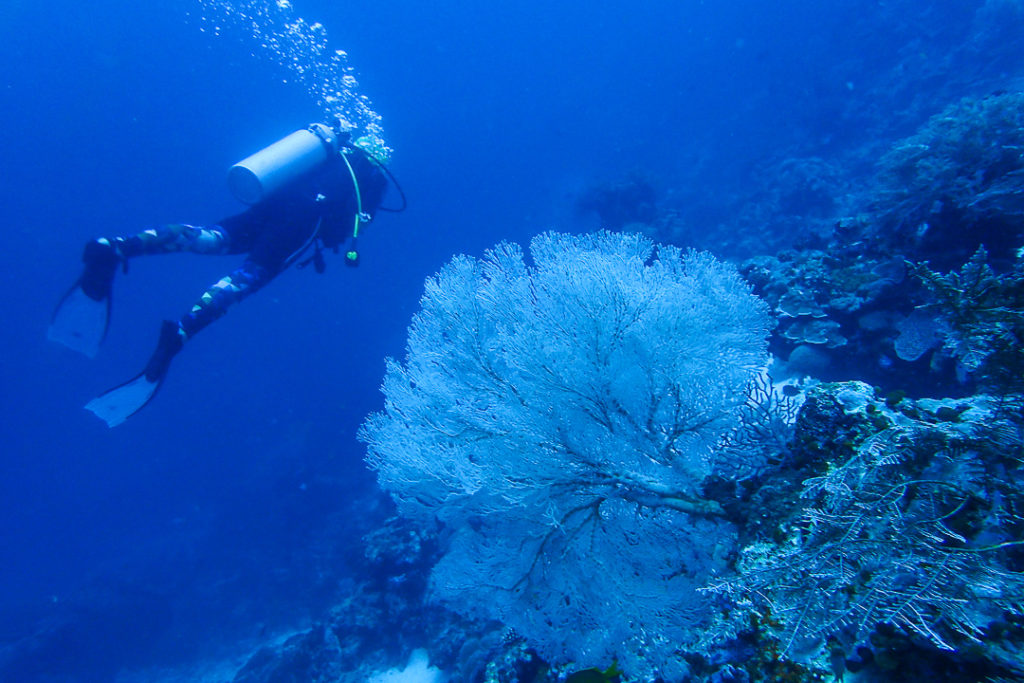 We dived with Rowan, a South African doing a PhD in coral conservation and running the marine centre on Hoga Island which has groups of overseas students, predominantly from the U.K., doing marine research. Although few other tourists manage to get to such an out of the way place, we chatted to some more adventurous backpackers and holidaymakers staying at the 'resort' on the island. Resort suggests to me a selection of restaurants, infinity pools and spas but this was rather more basic although the food was good when we organised a meal out for the cruisers anchored there.
There is another Bajo village, a dinghy ride across the reef from Hoga, where we crossed rickety walkways above the water. Again the people were incredibly friendly, with lots of requests for photos, especially from the children. There was a mosque, health clinic and school in the village and several shops.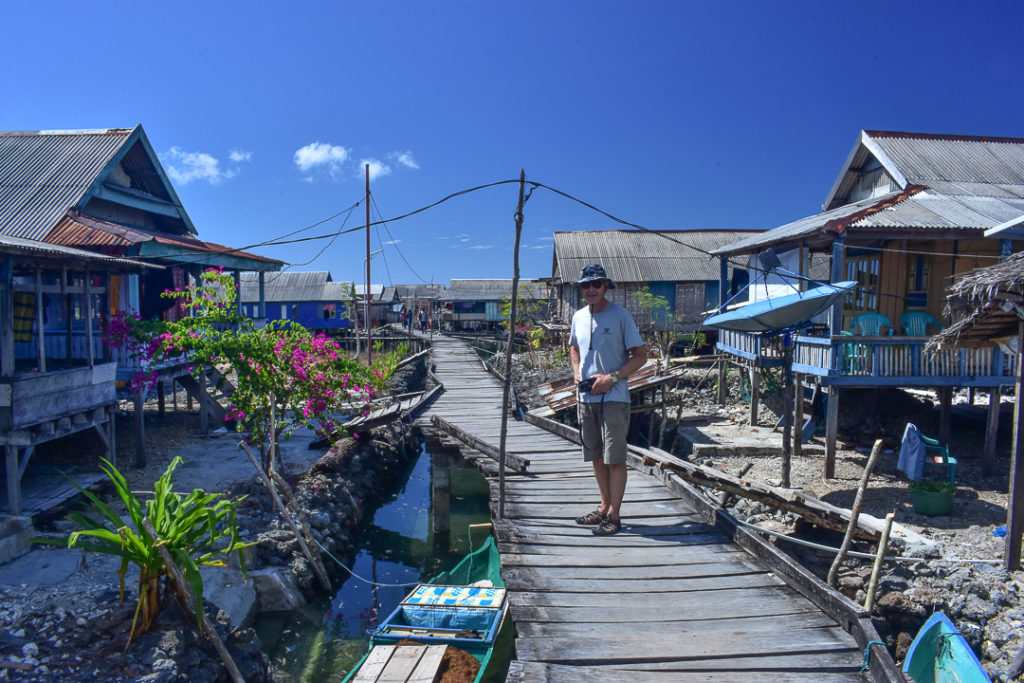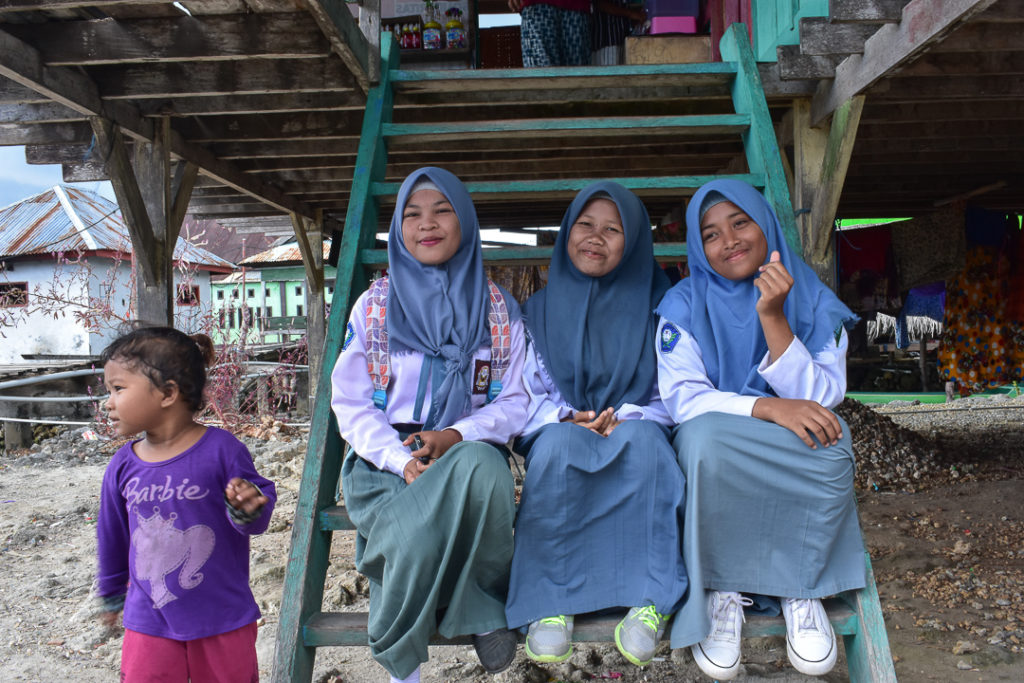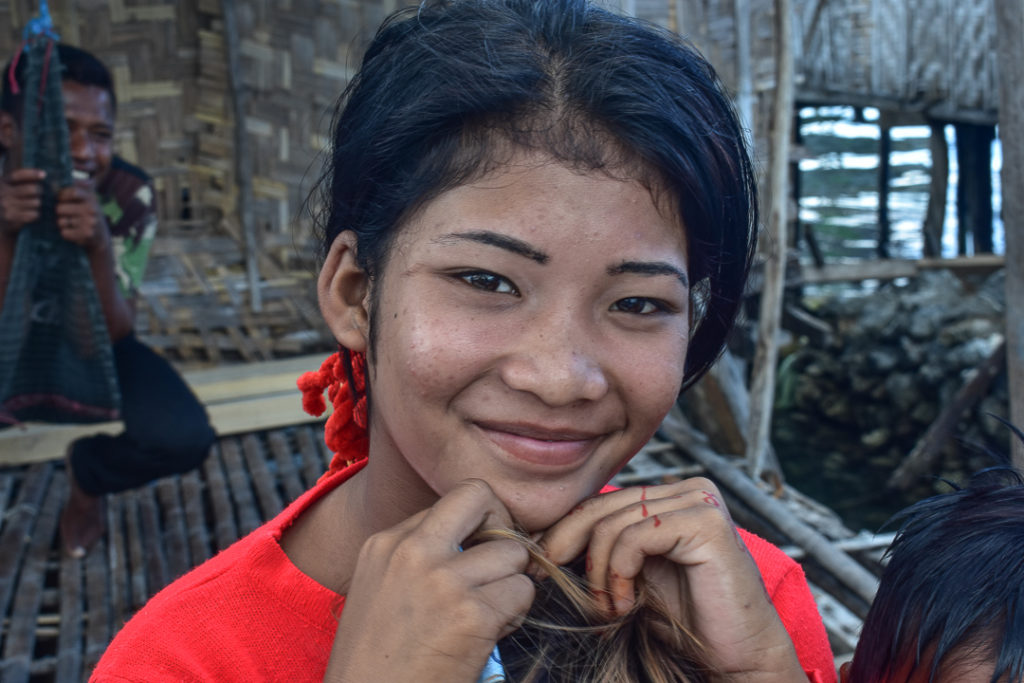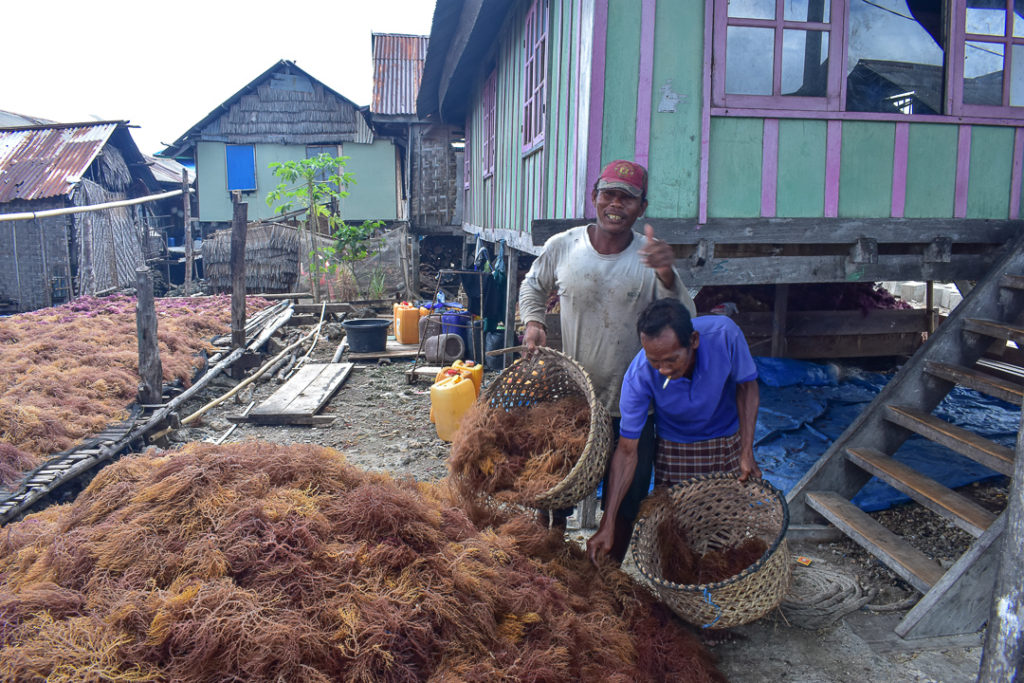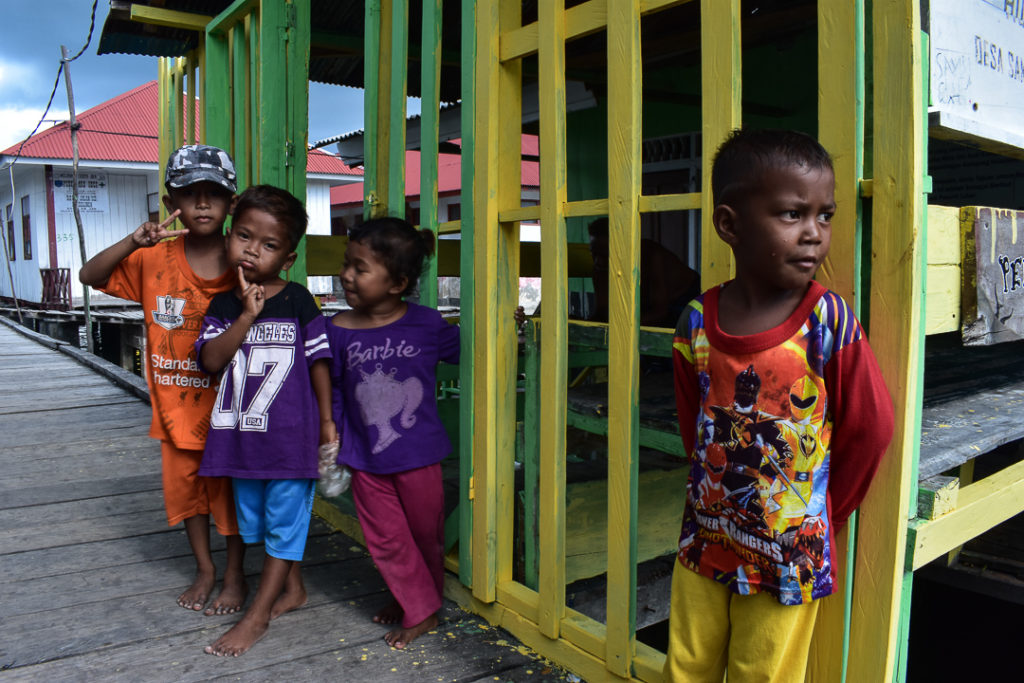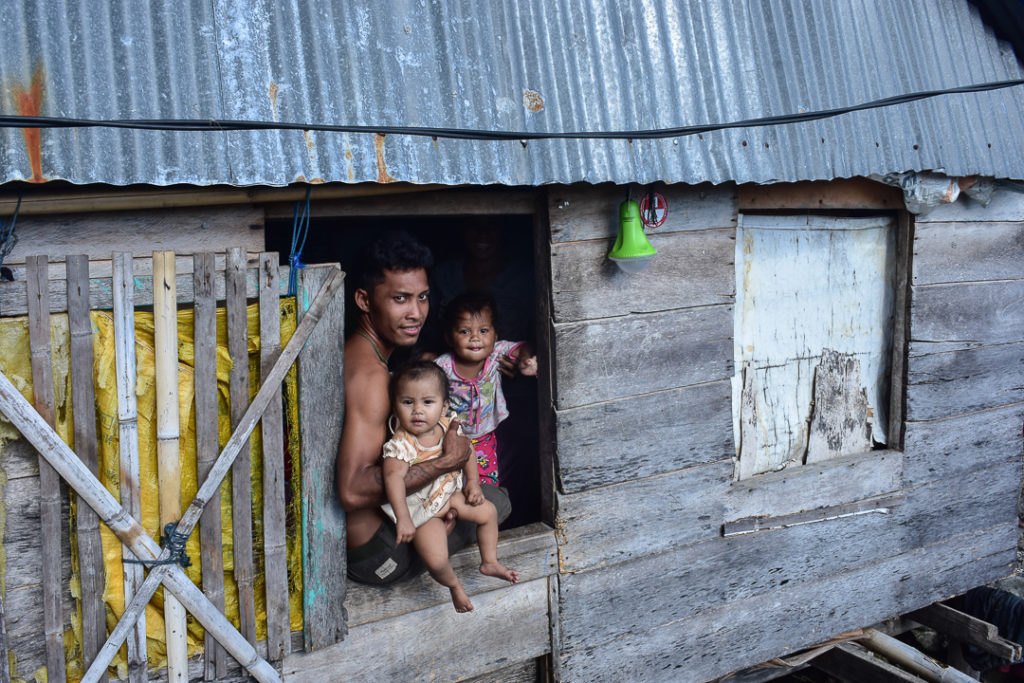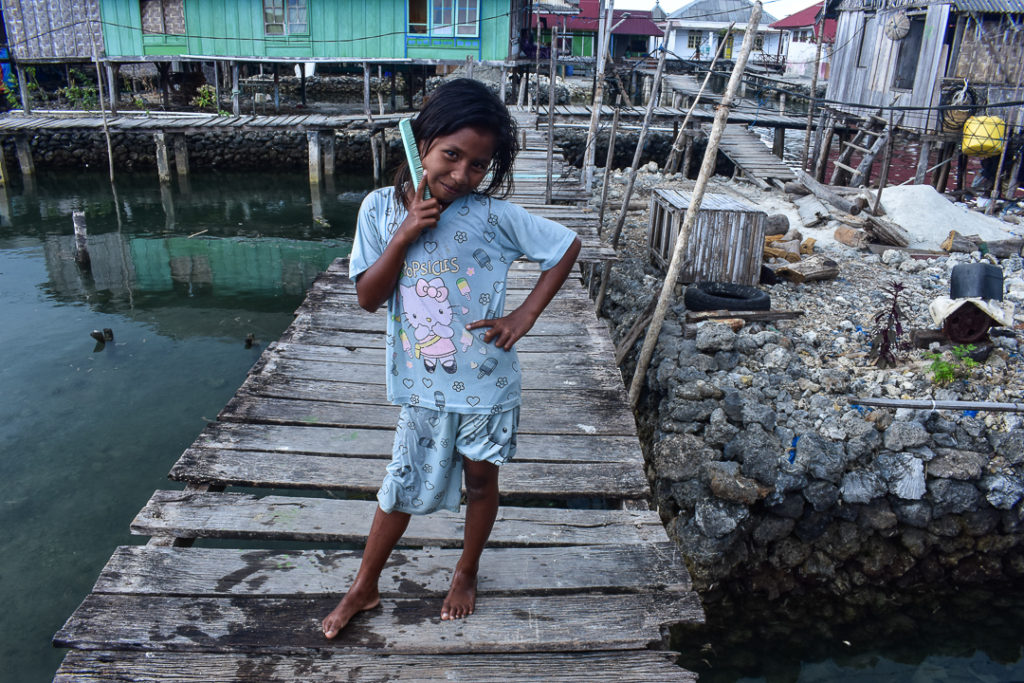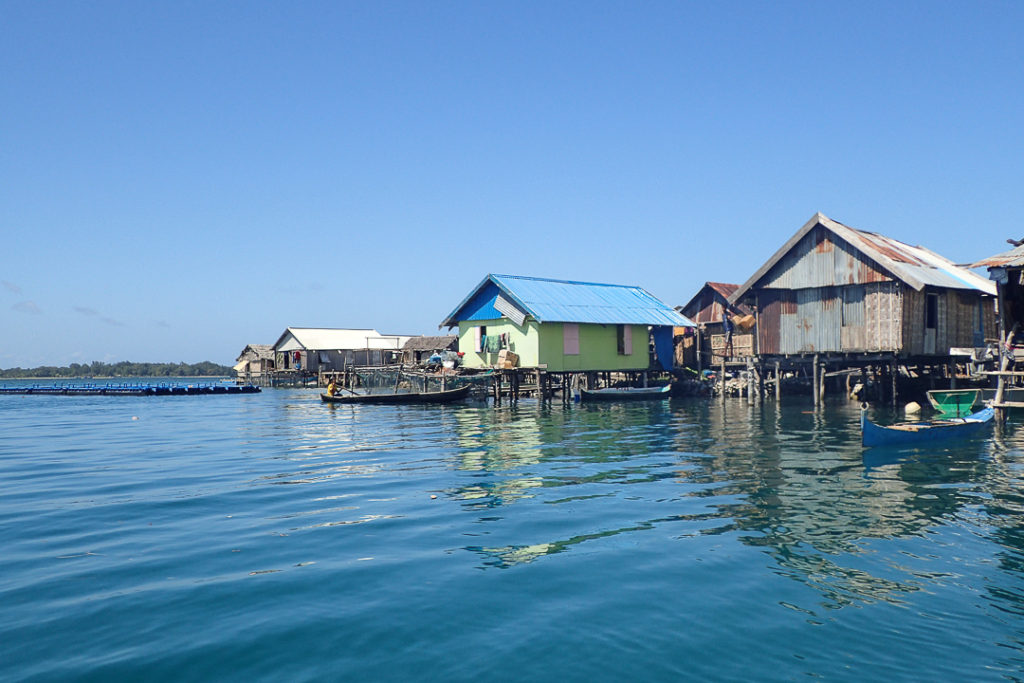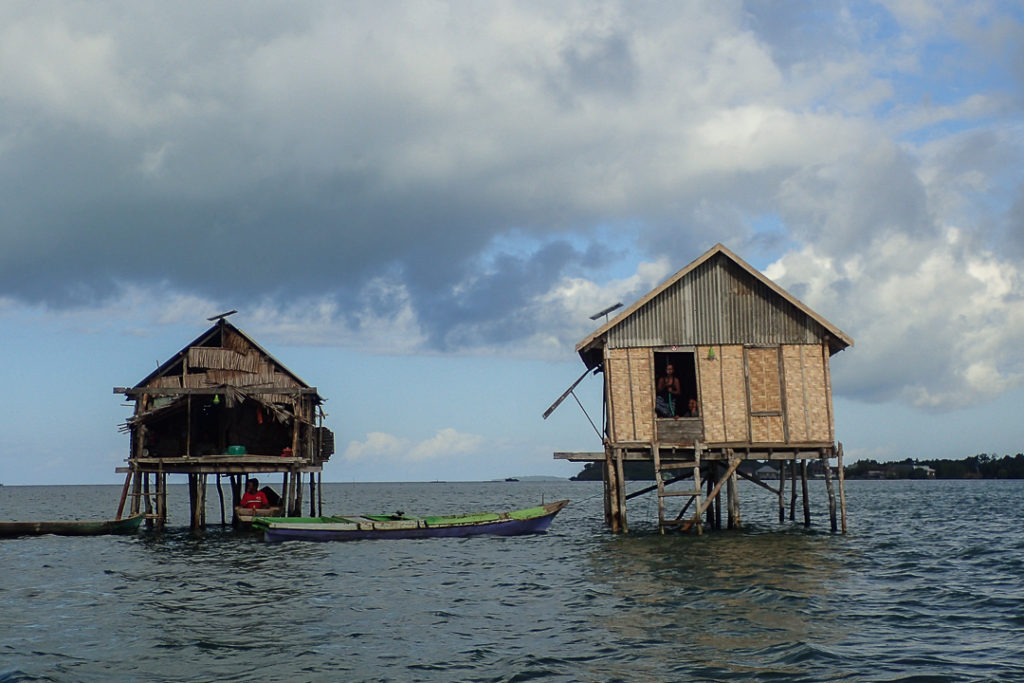 Every morning a succession of canoes arrived in the anchorage from the Bajo village trying to sell bananas, tomatoes and a variety of fish to the cruisers.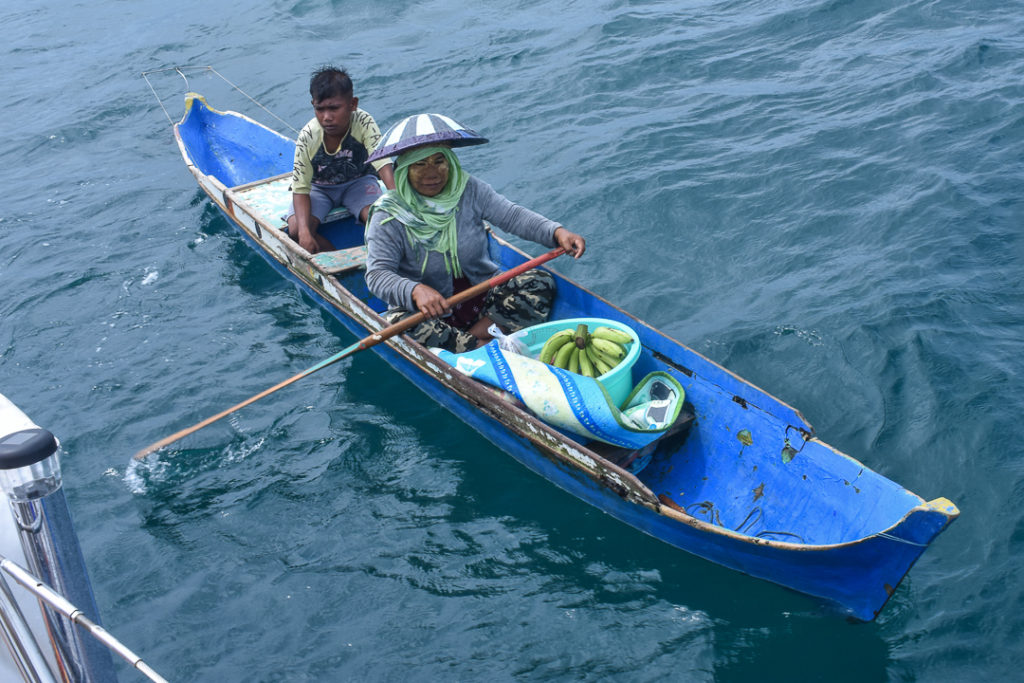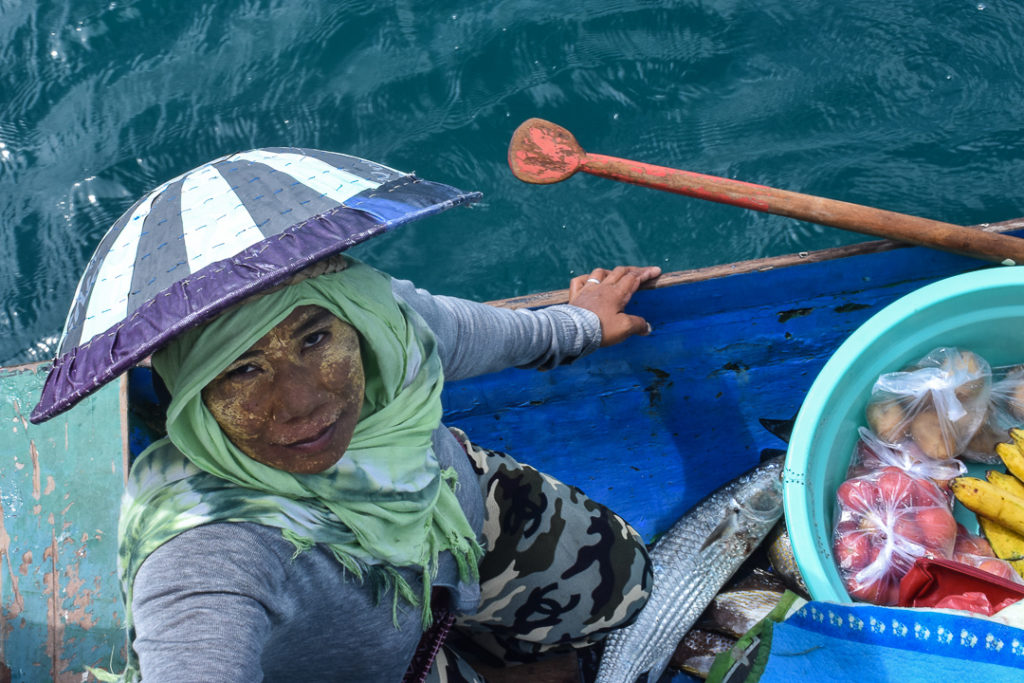 We shared a large tuna with another boat which I cooked for lunch. It was delicious but within 20 minutes I start feeling faint and dizzy and despite lying down with my feet in the air my blood pressure was only 60/40 (ie. very low). Fortunately a friend on a nearby boat was an Australian GP and she diagnosed histamine release aka Scombroid poisoning. Bacterial growth in certain types of unrefrigerated fish can release histamine which causes vasodilation in susceptible individuals, of which I was one. Hugh had some minor flushing only. An antihistamine and lots of oral fluids, and within a few hours my BP gradually returned to normal. I won't be buying fish from the locals again.
After five days relaxing at Hoga we headed to Buton island to rejoin the rally in Pasar Wajo.