Tuesday 20th to Sunday 25th August

Pasar Wajo on the island of Buton was the next official rally stop, the main attraction for me being the Colossal Dance Festival with 5,000 dancers to take place on the final day here. Before that there were three days of activities organised but soon after we arrived I went down with the virus that has been going around the rally. Stuck on board Vega with Lemsip and a box of tissues I missed the canoe races, school meeting on plastic etc.
After a couple of days of sneezing I felt well enough to join in the Gala Dinner (sorry no pics taken) where we were served a buffet meal which we ate seated at formally laid tables under a large gazebo, sheltering from torrential rain. The entertainment opened with two female dancers wearing ornate costumes and with expressive hand movements followed by a keyboard player with backing track playing rock and roll. The Regent of Buton sang a couple of numbers and there was a skilled demonstration of spoon playing from one of the Norwegian rally crew. After the exhibition dances the rally members got onto the dance floor with some of our Indonesian hosts and we all boogied around.
The following day we were given a lift to the fruit and vegetable market on the back of scooters by two of the students who were acting as guides to the rally. I was on the back of Salsa's scooter, a little terrifying speeding along the busy streets without a helmet. Only when we stopped for a coffee to escape a downpour did I find out she was only 15.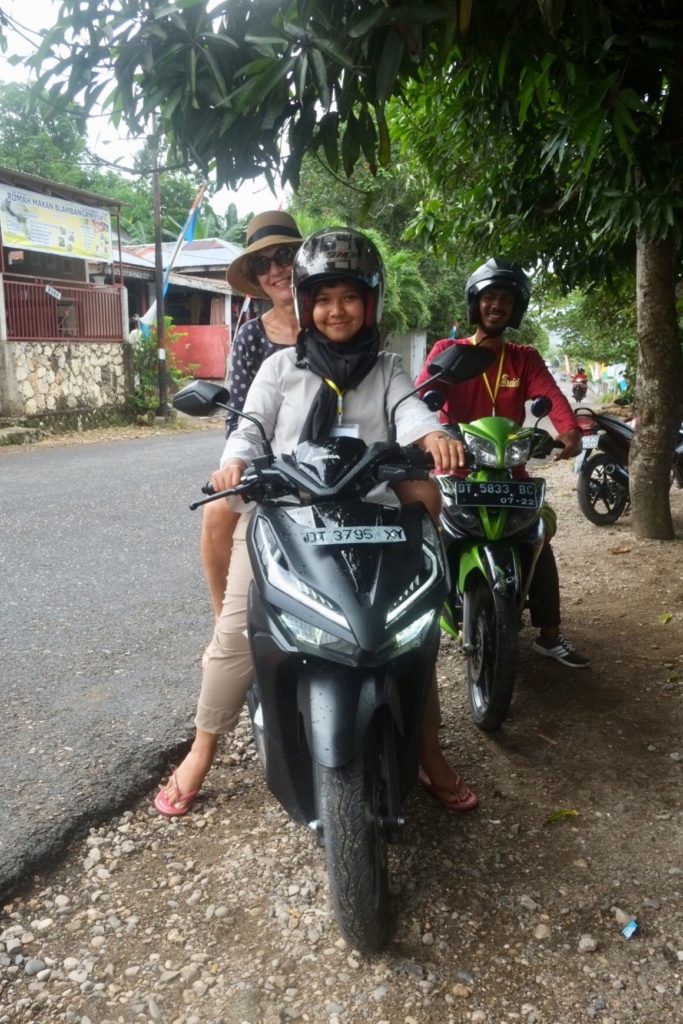 We tried to find out what age it was legal to drive a scooter here and whether you had a pass a test but it got lost in translation. We have certainly seen what look like 9 year olds bombing around, usually with a couple of friends on the back, all without helmets. Everyone in Indonesia seems to drive a motorbike or scooter and it is not uncommon to see three people riding on one scooter, occasionally even four. In fact it is the law to wear a helmet which the women do over their hijabs, but it must be considered uncool to do up the strap as most riders leave them undone. The young children, tucked in between their parents legs, rarely wear helmets. Considering the amount of traffic on the road, not only the motorbikes and scooters but trucks and cars which overtake on blind corners, we are amazed that we haven't yet come across any RTAs.
In the afternoon we visited the Asphalt works, which of course fascinated Hugh though many of the cruisers seemed rather underwhelmed by the experience. 70% of the world's naturally occurring asphalt is produced here in Buton and is found in layers of rock from which it is extracted by crushing the rock then using solvents to dissolve out the asphalt. We were taken to a long abandoned quarry and then back to the processing plant where the machinery had been out of order for several months waiting for a spare part, so apart from a big digger and a few heaps of rubble there was really nothing much to see.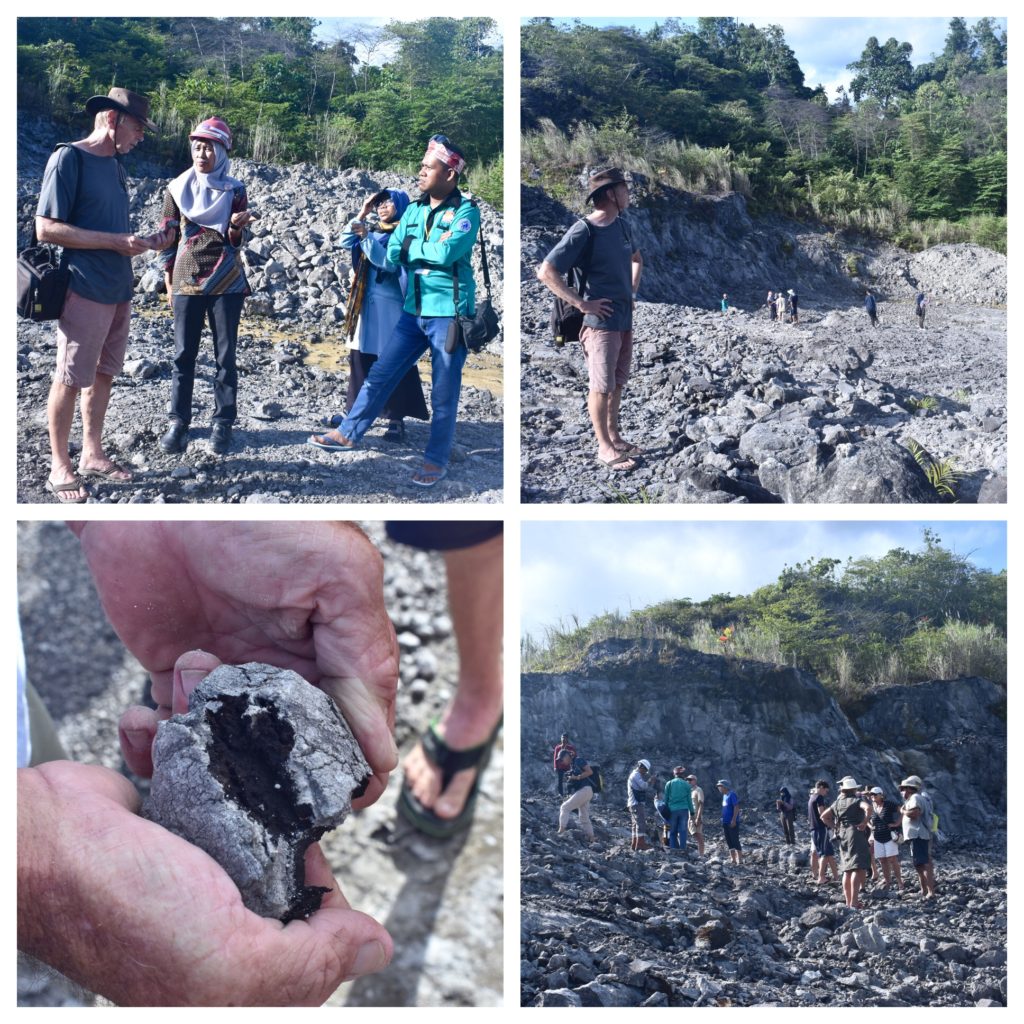 Not everyone from the rally group seemed to take to take it seriously enough: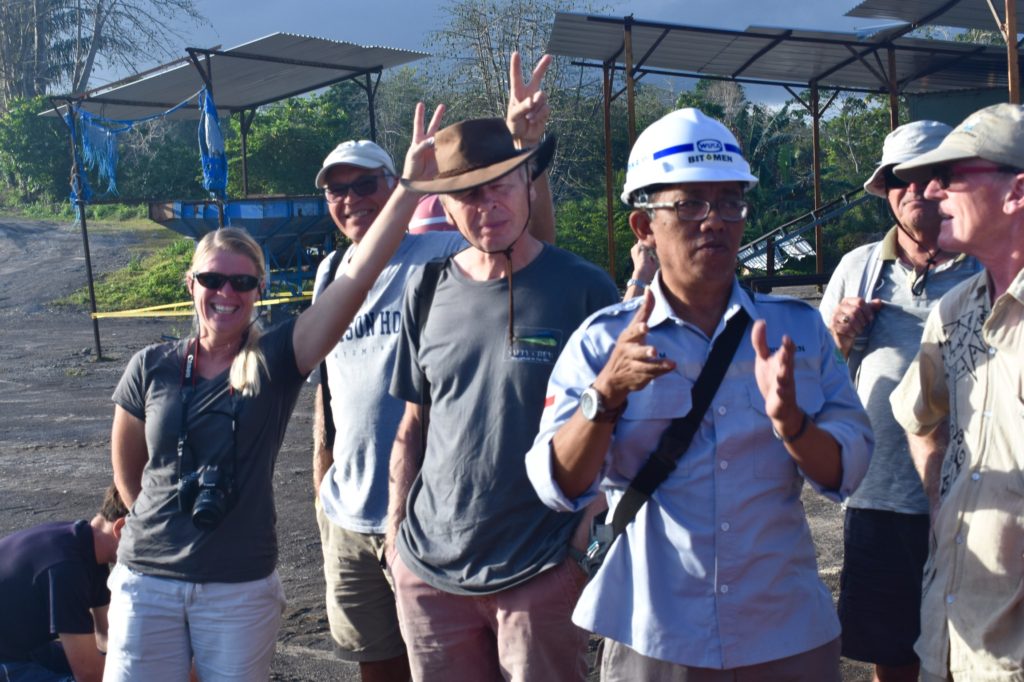 Some of the cruisers organised a 'pot luck supper' (everyone brings a dish to share) to thank the young guides for their help. They are so warm and enthusiastic and genuinely appear delighted to have the opportunity to show us around, many of us old enough to be their grandparents. After the meal they sang along to Ed Sheehan's Perfect from the lyrics on their phones, which was very sweet.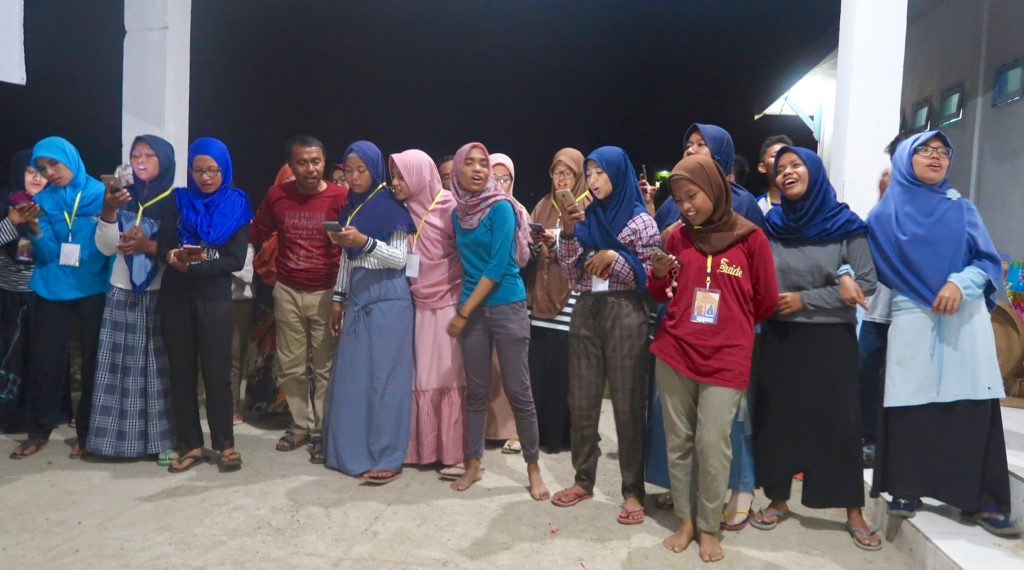 The day of the Colossal Dance Festival finally arrived. We were packed into coaches and cars and taken to the government buildings at the top of the hill where massive tents had been erected for the VIP and VVIP guests, which included us! We were greeted by a couple in traditional dress:
It being the year 2019 there was a demonstration by 219 women of the local weaving on wooden looms……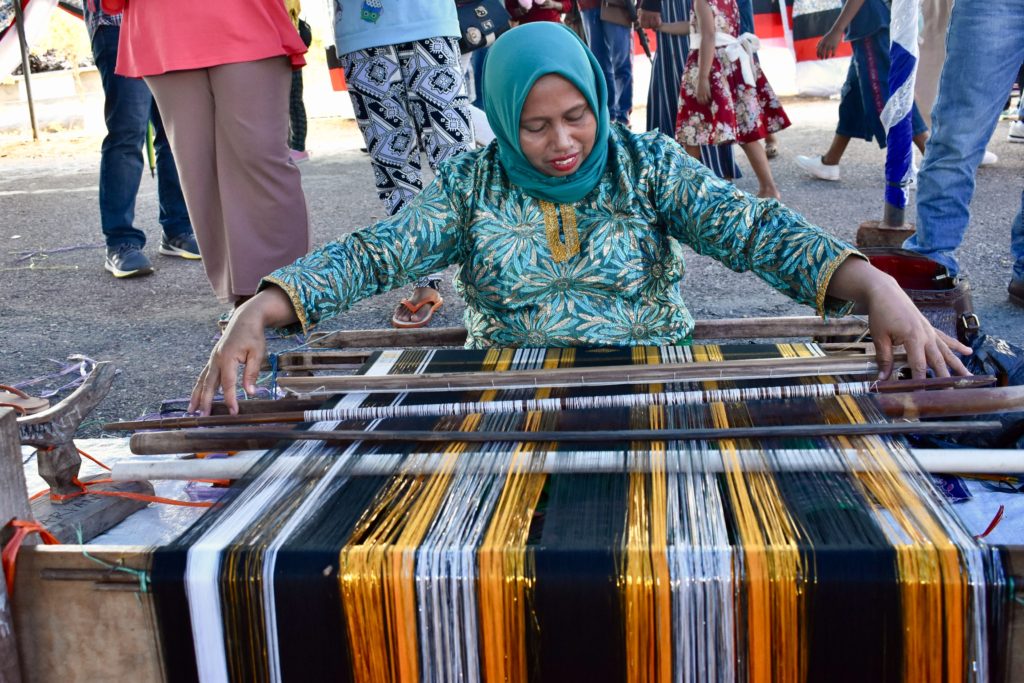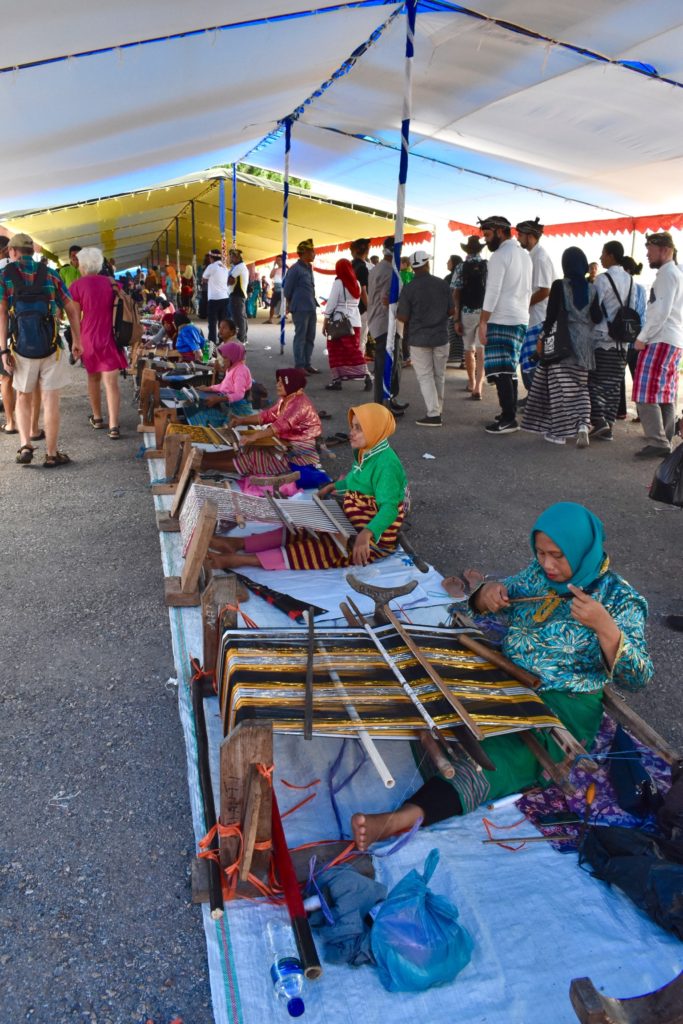 219 babies and toddlers were having natural immunisation which our guide, Astri, sincerely believed protected the children from all illnesses. It involved holding the child above a bowl containing smouldering spices, rolling them in coconut oil which invariably made them cry, at which point a few flakes of fish were placed in their mouths to be promptly spat out. I did ask about a more westernised immunisation programme against infectious diseases for children in Indonesia, but our guide was unclear about how popular this was. Researching this later I read that immunisation rates (involving injections not coconut oil and fish) are falling in Indonesia and measles rates are rising. Prior to childhood immunisation being introduced in the 1980's, measles used to kill 2.6million people annually world wide and it looks like we will be seeing a lot more of it in the future.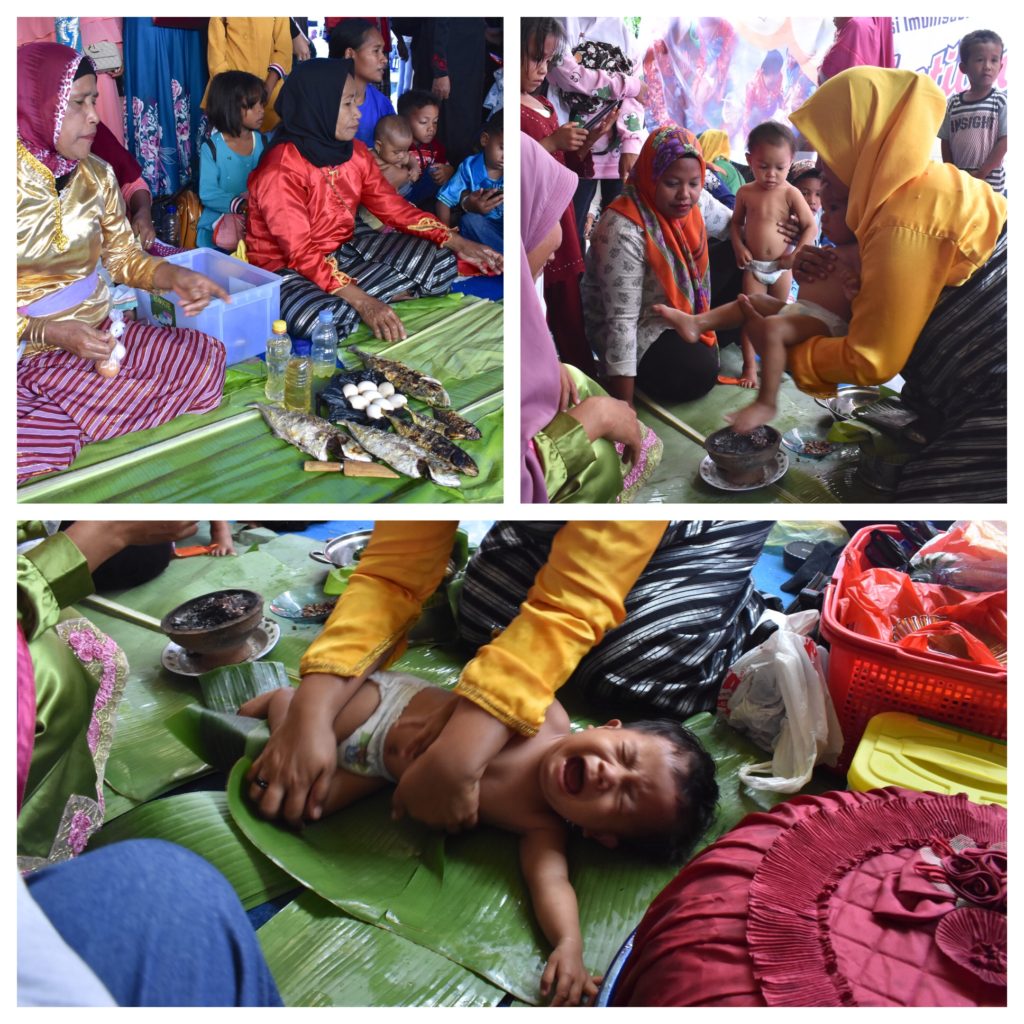 The celebration of the circumcision of 219 boys's had sounded rather alarming and I was relieved to find that they looked quite happy and comfortable playing games on their phones, reassured that the circumcisions had taken place in hospital some weeks or months ago.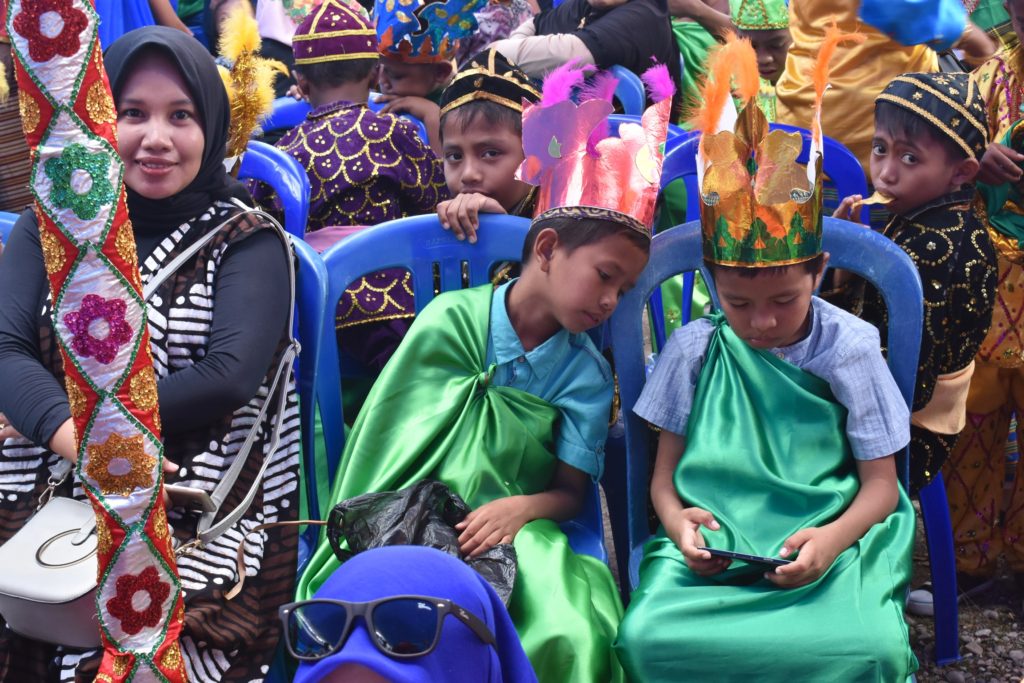 219 young women were emerging from seclusion. They wore elaborate costumes and ornate headdresses, looking a bit bored sitting for hours being admired, though they perked up a bit with us taking their photos. Their time in seclusion was to learn how to be good wives, to cook, look beautiful and to please their husbands. Astri thought it hilarious when I asked if the men had similar tuition on how to be good husbands. In marriage, she told me, the man is the head but the woman is the neck who can guide which way the head turns. I'm not sure it works that way on Vega.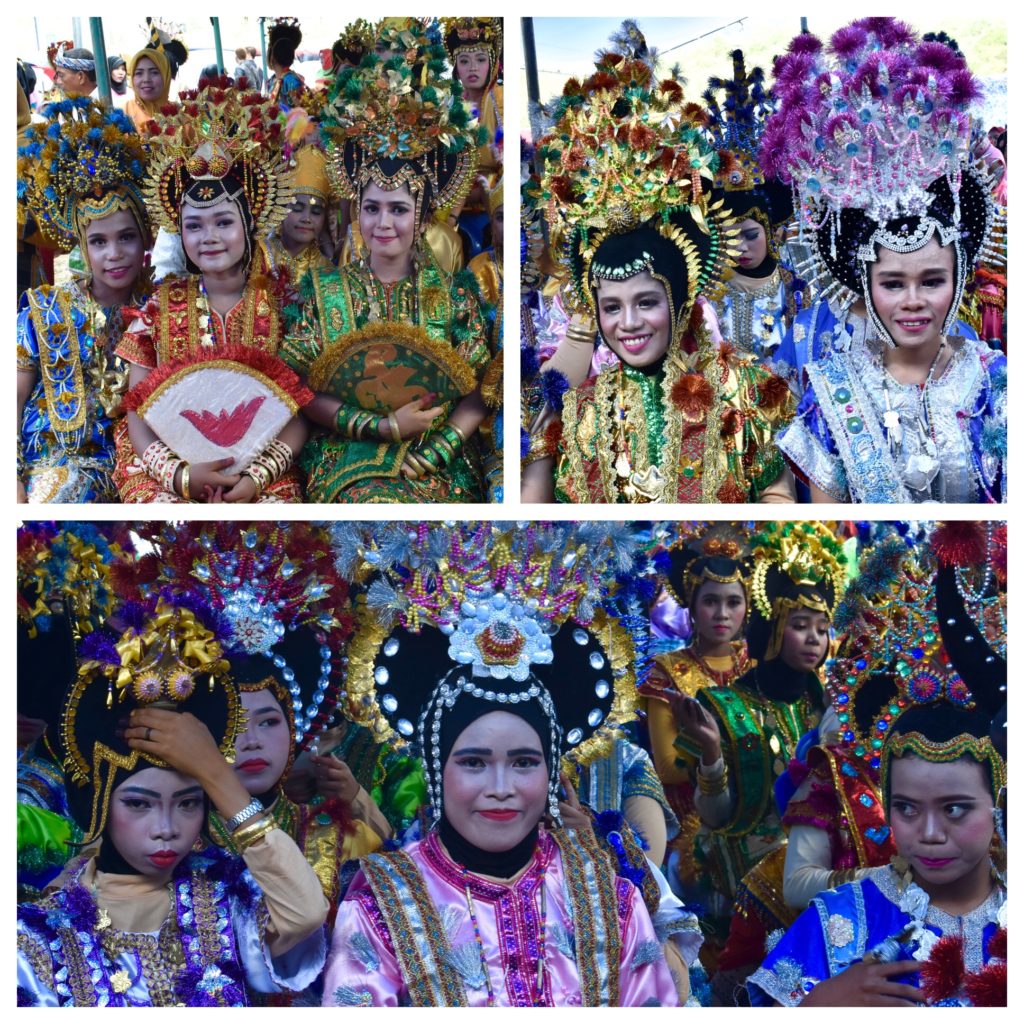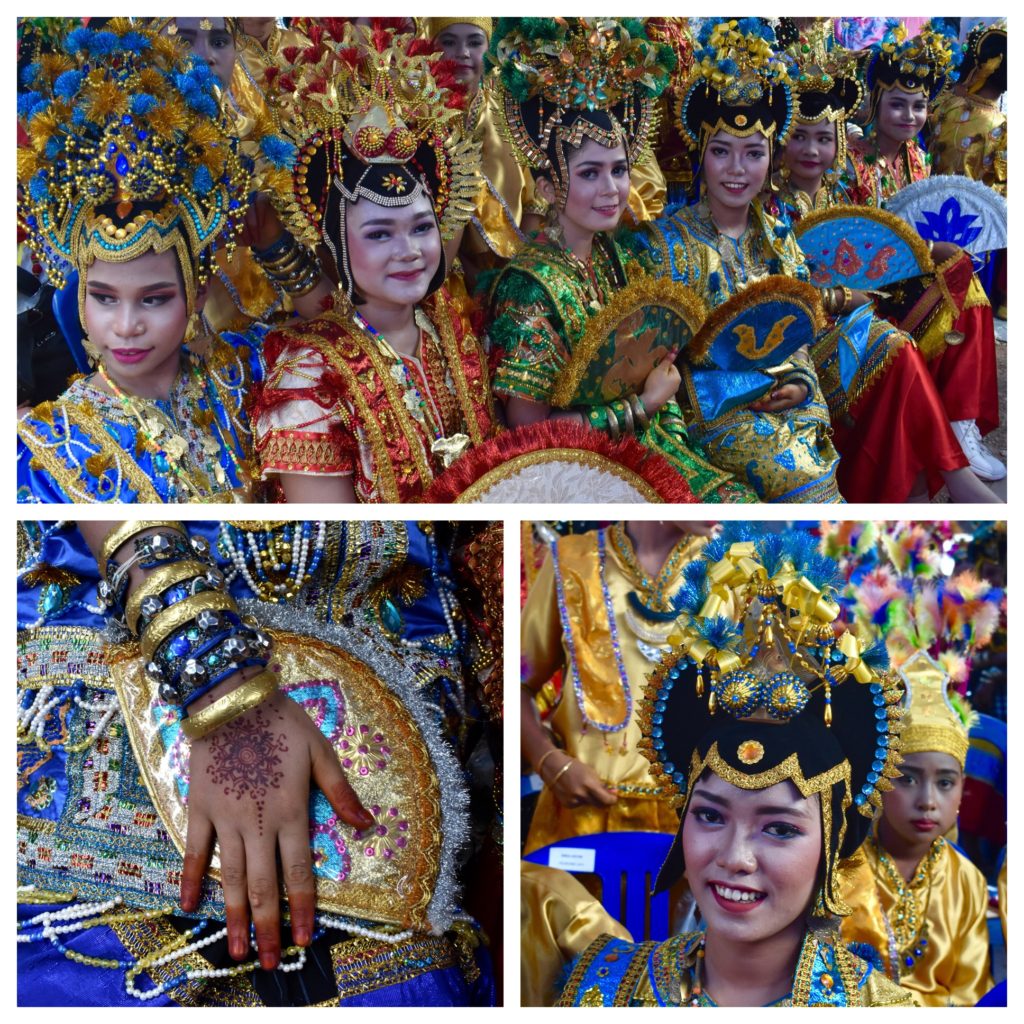 The women who had prepared the 2019 meals to be shared had been waiting for hours next to the ornate domes covering their dishes of food. We joined them, uncomfortably trying to sit cross legged which doesn't come easily to us westerners especially to Hugh who has only done yoga once in his life (when he fell soundly asleep, snoring, during the relaxation period).  We chatted to the waiting women as best we could considering our Indonesian runs to less than a dozen words and shared photos of family from our phones. Background music played… a strange medley of tunes, one number was 'tea for two', quite surreal.

After an uncomfortable wait we were allowed to go out to stretch our legs. The Regent was late even by Indonesian standards which are flexible in the extreme. An hour later we returned and eventually the Regent arrived. There were speeches and more speeches….. at last the domes over the food were raised to reveal plates of boiled rice, sticky rice, fish, noodles, vegetables, samosa, prawns etc. and the tradition of eating together commenced…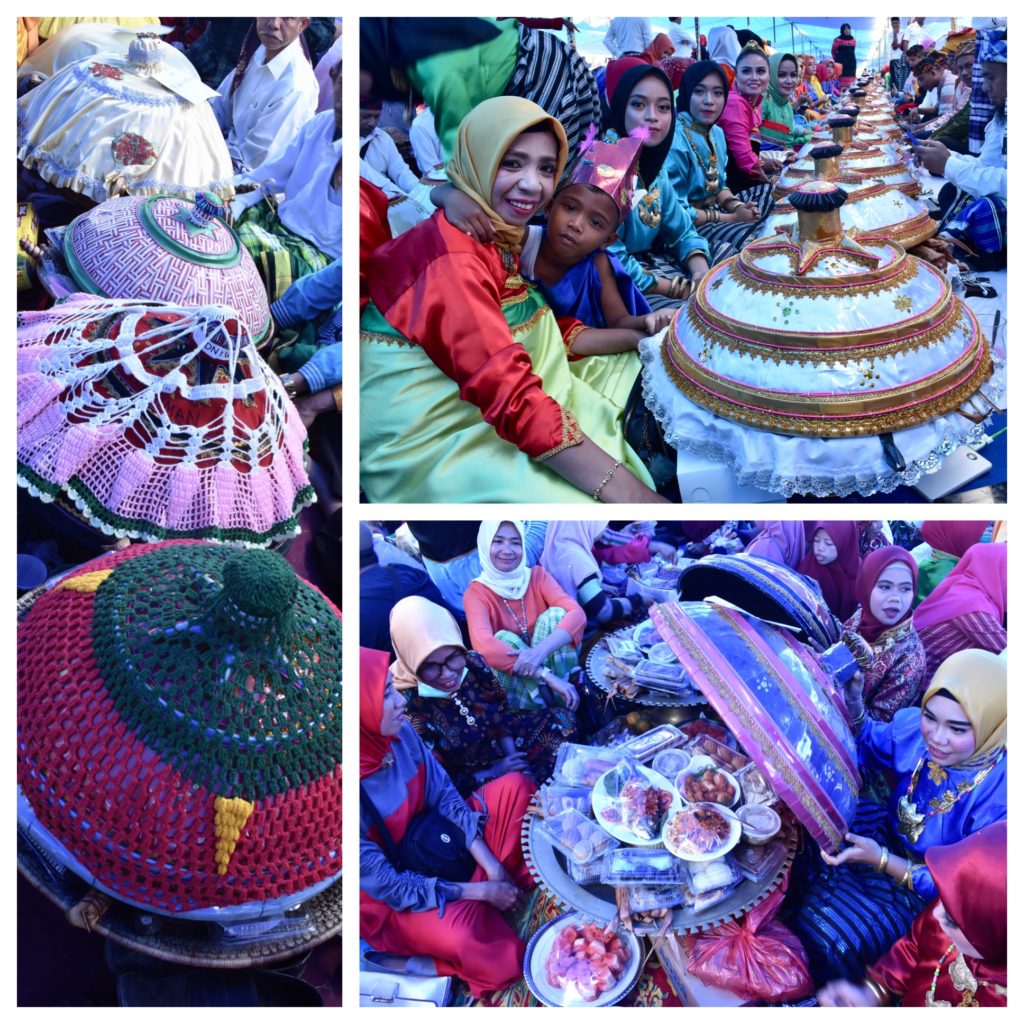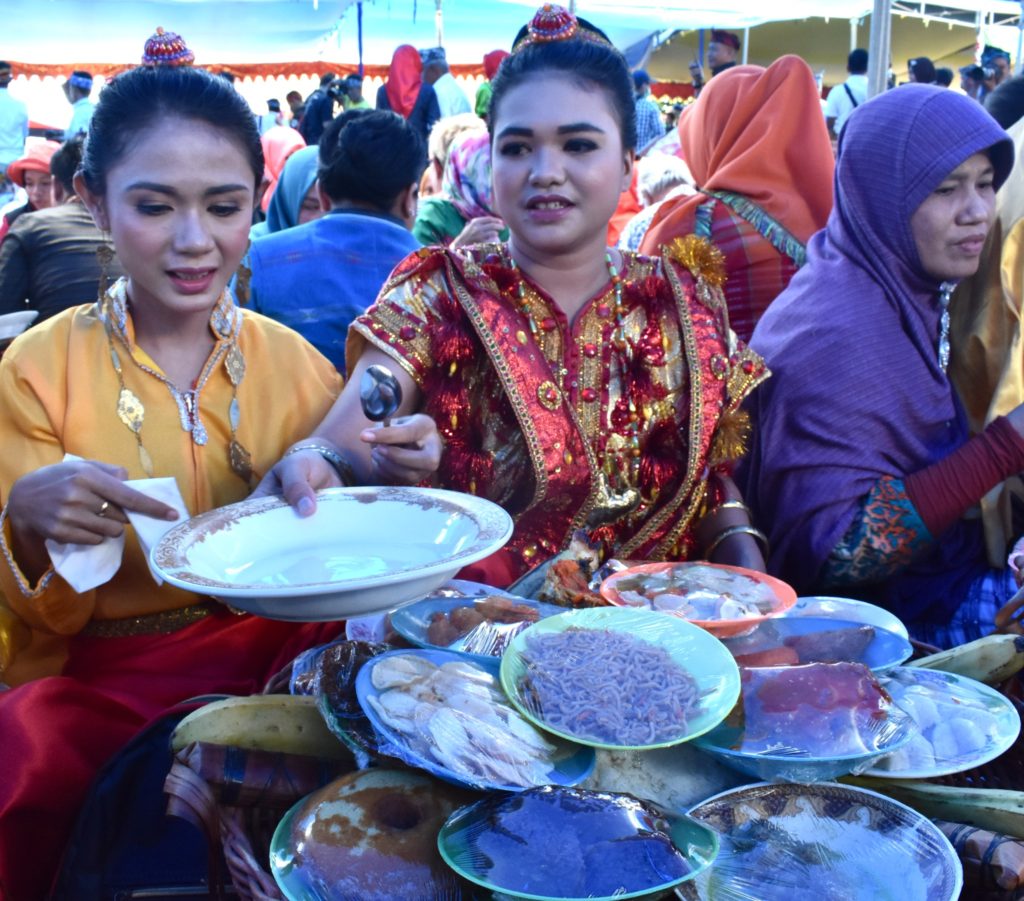 During the day as well as us taking photos of the local people there were repeated demands for photos and selfies with us. Hugh was much in demand with the young women.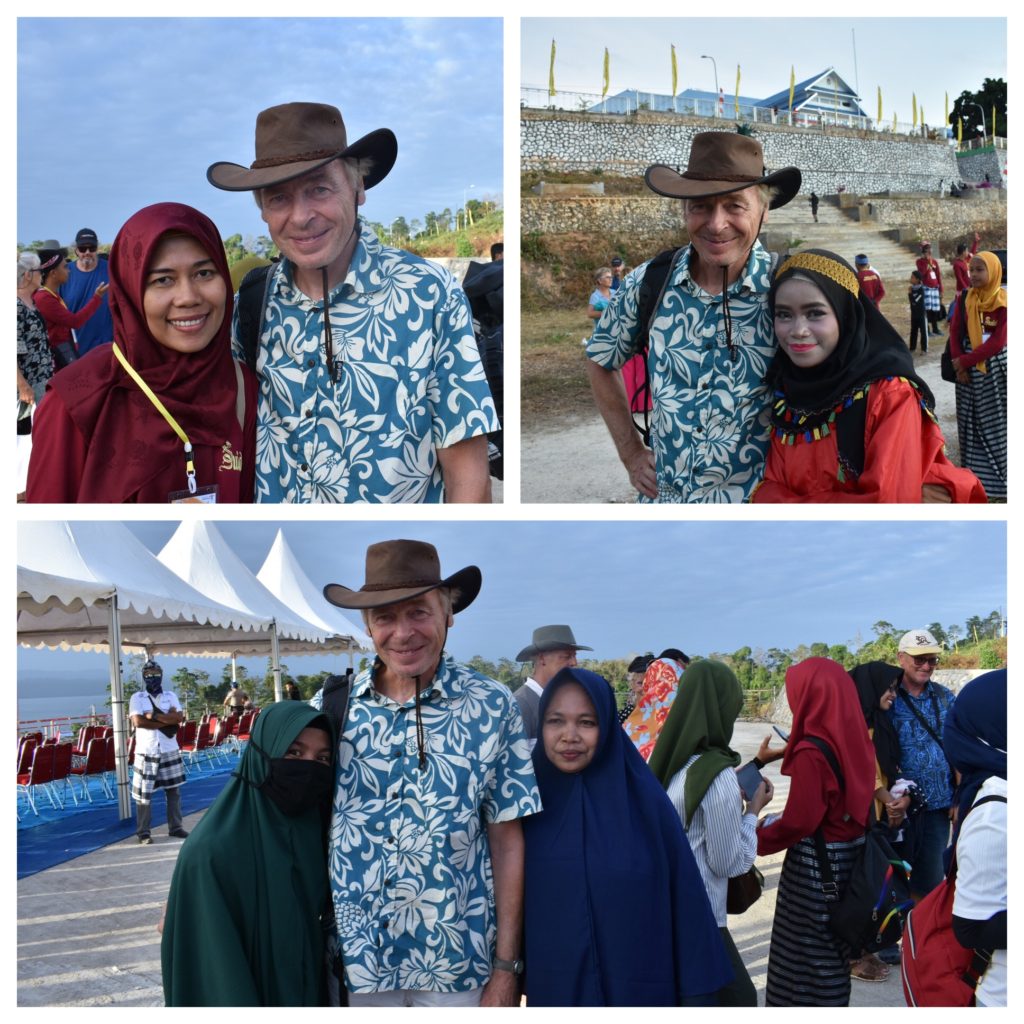 At last the Colossal Dance. As VIP guests we had grandstand views of the arena below, with 5,000 dancers performing different routines, the boys doing a lively war dance, young women and men doing more formal 'couples dancing'.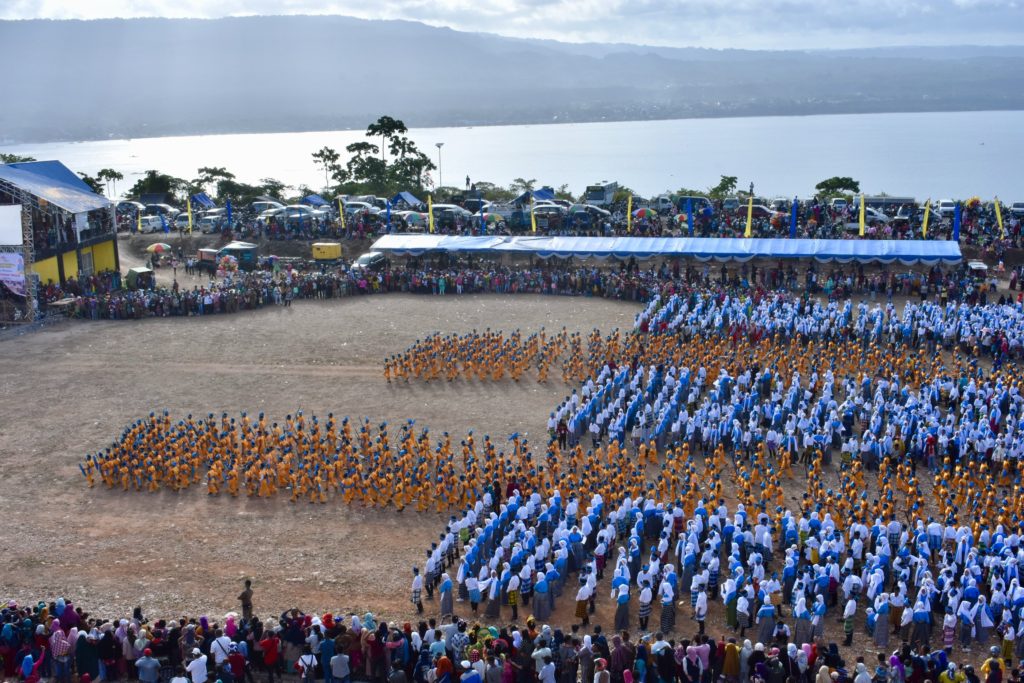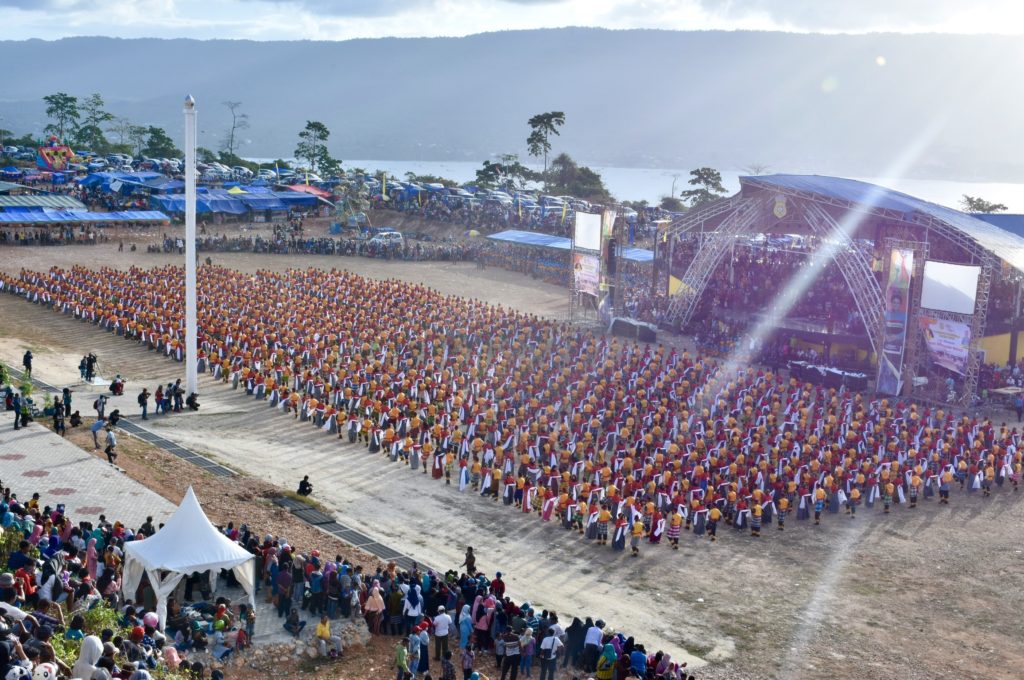 The audience in the grandstand looked on…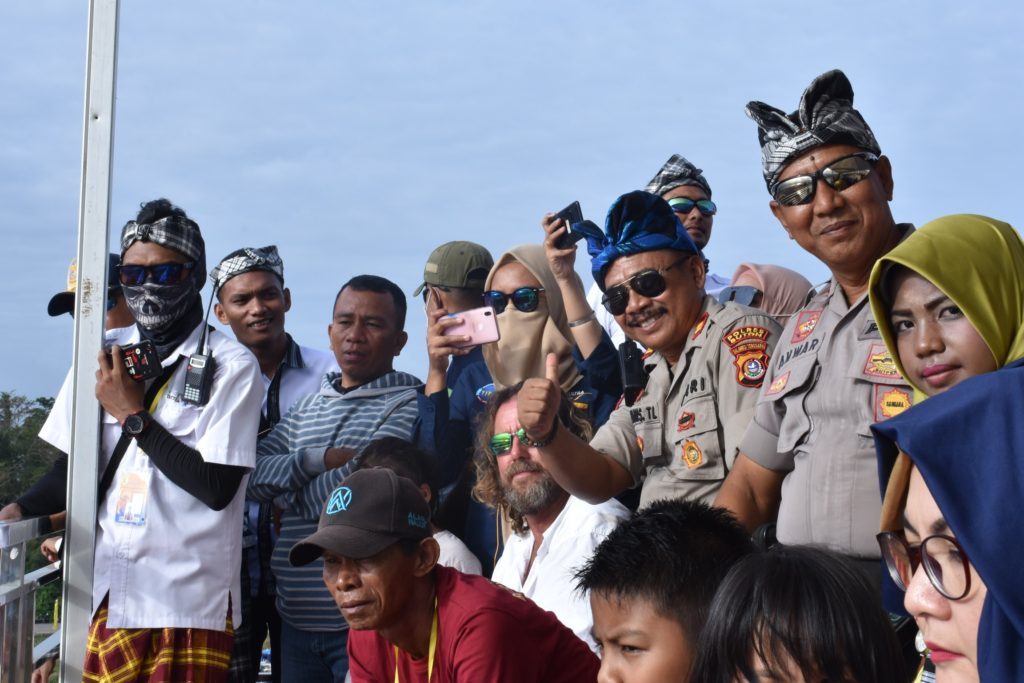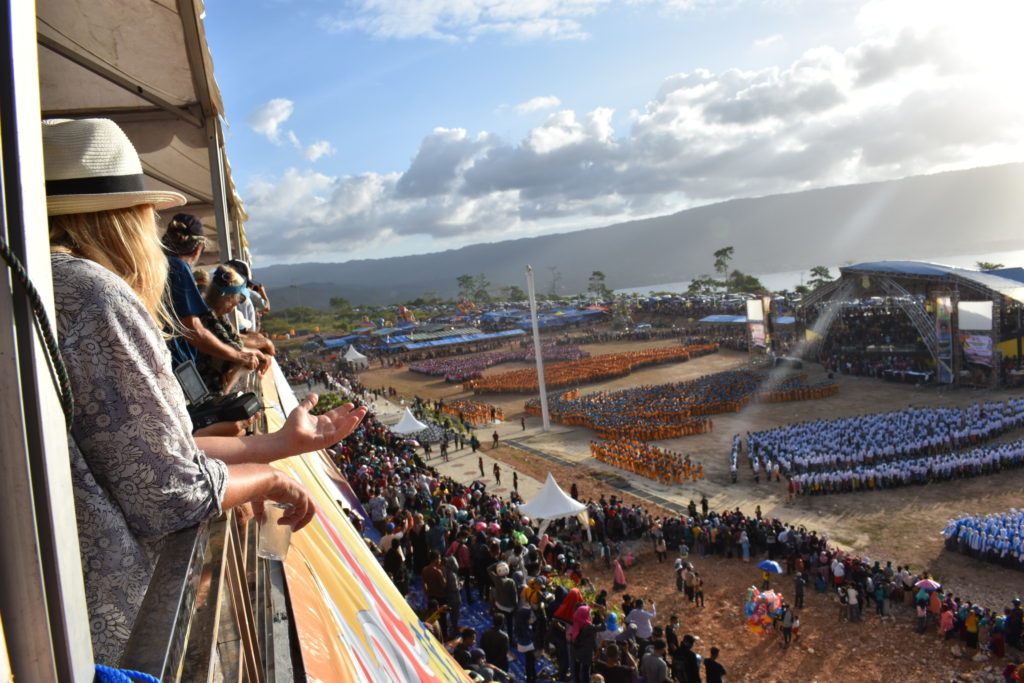 As the afternoon came to a close the strict formations formed by the dancers transformed into an excited mass of cheering and waving.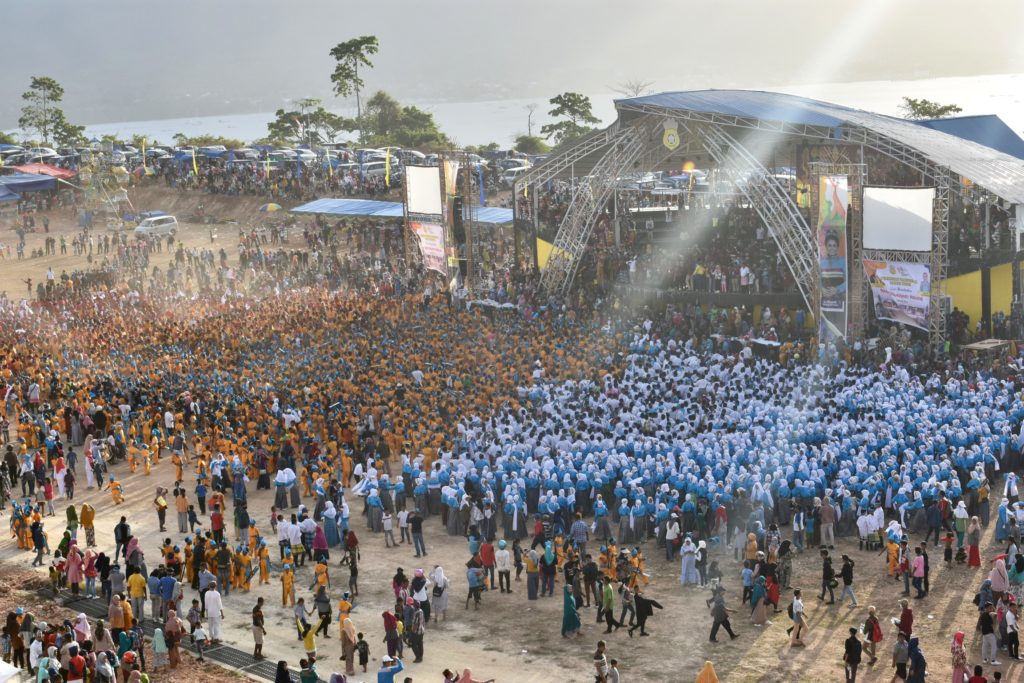 Our last morning at Pasar Wajo was still and tranquil.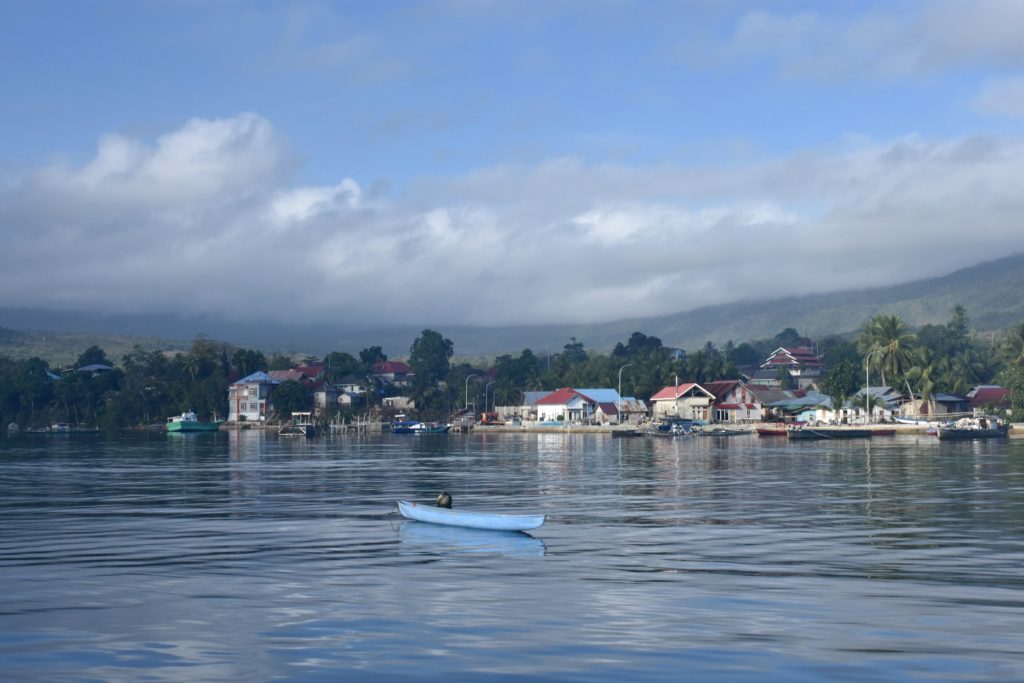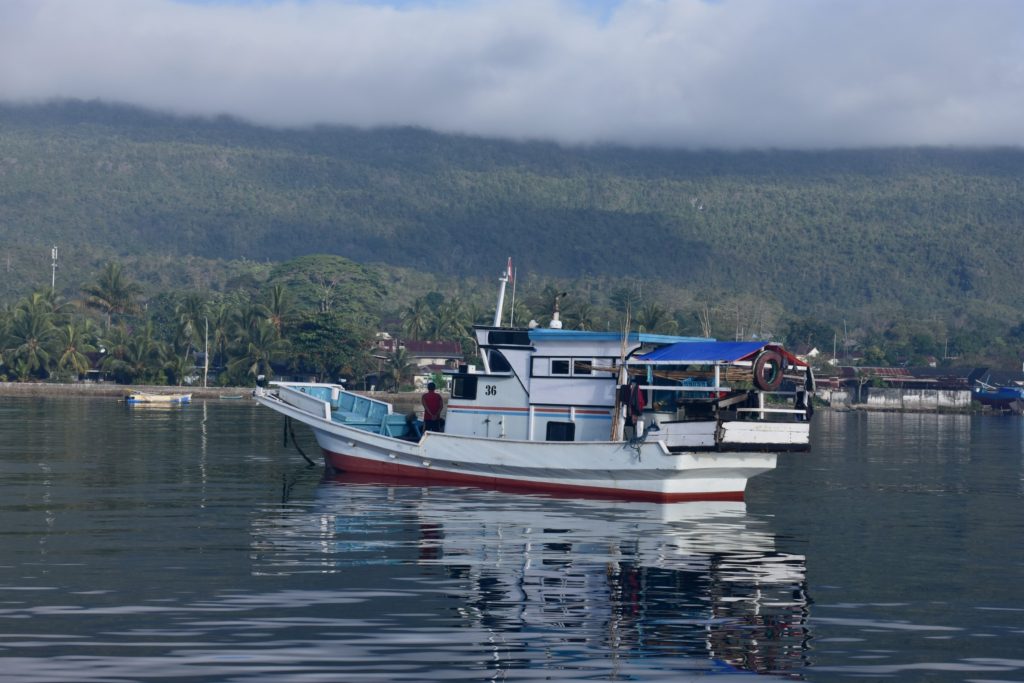 We went ashore for the last time to collect the diesel we'd ordered, do a last minute visit to a nearby supermarket (where we found cheese!) and to say goodbye to our lovely guides around Pasar Wajo……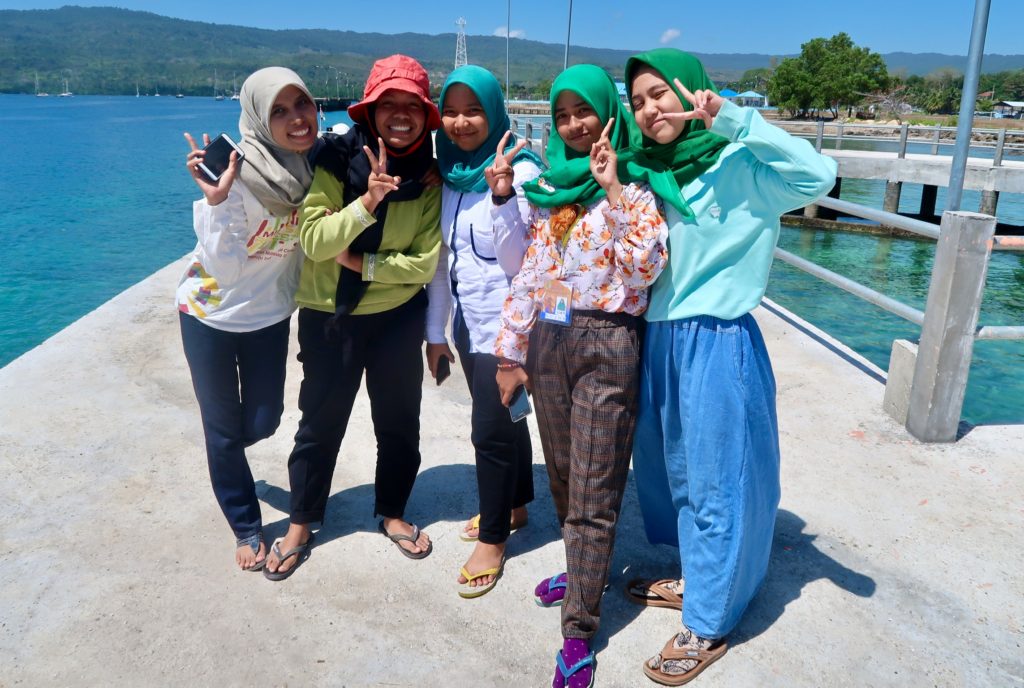 ……. before setting off south, still not absolutely sure where we were heading next.