Sunday 25th August to Thursday 12th September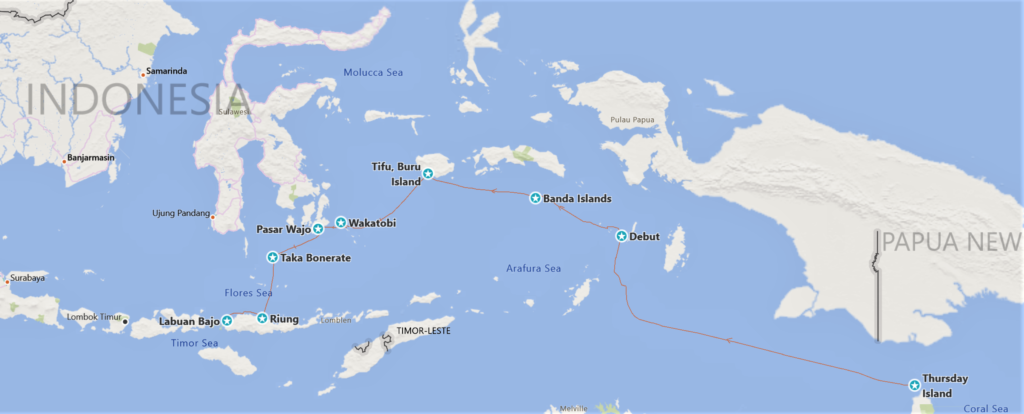 Taka Bonerate
From Pasar Wajo we headed south-west, putting up our cruising chute as the wind gradually increased, joining a group of other yachts heading towards Taka Bonerate, the third largest reef system in the world. It was a 125 mile overnight sail and we soon fell behind the faster boats. At one point in the dark, moonless night we were warned by Florence, ahead of us, that there was an FAD to avoid… we found out later that they had hit it, a bamboo structure in 2000 metres of water (we are still unclear as to whether it was anchored or not).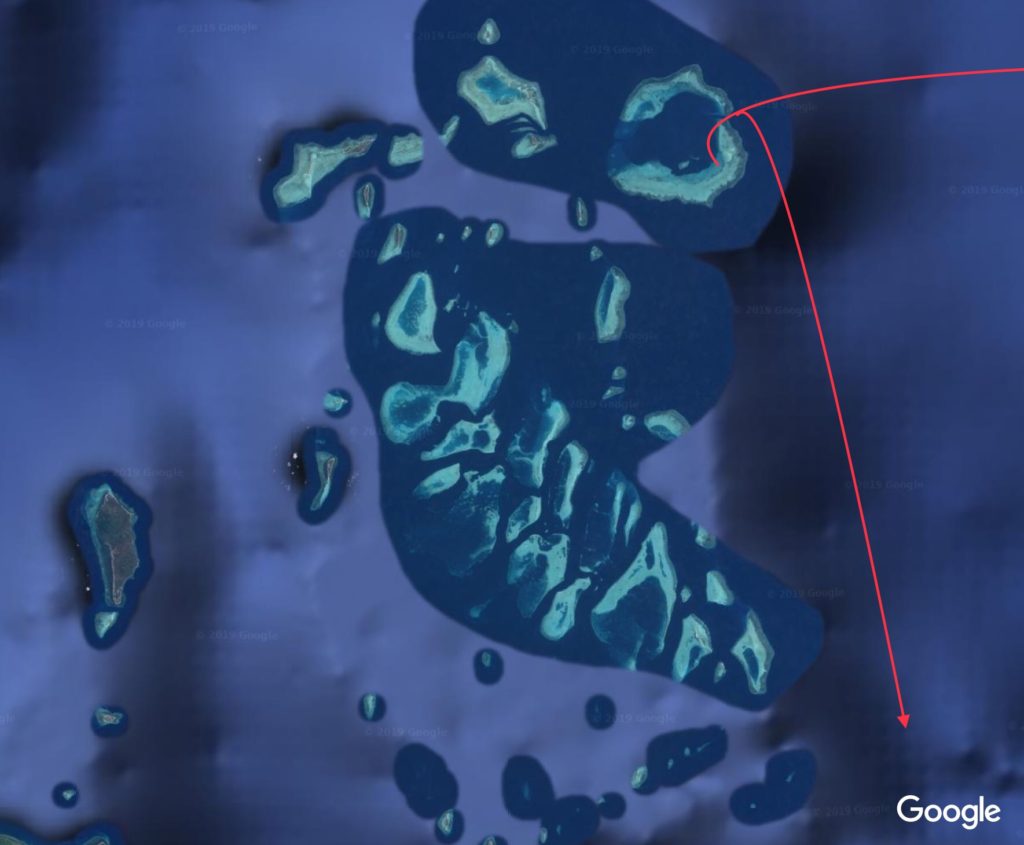 We arrived mid morning and motored through the wide pass and down to where other boats had anchored in 12 meters of water by the reef. The community of 12 rally boats spent two nights in the lagoon with snorkelling on the bommies, kite surfing (by a couple of boats) and walks on the reef at low tide where there were starfish and sea urchins on the exposed coral, a few hermit crabs scuttling away as we approached….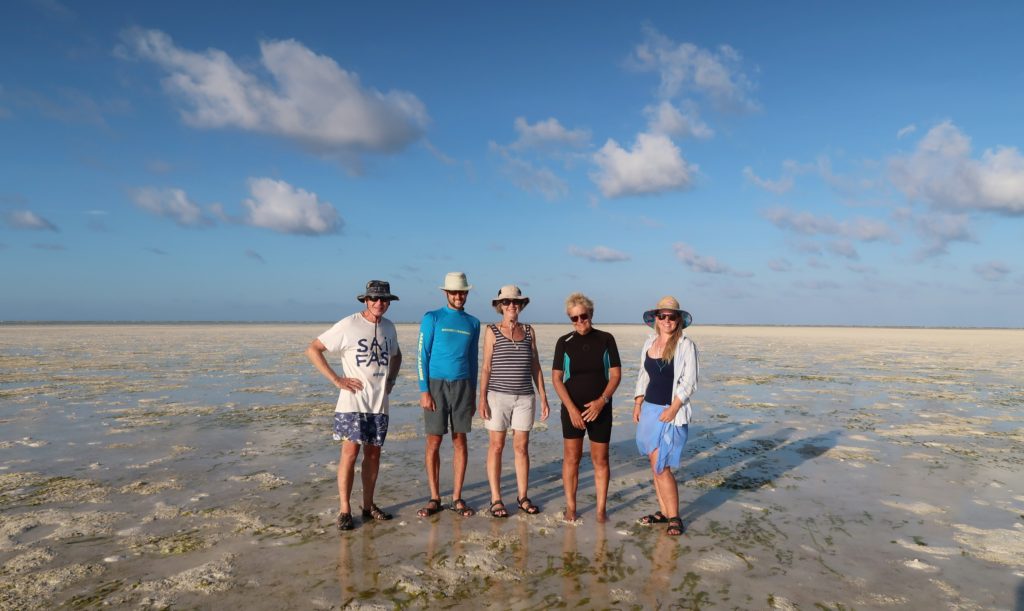 ….. and a 'dinghy drift' to watch the sun set.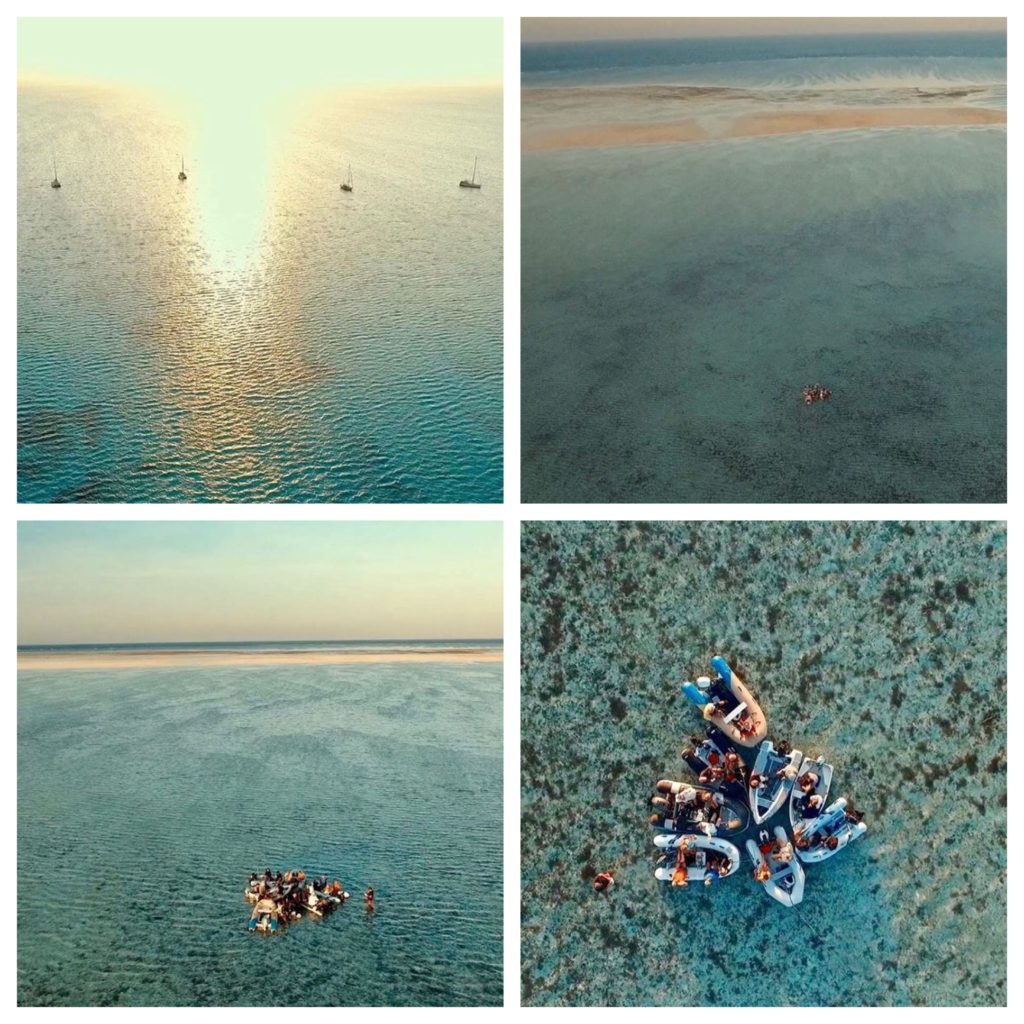 After two nights at anchor here we split off from the other 11 boats and sailed south on our own for an overnight, 125 mile trip to the island of Flores.We had a most wonderful sail with the wind on the beam, reefing the main sail and then the genoa as the wind increased, romping along at up to 7 knots.
Just before we arrived at Riung, a village on Flores, the fittings on the gimbal, which allows the stove to swing as the boat rocks, broke. As we approached the bay we discovered friends on Enchantress, Endorphin and Hecla already at anchor there. Within an hour of our arrival Michael, Colin and Jon had come over from fixing Enchantress's backstay and mended our stove!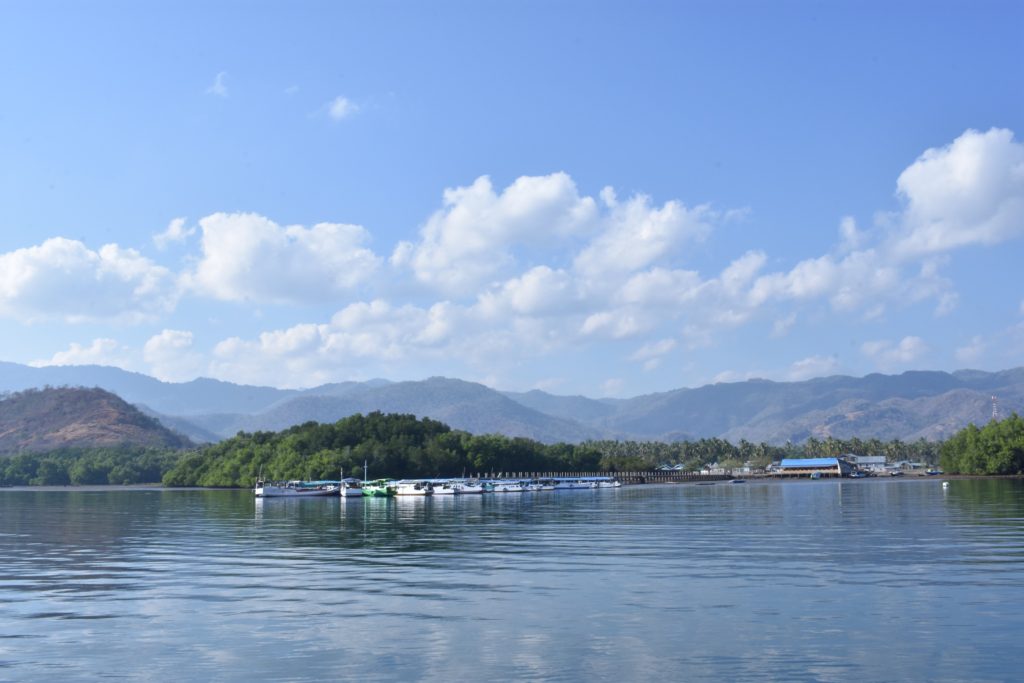 The Island of Flores
Flores, named 'the island of flowers' by the Portuguese, is a long, thin island of volcanoes and mountain peaks, rice fields and lakes, with a mainly Catholic population. Tourism is overflowing from Bali, creeping west to Flores and this was the first time in Indonesia where we have encountered more than the occasional tourist. In Riung there are hostels and restaurants catering for backpackers although it was low season and the dusty streets were quiet. At anchor in the bay at night we could hear a band playing Bob Marley numbers from the restaurant on the front.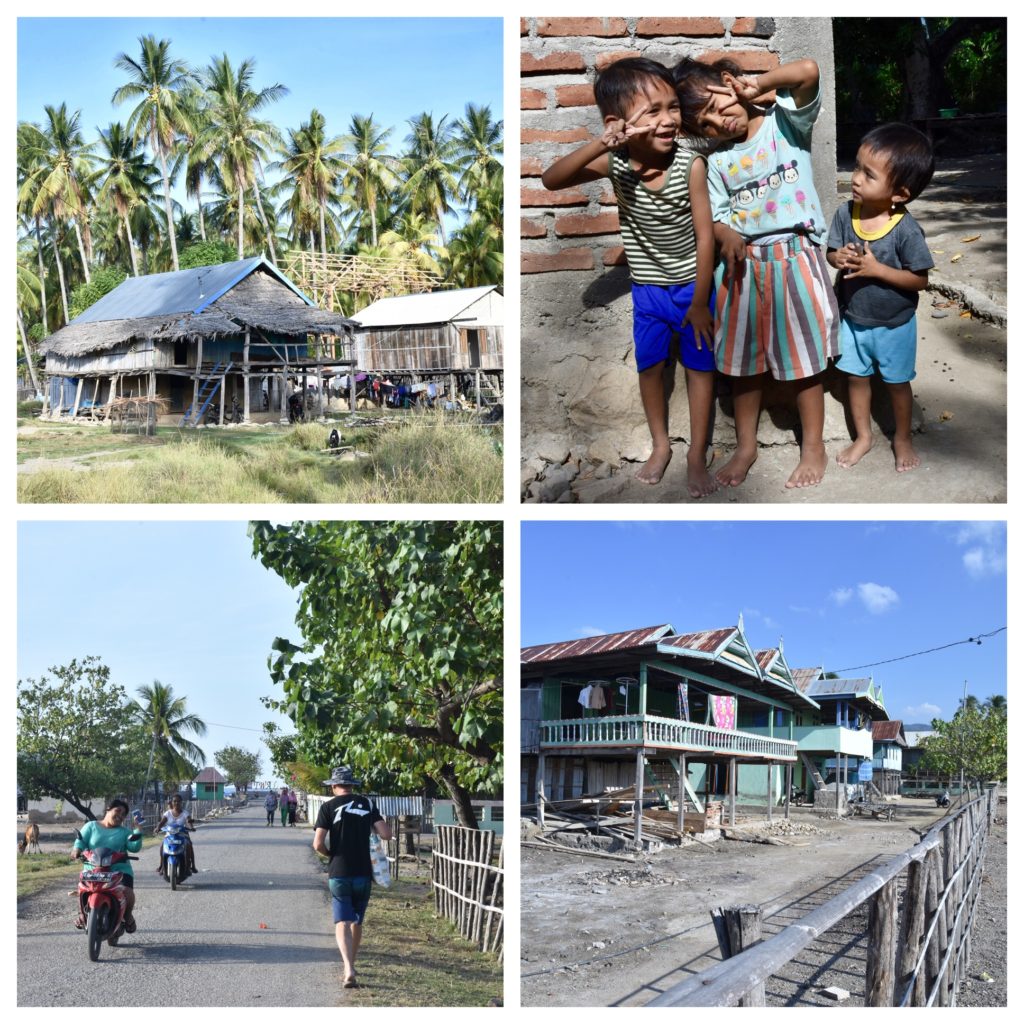 From the jetty you can take a trip out to the Seventeen Islands Marine Park on one of the long, colourful local boats. We already had a boat so we all piled into Enchantress and anchored off one of the islands for some snorkelling and a beach barbecue.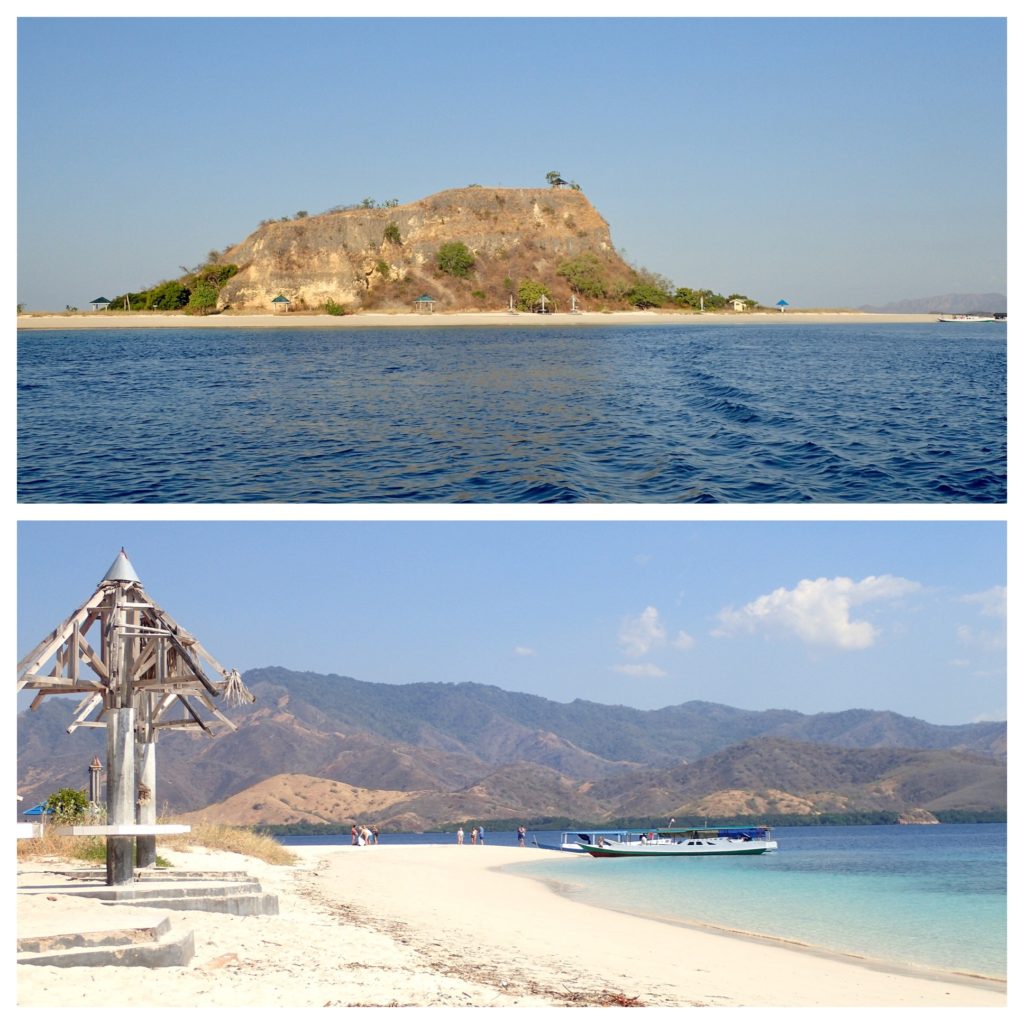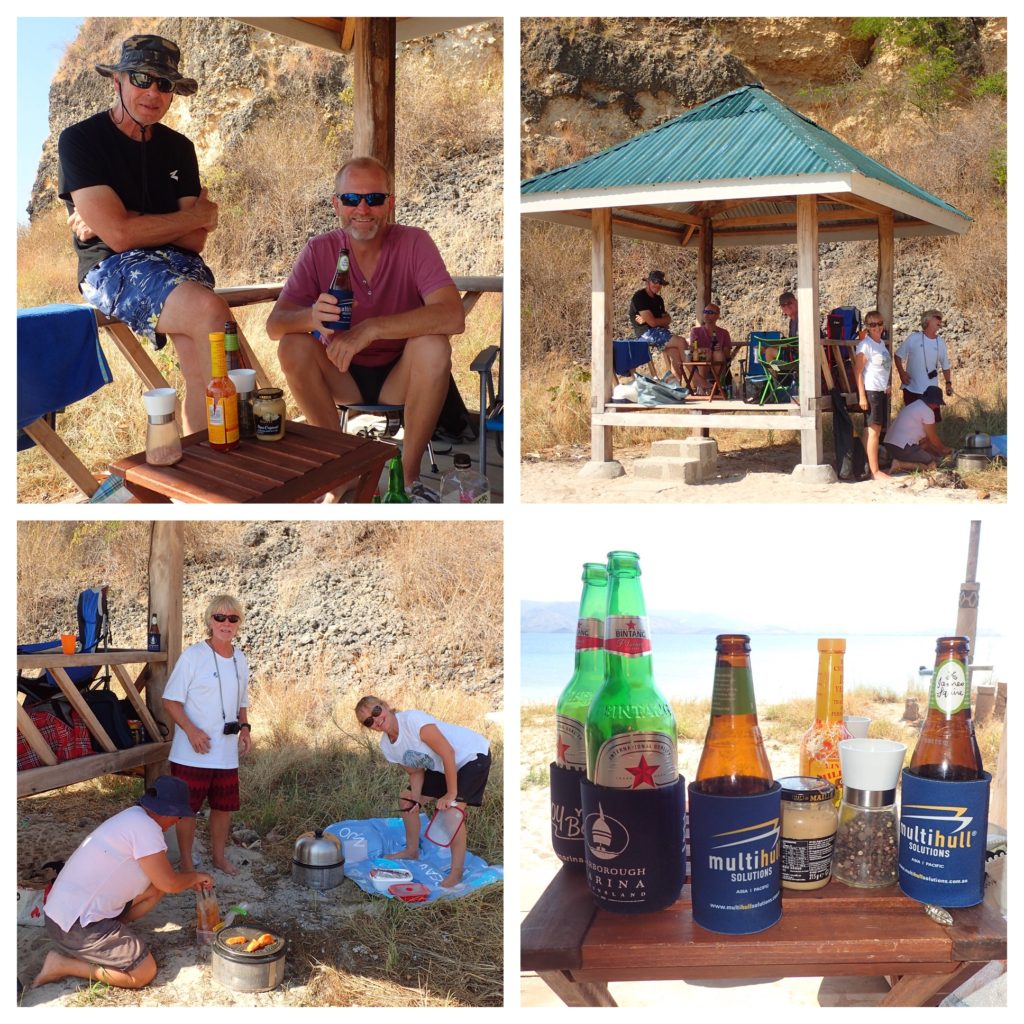 We hired a car and driver to explore Flores for the day, the drive taking us from the arid, barren northern coast, up and across the mountainous ridge running along the centre of Flores to the more lush south, past rice fields with views of soaring volcanic peaks.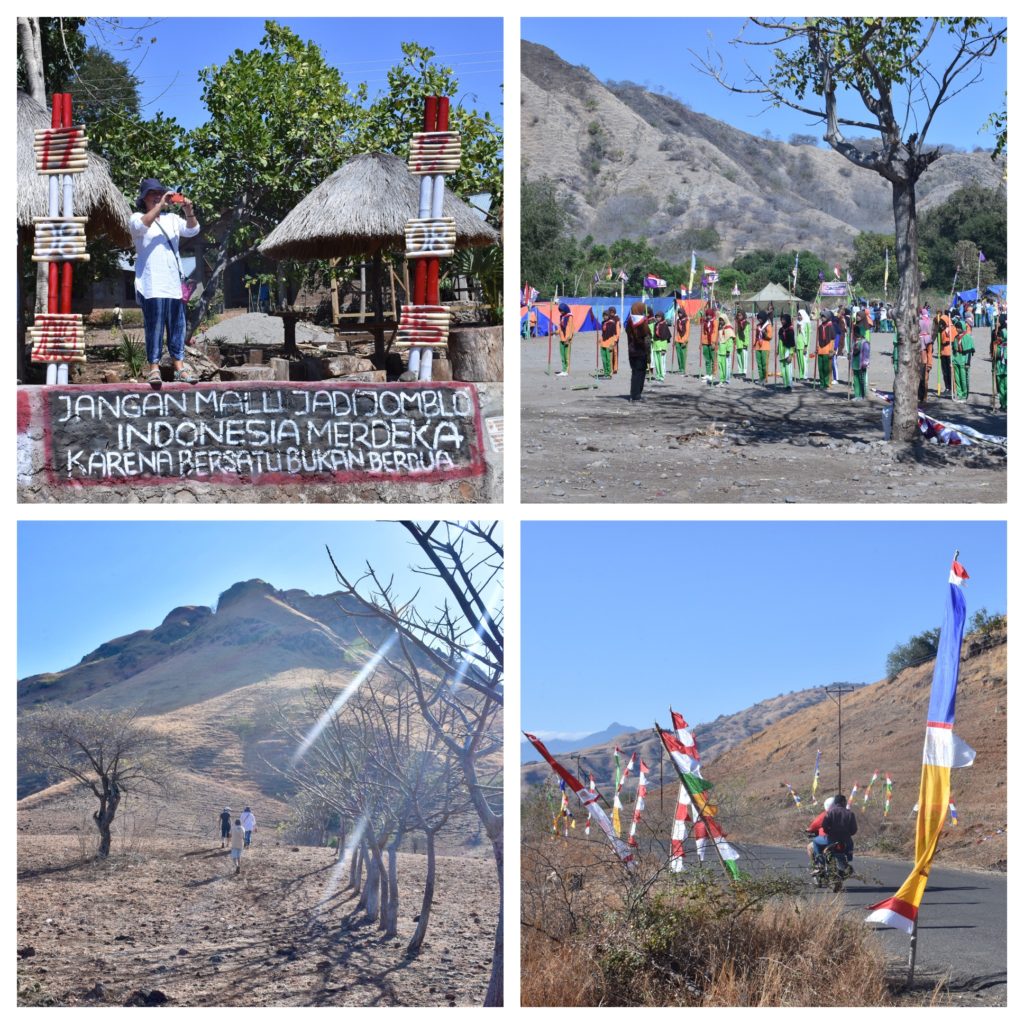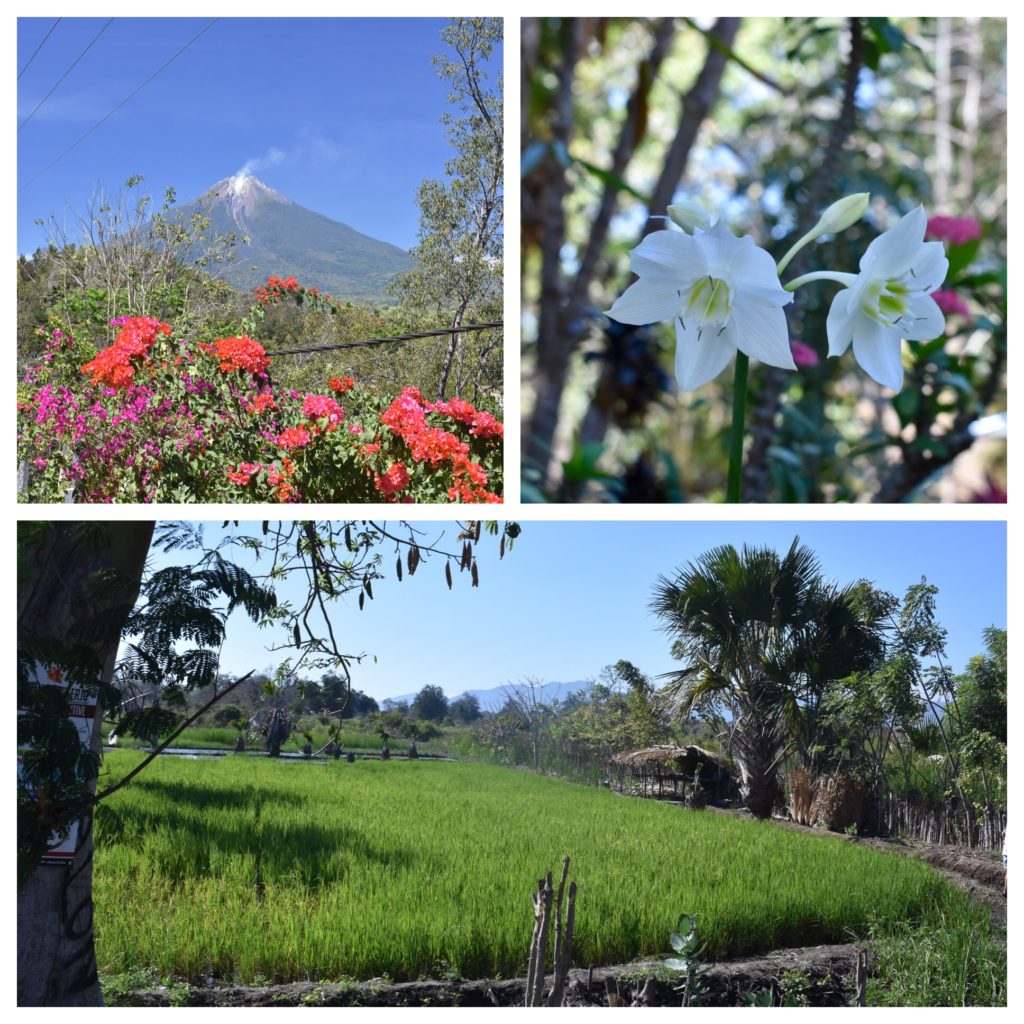 We stopped on the way for a swim in the hot springs, the water in one pool heated by a volcano and too hot to tolerate for long but with a colder, fresh stream to cool off in. The women bathed in their clothes, some fully covered and others less so.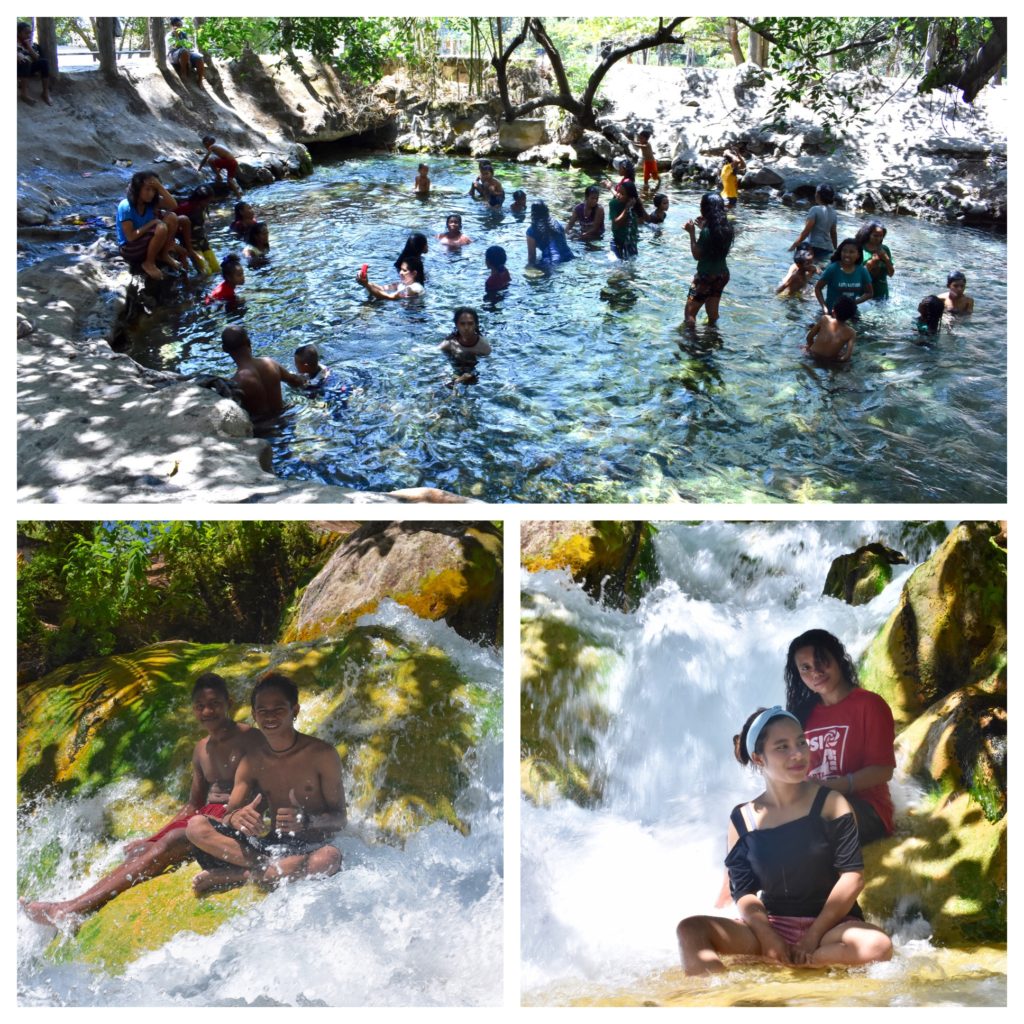 A lunch stop in the town of Bajawa (nasi goreng ayam for Hugh as usual – fried rice with chicken and a fried egg on top) before continuing south to Bens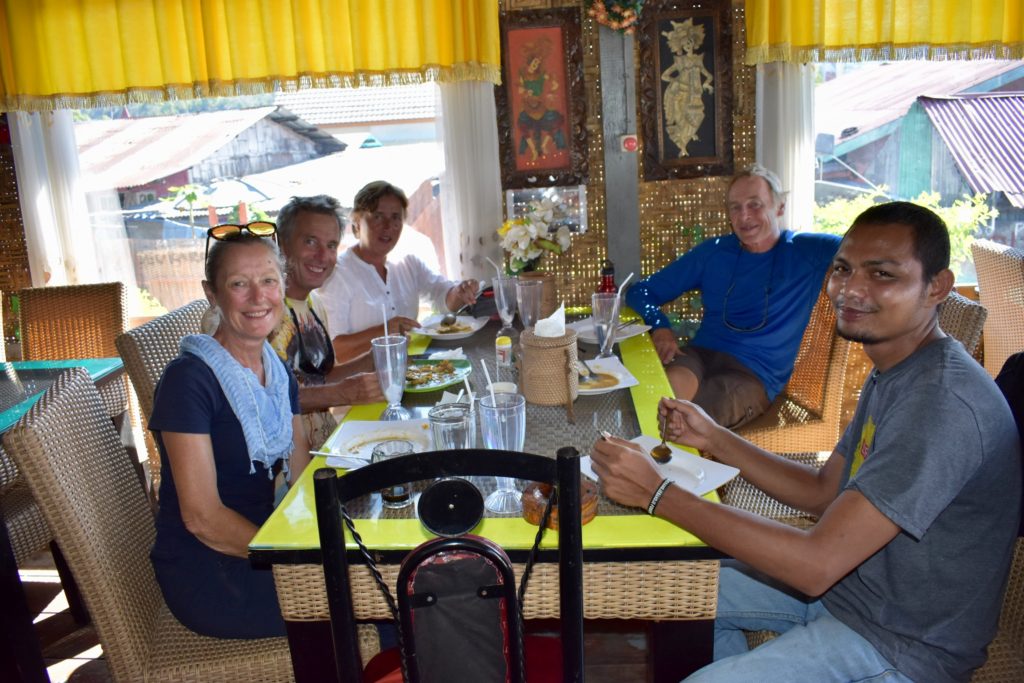 Bena is one of several Ngada traditional villages in the area and is home to nine clans. The houses are built around a terraced central area and have high thatched roofs with male or female figures on their roofs. The doorways are decorated with buffalo horns and jawbones and in the courtyard are megalithic, tomblike structures.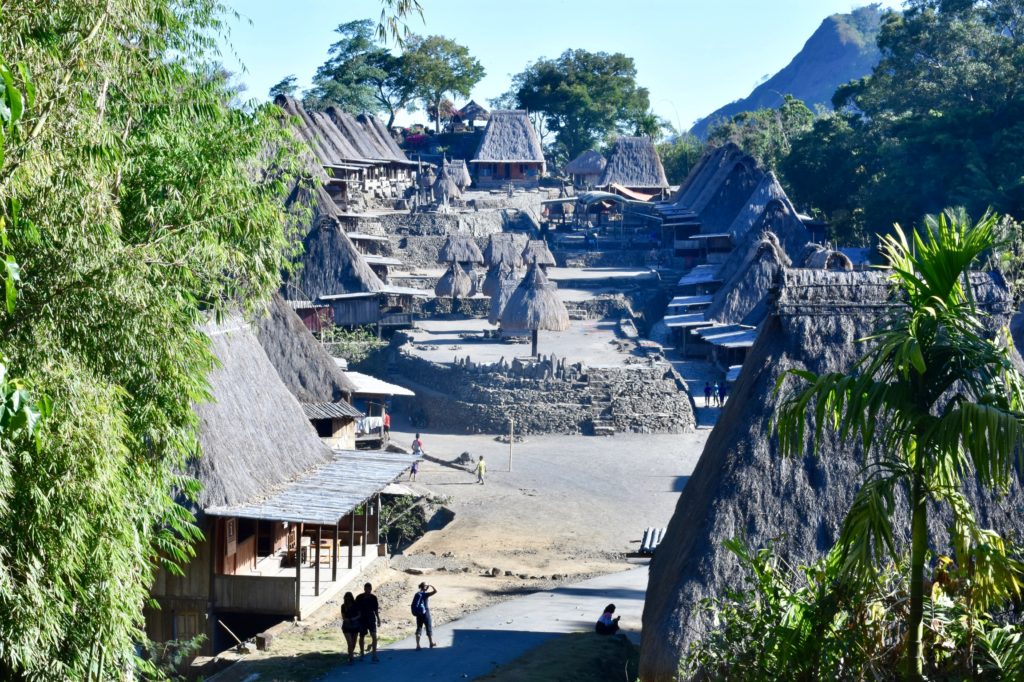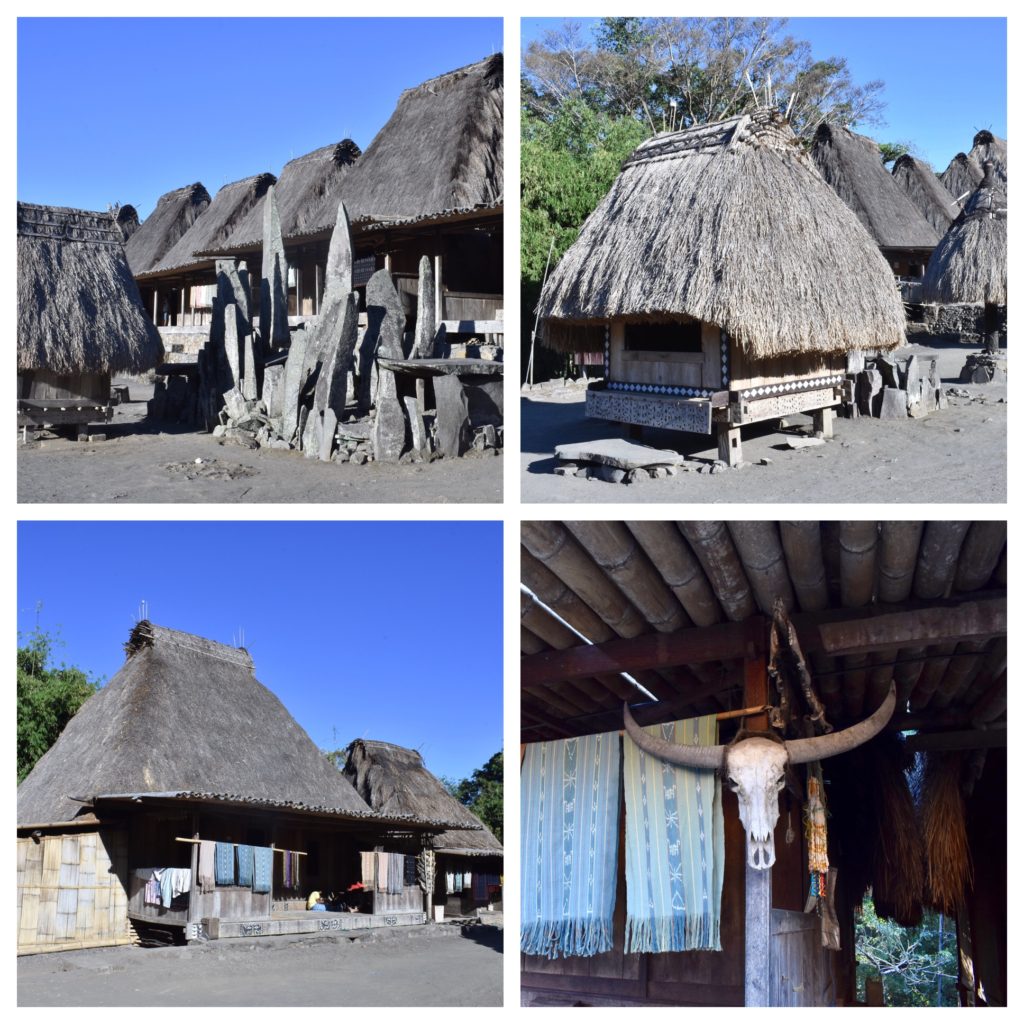 We got chatting to some of the villagers (Pat and Bronwyn have been working harder at learning Indonesian that we have)….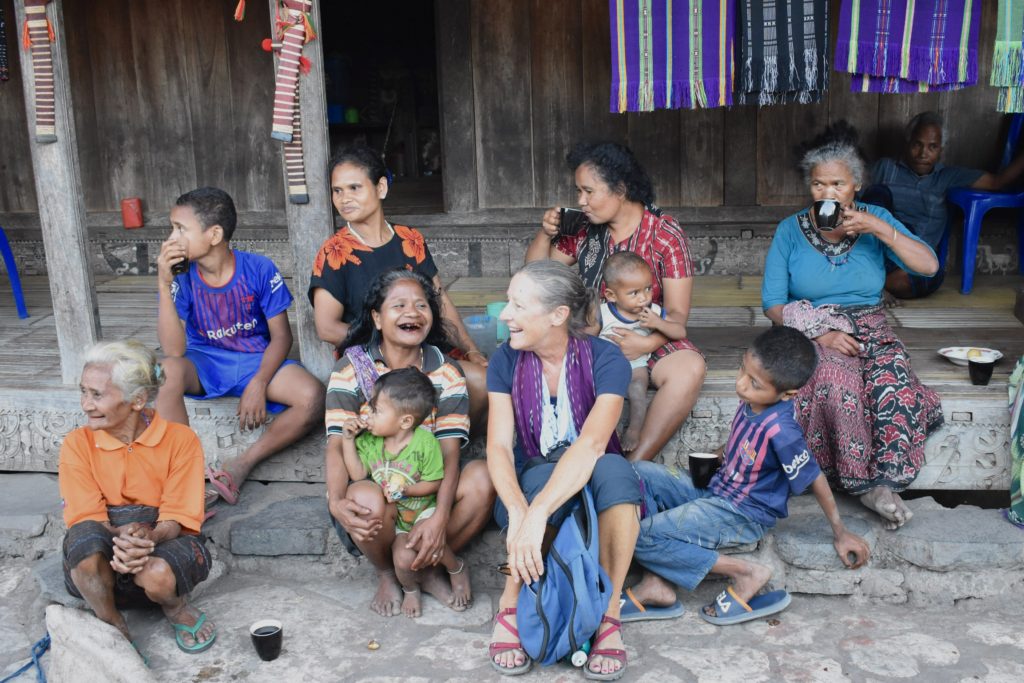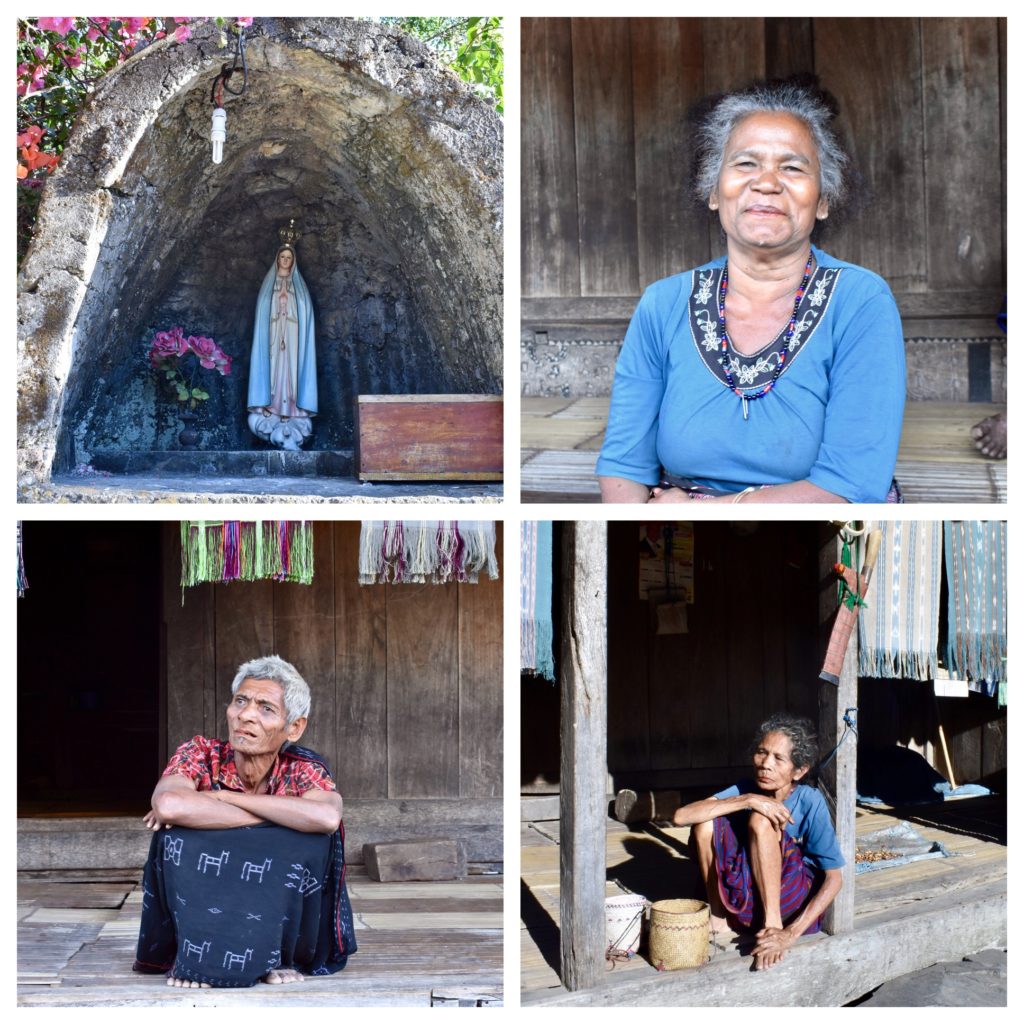 The villagers are nominally Catholic (and the man in the bottom left picture asked me if I was Catholic), although the Ngada people practice a fusion of animism and Christianity which may involve animal sacrifice at one of their traditional ceremonies. The scarves that they weave incorporate symbolic motifs, mostly of animals.
We stayed so long in the village it was a frantic drive to catch the sun setting sun behind one of the many mountain peaks.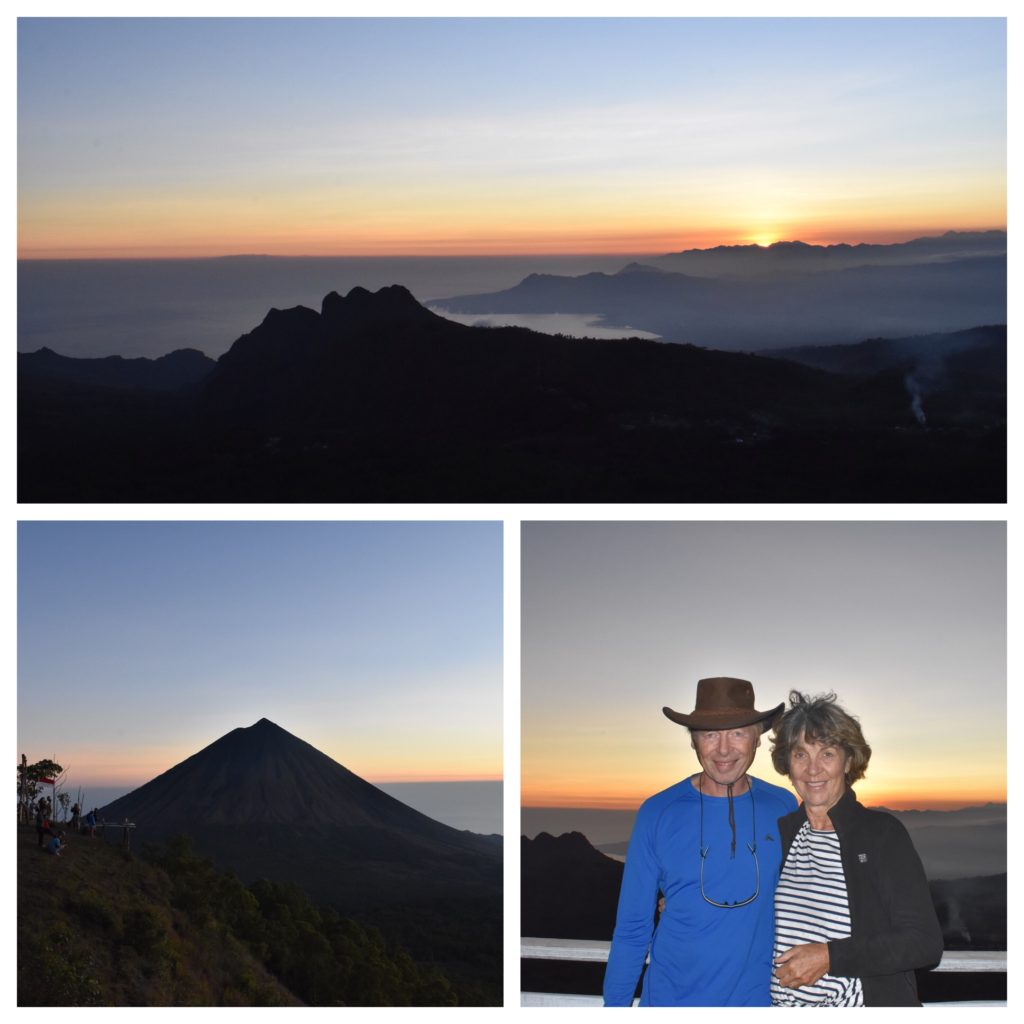 From Riung we did short day sails west along the coast, often using the cruising chute in gentle winds and with the sun shining on a sparkling, calm, blue sea. Dropping anchor off the village of Lingeh we were soon approached by a succession of visitors, assorted children and a couple of men in canoes wanting gifts or to sell us tomatoes and bananas. We bought what we could and handed out pens, schoolbooks, t-shirts, drinks and biscuits.
We could have happily spent a week or more at the small, uninhabited (apart from by monkeys) island of Gili Bodo and we were not alone. Another eight or so yachts were anchored in the calm lagoon, fringed by reef. A couple of days were all we could spare, snorkelling during the day and with sundowners in the evening and a barbecue on the beach with other cruisers. Time to relax and do some passage planning, trying to plan our sailing schedule for next year. Whether to spend some time in Thailand then ship Vega to the Med on a cargo ship, or tackle the Indian Ocean to South Africa then home across the Atlantic via the Caribbean? Perhaps even the Red Sea route via Suez to the Med, which an increasing number of cruising yachts are using since this route has been free of attacks by 'pirates' in recent years.

Labuan Bajo
Then on to Labuan Bajo, the first really touristy town that we have encountered on our Indonesian trip. It it is the jumping off point for trips out to the nearby Komodo Islands with their dive sites and the Komodo Dragons. The harbour is crowded with Pisini boats, the traditional Indonesian sailing boats that are now used as excursion boats for the many tourists that flock here.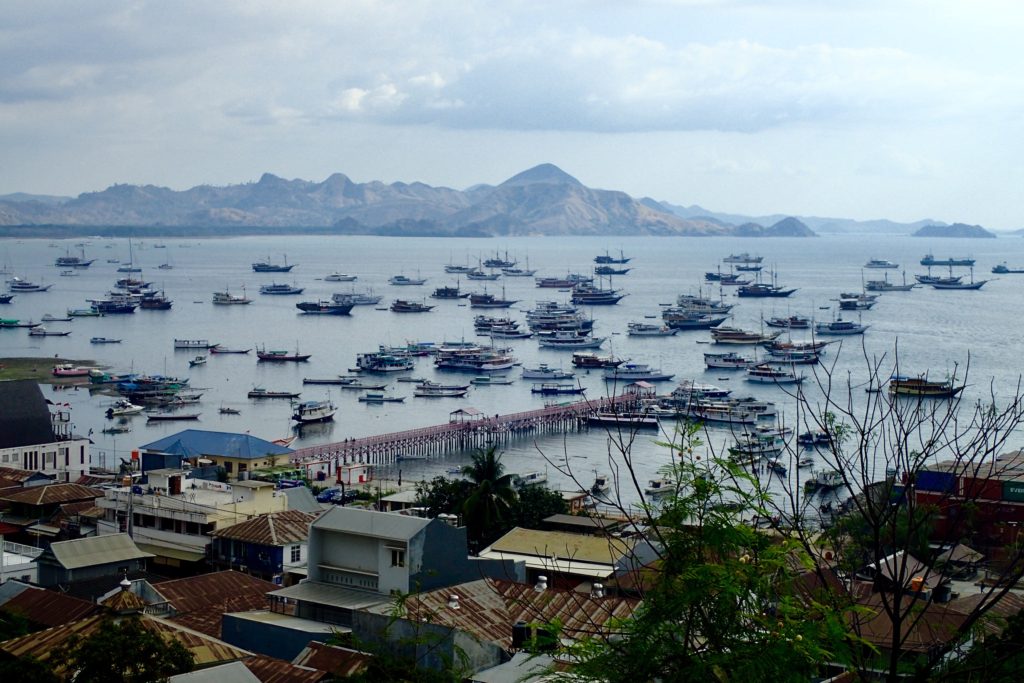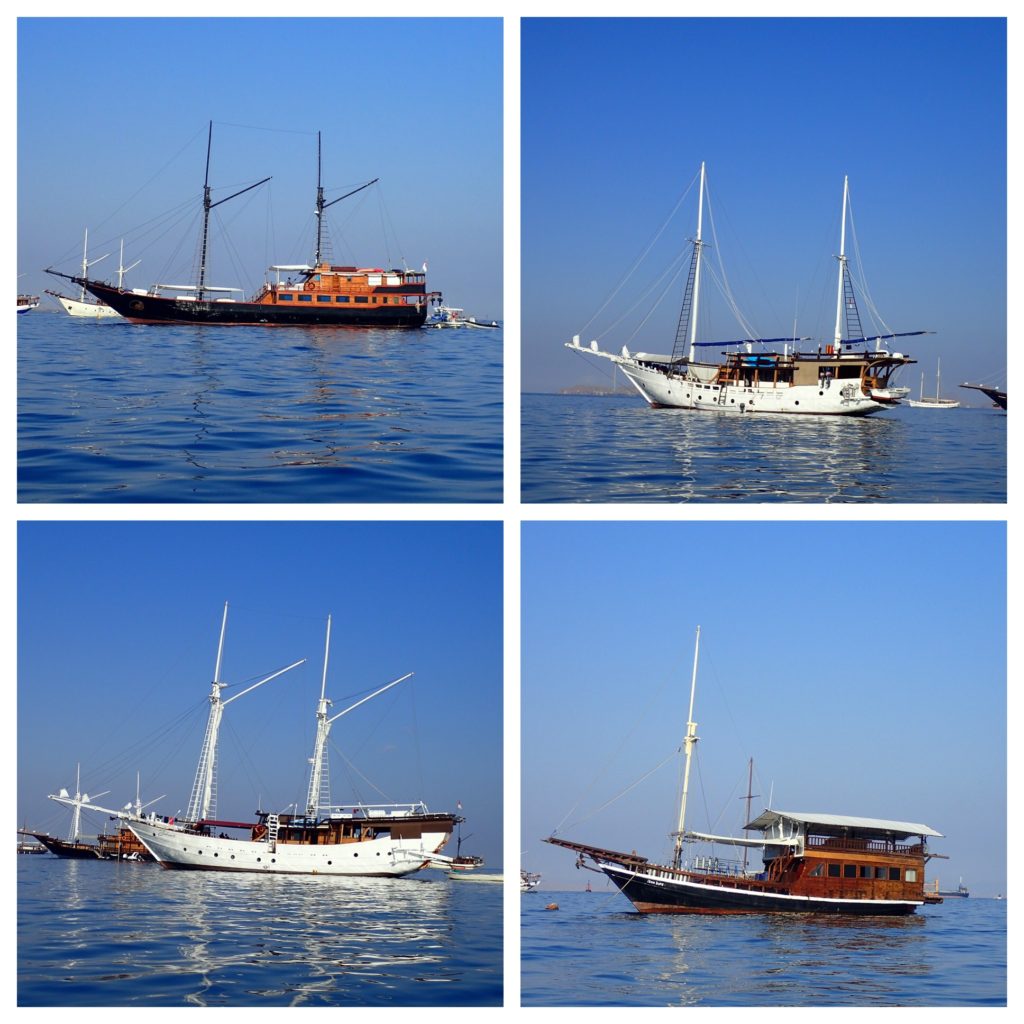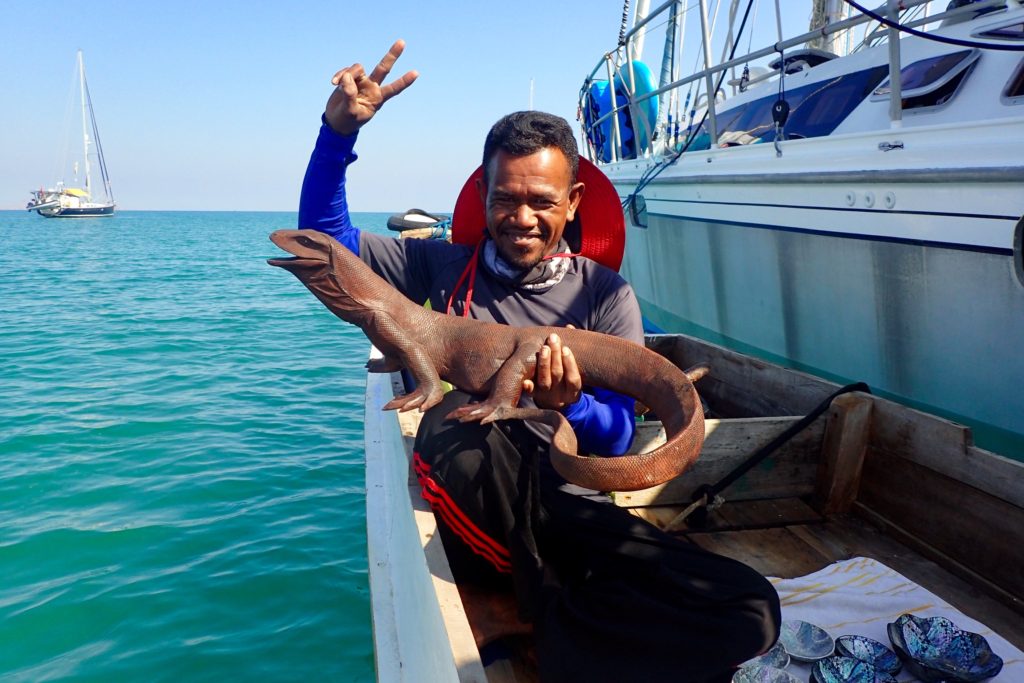 We anchored just along the coast from the town, opposite the Puri Sari Hotel, from where we were able to organise laundry, water and diesel and to eat at their restaurant. It was a short taxi ride into busy Labuan Bajo, the streets crowded with traffic and backpackers, lined with cafes and restaurants, dive and tour shops, and from where we did a fabulous day of diving in the Komodo islands.
The Komodo Islands
These 29 islands lie to the west of Flores and are national park with a rich marine ecosystem and pristine coral which thrives due to the convergence of warm and cold currents, attracting dolphins and sharks, mantas and blue whales.
Joining a dive boat from Labuan Bajo we dived at three separate sites around the Komodo islands and were amazed by the variety and beauty of the fish and corals, as well as nudibranchs, rays, reef sharks and turtles. A large cuttle fish swam past, changing colour from gold to brown. We were warned by the dive master that it was not manta season and that there was no guarantee that we'd see one, so were thrilled when one came gliding slowly and gracefully within a few metres, before turning to swim away.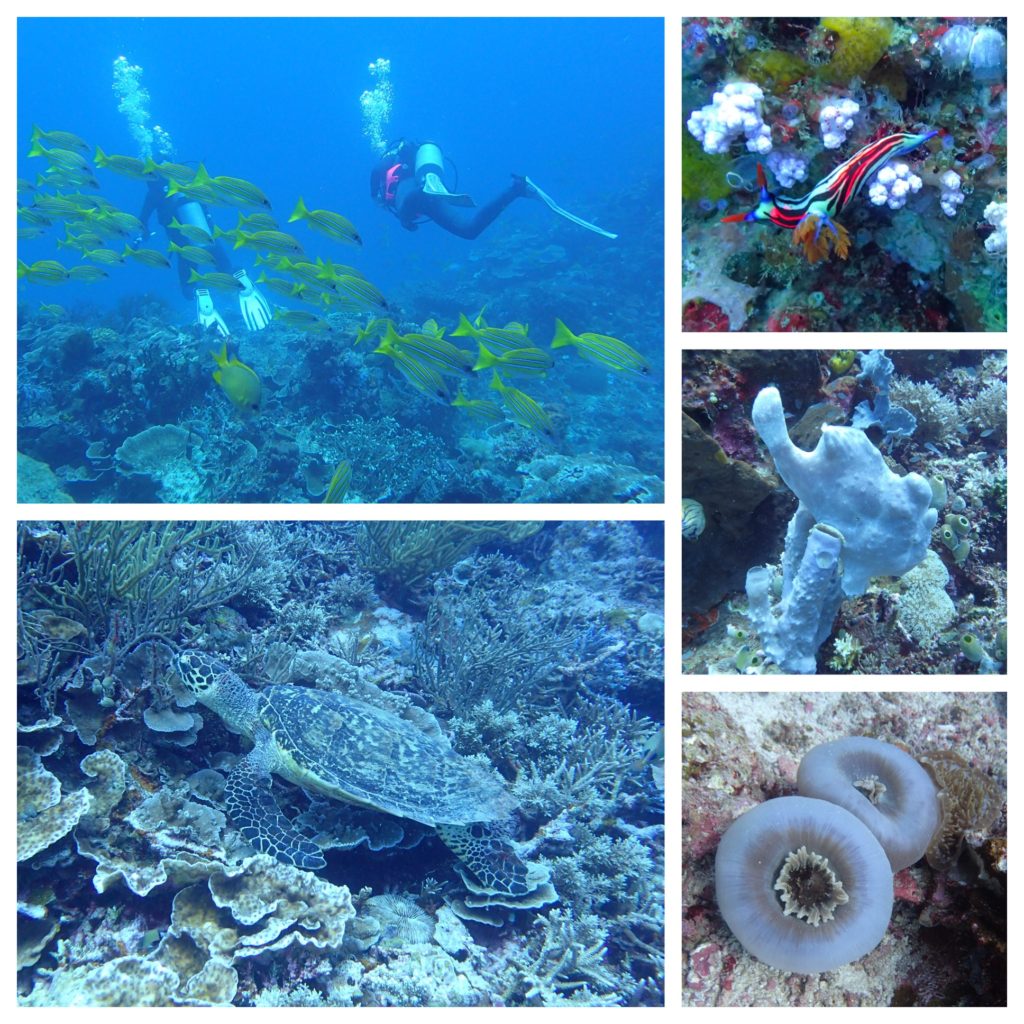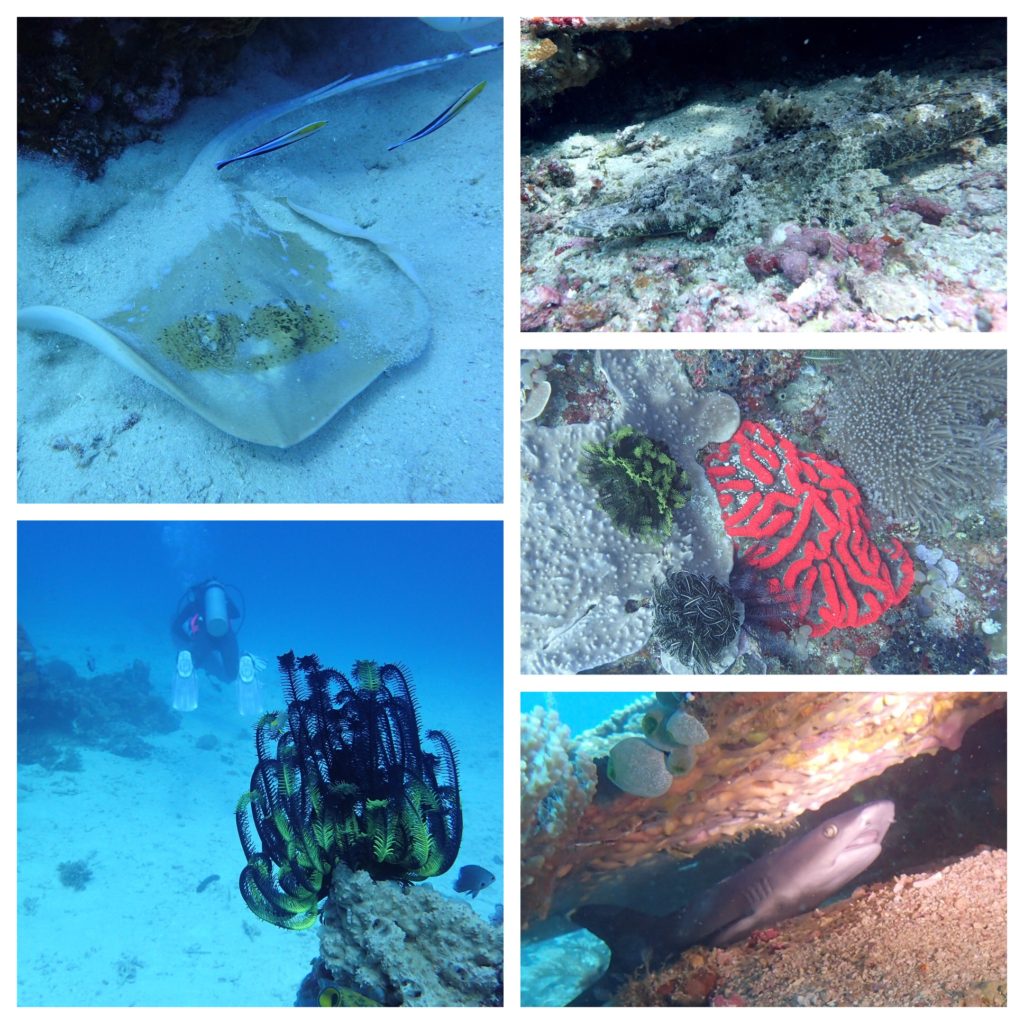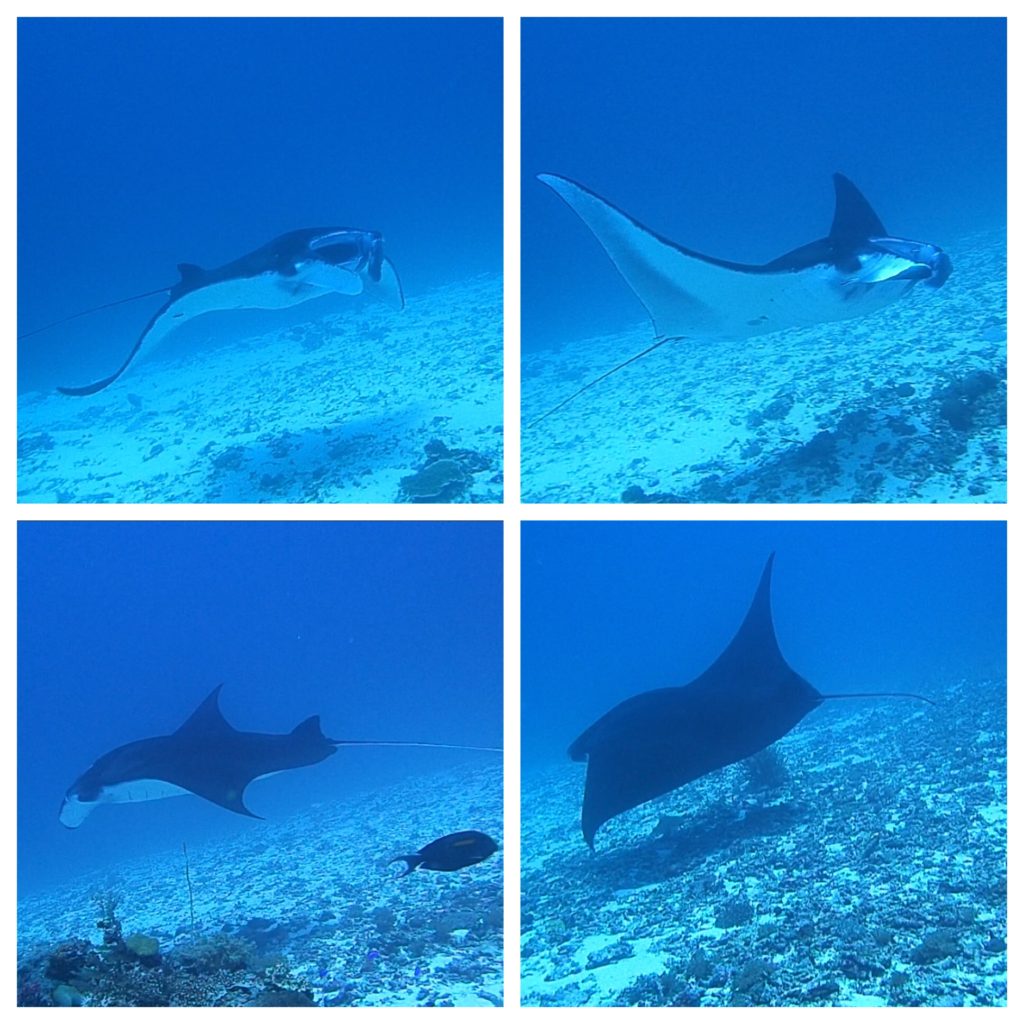 Leaving Labuan Bajo it was only 22 miles to Rinca island to anchor just before dusk in the deep bay where the ranger station is based. We arrived late deliberately, passing the day trip boats streaming back to town and leaving us plenty of room to anchor, although by 6am the next morning as we left to go ashore the next day's tour boats were arriving to fill the bay.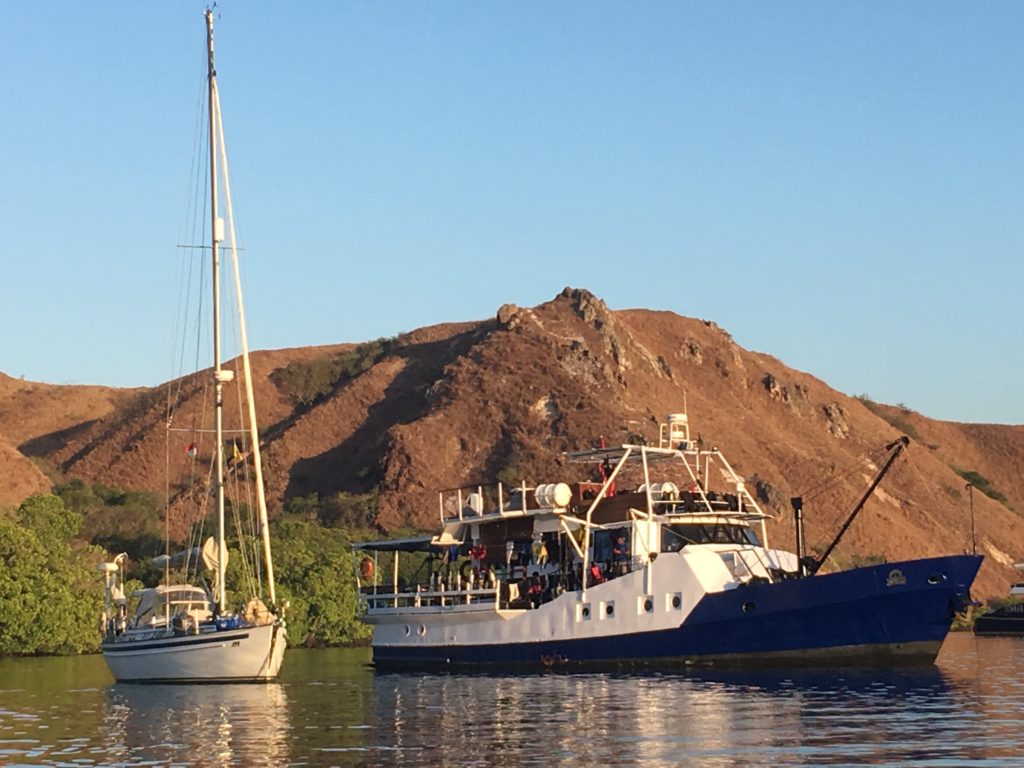 Komodo dragons are found on five of the islands in the Komodo National Park including the two larger islands, Komodo and Rinca, and nowhere else in the world. These huge lizards grow up to 3 metres and can weigh up to 100kg.
At the ranger station there were various fees to pay, national park fee, entrance fee, tax, yacht anchoring fee etc, plus an additional amount for the obligatory guide (fee negotiable). It wasn't necessary to go very far to see a Komodo dragon, there were several hanging around the ranger station and cafe but, with Pat and Bronwyn, we engaged Benne to take us on the 4 hour 'adventure tour' away from the short circular tracks which most of the day trippers remain on and high into the hills.
We passed one female dragon guarding the pit where her eggs are laid. The eggs have an incubation period of nine months and during this time the females find it hard to hunt for prey. Further on and past where a couple of water buffaloes were cooling off in a stream, we came across three larger dragons which fortunately all looked well fed, their bellies full and distended. Although they spend most of their time lounging around digesting their last meal, they can run at 20km/hr which was rather unnerving to know when we got so near to them and our guide had only a forked stick to fend them off should one decide to attack…. maybe he pokes them in the eyes?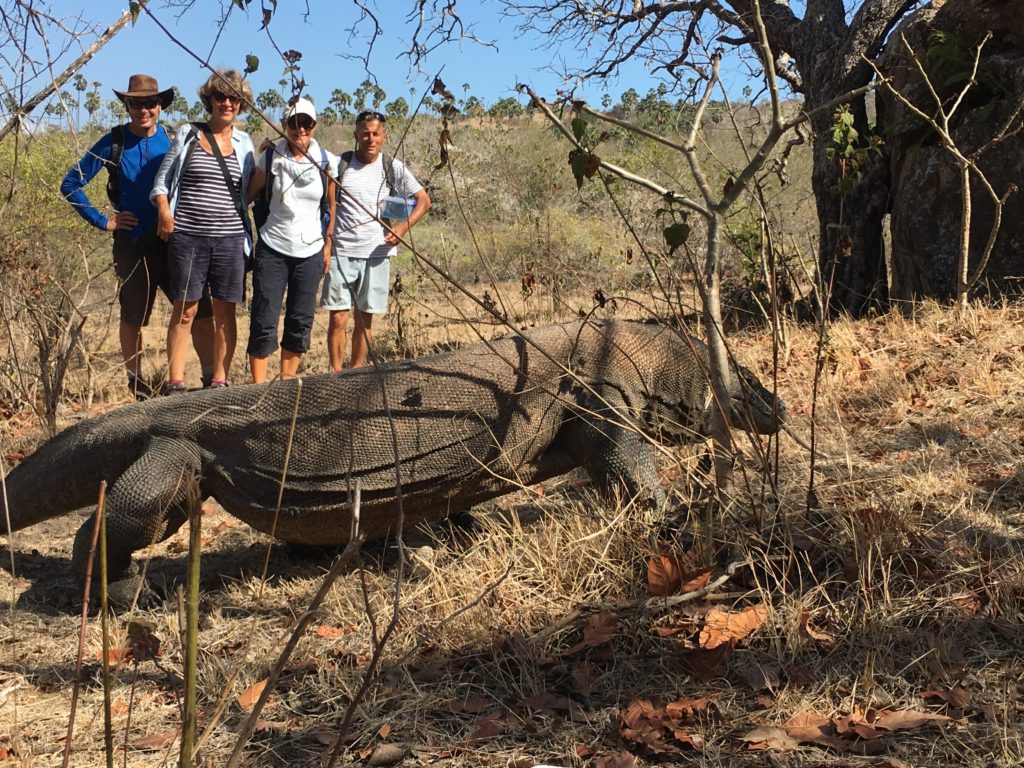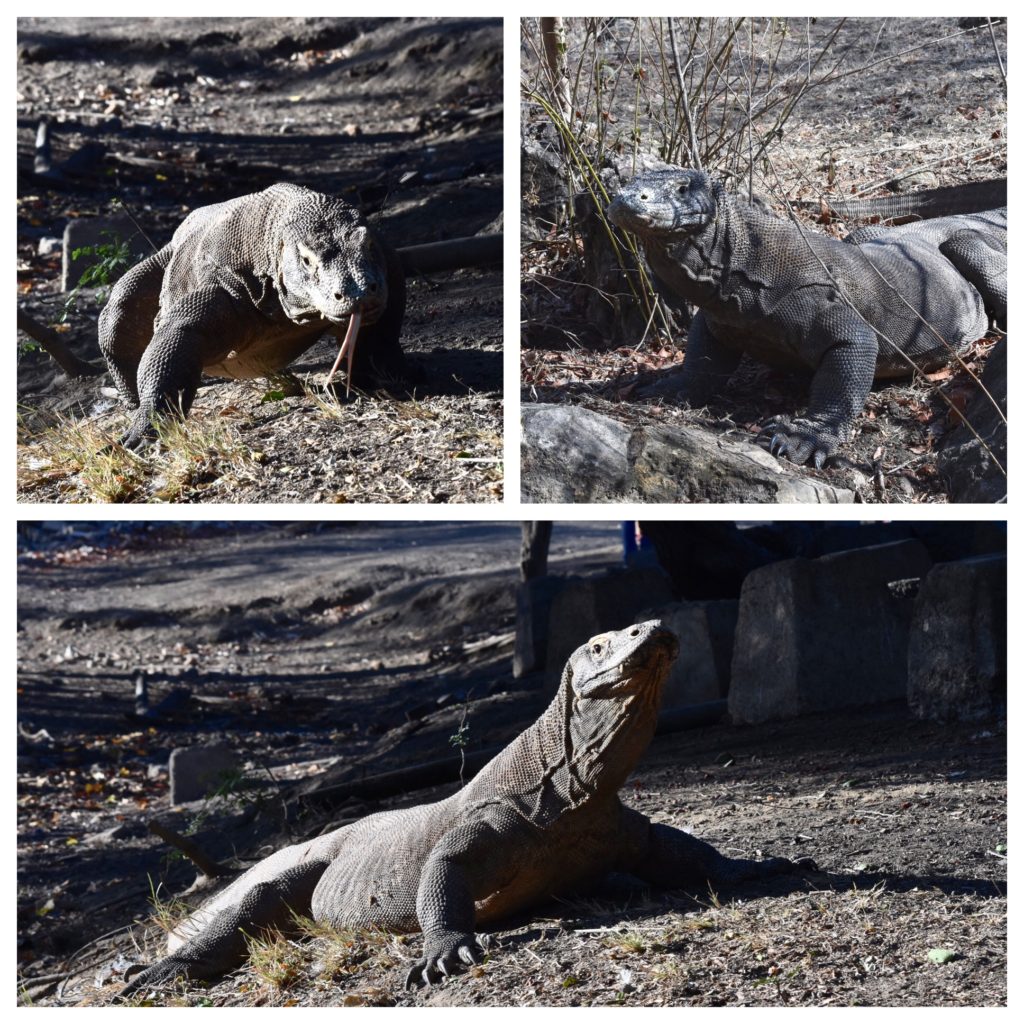 There were also deer, monkeys and water buffalo living on Rinca island which all make a good meal for a dragon. They bite their prey and inject a venom that causes a septic infection, the dragon then stalks its victim until it eventually dies up to a few weeks later. They enjoy eating their young so the juvenile dragons live in trees to avoid being a meal for the adults.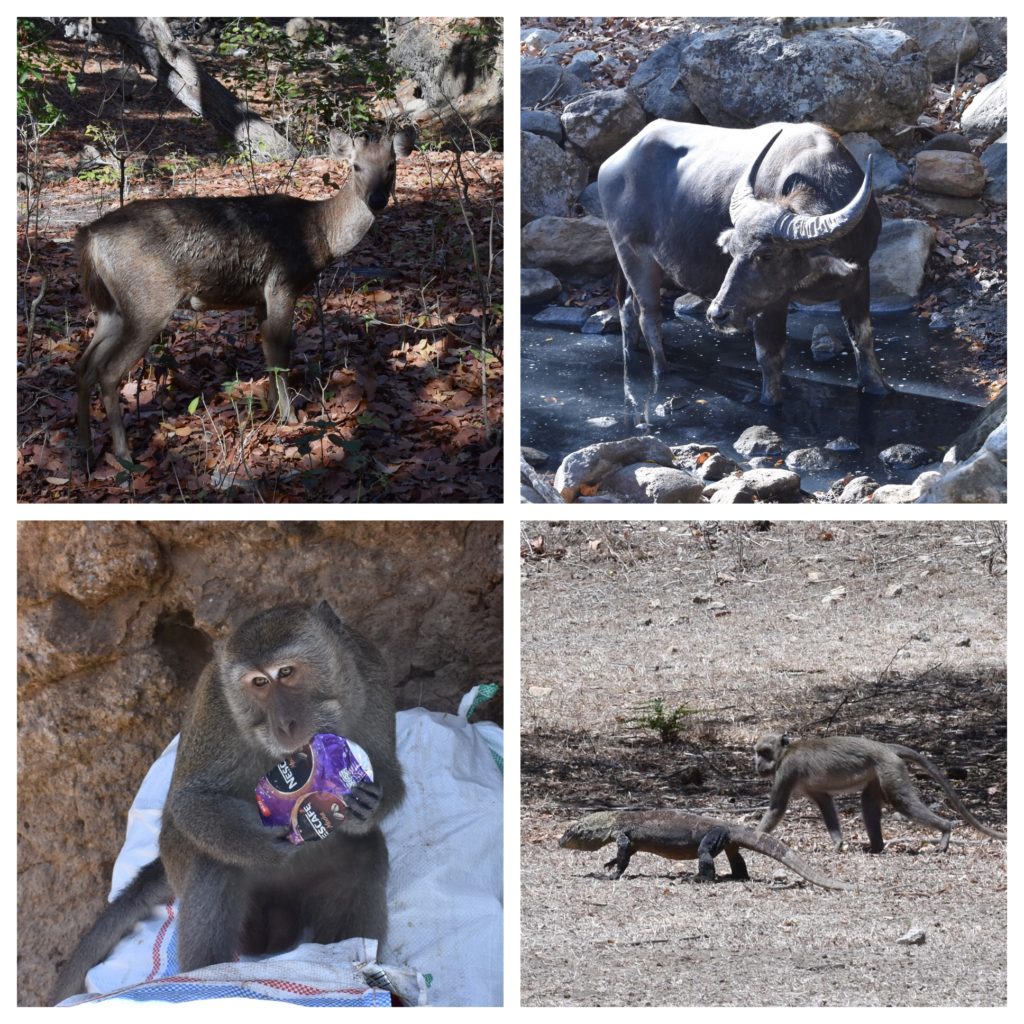 From Rinca Island we headed north then west through the islands to anchor for one night in the isolated and sheltered bay of Loh Serau. The following morning after a quick snorkel we continued west to the island of Sumbawa.