Friday 18th August to Friday 1st September 2017
We finally left fabulous French Polynesia after three months there, moving on west to the Cook Islands which are made up of 15 relatively small and widely spread-out islands scattered over thousands of miles of ocean. We were still undecided as we left Maupihaa whether to aim for Palmerston or Aitutaki, the latter being where friends on Nautilus and Jadean were going. The pass into the lagoon at Aitutaki has a shallow sand bar which prevents boats entering which have a draught of more than 1.7 meters. Vega draws 1.8 meters. We had heard of boats getting stuck on the bar and needing to be towed off, so decided not to risk it. We headed towards Palmerston, 540 miles away, which is the place I was the more intrigued by.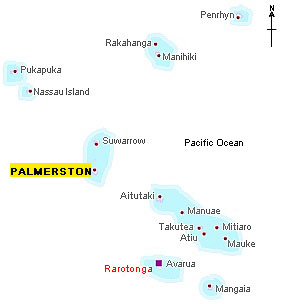 We had five days of very mixed sailing, initially strong winds with reefed sails or the small staysail poled out, then the cruising chute came up as the winds gradually eased, and finally we motored for the last day as the wind completely died. At midnight on the fifth night at sea a rather large seabird (Hugh identified it as a red billed tropic bird) somehow managed to fall through one of our open side windows into the saloon. It sat on the floor staring at us suspiciously as we stared back in alarm and then it tucked itself up, folding in its huge wings, and looked as if it was happily settling in for the night. We debated for a long time what to do, then Hugh slowly approached it with an out held blanket. The nasty creature tried to peck him but he managed to get the blanket over it and carry it to the cockpit. By now I was cowering behind the wheel. He got it onto the seat in the cockpit and removed the blanket but then it fell off into the footwell and wedged itself in between the binnacle and the seat. Another sortie with the blanket and Hugh threw the bird overboard where it landed on the sea briefly before flying off. It was a relief it wasn't injured and Hugh was my hero of the moment (the very occasional role of helpless female has its place) but I then had to heroically clear up the regurgitated fish and squid that it had deposited on the scatter cushions and soft furnishings, the bird crap on the carpet and its piss in the cockpit. We could do without visitors with such bad manners.
Later that day we finally saw the small palm tree covered islands that make up Palmerston atoll.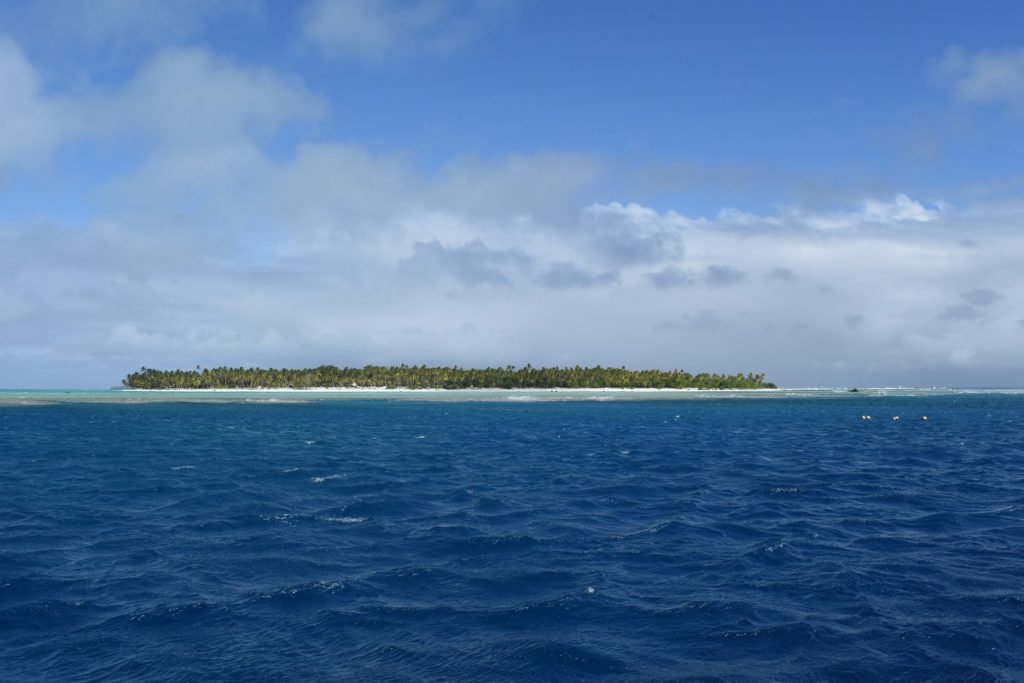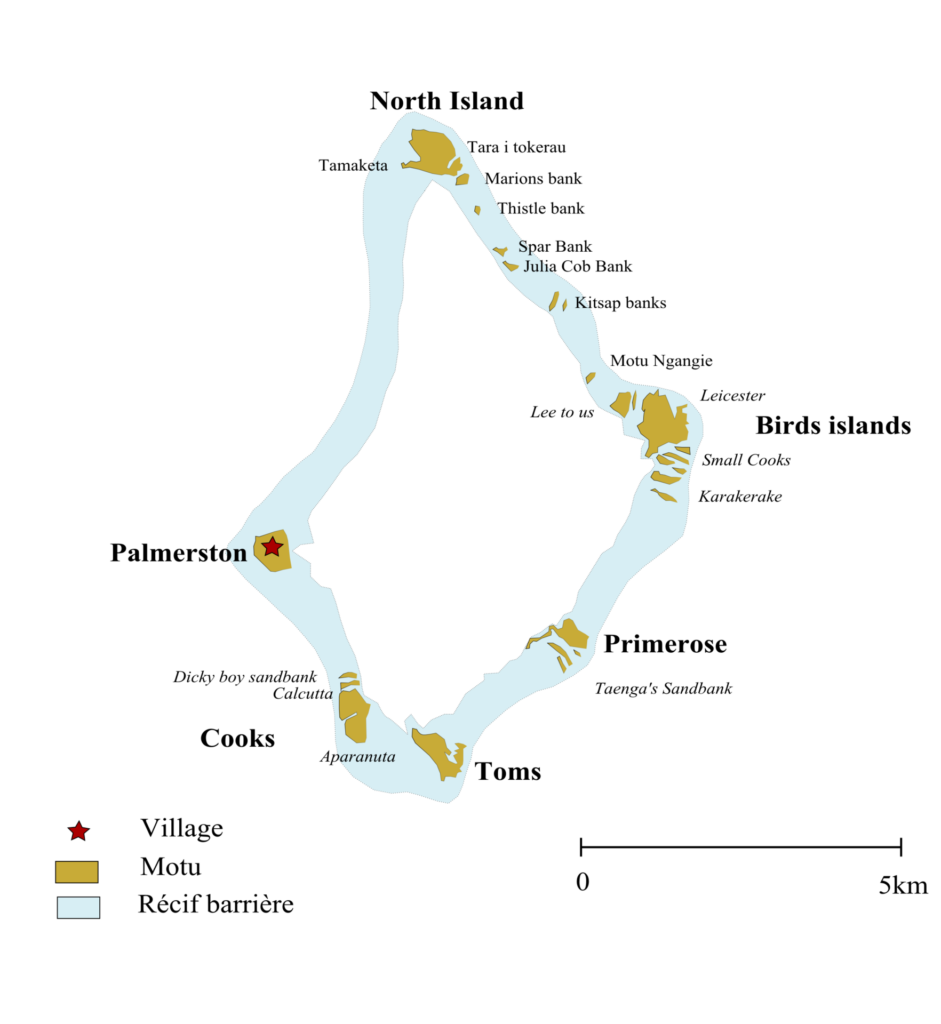 As we approached the anchorage, which is to the west of the atoll and so sheltered from the south easterly trade winds, we called up the island on VHF channel 16. Edward Marsters answered our call and came out in his aluminium boat to help us tie up to one of his mooring buoys. When a yacht visits Palmerston they are 'adopted' by one of the three branches of the Marsters family, by either Bill, Bob or Edward Marsters, depending on who made contact first. There was clearly some rivalry between them for hosting the 'yachties'. Our hosts were Edward and his wife Shirley who looked after us during our visit, collecting us each day from Vega, showing us around and giving us lunch.
First we needed to go through the immigration formalities. Edward returned with Goodly Marsters (one of his many brothers) who was the customs officer and Arthur, the immigration officer, who sprayed inside the boat with insect spray. (Soon after they'd gone we found a 4 inch cockroach in the cockpit. We weren't sure whether it came over with them, flew over, or was resident on Vega… since we hadn't seen any other on Vega we decided it came with them. I couldn't bring myself to stamp on it so we chucked it overboard and trusted it would find its own way home.) We paid the various immigration fees, landing fees, customs fees and port health clearance which added up to NZ$ 90 .
As we were sitting in the cockpit with Arthur a humpback whale and her calf came over to inspect the new arrivals – us! – before diving beneath the waves. What a great welcome to Palmerston!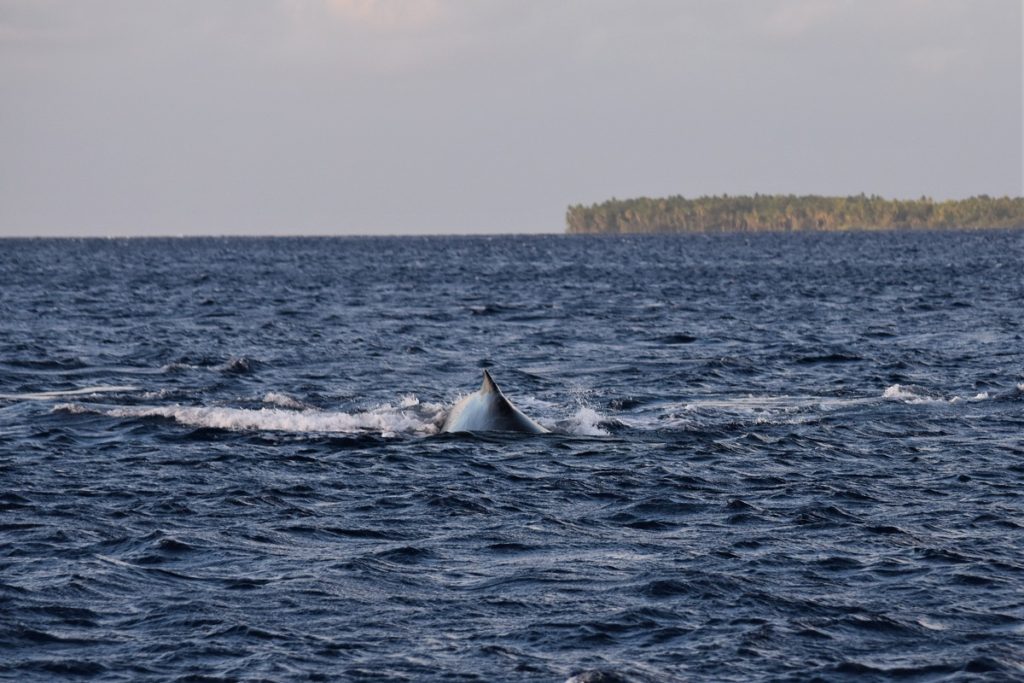 Of the six islands around the central lagoon only one is populated, and the community here has a fascinating history. The atoll was uninhabited until the 19th century although Captain Cook stopped briefly in 1774 and named it after Lord Palmerston, First Lord of the Admiralty at the time. In 1863 William Marsters, a ship's carpenter from Gloucester (or was it Leicester or Lancashire? – sources seem to disagree) settled on Palmerston Island with his Polynesian wife and her sister, also acquiring another woman along the way, and over the next 36 years created his own island dynasty. With his three women he fathered 26 children and divided the land into three parts, one for each wife and their descendants. This division still exists today with the three families of Edward Marsters, Bob Marsters and Bill Marsters.
We get the impression that William was a bit of a rogue although he is revered in Palmerston. Research links him to a William Masters who left his wife and child in England to seek his fortune in the Californian Gold Rush but then disappeared from view, and is thought to be the same man, William Marsters, who founded the community here, having subtly altered his name.
Every day we and the other cruisers on the four yachts being hosted by Edward were picked up in the morning by him or one of his two sons, John and David, and then dropped back about 4.30pm. The narrow, shallow, rocky pass in through the reef into the turquoise lagoon is very tricky, and in the strong winds, choppy water and with a strong current, it wouldn't have been safe to attempt in our dinghy, were it permitted.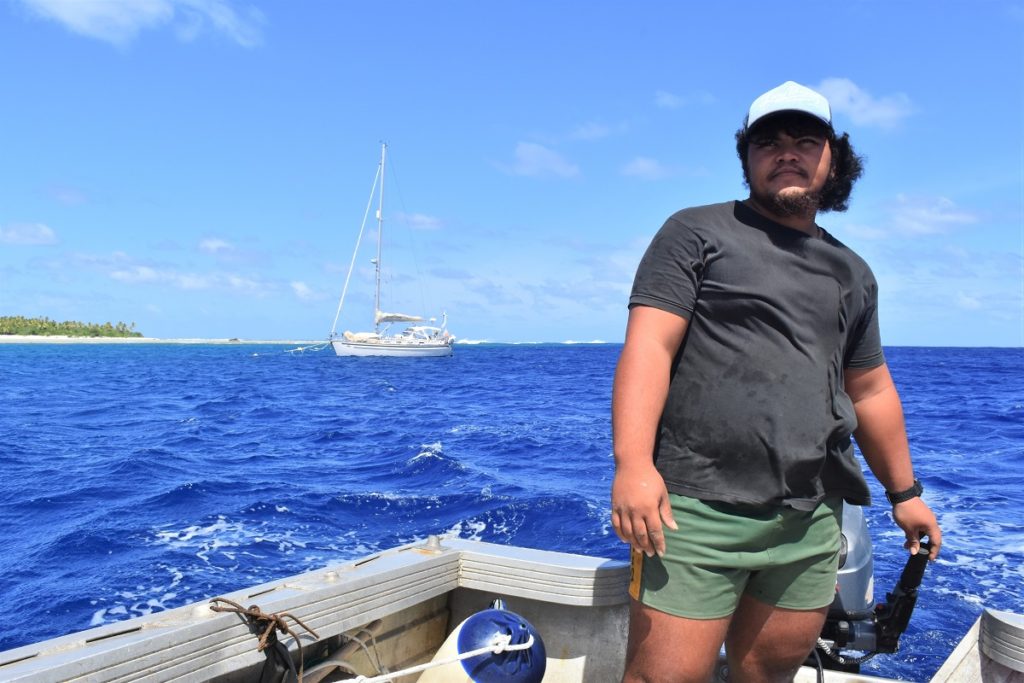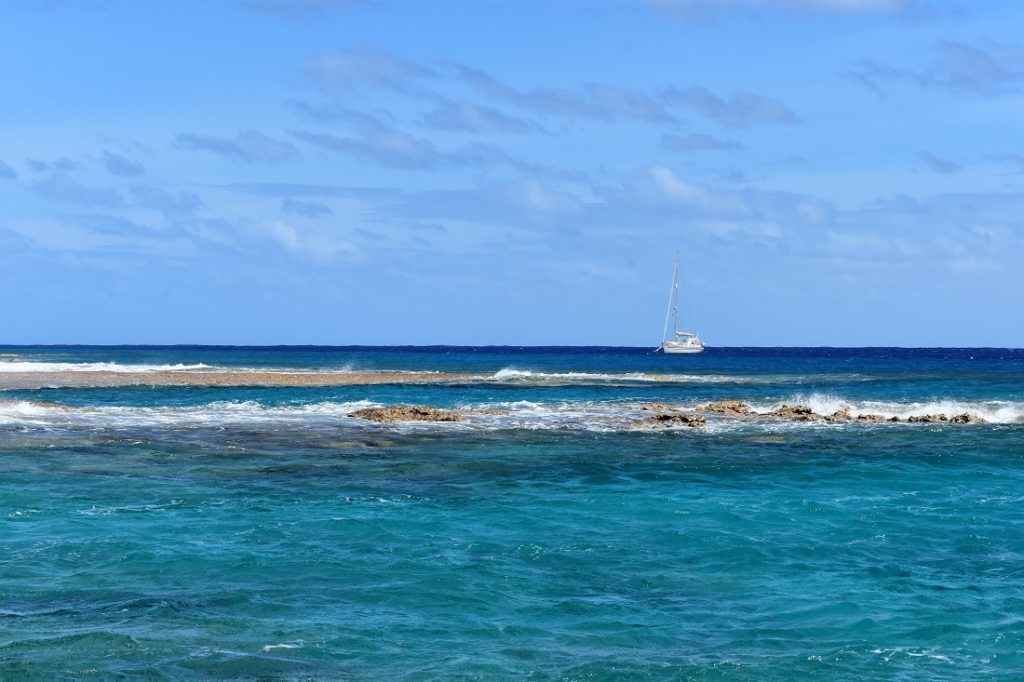 On our first day ashore we were shown around the island which is only half a mile across. It has white sandy beaches fringed by coconut palms and in the centre are huge mahogany trees. By the beach is the upturned hull of the sailboat RiRi which broke its mooring and went onto the reef in 2011. (The couple on it were helped off by other cruisers and the islanders but their boat was a write off).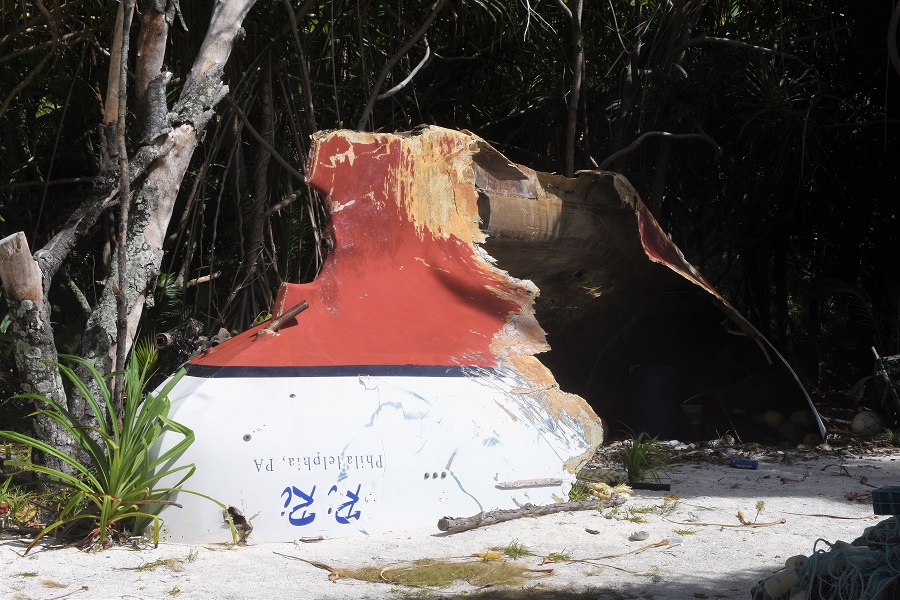 Next to the church is the original wooden house that William Marsters built using planks from shipwrecks found on the reef.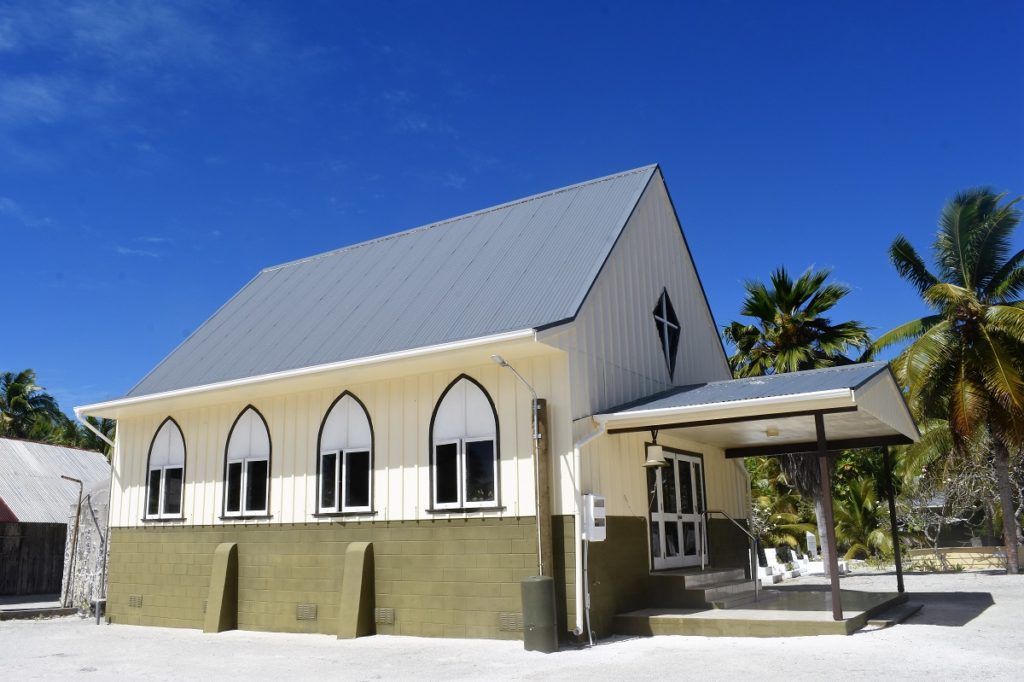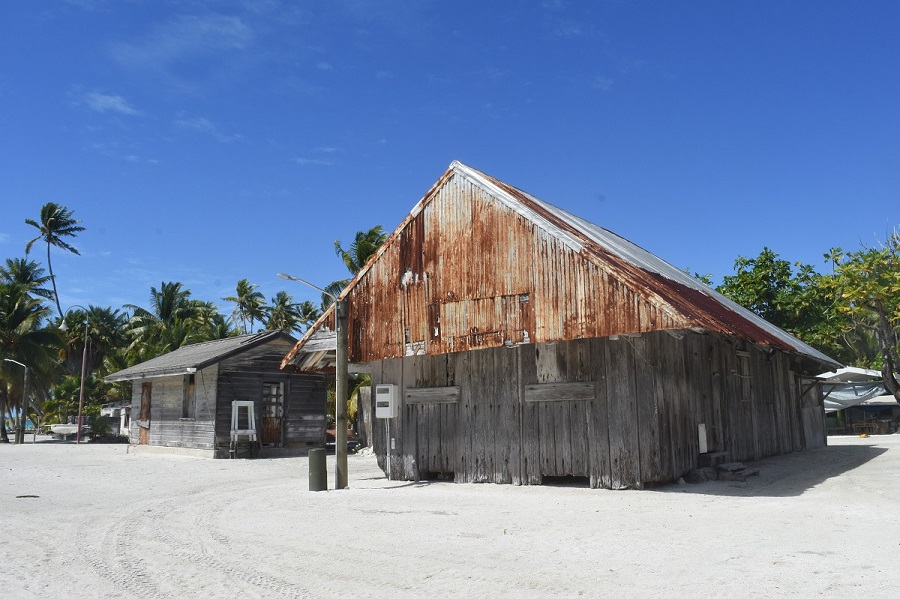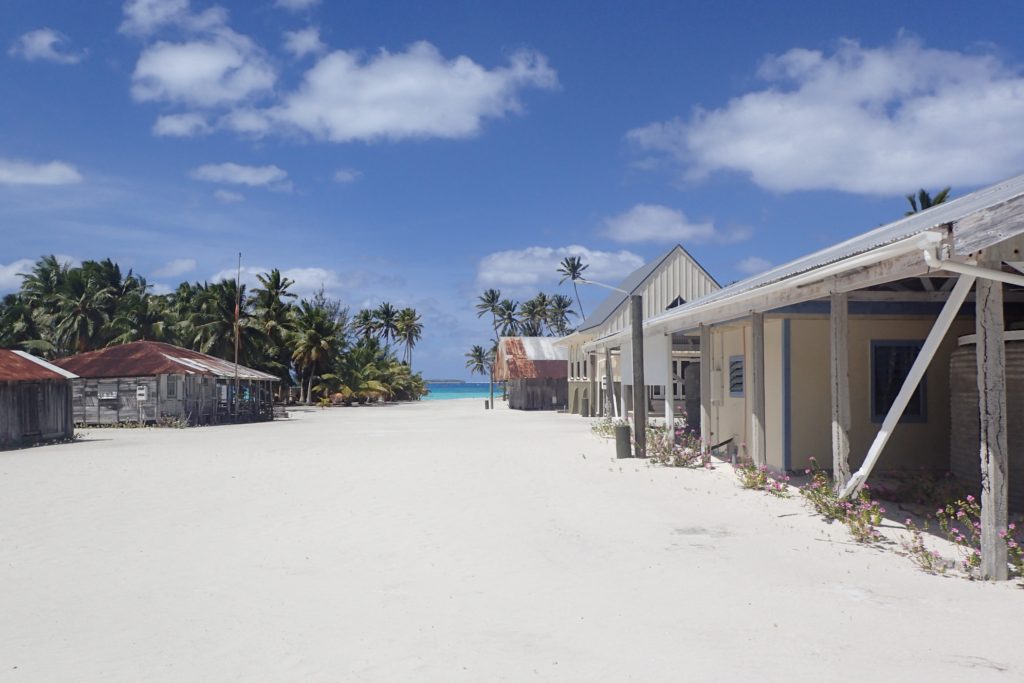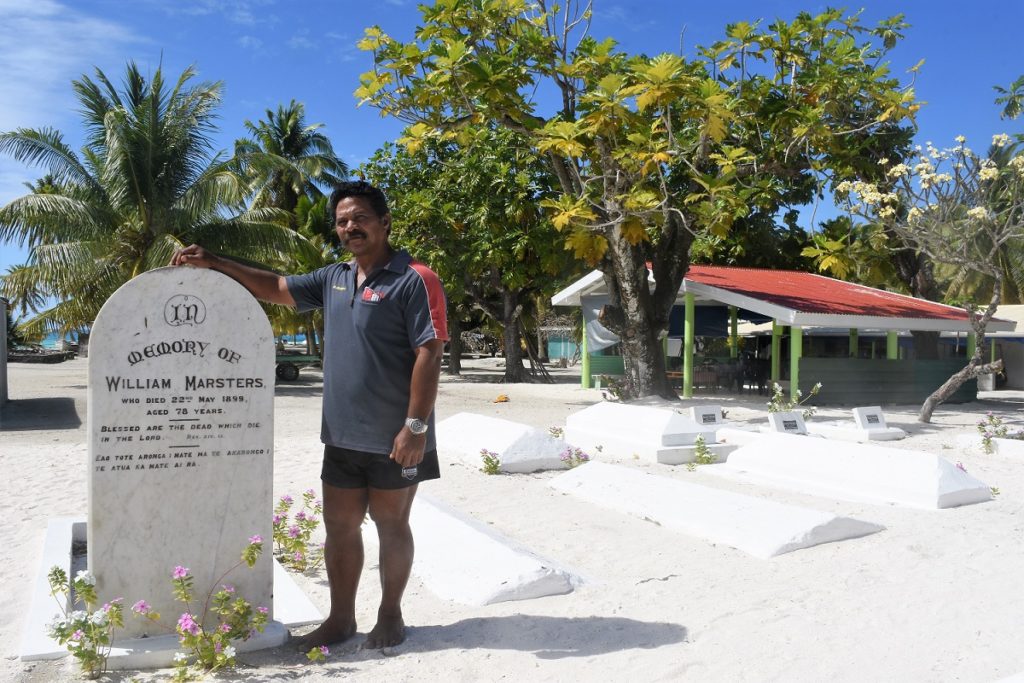 There are well tended graveyards in plots around the island. The sandy roads have streetlights, powered by a huge bank of solar panels funded by a loan from New Zealand and Australia, and all the houses get electricity. The school is bright and freshly painted. There is a 600,000 dollar annual grant from New Zealand for administering the island and running the school.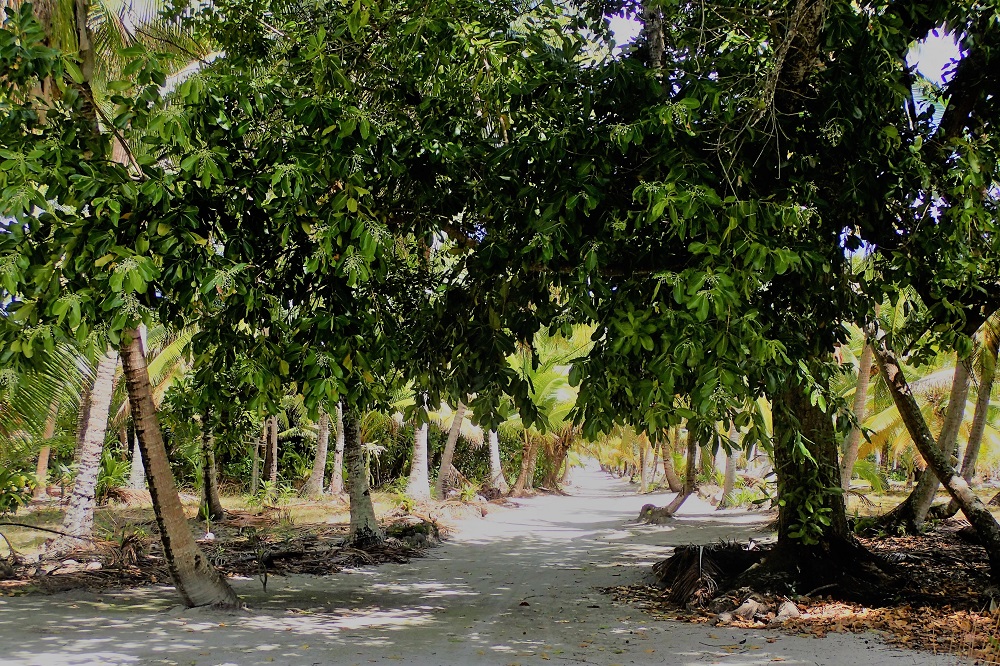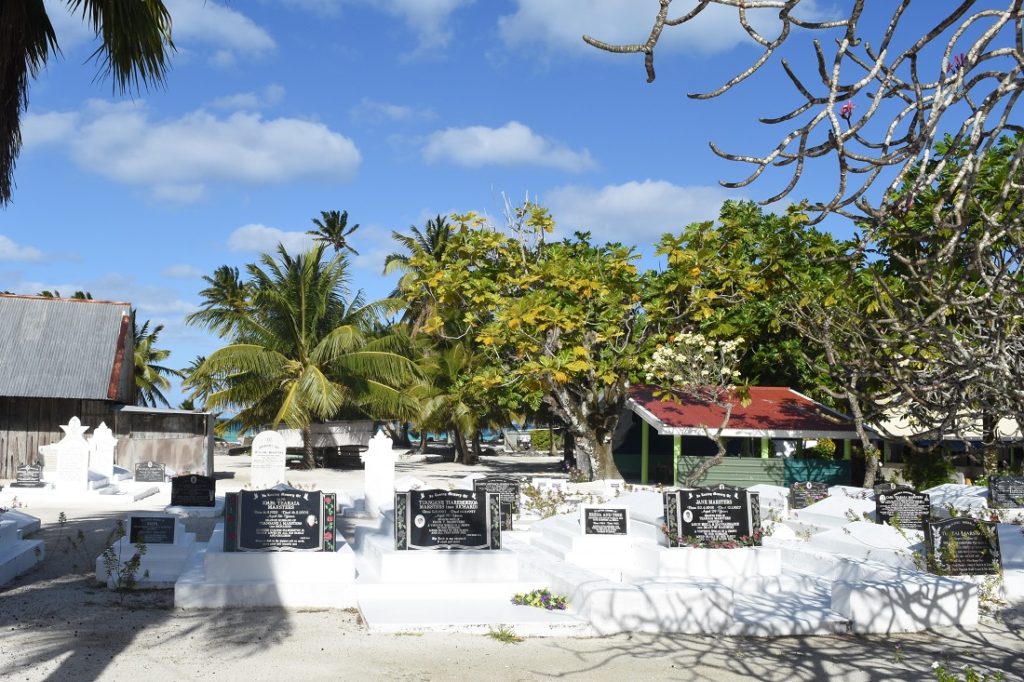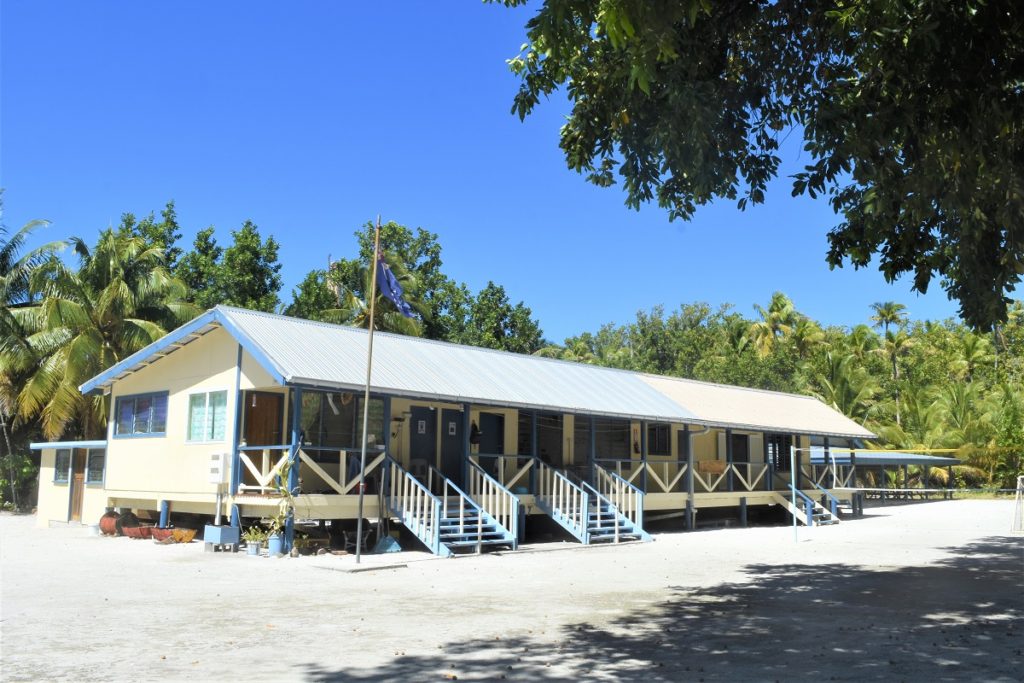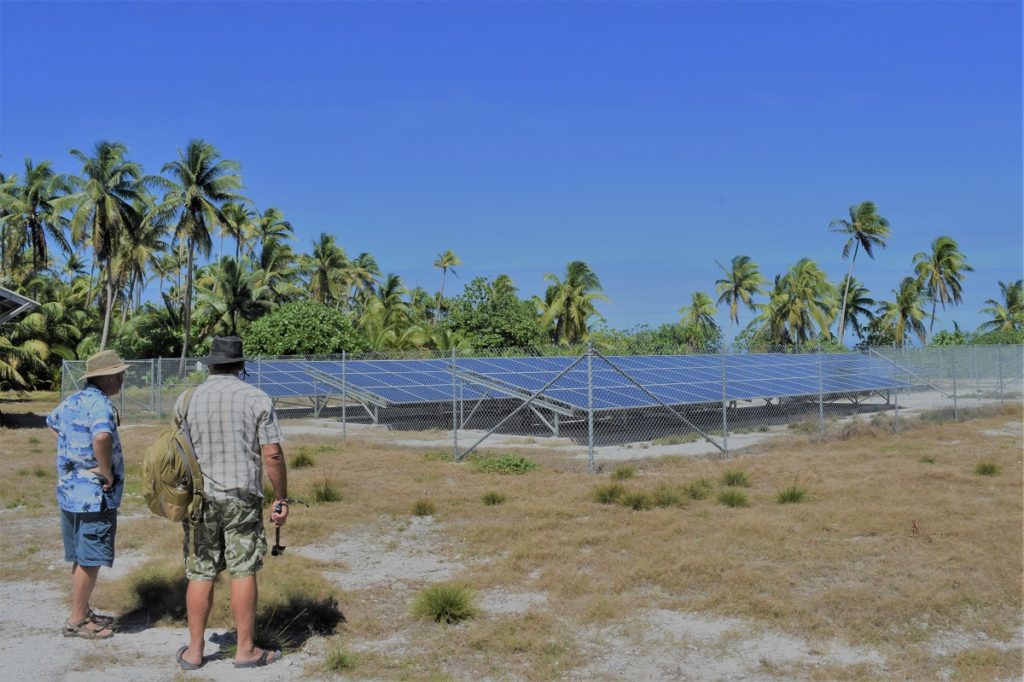 The people of Palmerston fish and sell parrot fish fillets to Rarotonga, the capital of the Cook Islands and they have huge freezers to keep the fish in until the supply ship comes, about every two to three months. They keep pigs and chickens (although eggs come from Rarotonga – the chickens run wild and lay their eggs in the thickets) and grow some vegetables. There are no shops on the island apart from the Telecom communications shack where you can buy wifi vouchers.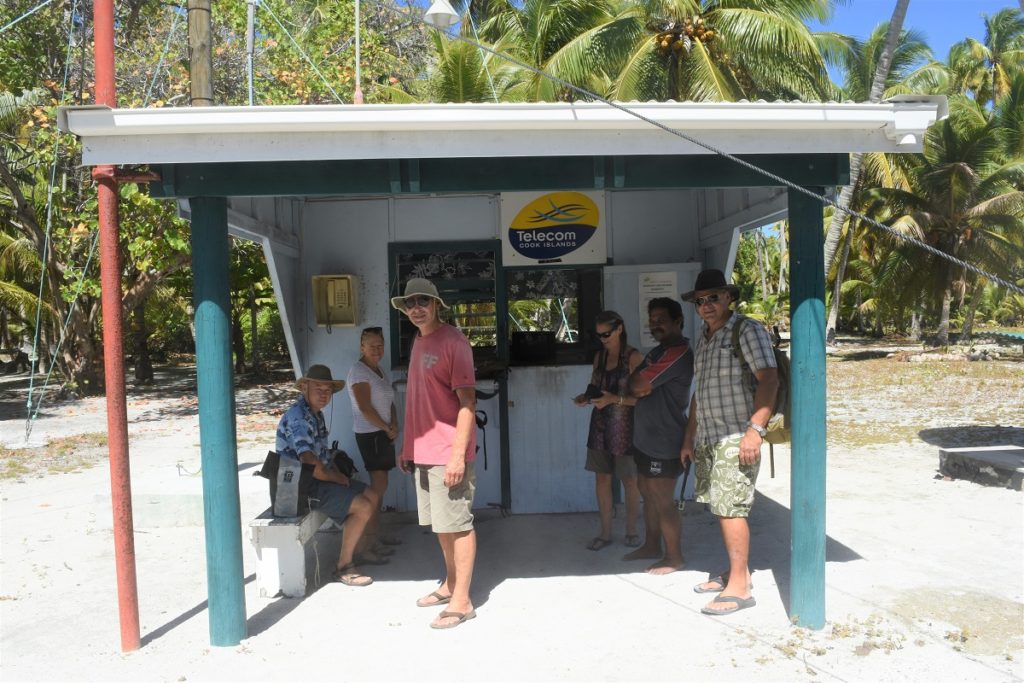 Edward and his extended family live in a cluster of simple one story homes around a central eating area.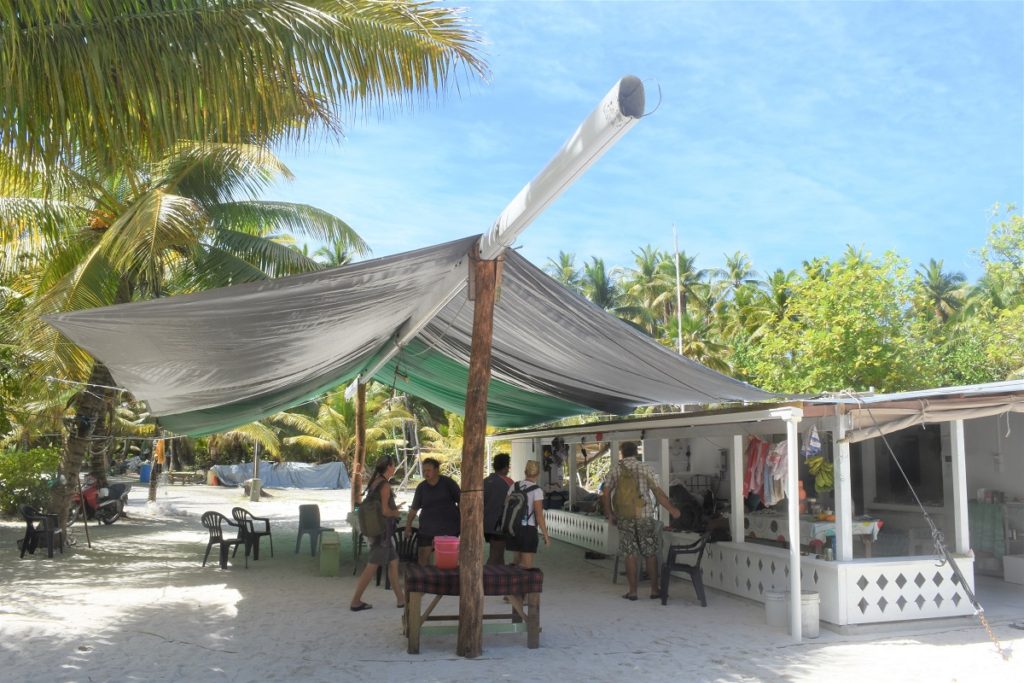 Living here are his 87 year old mother, who had 14 children, Edward, his three brothers, Dick, Simon and Goodley, and their wives, relatives and offspring. It is a patriarchal society – the women prepare the food but sit down separately to eat after we and the menfolk have had our meal. We had delicious lunches each day prepared by Shirley and niece Fiftieth, of parrot fish or chicken and rice, one day corned beef and pea sandwiches, another fried corned beef and onions (surprisingly good). The people of Palmerston are very religious and Edward or his brother Dick say grace before each meal. We were free to wander round the island and wherever we went we had friendly greetings. Bill Marsters invited us to drop by at his place for mango ice cream.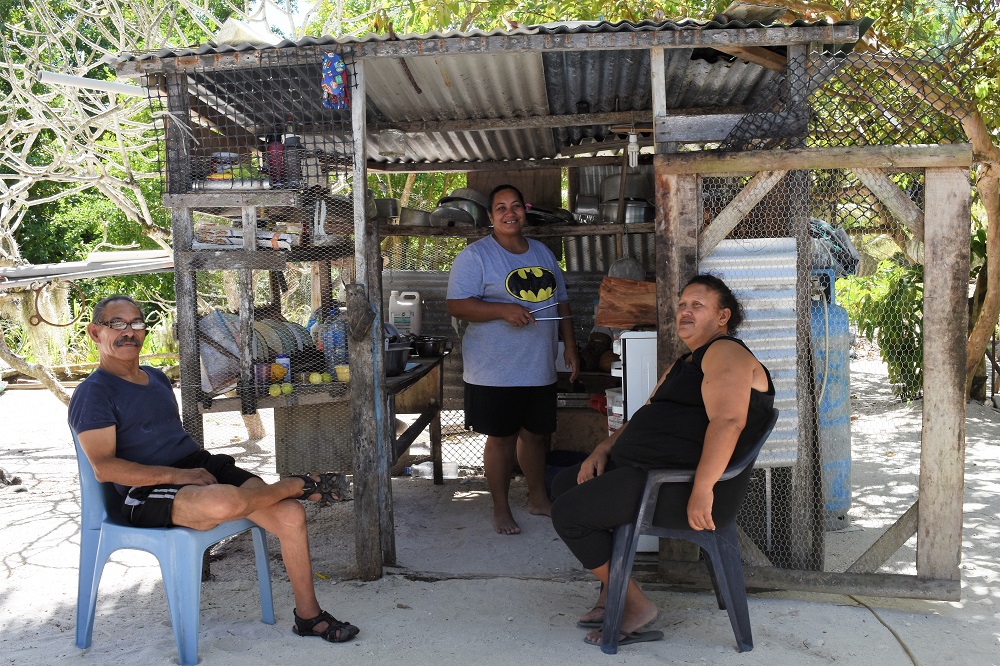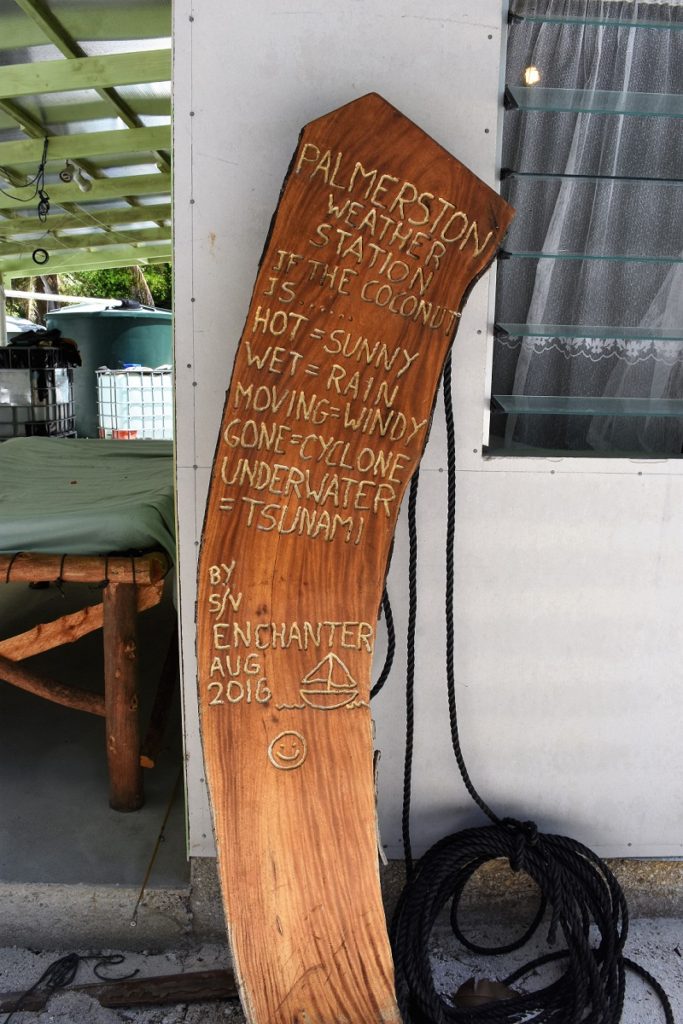 Palmerston is one of the Cook Islands which are 'self-governing in free association with New Zealand'. The people here, in common with all people in the Cook Islands, have New Zealand passports which enable them to live and work in both New Zealand and Australia. Many of the young people move away to study and to work, to Roratonga or to New Zealand. Almost all the people I spoke to had been to New Zealand to visit family or friends. Nowadays there are over 1500 Marsters, descendants of the original William Masters, living around the world, some return in time, some never return. They value their lifestyles and their independence on Palmerston and have turned down an airstrip but get the very occasional cruise ship visiting. They might not be completely immune from outside influences however: the Japanese had offered $1million to build a cyclone shelter and a Chinese entrepreneur had made a proposal for developing a deep seas fishery here. They are still considering the offers – at what cost one wonders?
There is a health clinic on the island, well equipped with a well stocked drug cabinet and run by the very capable Martha, a nurse from Fiji. She runs the immunisation programme, manages the several diabetic patients, delivers babies and pulls teeth (she was having problems with one of her own wisdom teeth and wanted me to pull it out – I declined). She can deal with most problems that come to her and can always ring the hospital in Rarotonga for advice and if it is something more serious a police launch will come from Rarotonga, 280 miles away, to collect the patient. The last serious case they had was a young woman who started having seizures who was eventually sent to New Zealand for investigation.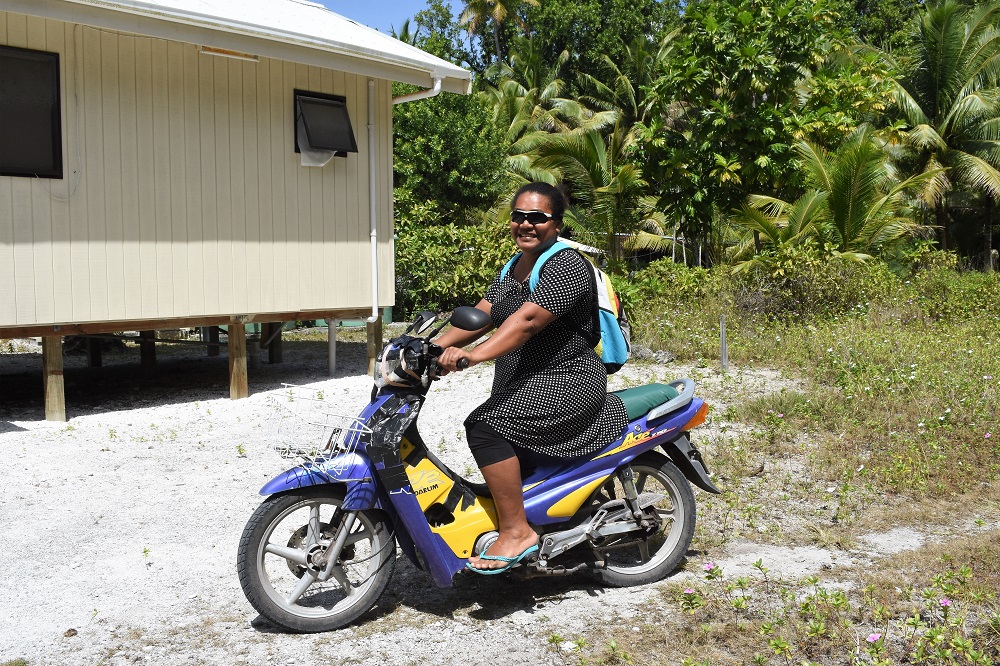 We met Joshua Simon, the young American who teaches at the school along with his South African wife, Melissa. Their contract is coming to an end as the number of pupils in the school has dropped from 25 to 18 latterly, not enough to justify two teachers. They teach an American Christian syllabus which he says seems to suit the children well. The classroom is bright, spacious, cool and open to the elements, very unlike some of the schoolrooms that we've seen on our travels which are more like prisons, with bars on the windows (perhaps to prevent burglars rather than to keep the children from escaping). We brought Josh some of our old books for their library, ones we've already read and which have been cluttering up the lockers on Vega.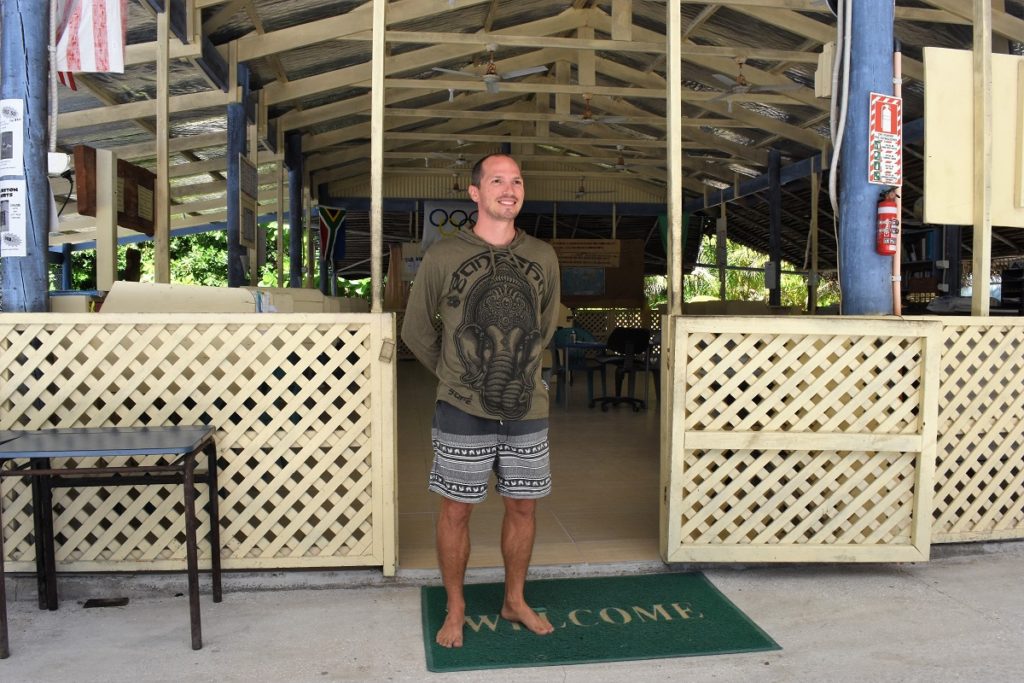 There are strict rules here regarding intermarriage. The young men used to be sent off as deckhands and cabin boys to see the world and to find a bride outside the island. Marrying close cousins is strongly discouraged although it is just about permissible to marry a third cousin, so the inbreeding we'd anticipated doesn't seem much of a problem. There are several single young men on Palmerston but few, if any, unattached young women. I asked Edward's 21 year old son David if he had a girlfriend… no, but when it was time to find his life partner he would leave Palmerston. Some of the young people use internet dating he told me.
In return for all this hospitality the cruisers brought gifts, donated unwanted equipment and some expertise. Yachties with scuba equipment help put down new moorings and check that the existing ones are secure. Some with electronic experience were helping to repair stuff on the island. We gave food, paper and pens, hand cream, petrol, ropes, books, a bottle of whisky; others gave lifejackets, fuel containers etc. The yachts only come from June to September and the people of Palmerston seemed to value having the visitors and appeared very keen to host us.
On Saturday we went to see the sharing of the birds. Six week old speckled bosun birds, too young to fly, had been collected from one of the other islands in the atoll and were shared out amongst the islanders. The mayor sat on his tractor reading out the allocations… 48 birds divided between the 51 islanders. The poor creatures sat placidly in a pen before being stuffed into sacks or loaded onto wheelbarrows and taken away to be killed and plucked.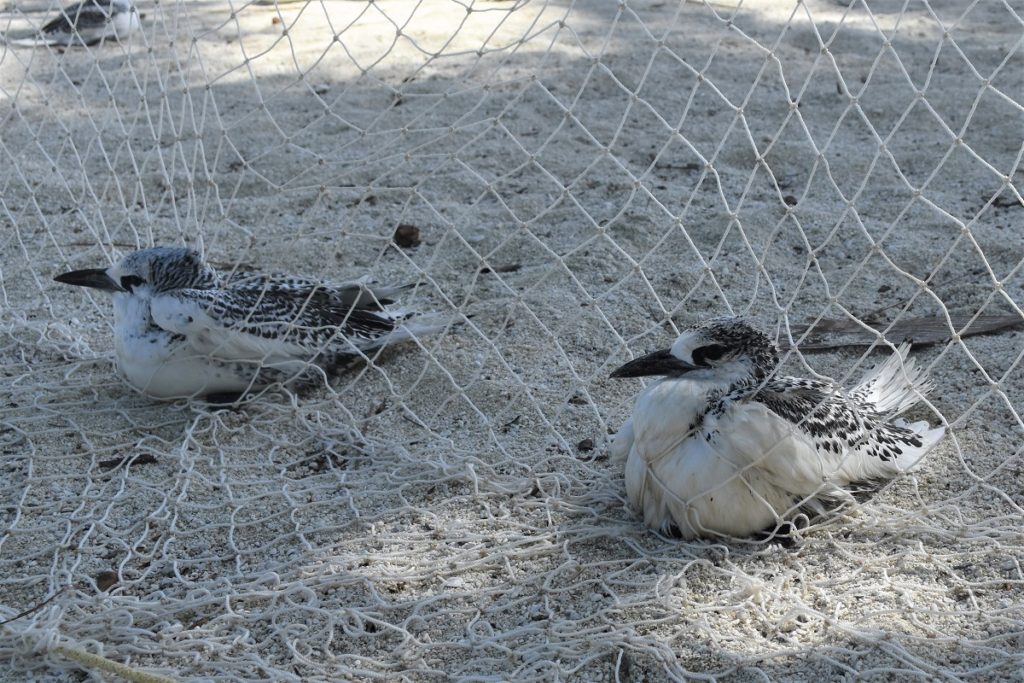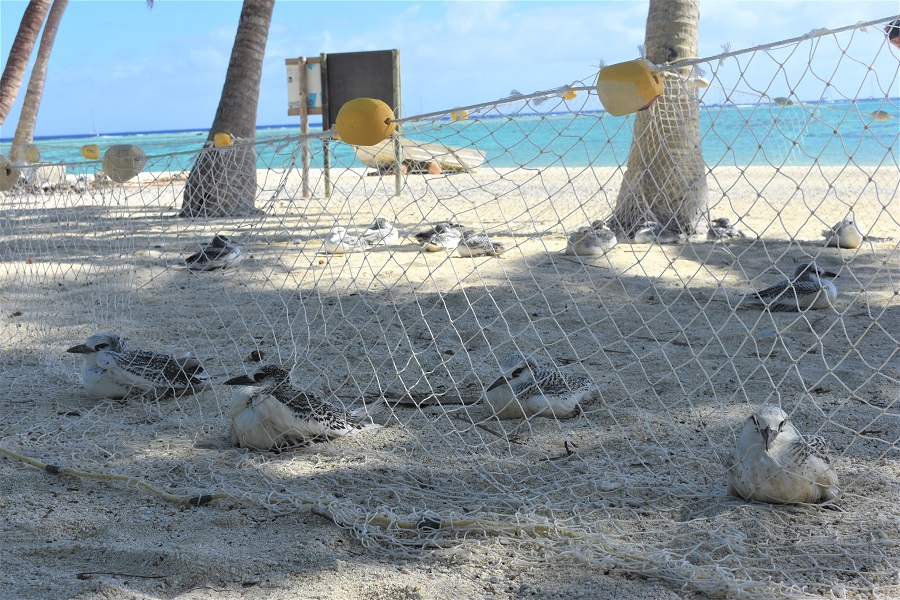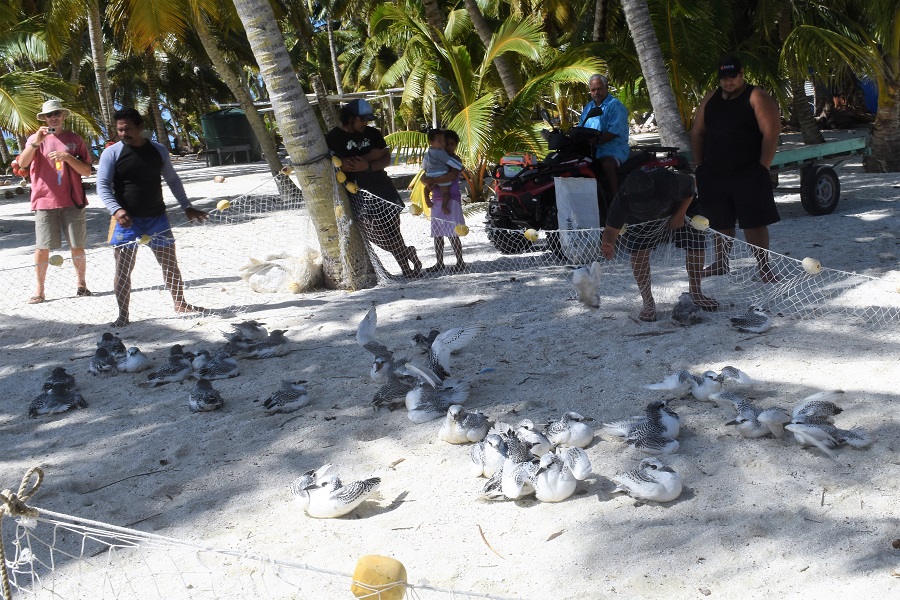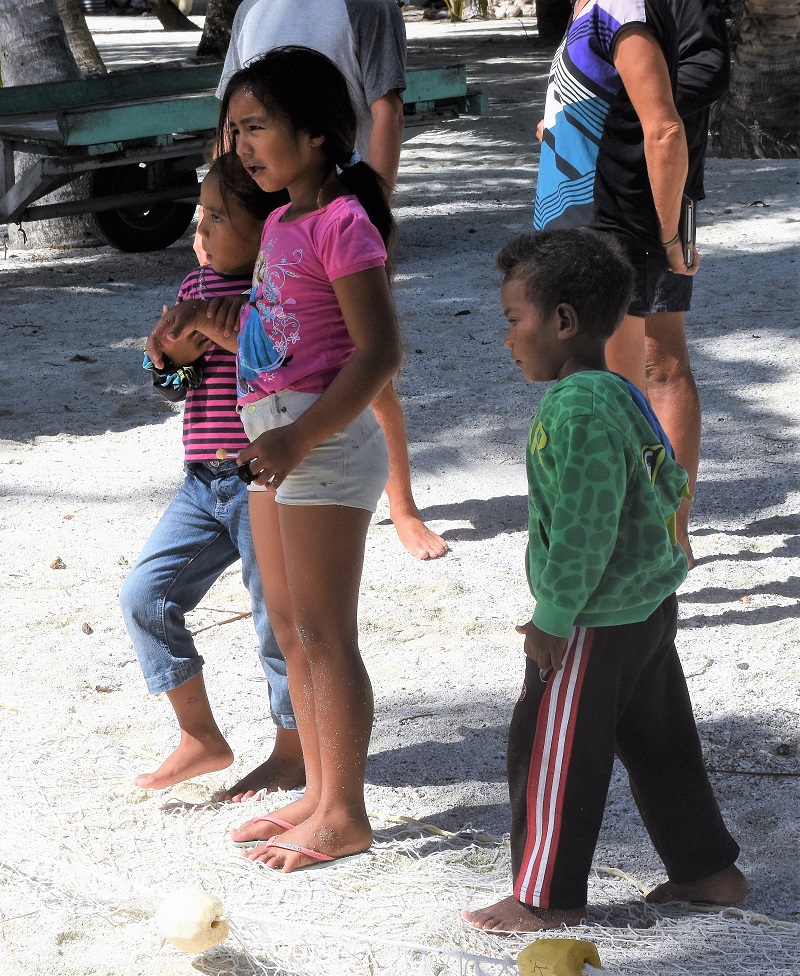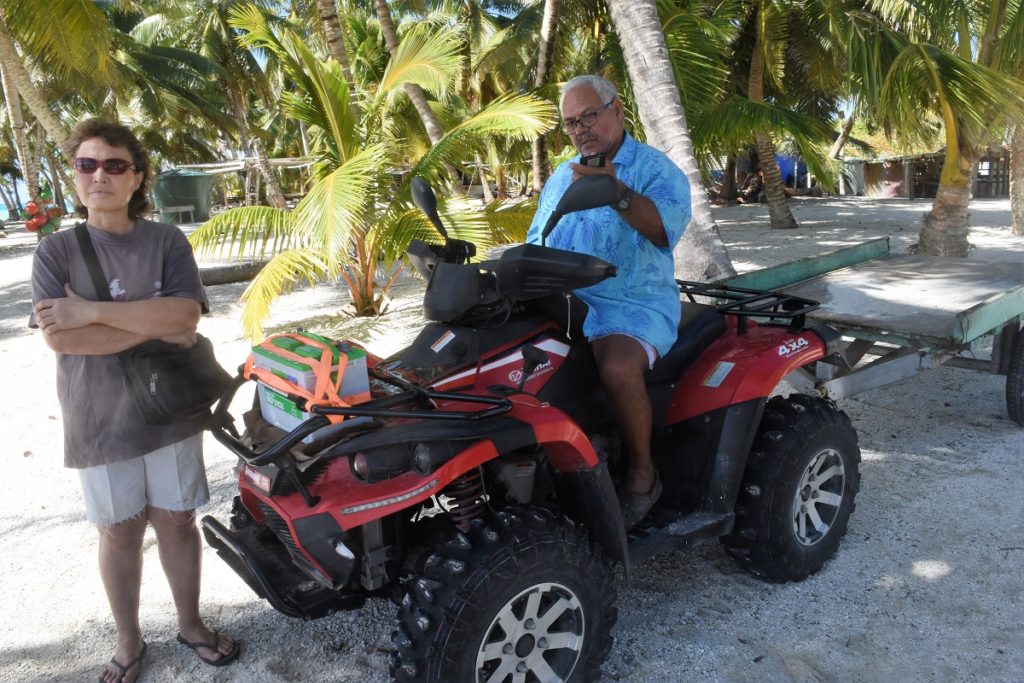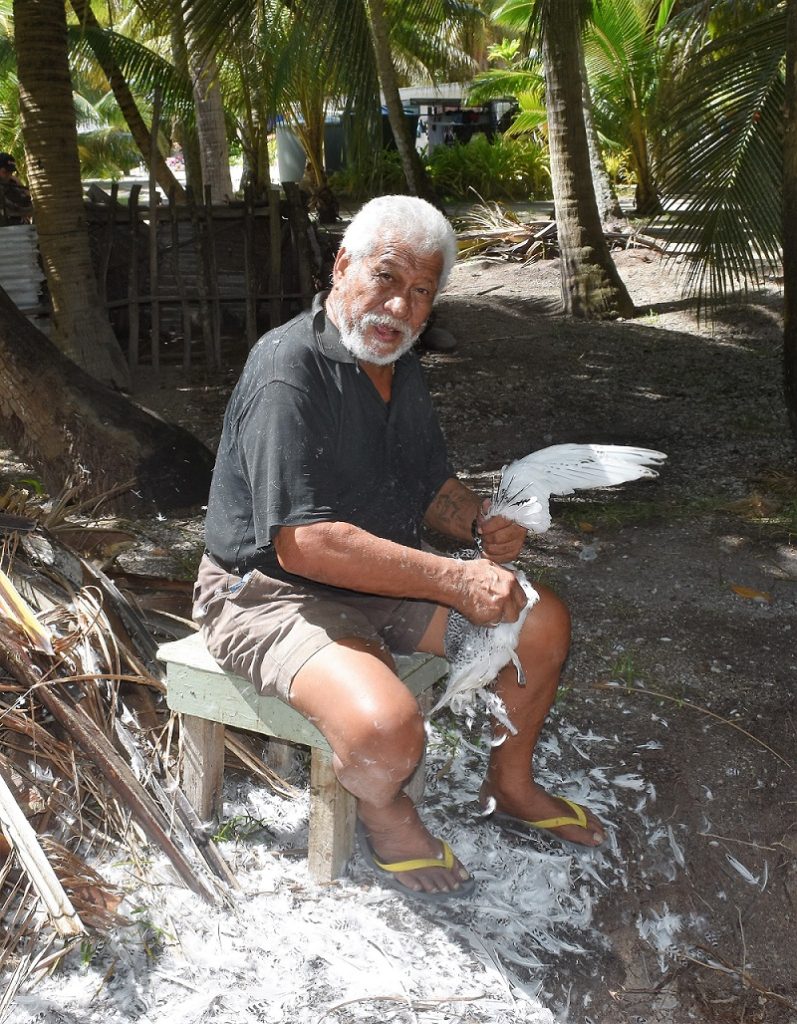 On Sunday we all attended church. We cruisers put on our best frocks and borrowed hats trimmed with floral garlands, the men wore flowery shirts. The sermon was a bit rambling, disjointed and tedious although the reverend was very welcoming to us yachties and blessed our voyages on the seas. The best part of the service was the most wonderful singing, the deep resonant bass voices of the men and the women's voices harsh and shrill, almost discordant, belting songs out in a local Maori language.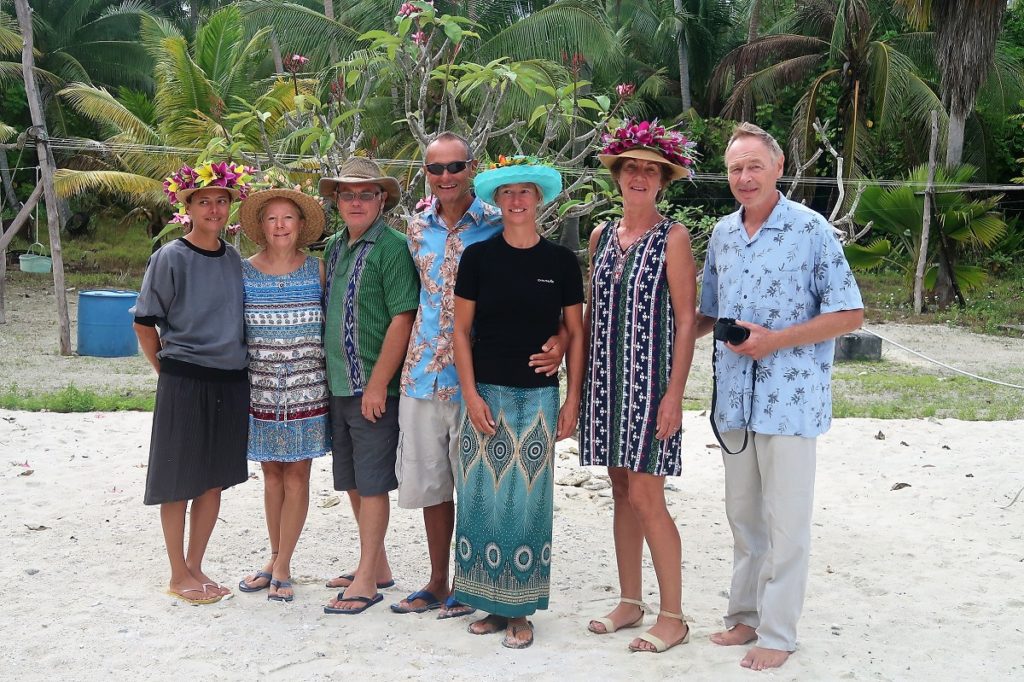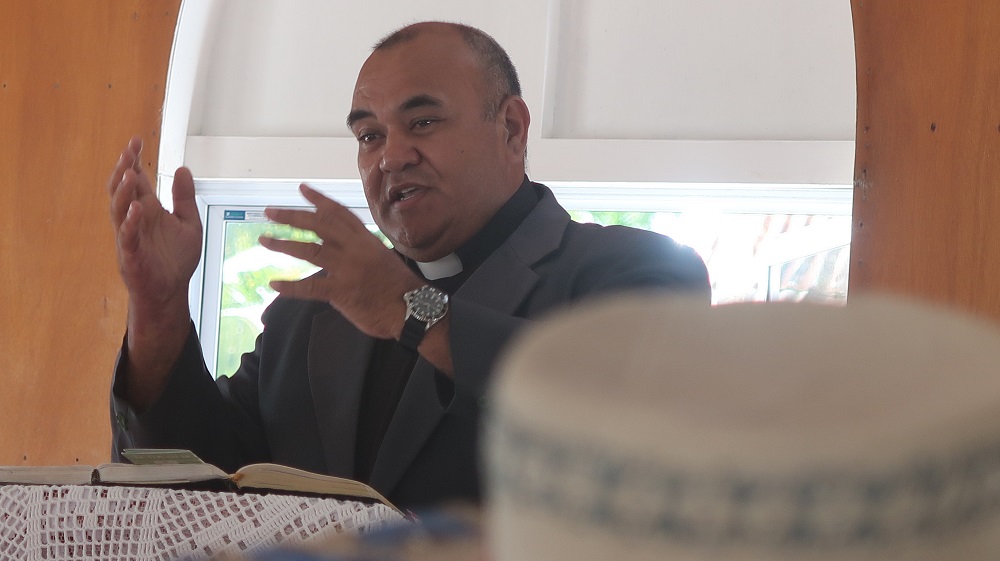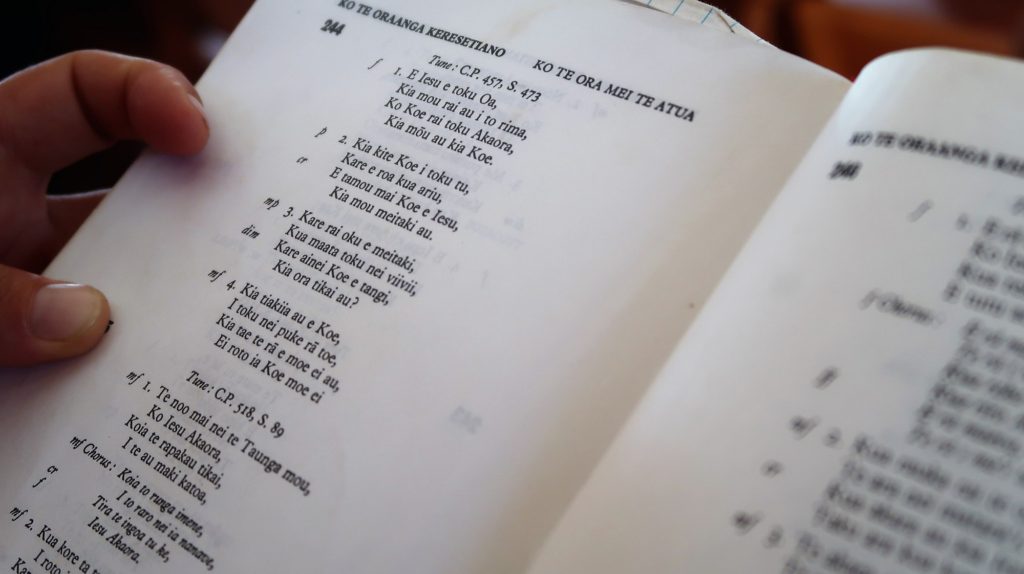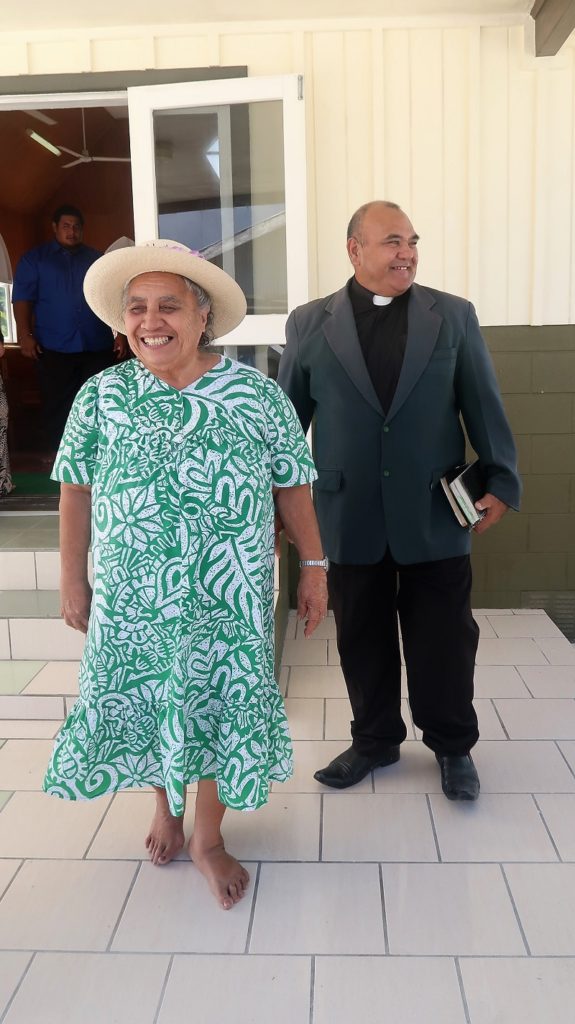 After church we had lunch at Edward's (we also brought dishes along to share) which included the roast bosun birds that they had caught and killed the day before. The naked little corpses didn't look terribly appetising but I tried a bit… it was like bland chicken, Hugh thought like mild pigeon though I've never eaten pigeon myself. The islanders clearly relished it, tearing the flesh off and gnawing at the bones with great enjoyment.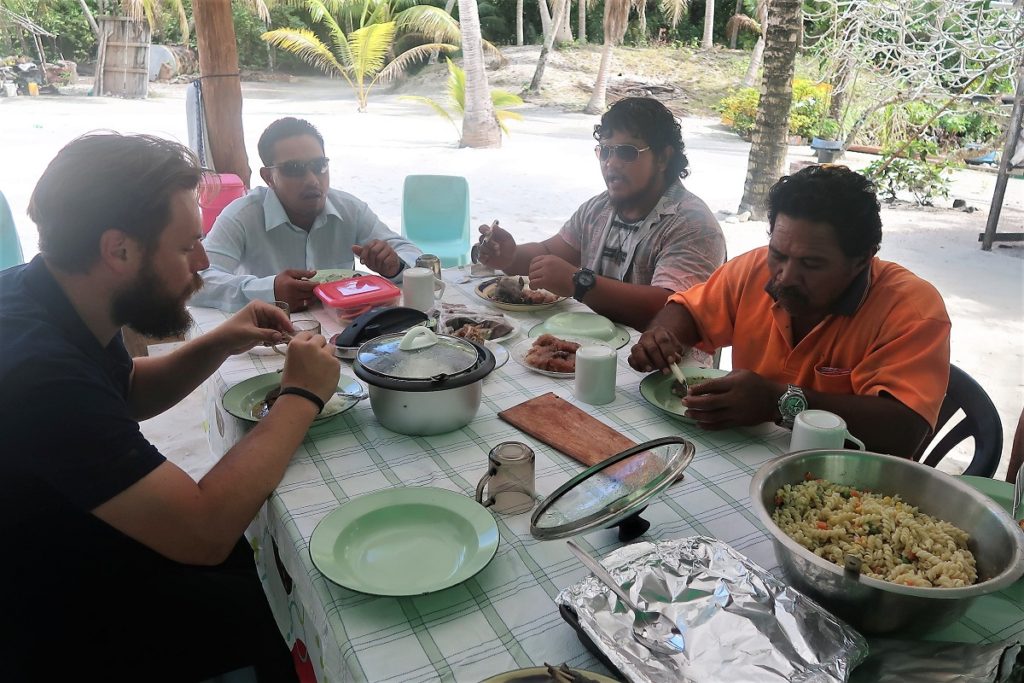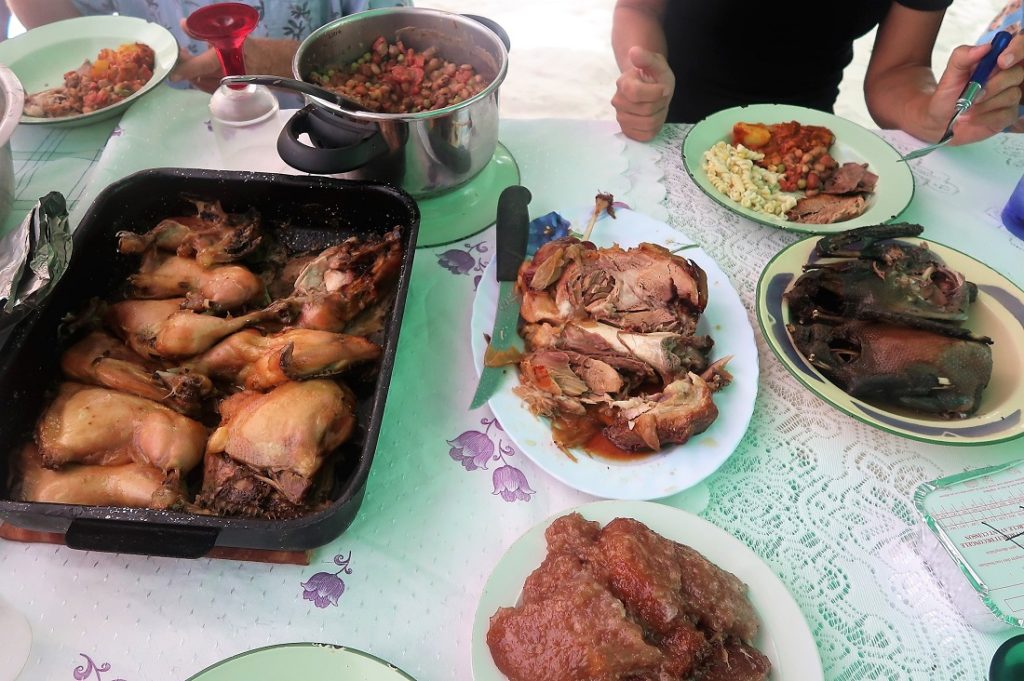 One night about 11.30pm we heard whales singing outside the boat… initially vague squeaking and whistling sounds amidst the sound of the wind, they grew louder with buzzing sounds and long mournful cries. We lay with our ears pressed against inside of  the hull of the boat listening as the sounds appeared to be getting nearer until alarmingly so… was a humpback whale going to bump into us in the dark? We looked out from on deck but there was nothing to see. After a while the cries slowly receded.
Our time in Palmerston was fascinating. There were hints of long-standing divisions and rivalries but to us visiting yachties the people were delightfully friendly and welcoming. We had planned to stay for just a few days but ended up spending a week there, waiting with eight other yachts in the shelter of the atoll for the strong winds and big swell to ease.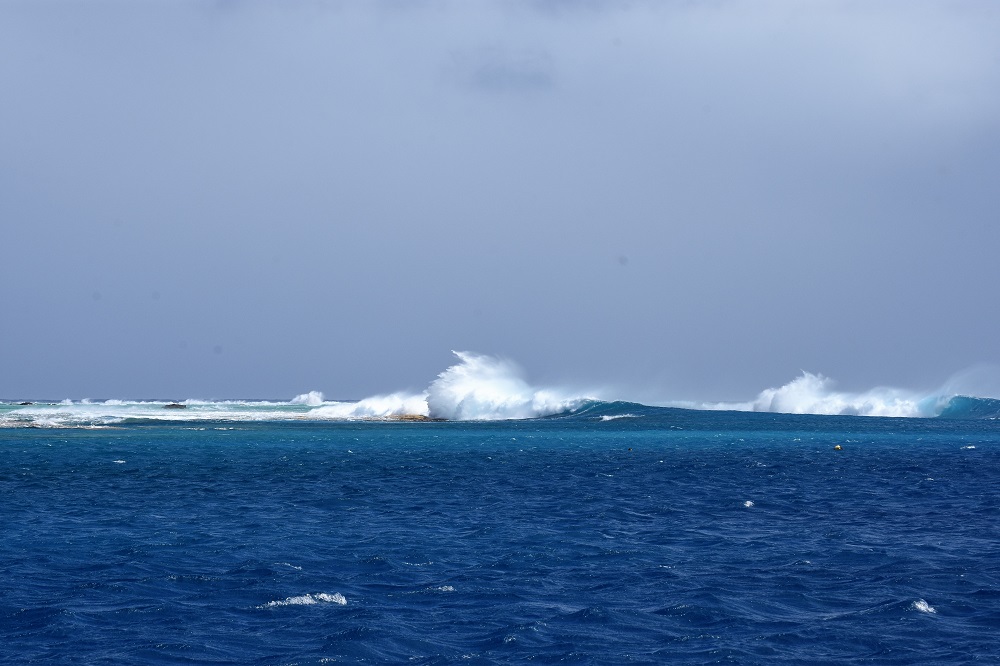 We left our VFH radios on and if someone spotted a humpback then a call would go out on the VHF….. 'whale!'…. and everyone would rush on deck with cameras.  We saw whales spouting and breaching in the distance on most days, occasionally close to the boats.
Most days it was hot and sunny although one day it rained heavily for most of the day – the islanders weren't unhappy as they collect the rainwater in their huge tanks. It is getting colder at night though and we needed a duvet to sleep…. the first time for well over a year. It is hard to remember that it is their winter now, south of the equator.
Whilst we were moored at Palmerston news came of a British family whose catamaran had run aground on the partially submerged coral reef of Beveridge Reef, 280 miles from Palmerston and our next planned stop. Their boat was a write off and they were extremely fortunate to be rescued by a yacht already at anchor inside the atoll as their catamaran was battered on the reef in exactly the horrible conditions from which we had been sheltering at Palmerston. Apparently they were relying on electronic charts which only show the reef at lower magnifications and, unaware of its existence, they ran onto it in the dark, windy night whilst on passage from Rarotonga.
As the winds started to lessen and the waves reduced the yachts started to move on, going west to Niue or Tonga, or to Beveridge Reef where we were going.