Thursday 16th February to Sunday 5th March 2017
We stayed in Shelter Bay Marina in Panama for 17 days. Jon and Jackie gave up on their plan to try to line handle on a yacht going through the Panama Canal as they were running out of time and instead caught the evening train back from Colón to Panama City. They reported seeing crocodiles in Gatun Lake from the train.
The marina is just inside the breakwater by the entrance to Colón harbour and has a swimming pool and restaurant. It is a pretty sociable place. There is a daily cruiser's net on VHF radio announcing news and events, aquarobics in the pool, pot luck suppers at the BBQ area, weekly film night and the Alternative World Sailing Community put on an evening's entertainment of music and fire juggling. So plenty of distractions from the tasks we needed to get on with. Our lovely, cheery Canadian neighbours Steve and Linda on their boat Warren Peace had been in the marina for months repairing the damage caused when their forestay broke, which caused their mast to come down mid ocean and be lost overboard along with all the rigging and sails which they had to cut away. They were working on their boat every day whilst waiting for a new mast to be delivered from Miami, but remained positive.. 'another beautiful day in paradise'!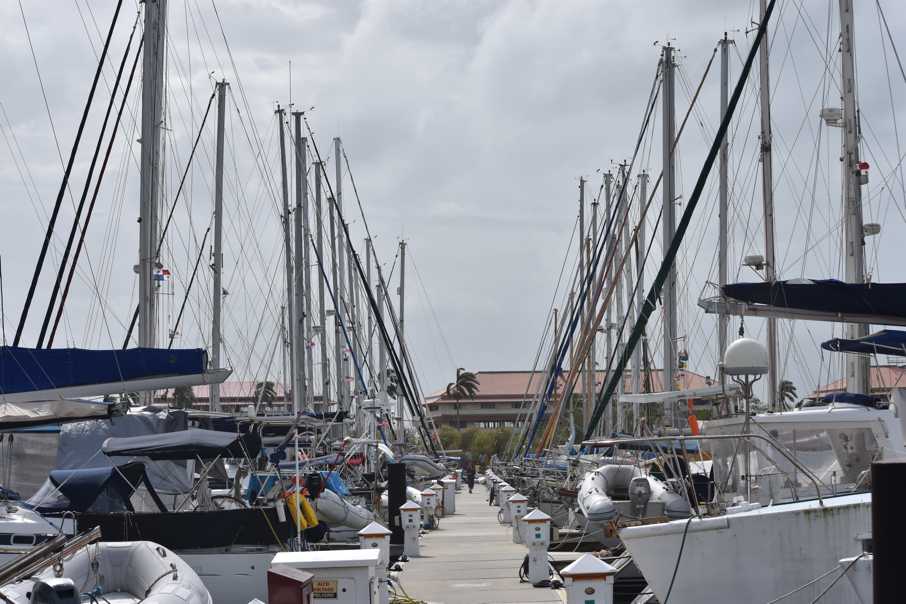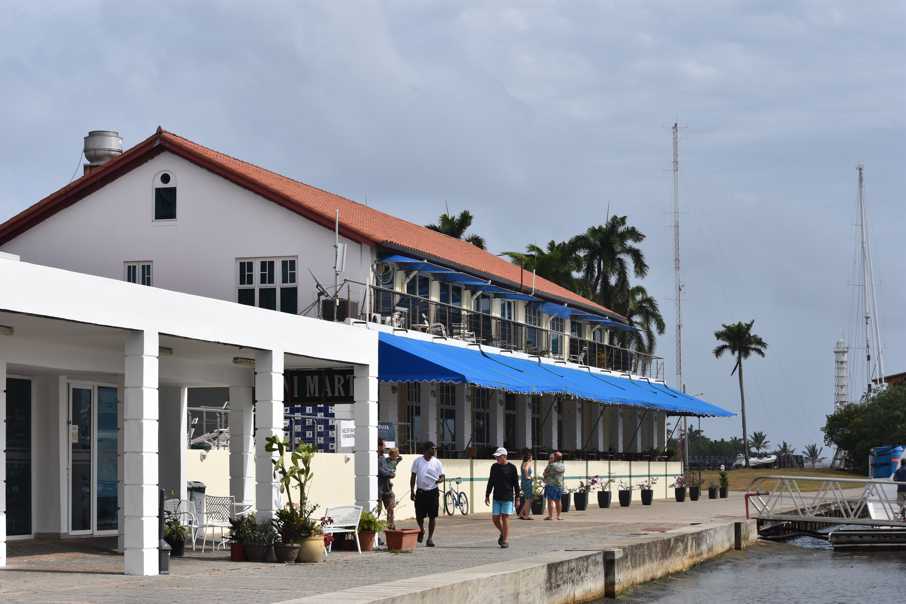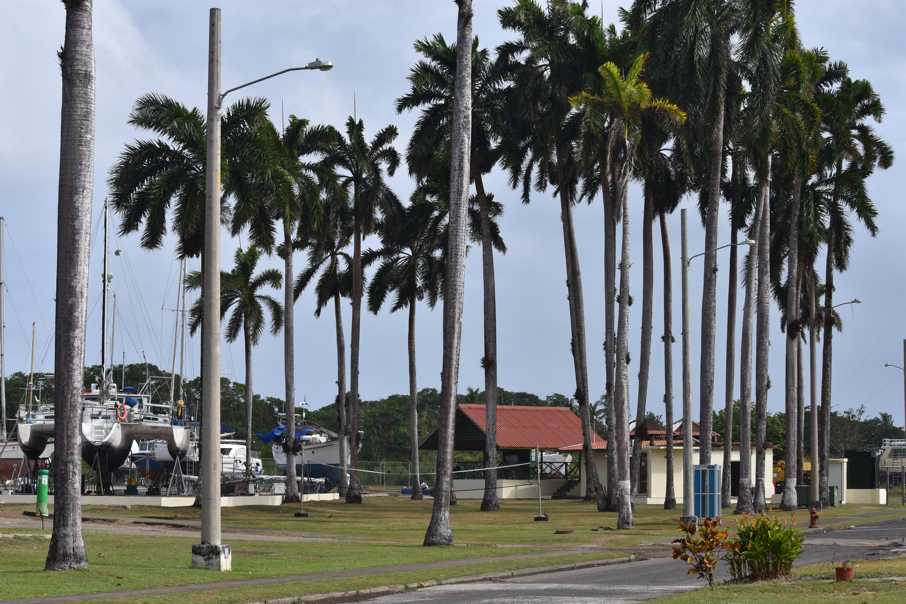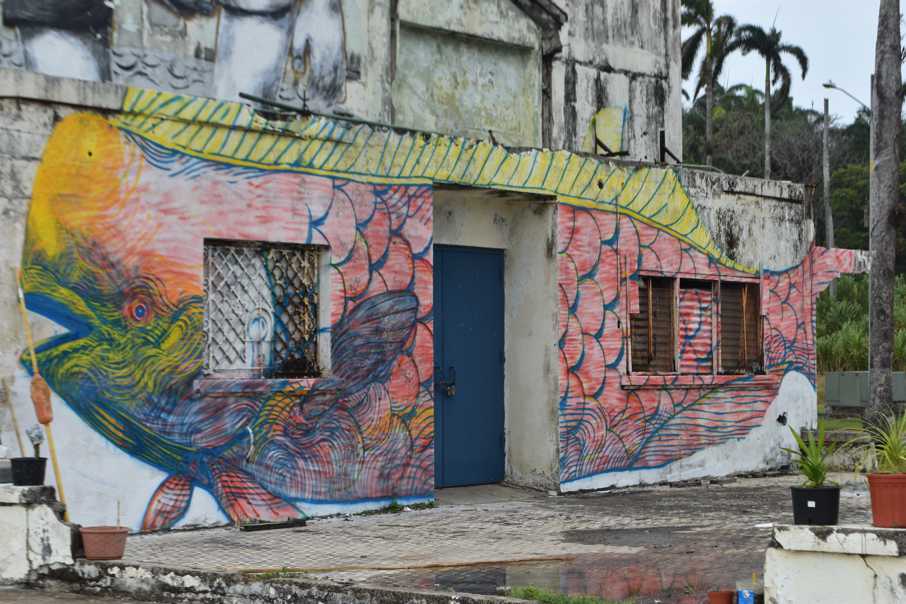 There is a daily free shopping bus to the mall which has Rey's supermarket and Abernathy's chandlery. The bus has to cross Colón harbour by ferry from which you get a good view of the bridge that is being built across the approach to the canal. It will be the largest concrete bridge in the world according to the German engineer who is supervising its construction whilst living on a boat in the marina. We made three trips to the supermarket loading our trolleys brim full, and then spent hours trying to fit all the tins, bags of dried pasta, pulses and rice into lockers and recording where it was stored. Flour went into tight plastic containers to try to deter weevils. I didn't have any bay leaves to add – these are also supposed to help prevent them. When I was clearing out a locker I discovered one of these creatures that I identified as a red flour weevil: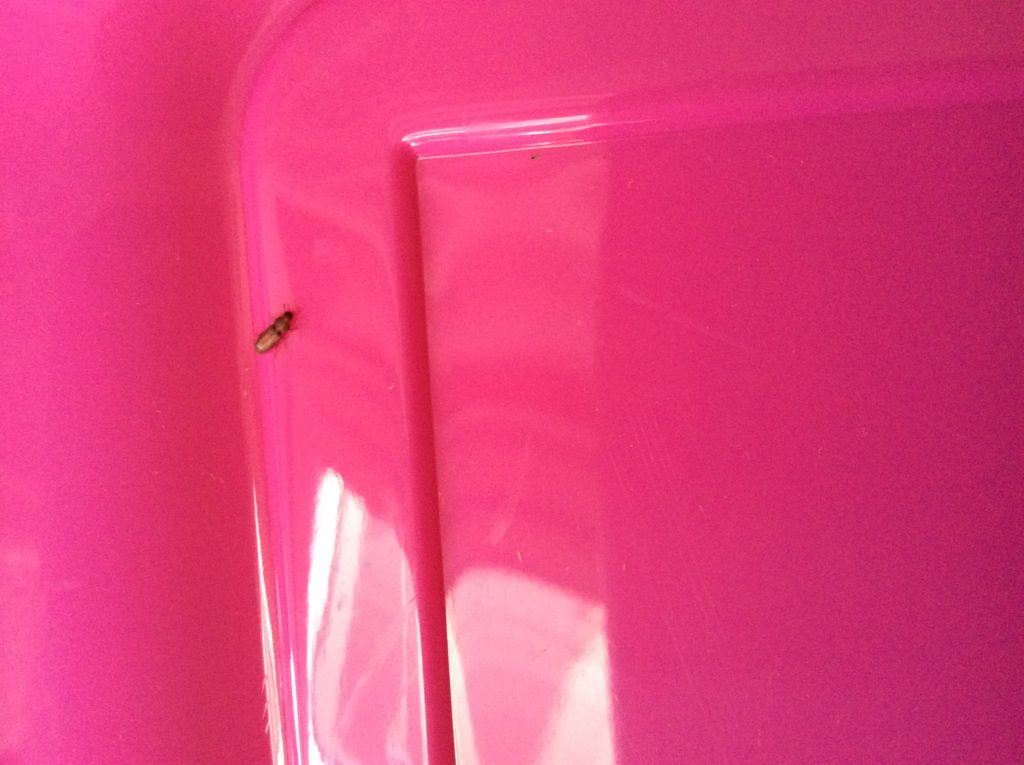 I emptied the locker and sprayed insecticide in it. Going through all our older stored food carefully it all seemed clear apart from a bag of rice that we'd bought in Grenada that had a couple of tiny insects in it. Cockroaches are always a potential problem on board and can come in on fruit and veg and in cardboard and packaging. Many people wash their fruit and veg, sometimes in a bleach solution, and won't bring cardboard on board. Others go as far as emptying individual sachets out of their cardboard containers. So far we have seen two cockroaches on Vega, one an adult that must have crawled aboard when in the marina in Antigua, and I found a small dead one when cleaning out a cupboard. I have since smeared cockroach paste into all the crevices – I do not want to share my living space with them. To enter the Galapagos we need a fumigation certificate to evidence that we are free of such creatures and have obtained such a certificate from our agent here for US$40.
We have two agents. One is Erick Gálvez based in Panama City who is arranging our transit of the Panama Canal and the other is Johnny Romero in the Galapagos who we have been emailing to arrange our 'Autografo', the permit which will allow us to spend up to three months in the Galapagos and to visit up to three islands in our own yacht. Neither procedure is cheap. The Panama Canal earns mega bucks from the transit of large cargo ships, over $1million for the really big ships going through the new lock system, and for them yachts are small fry to be fitted in amongst the big earners. Although it is not strictly necessary to employ an agent it takes away the hassle of chasing around offices in Colon. Eric arranged for the boat measurer to visit to measure Vega's length and so determine our exact charge and we fixed our transit date for March 5th.
To visit the Galapagos you also need a squeaky clean bottom (the boat, that is) as they don't want all sorts of foreign marine species introduced to their unique environment, so although we had had the hull cleaned by divers in Santa Marta we decided to get Vega lifted out of the water long enough to get the bottom properly pressure hosed and all the barnacles scraped off. Hugh took the opportunity to change some of the sacrificial anodes on the bottom which protect the propellor and other metalwork from getting eroded.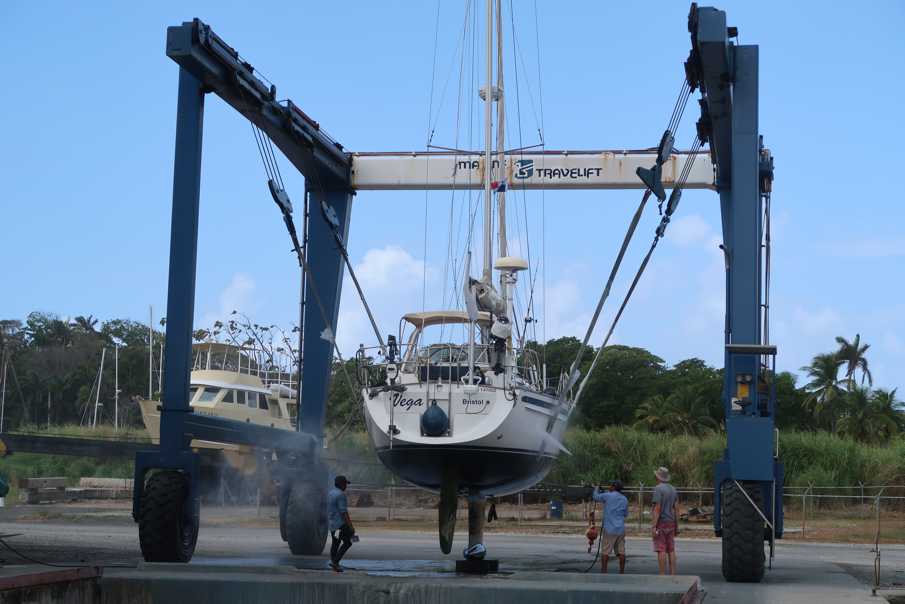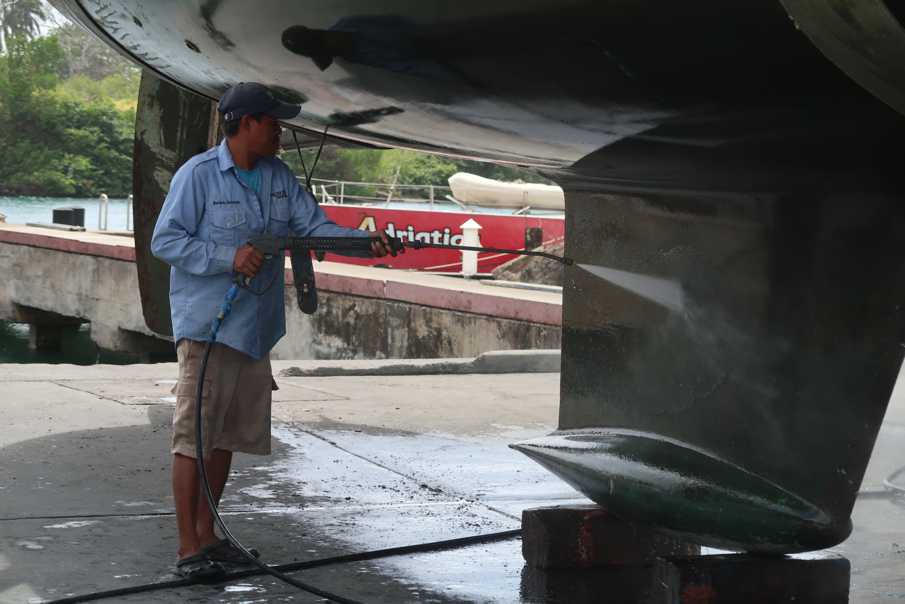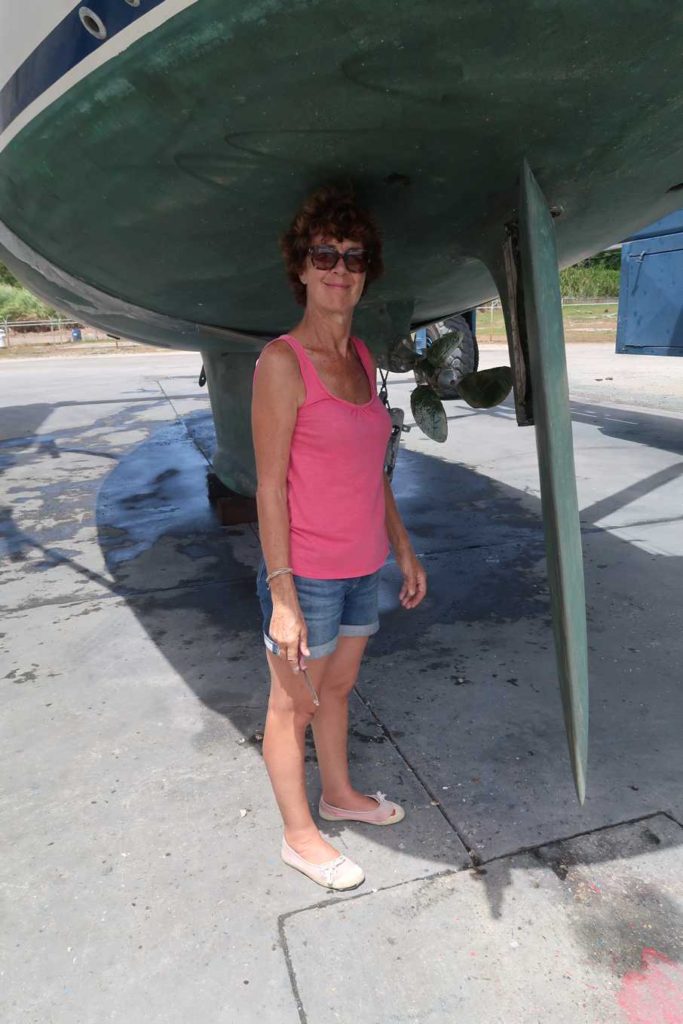 The marina is on an old US military base now taken over by the Panamanian army and is surrounded by national park with virgin rainforest. At 6am we are woken by cadets running in formation and chanting. Airforce planes regularly take off over the marina from the neighbouring airfield. On our last morning I went for a walk into the forest and within minutes a group of nine howler monkeys crossed my path, making their way stealthily and in single file. I came across the ruins of Baird Battery, now gradually being reclaimed by the jungle… it was eerie and silent apart from birdsong.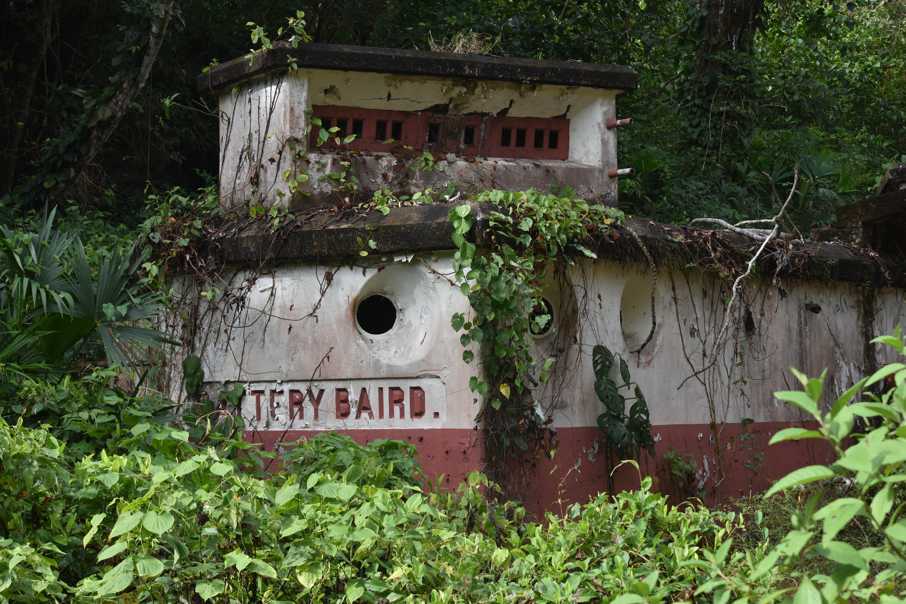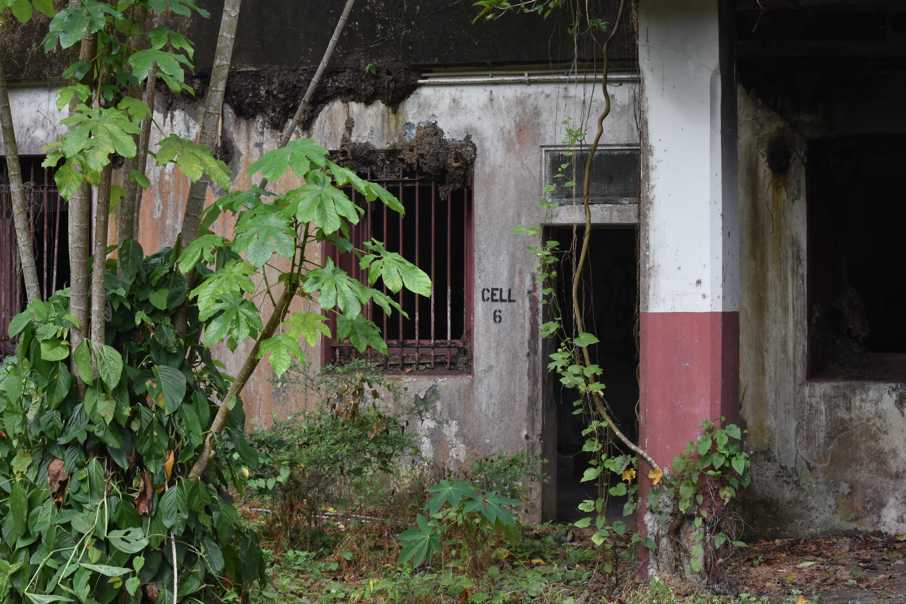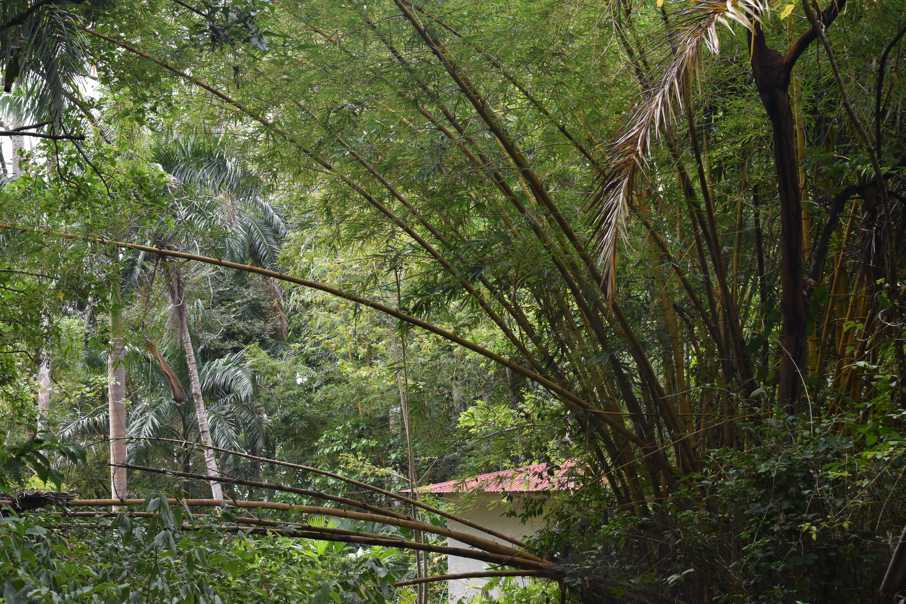 In order to understand better the procedure for transiting the Panama Canal we acted as line-handlers on friends Terry and Carol's boat Little Dove a few days before Vega was due to go through.
The following day we made a final trip to the supermarket to stock up with perishables for the voyage ahead across the Pacific and in the afternoon Tom, another Ambling Band friend, arrived from the UK via Bogotá and Panama City to join us for the trip to the Galápagos.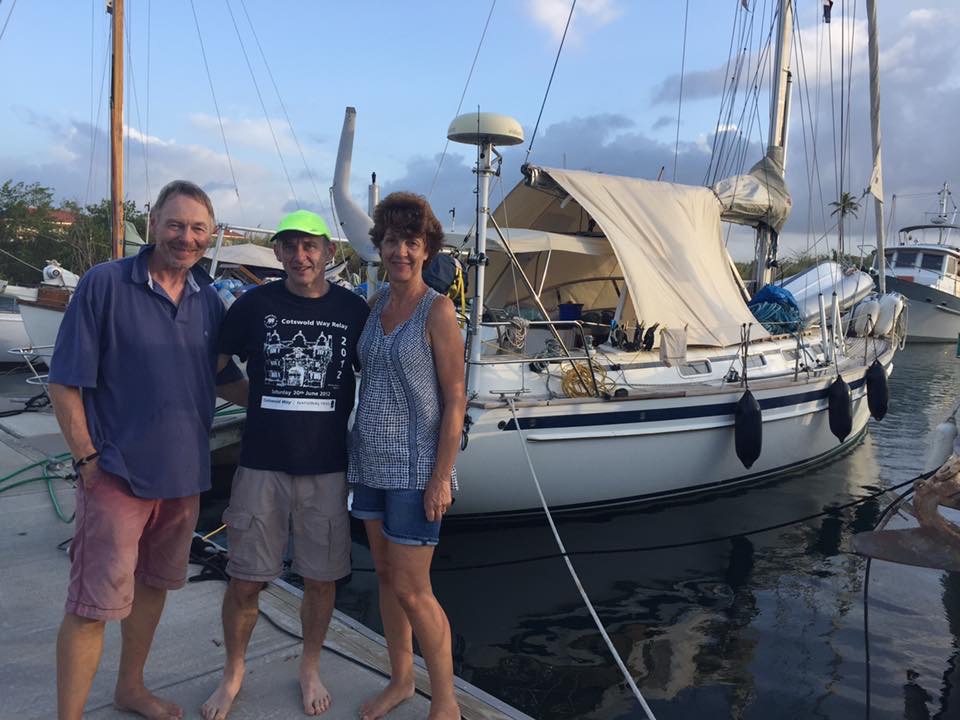 On the Sunday March 5th it was Vega's turn to transit, but more of that in the next post coming very soon.