Wednesday 27th April to Thursday 5th May
We left at 9am for the 25 mile sail south to St Lucia from Martinique. It was an unpleasant bumpy trip in a choppy sea, a force 4 to 5 wind from the east south east with a couple of knots of current taking us to the west, and after two hours sailing we ended up motor sailing hard into the wind for the next 5 hours. It was not fun and I felt a bit sick.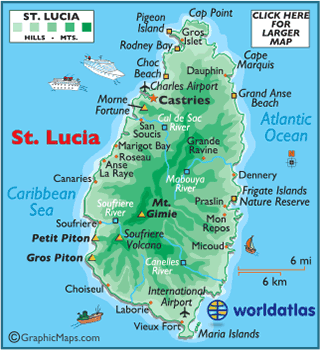 Our destination was Rodney Bay, a large bay on the northwest of St Lucia where there are several beaches, a big marina, resorts and hotels, shopping malls, supermarkets and restaurants, all very touristy. Since we were too late for customs we dropped anchor in the north of the bay off Pigeon Island, by the Sandals resort (one of three on St Lucia). For those who don't know, Sandals is an exclusively couples only resort and the whole concept fills me with a strong feeling of revulsion. Hugh thinks I need to explore this with a psychoanalyst.
We had heard that security in St Lucia was a concern, with petty theft from boats in the bay not uncommon, so that night Hugh chained and padlocked our brand new dinghy and outboard on deck, we locked the washboard in the gangway and closed the hatches. It rained in the night and so we had to close all the windows too. Trying to sleep on the boat it was a bit like being in a sauna.
In the morning we moved from the bay into the marina and went through immigration and customs whilst Alex walked to the beach and had fun hiring a jetski. We bumped into old friends from another yacht, Dutch Lady, who we'd previously met in Cape Verde and then, after crossing the Atlantic, in Antigua. The Caribbean is starting to be a place where we keep crossing paths with the same people, recognising boats that we've seen before and people we've talked to before, a few of whom are planning to sail through Panama and the Pacific too and who we may well come across again on our voyage. It is a pleasant and comforting thought and makes us realise we are amongst many doing this journey, who have the same fears and concerns as us.
We hired an extremely battered bus-like Subaru to explore some of St Lucia and particularly the drive-in volcano, which was further south near the Pitons. We drove along the west coast, through Castries, the busy, dirty-looking capital of St Lucia with the docks and ferry terminal, a sprawl of old buildings amongst ugly modern buildings and advertising hoardings. The road rose from a flat plain with industrial buildings to climb up into the hills through sprawling banana plantations, lush forest with dense vegetation, bamboo, palms, flowering shrubs, up over the foothills of mountains, down through jagged valleys, running to the coast and through small fishing villages. Finally we were high above the town of Soufriere with a spectacular view down over the town and the Pitons beyond.
The distinctive twin peaks of the Pitons feature in every tourist guide to St Lucia and symbolically on the national flag. We'd heard bad reports of the nearby town of Soufriere, that it was a Wild West town, that tourists got constantly hassled there and particularly that it was not safe to anchor off. We drove down into Soufriere which had brightly painted shops and houses, an austere looking stone church, vendors selling fruit and vegetables on the street and an overall scruffy rundown feel to it. We dived into a waterfront restaurant for lunch and after chicken creole wraps, I wandered around taking photos whilst Hugh got engaged in conversation with a local Rasta, David, selling green woven baskets who had apparently lived in Reigate and worked as a hospital porter. After the usual spiel we gave him EC$10 which he passed on to his 'manager', hovering nearby. Strange. But we rather liked Soufriere.
We drove up into the hills above the Pitons to the Sulphur Springs, the world's only 'drive-in volcano'. This is where a volcano erupted some 40,000 years ago and collapsed into itself leaving a crater which is still emitting gases and vapours. After paying our entrance fee we were allocated a guide who explained about the volcano, looking down from the road over the bubbling hot springs and mud pools, belching with strongly smelling sulphur laden steam. You used to be able to walk through this area until a guide went through the crust and sustained bad burns. After our tour of the volcanic crater we visited the mud baths, plastered our bodies with mud of different colours (shades of light to dark mud-brown) and consistencies (from smooth to gravelly) then sat in the almost unbearably hot pool, fed from natural springs from the volcanic crater. Hugh and Alex moved on to the muddy hot stream below where Hugh was overheard to be having a strange but no doubt fascinating conversation about farting with a rotund Frenchman, both covered with mud. Surreal. The mud and sulphurous steam are supposed to be wonderful for your skin and sinuses, and cure all your dermatological and respiratory conditions.
On to the nearby Toraille Falls for a dip under the cold waterfall, then the New Jerusalem pools, hot and cold pools in the rainforest, the water piped in from nearby streams, the hot water from volcanic springs. It was wonderfully peaceful and relaxing lounging in the warm water looking over into the rainforest, all the different tree and leaf shapes and forms and shades of green, with flowers providing splashes of red. I was assured that after bathing here I would look 20 years younger. I wish.
Back to the marina in Rodney Bay in the late afternoon sun, through the little coastal villages, slowing down for kids playing a game of cricket in the main road, stray dogs wandering across the road, fishermen chopping up their catch with machetes in the fishing village of Anse La Raye, locals sitting around chatting as the sun slowly set. The drive was quite terrifying at times with impatient drivers beeping their horns as they overtook at speed on the narrow mountainous bends.
Hugh's son Will and wife Willa arrived on the Saturday from the UK for two weeks in the Caribbean, in time for supper on Vega. After a day in Rodney Bay, to give them time to relax and recover from jet lag, go jetskiing and snorkelling and have rum punch on Vega, we headed off the following morning at 4am from the marina, Alex on the bow with a torch to watch out for unlit boats and buoys. As we reached Soufriere and the Pitons it was raining and they were obscured by dense mist. We had set off early to ensure we got a good mooring between the Pitons, but it is so late in the season now with the hurricane season approaching, that we had our choice of mooring buoys in the wide bay. Will and Alex headed off in the dinghy to fish and we bought fruit and vegetables, including avocados and an enormous pineapple, from Cleatus, a rather monotone Rasta in a pink painted wooden boat with 'Jah is my co-pilot' inscribed on the bow. Not feeling too confident in the boys' angling luck and ability we also ordered a dorado from Cleatus which we cooked in coconut milk with chilli, onions and leak for supper.
Sadly Alex had to leave the next afternoon but we had time to snorkel in the morning along the rocks under Petit Piton where there is a small marine reserve and the most wonderful snorkelling, with the usual colourful parrot fish chomping the coral, a flounder cleverly camouflaged lying on a large rock, exotic queen triggerfish, and shoals of fish of all colours and sizes, and little orange anemones covering the rocks. Hugh and I hitched a lift on Alex's taxi up to the main road, to shop in Soufriere, whilst he headed off to the airport for his flight home. We bought tuna for supper from a fisherman on the street and fruit and veg from another street vendor, with her little daughter and granny.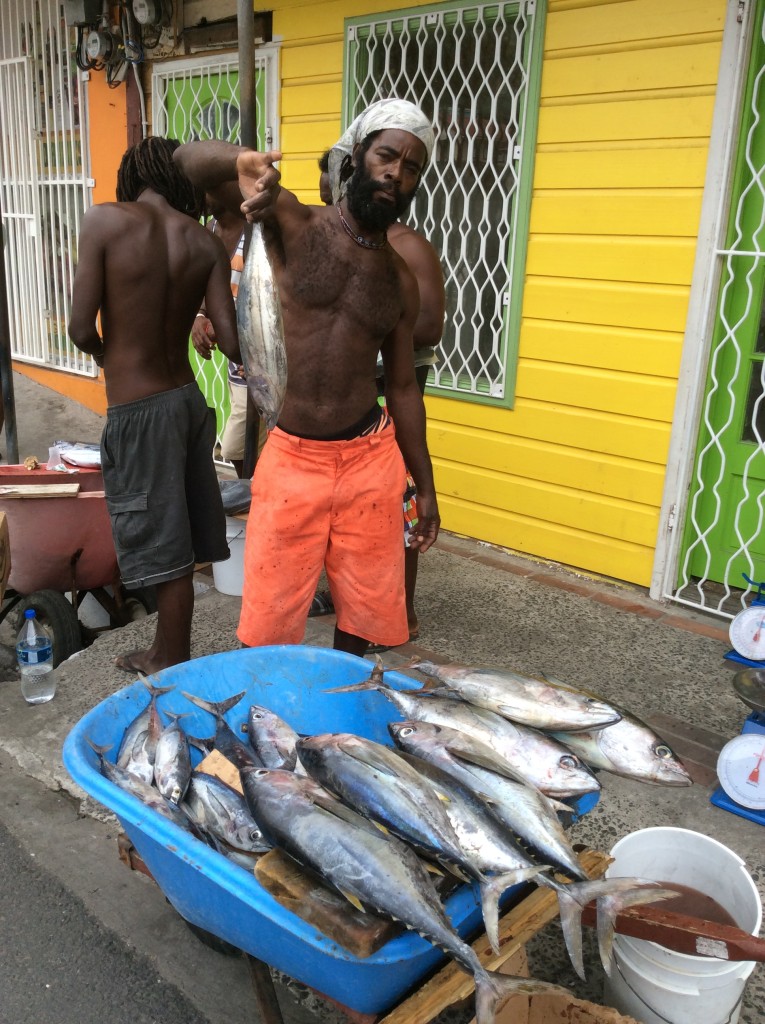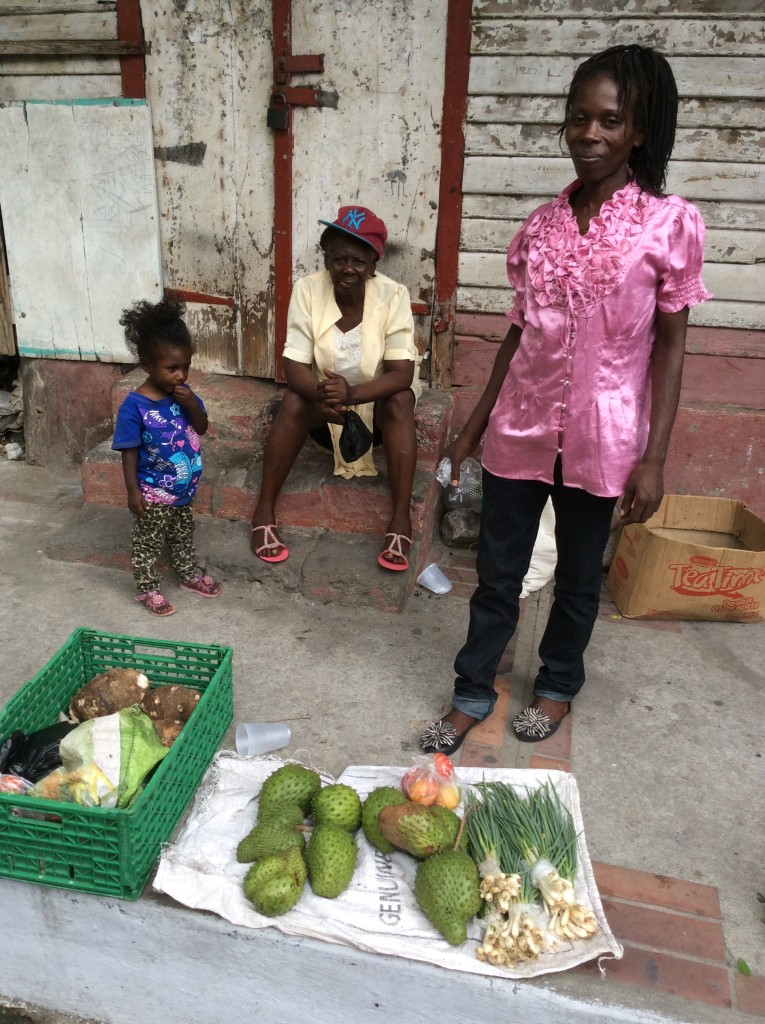 The next day Cleatus acted as water taxi and took us into Soufriere, a thrilling trip along the coast right under Petit Piton. Willa had been suffering from a nasty cold virus that had made her feel really unwell since she'd arrived, it has been incredibly hot lately and they were both suffering in the relentless and unaccustomed heat. We decided to revisit the New Jerusalem Baths and all felt better after a long soak in the pools. We had to hurry to get a bus back down into Soufriere to check out of customs and immigration there before they closed, as we were leaving the next day for the onward trip to the next island of St Vincent.
We liked St Lucia much more than we'd expected. Although it is a package tour destination we didn't get a feel of mass tourism beyond the beach resorts of Rodney Bay and other small enclaves and some specific tourist sights. Outside these people's lives appear to continue much as ever, apart from, of course, the ubiquitous mobile phone. Hugh had visited St Lucia 20 years ago and recalled signs of much more abject poverty then. The standard of living in much of the Caribbean has improved greatly in the last few decades. Sometimes tourism can help.
We left St Lucia and our mooring between the Pitons at 4am, just as the sun was starting to rise and edging the clouds in silver and pink, heading south for St Vincent.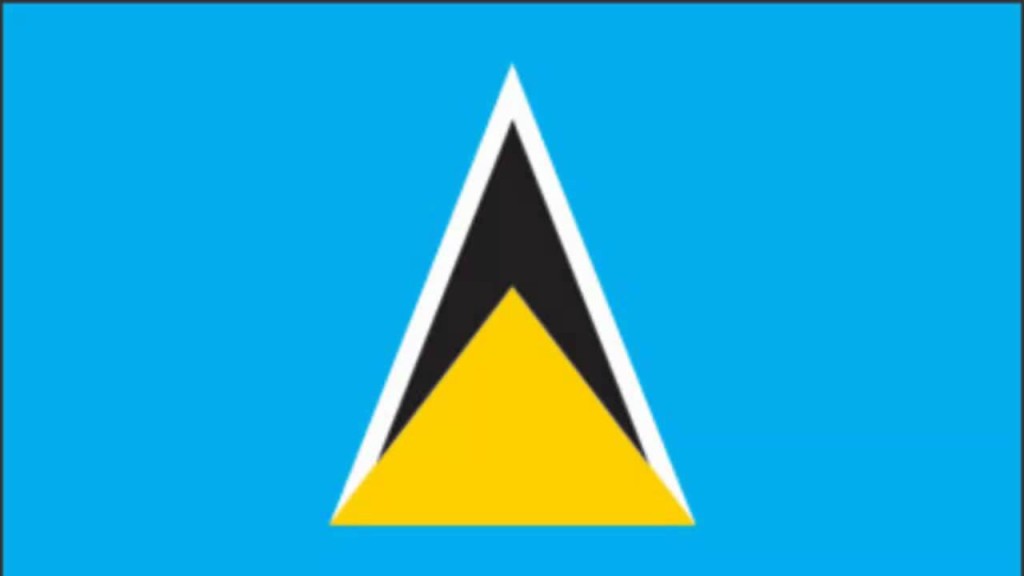 "The blue epitomizes the sky and the sea, specifically the Atlantic Ocean and Caribbean Sea which encircle the country. The black and white allude to the harmonious relationship between the black and white races. The yellow symbolizes the sunshine, as well as prosperity. The triangles represent both unity and the Pitons, which are twin volcanic cones located in the southwest part of the island, Gros Piton and Petit Piton, the national symbol of Saint Lucia."