As you no doubt realise we have been back in Bristol for six weeks now. I've got rather behind on the blog but will attempt to catch up on the last four weeks of our trip in a final couple of posts before we head back to Grenada in mid August.……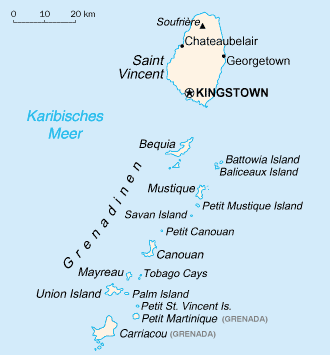 Canouan – Wednesday 18th to Thursday 19th May
From Mustique we sailed to the island of Canouan, a good sail in sunshine and steady force 4 winds, and picked up a mooring buoy in Charlestown Bay just off the beach by the Tamarind Beach Hotel. The northern two-thirds of the three square mile island is privately owned by the 'ultra exclusive' gated Grenadines Estate, with a luxury hotel and villas, houses which cost up to US$80 million, an 18 hole championship golf course, a spa, a 17th century church within the gated community and 'Trump Club Privee, a European style casino, gourmet restaurant and elegant ballroom' etc etc. The people of Canouan, with a population of 1700, live in the one village on the southern third of the island and are barred from entering the north of the island unless they work there. We had intended to hike to the highest peak, Mount Royal, but were told that we would not be able to gain entry as it is in the private resort despite it supposedly being a public trail. It seemed terribly wrong to us that locals and visitors were unable to access most of the island or the beaches to the north. We walked into the village, hot and still in the noonday sun, a few primary school children in brown uniforms on their way home. It was desperately poor with the few supermarkets stocking a very limited range of products. We talked to the owner of a mini market who seemed exceptionally grateful for our custom and who told us that the new owner/developer of the gated community had laid off a lot of the local workforce to save costs. With high unemployment and a low standard of education, there being no secondary school on Canouan, it is hard for the people to lift themselves out of poverty. Despite the massive wealth introduced to the island the benefit to the locals is minimal, mostly in the form of some improvement to roads and electricity to their homes, but as is common throughout the world it is the rich and powerful that will have benefitted whereas the locals find themselves barred from the greater part of their own island.
We decided not to stay any longer in Canouan and set sail for the Tobago Cays after less than 24 hours.
When we later met our friends Terry and Carol whilst on Grenada, we learned they had also stopped on Canouan and had set off to hike up the peak but had got turned away at the gate. Terry had complained vehemently and has since become involved in trying to change things on Canouan, connecting with several locals and he plans to be active in helping them.
Tobago Cays Thursday 19th to Sunday 22nd May
The Tobago Cays are a group of five tiny unpopulated islands surrounded by coral reefs and the most intense turquoise water we have seen. It was a two hour sail then motor into the wind from Canouan, plotting a careful course to avoid the rocks and reefs that surround the Cays. It is a national park and everyone's idea of how the Grenadines should be. Deserted islands, clear blue water, coral reefs with shoals of fish and languid green turtles feeding on the weed on the sea bed. We dropped anchor and spent 3 days there, snorkelling and joining the nightly beach barbecues organised by the boat boys from nearby Union Island. Swimming in the shallows right by the beach were three foot rays and puffer fish, who came every evening to be fed the offcuts from the barbecue and were so tame that we could have touched them. We were sad to see the amount of litter strewn around on the islands despite them being uninhabited apart from iguana and laughing gulls. It felt completely safe here and truly like paradise.
Three days after we left a couple on a British yacht were attacked at night by three men in a pirogue who boarded the yacht armed with a knife and gun, broke the locked companionway, demanded money and electronic items, and injured the man, leaving him with broken ribs and facial injuries.
Mayreau – Sunday 22nd to Tuesday 24th May
We left Tobago Cays in the early afternoon and had a short sail on the genoa only west to Mayreau and turned into Salt Whistle Bay in 25 knots of wind, motoring into the bay and with the help of two boat boys, Dereham and Jeeham in their painted pirogue, dropped anchor in 2.8m of water in the bay. After snorkelling over the rocky bottom we decided we were unhappy with the depth so moved to a sturdy looking buoy nearby. We had read of yachts tying up to poorly maintained buoys in this bay and then coming adrift so had initially been reluctant to use the buoys but after snorkelling to inspect the concrete block and line holding the buoy felt happier to use it than bounce off a rocky bottom. We arranged to eat at their beach restaurant the next evening and the barbecued fish in creole sauce we had was delicious.
Mayreau is a small dry island with an area of 1.5 square miles and a population of 254. Salt Whistle Bay looked like a picture postcard Caribbean bay with a semicircle of golden sand backed by palm trees overhanging the beach and colourfully painted beach bars. Despite this idyllic feel the small resort on the beach had closed a few years ago and we heard that proposals for a resort of luxury homes on an adjacent bay had ground to a halt. The only tourists appeared to be visiting yachts and catamarans to one of the two bays, Salt Whistle and Saline Bay, and apart from that there didn't seem to be much going on. Unemployment in the Caribbean especially amongst young men runs at 30% and many young people leave to work overseas.
The next morning we walked up the hill to the village in the heavy, humid heat where there was a solid looking stone catholic church with views over the Tobago Cays. We passed a colourful bar, Righteous and de Youths which had reggae blasting out, and a few restaurants and guest houses, seemingly all empty. A young man slept sprawled out in the shade on a veranda. We stopped in the Island Paradise restaurant in the village and I had a wonderful fish sandwich. We got chatting to three Americans from Oklahoma who were sailing the Grenadines in their catamaran but mostly the village felt deserted and the scruffy houses looked unoccupied. We bought some sea shells from a sad looking stall, bartering down the initial price of US$ 10 a shell. We knew we had still overpaid when the rather dour old woman selling them gave us a huge smile as we handed over the money.
Mayreau seemed peaceful but we later read on the Cruiser's Security Facebook site that a father and daughter had been robbed the previous month whilst on the island.
Clifton, Union Island and Palm Island – Tuesday 24th to Friday 27th May
The four mile sail south from Mayreau to Union Island took just over an hour in 20 knots of wind. The entrance to Clifton, on the east of the island, is through shallow reefs which are well marked with red and green buoys. We tied up on the Anchorage Yacht Club jetty with the help of Herman and filled Vega's empty tanks with water before dropping anchor in shallow water just off the reef and then taking the dinghy over to Clifton, which turned out to be a colourful and vibrant little town. Our new friend Herman showed us around – to his friend's supermarket and his sister Jenny's vegetable stall – before selling us steaks of fresh tuna for about £4 a pound.
We had read how three Swiss yachties had been attacked recently after leaving a restaurant in Clifton late at night, one being knocked unconscious. The locals appeared very concerned and angry about this particularly as they are so dependent on visiting yachts here, Union island not being a major destination for tourists. We were reassured how unusual this was and everyone we met was, as ever, friendly and helpful.
We spent a couple of days here, found a wine bar 'The Loft', owned by a woman from Guernsey, which had good wifi. We took the dinghy over to Happy Island in the bay, a tiny island with room for one bar, three palm trees and nothing else, and sipped rum punches whilst watching the sun set and a brilliant young kite boarder speed to and fro across the bay executing perfect jumps as he passed the island.
After two nights at anchor we did the short hop east to Palm Island, a small private island with an exclusive resort on it which allows yachts to visit. We dropped anchor off the steeply shelving bay, taking three attempts before the anchor held, and cooked fresh tuna on board for a late lunch. By the time we snorkelled to check the anchor and realised that it was precariously hanging in a clump of weed it was getting too late to attempt to anchor again so we motored back to Clifton and, as dusk fell, anchored in the same spot we'd left earlier.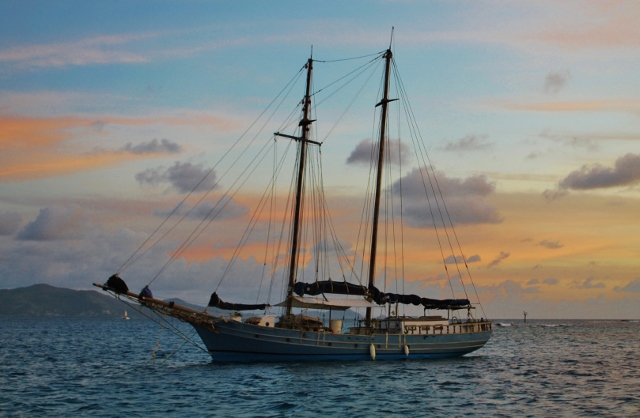 The next morning we headed back to Palm Island as we were determined to at least set foot on it. Although the anchor still wasn't particularly well dug in we decided it was good enough, headed over to the resort restaurant for an extremely exclusive and very expensive cup of coffee and a swim from their superbly silver sand beach. After a couple of hours we up-anchored and continued on to another private island with another exclusive resort on it, Petit St Vincent.
Petit St Vincent – Friday 27th to Sunday 29th May
PSV is tiny island which, like Palm Island, is entirely occupied by an upmarket resort. Yachts are permitted to anchor in the shallow, sheltered, sandy bay to the south west of the island and to use their beach bar and spa. We dropped anchor and took the dinghy over to the jetty only to be told the island was closed to all visitors as it had been rented by a company for a week-long conference. Having just finished watching the BBC series 'The Night Manager' we imagined a convention of international arms dealers and got out the binoculars in anticipation of an interesting evening as a large screen was erected on the beach nearby with tables and chairs set out for a last night beano. It started to rain and to our disappointment the tables and chairs were all whisked away up the slope to the main restaurant and the screen was dismantled. Later on we could hear the music and applause but then there was a spectacular firework display from the jetty right in front of where we were anchored on Vega which was adequate compensation.
The next day the conference ended and we were allowed onto the island, or those limited parts of it that were accessible to us. Hugh had decided we needed some pampering and booked a deep tissue massage for each of us at the spa, where Suci, a masseuse from Bali, performed wonders. I sat on the verandah, sipping ginger tea and getting bitten by mosquitos, whilst Hugh had his massage. Every so often a buggy would speed into the cul de sac below, the driver would stop for ten seconds to point out the spa to the wholesome-looking young couple in the back, matching luggage in the rack behind, before accelerating off to continue their tour around the island. I tried a gracious wave to the first two couples but was ignored – I imagine I looked rather crazy sitting in my dressing gown with hair that hadn't seen a hairdresser for far too long.
That night we ate in the beach restaurant and despite having only a pizza and a steak (one can eventually tire of barbecued fish in creole sauce) paid an extremely exclusive price for the meal. We will be eating on the boat from now on after our day of pampering and extravagance.
The next day, Sunday, we left our anchorage off PSV and dropped anchor for a couple of hours next to Mopion, a tiny sandbank which has a single thatched wooden umbrella on it and is surrounded by turquoise sea and a shallow reef on which we snorkelled, with wonderful corals, orange, yellow and lime-green, and numerous small fish. It felt quite magical being the only people on this windswept isolated spot with only the laughing gulls to share it with.
Petite Martinique and Carriacou – Sunday 29th May to Wednesday 1st June
After snorkelling off Mopion we picked up a buoy off Petite Martinique which is separated from Petit St Vincent by a narrow channel of less than a mile. The two islands couldn't be more different. Whereas PSV is a private island with an upmarket resort, the larger Petite Martinique is very poor with little tourism, and a population of 900 sustained mainly by fishing, boatbuilding and seafaring. It being a Sunday everything was closed apart from a bar on the beach where a group of locals were watching the cricket from India on TV. The town appeared deserted, there were more goats on the main street than people. We got chatting to a fisherman laying out his lines on the beach and discovered that he had been in the Royal Navy for five years, at much the same time as Hugh's son Nick, perhaps even on the same ship, but neither remember the other. He looked more East Indian than Afro-Caribbean and told us that at one time the light and dark skinned islanders lived in different parts of the island but nowadays mix more.
We only stayed for a few hours then sailed on to neighbouring Carriacou.
Carriacou is the largest island of the Grenadines being about 7 miles long, although together with Petite Martinique it is a dependency of Grenada rather than being a part of St Vincent and the Grenadines. As we rounded the headland to Tyrrel Bay in the south west we were amazed to find well over fifty yachts at anchor. The next morning we had to check in through customs and immigration as we were entering a new country, filling in the usual forms in the little office on the bay housing a friendly immigration officer and an extremely grouchy and taciturn young woman from customs.
We caught a bus, blasting out rap music, to the main town of Hillsborough and visited the little museum there. The curator is the daughter of a locally famous singer and artist and the whole of the top floor is dedicated to his work – a child-like style in the vein of Lowry. We talked for some while about her experience of the American invasion of Grenada in 1983 and the reverence still held for former prime minister Maurice Bishop who was murdered in the coup that precipitated the US invasion.
The following day we took another bus up through the dry hills, past large houses with red, blue and green corrugated iron roofs, the bus slowing frequently for goats and stray dogs wandering across the road, and on to Windward, a bay on the northeast of the island where there is a shipbuilding community with Scottish roots. Here we walked to a pretty and deserted beach then back along the main road, in the waves of midday heat, to the village of Windward where we stopped at a rum shop and had drinks with a disparate group which included a man from Bristol and his wife from Huddersfield but originally from Carriacou, who had recently retired to live with her mother in the blue house that they'd built on the hills nearby, and a 'brilliant but lazy' Rastifarian homeopathist.
We spent three nights at anchor in Tyrrel Bay before heading south to Grenada. We liked Carriacou, a simple, undeveloped place reputedly with one petrol station and a hundred rum shops.