Saturday 11th to Sunday 19th March 2017
A lot of cruisers are bypassing the Galapagos because of the cost and hassle involved, but Hugh in particular was determined. He had originally envisaged The Voyage of Vega as a journey following in the footsteps of Darwin (although the great naturalist had, of course, to navigate Cape Horn on his way here as the Panama Canal was not to be completed for another eighty years). Tom was along for the trip as Darwin is one of his heroes and his fantasy was to land on the Galapagos in a small sailing boat and visit some of the archipelago not too infested with tourists. I was drawn to the idea of Galápagos, the remoteness and the creatures who lived there, and was intrigued to see marine iguanas, giant tortoises and, of course, blue footed boobies.
It was 850 nautical miles on to the Galapagos from the Perlas islands and the forecasts were for very light or no wind once we'd left the Bay of Panama. We were reluctant to motor as our tanks hold only 250 litres of diesel which would allow us to motor for about 125 hours at 5 knots, i.e. for just over 600 nm. We'd completely filled our tank at Balboa and it would be particularly expensive to refill in the Galapagos (from what we've read everything is expensive in the Galapagos) – not only is the price of diesel twice the price of Panama but they would add a US$50 fee for 'fuel permit paperwork'. The bottom line is that motoring is noisy and unpleasant and Vega is a sail boat. With one to two knots of current in our favour, sweeping us gently along to our destination, we weren't in any particular hurry. However Tom was due to meet his wife who was flying out to arrive on 18th and, despite his reassurances that she'd be fine to explore by herself, we wanted to arrive there in time for him to see some of the islands with her before their flight home on 28th.
As we set off from Las Perlas there was hardly a breath of wind, but as we motored away and the last land that we'd see for at least a week shrank away on the horizon, the wind gradually picked up and after a few hours we were able to hoist the cruising chute, the large colourful spinnaker-type sail for light winds. Fortunately we decided to drop it before it got dark as the wind came up to 20knots overnight, too windy for such a big sail, and with two reefs in the mainsail Vega was doing an amazing 8 knots overnight (of which 2 knots were current).
For the rest of week we were lucky with the wind with many days of excellent sailing and we only needed to use the engine for a few hours on the fourth day when the winds had dropped to force 1 to 2 and we needed to motor to avoid an electric storm and heavy rain clouds. We even did a record sail of 150nm in a day, our previous best time crossing the Atlantic having been 138nm in 24 hours. We sailed one day with the cruising chute all day, on another day Vega was goosewinged with the genoa poled out on the opposite side to the mainsail, but mostly we had reefed mainsail and genoa in force 3 to 4 winds.
We were not short of visitors on our trip. On the morning of the third day a grey plane with radar dome atop it flew low over Vega to inspect us. Later that day we were shadowed by a large US coastguard ship that followed us for 30 minutes before, presumably having investigated us and decided we were not drug runners, turning away. That same afternoon a Panamanian fishing boat approached and the four young guys on board asked for cold drinks and cigarettes – which we passed over to them, by means of them throwing a line over from their boat, in a black bin liner. On day four at sea we saw on the horizon the white sails of another yacht who called us up on VHF to say hello, and were a French yacht Oceana I en route to the Marquesas.
Other visitors over the next few days included Bertie the Boobie who clung to our transom overnight, thanking us for the lift by covering our transom with guano. Two of his friends, other red footed boobies, spent a couple of hours balancing precariously on our rails, preening, squabbling and crapping. The nearest land was 300 miles away and these birds spend long times at sea fishing off-shore.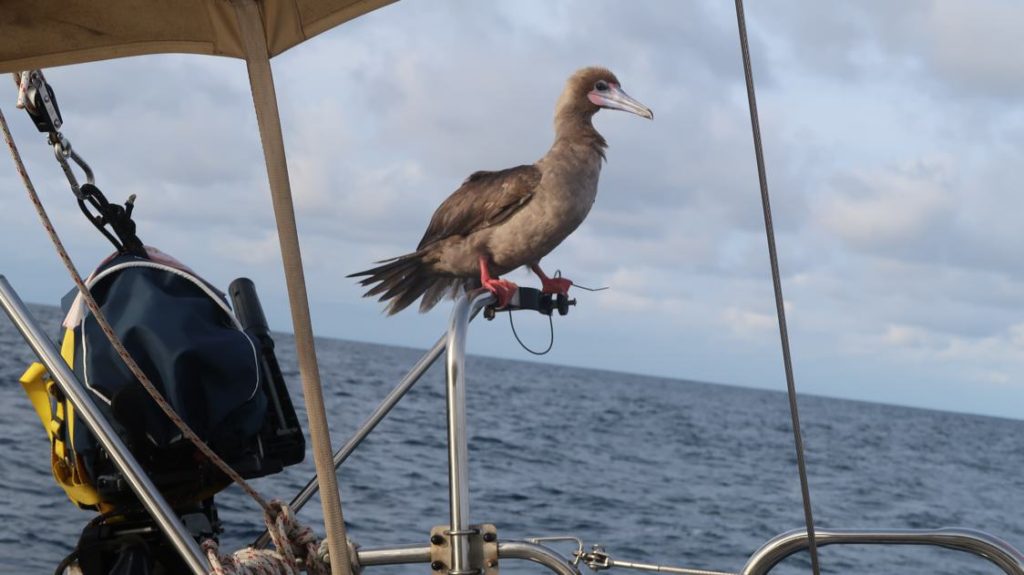 A pod of dolphins played around the bow for 15 minutes before being led away by one dolphin performing high leaps into the air. A large leatherback turtle floated past and raised its head to have a quick look before diving out of sight.
We ate well on the trip, having a rota for breakfast, lunch and supper. Hugh made kedgeree one morning for breakfast and Tom responded with scotch pancakes. We mostly had salads for lunch using the fresh vegetables bought in Panama, whilst supper included a vegetable bake, pork stir-fry and pasta with smoked salmon in cream, with fresh pineapple or mango for pudding. When the Bimbo bread ran out (Bimbo being a Central American brand of bread that has so much preservative it lasts for weeks without going mouldy) I made bread, but we didn't manage to catch any fish despite the new and brightly coloured lures we'd bought in Panama.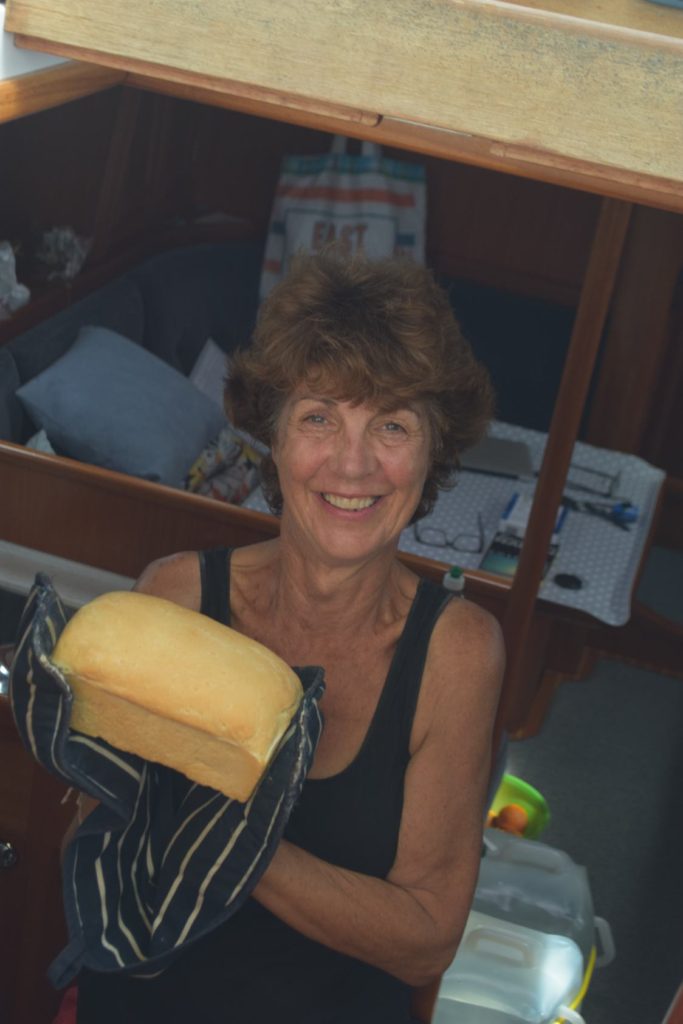 Having Tom on board meant an extra person to be on watch at night, share the cooking and his excellent company, as well as someone to play scrabble with.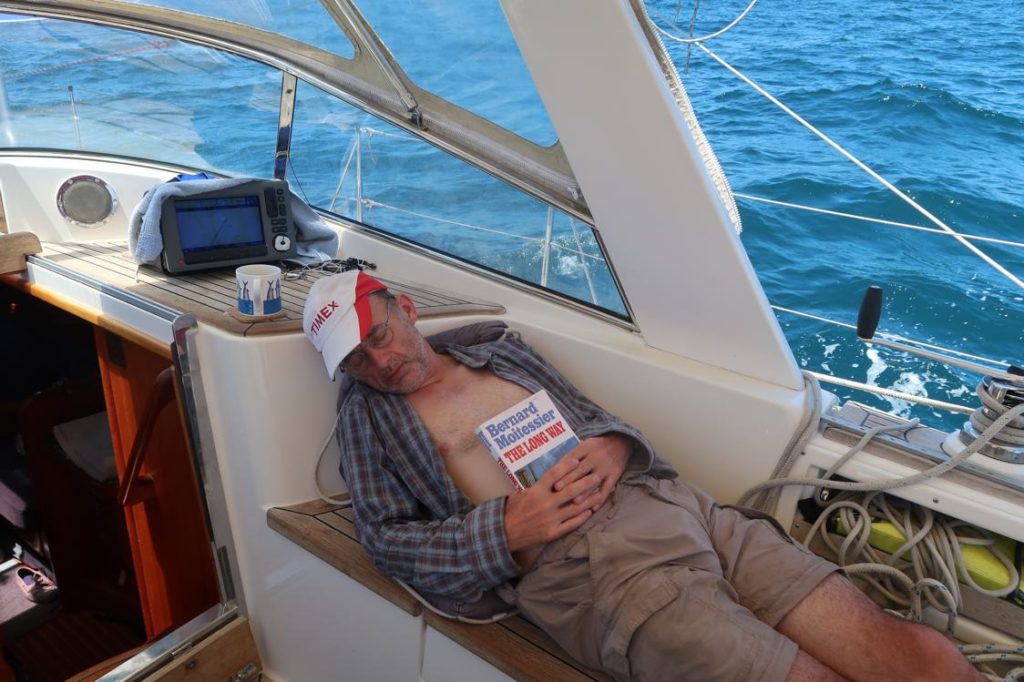 On the sixth day we were making such fast progress that we had to decide whether to try to continue at over 5 knots and arrive late Saturday afternoon, or to slow down to under 4 knots and arrive on Sunday morning. We decided on the latter so as not to risk arriving in the dark and so sailed over the next two days at a gentle 4 knots. By day eight we were approaching the equator and made preparations for the ritual ceremony that accompanies this event. I was the only one of us who had sailed across the equator before (in 1969 in the MS Achilles Lauro en route to Australia and in 1970 on the TSS Fairstar on the way back) so I was a trusty shellback whilst Hugh and Tom were slimy pollywogs and were subjected to the humiliation of having to dress in women's clothing (which neither seemed too unhappy about). As Queen Neptune I read out a list of the terrible sins that each of the pollywogs had committed. Hugh had too often caused the title of captain to fall into disrespect by parading around in his underpants in front of the crew, Tom had committed the heinous crime of dipping a buttery knife in the honey jar, and the pollywogs even dared accuse Neptune of being useless at fishing. Punishments were meted out, mostly involving being covered in shaving foam, and we celebrated with a bottle of best Chilean bubbly.
My expectations of the Galapagos had been based on the shots in the film Master and Commander which showed a stark and barren volcanic environment, the 2006 BBC TV series on Galápagos and David Attenborough's 2016 Planet Earth where baby iguanas were chased by snakes. And so I was surprised as we approached San Cristobal island to see that its slopes were covered in a green hue of vegetation.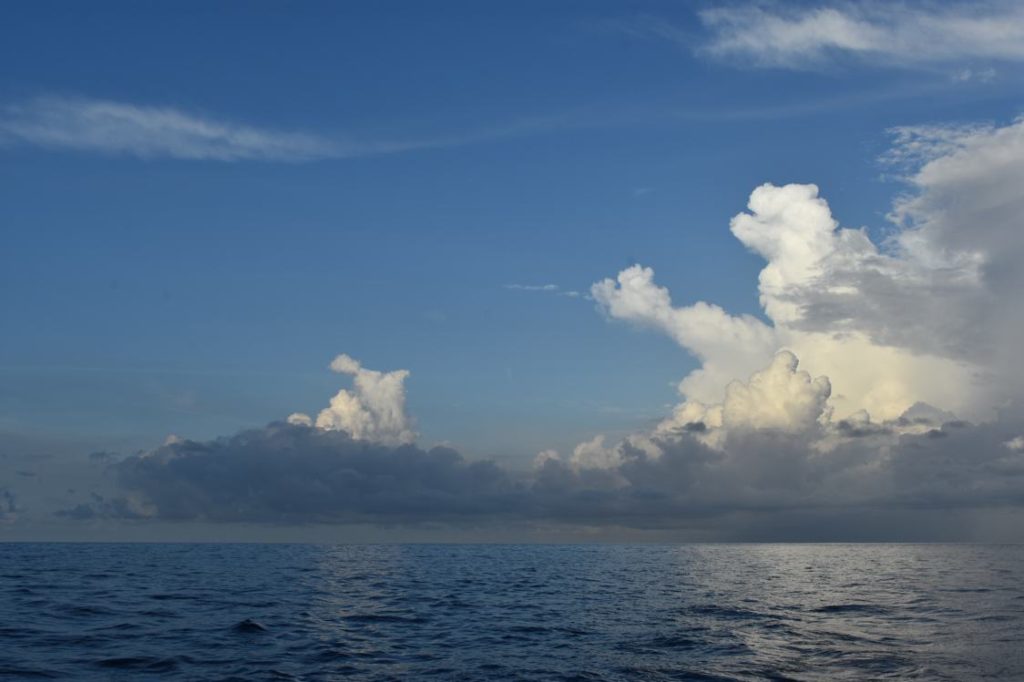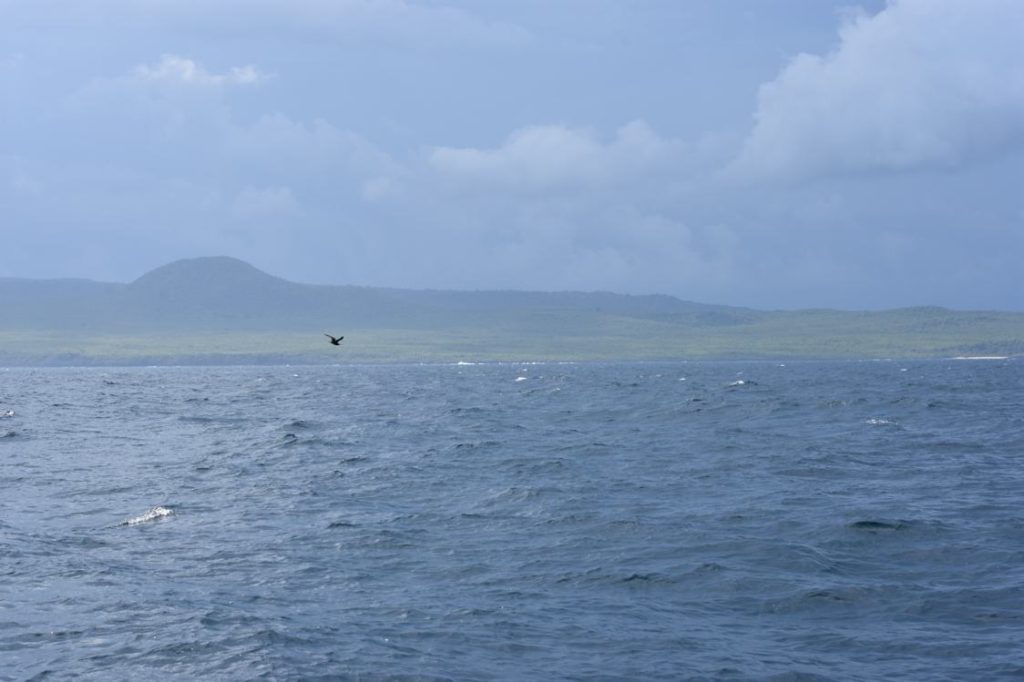 As we approached the bay where Charles Darwin first made landfall in the Beagle in 1835 we passed a huge rock topped by a navigation light and covered with seabirds and guano and with a few Galápagos sea lions lounging around.
There were more sea lions on the cardinal buoy marking the entrance to 'Wreck Bay' on San Cristobal, where there is now the small town of Puerto Baquerizo Moreno.
We dropped anchor in 8 meters of water near to several other yachts and amongst numerous tour boats.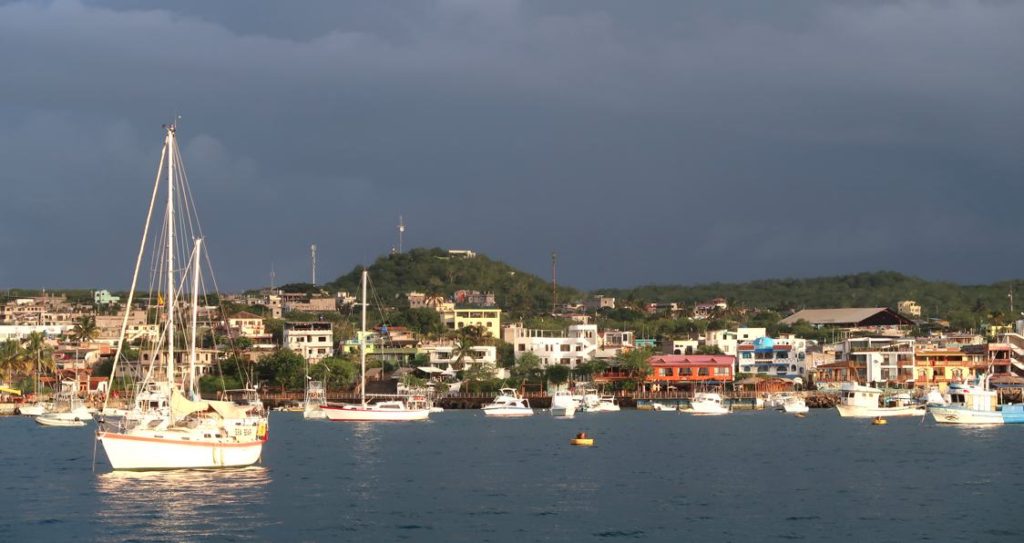 We were in Galápagos – The Enchanted Isles!!