Friday 1st September to Wednesday 13th September
Beveridge Reef
We waited at Palmerston until the big winds and seas started to ease a bit and until we thought it would be more comfortable to sail towards our next planned stop, Beveridge Reef, 280 miles south west. When we finally left after a week in Palmerston there were still force 5 winds and big rolly seas. After three days the wind had died and we had to motor hard for the last few hours to arrive at the pass into Beveridge Reef before nightfall. The Navionics electronic chart shows the reef as a green blob of land only………..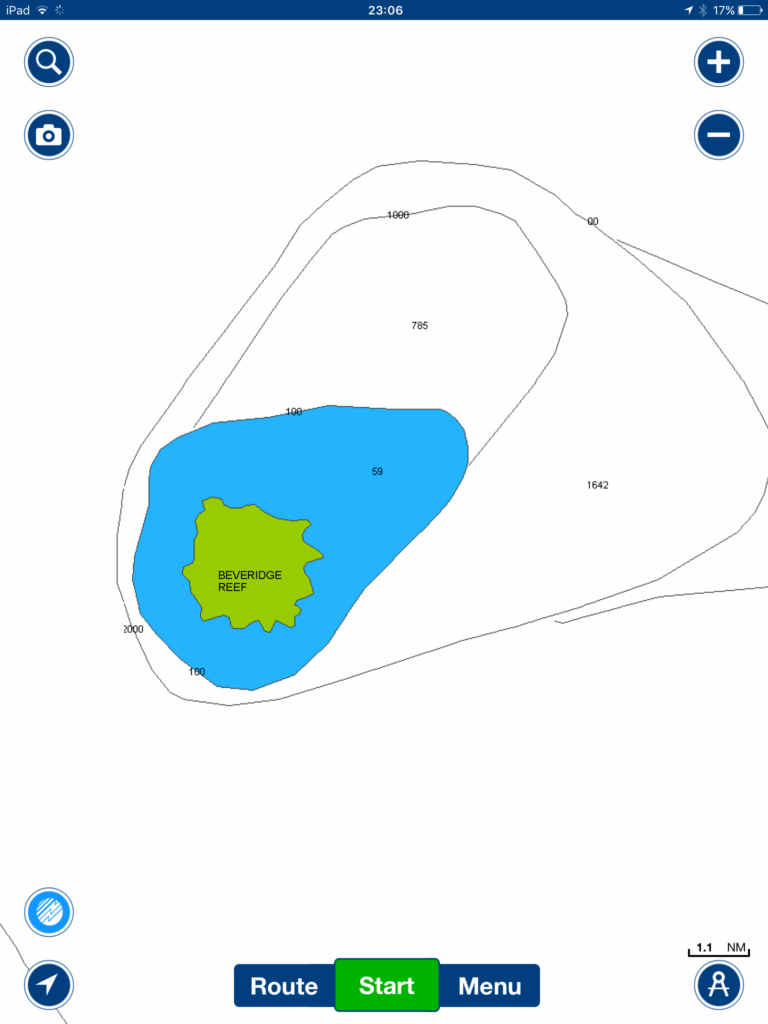 ……whereas it is actually a central lagoon surrounded by a low coral reef, only awash at high tide, otherwise the reef is entirely under water, with a single pass through the reef into the lagoon on the west side: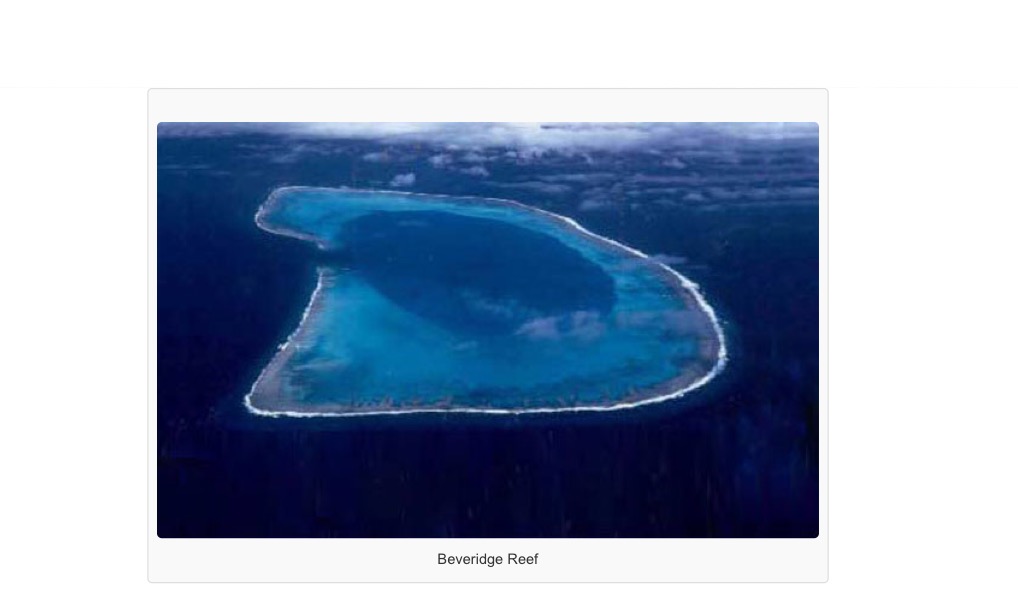 There is no land, no islands, just a shallow lagoon with a sandy bottom and a few coral heads surrounded by the submerged coral reef.
We had a copy of a sketch which gave a better idea of the reef and also GPS waypoints to go on, and this is what we used for navigating into Beveridge Reef!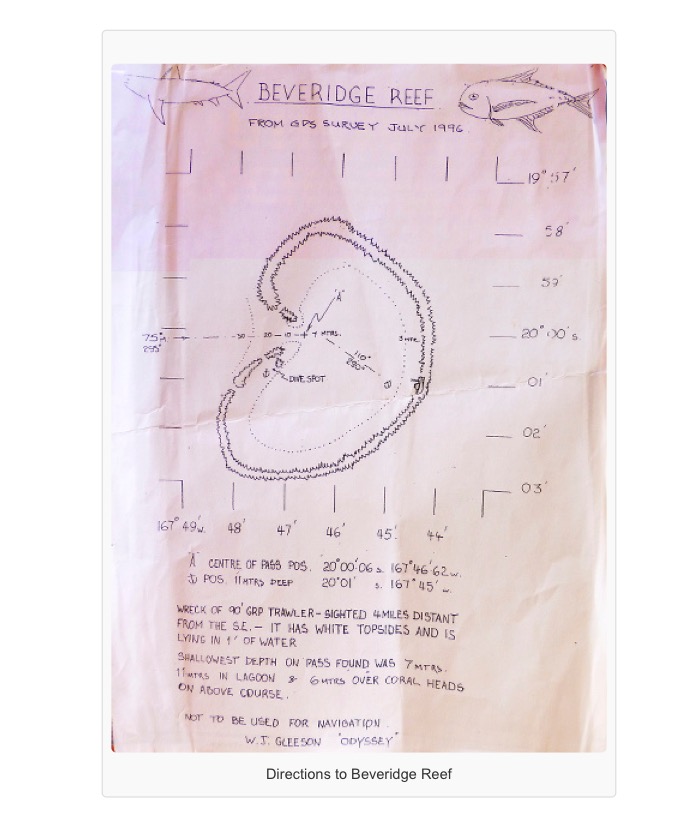 Friends on boats already at anchor inside the reef had left their AIS on so we could see on our plotter where they were, and they were watching our progress in and offering helpful suggestions on VHF radio.
There were huge seas surging at the entrance to the pass when we arrived and it was hard to distinguish the smaller waves breaking on the coral reef on either side of the pass. We took a giant leap of faith, relying on the GPS waypoints we'd entered onto our plotter as we approached the pass. I was clinging on at the bow of Vega, lifejacket on with safety line attaching me to the forestay, as the bow rose up and plunged down in the swell, Navionics chart on my iPad by my feet, trying to help direct Hugh at the helm, checking our position against the waypoints on my iPad, looking out for the breaking waves on the reef in the fading light. It was too late by now to turn back in the massive waves. At last we were through the pass into the calmer waters of the lagoon and able to motor across aiming for the distant lights of seven boats already at anchor there, and dropped anchor ourselves in the dark.
The following day it was cloudy with a cold wind. We went with other cruisers out on Jadean back outside the pass where we spotted whales and went snorkelling seeing sharks below that came up to inspect us – time to get out of the water!
Nearby was the catamaran Avanti, belonging to the British family, that had gone aground on the reef a week before. It had been washed off the reef into the lagoon where it was slowly sinking in the 10 meters of water.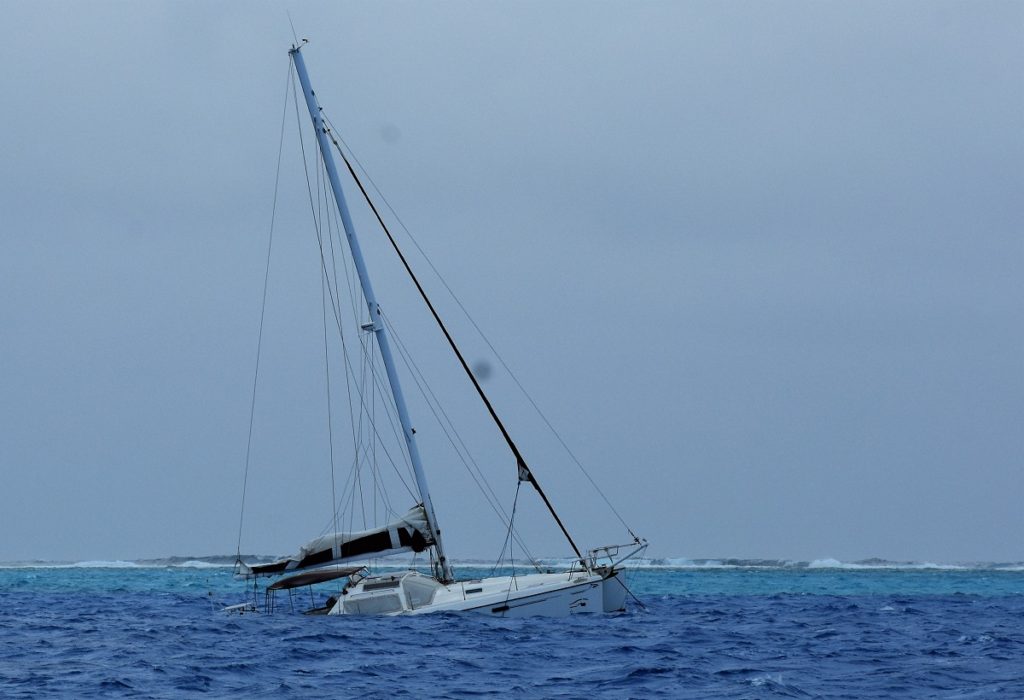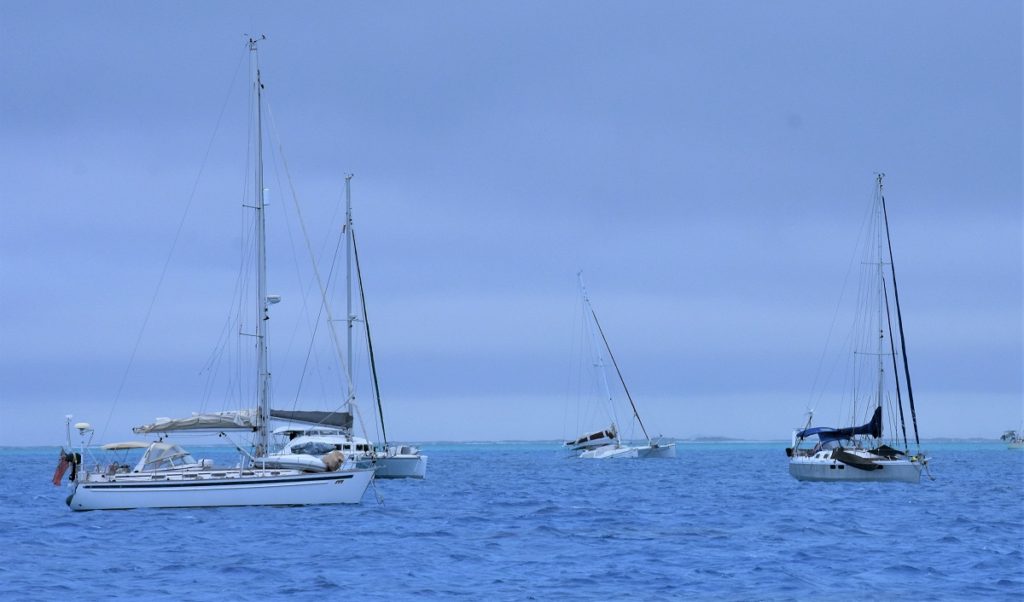 Beveridge Reef is one of three reefs claimed by Niue, our next destination, as part of their territorial waters.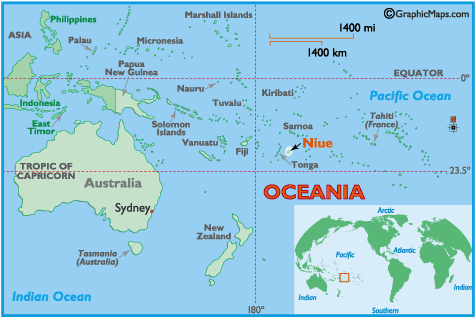 Niue
We left Beveridge Reef early the following morning as it was another dismal, overcast day and we didn't see any point in staying longer. We had a fast sail with goosewinged genoa and poled out staysail pulling us along at speeds of over 6 knots. Niue appeared at dawn the next day as a low lying dark mass of land above the waves.
We were relieved that there were mooring buoys free when we arrived, as the bay at Niue is deep and exposed to the winds and swell, and anchoring anywhere off Niue is not feasible. As we approached a call went out on VHF channel 16 to go slowly as a mother humpback whale and her calf were swimming near the boats.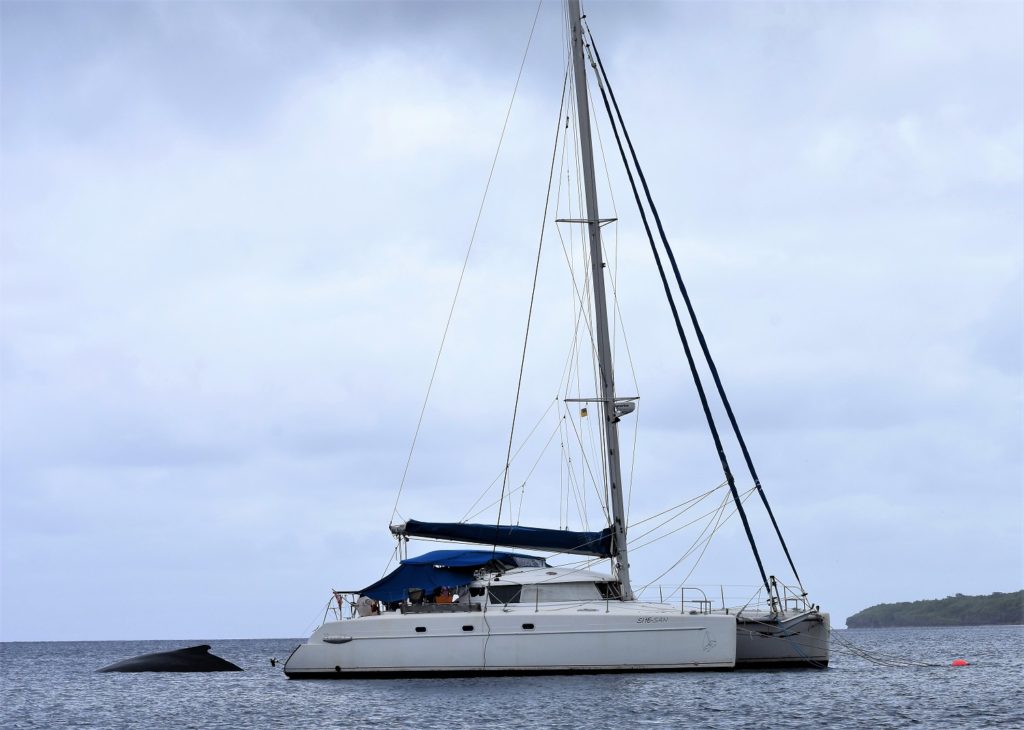 We called up Niue Radio and arranged to meet the customs officer on the wharf later that morning so that we could fill in immigration and customs forms and pay the appropriate fees.
Going ashore in the dinghy you have to haul it up onto the wharf using a rather bizarre crane as small boats cannot be tied to the wharf where they would be bashed against the wall by the sea. In bad weather and big seas it is just not safe to even try to get ashore here as a big swell could easily overturn the dinghy, as we discovered one morning when Hugh ended up in the sea.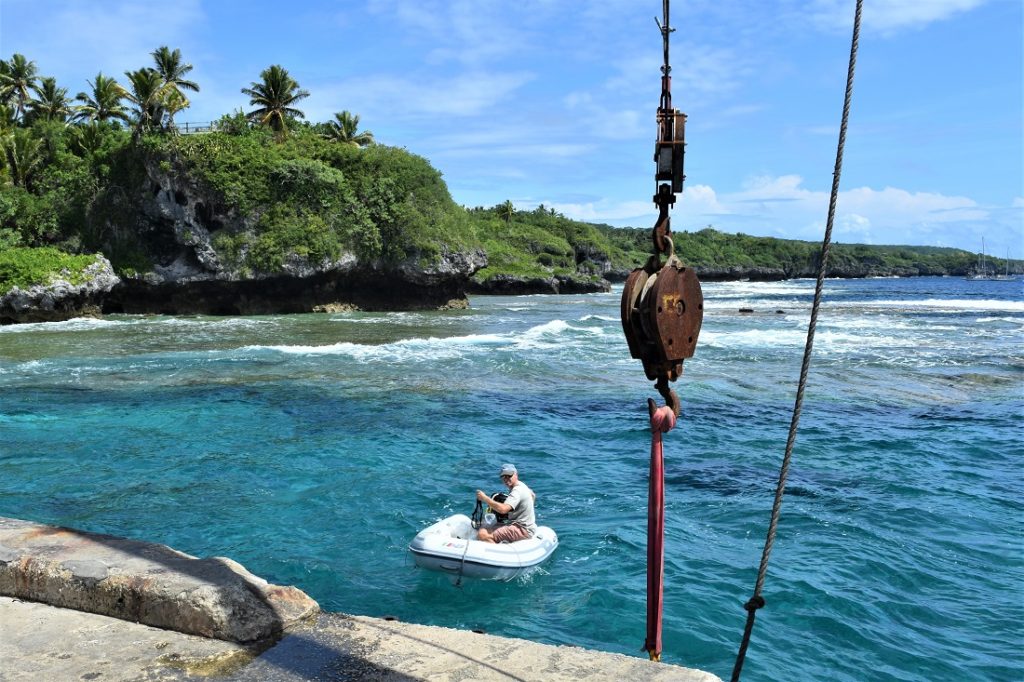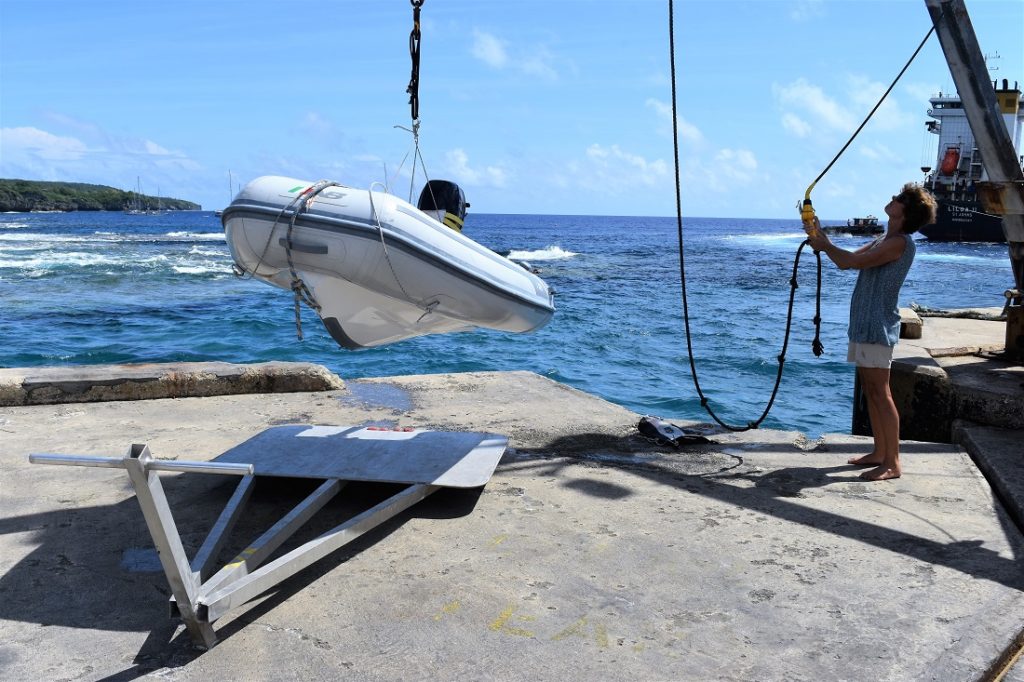 Niue is nicknamed 'the Rock of the Pacific'. It is just a big, flat rock in the middle of the ocean – the world's largest raised coral atoll. There are few beaches and along its rocky coastline sheer cliffs rise from the sea punctuated by limestone caves, caverns and ravines. It has no rivers – rainwater percolates through the island's porous limestone rock into huge subterranean water reservoirs.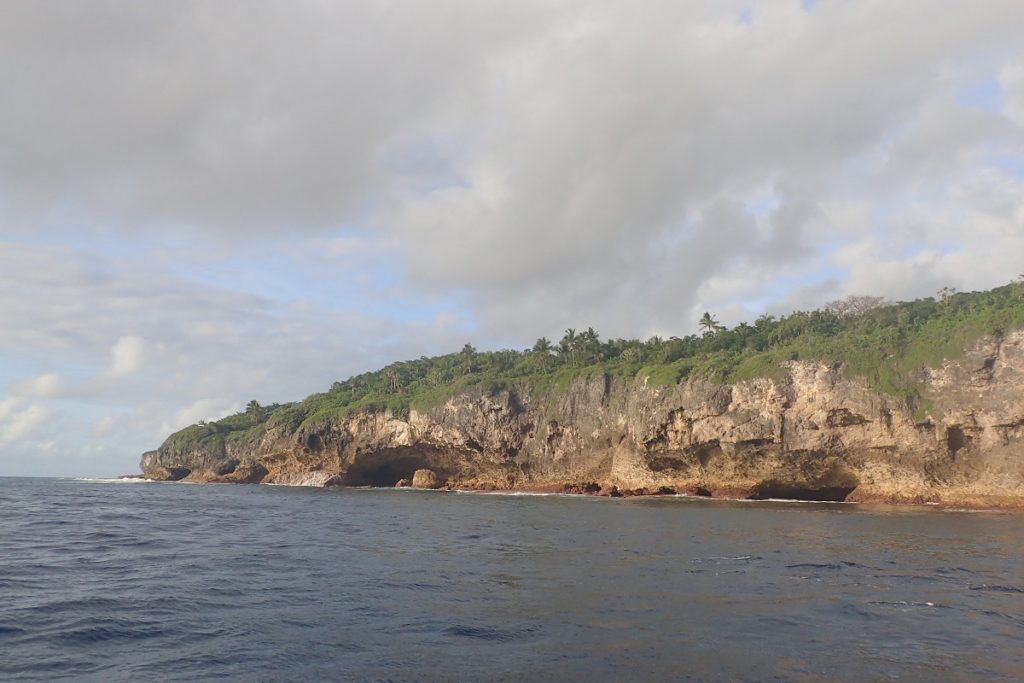 We hired a car for two days and drove the circuit around the island, visiting some of the amazing rock formations with stalagmites and stalactites.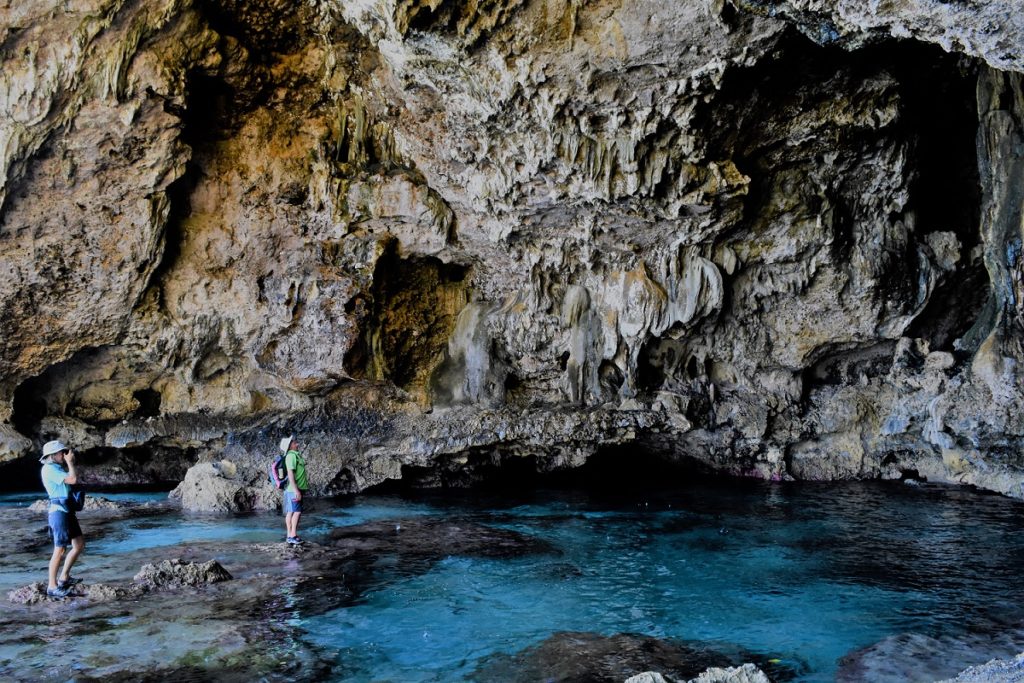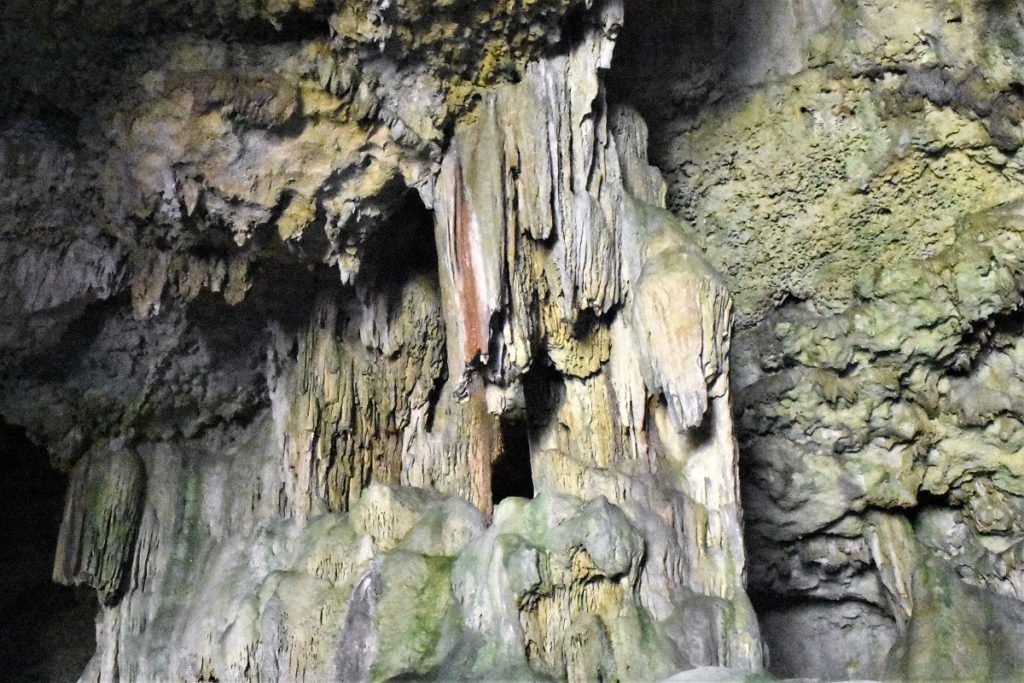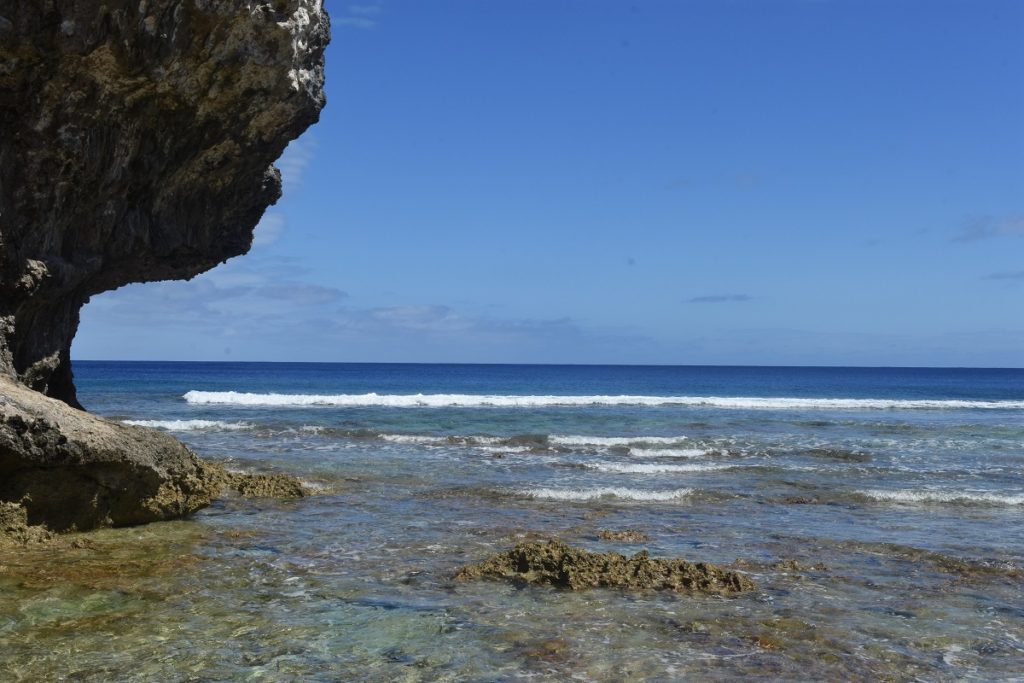 We snorkelled at the Limu pools – pools of clear turquoise water which created a blurring effect where cooler fresh spring and warmer sea water mix. There were little fish and bright blue starfish.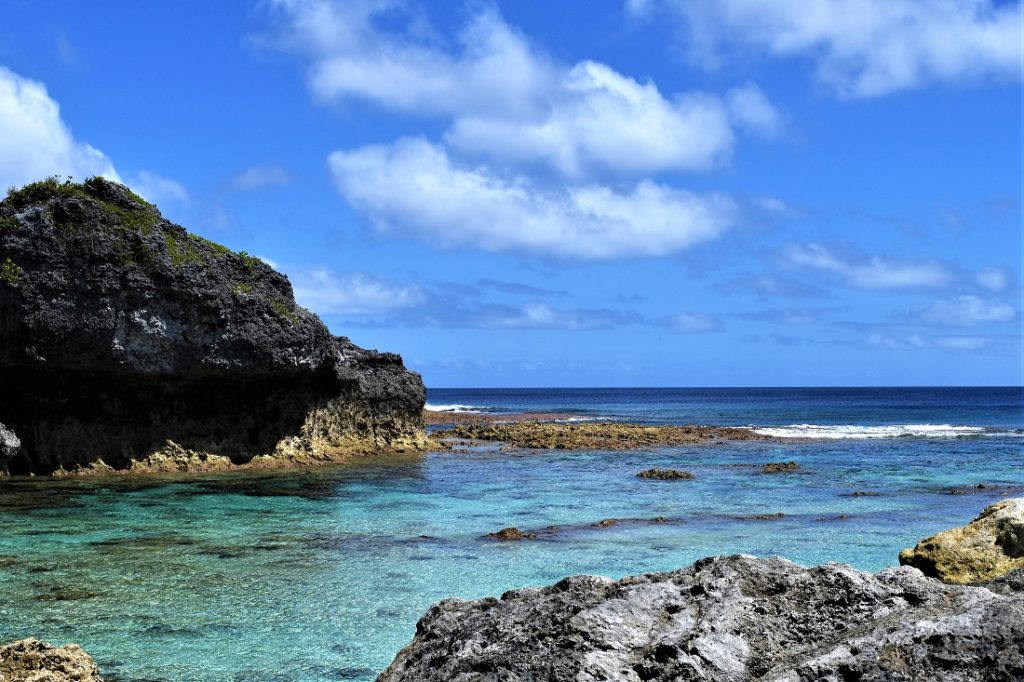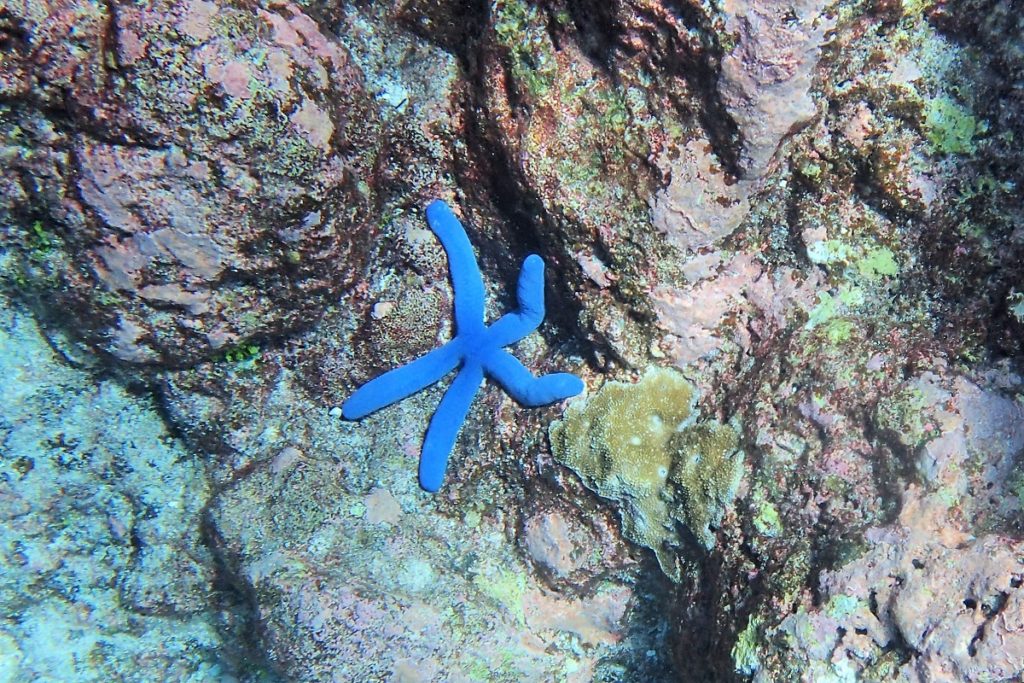 At Tavala Arches, after a 45 minute walk down through shrubby forest, we clambered down through caves to where the sea washed over a flat shelf of coral at low tide and an impressive arch and labyrinth of caves that were used as lookouts to warn of raiders in earlier times.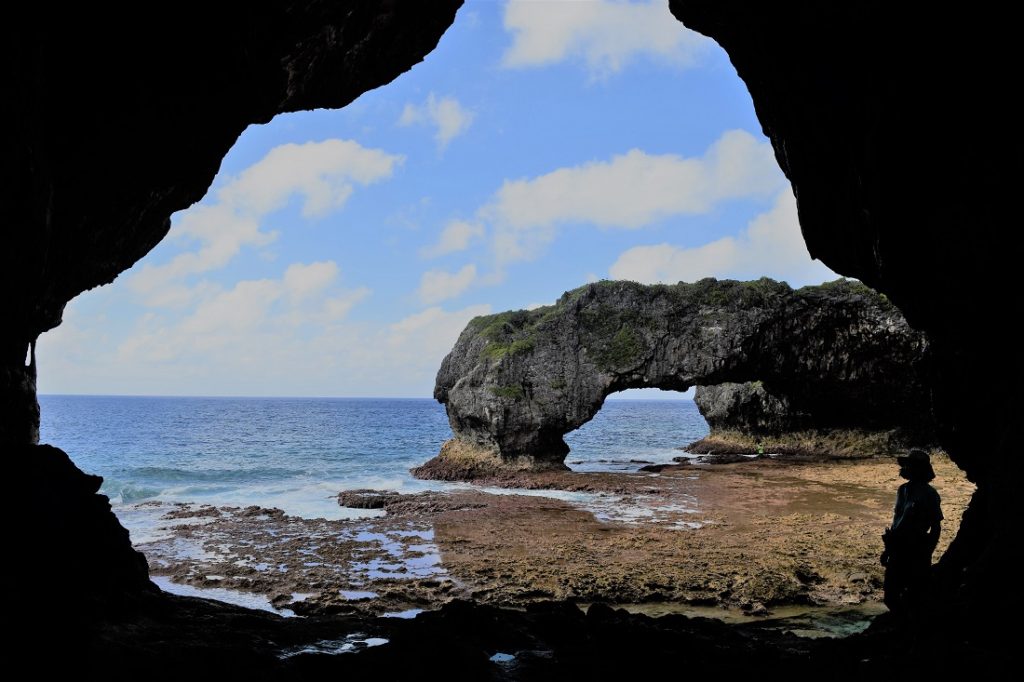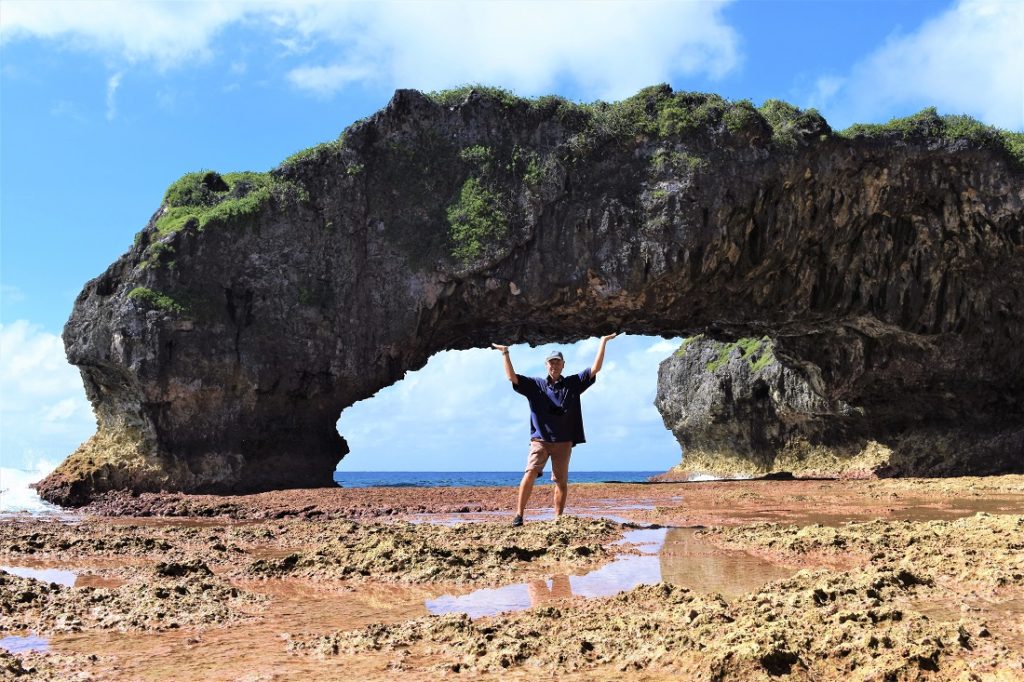 There are many well signposted sea walks down to the coast and at the end of the Liku Coastal Walk we emerged from a cave to a wide shelf of coral. Sitting looking out to sea we saw two humpback whales spouting and then breaching!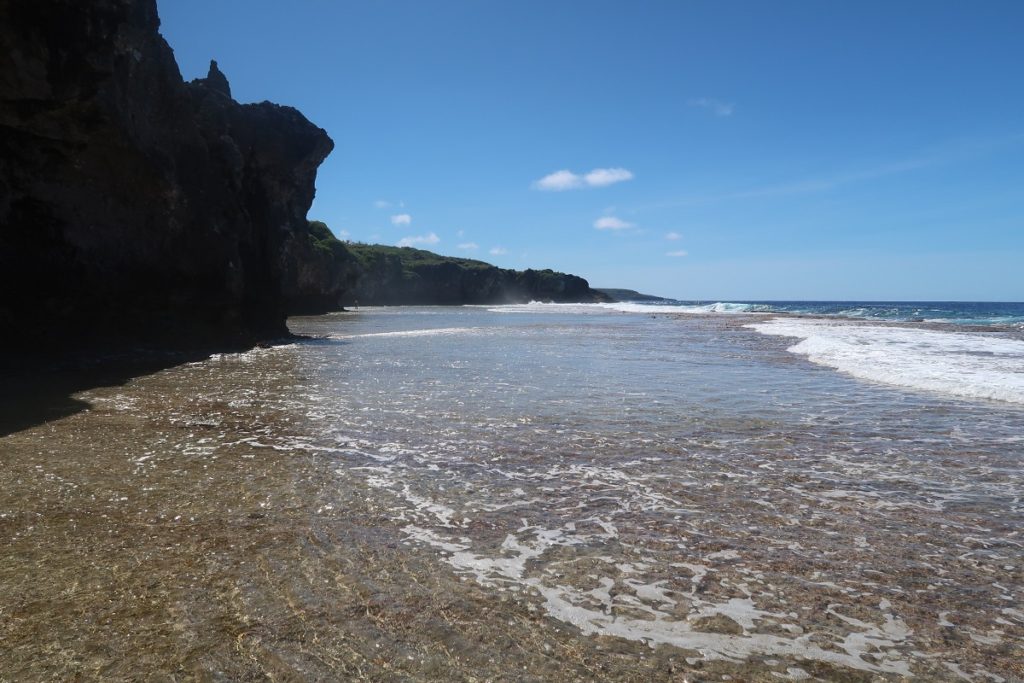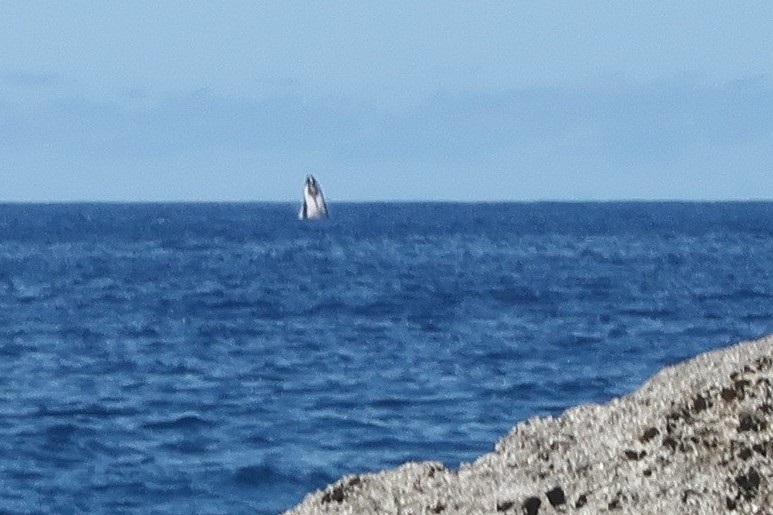 The island consists of a central plateau which rises to a high point of only 60 meters above sea level, mostly covered with dense forest cut through by a few roads with patches cleared for cultivation and a scattering of villages.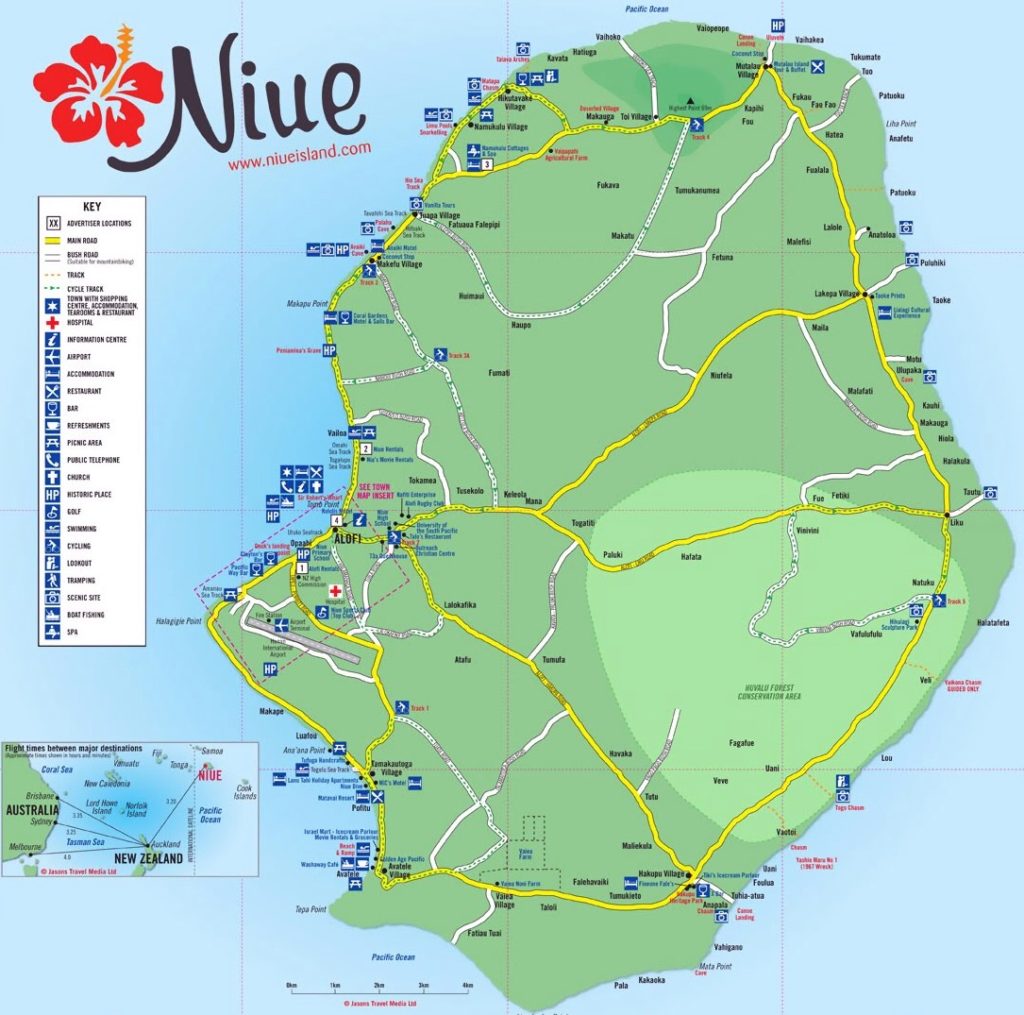 Frequently along the roadside we passed gravestones, many new and well tended, some much older.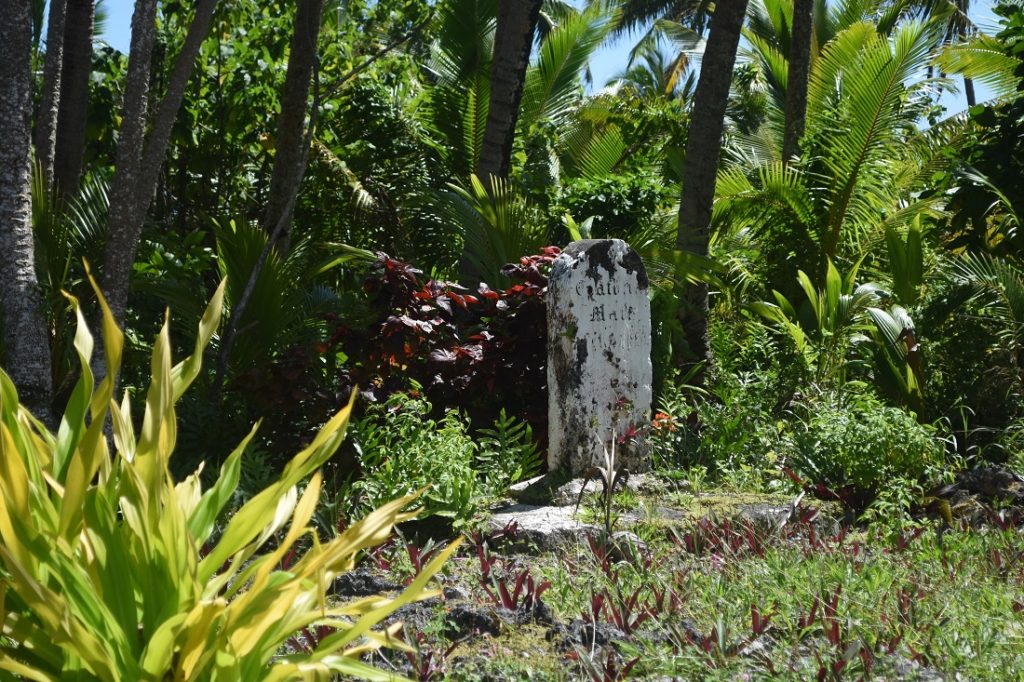 There was a sculpture park created of discarded rubbish.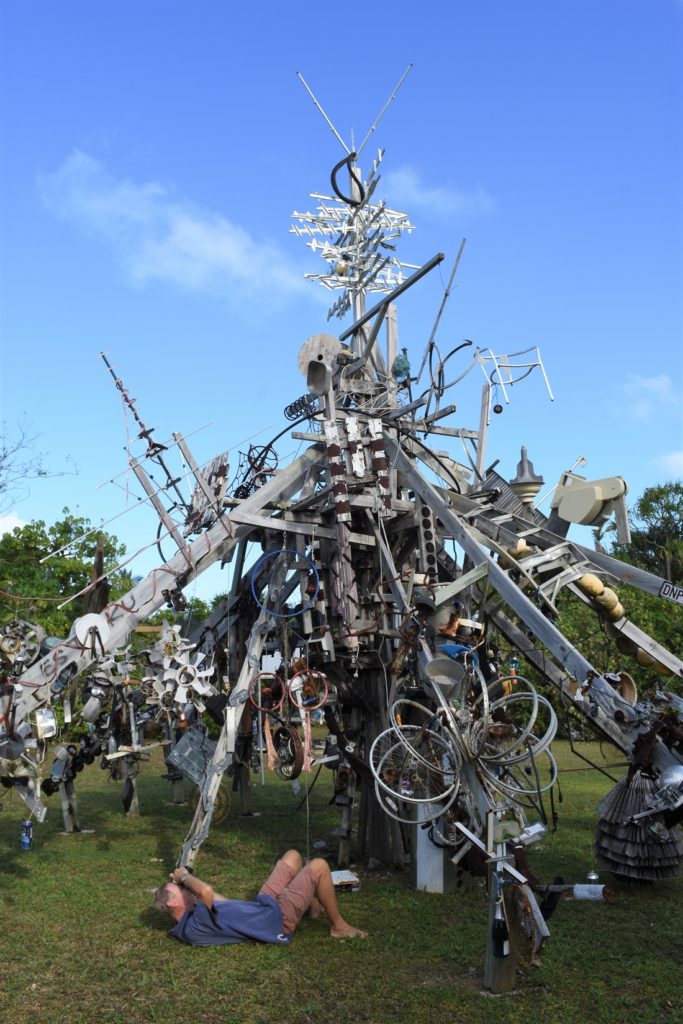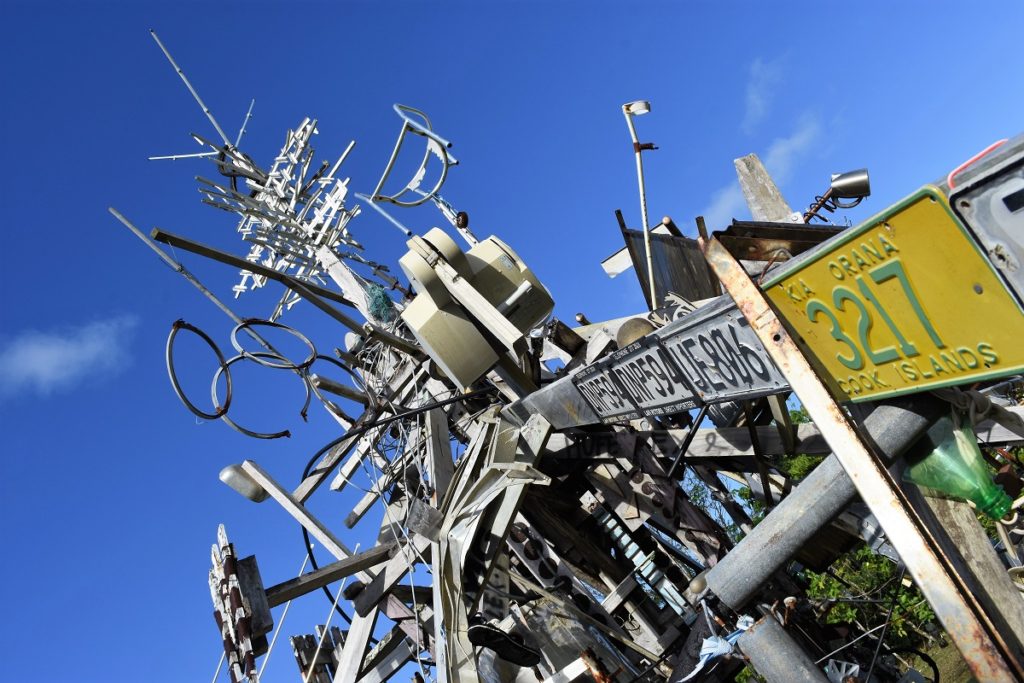 We stopped in a small village where there was an exhibition of crafts… many of the ladies wore floral headgear.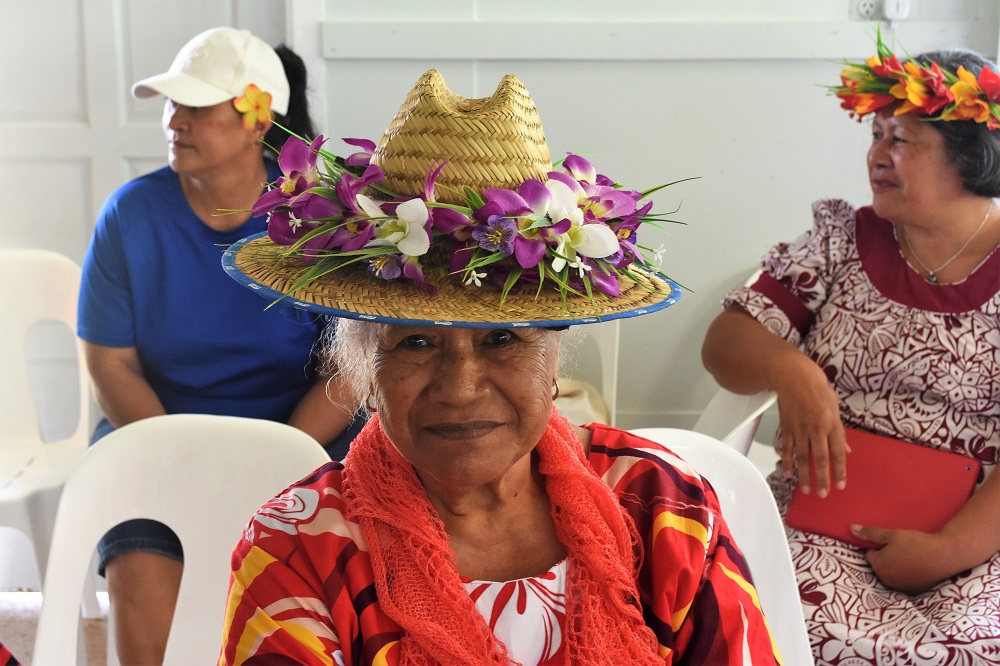 It was a short walk through pretty woodland to the southeast of the island where a concrete path led through a landscape of spectacular jagged coral pinnacles to the Togo Chasm. The pinnacles of sharp coral extended all along the coast to the horizon, exaggerated by the lengthening shadows from the late afternoon sun.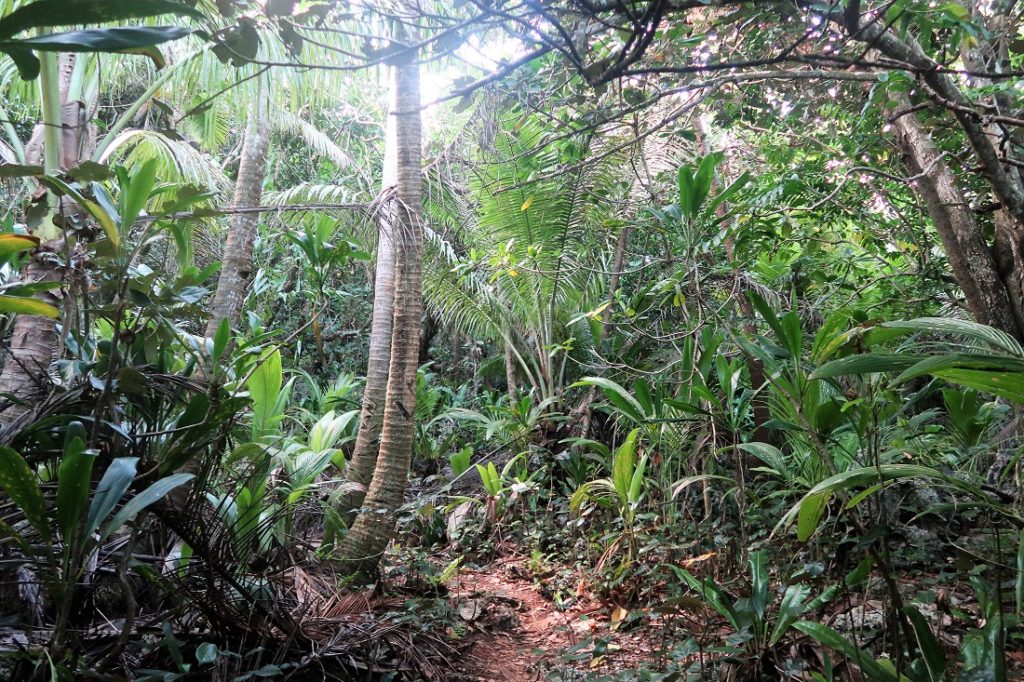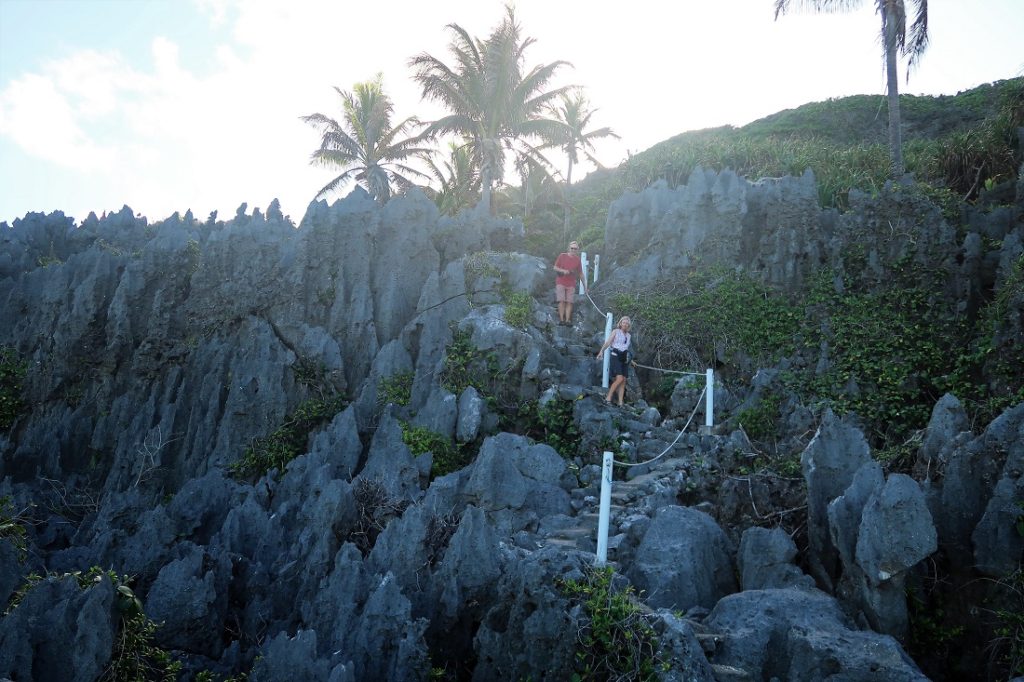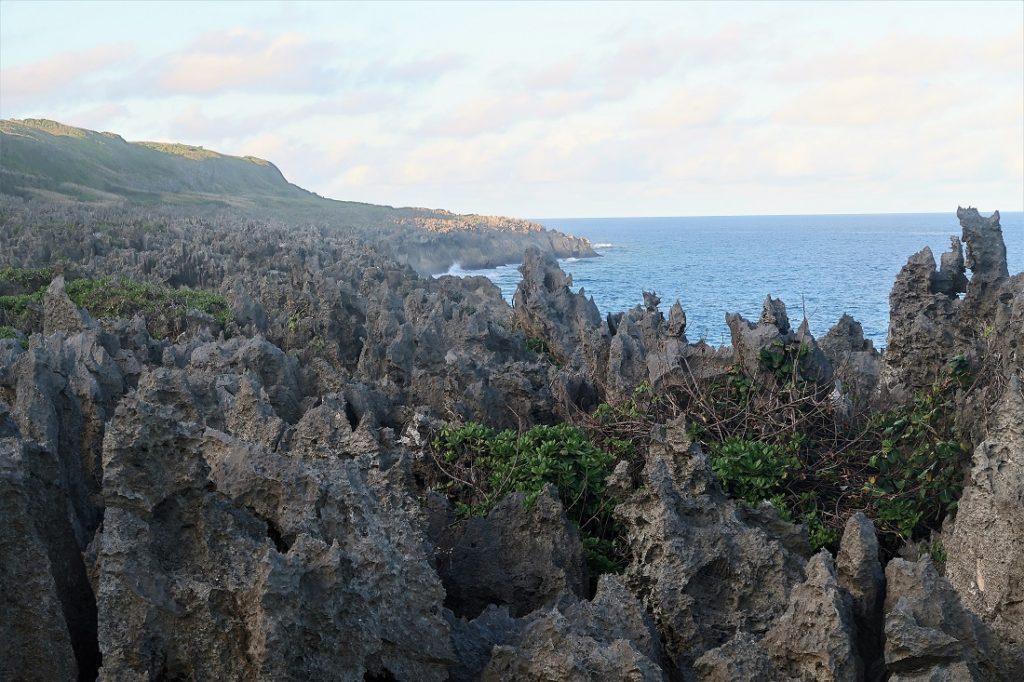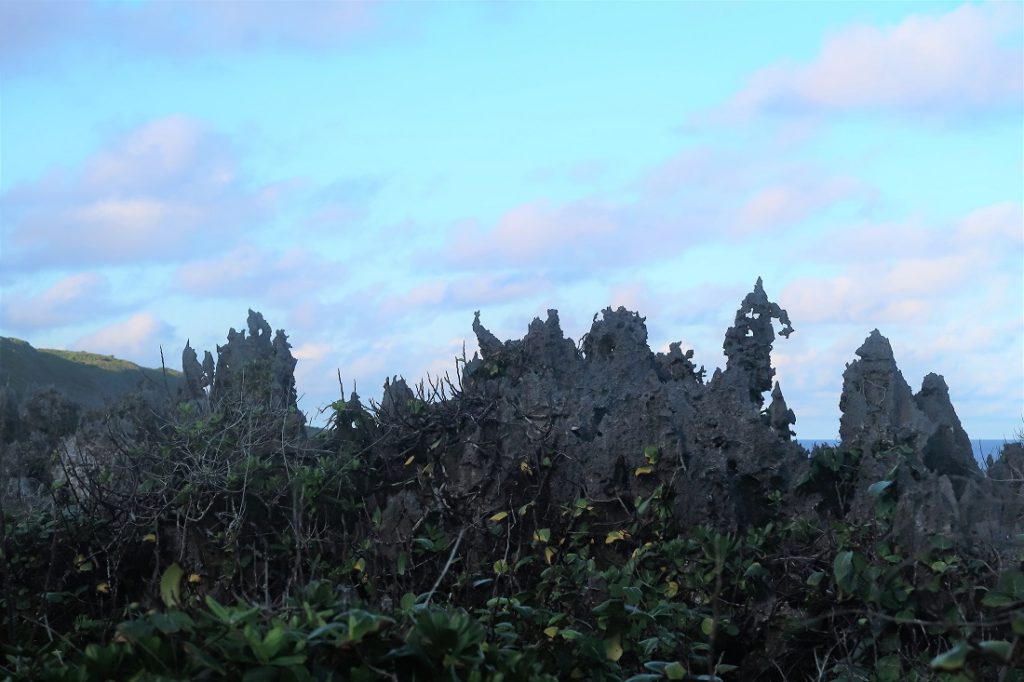 We climbed down a giant ladder to a sandy beach with tall coconut palms growing up to reach the rim of the chasm, then clambered over huge rocks through a sea cave to where the sea thundered into an enclosed pool surrounded by high rocks.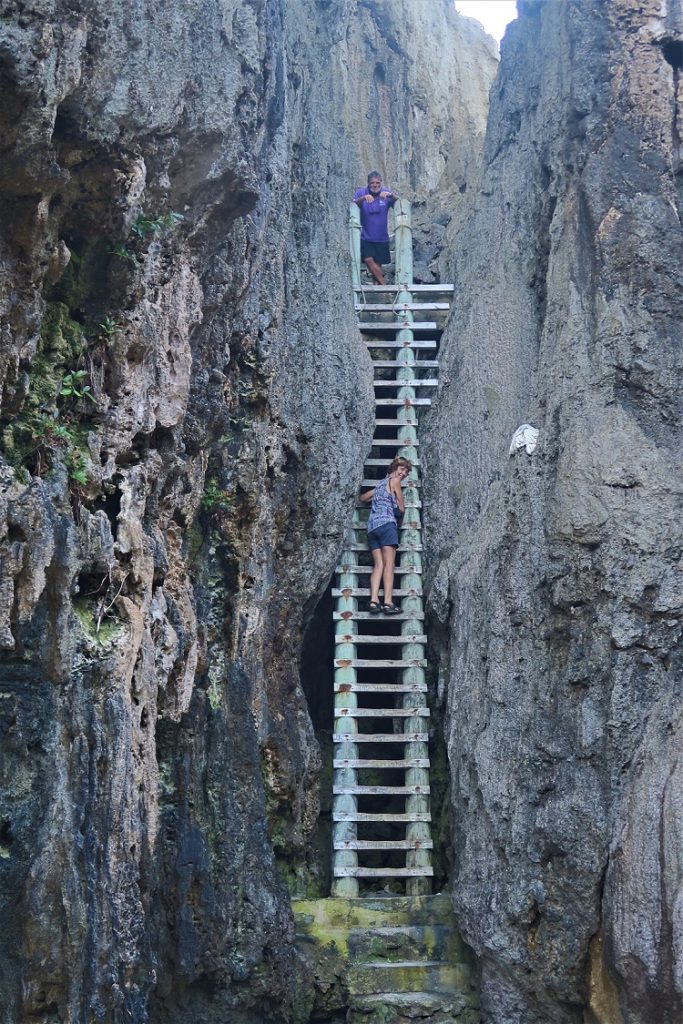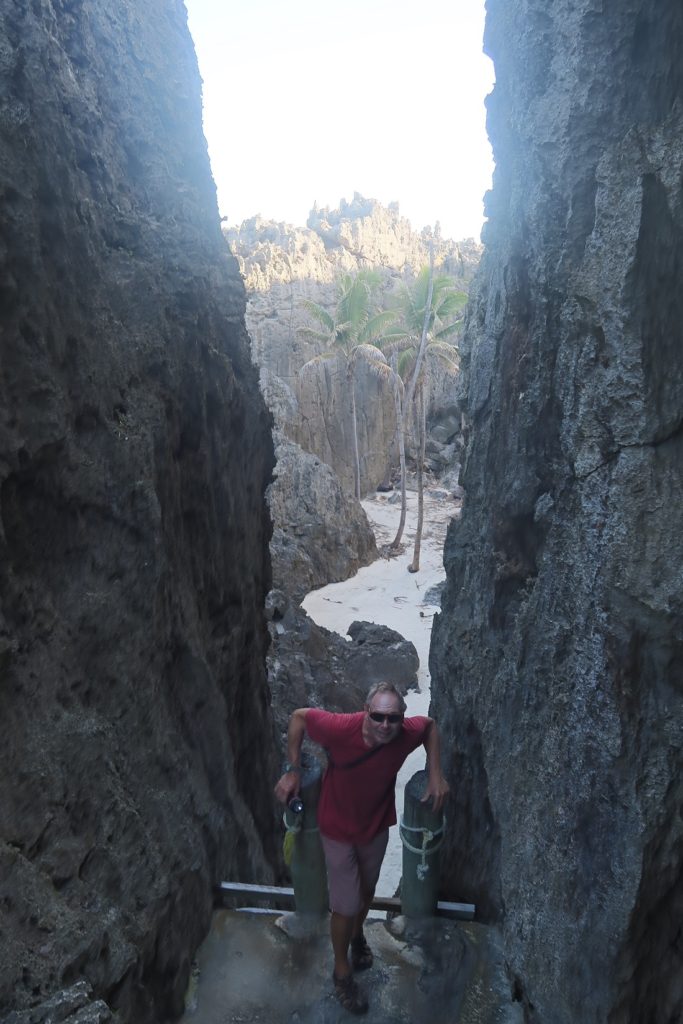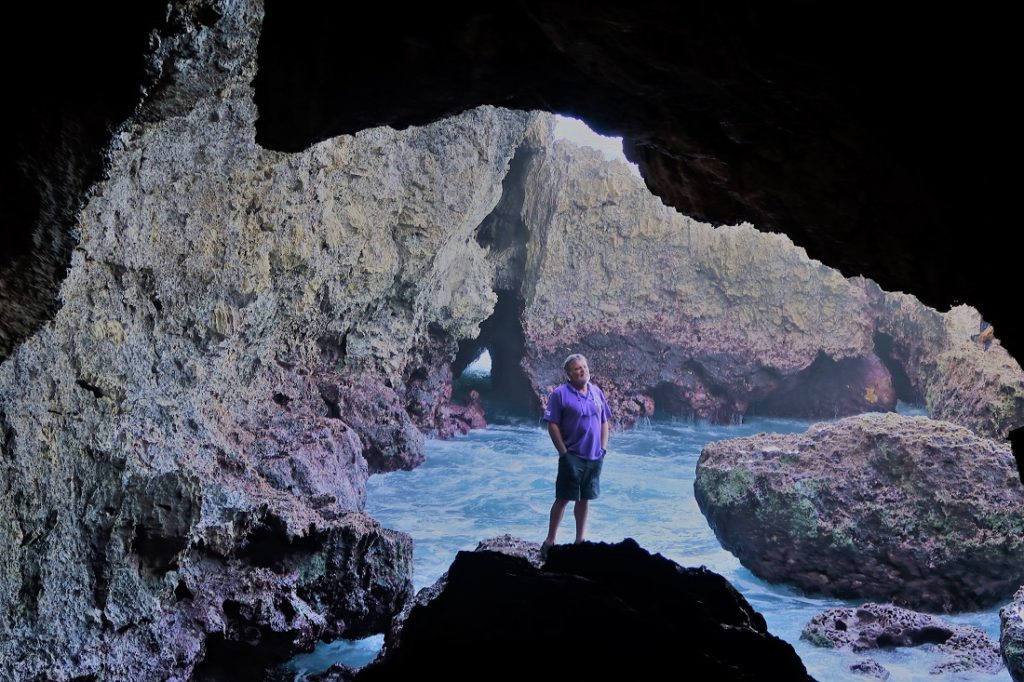 We also went scuba diving with Magical Niue to caves entered by swimming through underwater tunnels. Highly venomous black and white sea snakes wriggled their way past us…. Thank you to Steph for the underwater photos.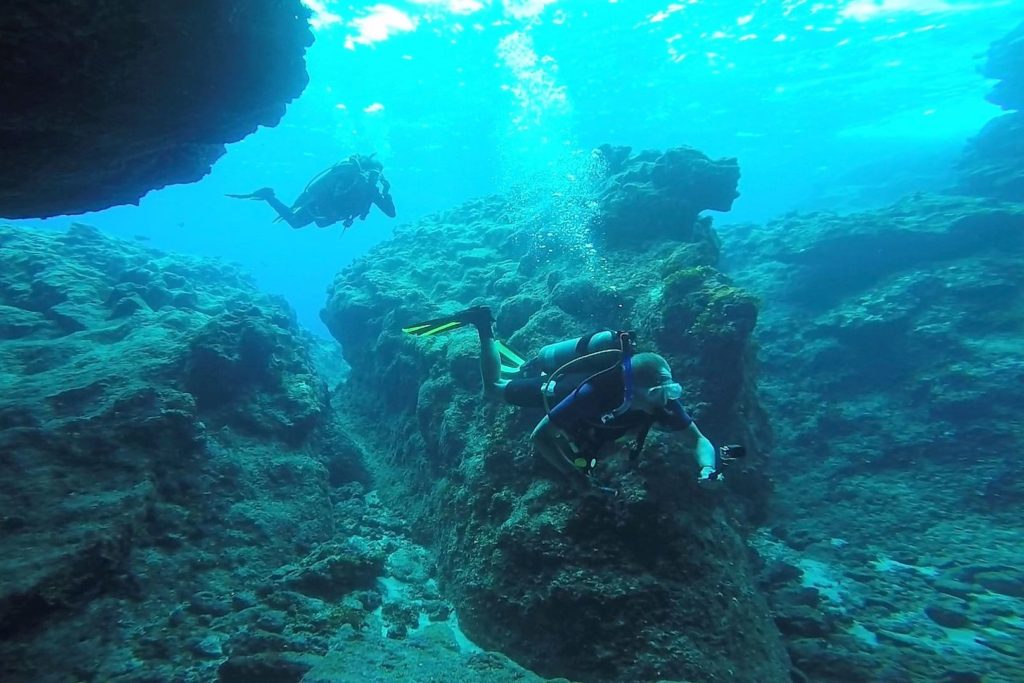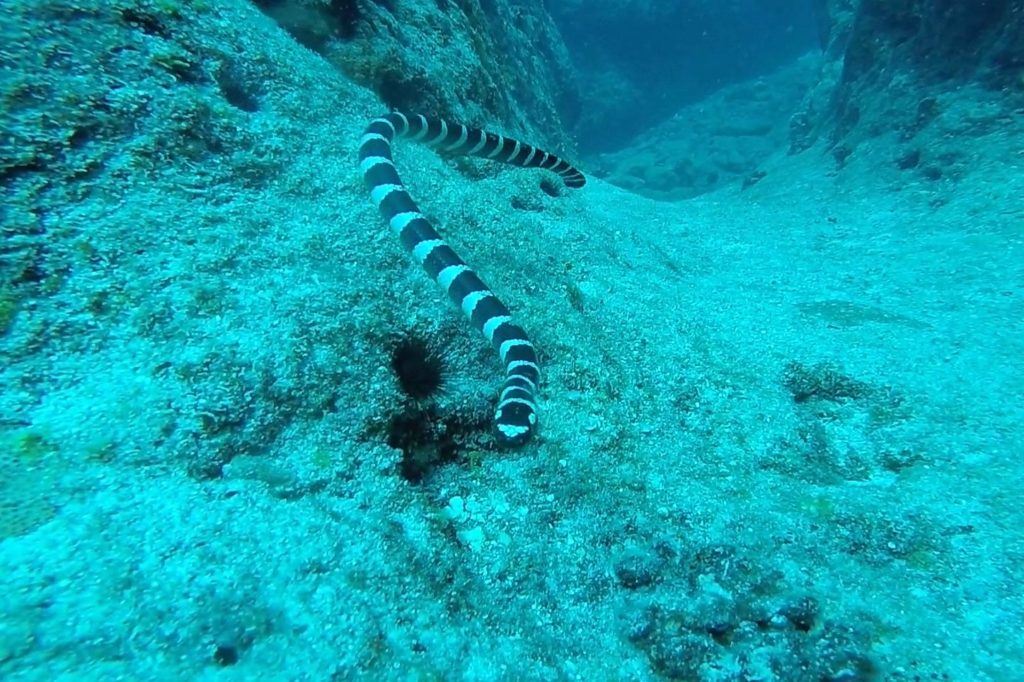 Niue is the world's smallest nation, a self governing state in free association with New Zealand. Niue people hold New Zealand passports and about 90% of people born here live in New Zealand. In 2004 Cyclone Heta hit the island with winds of up to 300km/hour and sent 30 meter waves crashing over Niue's cliffs. Many people left the island after this and the population declined from about 6000 to 1500. Driving around the island there is a reminder of this in the many houses which have been abandoned and left to decay.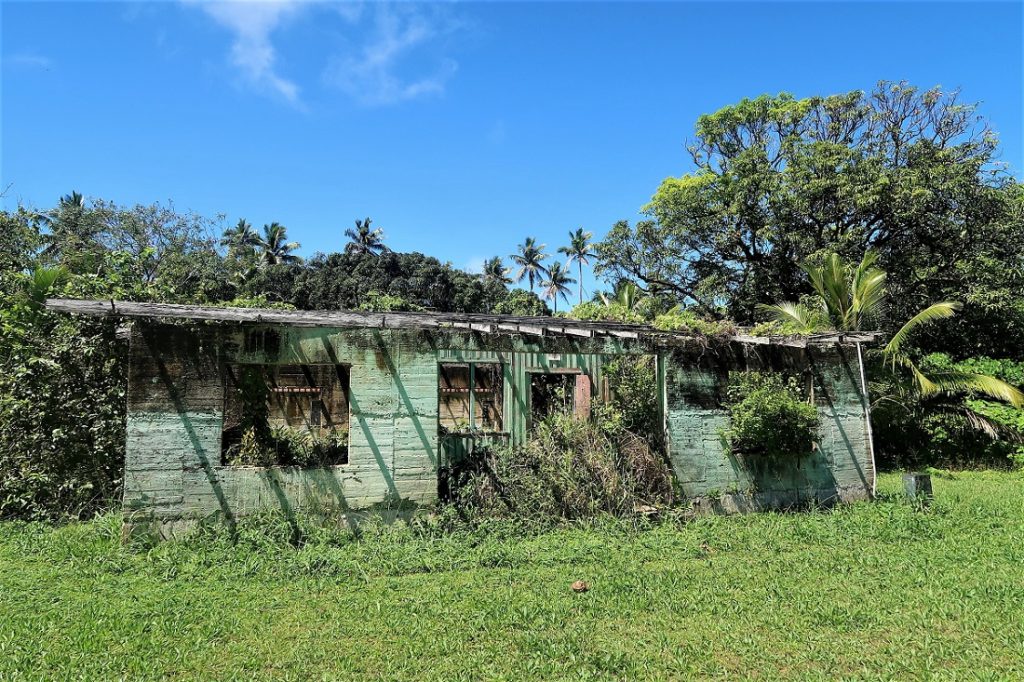 Not everyone leaves Niue though. We ate one night at Gill's Indian restaurant run by an Indian man who moved here 20 years ago… there are ten members of his family from Bengal living on Niue and he and his wife told me they love living here. The people of Niue are friendly and welcoming and are also deeply religious – working on a Sunday is forbidden. There are Catholics, Protestants, Wesleyans, Seventh Day Adventists, Mormons and one family belonging to the Unification Church, otherwise known as Moonies. On the scuba dive I got talking to the driver of the RIB, Jinnam, whose parents met and married in Korea at a mass Moonie wedding ceremony; his father from Niue and his mother from Brazil. He is a bright, engaging young man who has represented Niue at the Youth Commonwealth Games. He plans to go to university in New Zealand next year and one day will go to Korea himself to get married.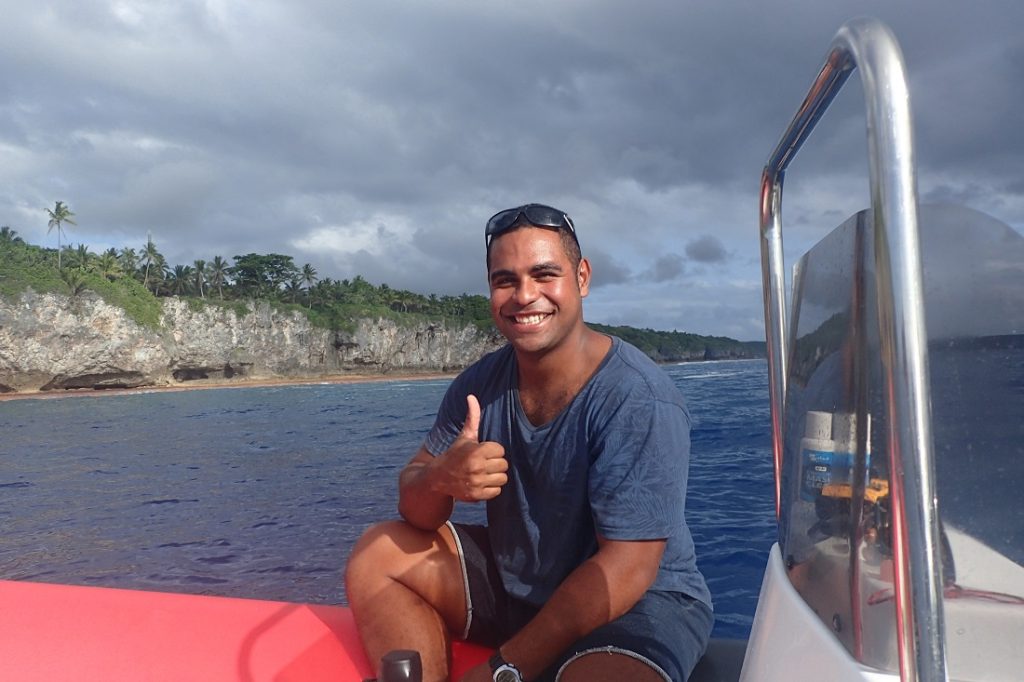 Niue receives a grant from New Zealand as well as financial support from Australia and the European Union on which the islanders appear completely dependent. Once a week the supply ship arrives from New Zealand and we watched it unloading at the wharf over several days, large containers being craned off onto a smaller lighter and carried to the wharf as the water is too shallow for the ship to directly anchor at the wharf.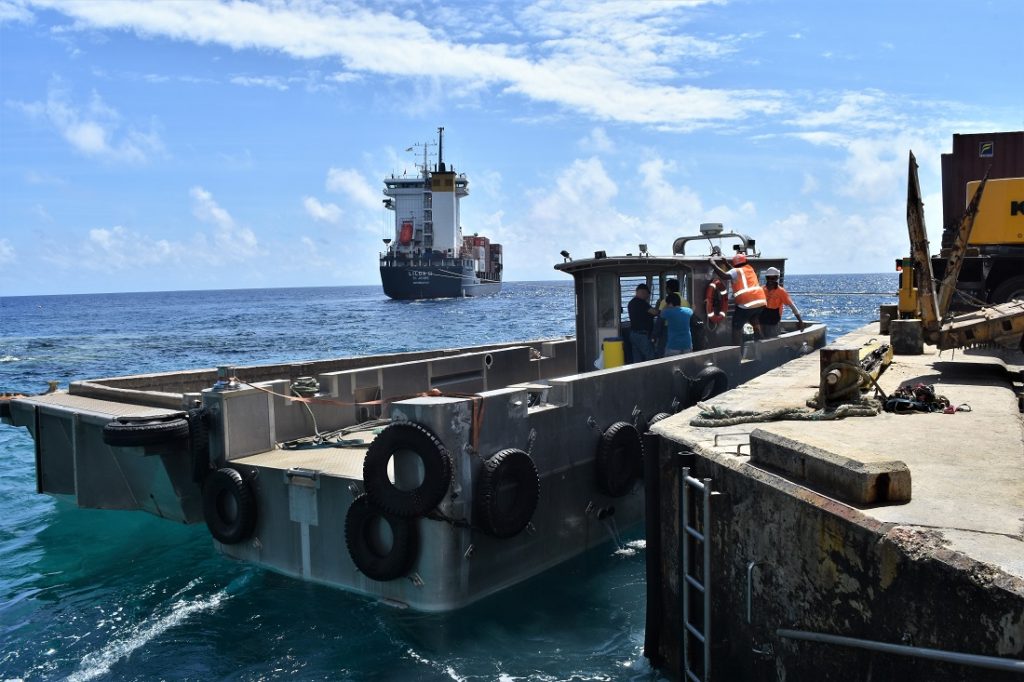 The only international flights arrive twice a week from Auckland in New Zealand bringing tourists who are looking for a rather different holiday – there is only one upmarket resort and a few simple guesthouses on Niue.
We stayed for a week in Niue, a bit longer than intended as there was little wind and we didn't want to motor for two days to get to Tonga. We watched the forecast and eventually set off west for the 240 mile sail. We couldn't stay longer anyway as my son Alex was flying out to Tonga to spend two weeks with us.