Monday 14th to Wednesday 30th December
We were sorry to say goodbye to Alex at Banjul airport on the Monday. He has been enthusiastic, great company and has really enjoyed his time in The Gambia.
On the Tuesday, Charlotte and Charlie had been invited to the wedding of an Australian woman and Gambian man who ran a local tourist lodge, and we went along to the reception. We shared communal bowls of sticky rice and peanut sauce, and of rice, chicken and vegetables, eaten with the right hand. Once the sound system got going the reggae and Gambian music blasted forth and the guests danced, but we had to leave to take our dinghy back along the creek through the mangroves before it got too dark.
The next day Charlotte and Charlie joined us on Vega and after re-visiting the immigration police in the port to have our passports stamped for departure, and to the market in Banjul to stock up with fruit and vegetables, we headed out to sea. As it got dark we motored through a field of fishing buoys. Charlie was posted as lookout on the bow and shouted back 'port' or 'starboard' so that we could turn to avoid getting them tangled in the propeller. Further out unlit pirogues emerged from the dark, crossing suddenly in front of our bow and flashing their torches at us. At one point we were convinced we'd run through one of their nets as there was a loud crash, Vega shuddered, then appeared to pull free. As we sailed further from the coast of The Gambia and Senegal, fishing trawlers (probably from distant countries) surrounded us, and we were up until the early hours trying to decide which way they were travelling, to avoid getting entangled in their long nets.
The 3-day trip from The Gambia to Sal, one of the ten islands that make up Cape Verde, was otherwise uneventful with sunshine and gentle winds. After that first busy night Charlotte and Charlie were able to take their share of watches, changing over every 2 ½ hours, which meant better sleep for all. They suffered from sea sickness during the first day at sea, which slowly settled. Unusually I was also sick throughout the trip, which in retrospect I put down to a virus which Alex had kindly brought with him from the UK. The highlight of the voyage was Charlie catching a large stripy fish, about 18 inches long, which we identified as a wahoo and very much enjoyed that evening for supper, baked by Hugh in white wine, garlic and lemon. We were also visited by a large dorado, an iridescent turquoise fish about 5-foot-long, which appeared to be attracted by the propeller that we drag behind us to generate amps, and swam under our stern for an hour or so.
We had to make land in the port of Palmeira on the island of Sal, it being one of the only three ports of entry for visiting yachts in the Cape Verde islands. We weren't keen to stay on Sal for long as it is mostly flat and dry, with a couple of brown hills, a few beaches, but not much else. Palmeira had pretty painted houses, some good bars and restaurants but felt scruffy and run-down with lots of unfinished apartment developments. We visited the immigration police, and ate fish and rice and cachupa, the local dish of beans and corn, and drank cold beer. Charlotte and Charlie are a real asset, not only for their company and their crewing skills, but they both speak excellent Portuguese, having met during a 6 month placement in Brazil. The next evening we set sail west for an overnight sail to the next island of Sao Nicolau. We arrived just before dawn by the village of Carracal, and dropped anchor off the rocky bay. From the sea the island was red, barren and mountainous with an inhospitable coastline. At the back of the cove was a verdant oasis of palms and acacia, and the village above had newly painted houses, a church and cobbled streets. Charlotte, Charlie and I paddled the dinghy into the cove, leaving Hugh on Vega in case she pulled anchor and we ended up on the rocks. We wandered around the village and debated whether to buy some tuna from the fisherman's catch, but, flushed by our own recent success fishing, decided not to.
We continued the sail along the south coast of Sao Nicolau and spent the next three nights at anchor in the bay by the small harbour town of Tarrafal. It was a stunning location, under high dark mountains, but very bouncy on board Vega as gusts of wind at up to 30 knots tore through the ravines to the bay, causing us to roll from side to side. Charlotte and Charlie set off to explore, climbing to the top of the highest mountain, whilst we were more relaxed, having a leisurely lunch in a restaurant in town. On Christmas Eve, Hugh and I took an aluguer, the local mini-bus service, across the mountains to the capital of the island, Ribeira Brava. This is the excellent form of public transport. You take a seat on the bus until the driver feels there are enough passengers on board to set off. Frequent unscheduled stops are made along the way to drop people off and pick them up along the roadside, as well as carrying goods from door to door. The scenery was spectacular. From the sea the island looks barren and inhospitable with dry orange-brown mountains, but the road rose steeply and across the first pass the valleys were green, with terraces growing maize, beans and sugar cane, surrounded by high craggy mountain peaks. It was an hour's bus ride to Ribeira Brava, high up in the mountains with a sand-coloured church in the main square, narrow, cobbled streets, brightly painted town hall, school and houses, pretty public gardens with flowering shrubs, masses of butterflies and clean mountain air.
We swam from the boat on Christmas Day, then had lunch on the terrace of a restaurant on the harbour front, with two men playing mournful mornas music on guitar. I had stewed goat, Charlotte lobster and Hugh and Charlie had the fish menu, with a seafood stew, pasta with crab and a salted cod and potato main course. It was all very low-key and relaxing. We talked to family back in the wet UK. I was sorry that Alex could not be with us.
On Boxing Day, we set off back to Sal so that Charlie and Charlotte could get their flight back to the UK in the early hours of the 28th. It was a bit more of a slog travelling east with a north-east wind, and we motored hard into the wind for the last 4 hours, arriving back in  about 24 hours. Steve had been due to arrive the next day but was delayed for two days which gave us time to catch up on cleaning, laundry and to visit the main tourist resort of Santa Maria. The island of Sal is one of the main package tour holiday destinations in Cape Verde, with windsurfing, kite surfing and beach sports, even jet-skis, and where most of the international flights arrive. There is a lovely sandy beach at Santa Maria with the usual tourist sprawl along the beach, as you could find anywhere in the world. The rest of the island is dry, barren, sandy, with a few scrubby shrubs, some isolated low hills rising suddenly from the otherwise uniform flatness. The other islands of Cape Verde are all quite different to each other, some low and sandy, some volcanic, some mountainous with green valleys. All are windy and suffer from water shortages to some degree. We refilled our empty tanks on Vega by buying desalinated water, brought to the boat in 20 litre containers.
Steve is due to arrive today and we hope to set off tonight before dark for the 120-mile voyage west to Mindelo on the island of Sao Vicente in time to celebrate the new year. Mindelo is reputed to be a very attractive, Mediterranean feeling town and has the only marina in Cabo Verde, so is the place to provision before the Atlantic crossing.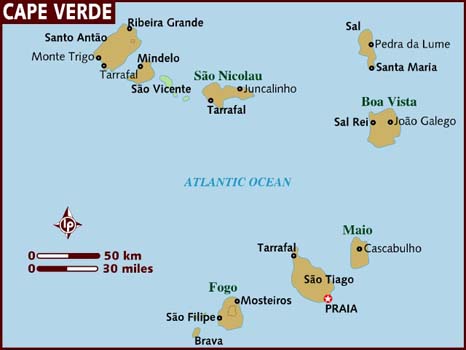 Ps I'm having problems downloading photos due to an HTTP error… Whatever that is. Please tell me if you know! I hope to add the rest of the photos in a day or two. UPDATE!!! the problem seems to be sorted now and photos added. Phew.