Wednesday 19th April to Saturday 13th May
Ferdinand Magellan was the first European to cross the Pacific Ocean in his circumnavigation of the world in the years 1519 to 1522. It was he who named it "Pacifico" because of its calm nature when he first encountered the ocean after rounding Cape Horn. We had heard of ships being becalmed for days or weeks in the doldrums before reaching the trade winds further south of the Galapagos and anticipated days of drifting or gentle sailing with time to read, cook, think, relax, sunbathe on deck…
We estimated that the passage would take us between three and four weeks depending on the wind and in the event it took 24 days, which could roughly be divided into three distinct and equal parts: initially strong winds and fast, unpleasant, rolly sailing; much lighter winds and gentler sailing but with concern that we were going so slowly; and the final glorious romp to the Marquesas (with squalls at night to enliven things).
To start with I was a bit in the doldrums (mood not weather) and took time to adjust to the enormity of the trip. 3000 miles and three or four weeks at sea with nothing to look at but sea and sky and no one to talk to but Hugh! For the first few days at sea I get mildly seasick with certain rolling motions of the boat which makes me lose my appetite and become quite lethargic and it takes a while to get used to interrupted sleep with the night watches.
Despite predictions of very light or nonexistent winds as far south as 5 degrees latitude we had what most sailors would consider excellent wind for the first week, driving Vega along at record speeds of over 6 knots average despite reefs in both sails. We recorded the fastest ever average speed for Vega covering a distance of 159nm over 24 hours. The downside however is it's not a very relaxing sail, hard to cook, make a cuppa or do anything very much. The boat yaws and pitches – rolling from side to side and at the same time the bow rises up then dives. A sudden huge wave may violently knock her over to one side and if you're not holding on you can get flung across the saloon – which is a bit dangerous if holding a hot kettle or cup of tea. Like being on a fairground ride you'd like to get off, that's quite enough thank you, but you're stuck there, perhaps for weeks, and it won't even slow down.
One victim of this weather was Hugh's MacBook. We had left a window open above the chart table and a sudden rogue wave hit the boat, came in through the window and drenched his laptop – and that was the end of it. We used this machine for sending emails via our Iridium satellite system and were worried we'd be unable to communicate with the outside world – would people be concerned that we'd been lost at sea? Fortunately Hugh was able to get the system working with the iPad and iPhone.
We had set off from Isabela in the company of Ian and Stephanie on Nautilus, but, since we are the smaller boat, as the hours and days passed they gradually pulled ahead. By day 4 they were no longer visible on AIS on the chart plotter and no longer contactable by VHS radio. We felt very alone. Along with Nautilus we stayed in email contact throughout the trip with other boats which had left at roughly the same time, one a large catamaran, Jadean which arrived at the Marquesas three days ahead of us. There is quite a community of Pacific crossers in email contact comparing daily positions, weather, fish caught, near collisions at night with fishing boats, anecdotes and incidents on board and various sailing wit and wisdom, and reading these made us feel less isolated in the thousands of miles of ocean.
We tried fishing most days, trailing a coloured lure from the back of the boat. In the first half of the journey we had great success, catching a bright turquoise mahi-mahi most times I put out the line… five in total although two managed to get off the hook they struggled and jerked so violently. Although I feel sad killing such beautiful creatures which we despatched as quickly as possible after spraying 100% alcohol into their gills to subdue them, they are really delicious to eat, cooked in Thai green curry paste and coconut milk, or marinated in garlic, chilli and white wine. After losing my 'lucky lure', which was bitten off the line by some monster from the deep, our fortune changed for the worse and we lost three more lures and had our line snapped by a fish too big for our fishing tackle. Some boats on the email circulation list reported catching tuna, wahoo, bonita and mahi-mahi regularly. Barry on Jadean spent an hour fighting a 77kg tuna before he finally hauled it on board (we had some of it, barbecued by them when we arrived in Fatu-Hiva – and it was gorgeous). Other boats did the entire crossing without a bite.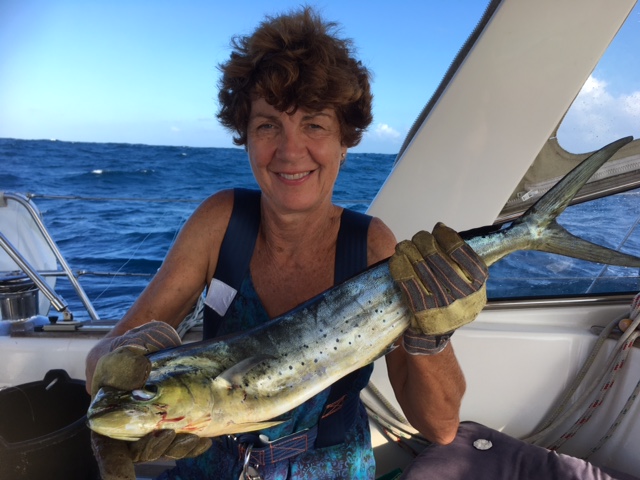 The boat sails itself for most of the time. We just needed to ensure the sails are set correctly, reef or drop sails if the wind builds up, hoist a bigger sail if the wind drops. The Hydrovane ensures that the boat heads in the right direction: as the wind blows on its small red sail at the back of the boat, changes in the wind or the boat's direction will alter its rudder to keep us on the same course in relation to wind direction. We can get on with cooking, reading, music, playing scrabble, catching up on sleep. We are somehow busy and the days pass quickly.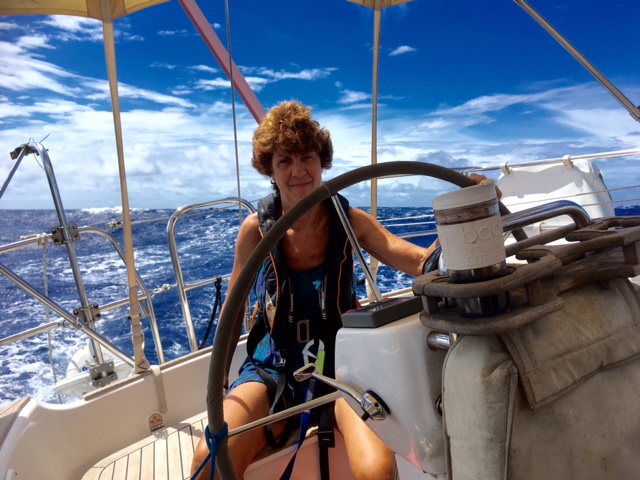 During the first part of our passage strong winds from the east south east meant that we sailed mainly with reefed mainsail and genoa on a beam reach. In the second part the winds were much lighter and although the ride is gentler and much more pleasant we are concerned how long the trip will take us. We get out the large, colourful cruising chute, untangle the lines that are used to control it and after an hour or so manage to pull up the snuffer that keeps it enclosed in its cover. As the wind catches it, it strains then fills – it looks wonderful and our speed increases from a few knots to 5, 6 then 7 knots. It is a less stable sail, liable to wrap itself round the spreaders if the wind changes direction, harder to handle in strong winds and ideally it requires two people to manage. We take it down at dusk as it is a nuisance to have to get it down in the dark if the wind comes up – we value our sleep too much to be disturbed. Worried that there would be no wind at all we downloaded weather reports via the satellite system, got emails from Met-Bob, a weather guru in New Zealand who suggested the best route for us to take to find the wind, and compared notes with other cruisers ahead of and behind us. In the final week we had some beautiful, sunny days and steady winds with the wind behind us much of the time, so our usual rig was goosewinged, with the mainsail out on one side of the boat and the genoa held out on the other side by the pole.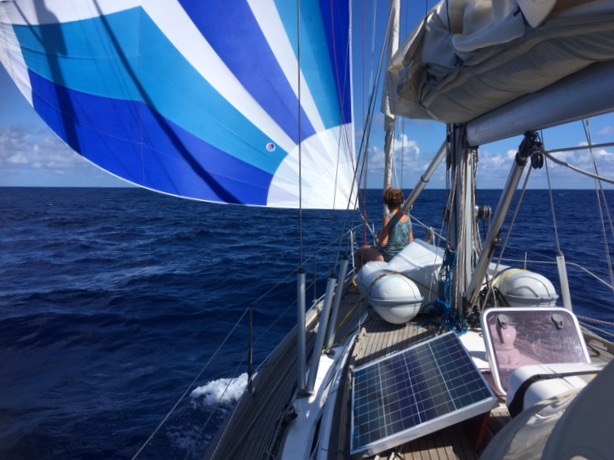 From the moment that the white sails of Nautilus vanished ahead of us on the horizon until we arrived at the Bay of Virgins in Fatu-Hiva three weeks later the only boat we saw was a 150ft Taiwanese fishing boat which passed behind us, 3 miles away, some 700 miles out from the Galapagos . Two weeks later a cargo ship bound for Tahiti and a 45' sailing yacht en route to the Marquesas showed up on AIS, 13 miles away. We were not without visitors though. On two occasions large schools of dolphins passed by, stopping for about 30 minutes to play around the boat. There were mothers with babies swimming closely by their sides, adults diving by the bow, behind us dolphins leaping high in the air, they kept on coming, maybe a hundred or more. There is something about dolphins that lifts the spirits – their joy and independence. One of the guys on our Pacific crossing email list said he swam with dolphins when there was a lull in the wind. Hugh reminded me that sharks often follow dolphins to pick off the weak ones or stragglers. He's such a kill joy – though we were going a bit too fast ourselves at the time to jump in with them – I wouldn't want to have been left behind mid Pacific… with the sharks.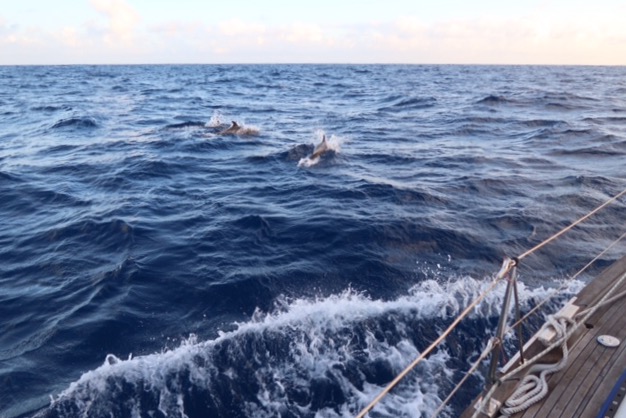 One morning a small, twelve foot, pilot whale came up to the surface right by the boat and blew off through its blow hole… then slowly headed away. So thrilling.
Flying fish skim the waves like silver birds in groups of twenty to thirty. Their stiff little corpses are frequently found on deck in the morning – some cruisers say they are delicious to eat and fry up the larger ones for breakfast – they have never appealed to me. Two even flew through an open window – it was quite a shock when one landed on my foot and was frantically wriggling around – but we managed to get them by the tail and throw them back overboard.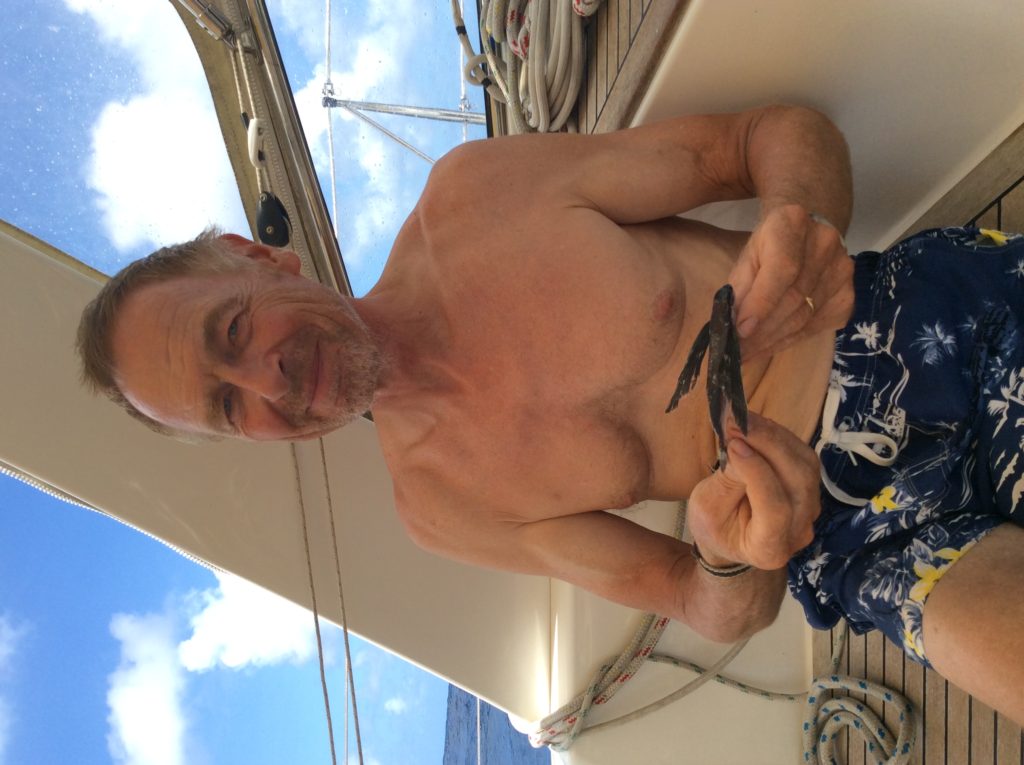 Even 1500 miles from land there are sea birds and at night we hear their bleak, moaning cries and see their ghostly white shapes in the dark.
After a week at sea we had an important celebration – Hugh's birthday. I made a chocolate cake (using a Betty Crocker cake mix) and we opened a tin of duck cassoulet for supper. Emails with birthday greetings from family and friends and a book and Ferrero Roche chocolates from me helped the birthday cheer. No bubbly though… this is mostly a dry boat whilst on passage (but really I'd forgotten to buy the fizz).
One of our preoccupations on the trip was whether our fresh water would last the distance. Our tanks hold 400 litres and in addition we carried various containers with another 120 litres of drinking water. We have a Katadyn water maker which converts sea water to fresh by passing it under pressure through a semipermeable membrane. On day 4 Hugh turned on the water maker, which made 10 litres of water before it stopped working. Hugh checked the filters and for air leakage. Eventually we had it stripped down on the saloon table and replaced various poppet and spool valves. It still didn't work. By now we calculated that we needed to limit our fresh water to 5 litres a day each for drinking, cooking and washing ourselves, so started washing up dishes in sea water with a final spray rinse with fresh to stop the pans rusting. Showering was banned and a quick flannel wash was all that was allowed. With emails going to and fro between us and the Katadyn supplier in Portishead, by day 11 Hugh managed to get the watermaker working again and I had a shower and hair wash on deck – bliss!

There isn't much else to see but the sea and sky. The huge expanse of sky is endlessly changing. Some mornings we wake to grey skies, the sea a harsh steely grey; some days it is clear and blue and other times littered with tall cumulus clouds stacked up in fascinating shapes. On occasion it is covered with low, dark cloud and at a distance you can see sheets of heavy rain joining the cloud to the surface of the sea. Hugh is good at reading the sky, anticipating what wind and weather it is bringing, whether we need to reef the sails in the expectation of stronger winds. The seas vary with the strength of wind – they can bring gentle waves which lull you to sleep at night or some days huge rollers which pitch Vega around with white horses riding their peaks. The sunsets are the most lovely time of day with the sky turning pink, red and orange, the clouds tinged with gold.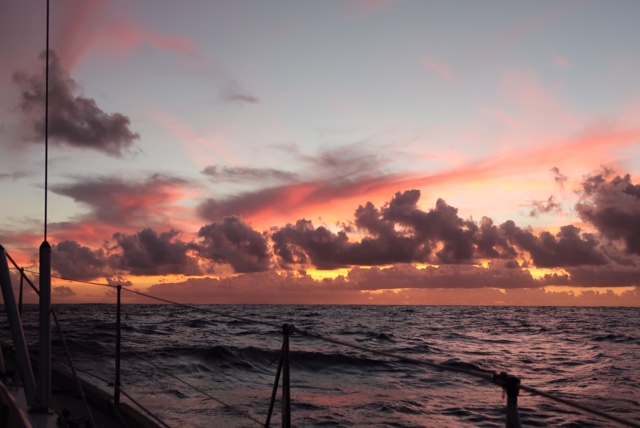 At night we take turns to be on watch. Usually we swap over every three hours but are flexible if one of us is particularly tired and needs longer in bed. The nights on watch are often full of stars though some nights we get dark clouds and squalls of wind which threaten to engulf the boat. There aren't any other ships around to worry about really, it's not a major shipping lane, though there may be Japanese fishing boats hoovering up what remains of the tuna in the Pacific. Mostly we check the sails are ok and we're still heading in the right direction, with a quick look around to confirm the horizon is clear. I find the night watches particularly disruptive. I am sleeping better than usual off watch and Hugh is kind, letting me catch up when possible, but lack of sleep gets me down. Being on a small boat with one other person 24 hours a day is a challenge for any relationship and although we get on well it is not always easy. My mood can fluctuate and I hit some lows en route. But there are many compensations: we have the company of good books and music, time to think and to read, and the stars to watch at night.
During the first half of the voyage the nights are dark as the moon sets soon after dusk and the heavens are densely covered with stars. Both the southern cross and the plough are visible, one on either side of our path. The dense brightness of the Milky Way is to port, stretching across the sky with the tail of Scorpius curling into it. It is mind boggling to think that our galaxy is made up of over 400 billion stars (and quite possibly just as many planets) and is just one of more than 170 billion other galaxies in the observable universe. Marvelling that the light coming from the billions of stars in our galaxy is from a time before the start of civilisation. What tiny specks we are in space and time. Halfway through the trip a crescent moon starts to appear and by the end of the journey the full moon accompanies our nights, reflected in the sea like a bright silver pathway to the horizon.
Three days before we were due to arrive in the Marquesas the atmosphere changed as if some of the magic and beauty of the islands was wafting west to permeate the sea and sky with their scent. I found my mood lifting and felt a lightening of spirit. We had supper as usual in the cockpit, watching the sunset and listening to the perfect voice of Ella Fitzgerald. A full moon rose behind us, reflected in the sea and illuminating the night sky.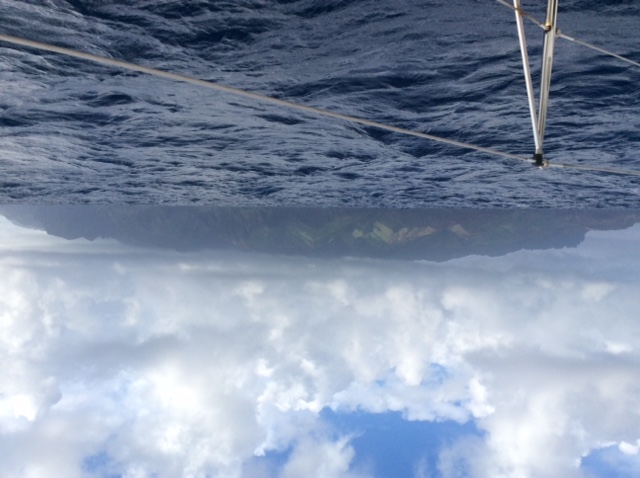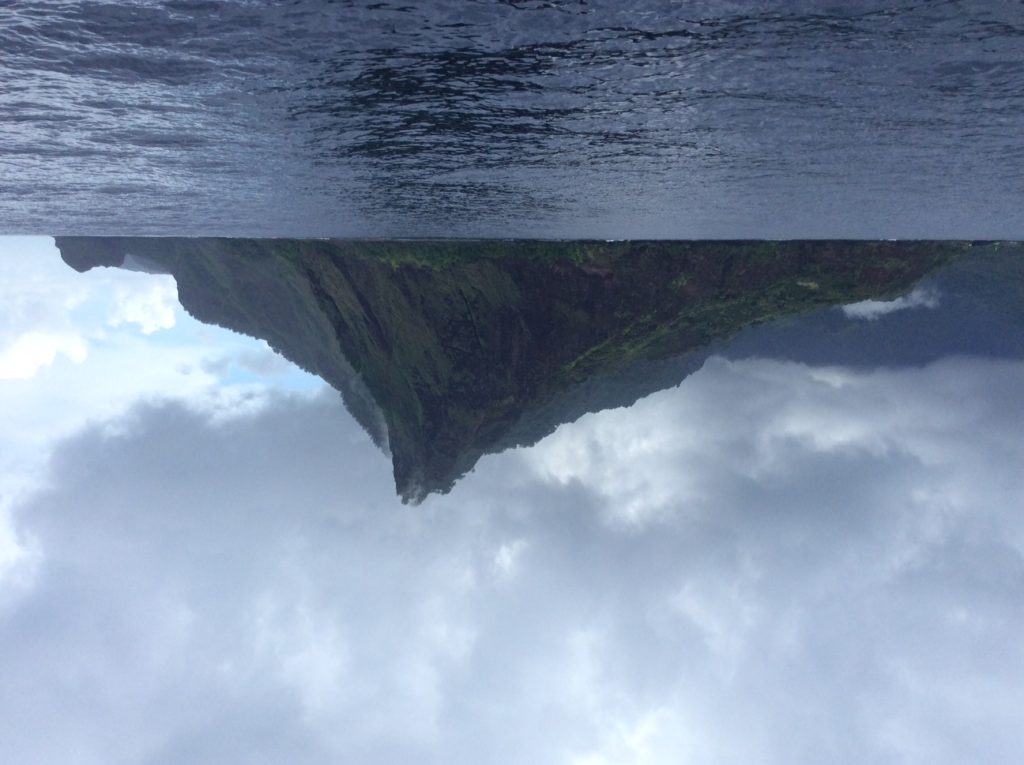 And so, after almost 24 days at sea, as the sun rose in the east behind dense cloud, we spotted land. In the distance the dark bulk of the island of Fatu Hiva, the most beautiful of the Marquesas, rising abruptly from the sea and overhung with low lying clouds. As we slowly approached steep green slopes rose to tall craggy peaks and towering pinnacles. We rounded the southernmost point of the island and continued along the west coast past the village of Omoa, a few houses and a white church nestled in the bay. Further along was the Bay of Virgins, the coast deeply indented here with almost sheer sides, the lower slopes covered in palm trees, rocky spires rising dramatically above the bay and surrounded by soaring, rugged mountains, their tops hidden in the cloud. As we motored in and dropped anchor amongst the twenty or so other yachts already there it was even more stunningly beautiful than anticipated, the vivid greens appearing in technicolor to our eyes starved of nature's brightest colours.
Robert Louis Stephenson stopped in the Marquesas in 1888, and described what he saw… 'The first experience can never be repeated. The first love, the first sunrise, the first South Sea island, are memories apart and touched a virginity of sense…. like pinnacles of some ornate and monstrous church they stood there, in the sparkling brightness of the morning, the fit signboard of a world of wonders'.