Thursday 26th September to Tuesday 1st October 2019
Leaving Gili Air soon after dawn we crossed the channel between Lombok and Bali, colourful little sailing boats from Bali flying pass us in the opposite direction in the brisk wind (plus some rather larger cargo ships ploughing their way between the islands).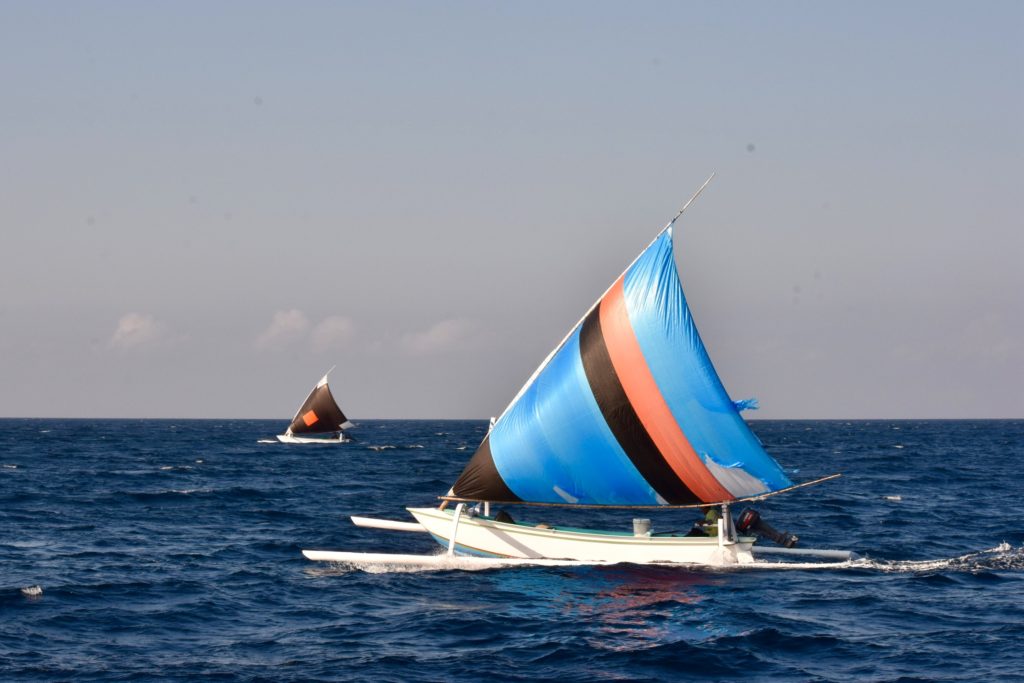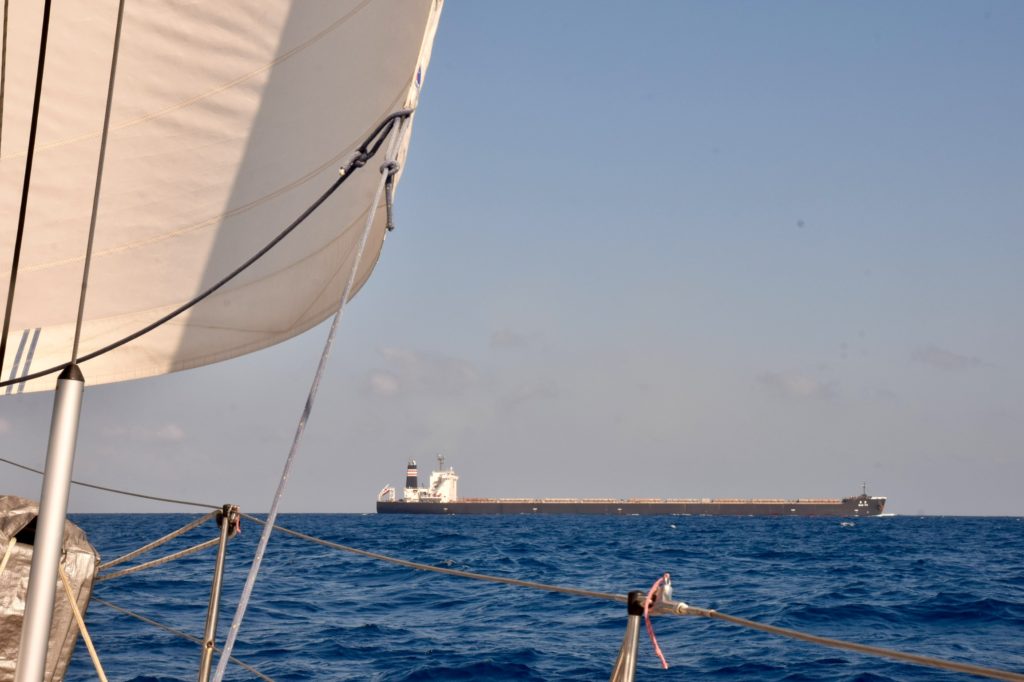 Soon after dropping anchor at Amed on the north east coast of Bali, we witnessed a bizarre spectacle on the beach…. a procession of people carrying a huge fish on a platform to the accompaniment of Balinese gamelan music, which is played on percussive instruments, predominantly metallophones struck with mallets and drums to produce a rather harsh but hypnotic sound . This was part of a cremation ceremony as we later found out when we went ashore. The deceased are buried soon after they die then every ten years or so their bones are dug up and burnt in a communal one month-long mass mourning/celebration with pig roasts and feasting.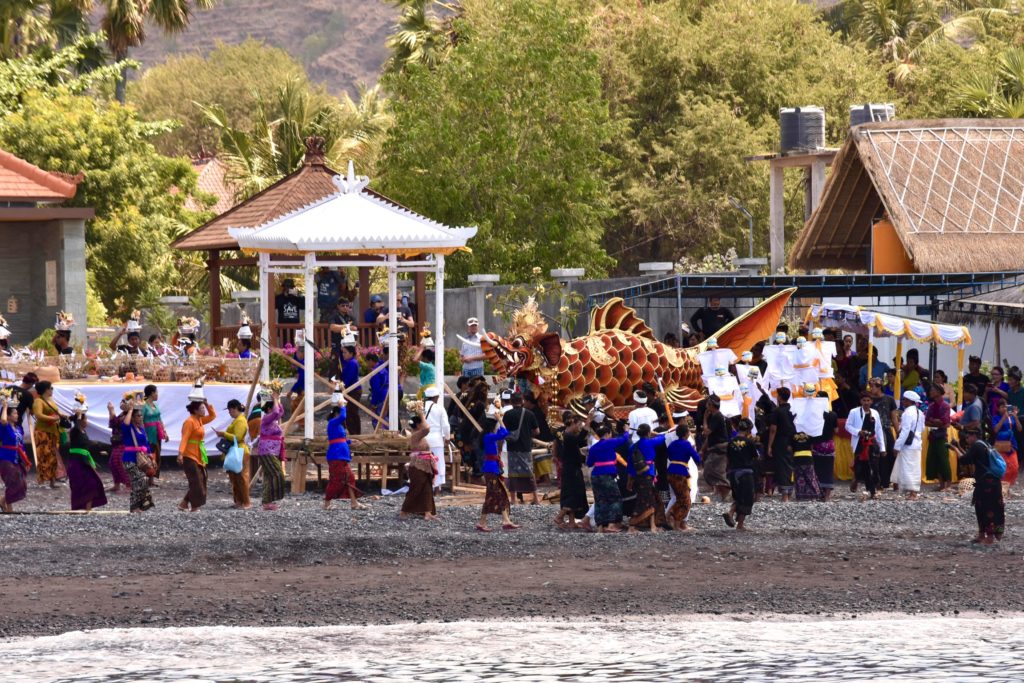 Ahmed is a village with some low-key tourism, a few guest houses and snorkelling on the surrounding reefs but it still relies on salt production and fishing, with salt pans and colourful jukung, traditional sailing boats with outriggers, pulled up on the beach.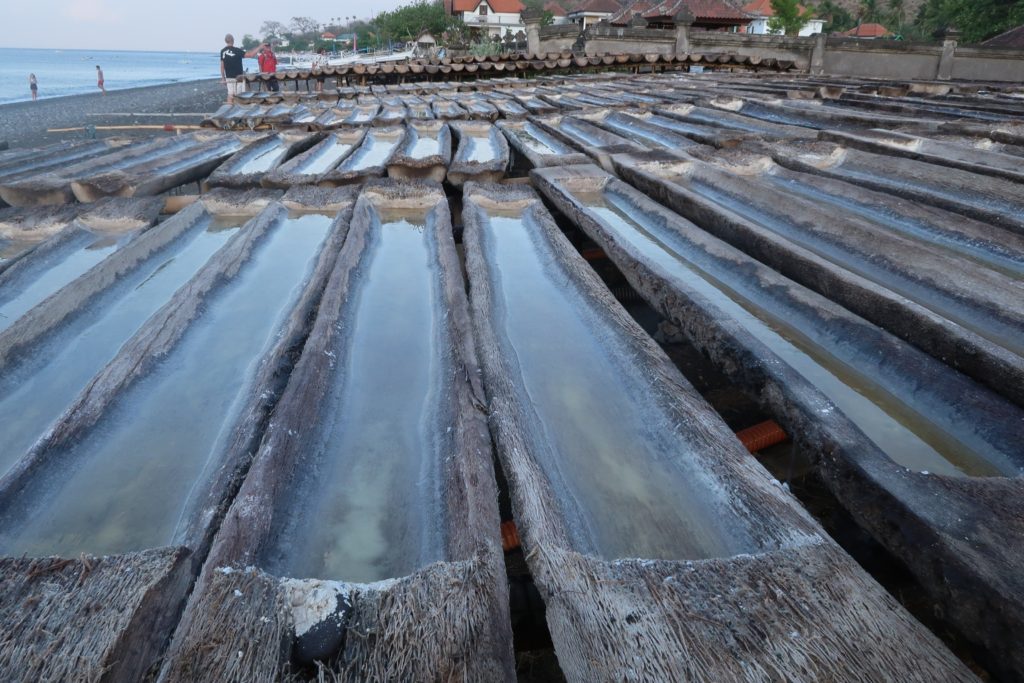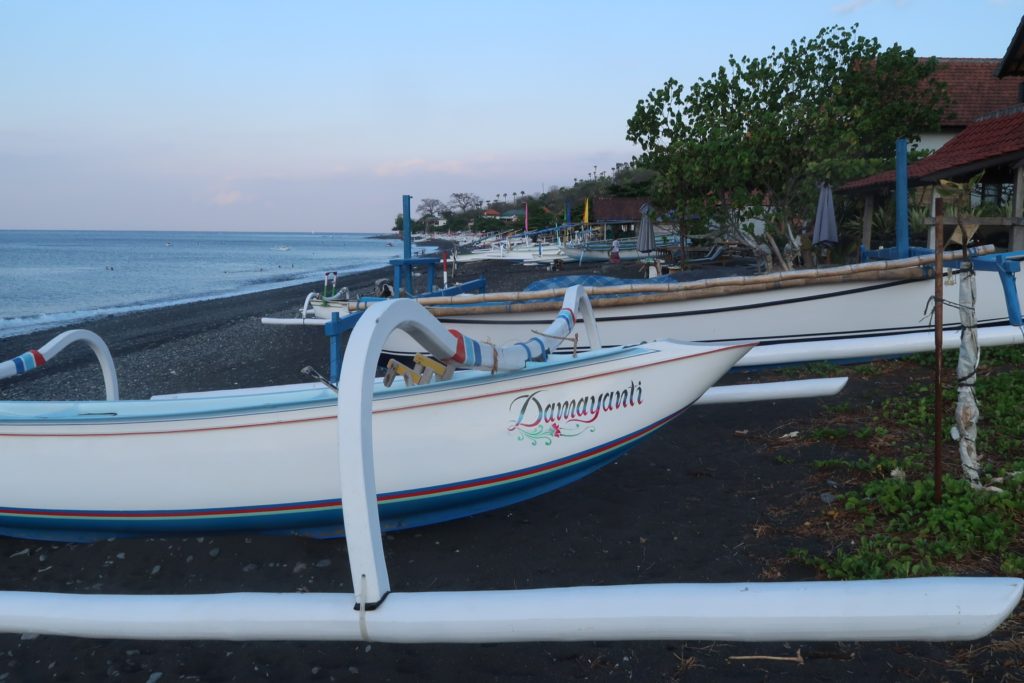 A meal out in a beachside restaurant (in front of our anchored yachts) with cruising friends, David & Susan (Enchantress) and Pat & Bronwyn (Stella Australis):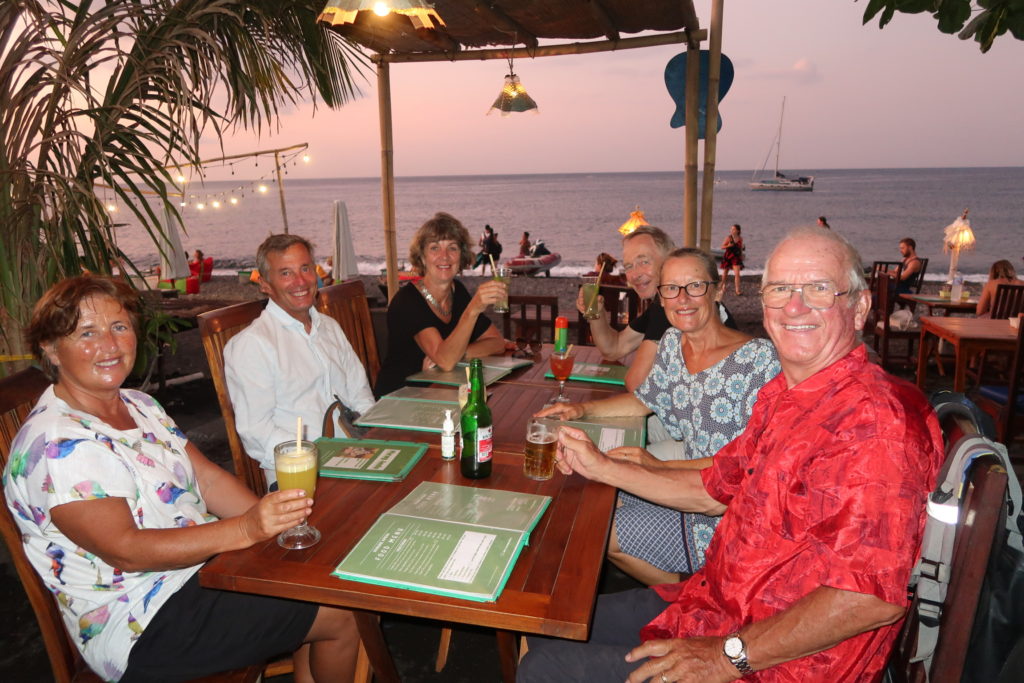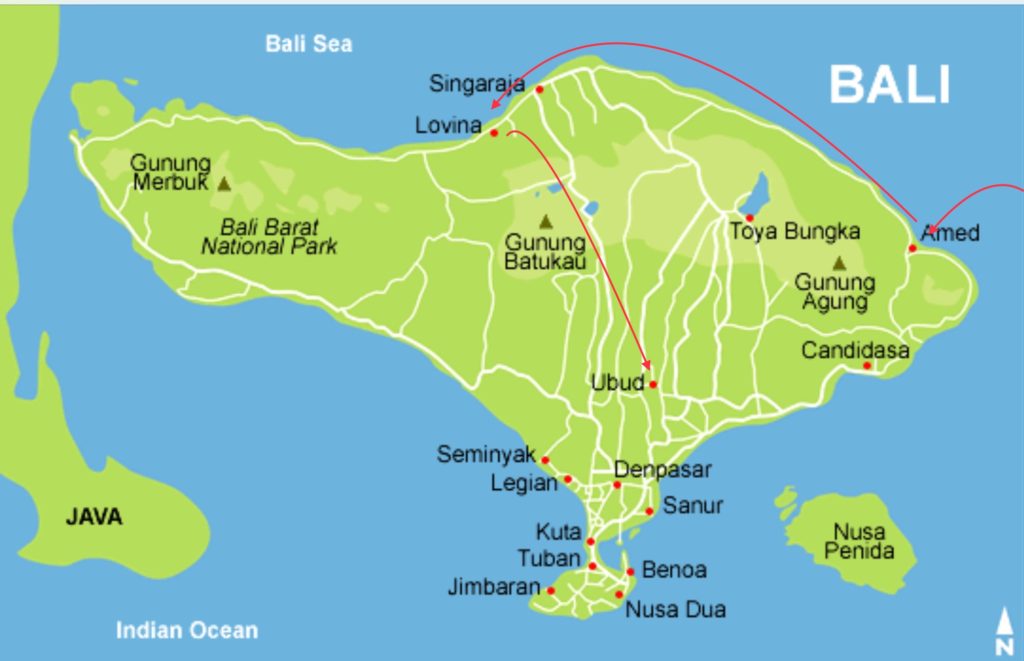 After one night we continued along the north of Bali to the town of Lovina where a four day festival of music and dance was taking place, coinciding with the arrival of the Wonderful Sail 2 Indonesia Rally. Tents, stalls and a large stage had been set up on the beach which was busy with festival goers, with colourful flags fluttering in the breeze. Although it was publicised with the slogan 'Cultivating Eternal Peace', as well as traditional Balinese dance and music there were covers bands playing AC/DC, Guns and Roses and Led Zeppelin until the early hours, as well as a memorably bad Oasis band. It wasn't the most peaceful spot to be at anchor, with music blasting out until 2am and the call to prayer starting at 5am from the nearby mosque, then the festivities starting up again at 8am!
On our first day we were entertained with a buffet at the beach and a gorgeous Balinese dancer, with precise steps and expressive hands, fingers, eyes and fan. She was accompanied by a small gamelan ensemble on metallophones, struck with mallets, and hand drums to produce the ringing, repetitive and almost discordant but seductive sound of Balinese music. Several of the male cruisers, including Hugh, were encouraged to join her but none were able to match her grace or her beautiful rotating bum movements.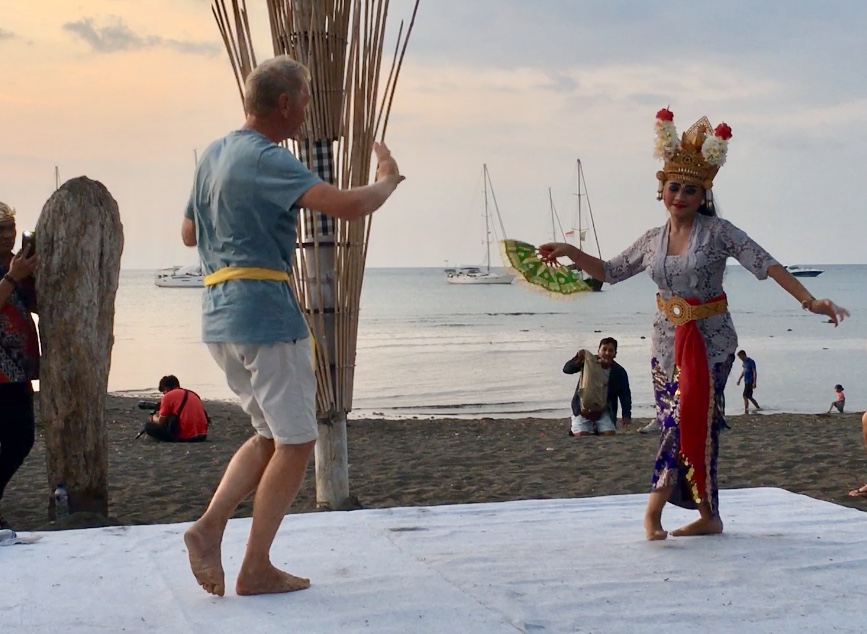 We later sat behind a group of important looking local dignitaries to watch a performance of Balinese dance on the main stage and although the symbolism of the giant monkey and people on stilts was lost on us, the dancing, elaborate costumes and headdresses were wonderful.
Lovina is a touristy little place but in a gentle way with a single street of cafes, restaurants and clothes shops, and a few alleys leading off with cheap hostels.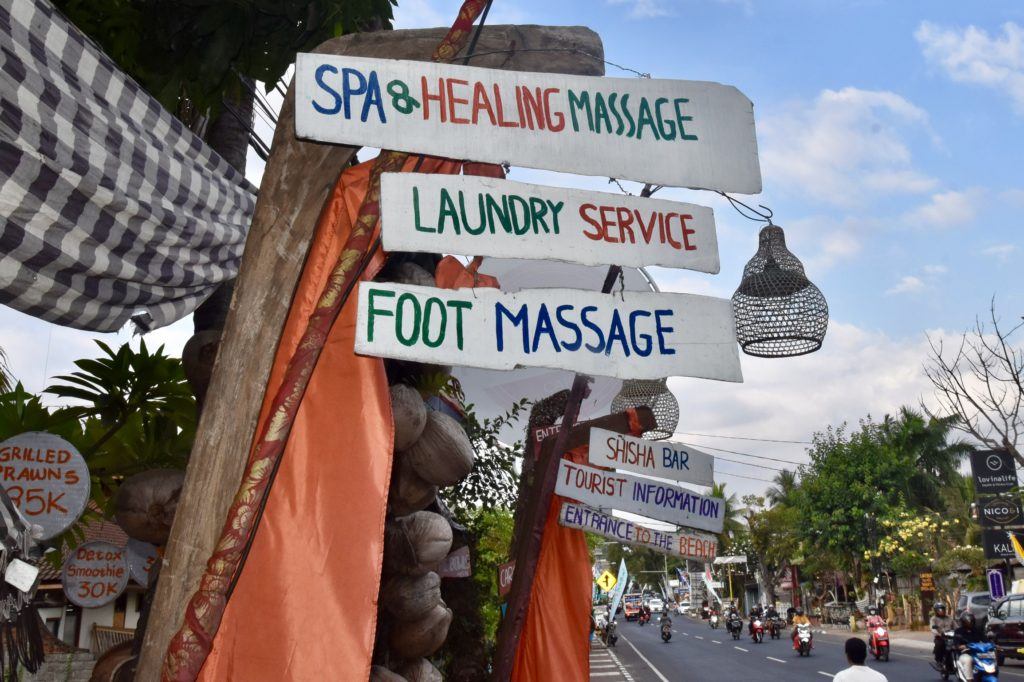 Leaving Vega at anchor we hired a car and driver to take us to the town of Ubud, up into the hills, stopping on the way at a viewpoint over the Twin Lakes of Tamblingan and Danau Buyan, where you could be draped in python or hold a fruit bat, for a small fee.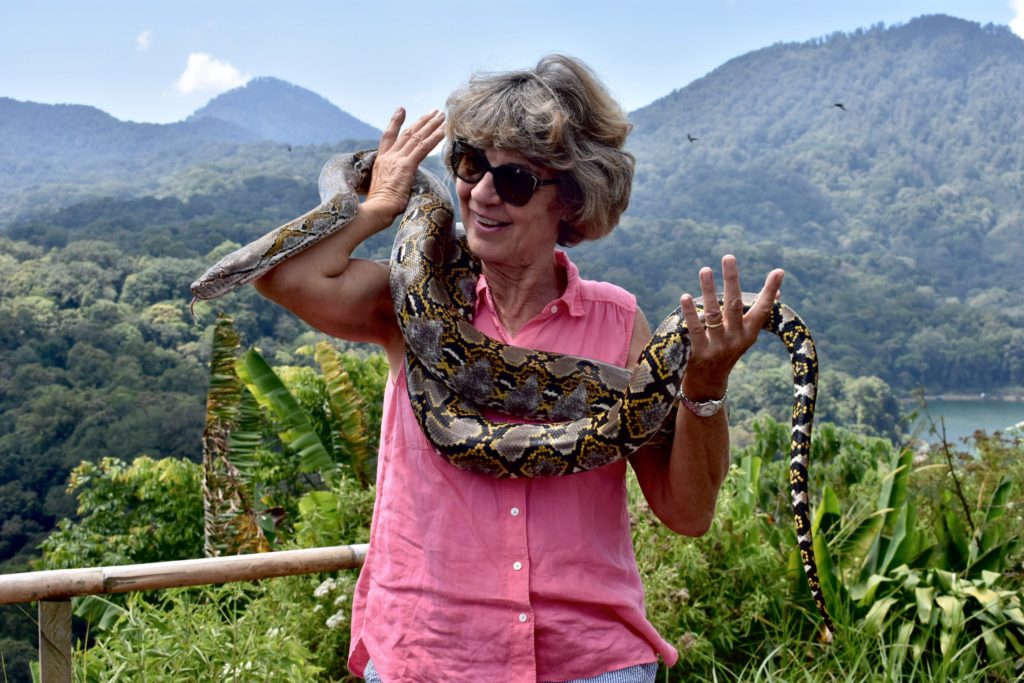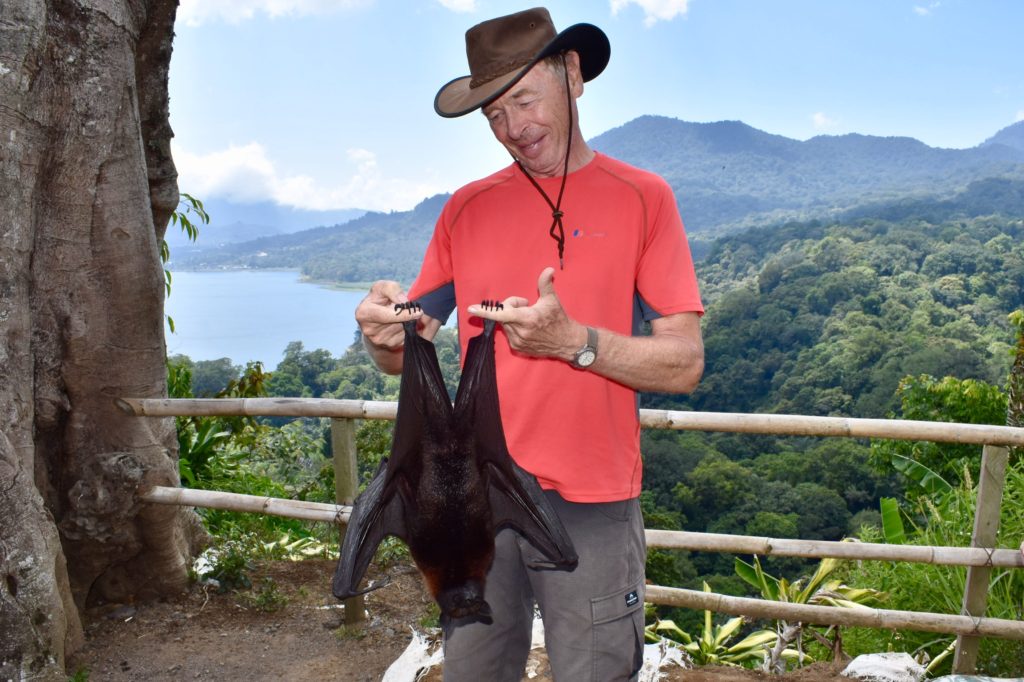 We also visited one of the coffee plantations where kopi luwak is produced from coffee beans ingested and excreted by civets. The beans are used to make the most expensive coffee in the world, jokingly referred to as 'Cat poo chino'. Although we were told that the coffee beans are collected from the forest floor where the docile and nocturnal civets live in the wild, there were some small cages with civets in them and the luwak coffee industry has been condemned as cruel for intensively farming the civets to meet international demand for the coffee. We tasted it, a smooth and earthy brew, but decided it was too expensive, in more than just financial terms, to want to buy.
Coffee beans post-pooing: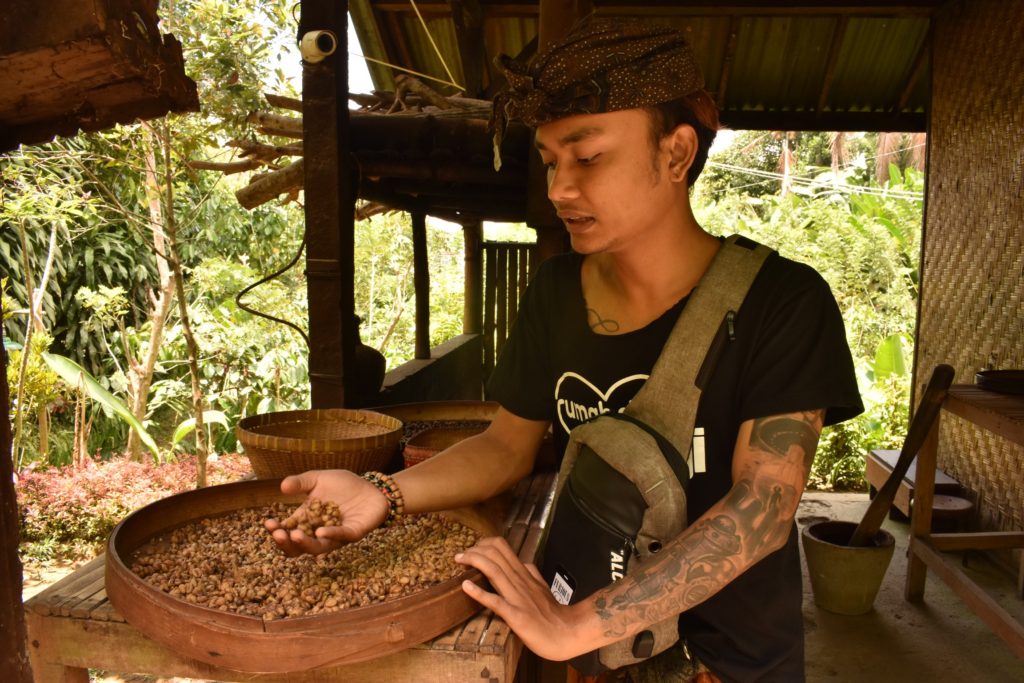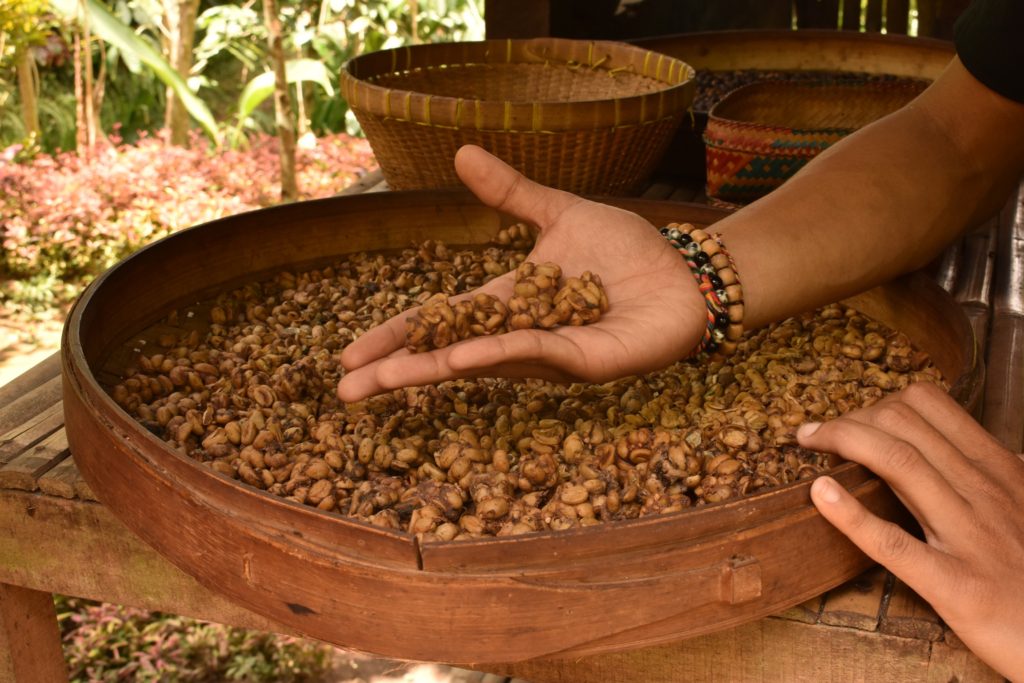 Coffee and tea tasting: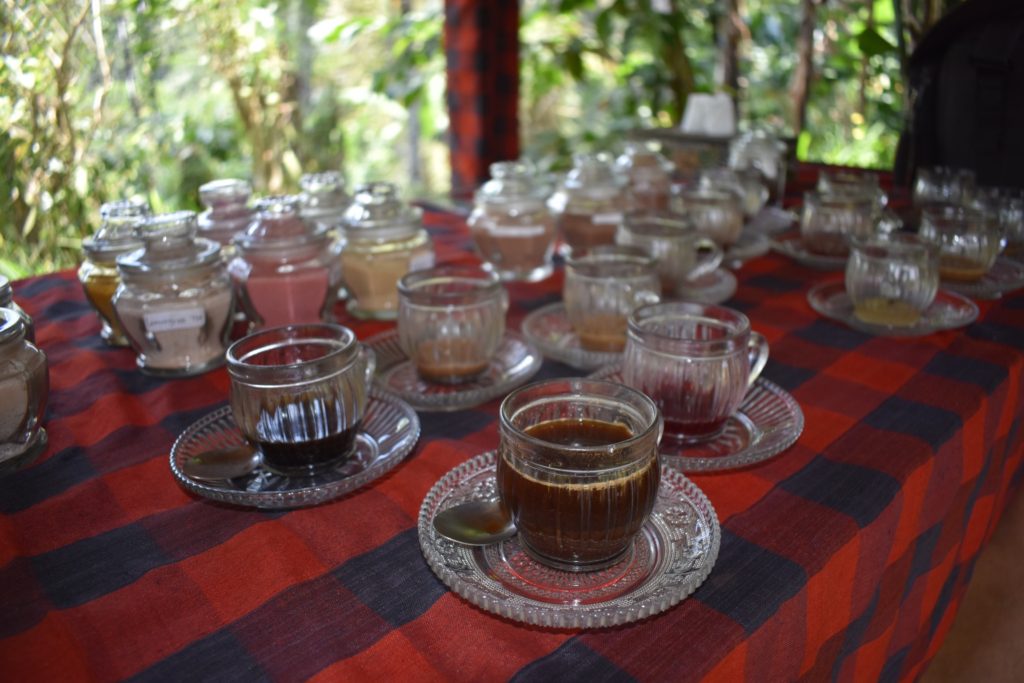 A civet (which really just wanted to be left alone so it could go back to sleep):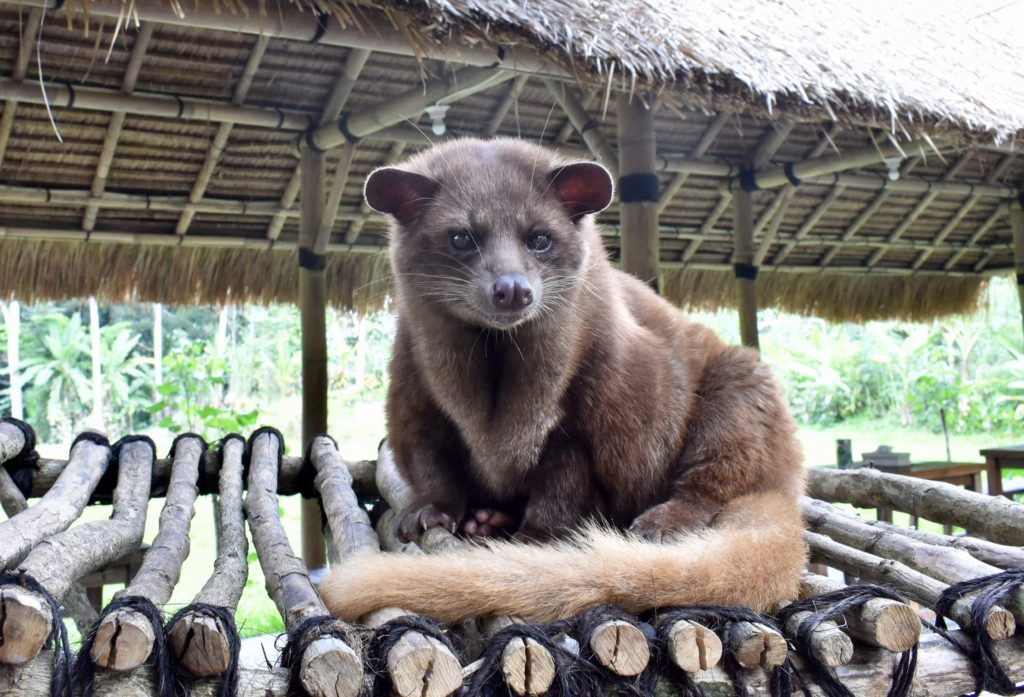 Our destination was the small town of Ubud, up in the hills and surrounded by bright green rice fields, renowned as a spiritual retreat with yoga and spas, organic eateries, luxury villas and hippy hostels.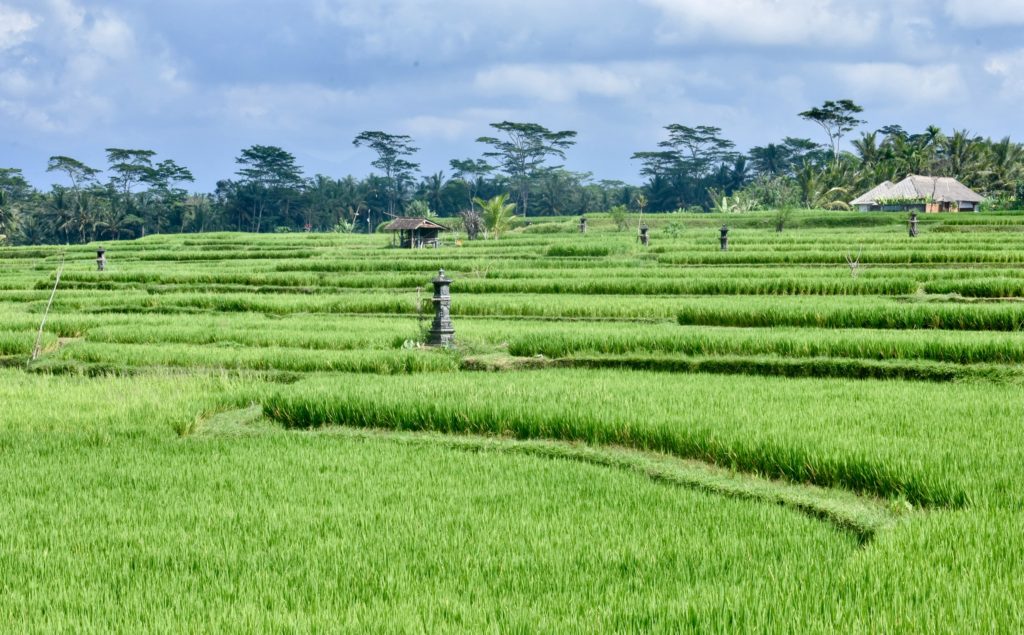 I'd booked a last minute cut-price room for a night in the Mansion Hotel and, when we arrived feeling very scruffy with our tatty hand luggage, the elegant receptionist appeared overjoyed to tell us that we'd been upgraded to the deluxe suite. The air conditioned room, spa and six swimming pools at the hotel were a big draw but we dragged ourself away and into the busy town and traffic-clogged streets, with shops selling tourist tat and clothes to suit the spiritual lifestyle. It all felt a bit too full on for us and after wandering past a few temples, all shut, trying not to get run down by motorcycles and feeling a bit fraught by the hard sell in the market we decided to head back to the hotel. However, passing the Ubud Palace there was a show on that night, the Legend of Mahabharata, an ancient Indian epic telling of the battle between two families for the throne. The dancing, accompanied by gamelan music, was mesmerising, with each placement of the foot to every movement of the hands, fingers and eyes, graceful, precise and expressive, the performance full of drama and humour.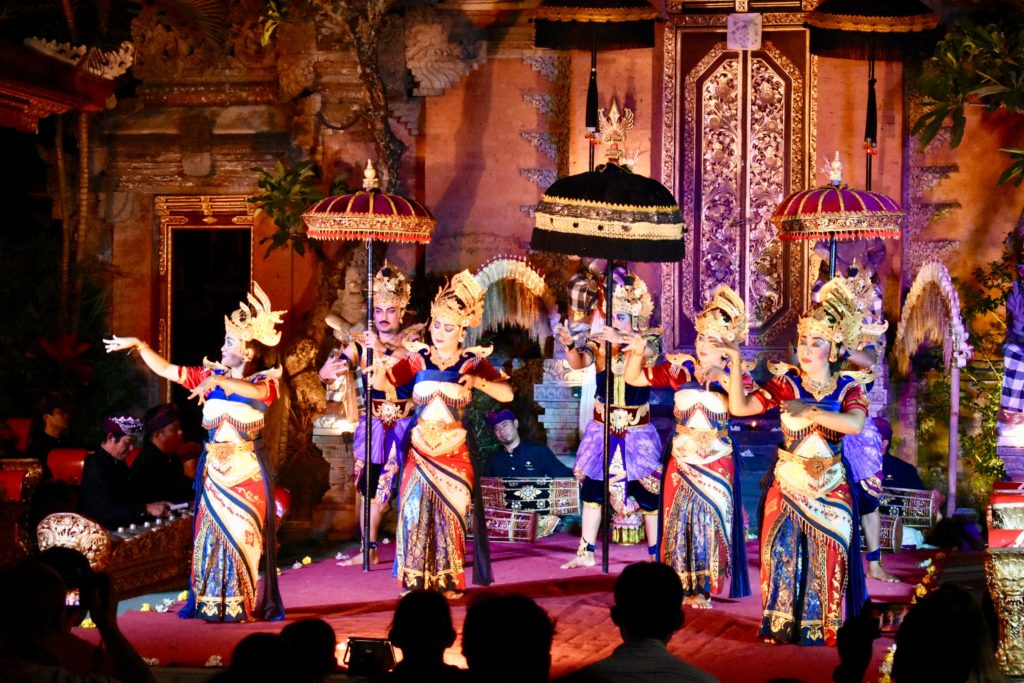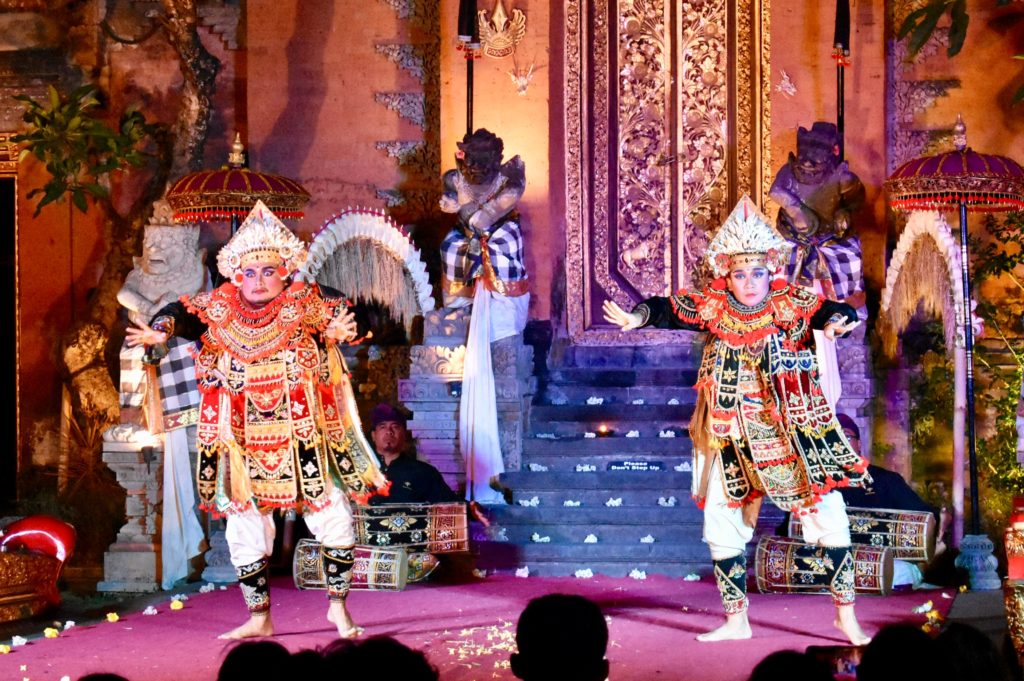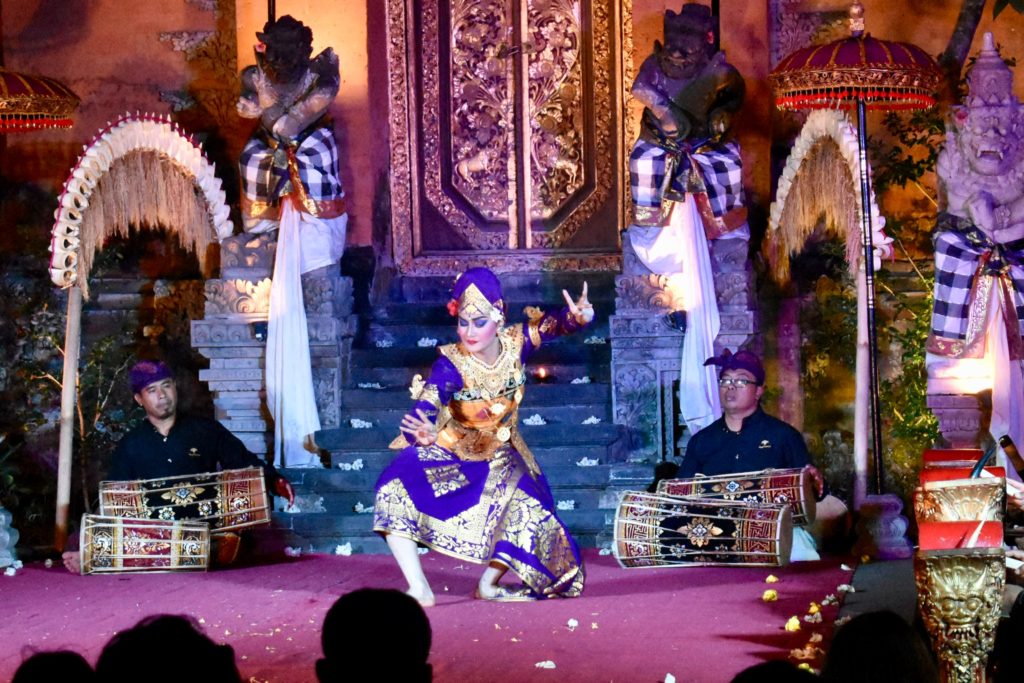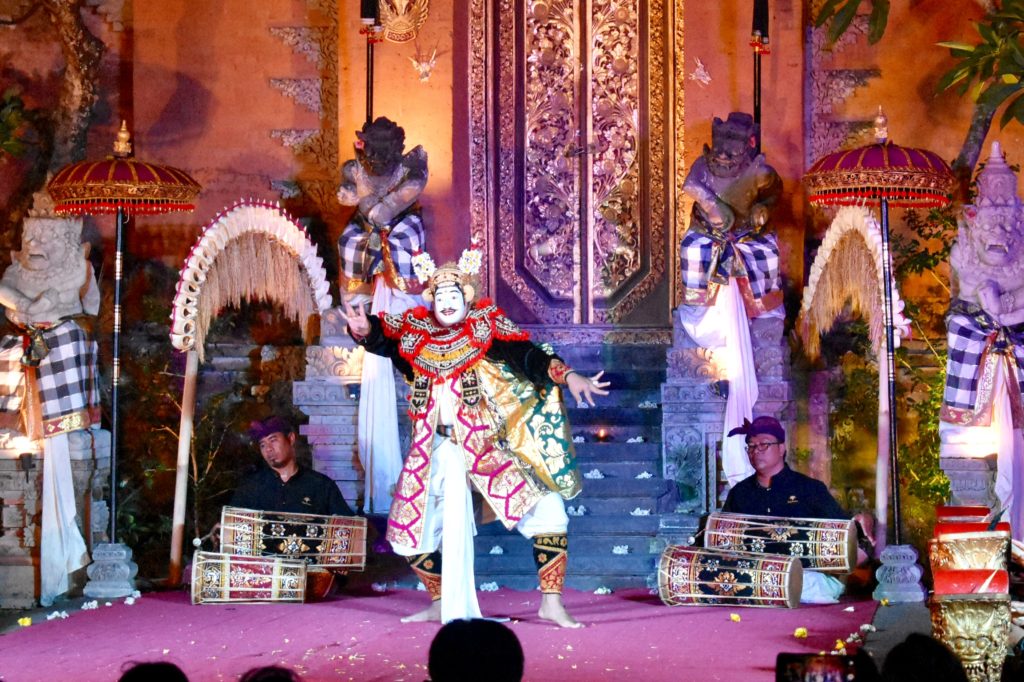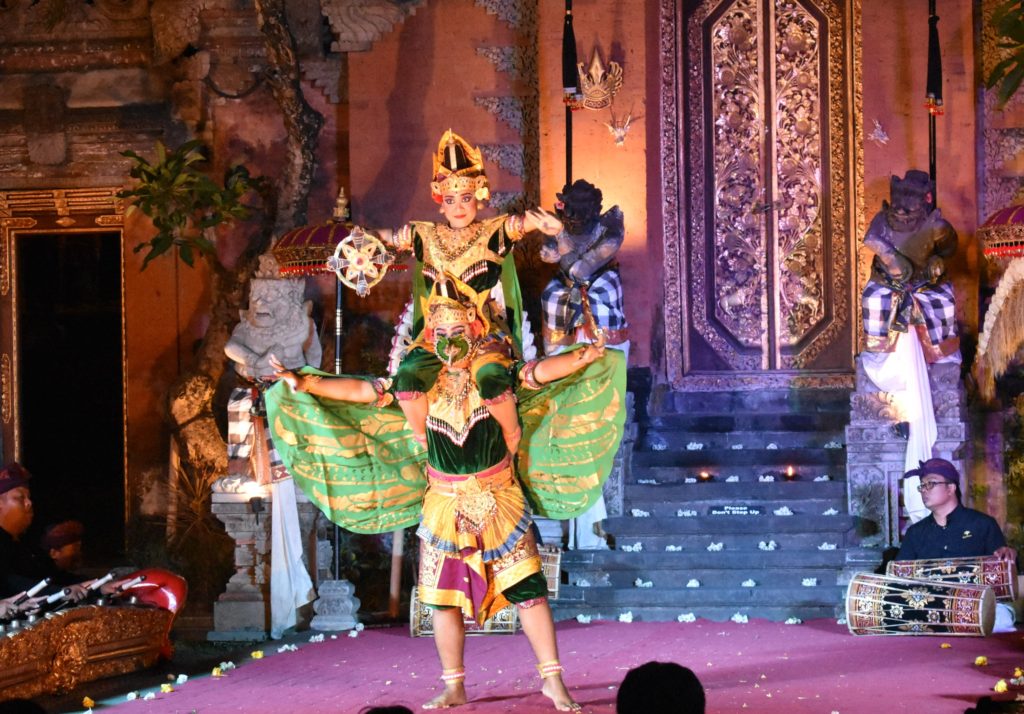 Ubud is set in a landscape of stunning green rice fields and at the most touristy of these, steeply terraced, minibuses disgorge parties of visitors to ride on bicycles or swing out across the ravine.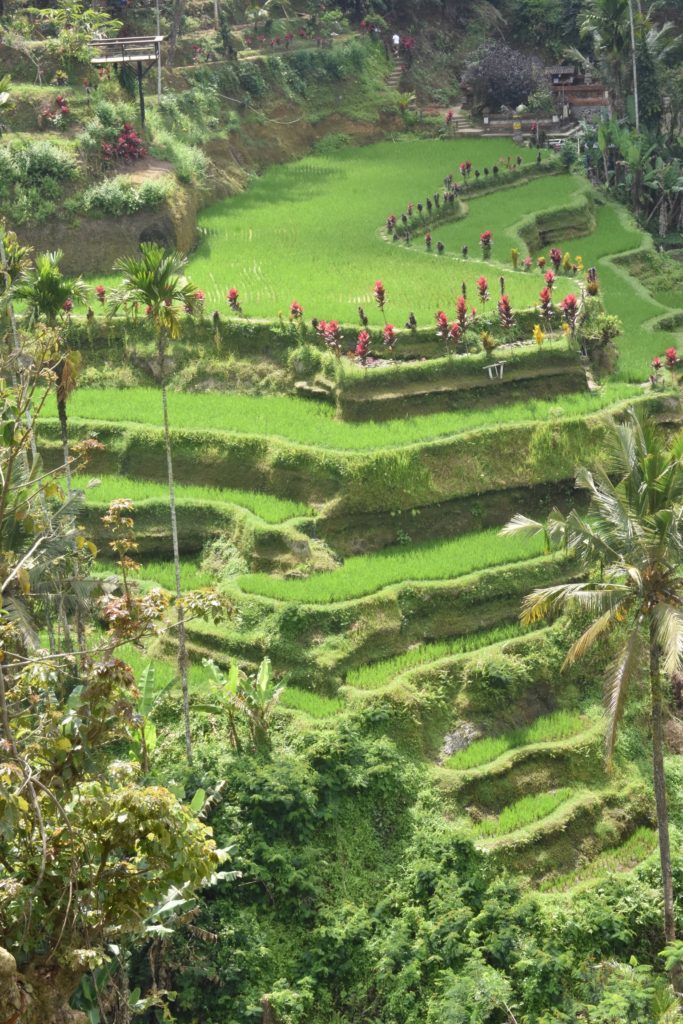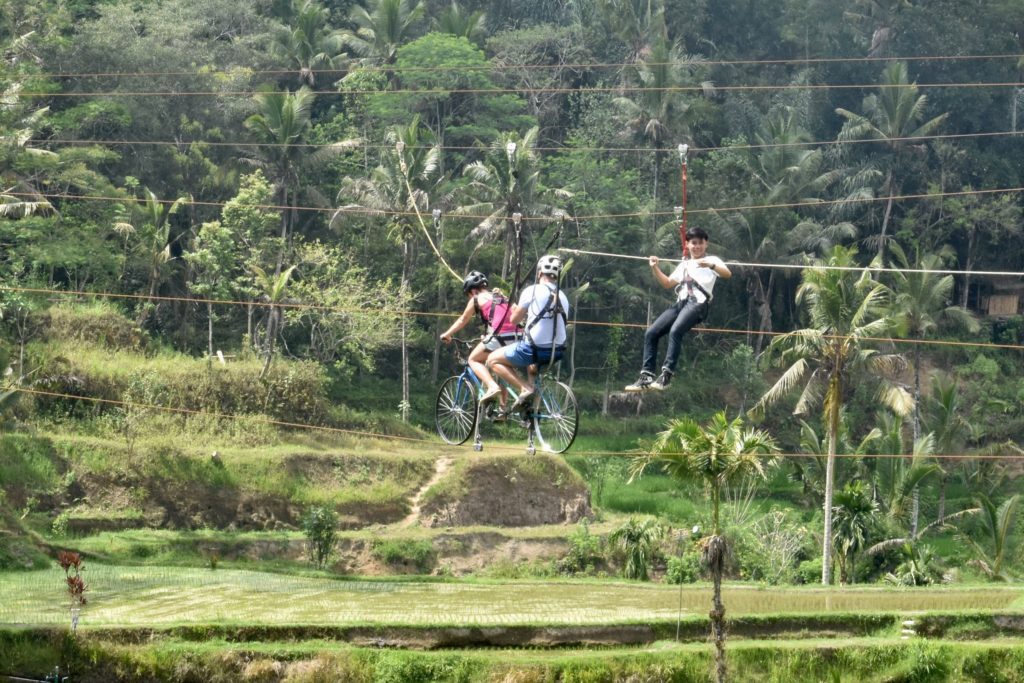 Another stop on the tourist circuit is the Sacred Monkey Forest Sanctuary – very Indiana Jones, with some rather risqué statues. There was a warning not to make eye contact with the monkeys or to smile at them, which could be interpreted as a sign of aggression, and definitely not to feed them, but the monkeys seemed pretty disinterested in the tourists, though one did try to grab my bag and to chew the tag off it.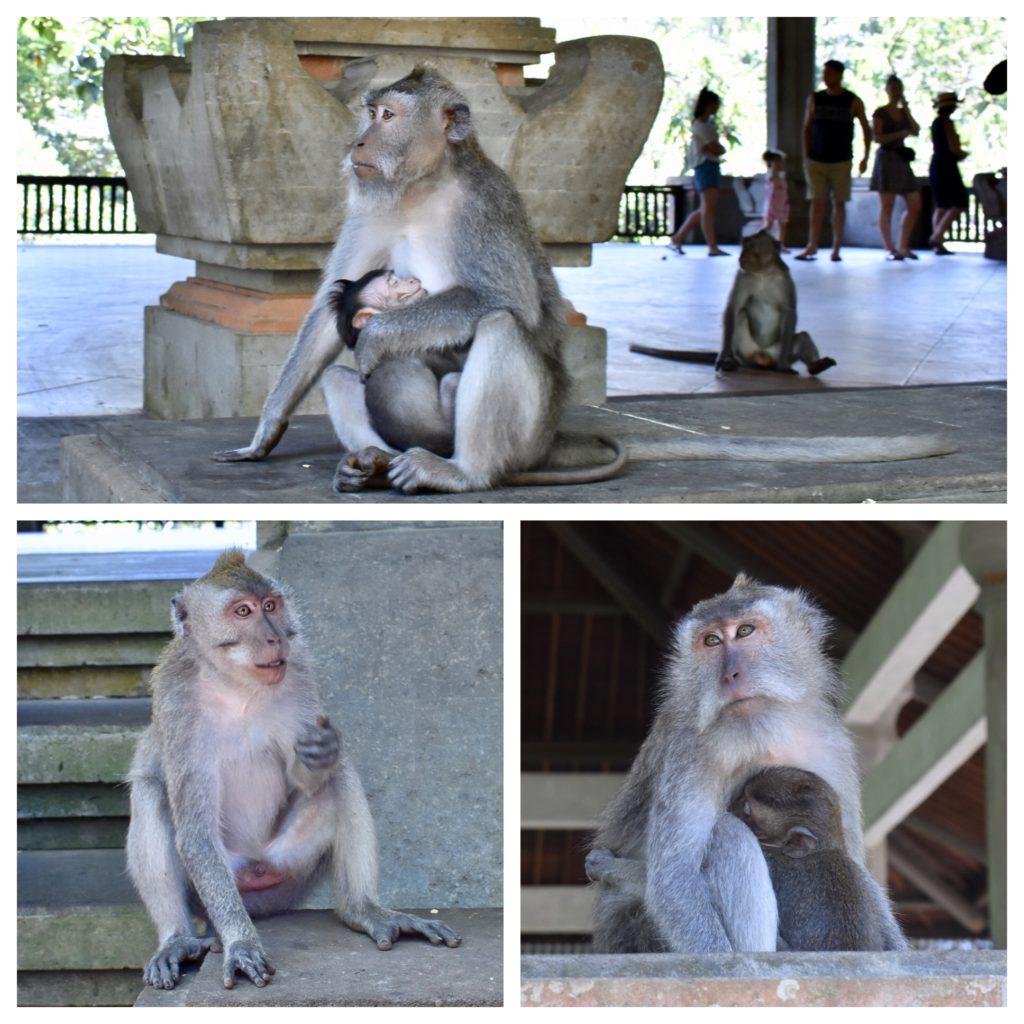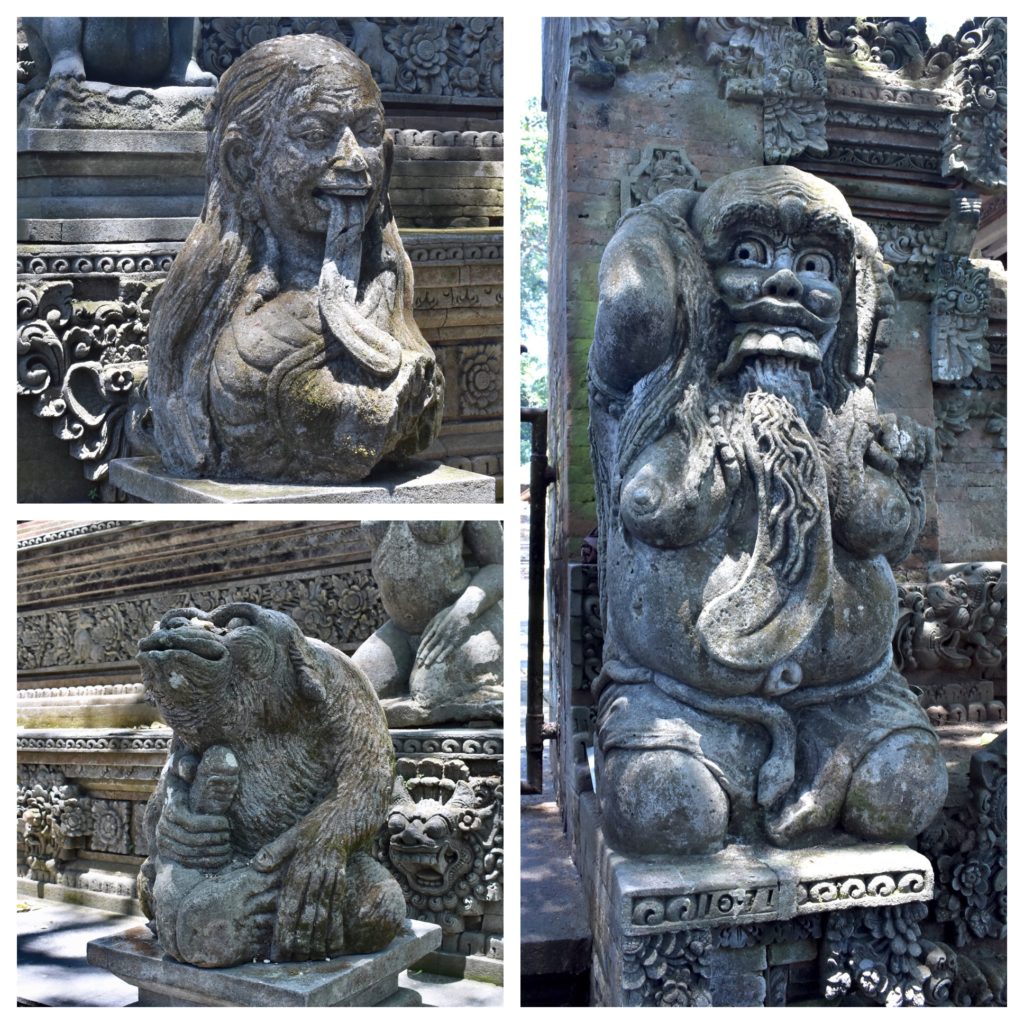 We didn't venture into the really touristy parts of Bali, mostly in the very south of the island and along the east and west coasts, with their clubs, nonstop partying, beaches, hotels, resorts and modern shopping malls. With almost ten million tourists a year converging upon Bali, there are concerns about the environmental impact on the island of this and proposed future development, whether the island can cope in terms of pollution, congestion, waste management and particularly water shortages, vital for the rice harvests.
Despite all this Bali weaves a very special magic. The Balinese women are so elegant in batik sarongs and lace blouses and in their expressive, dignified dancing. The population are mostly Hindu, although there are also Buddhist, Muslim and Christians and a significant Chinese community. Hinduism spread to Bali in the 11th century, brought to Indonesia by Indian traders, however the Balinese Hinduism has evolved into something very different, they have their own gods, of which there are thousands, with some having several incarnations. Ganesh, the elephant god seems to be particularly popular, being the god of beginnings and patron of arts and science and the deva of intellect and wisdom. There are temples and shrines everywhere, each village has three temples and each home has another three, so driving along any street you appear to be passing rows of temples, the homes behind them. Of course the wealthier you are the larger and more ornate your temple. There is a culture of festivals, of dance and music, of gorgeous colour, with little shrines everywhere, even in shop doorways. Walking along the pavement you must take care to avoid stepping on a heap of flowers and burning incense, an offering to the gods.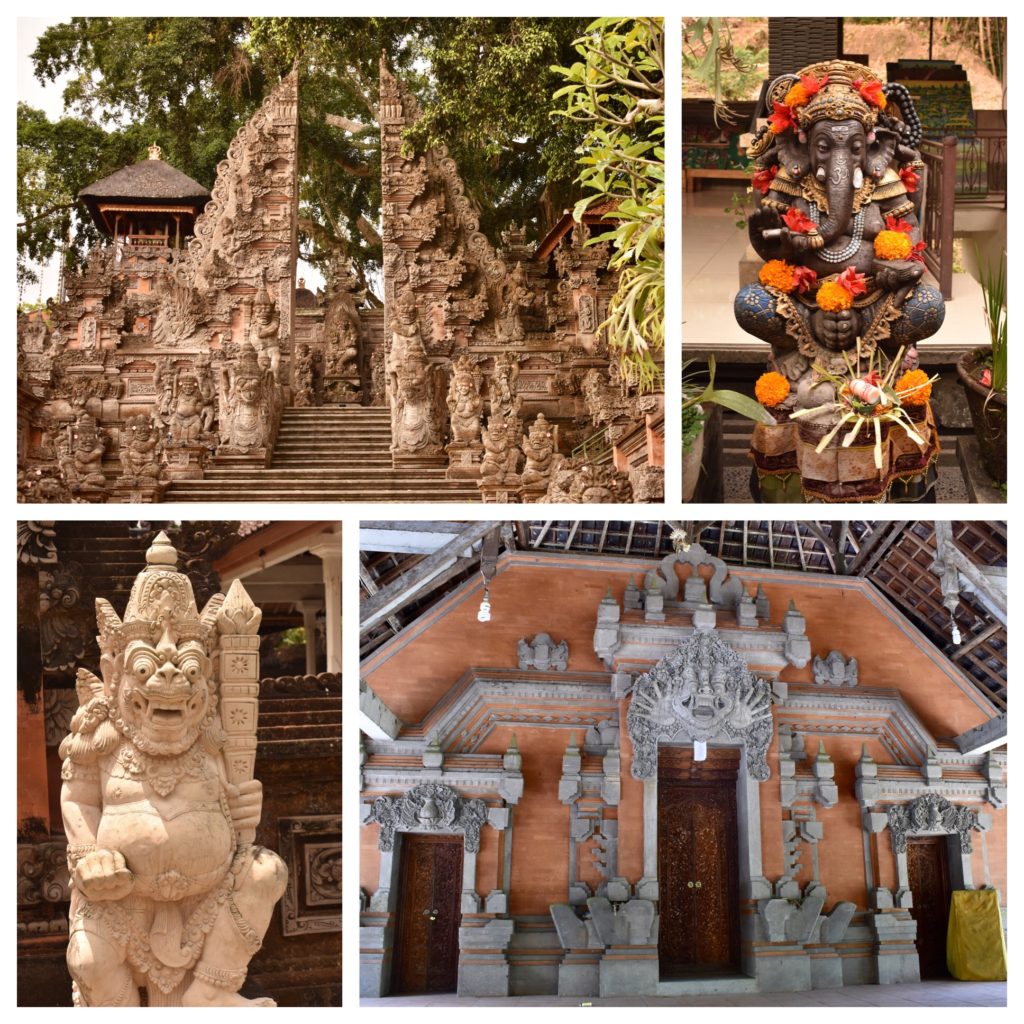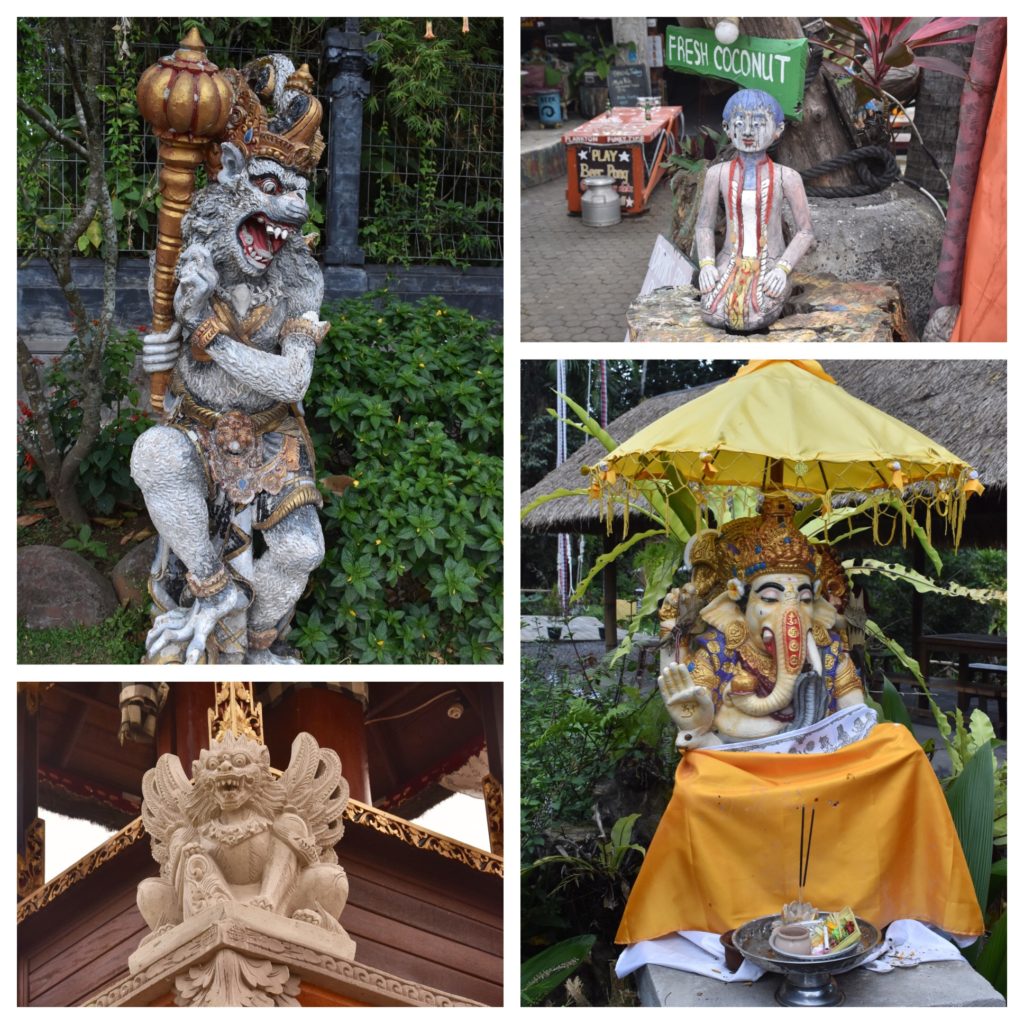 And of course Bali has its own sacred volcano, active Gunung Agung, which was erupting throughout the first six months of 2019 and which we saw as we first approached Bali.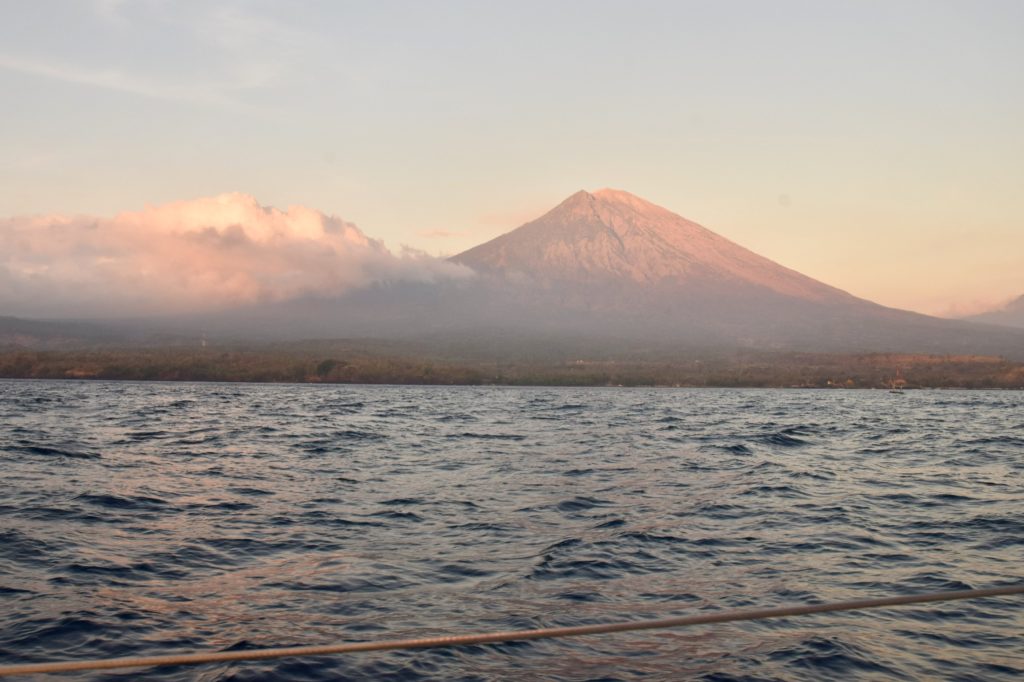 Our visit to Bali was far too short and after less than a week we pushed on with the rally to the next stop, Bawean, 200 miles away.