Friday 20th to Thursday 26th September 2019
There had been complaints about Medana Marina, the scheduled rally stop on Lombok, not so much a marina as an indentation in the reef with a couple of short jetties, a number of mooring buoys and room for 15 to 20 boats to drop anchor in rather deep water of over 20 metres. Not only were the 50 yachts of the Wonderful Sail to Indonesia Rally supposed to stop here, the Sail Indonesia Rally had also arrived from Darwin at the same time and the World ARC (a rally circumnavigating the globe in only 18 months) had been here for a week. There was much unhappiness as, before we arrived, unusually strong winds had caused several boats to drag their moorings, one ending up on the beach from where it was eventually refloated on the next high tide. The World ARC boats were grumbling loudly as it was their only stop in Indonesia and wind conditions had meant they were not prepared to leave their boats unattended for long – all they had seen of Indonesia were the grounds of the Medana Marina. Their 13 boats left after two days to continue on to Christmas Island 650 miles away, freeing up space for our rally. Despite this many yachts decided to anchor in neighbouring bays or continue on to the Marina Del Ray, a modern marina some 30 miles further south which had been promoting itself to the rally with offers of free berthing and cheap drinks at the bar.
We arrived at Medana Bay just as the light was fading after a frustrating day of poor winds and strong currents against us, motoring hard for the last three hours to reach the marina before dark. With the help of friends Brent and Ana on Impi to guide us we managed to squeeze into a tiny space and dropped anchor amongst the boats already there, swinging rather too close to several overnight. The following morning we moved and tied up on the rickety jetty as Hugh had had the foresight to book a place over a month before.
We loved the marina, it had a relaxed feel to it with a restaurant that served the best Nasi Goreng we have eaten so far in Indonesia. It is owned and run by Peter, a British mining engineer, his Indonesian wife Asa and their daughter Soraya who, having been to university and lived in Australia for 10 years, has returned to help with the family business, unable to get work in Australia.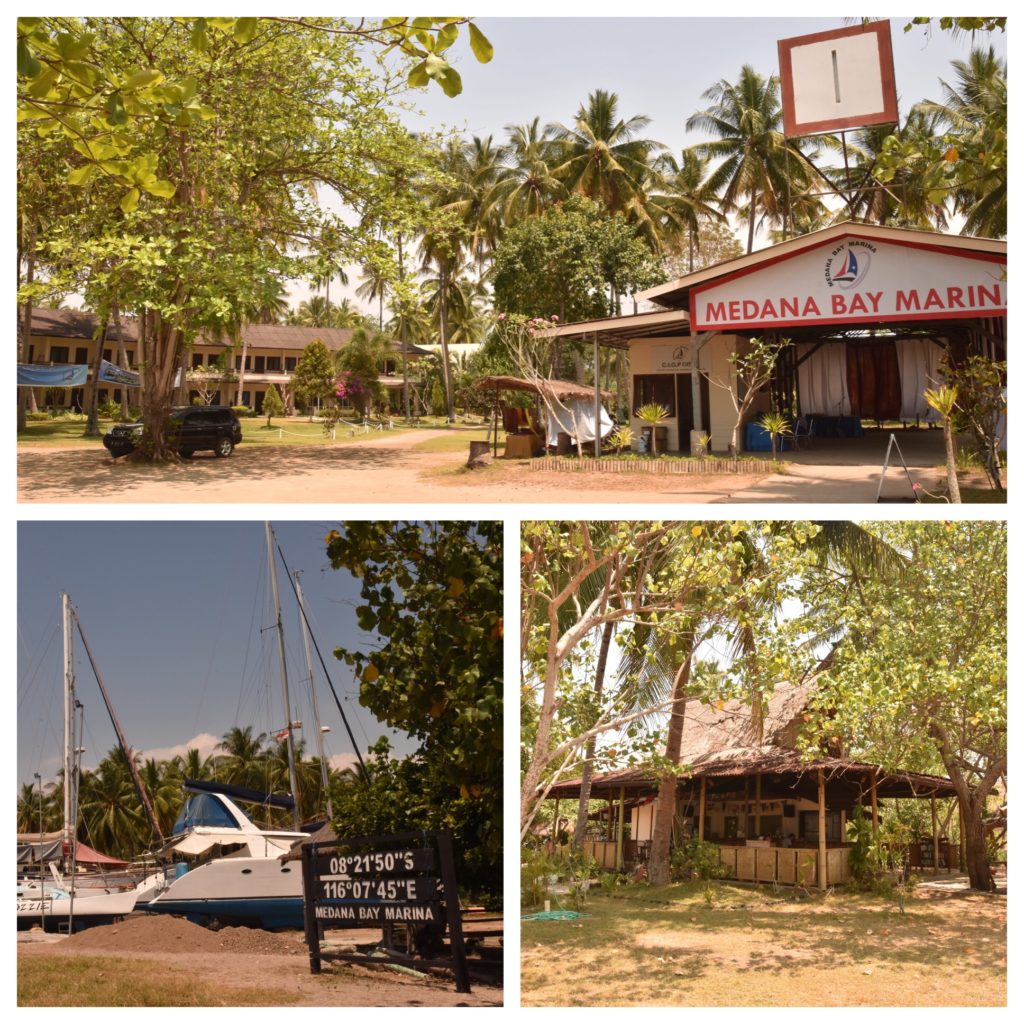 Another welcome ceremony with drummers…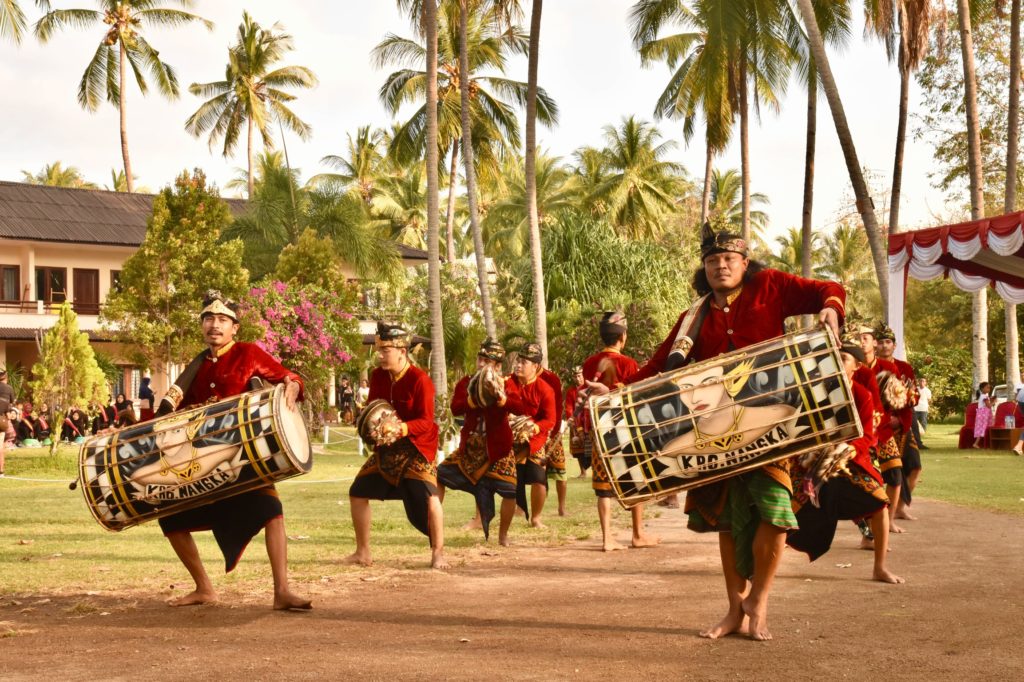 We sat and ate food prepared by local villagers, spicy dishes of fish, chicken and vegetables with, of course, boiled rice.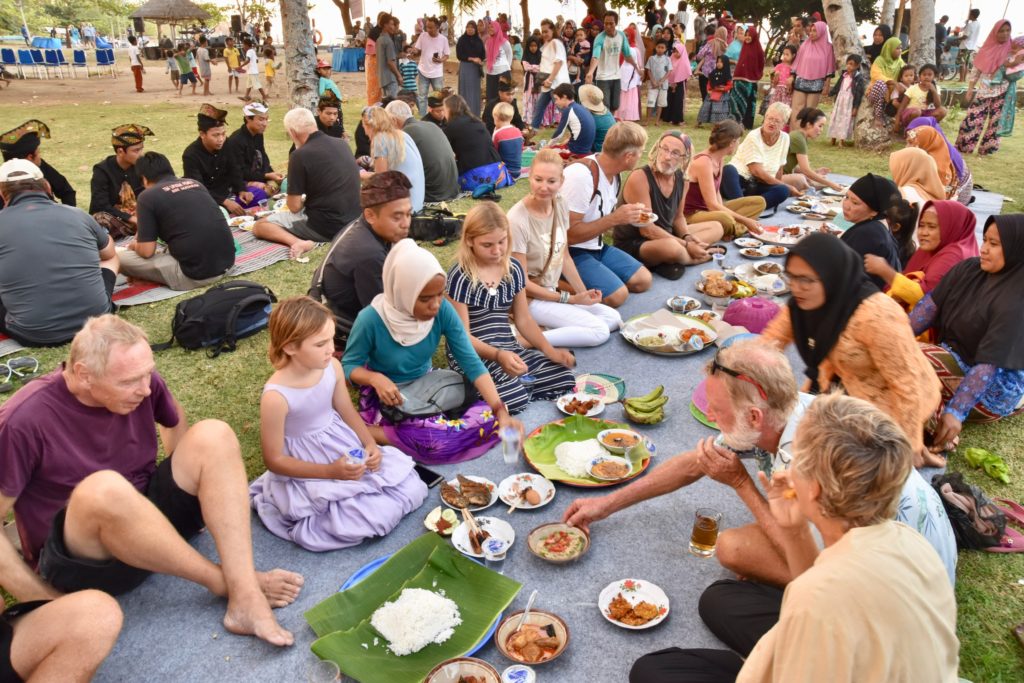 An excellent local covers band played late into the night.
Lombok is another volcanic island and, as we are discovering, Indonesia is a country of many volcanoes, having 127 active ones stretching the length of Sumatra on the western flank of Indonesia and along the southern chain of islands from Java in the west to Flores in the east. It is the ash that is spewed out from these volcanoes that makes the land here so very fertile, often supporting several rice harvests each year and crops that grow easily. The most famous volcano is arguably Krakatoa which I was disappointed to find is west not east of Java and not on the rally route. Lombok has a pretty impressive volcano of its own, the sacred Gunung Rinjani, still active and Indonesia's second highest volcano, which can be climbed as part of a three day hike. Our itinerary did not allow for this so we had to admire from afar on a day tour of the island.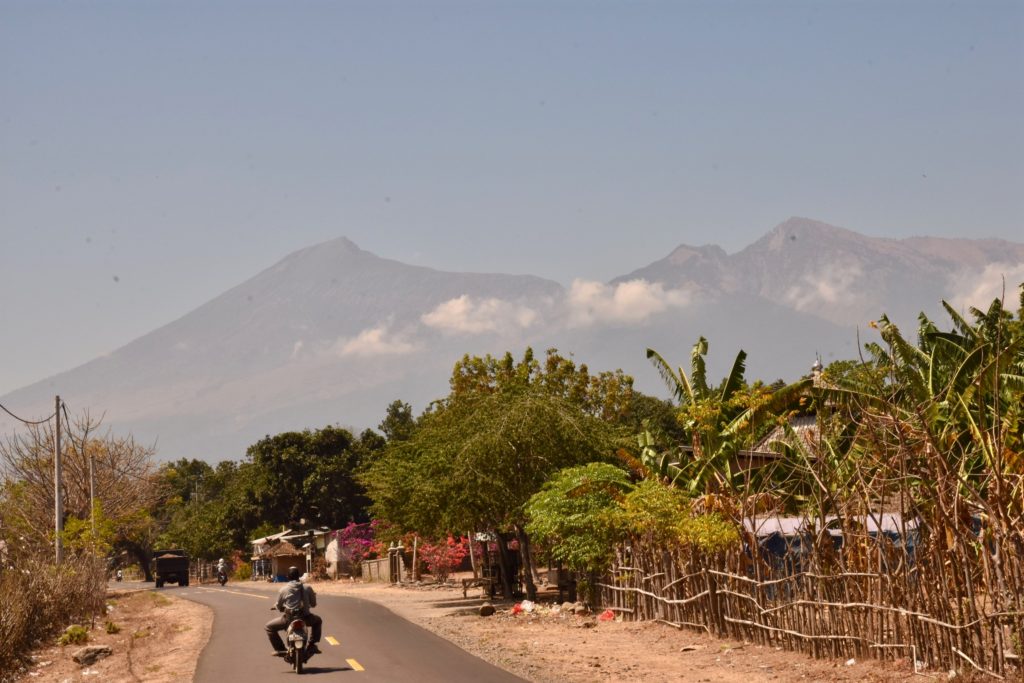 For our day out with friends David and Susan from Enchantress we engaged the services of Aden driving the comfortable SUV owned by his 'boss'. You would not want to drive yourself here as the traffic is terrifying, overtaking motorcycles and scooters, often carrying families of four, whilst avoiding the oncoming traffic. We drove east along the north of Lombok past rice terraces and fields of corn, peanuts, squash and tobacco, with views of the volcano, to lush forests with waterfalls.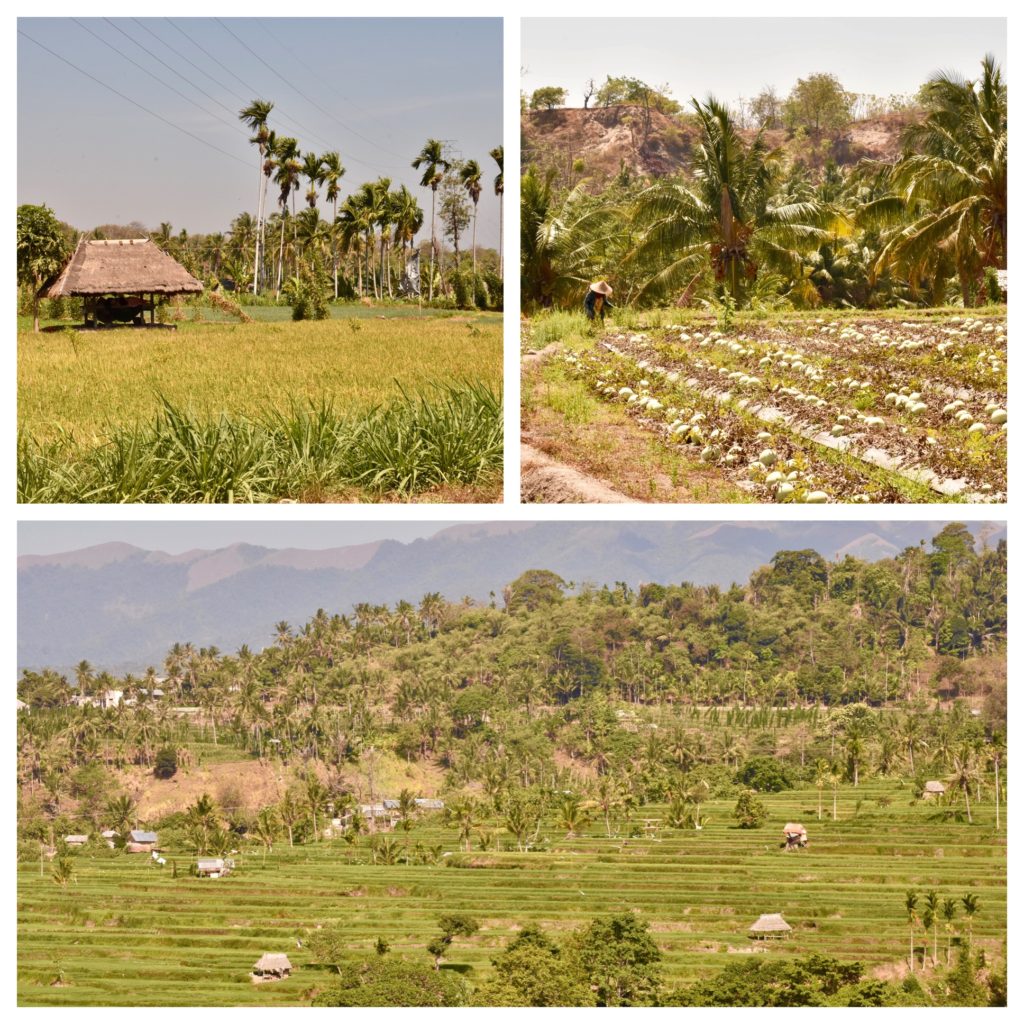 On the rough tracks to Sindang Gile and Tiu Kelup waterfalls the juxtaposition of scantily clad western tourists and Muslim women in jilbab, all going to admire the falls, was interesting. Susan and I stood under the torrent of water and although there wasn't anywhere to have a proper swim it was exhilarating and refreshing in the heat of the day.
Heading back west then south it was a long drive albeit on good, tarmac roads to Mataram, the busy and sprawling capital city of Lombok, with traffic jams of scooters in the rush hour, a mixture of traditional Indonesian shops and markets to western-style shopping malls, fast-foods restaurants and upmarket hotels, The Hilton and Marriott.
Pura Madura, a Hindu temple, was built in 1744 as the court temple of the last Balinese kings in Lombok. Lombok was ruled by the neighbouring Balinese from the 18th century until 1895 when the Lombok Sasak chiefs invited the Dutch East India company to rule Lombok, which they did, eventually controlling Lombok's 500,000 people with a force of only 250 by cultivating the support of the Balinese and Sasak aristocracy. As a result the Dutch are remembered as liberators in Lombok.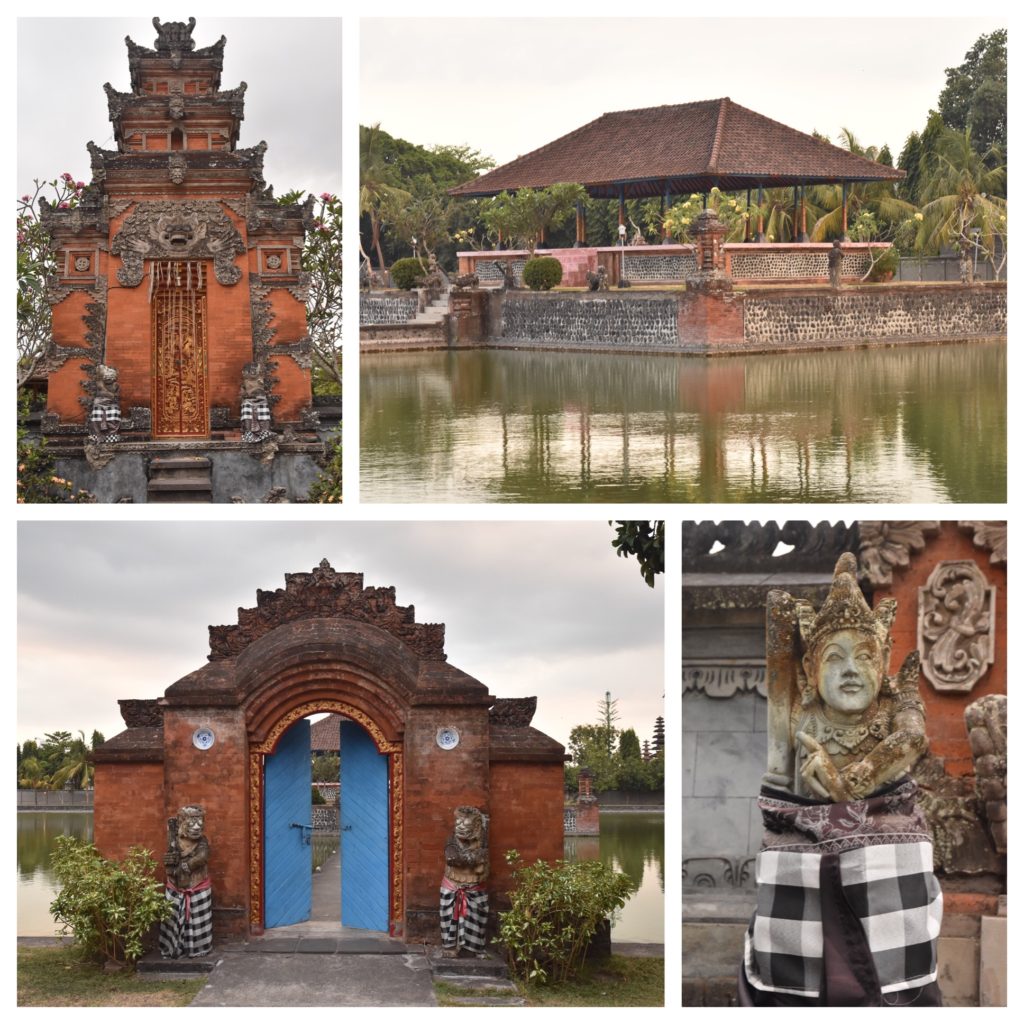 The Japanese invaded and occupied Lombok during WWII until their withdrawal at the end of the war when it was returned briefly to the Dutch until Indonesia gained its independence.
Lombok is the most touristy island that we have visited so far, with overflow from neighbouring Bali. The resort of Senggigi is a long strip of hotels, restaurants, bars and shops stretching 10km along the sweeping bays of north west Lombok and it was quite a shock to see such modern development as we headed back along the coast road to the marina.
In August 2018, shortly before last year's Sail to Indonesia Rally arrived, a scale 7.0 earthquake in North Lombok had damaged Medana marina and the nearby villages and rally crews then provided the expertise, funds and labour to rebuild a local kindergarten school. When we walked out of the grounds of the marina and adjoining hotel through the streets of the neighbouring village there was still evidence of the devastation caused by the earthquake – piles of rubble and collapsed timbers from former homes amongst the rebuilt shops and wooden, single story dwellings, although the large village mosque appeared largely undamaged.
At the marina we enjoyed the luxury of proper showers, even if they were cold, and got on with the usual boat chores and maintenance. The laundry came back fresh, clean and beautifully pressed, carefully folded and wrapped in plastic covers. Several trays of Bintang, the local Indonesian beer, were purchased and we filled up Vega's water tanks with filtered water. Hugh hosed down the decks of months of accumulated salt and dirt and we paid to have the hull scraped clean of the thick growth that had accumulated since we last cleaned it, only just over a month ago (having engaged the services of an adult we were rather surprised when a couple of 12 year olds turned up to swim under Vega and do the actual scraping). We took delivery of 80 litres of diesel but, along with some other cruisers, there was an argument about the grade of diesel being provided by the marina – we had ordered Dexlite, the better quality diesel and what came looked like Solar, the much cheaper diesel with which Indonesians fill their scooters and cars but not suitable for marine engines. Hugh was taken off to the fuel station to see what came out of the Dexlite pump as evidence that the marina was not trying to cheat us and indeed, it looked like exactly what they had supplied. Even so it is a much lower grade than we'd get in the U.K. and requires filtering to remove sludge and water before we can put it in our tanks. Fuel for the locals is heavily subsidised here and as foreigners we can only buy diesel at an unsubsidised price and at limited outlets. We need to keep our tanks and spare containers topped up as the winds in Indonesia are unreliable at this time of year and we may well be doing a lot of motoring.
From Medana Marina it was a short motor over to the neighbouring island of Gili Air in the still, clammy afternoon heat, to pick up a mooring buoy in the small harbour there. Gili Air is one of the three small Gili Islands, popular with backpackers who arrive and leave daily on ferry boats from mainland Lombok and Bali. These, and numerous tour and dive boats, whizz through the bay at speed causing the yachts to rock in their wake.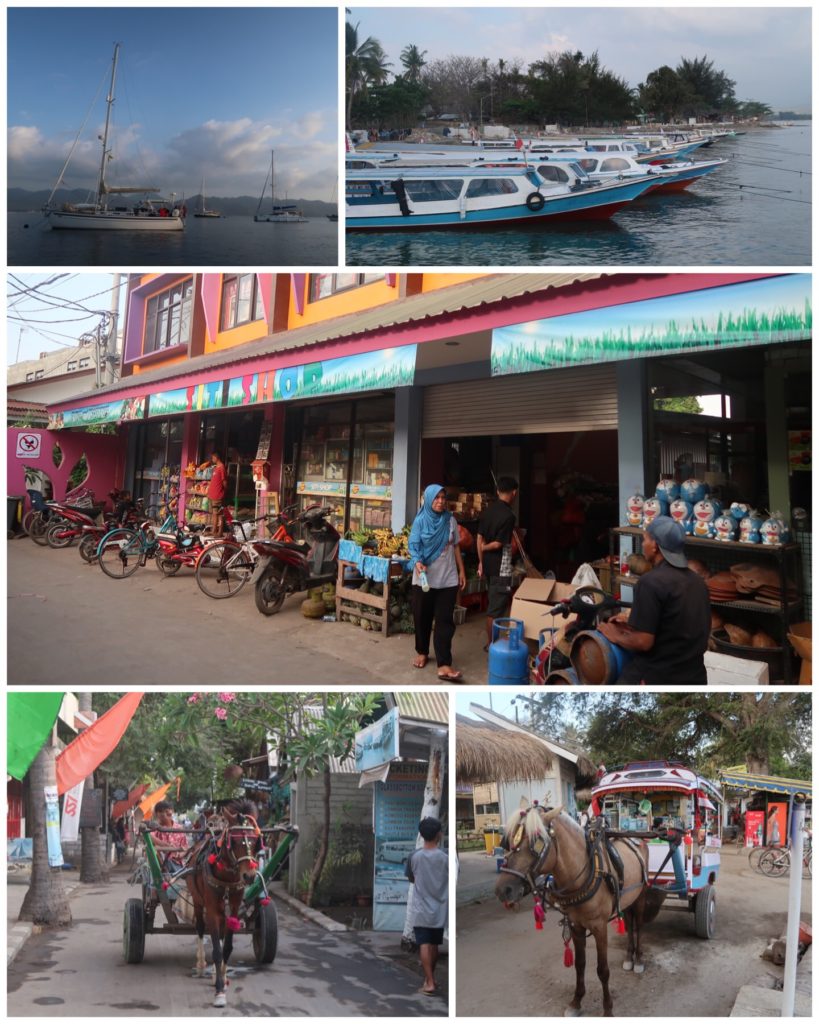 Gili Air has a chilled atmosphere. You can hang out in bars and coffee shops or work on your tan on one of the beaches. Cafes, dive shops, clothes shops and tattoo parlours line the dirt streets, with horse drawn carts clopping their way up and down carrying goods and tourists, as cars and scooters are banned on the island. It is all quite low-key and if you want serious partying then neighbouring Gili Bodo is the place to go.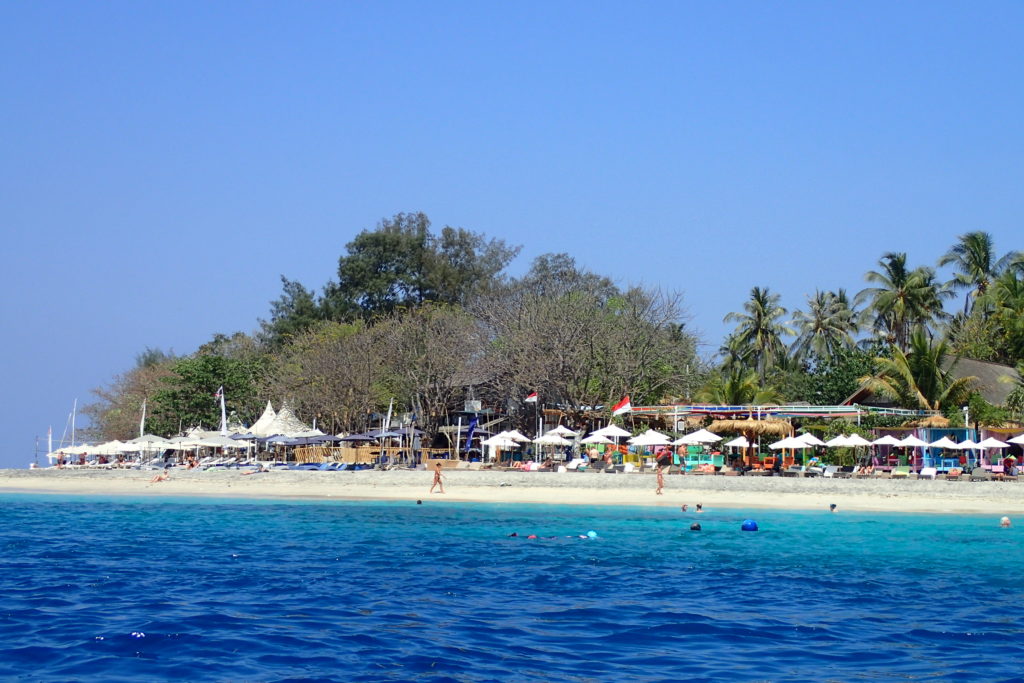 We arranged a couple of dives with Susan from Enchantress and saw turtles, moray eels and all sorts of extraordinary marine creatures.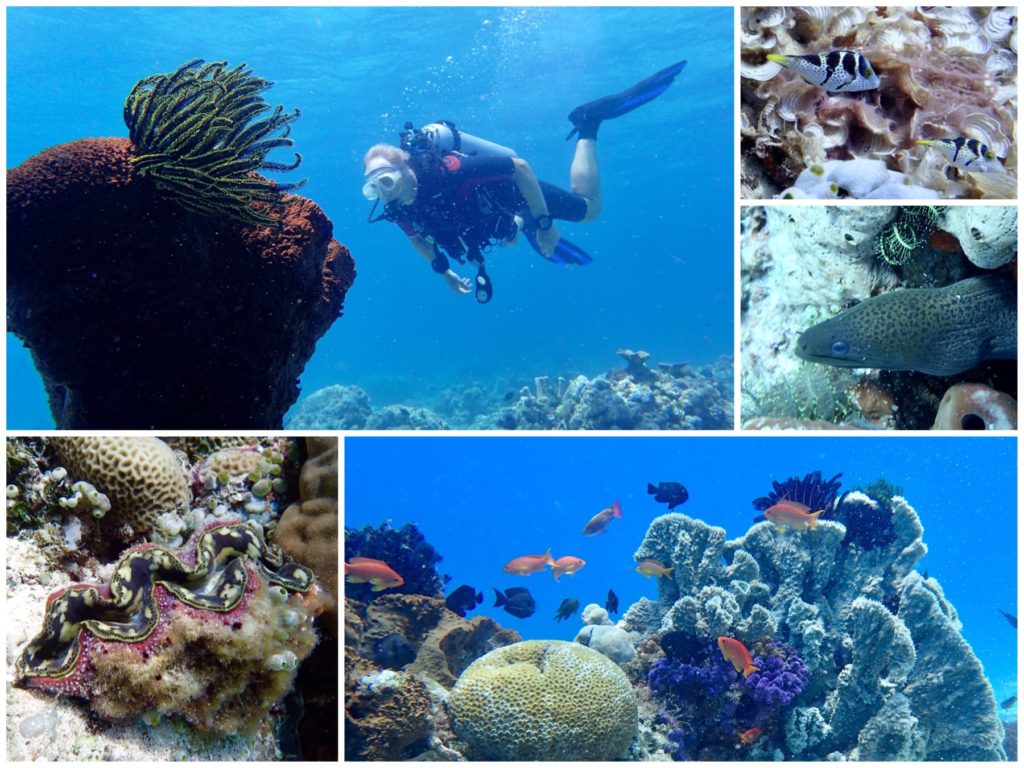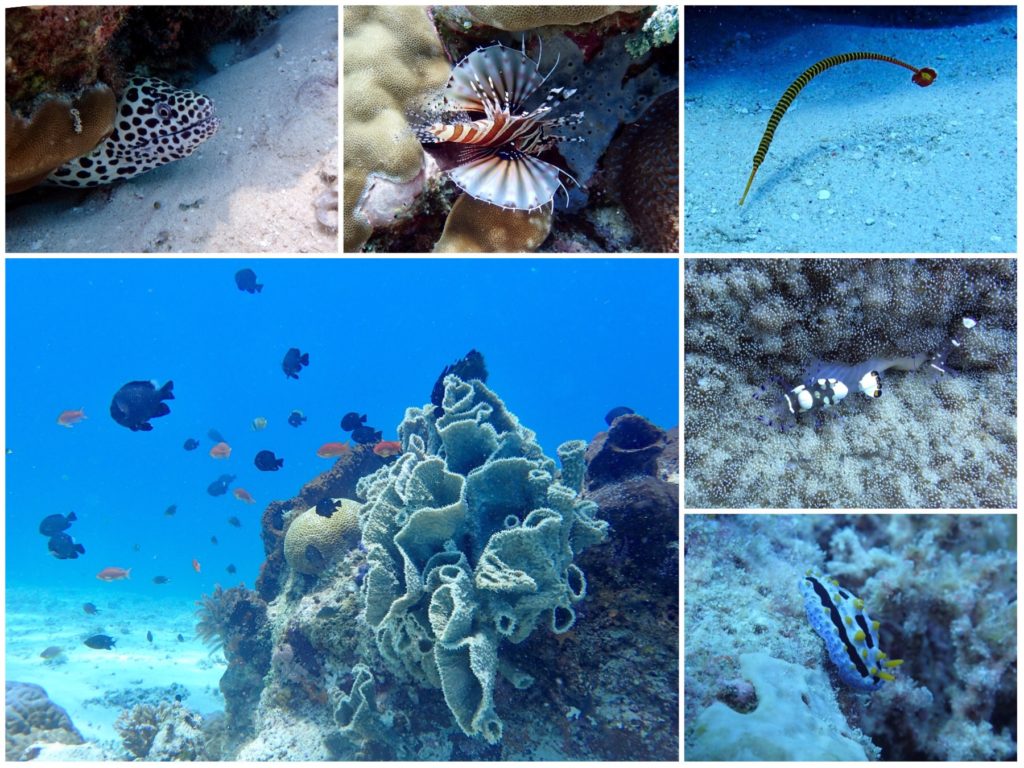 After a couple of nights in Gili Air, enjoying the relaxed touristy atmosphere and eating out at night with cruising friends at one of the beachside restaurants to the accompaniment of a band playing Bob Marley and Santana, we left soon after dawn, heading west to Bali.