Monday 14th to Monday 21st October 2019
Kumai, Borneo to Belitung Island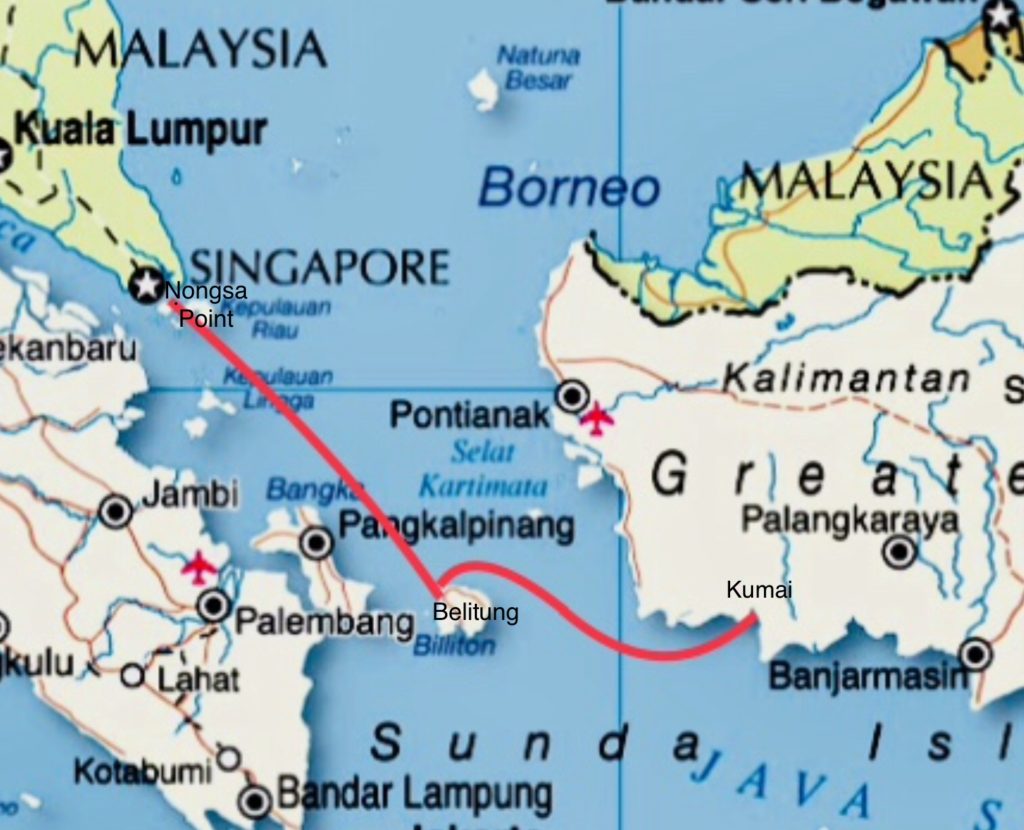 It was 275 miles west from Kumai in Borneo to Belitung Island, which meant two nights at sea. We had anchored overnight by the mouth of the river Kumai to be ready for an early start, along with friends Ingvar and Tuija on Hakuna Matata and Michael and Caroline on Golden Spirit, and were up before 5am to leave. We decided to keep well away from the south of Borneo as it was shallow with sandbars for up to 20 miles from the coast, sometimes only a few meters deep with the possibility of running aground on the shifting sandbanks as well as lots of fishing boats and nets to get tangled with. One catamaran, Vaa Nui, had already got caught in a net whilst sailing a more northern route, close to the shore, and they had to swim under the boat to cut themselves free. We headed further south to an offshore route that the cargo ships seemed to be taking, hoping that this way would be clear of obstacles, and motored for most of the morning until the wind came up and we could raise full sails on a beam reach.
In the night we started to cross the main shipping lane, 50 miles wide, with cargo ships and tankers heading between Singapore and ports in Indonesia and beyond, occasionally having to change course to avoid being mown down by some huge vessel steaming along at 20 knots. There wasn't much wind the following day as we continued across the busy shipping lane so we motored, but by the early afternoon were able to put up the cruising chute as the wind finally picked up. The time passed reading, writing emails, checking our route. I had made a chicken casserole before we left Kumai and so we had supper in the cockpit at dusk before taking turns at night watch. On the second night a massive lightning storm at midnight meant Hugh put our electronic items in the oven for protection… somehow I managed to sleep right through it.
The third day at sea dawned hot, clammy and almost windless. Hugh was sleeping so I let the sails flap as our speed dropped from 3knots to not much more than a knot, as we drifted along the north coast of Belitung, watching out for FADs. After he'd woken we started the engine and by early afternoon were anchored with other rally boats in the stunningly beautiful bay of Tanjung Kelayang on the north west of Belitung island. The water was clear turquoise blue, with massive granite rocks along the shoreline and painted wooden fishing boats pulled up on the shore.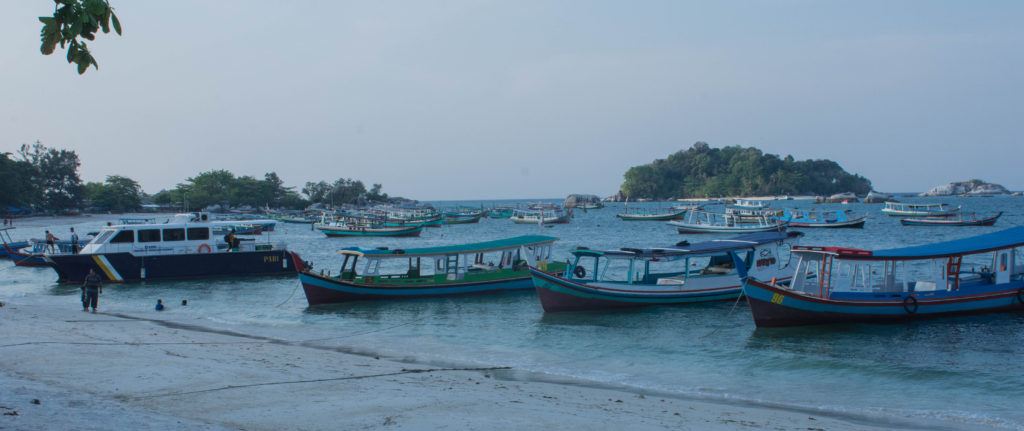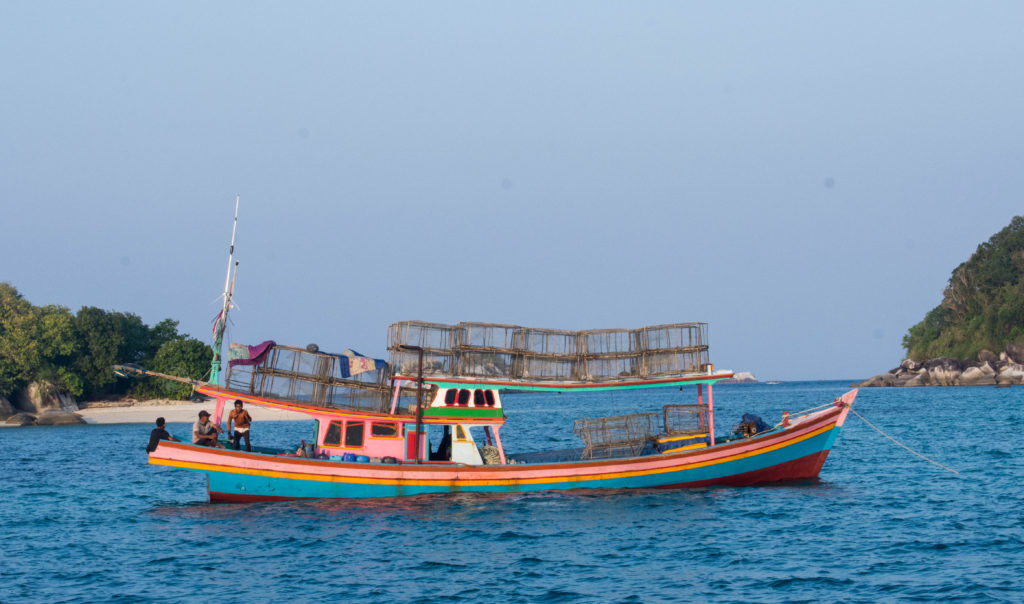 Belitung is well accustomed to tourists, mostly from Jakarta, and has a well developed tourist industry. The welcome we received, the entertainment programme that had been laid on by the tourist board and the gifts of t-shirts, hats, backpacks etc given to us, were overwhelming. Every evening a different band played and during the day there were displays of local dance and customs, not always very well attended by the rally crew who could mostly be found drinking beer in the bar on the beach (us included). We later found out that there had been competitions to decide who could have the privilege of performing for the rally.
A day 'city tour' was organised, smiling young guides taking us on air conditioned coaches to see the sights of the island. First a visit to the Junior Hugh School with an enthusiastic welcome by the schoolchildren and a dance display, followed by line dancing, Indonesian-style, which we were encouraged to join in with. We were served refreshments of 'lepat', glutinous rice wrapped in pandas leaves, really delicious, and a refreshing drink 'es kelapa muda', iced coconut water and flesh, sweetened with syrup.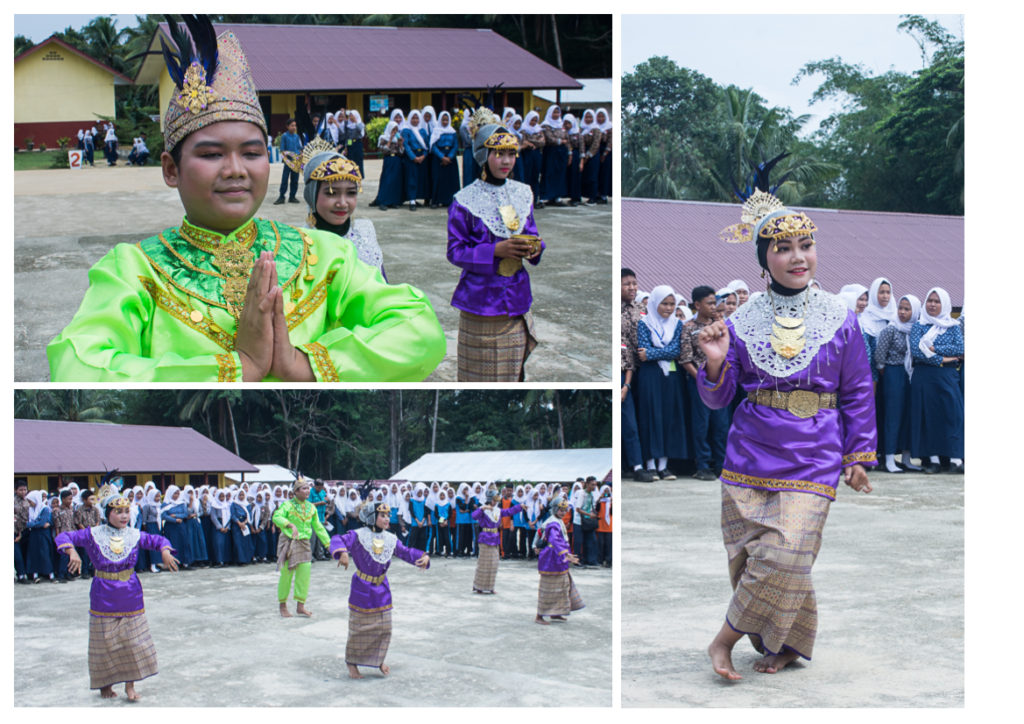 The next stop was the Geopark with displays on the geology of Belitung with its spectacular granite landscape and also on its tin mining. We were officially welcomed at the mangrove park where two men carried out a combative rhyming banter for the prize of a pair of sunglasses (the Indonesian speakers found it amusing, we were completely mystified), followed by more dancing and a lunch of rice with extremely spicy fish and vegetables, eaten with the right hand only, sitting cross legged on the floor (not so easy for some of us ageing westerners).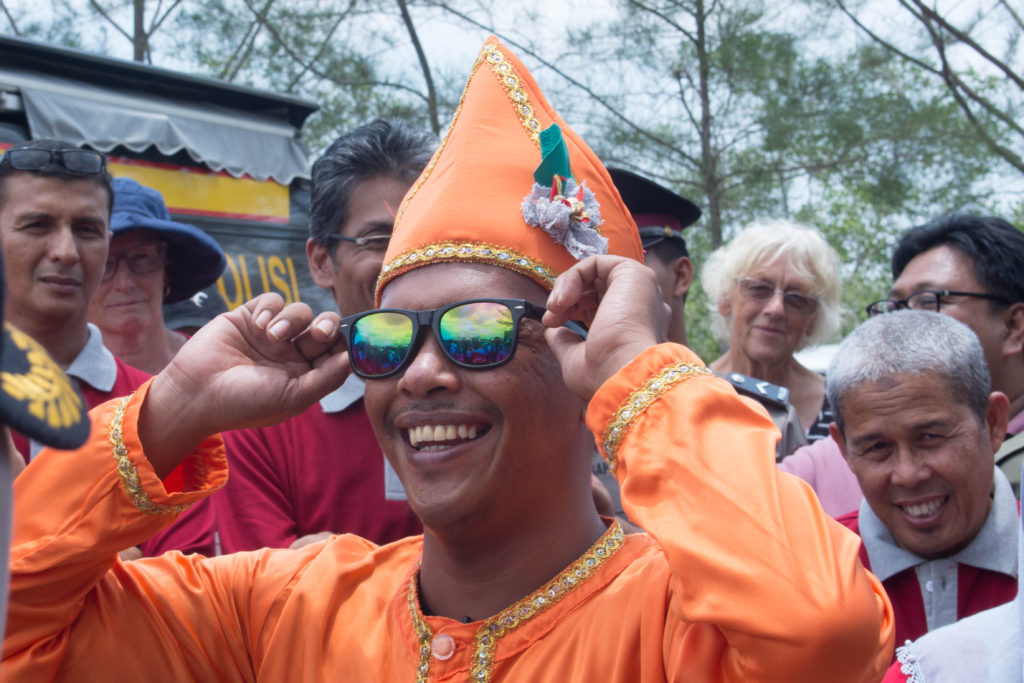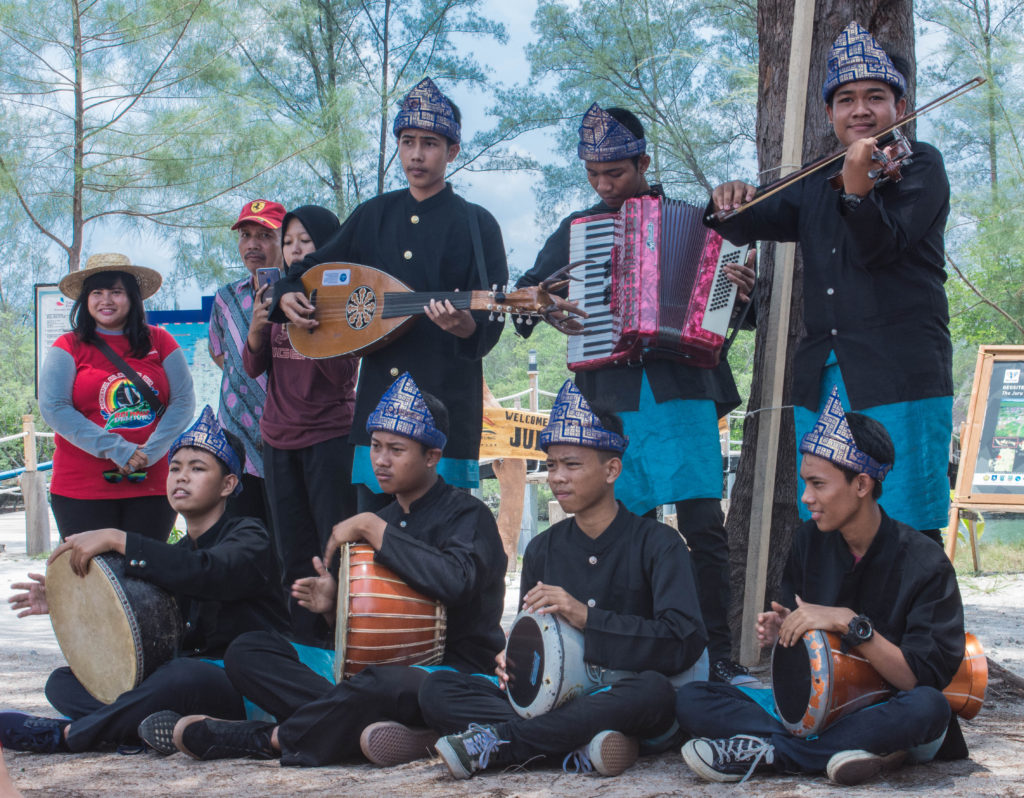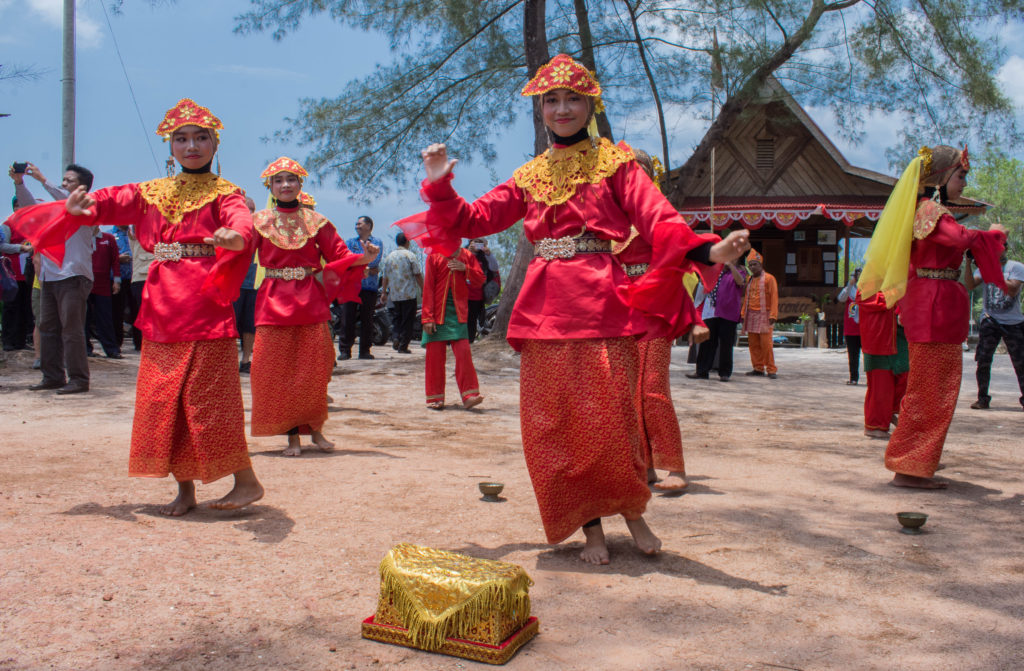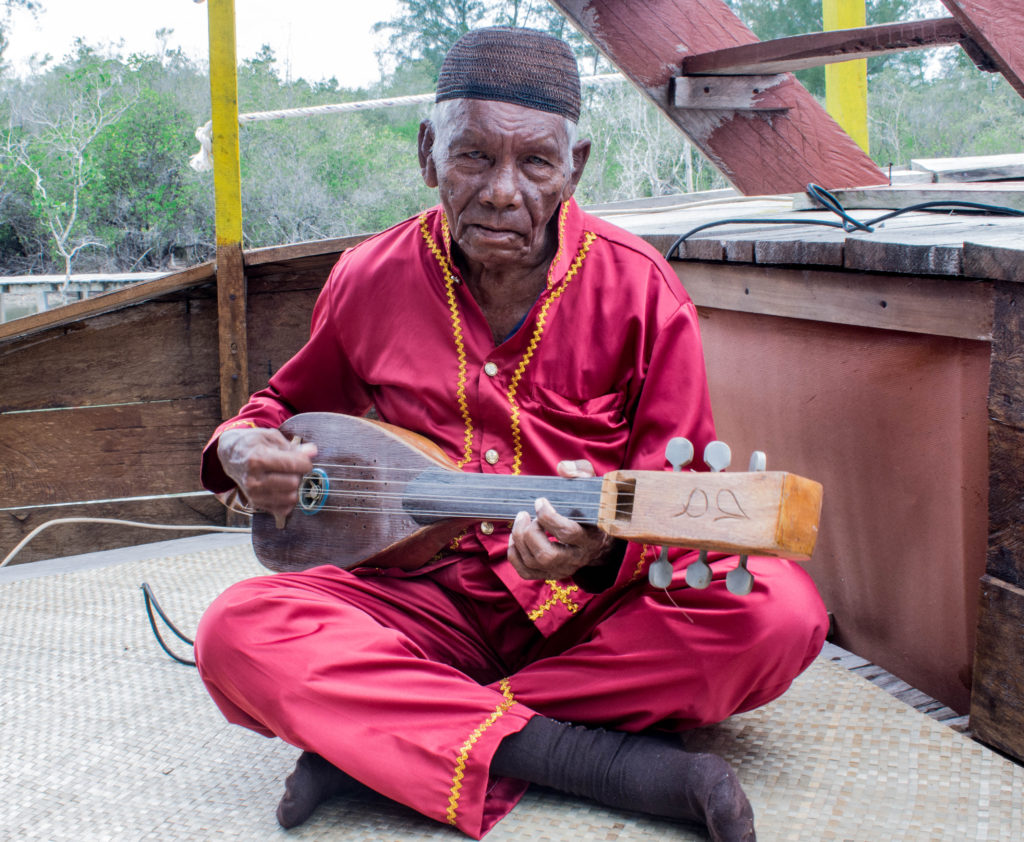 A stop for coffee in the main town of  Tanjung Pandan also allowed a visit to the Telkomsel office for some to top up Indonesian SIM cards and to the supermarket for others to top up on groceries, fruit and vegetables (but sadly no beer).  Then on to the ship building village of Aik Saga, where the large wooden 'rocking' fishing boats with high transoms, are hand-built. We were told this shape with a very curved hull is to ensure a stable shape when they are in the water, fully laden.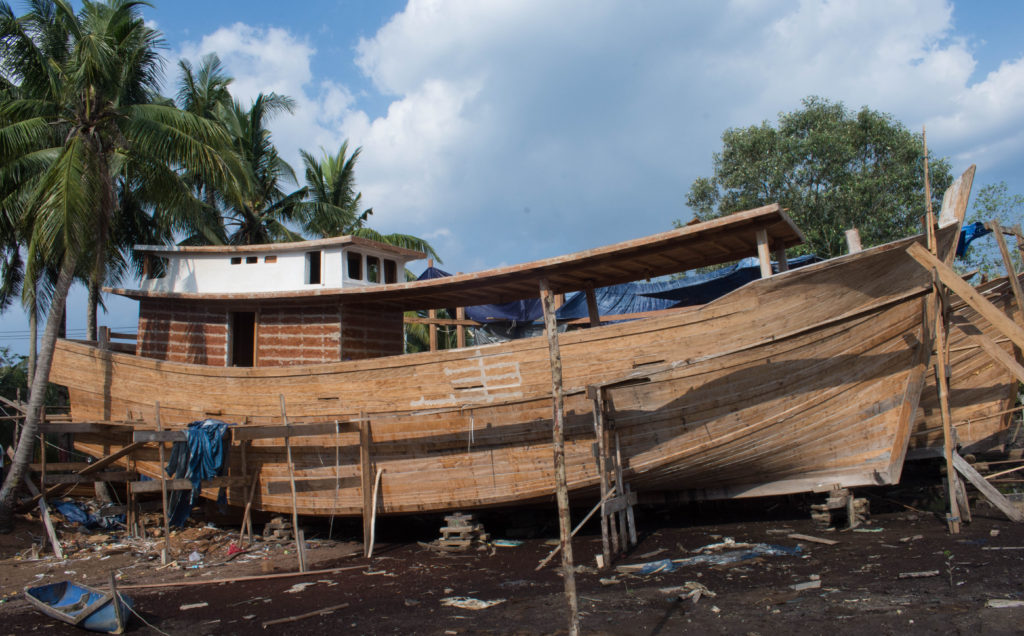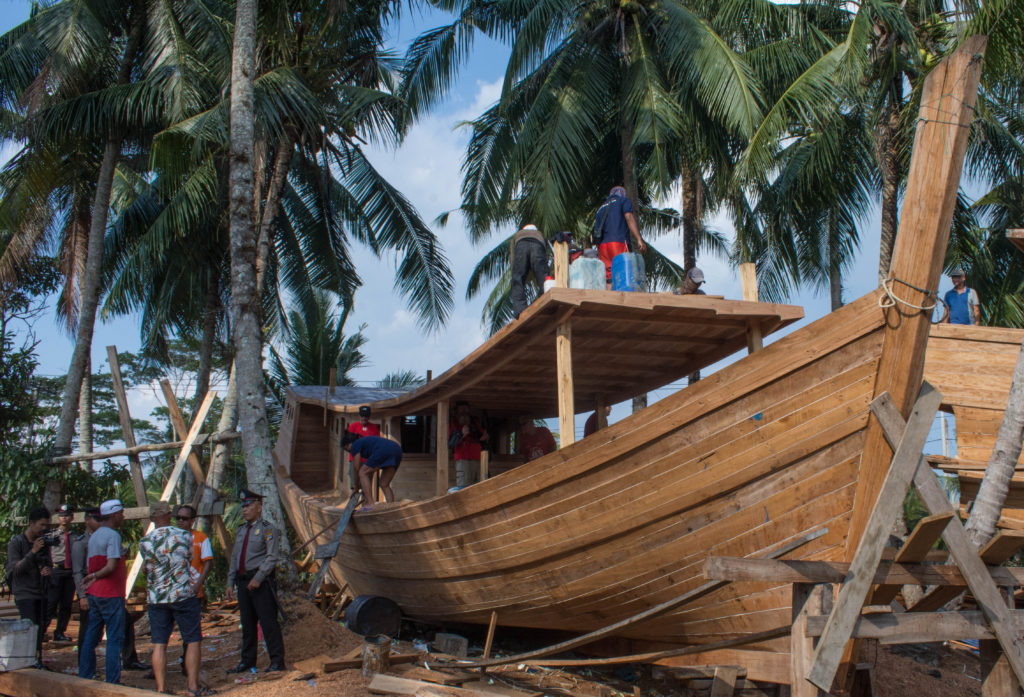 On the coach on the way back our young tour guides had prepared a quiz for us on the sights of Belitung (bad marks all round) and we joined in a singsong.
That night the Welcome Dinner, with local dignitories present, was a fabulous event with traditional dance displays, spectacular and extraordinary carnival-like costumes, live music from several bands, the rally crew up on the stage waving our nation's flags and singing 'We are Sailing', with dancing late into the night. For a grand finale the band performed an impressive 'Bohemian Rhapsody' to a standing ovation from those with the stamina not to have gone to bed (yes, we were amongst the last standing).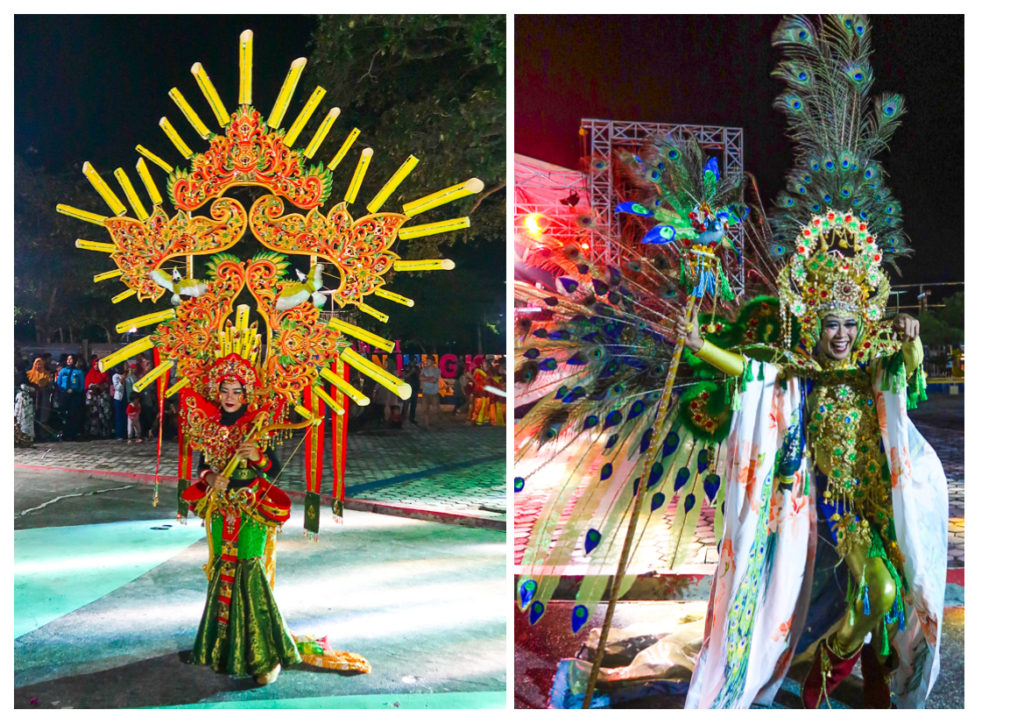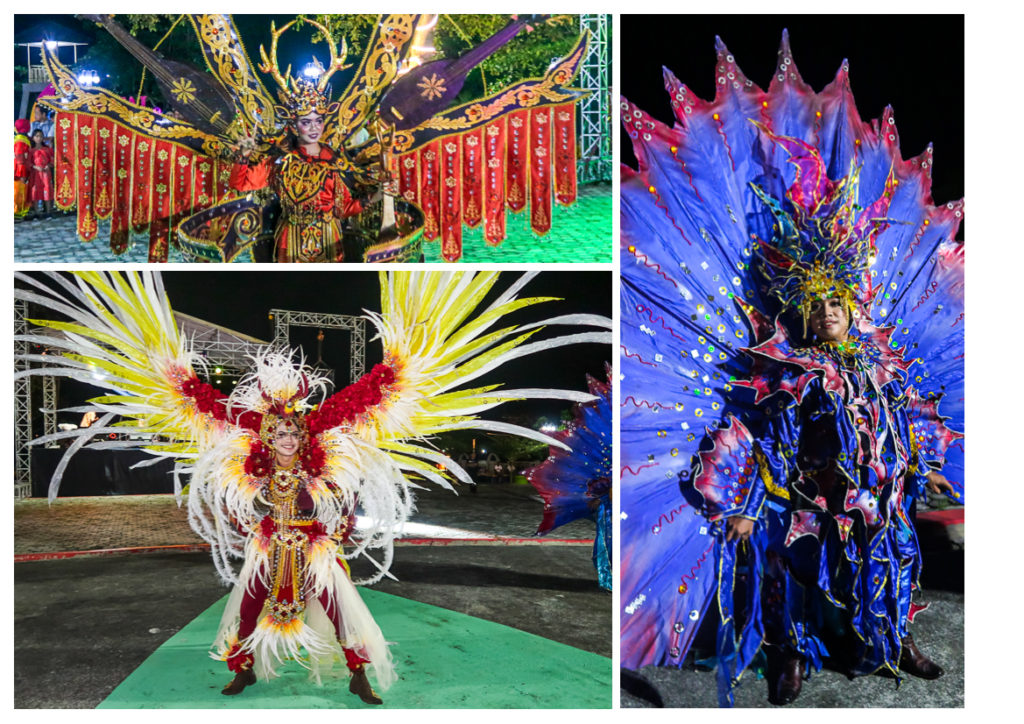 We also arranged a boat tour to some of the smaller islands nearby in a colourful, painted long boat, to swim, snorkel and to see more of the amazing granite rock formations.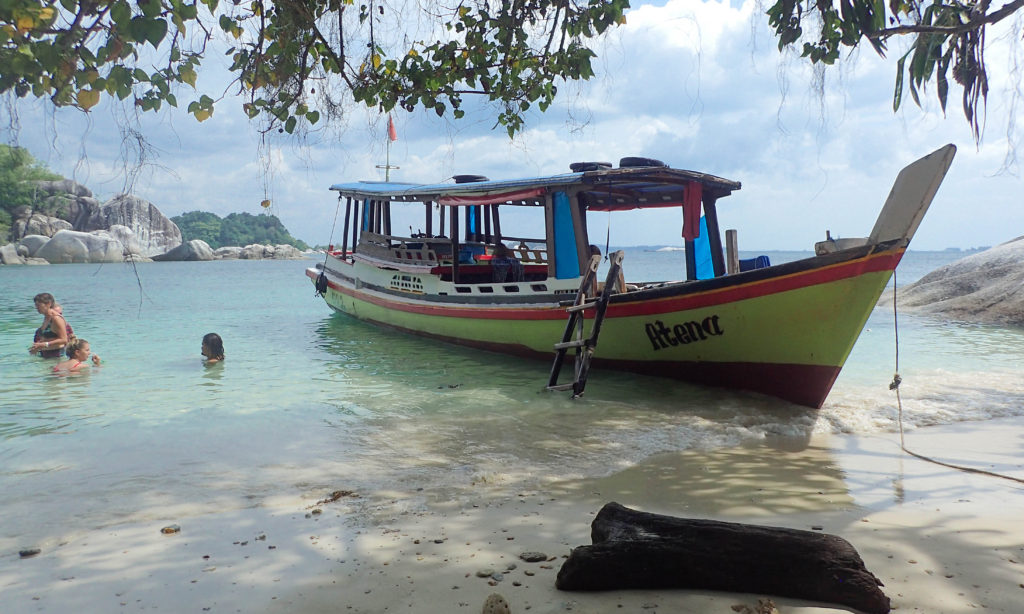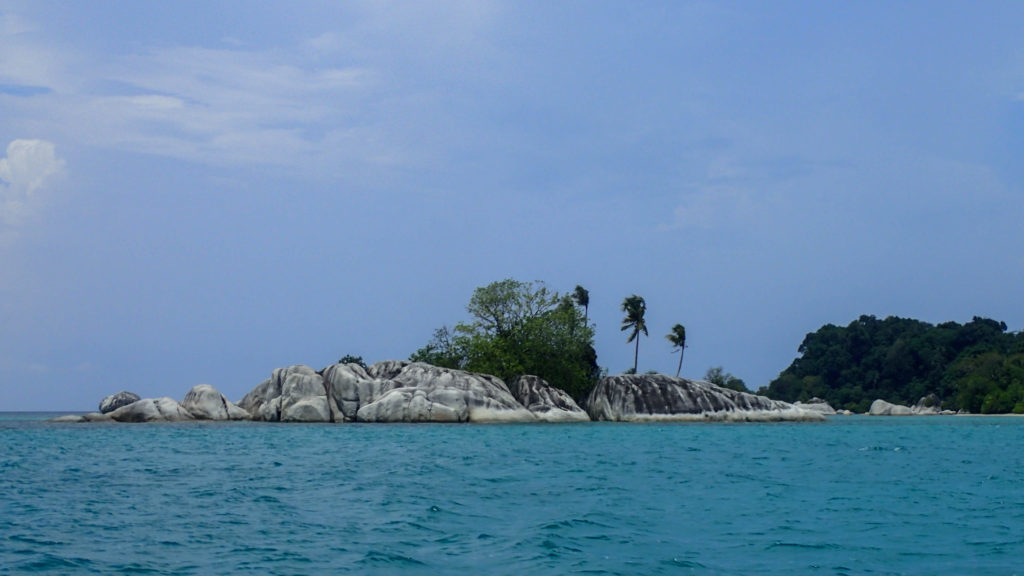 On Pulau Lenghaus there is a 65 metre lighthouse, the cast iron plates manufactured in England and erected here by the Dutch colonial government in 1882, which is still in good working order. It is usually shut to tourists as some of the treads in the winding staircase inside are missing but our guide, Zach, knew the lighthouse keeper and we were able to climb the 313 iron stairs to the top for dizzying views down to the island and sea below, with majestic frigate birds hanging in the air currents around the top of the lighthouse.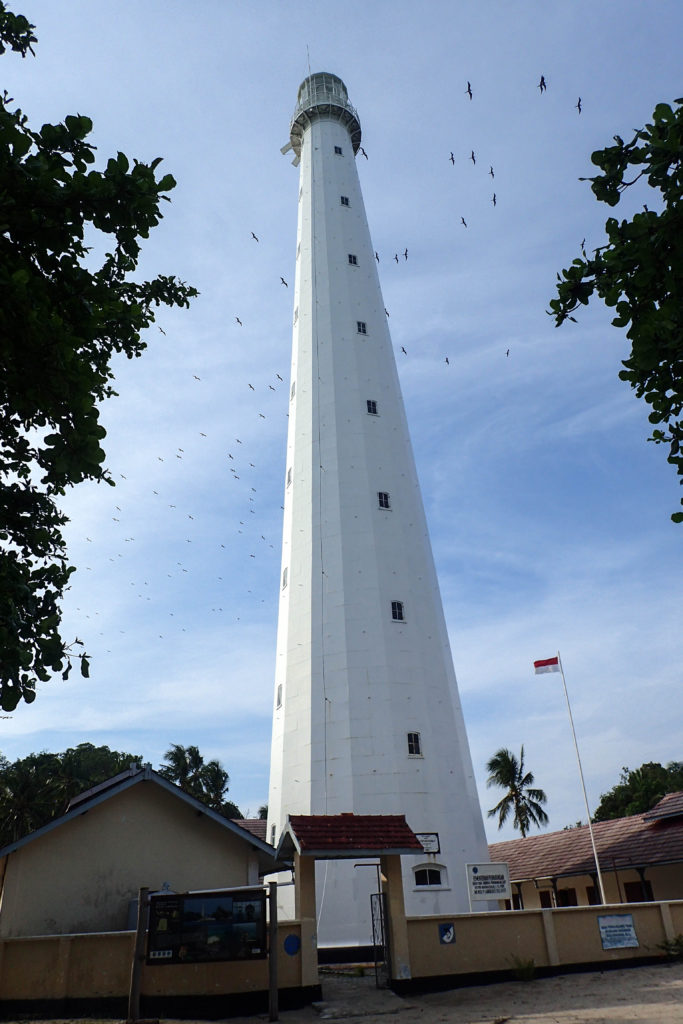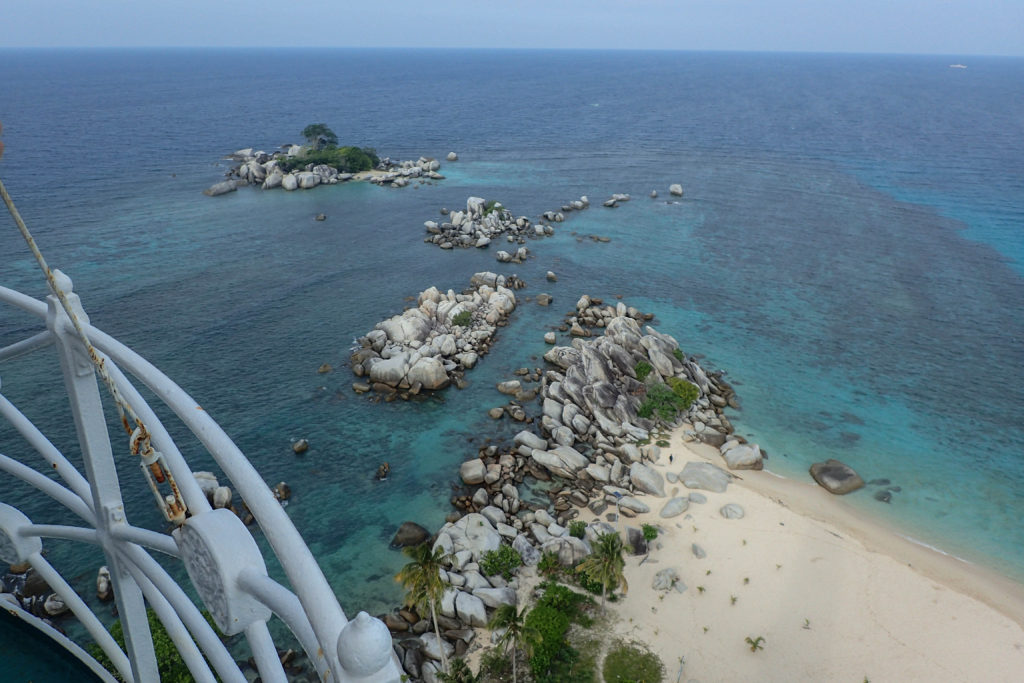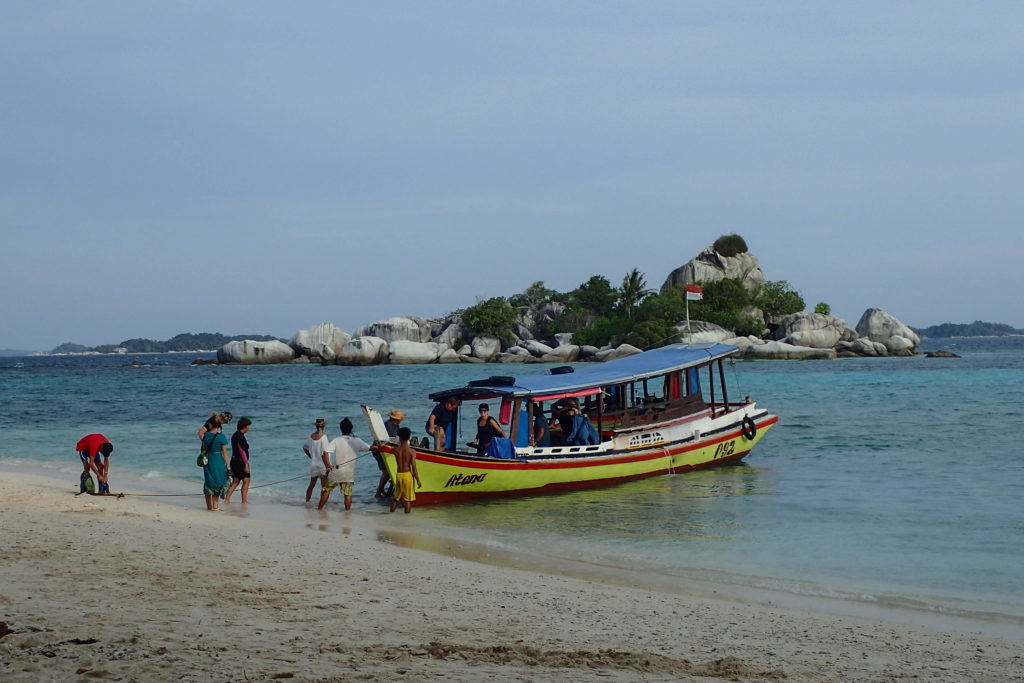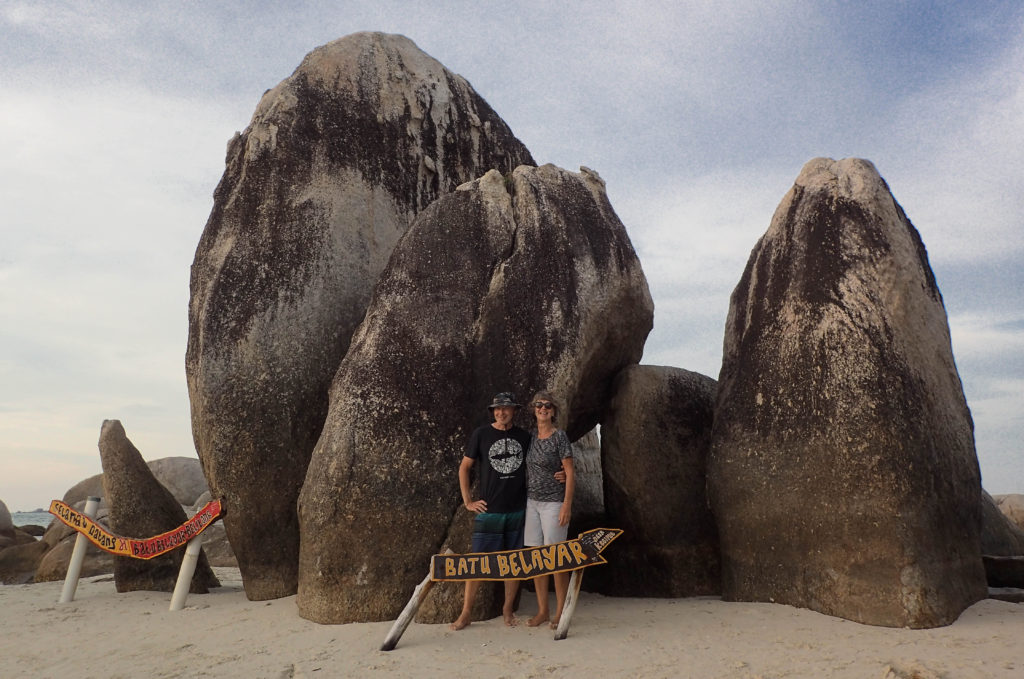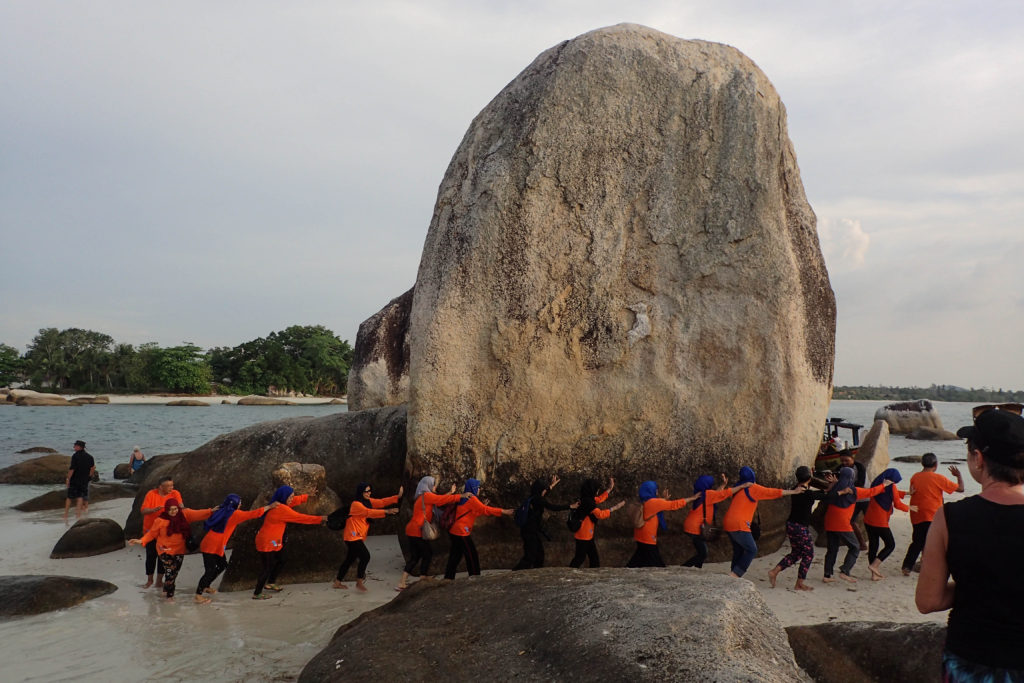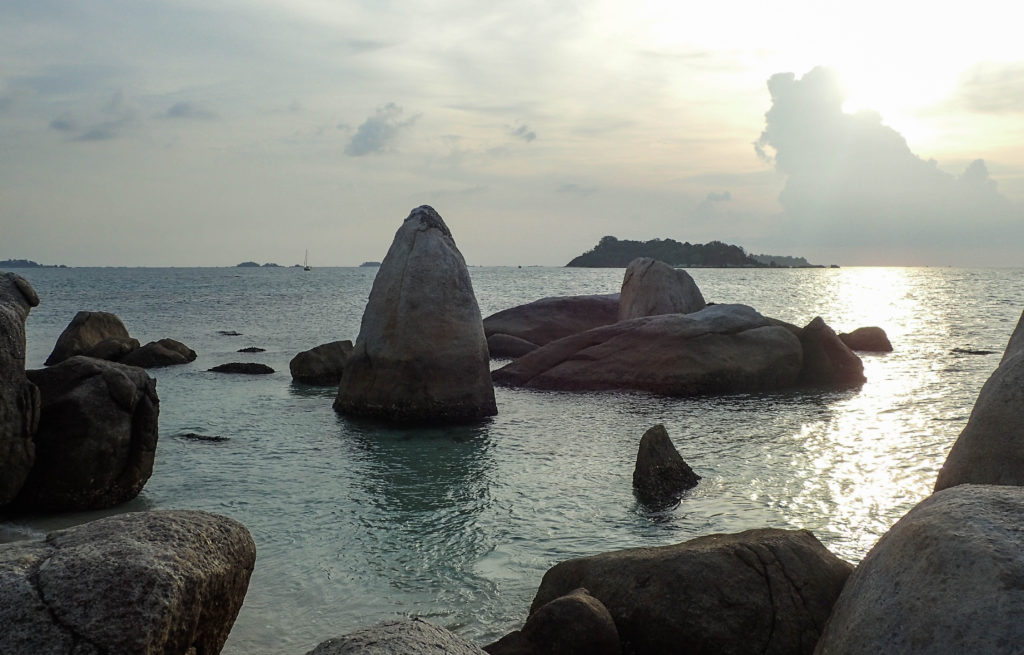 Of course the more mundane jobs too had to be done and we took bags of laundry ashore which came back 24 hours later clean and ironed. Judy from Pit Pony set up a hairdressing salon on the beach and had a queue of cruisers, including Hugh and me, wanting trims or new hairdos.
Monday 21st to Friday 25th October
North from Belitung to Nongsa Point Marina
Although the rally provided us with a sailing schedule and programme of events at each stop, of the 60 or so boats that had originally registered with the rally some had never made it, some dropped out along the way, others like us came to about half of the scheduled stops and only a handful of boats stuck rigidly to the full programme. By Belitung there were the crews of around 30 boats still taking part in rally events. We had decided to skip the last three official rally stops and had flights booked home for November 21st from Malaysia. We had been away from home since early March and were feeling rather homesick. Despite the absolutely wonderful places, experiences, the friends we'd made and particularly the incredibly friendly, happy, generous Indonesian people, we had found the rally exhausting at times, very full on without much time to relax and to catch up with the everyday chores, and the long overnight passages, having to be alert to the hazards of fishing boats, nets and FADs (fish attracting devices) were all wearing. Latterly the additional worry of electric storms, particularly at night when on passage, was adding to the stress. Hugh in particular wasn't sure whether he wanted to continue with the circumnavigation next year and had been looking into shipping Vega back from Thailand to the Mediterranean, to Turkey, Italy or even Southampton.
Our Swedish friends, Ingvar and Tuija, on Hakuna Matata also needed to get to Singapore for early flights home so we set off together, splitting off from the procession of rally boats heading west towards the next rally stop. We had two nights and three days at sea of mainly motoring, beset by frequent and sometimes quite alarming lightning storms and occasional squalls and torrential rain. Black nights with heavy cloud cover and the numerous small fishing boats made night watches especially tiring. We passed near to several islands where, close to the coast, the hazard of getting caught in a net suspended between rows of floats, was ever present and on several occasions we seemed to catch in one and break free.
After two days we crossed the equator, back into the Northern hemisphere – Vega had been in the Southern Hemisphere since May 2017 when we sailed to the Galapagos. It was 4.30am and we had a few sips of wine and gave Neptune a tipple too to keep him happy.
We broke the journey for the third night by Benan island but didn't go ashore, anchoring in a protected bay with two other yachts, Paw Paw and Whiskey Jack, who we'd caught up with. Paw Paw had, a few days earlier, been boarded by masked men who had left after being given fishing hooks and line, and being told that there was illness on board. This is the first we'd heard of any yachties feeling threatened in any way whilst in Indonesia.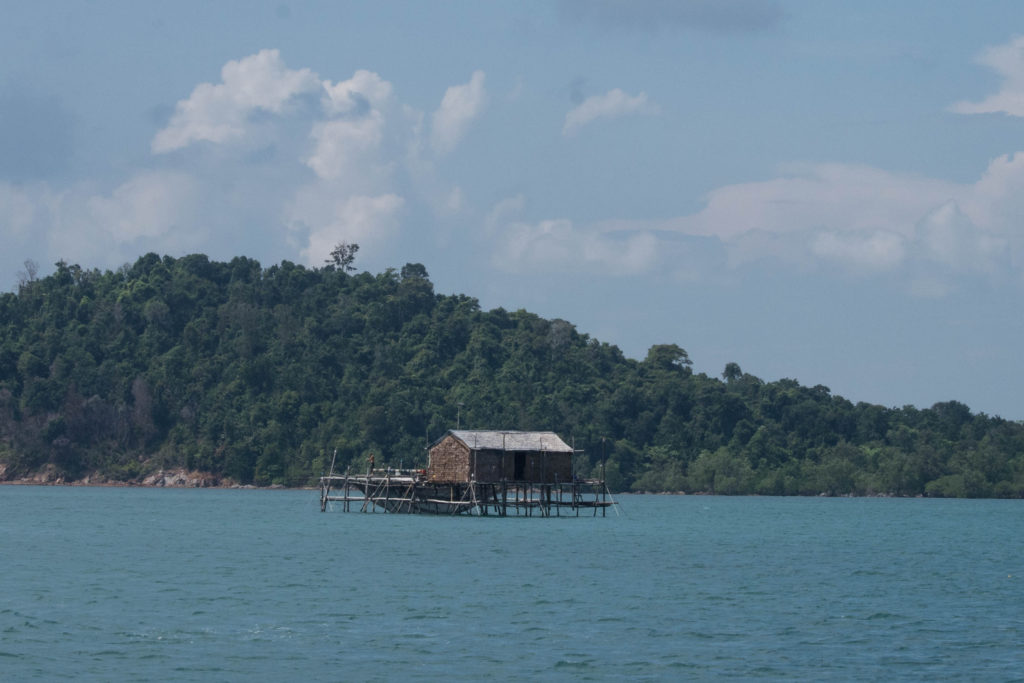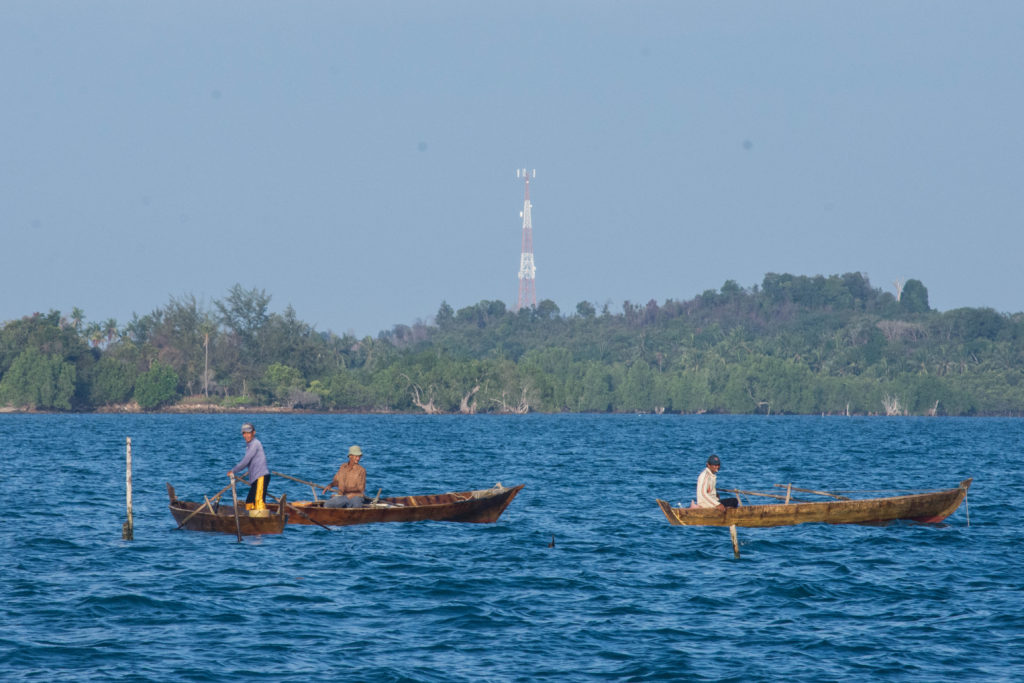 We had only another 55 miles to go to Nongsa Point Marina from Benan but with little wind and a strong tidal current against us as we headed north just outside the shipping lane, we reluctantly made another overnight stop en route with the three other boats, joining them for sundowners on Paw Paw. As we approached Singapore the next day there were increasing amounts of marine traffic with cargo ships at anchor along the way.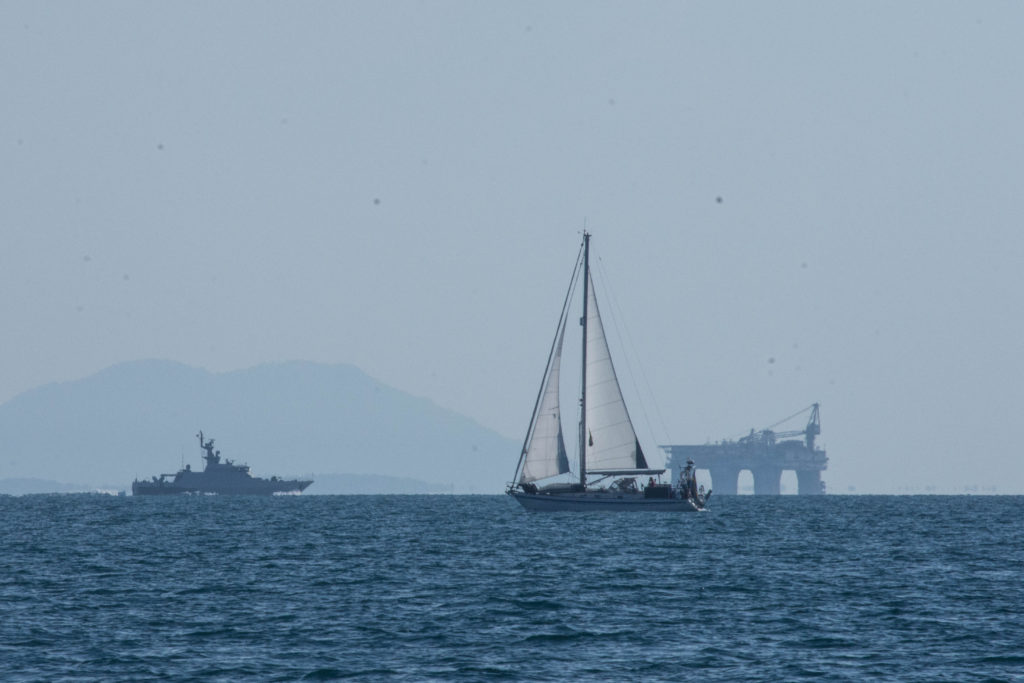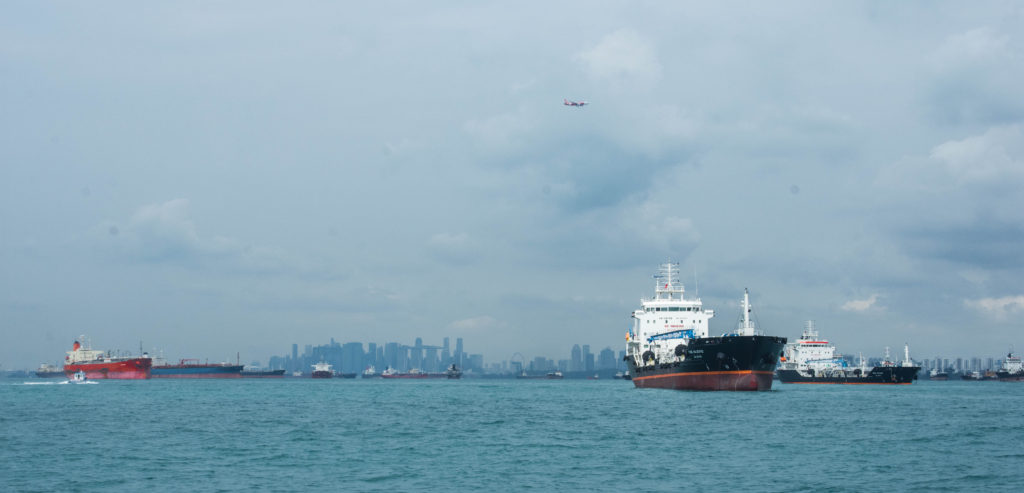 It was bliss to finally reach Nongsa Point Marina on the Singapore Straits, our last stop in Indonesia, the weather by now oppressively hot and humid. There was something very wonderful about a bit of western civilisation, the air conditioning, polished marble floors, the expensive restaurant and swimming pool, even the expats in the bar watching the World Rugby Cup on TV.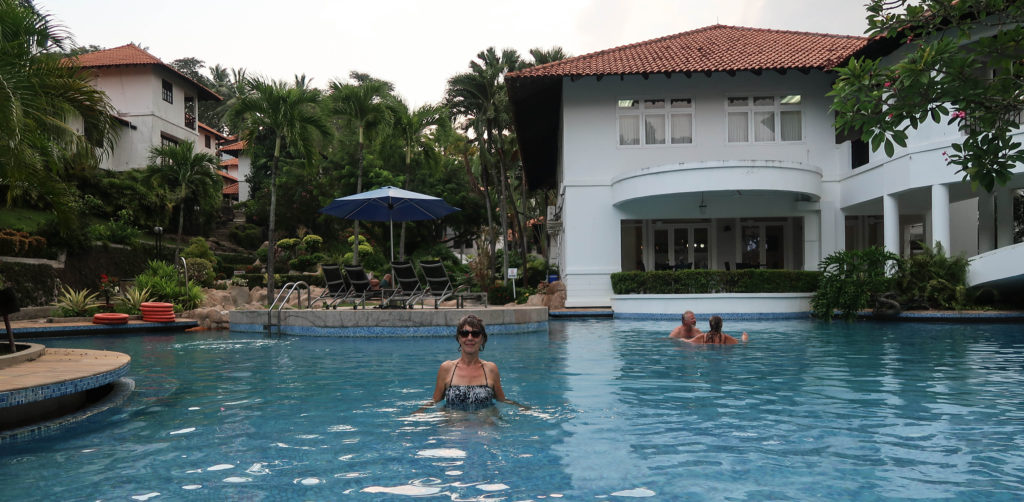 From here we would be leaving Indonesia to cross the Singapore Straits to Singapore and then up the west coast of Malaysia.
Post Script:
Indonesia has been a truly wonderful place to visit. Although Western tourists come to Bali in their millions each year and, to a lesser extent, Lombok, Komodo, Flores and Borneo, the other islands are still well off the beaten track. We have sailed over 3000 miles and experienced fabulous warmth and hospitality, been treated like VIPs, and have always felt safe.
So for those of you who are interested in such things, here are a few facts and statistics from Wikipedia about Wonderful Indonesia:
The Republic of Indonesia is the largest archipelagic country in the world, extending 5,120 kilometres (3,181 mi) from east to west and 1,760 kilometres (1,094 mi) from north to south. It has over 17,000 islands scattered over both sides of the equator, around 6,000 of which are inhabited.
It is the world's 4th most populous country as well as the most populous Muslim-majority country. Java, the world's most populous island, is home to more than half of the country's population. The country's capital, Jakarta, is the second-most populous urban area in the world. The sovereign state is a presidential, constitutional republic with an elected legislature.
Indonesia consists of hundreds of distinct native ethnic and linguistic groups, with the largest one being the Javanese. A shared identity has developed with the motto "Bhinneka Tunggal Ika" ("Unity in Diversity" literally, "many, yet one"), defined by a national language, ethnic diversity, religious pluralism within a Muslim-majority population, and a history of colonialism and rebellion against it. Although over 700 indigenous local languages are spoken in Indonesia, the official language is Bahasa Indonesian, a form of Malay.
Despite its large population and densely populated regions, Indonesia has vast areas of wilderness that support a high level of biodiversity. The country has abundant natural resources like oil and natural gas, coal, tin, copper, gold, and nickel, while agriculture mainly produces rice, palm oil, tea, coffee, cacao, medicinal plants, spices, and rubber.
The Indonesian archipelago has been a valuable region for trade since at least the 7th century when trade developed with mainland China and the Indian subcontinent. Local rulers gradually absorbed foreign influences from the early centuries and Hindu and Buddhist kingdoms flourished. Sunni traders and Sufi scholars brought Islam, while Europeans introduced Christianity through colonisation. The Dutch were the foremost colonial power for much of their 350-year presence in the archipelago although their hold was at times tenuous. The concept of "Indonesia" as a nation-state emerged in the early 20th century and the country proclaimed its independence in 1945. However, it was not until 1949 that the Dutch recognised Indonesia's sovereignty following an armed and diplomatic conflict between the two.
Since then the road to democracy has been marked by tension, authoritarian government, an attempted coup in 1965, a violent anti-communist purge that killed between 500,000 and one million people, followed by three decades of substantial economic growth. The 1997 Asian financial crisis hit Indonesia hard and political, economic and social instability, corruption, and terrorism remained problems in the 2000s; however, in recent years, the economy has performed strongly. Although relations among the diverse population are mostly harmonious, acute sectarian discontent and violence remain a problem in some areas.