Friday 1st to Thursday 21st November 2019
Leaving Nongsa Point Marina in Indonesia we needed to cross the Singapore Strait, one of the busiest shipping lanes in the world, with around 2,000 merchant ships passing back and forth along it every day. We had chosen what seemed to be a suitable place, at one of the designated crossing zones. The idea was to skirt along the edge of the mile wide Traffic Separation Scheme (like a giant two-way highway for cargo ships and tankers) then, when there was a gap between the big ships, to cross it, heading north in the direction of Singapore, then west and around to Malaysia, keeping well out of Singapore waters whilst trying not to stray into the shipping lanes either.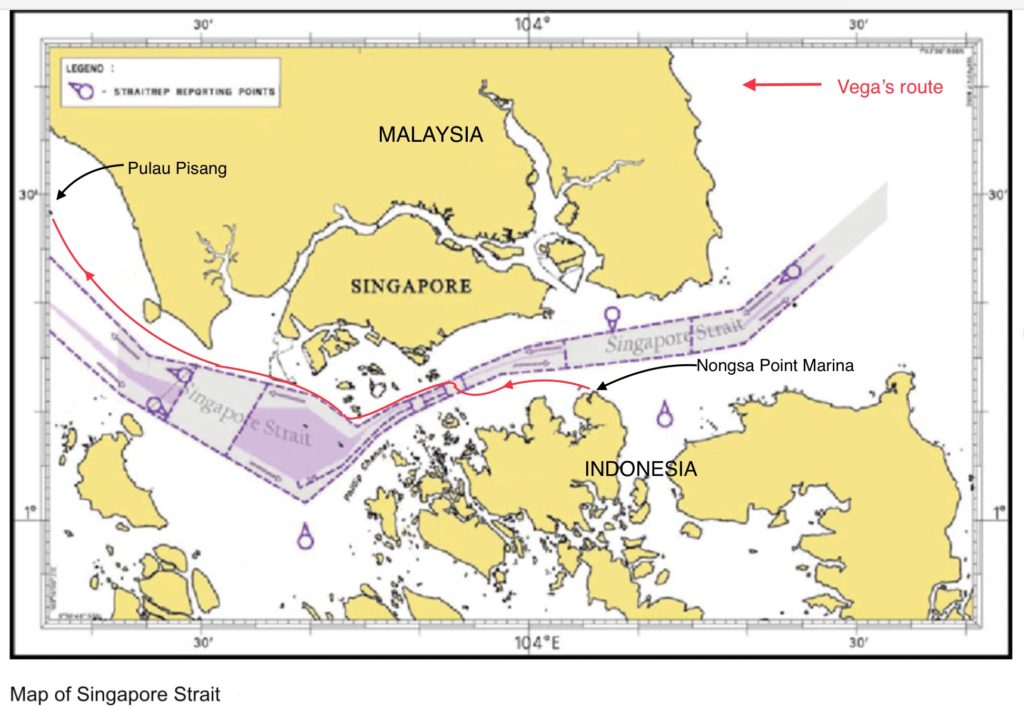 It was not nearly as stressful as we'd anticipated. In the distance the modern skyscrapers of Singapore emerged from the haze with numerous ships at anchor in their waters, cargo ships progressing both ways along the shipping lanes and fast passenger ferries crossing between Indonesia and Singapore at speeds up to 35 knots, both ahead and behind us. When we arrived at the designated crossing zone there was fortunately a lull in the procession of big ships and we motored as fast as we could across, at right angles to the main traffic flow in accordance with the Regulations.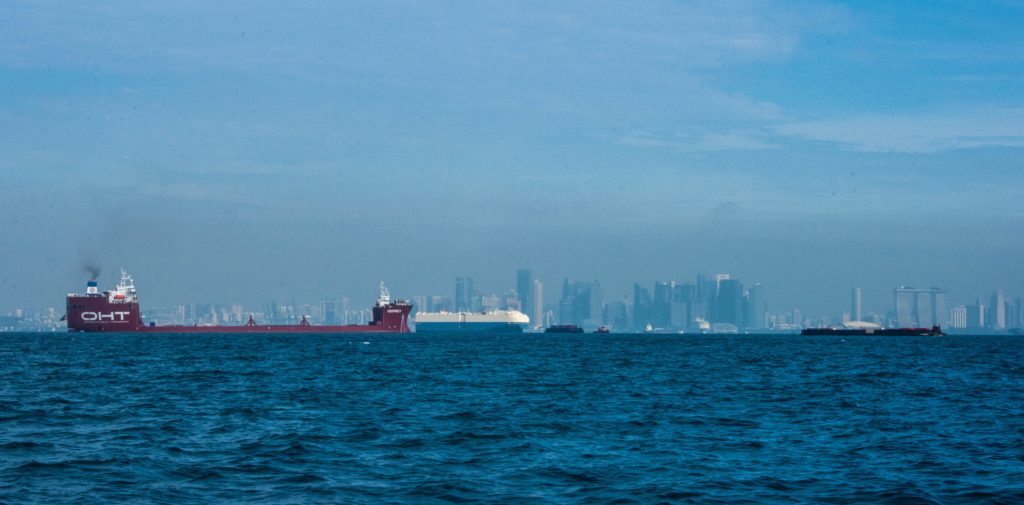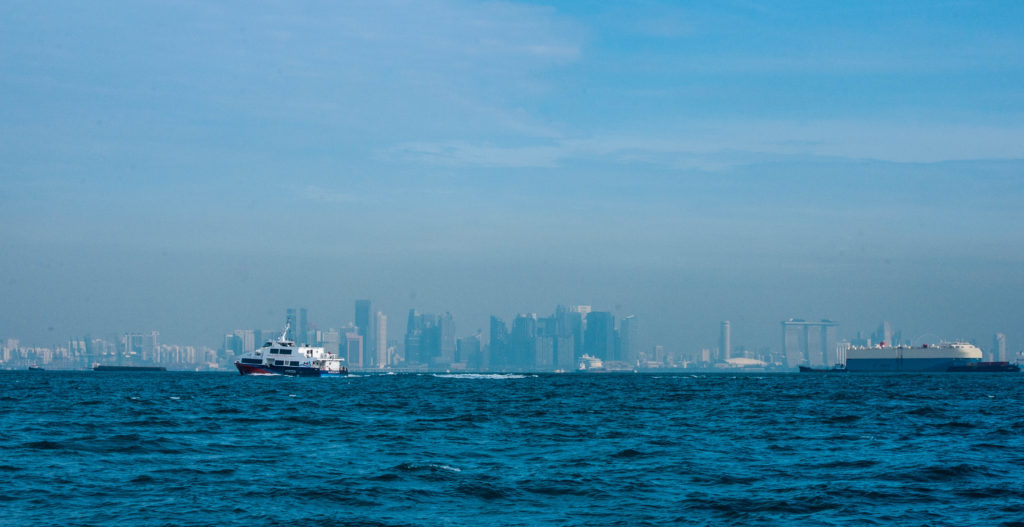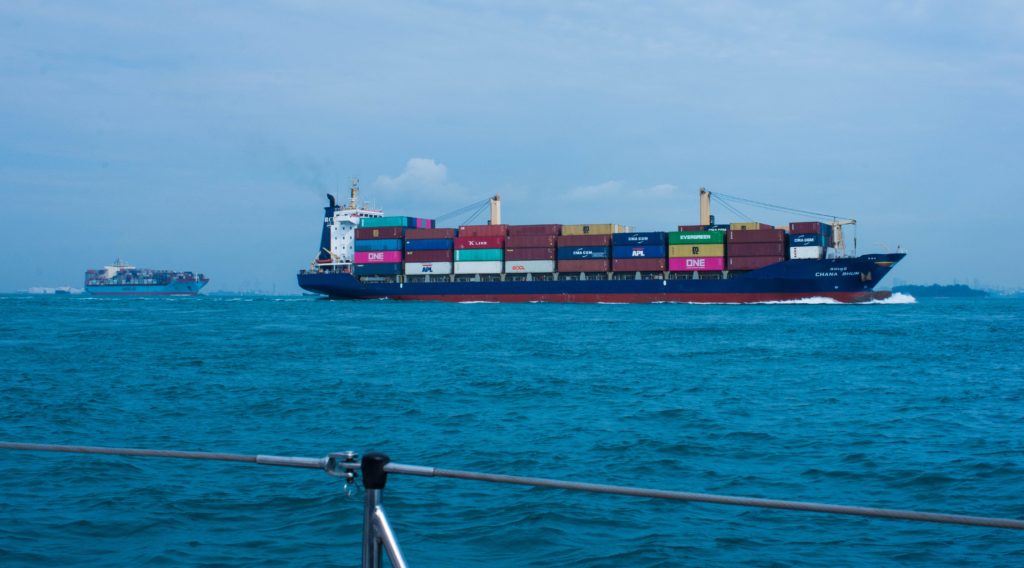 Although we kept well outside the boundary of Singapore Port waters we were soon approached by a police launch with some gun-carrying teenagers in police uniforms on board, who advised us that we were in Singapore waters and indicated that we should head back out into the shipping lane. They were probably just bored and felt like throwing their weight around but with a machine gun mounted on their bow we weren't about to start arguing.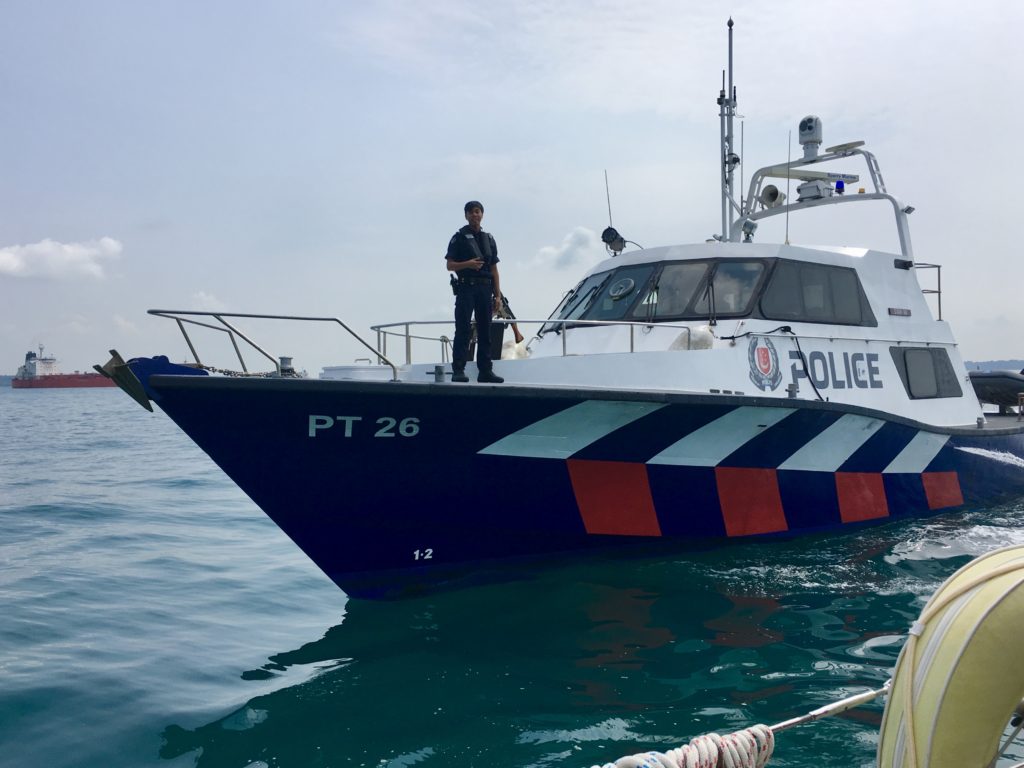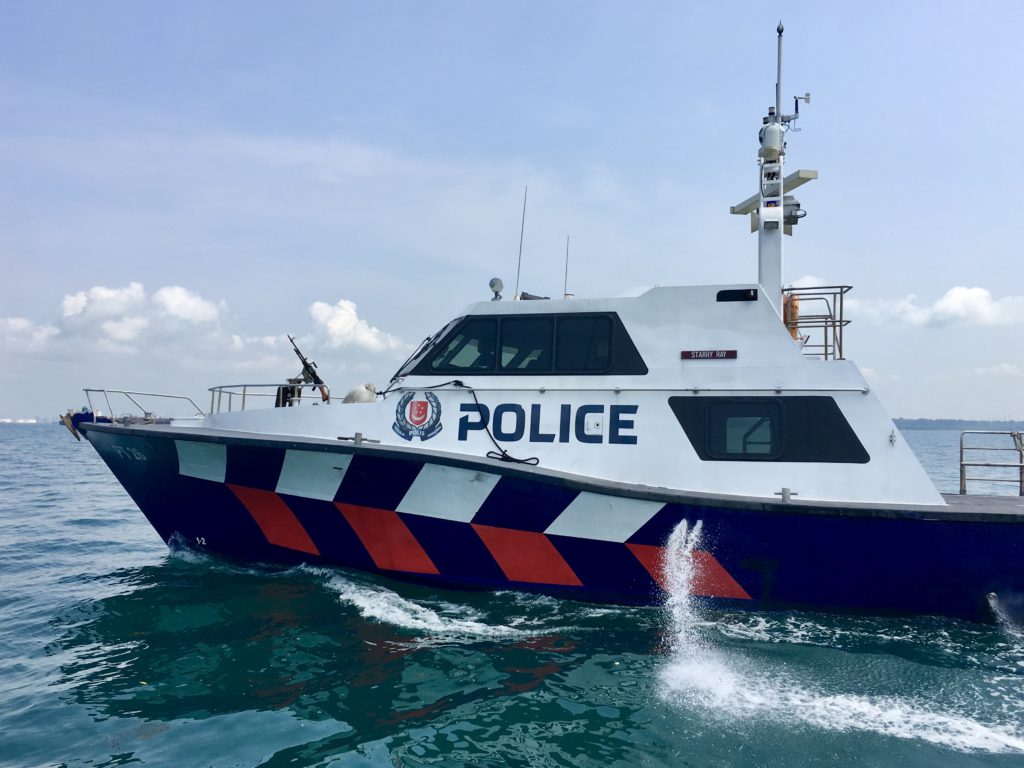 It wasn't until 5pm that we reached our first planned stop, a small, wooded and uninhabited island belonging to Malaysia named Pulau Pisang (Banana Island), where we dropped anchor. After a supper of noodles and egg we turned in for a disturbed, rolly night. The lighthouse on top of the island flashed on and off throughout the night, guiding ships into the western entrance of the Singapore Straits.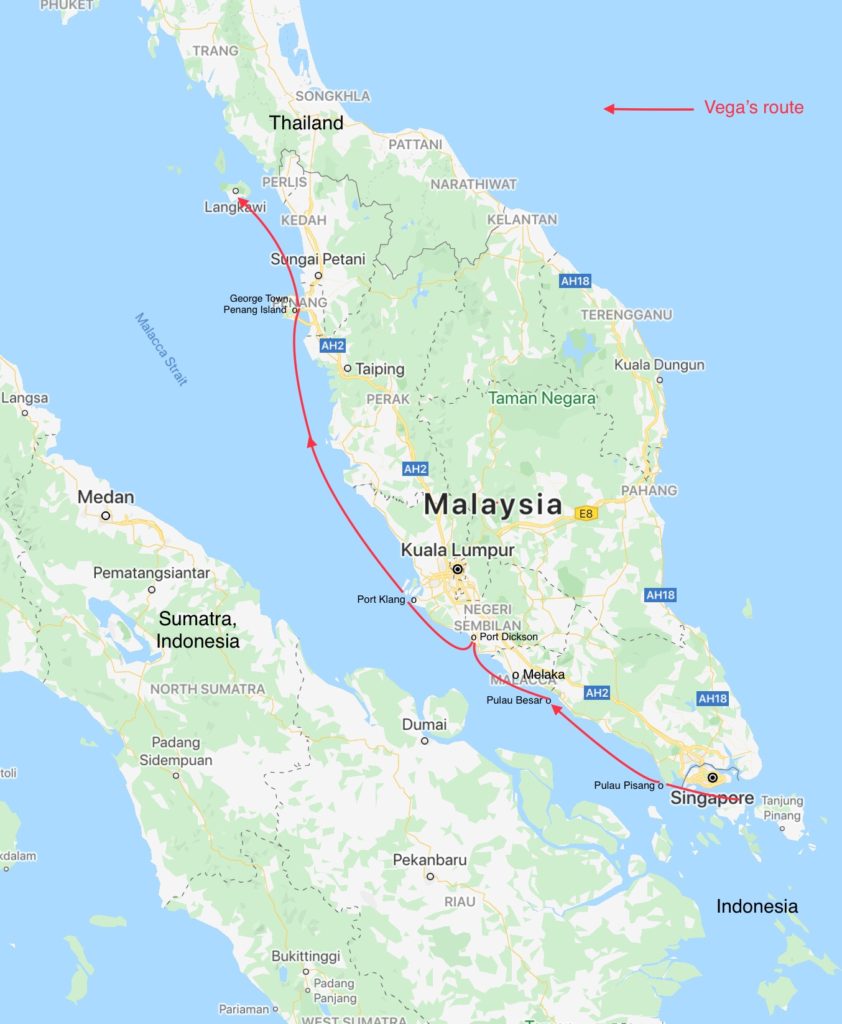 The plan was to sail/motor north up along the west coast of Malaysia and to stop on the way at Port Dickson where we would officially check into the country. The days were mostly hot, muggy and windless as we motored along the edge of the shipping lane, watching out for tugs pulling barges which also favoured this position. Nearer to the coast there were numerous fishing boats and their nets, the other major hazard being floats attached to nylon lines reaching down to the seabed often with nets suspended between them. There was also a horrendous amount of plastic rubbish floating in the sea: bottles, containers and bags. I read that despite international regulation cargo ships dump trash in the ocean. Much of it also washes down the Klang River into the Malacca Straits from Kuala Lumpur, although the Malaysians blame the Indonesians, claiming that most of it is washed across from Sumatra.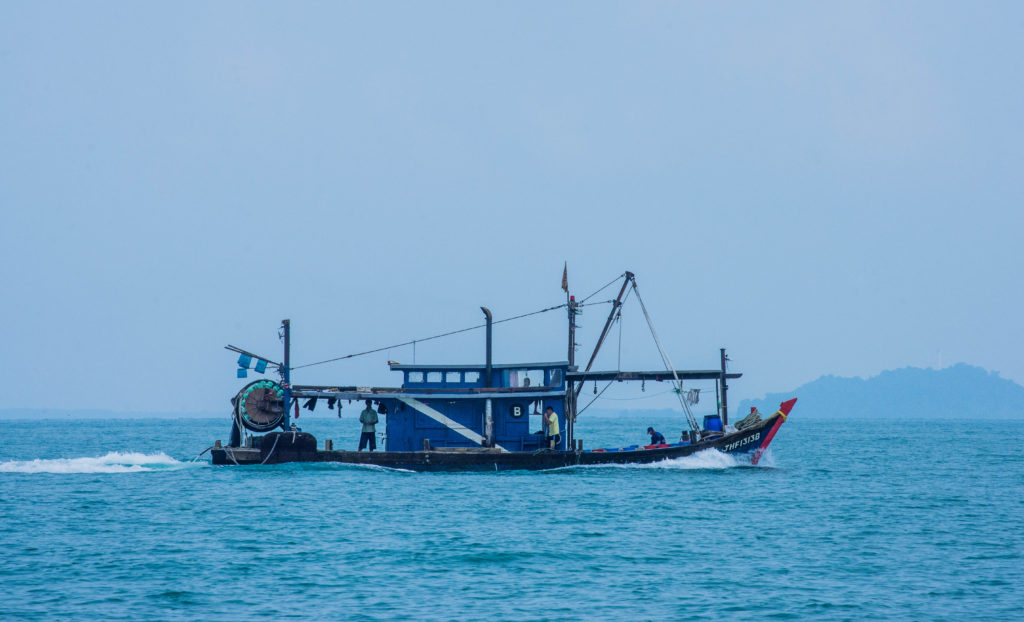 Because of the hazards of fishing boats and nets we planned to anchor every night on our trip heading north. Our final destination was Langkawi Island where we had arranged to leave Vega in a boat yard whilst returning home to Bristol. Our second night stop was to be at another small island, Pulau Besar (Water Island). Three or four miles before the island we passed a small fishing canoe with a sole fisherman aboard pulling up his nets. Dark storm clouds had been building up on the horizon with distant lightning and as we approached the island the wind suddenly increased to over 20 knots. We dropped the mainsail and donned lifejackets as the wind continued to build and the seas, from being almost flat, became steep and chaotic. I hoped that the lone fisherman was safe in his little canoe but by now he was lost from sight, several miles behind and we were concentrating on our own safety (weather like this is not unusual along this coastline so I reassured myself that he was probably well used to it). A catamaran had reached the island just ahead of us and dropped anchor, and as we passed close to it we saw it pulling against its anchor in the big seas. We steered as close to the island as we dared to try to get some shelter from the strong winds and rough sea and I was sent forward to get the anchor down as quickly as possible, the boat jerking violently on the anchor chain as Hugh, on the helm, tried to keep Vega steady. After our first attempt we decided we were much too near to the shore and at risk of running aground on the nearby reef or the beach when the tide changed. By now it was getting dark and the lightning storm was right overhead with thunder crashing around us and bolts of lightning illuminating and even striking the wild sea as I went forward again to raise the anchor and we motored further away from the shore before dropping it. I was trying not to touch anything metal on Vega in case we were hit by lightning but, having got the anchor down again, I had to hold onto the stainless steel pulpit whilst hanging over the bow to attach the snubbing line, which takes the strain off the windlass, to the anchor chain. Thankfully the anchor held and strangely the experience was much more exhilarating than terrifying.
In the morning, after a disturbed night, the sun rose on another hot, still day as we motored past the old city of Melaka, continuing on to Port Dickson and a berth at the Admiral Marina.
We still needed to officially check into Malaysia so the following day we caught a Grab taxi (the equivalent of Uber) into Port Dickson visiting Immigration, Port Authority and Customs (all separate offices and a hot 15 minute walk between them) to fill in numerous forms in triplicate at each. There is a strict dress code for Government offices, with no bare shoulders or knees for women, Malaysia being a mainly Muslim country. Port Dickson didn't appear a very attractive town with little of interest for foreign tourists, its main attraction being the beaches nearby, so we headed back to the marina for a swim in the pool there and to meet up for drinks and a meal with sailing friends from the Indonesian Rally: Priscilla & Michael (Hylite), Connie & Carina (Ultimo), Lisa & Johan (Rubicon), and Rainer & Yvonne (La Pecadora).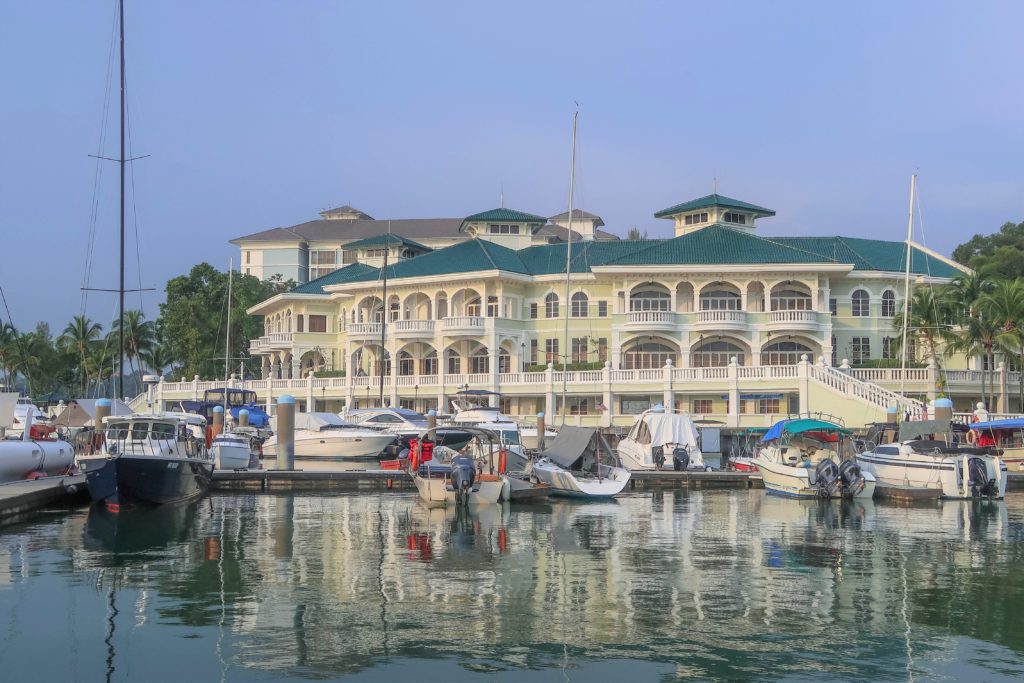 It was considerably less hassle getting a Grab car the 50 miles down to Melaka (formerly known as Malacca) than to try to get public transport there, which involved at least one change of bus, and not much more expensive. The one hour drive took us through palm oil plantations, densely planted with the short, stubby palm trees bearing palm oil nuts, nothing like the tall, elegant coconut palm trees that fringe many of the beaches. Malaysia is the world's largest palm oil exporter and cultivation has increased rapidly over the years along with increased deforestation, with much of the economy dependent on it. Malaysia is so concerned that action by environmental activists will affect this trade it has been running a public-relations offensive, financed at least in part by the major palm oil companies, which emphasises how the livelihood of many small farmers is dependent on palm oil, as well as its health benefits.
Melaka is the oldest Malaysian City on the Malacca Straits and is a very touristy place, full of both Asian and western tourists. The centre of Melaka is a maze of narrow streets with blocks of tall, narrow, colourful townhouses. Our hotel was dating from the 1800s and converted from three of these adjacent houses, with a feeling of faded colonial grandeur and with much needed air conditioning.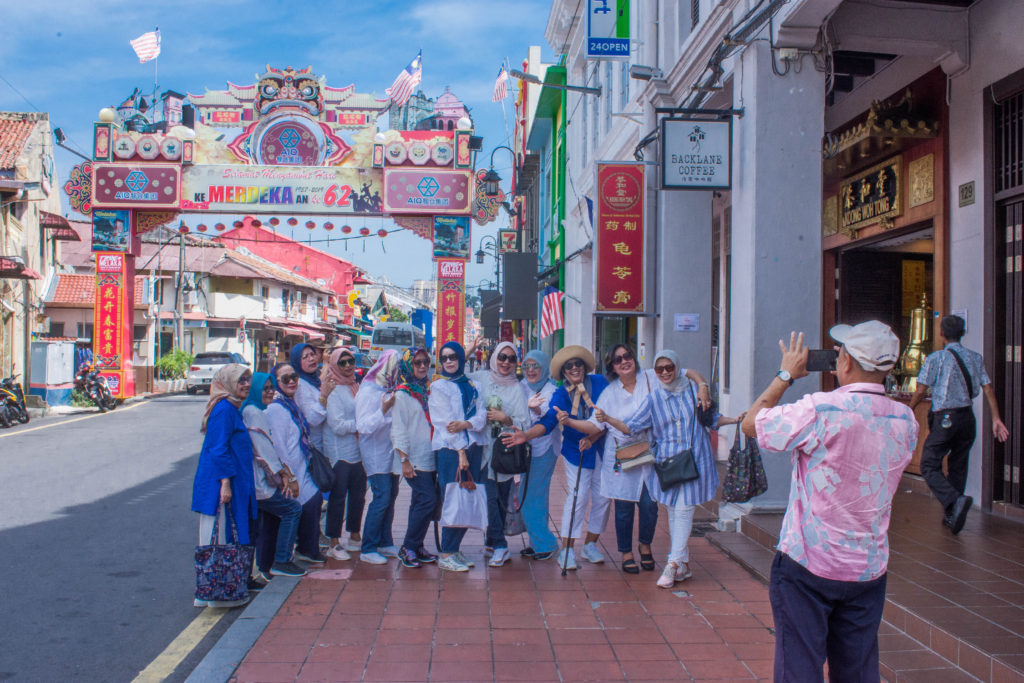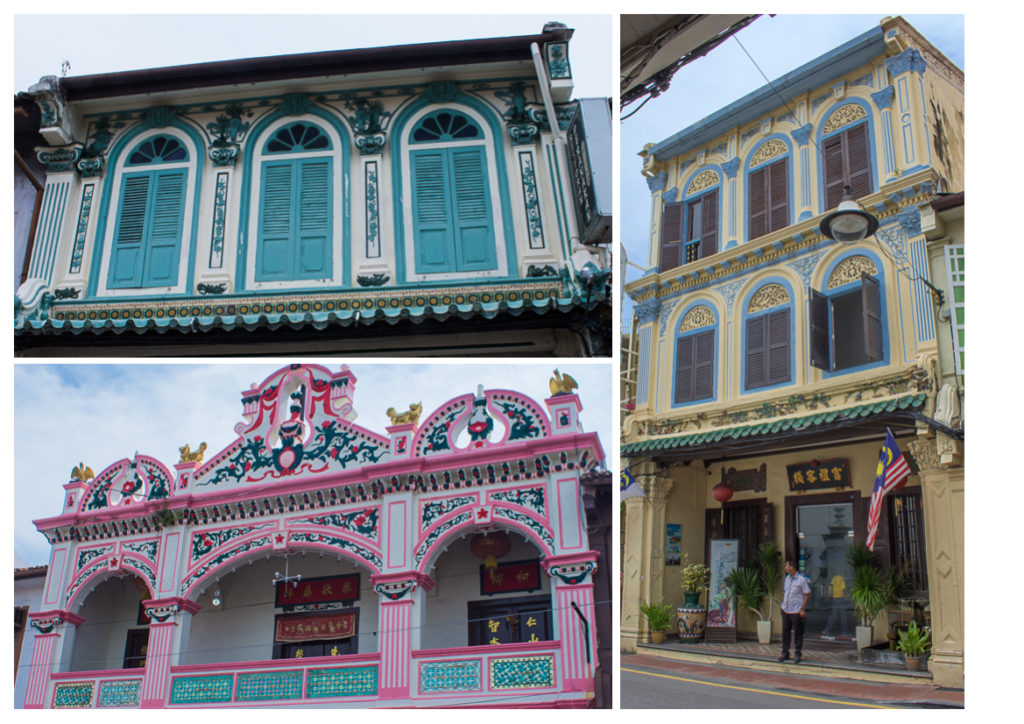 After wandering around the streets we stopped for lunch in a Nyonya restaurant, Nyonya referring to the early Chinese migrants who settled in Malaysia. In true Chinese restaurant style we ordered far too much food and struggled to finish the dishes of prawns, squid, aubergine, beans, chicken and rice.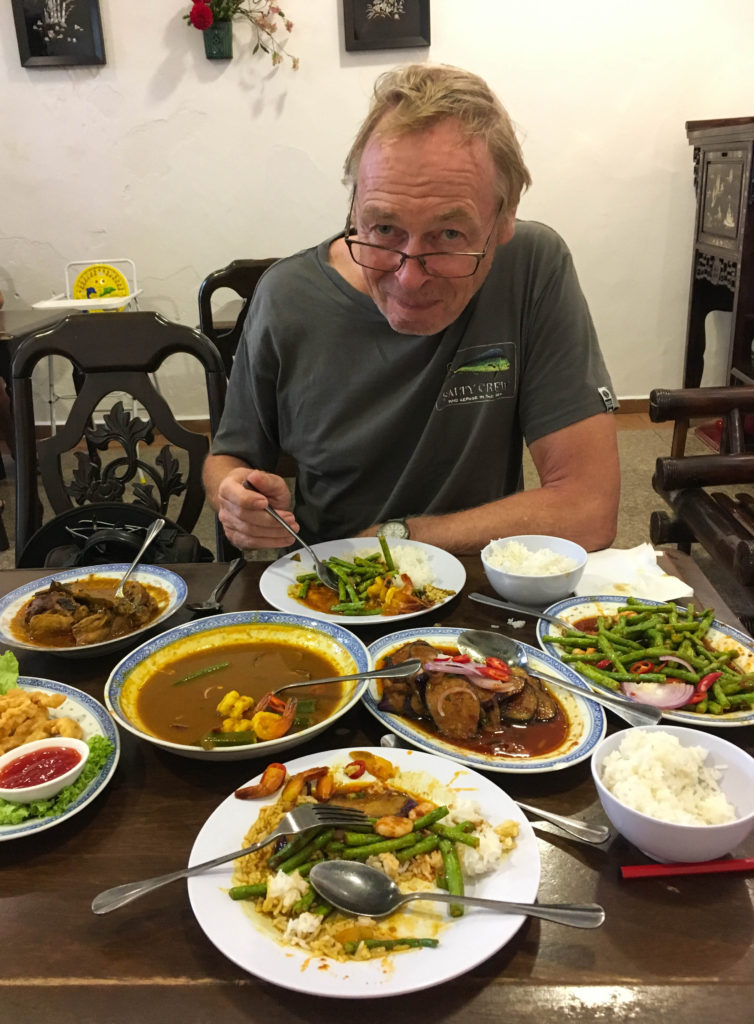 In the evening we took a river boat trip along the Malacca River which runs through the centre of the town, the narrow boat packed with Japanese girls chatting excitedly.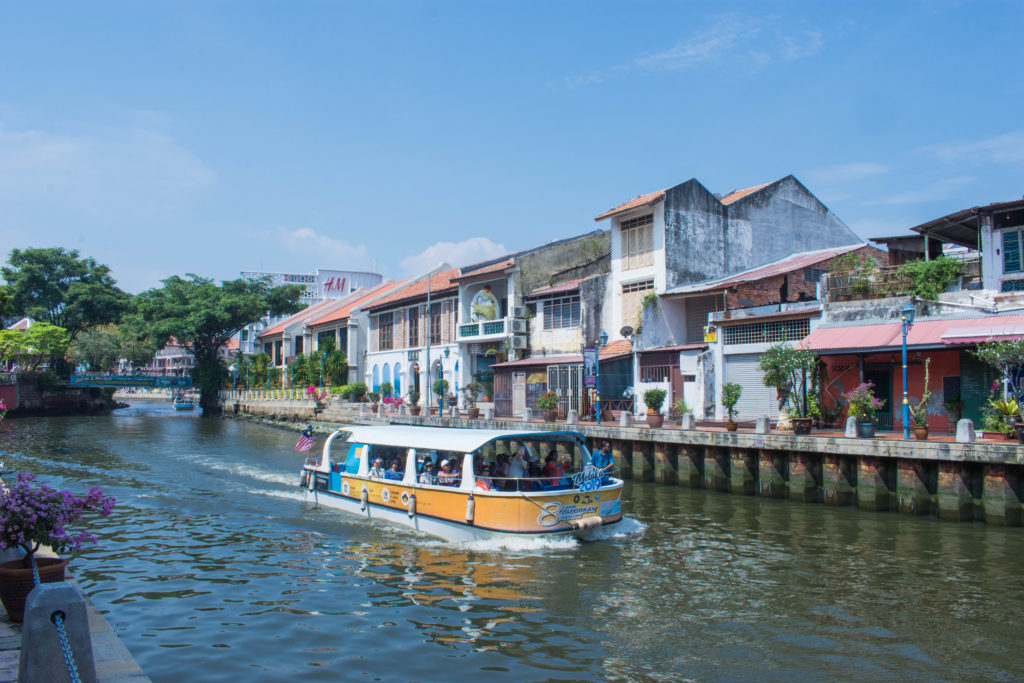 The next day we managed to resist a ride in one of the cycle rickshaws decorated with Disney characters, but had time for a visit to Stadthuys, built in the 1650s as the Dutch seat of colonial administration, to learn something of the history of Malacca, a city occupied by the Portuguese, Dutch, British and Japanese over the centuries.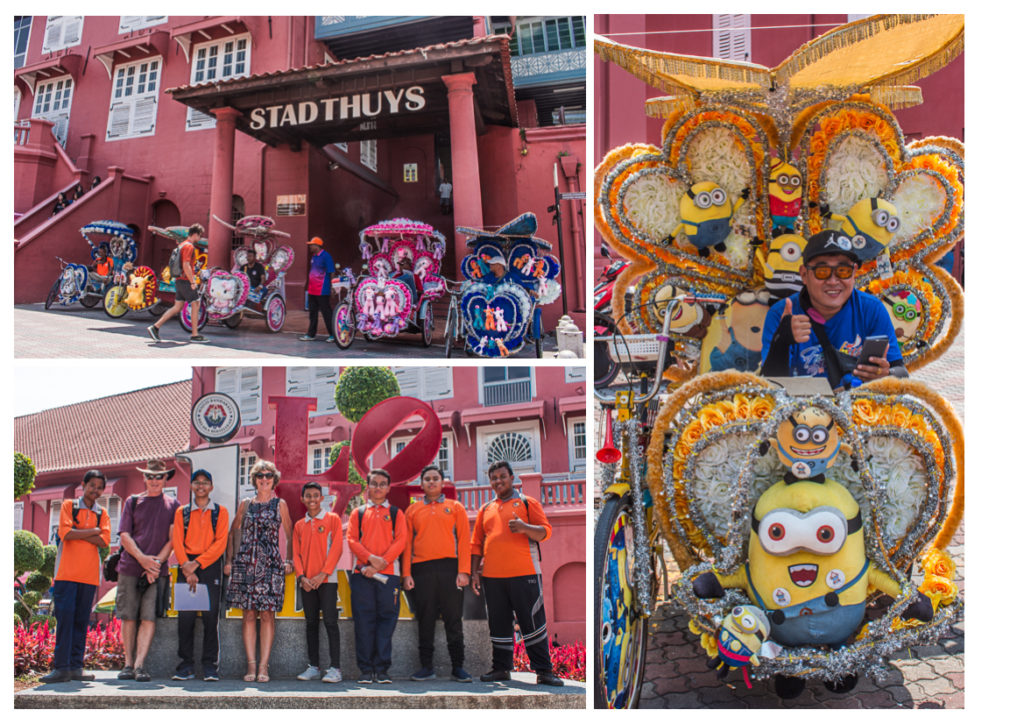 Today's Melaka has a very multicultural feel, with evidence of its history of colonisation in its old buildings and of the diversity of present day Malaysia with its mosques, churches and Chinese temples all in the same neighbourhood.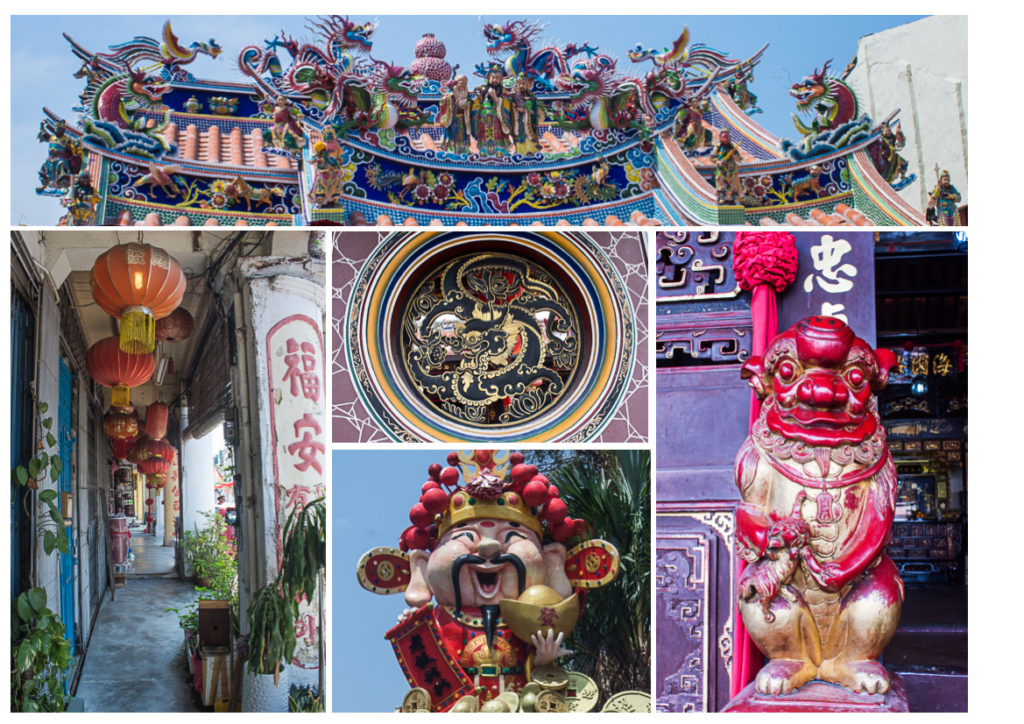 After lunch at Baboon, a quirky burger restaurant in a decaying building propped up by scaffolding, all exposed bricks, dripping water and ferns, and run by a French couple (occasionally we can't resist some western food, although we did have veggie burgers), we took a Grab car back to the marina.
The following day we had to repeat our tour of Immigration, Port Authority and Customs to check out of Port Dickson, with a trip to the Billions supermarket to replenish fresh fruit and vegetables.
Leaving the Admiral marina early the next morning we managed to avoid getting hit by the jet skis and banana boats whizzing around as we headed back out into the Malacca Straits to continue our journey up the coast, occasionally attempting to sail if the wind came up. That night we spent anchored alone in a channel opposite Port Klang, the largest port in Malaysia. We could see huge cargo ships heading to and from the container port but it was peaceful apart from the harsh cries of birds in the densely wooded shoreline along which we had stopped.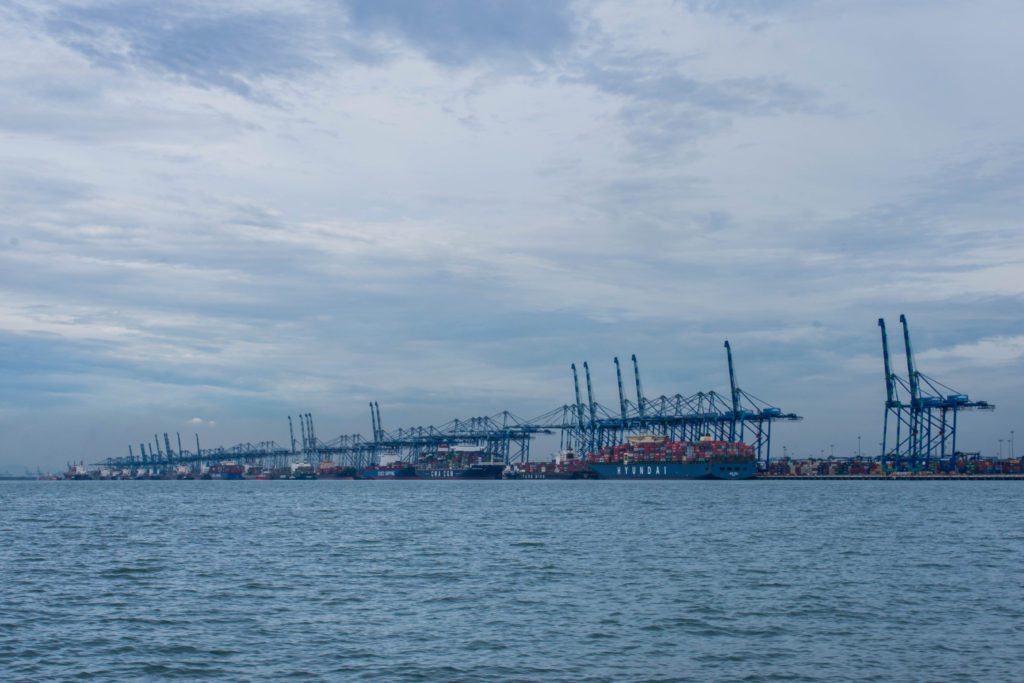 Hugh was keen to push on overnight to Penang to save three overnight stops and to avoid anchoring on a lee shore should the wind come up, there being no more sheltered anchorages further up the coast. At one point during the day I could see 25 fishing boats surrounding us and was worried about sailing at night, but fortunately a bright full-moon lit the sea and we had a uneventful passage. We arrived at Penang just ahead of a large thunderstorm in the late afternoon, motored under the south bridge joining the island of Penang to the mainland and dropped anchor opposite a settlement of shoreside shacks, with wooden fishing boats pulled up on the beach.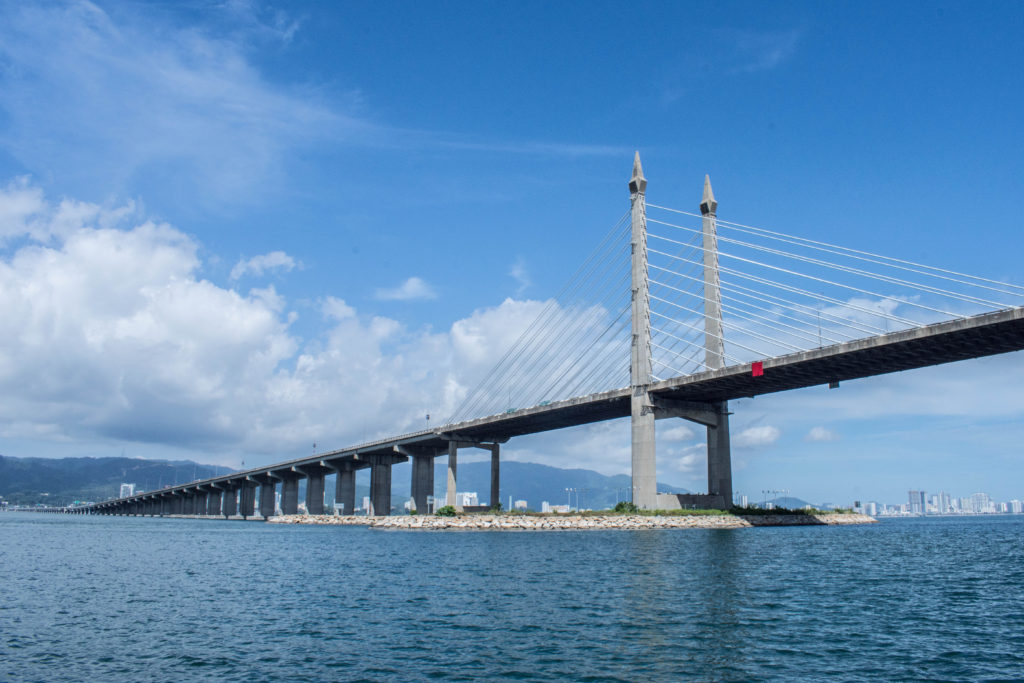 George Town on Penang Island is a former British settled trading port, now Malaysia's second largest city with a predominantly Chinese population, and we were amazed by the number of modern high rise buildings and ongoing development here. It is a prosperous place, known as the 'Silicon Valley of the East' and is a booming tourist destination.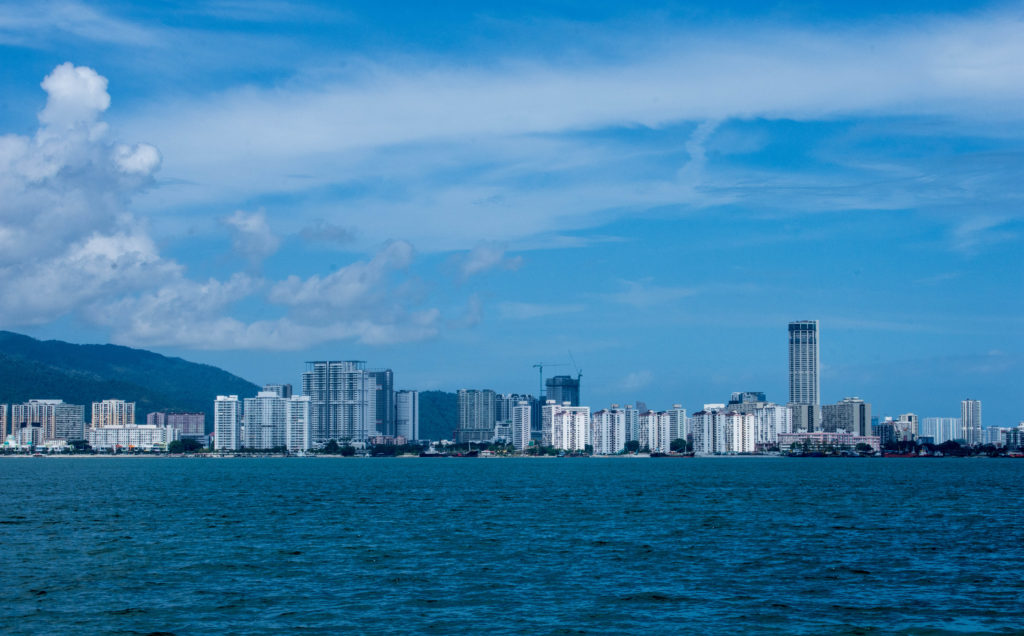 We spent two nights in the Straits Quay marina taking a trip into George Town's historical centre which is a UNESCO World Heritage Site. Pinang Peranakan Mansion, formerly owned by a member of the Chinese Mafia, is stuffed full of amazing artefacts collected by the current owner.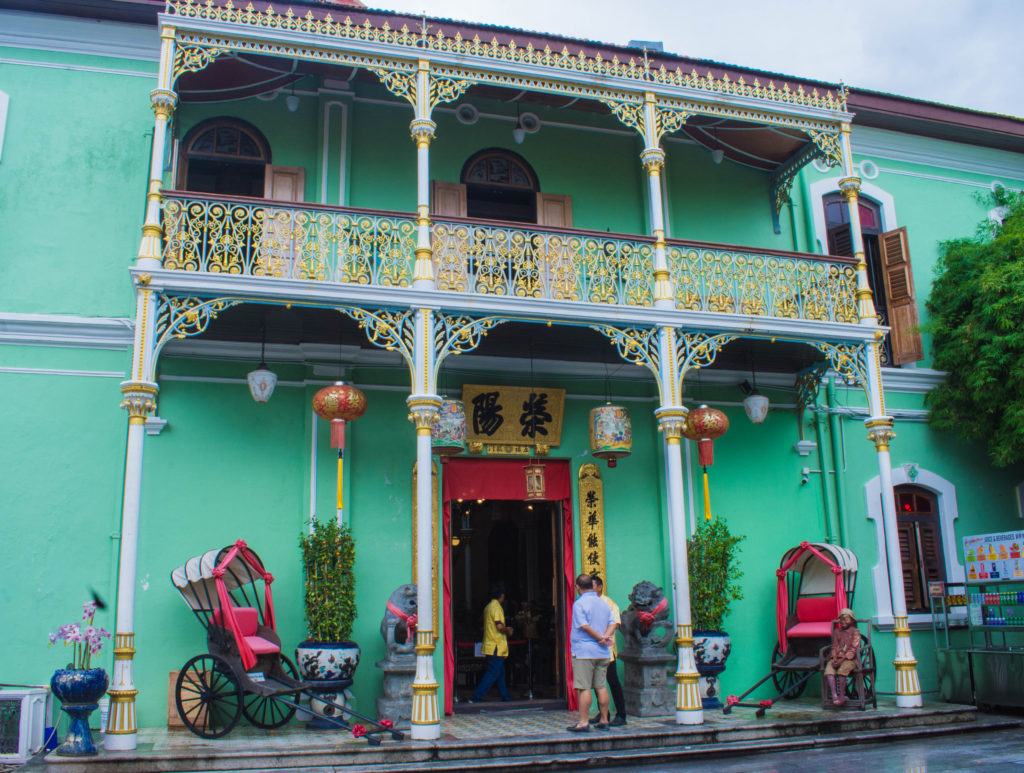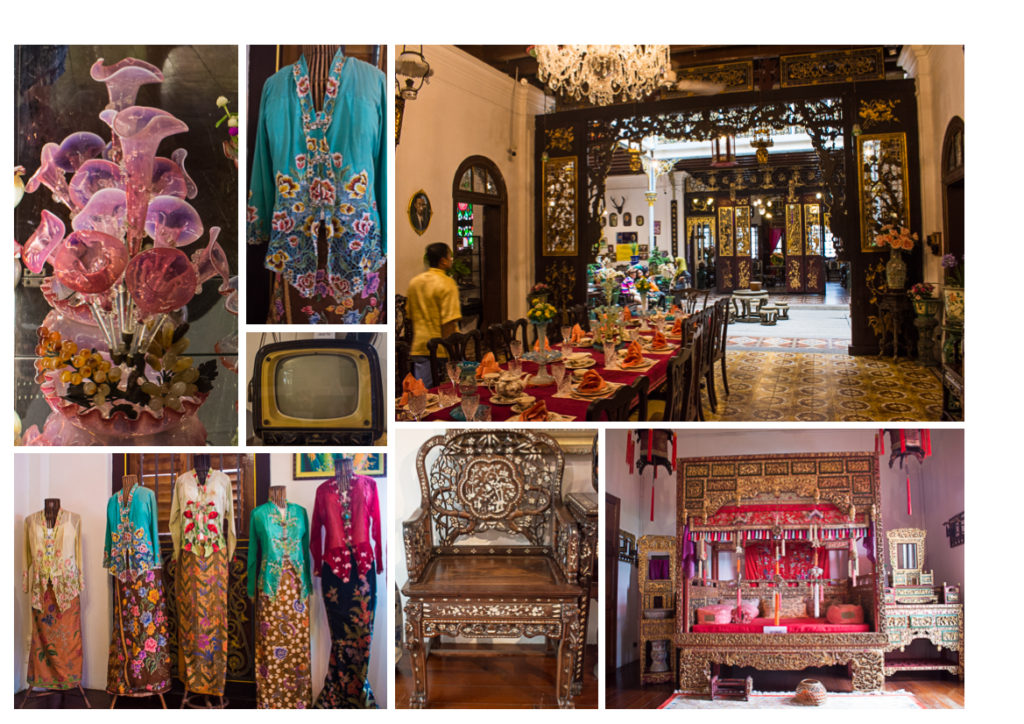 The six Clan Jetties (there were seven until one burnt down) were built by competing Chinese clans for loading and unloading goods, and constant rivalry between the clans led to bitter fights and bloodshed. There are small wooden houses built along the jetties, a way to avoid paying property tax, and today you can wander along the jetty and peer into the homes, still occupied, where people were going about their daily business or drinking tea with friends, completely ignoring all the tourists gaping at them, although many are also fronted by shops selling clothes and souvenirs.
Back at the marina we bumped into Katharina and Anders on Carpe Mare who we'd met in July at the very start of our Indonesian trip and spent an evening catching up with them.
Our final destination was the island of Langkawi in the north of Malaysia, right up by the border with Thailand. It was too far to reach in one day, especially as we had to wait until midday before we could leave the marina, when it was nearer to high tide and there would be enough depth of water for Vega. That night we anchored by Bidan Island, where a few locals lived in small shacks in amongst the trees, and we gave gifts to some passing Malaysian fishermen who seemed highly amused to receive Wonderful Indonesia t-shirts and baseball caps. The next morning as we left, sailing for once, we weren't keeping a proper lookout and didn't notice a float in the water ahead, anchored to the sea bed by a strong nylon line, until Vega came to an abrupt halt. When we dropped the ladder at the stern and I went overboard to look underneath the boat I could see the line was caught tightly around our rudder, with Vega being driven forward by the wind against it. The line was so taut that it was impossible to free ourselves safely so, regretfully, I cut the line and off we sailed, feeling guilty for damaging the fishermen's kit and leaving yet more plastic floating in the sea.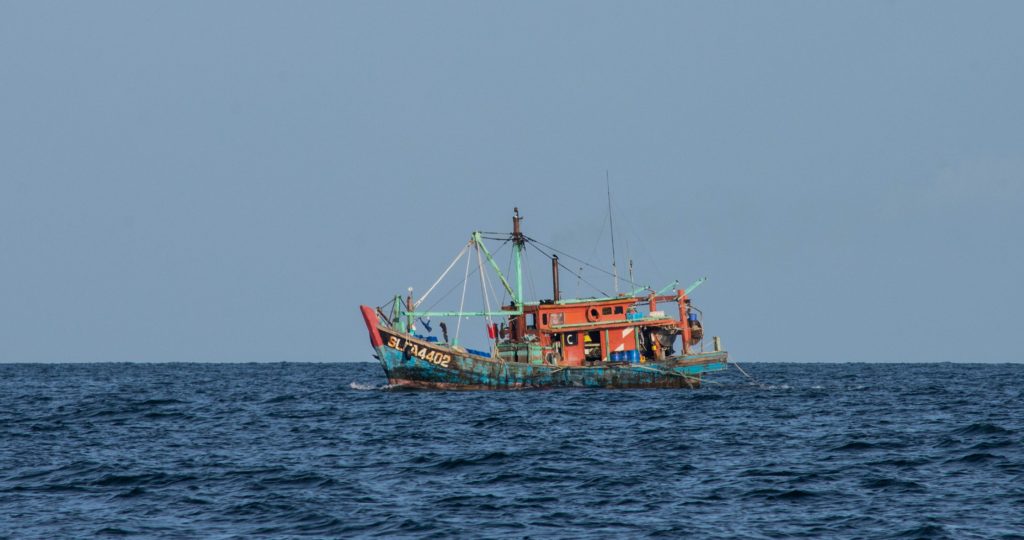 We had a week in Langkawi, initially staying at the Royal Langkawi Yacht Club where, as well as lots of local and foreign yachts, there were a number of massive, privately owned superyachts all registered in the Cayman Islands. Time to check in to Customs and Immigration here and to get Vega ready for coming out of the water to be left whilst we returned home. We took her sails down and folded them into their sail-bags, cleared out cupboards and lockers with time for several swims in the marina pool and for meals at the marina restaurants, as well as an invigorating and rather painful massage.
After three nights in the marina we motored over to B&V Marine where Vega was lifted out by the travel lift – a bit chaotic and stressful as the forestay (which holds the mast up at the front) had to be detached to allow us to fit into the travel lift. In the process the boss lost his shoe overboard and got upset with his staff (expletives filling the air), but eventually Vega was out of the water, transported slowly into the boatyard for a lovely bottom wash and harmony was restored.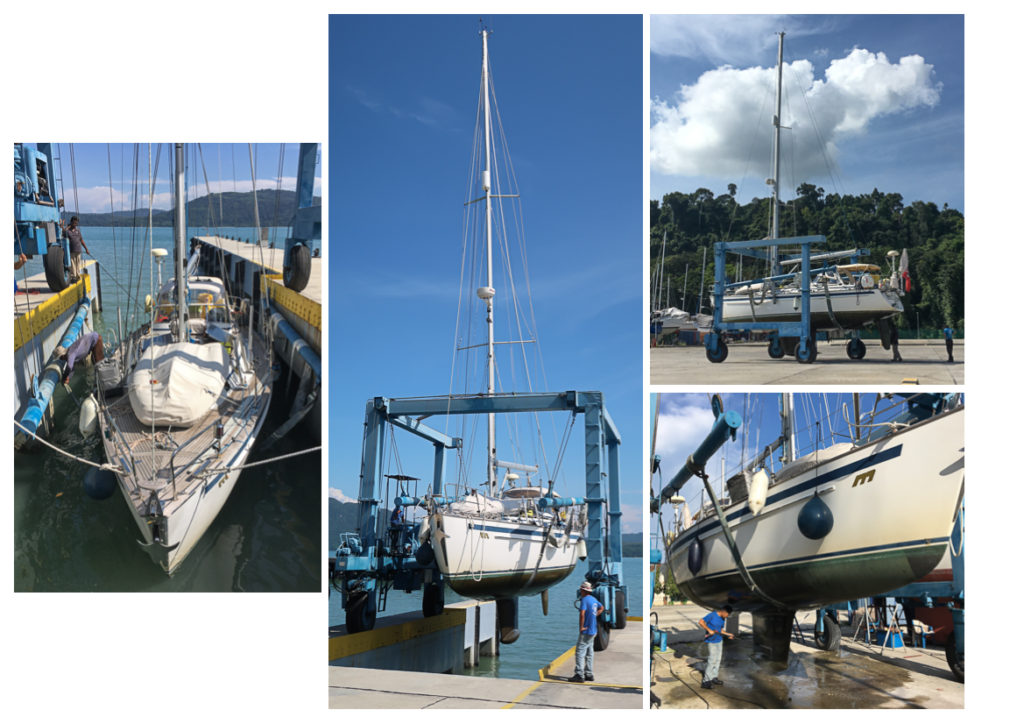 We spent a further four nights in Langkawi, away from the main tourist areas in a small family-run AirBnB, along a lane which wound its way into the countryside, surrounded by rice fields. There were hornbills in the garden, which visited at breakfast time hoping to be fed.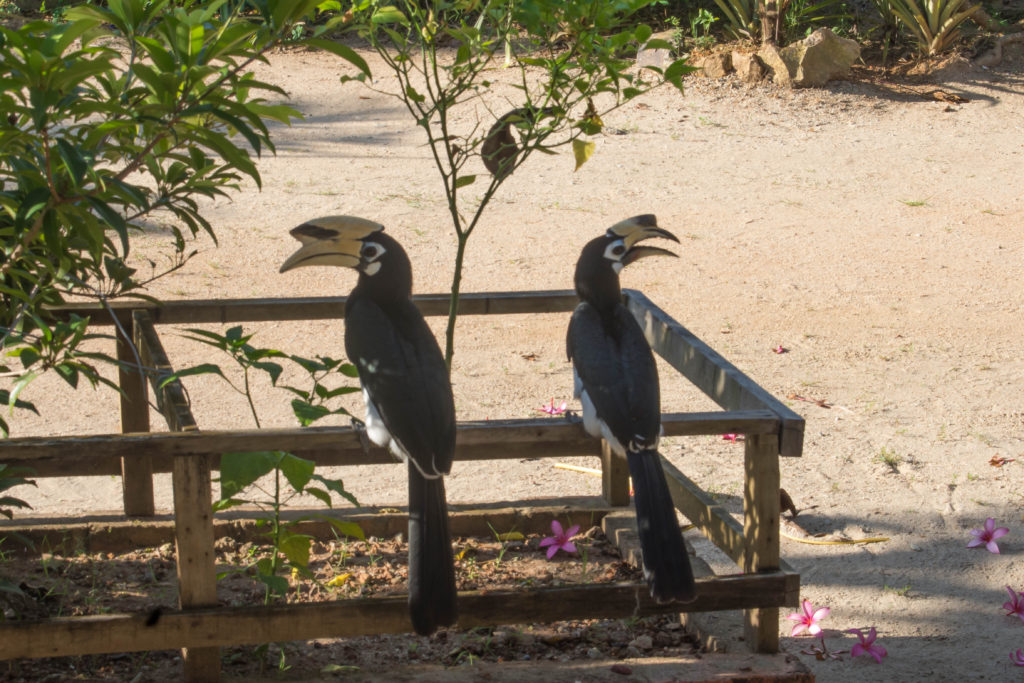 We stayed with a delightful, friendly and incredibly helpful Malay family. Nini and Danny had lived in San Francisco where Nini had worked as a chef, so our breakfasts were particularly delicious and one evening we were invited to join them for a family supper. Interestingly they had decided to send their daughter Ellysha to a Chinese school in Penang as they felt she'd get better schooling there than if she attended a Malay school. Malaysia is a multi-ethnic country with a predominantly Muslim population, made up of almost 70% Malays, about 23% ethnic Chinese Malaysians and about 7% ethnic Indians. Policies of the Malay-controlled government positively discriminate in favour of the Malay majority, whilst the Chinese are more successful economically.
Langkawi is an archipelago of 99 islands and on the west of the main island is the very touristy Cenang Beach with its main drag of bars, restaurants and tourist shops, Western and Asian tourists sunning themselves on the crowded beach. Further inland there are paddy fields and mountains, Gunung Raya being the tallest of these at 881 metres, densely forested and home to monkeys, flying foxes, eagles and great hornbills. We hired a car and drove up the winding road to the viewpoint at the top of the mountain but although the view over the island was wonderful, disappointingly the museum, viewing tower and coffee shop were all closed and the resort there was dilapidated. However the cable car up to the Langkawi Sky Bridge (the most popular tourist attraction on Langkawi and described as the highest footbridge in the world) was open and although the 'Oriental Village' at the bottom is rather tacky, the cable car and bridge are impressive with spectacular views across the mountains and coastal area.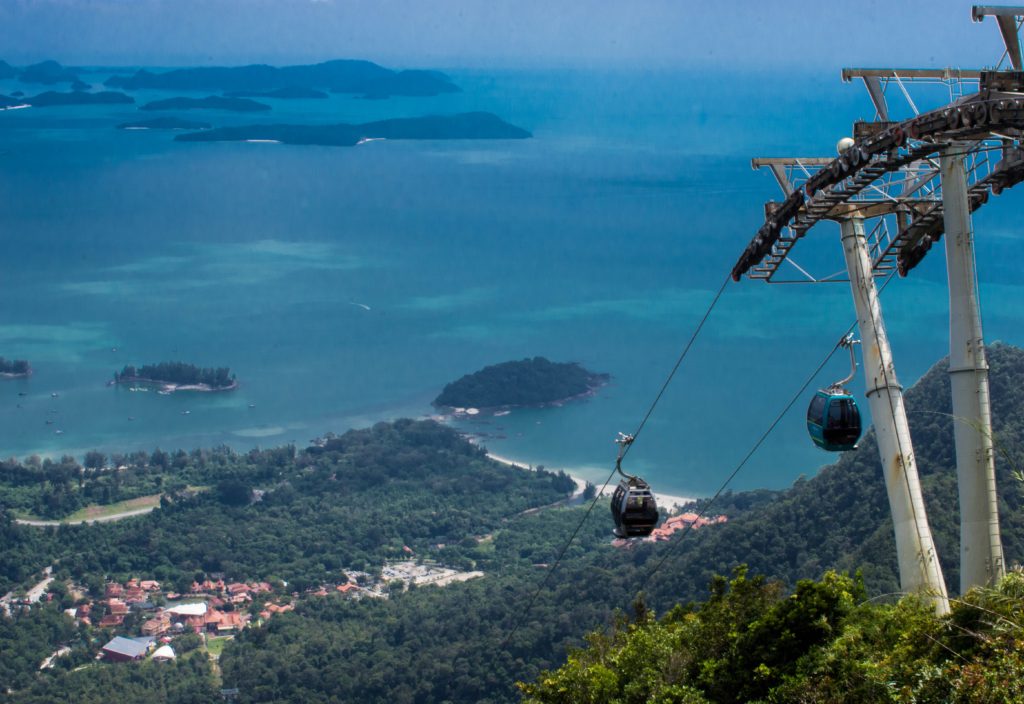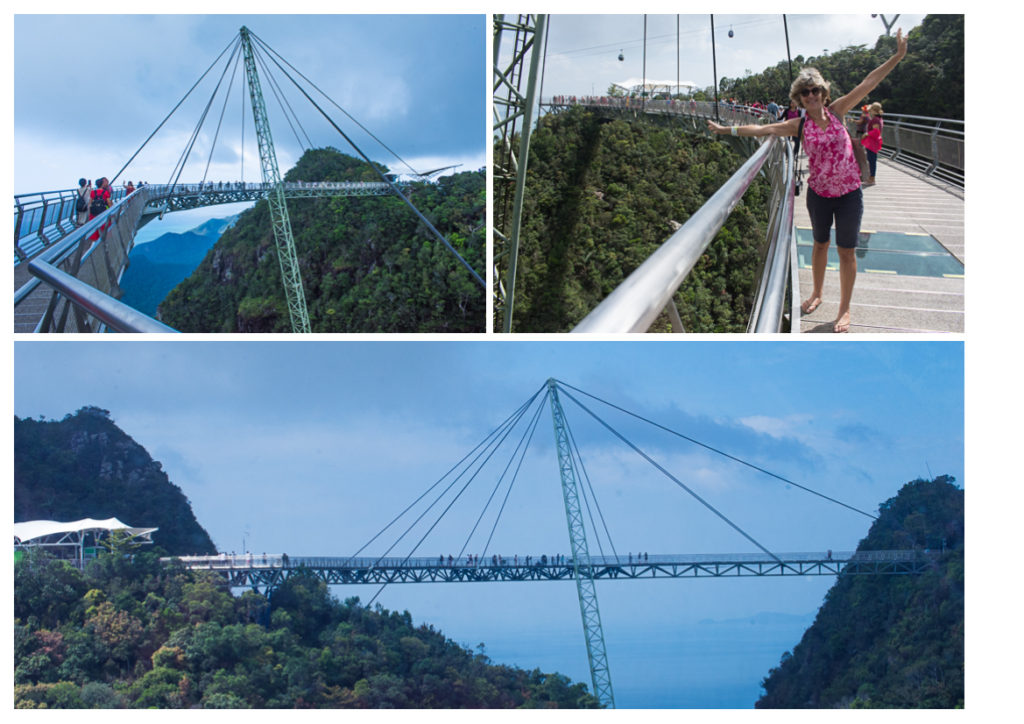 Langkawi attracts around 3 million tourists a year and apart from the appeal of Cenang Beach and the Sky Bridge there is also Underwater World, the Langkawi Wildlife Park and Bird Paradise, Taman Lagenda, a folk-lore themed park, and the Paradise 3D Museum. We passed on all of these although we were almost tempted by Galeria Perdana, a museum displaying the gifts and awards presented to former Malaysian Prime Minister Tun Dr Mahathir bin Mohamad and his wife. One room contains automobiles, another section is devoted to gifts made of wood, leather, crystal and lacquer as well as musical instruments, whilst others have gifts of silver and gold, games and weaponry. (I have to say at this point that Queen Elizabeth II has had exhibitions at Buckingham Palace of gifts presented to her which have included a throne from Nigeria and a totem pole from Canada but not the elephant from Cameroon that she was once given, nor the horse semen from an admiring horse breeder). Instead we headed off to the north coast and had lunch at the Scarborough Fish and Chips Restaurant, right on the beach. Absolutely delicious.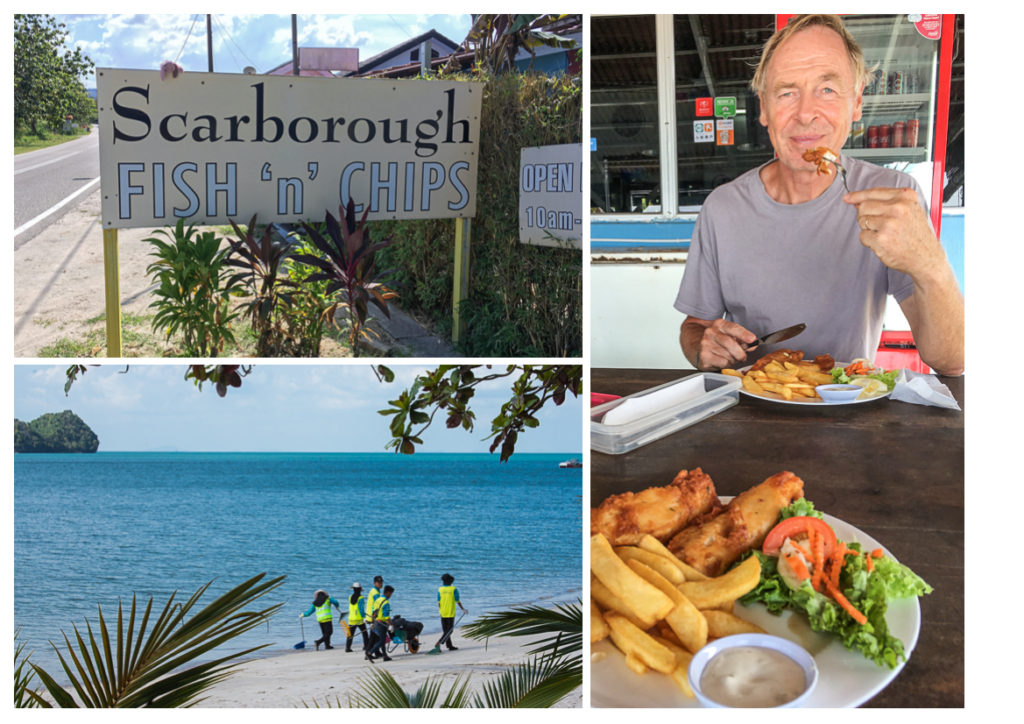 Whilst exploring the north coast we bumped into friends from yachts Ultimo and Rubicon, which were at anchor just off the beach, and joined them for a beer.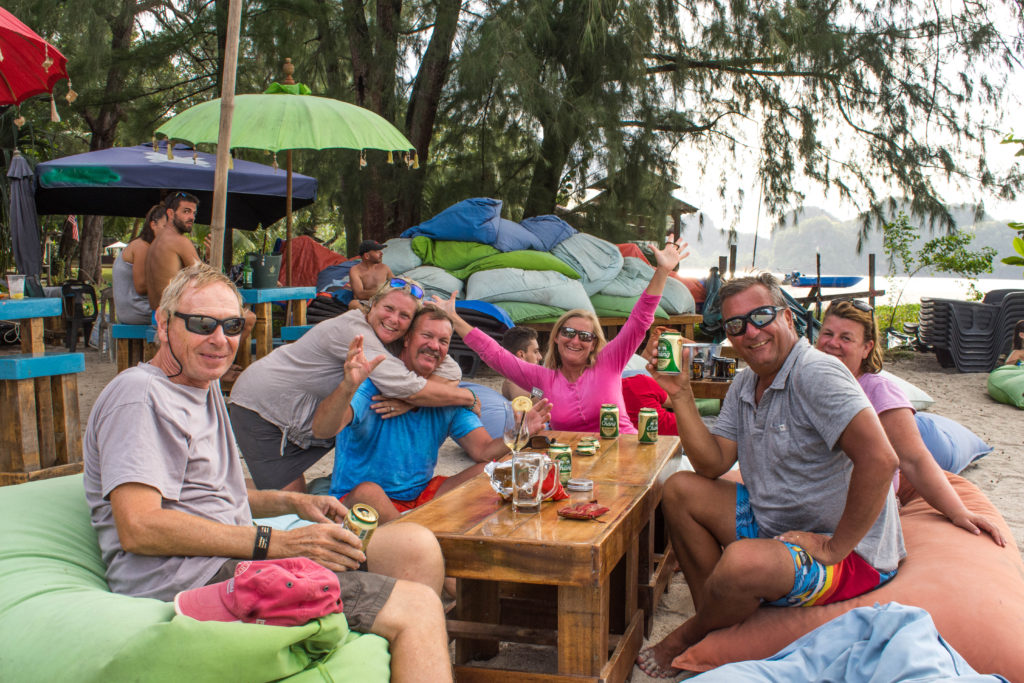 After four days of relative comfort in our AirBnB we caught a flight from Langkawi to Heathrow, changing planes at Kuala Lumpur, and arrived home to the cold and wet of the U.K. in November.