Sunday 25th September to Thursday 29th September
The passage from the ABC islands to the Caribbean coast of Colombia is known for the worst weather conditions in the Caribbean and ranks among the top five worst sea passages in the world, which is why we had been watching the forecast carefully and balancing the risks of tackling this trip in less than ideal conditions against staying put for another week to let hurricane Matthew pass. On Sunday morning we were up at 6am hoping to go but looking at the latest weather forecast were still undecided. In the end Hugh emailed the weather guru for the Caribbean, Chris Parker, and within an hour he had a reply. If it was him he'd go rather than stay in Curaçao. So we quickly revised the passage plan which incorporated possible stops and bolt holes along the way and were off by noon motoring out of Spanish Water and along the west coast of Curaçao.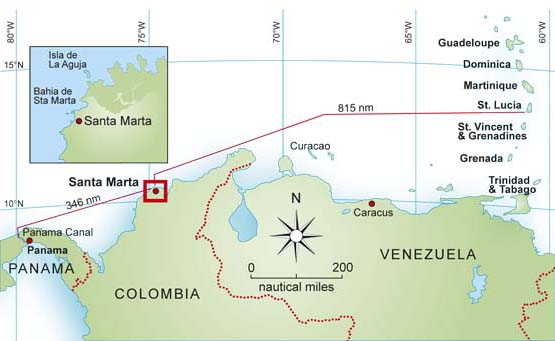 Aruba was still an option if the weather deteriorated but we had decided to give it a miss and push on for Colombia to keep ahead of hurricane Matthew and there were a couple of places that I was keen to stop at on the way.
With the wind force 4 from the ESE and more or less dead downwind we were heading towards Venezuela rather than the southern point of Aruba so we got out the pole and goose-winged with the genoa poled out on the port side. We finished doing this before it got dark and had supper, chilli con carne with pasta (good comfort food) that I'd made the day before we left, eaten from bowls on deck. By midnight we could see the lights of Aruba 12 miles away. Aruba, the most westerly of the ABC islands, is a popular holiday island particularly for Americans, and is full of fancy hotels and resorts. We passed to the south, midway between it and the northernmost point of Venezuela then gybed to head more southwards. There were numerous cargo ships and tankers anchored off the leeward side of Aruba, all lit up like Christmas trees.
The first stop I wanted to make was at Monjes del Sur, one of three islands between Colombia and Venezuela, which are really just big rocks rising abruptly out of the sea. Venezuela maintain a naval base on one of these with a bay and dock where fishermen can shelter in bad weather. Having failed to step on to Venezuelan soil on our way to Bonaire I was determined that we should try again on our way to Colombia.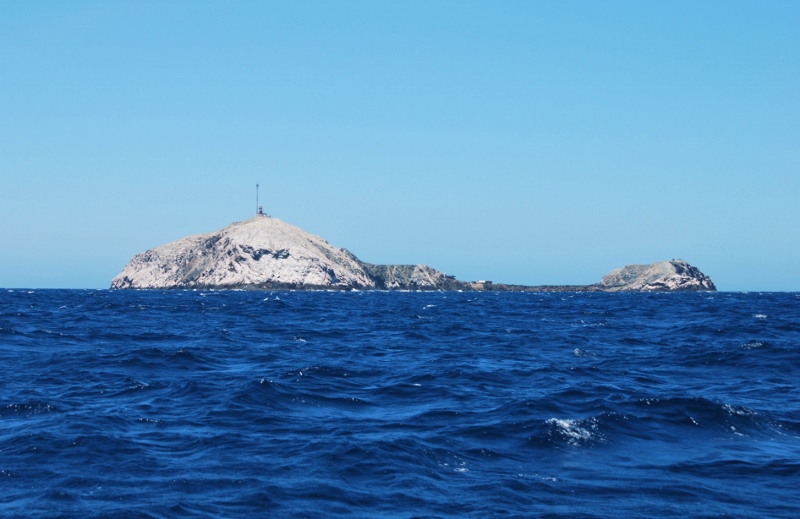 As we neared the island at 1300hrs on the Monday we were called up on VHF channel 16 by one of the naval officers on Monjes del Sur, in Spanish. Despite several attempts at evening classes my Spanish is mostly limited to ordering in a restaurant and not how to negotiate entering a foreign naval port, so we carried on regardless and as we approached the bay two uniformed men came out of one of the low lying buildings and indicated that we tie up on the dockside. There is a rope strung across the bay to allow boats to tie up where it is too deep to anchor, and we have read of calamitous events when yachts have tied to this in strong winds alongside fishing boats and got into a real tangle, so we were glad to be secure against the dock with no other boats around. Four young naval guys came on board and went through a long list of questions and filled in several forms, checking our passports and ships documents. They were very friendly, clearly enjoying themselves and happy to have a cold beer and gifts of snorkelling equipment, bars of chocolate, oranges and our last packet of McVities Digestives. The youngest guy amidst much teasing from the others conducted a thorough search of the boat looking into cupboards and under piles of junk in the rear cabin, but couldn't find anything suspicious. We were allowed to walk round the island but not to take any pictures, despite there being lots on the internet. One of the men accompanied us to the lighthouse at the top and told us he thought it was beautiful here. It looked bleak to me, nothing grew on the rock, no plants or vegetation although there were frigate birds and gulls soaring above. There is a long low building housing a dormitory with bunk beds and living quarters and a small round building which is a gym. There were 15 men staying there who did stints of 45 days each (and two very overweight dogs who came out to bark at us). We asked why and were told it was important that Venezuela maintain a strategic presence here between Colombia and the Dutch Antilles. It must be mind numbingly boring especially as the mobile phone aerial was broken, although we have read that the snorkelling and fishing are good here. Here are some pictures I've googled:
We decided not to stay the night and as dusk approached headed off west and had chicken stew and warm bread rolls for supper. We had ahead of us the sail around the Guajira Peninsula, the northernmost tip of South America which juts into the Caribbean, which is supposedly the worst passage. The wind stayed a perfect force 5 from the east as we gybed around Cabo Falco at 2am and it was a beautiful, clear, moonless, star-filled night, the beam from the lighthouse on the point sweeping the sea every 15 seconds. This coastline is inhabited by semi nomad Indians, the Wayúu and at one point (maybe even still now) drug runners operating from the numerous sheltered coves along the coast. Efforts by the USA and Colombians have made it much safer for cruising boats to visit Colombia and there are supposedly regular patrols by Colombian customs boats, although we didn't see any.
After an uneventful overnight sail, apart from me setting fire to the tea cosy as Hugh slept on blissfully unaware of the potential catastrophe taking place near him, we arrived on Tuesday morning at Cabo de la Vela (Spanish for "cape of sails"), a beautiful, arid, desert like spot, quite isolated although there is a small fishing village further round the bay. We dropped anchor but the strong winds and currents made us reluctant to leave Vega at anchor in the open bay to dinghy across to land, low, red, barren looking hills with scrubby shrubs. We were the only yacht around and we felt quite adventurous stopping here until a boatload of Colombian tourists passed and waved. We later realised that it is a popular ecotourism destination. As evening approached a small fishing boat came over, the two men rowing with paddle-shaped oars, to ask for water and by dusk there were several similar boats anchored in the bay near to us and casting nets. We cooked supper on board, watched the fabulous sunset and went to bed. In the morning the fishermen were pulling up their nets and getting ready to return to their village.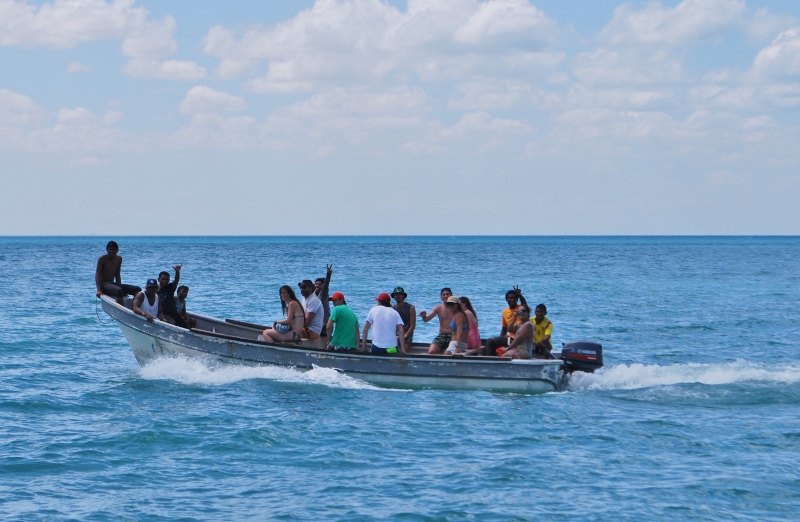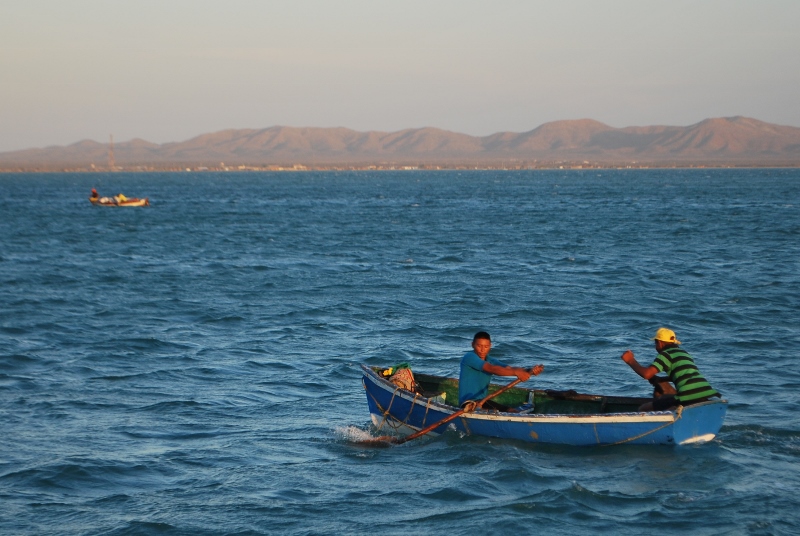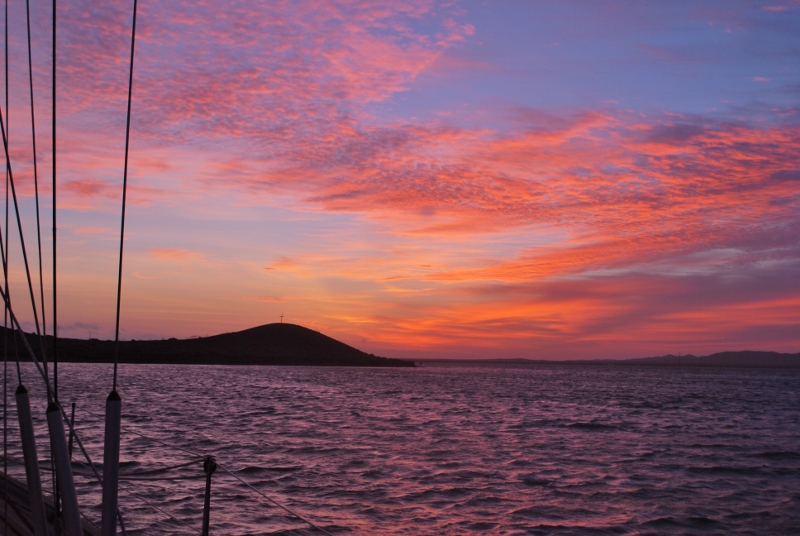 We set off on Wednesday morning for the last 24 hours sail to Santa Marta. We passed an oil platform along the way and a couple of pods of dolphins came to say hello, flying fish skimmed over the waves and a bright yellow butterfly flitted around the cockpit. We were doing 6 knots in an enjoyable 15 to 20 knots of wind and it was hot and sunny. I had hoped to see the snowy tops of the Sierra Nevada as we passed along this length of coastline but it was still dark as we sailed by in the early hours of Thursday morning and as the wind increased up to 30 knots. A big swell was coming in from behind us with waves up to 8 feet. It was initially alarming seeing these huge seas coming up and threatening to engulf us but at the last minute Vega would daintily lift up her bum and let the wave sweep under and past her or sometimes just surf along on top of the waves. If the wave is from the side this can cause her to lurch sideways inelegantly which is a nuisance if you're just pouring a cuppa.
It was a relief to see the lights of Santa Marta and the shelter of its bay. We waited for a large cargo ship to enter the port ahead of us then called up the marina and within minutes three guys on a RIB came out to meet us and lead us to our berth.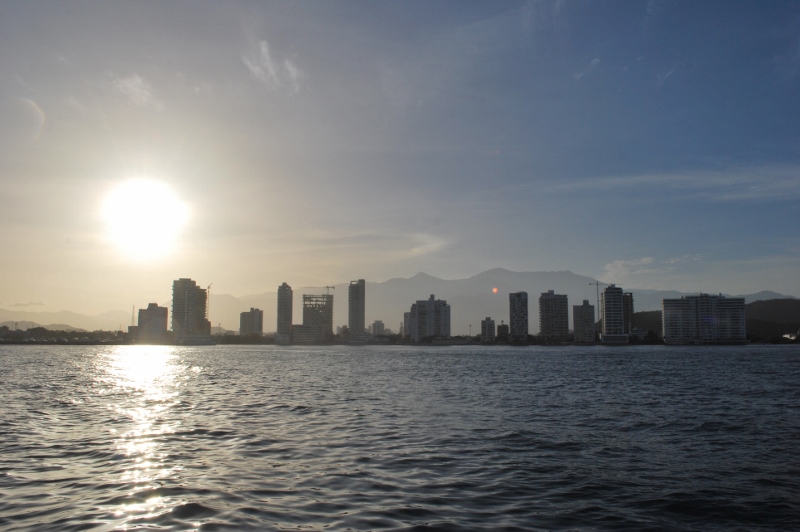 Hurricane Matthew passed north of Colombia on the Saturday. By then Hugh had put out extra lines to secure Vega onto the pontoon, with the help of our Dutch neighbours in the marina (a boat which coincidentally we had last seen in A Coruna in Northern Spain after we crossed Biscay over a year ago). A French yacht that had been anchored in one of the Five Bays along the coast for some weeks with no wifi or mobile phone reception and apparently no idea of the approaching weather had somehow been contacted and encouraged to come into the marina. A Government Minister spoke solemnly on TV about his concern for the poor of Santa Marta and the possible impact of the hurricane on their flimsy housing.
On Saturday morning it started to rain heavily and we dashed out in waterproofs through already flooded streets to the supermarket. The wind gusted up to 40 knots at times and there were violent seas beyond the safety of the marina breakwaters. Otherwise life went on in the marina as usual, with some socialising with our neighbours.
By the Monday the wind and rain had eased although there were still big seas and swells with waves crashing down on the beaches along the seafront in Santa Marta. Debris was strewn along the beach and some of the basements of new apartment blocks which fronted the beach had been flooded despite sandbags put out to try to hold back the sea. People were having selfies taken with the massive waves breaking behind them. The fishermen were sitting around with their little wooden boats pulled onto the beach in the shelter afforded by the docks. It had been too rough for them to be able to work for the last three days. Cars were slowly making their way along flooded streets, the drainage systems inadequate for the downpour. We didn't hear of any worse damage in Santa Marta though and felt we'd got off lightly. News from friends in Grenada and the ABC islands told a similar story. High winds, waves and rain but no serious damage.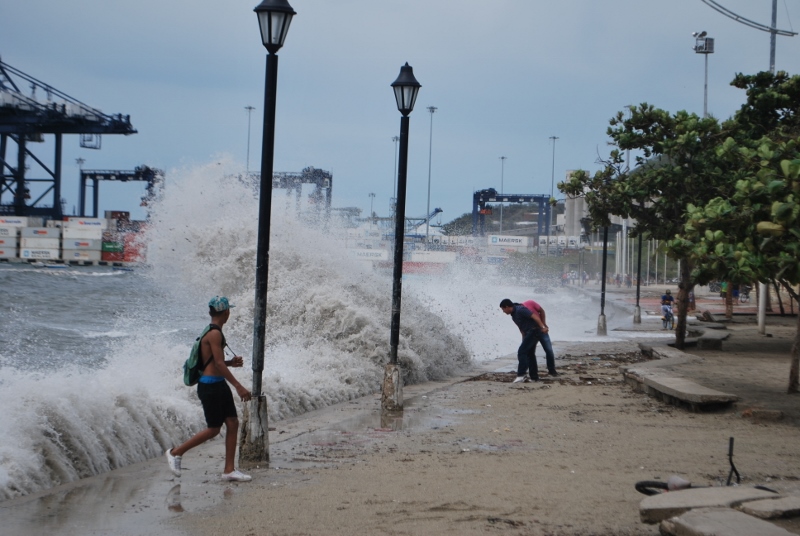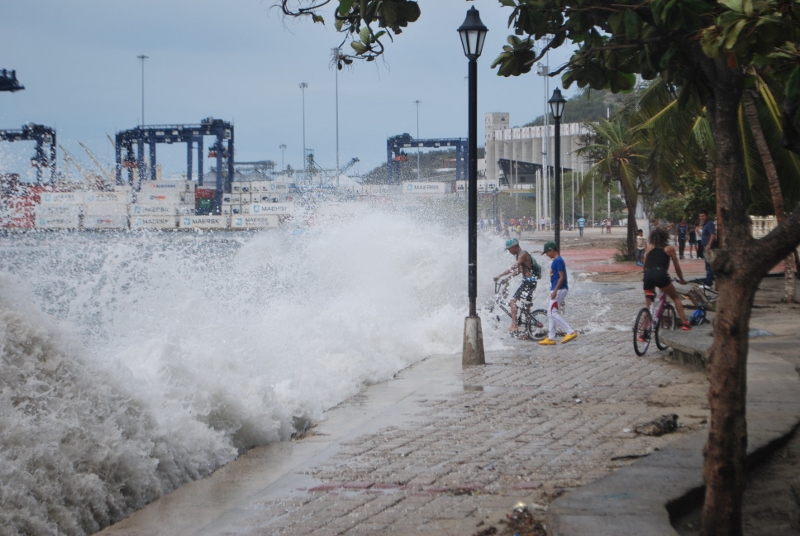 As we watched the path of hurricane Matthew turn north and head towards Haiti, Jamaica, Cuba and beyond we were even more concerned for the people of these islands as Matthew increased in strength.