For those of you following Hugh's very wonderful blog you will have been reading his daily posts of our trip from Panama to the Galápagos. For those of you who haven't you have a treat in store… the link is at the top of this blog.
In the meantime I am struggling to get up to date. With the distractions here of sea lions playing around Vega and the promise of blue footed boobies I may continue to struggle. In the meantime here are some photos and words from our time in the fabulous San Blas islands.
Saturday 4th February to Thursday 16th February 2017
As we headed out of Cartagena on the Saturday night the big seas and enormous waves pushed our little boat around – it felt very small in the vast dark ocean. I tried to steer but it was hard to keep her headed in the right direction as the waves rolled in from behind and from the side – I didn't sleep at all that night. As dawn came we were overtaken by a cargo ship, Monarch, and a large Japanese fishing trawler, Kyomanu 7. The sea was still big and Vega still rolling unpleasantly. This part of the Caribbean is renowned for its strong winds but we knew that once we got further south it would abate and by the evening it gradually did, the swell reducing and the passage becoming smoother.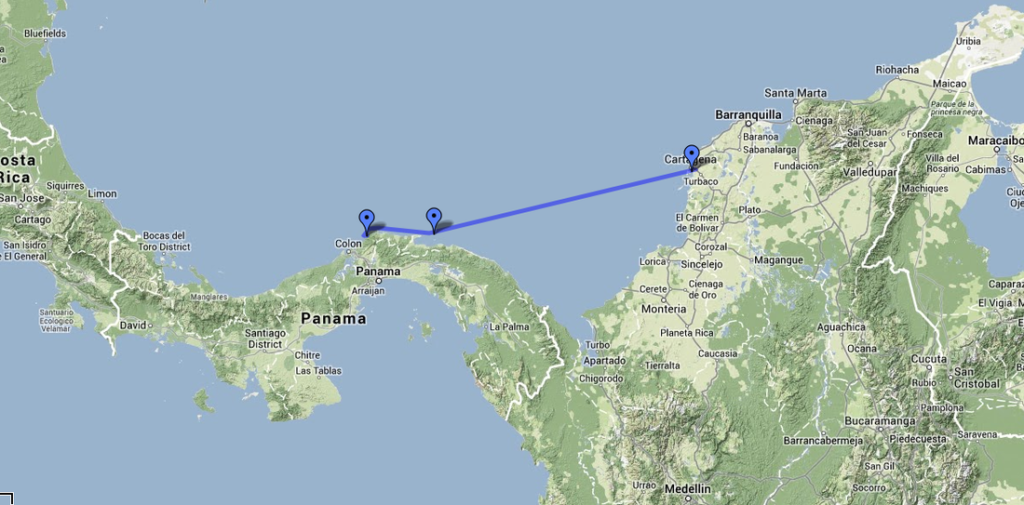 It's difficult to do much in such big seas but I have started the task of inputting everything on Vega onto 'eStorage' an app on my iPad that will enable us to locate precisely where every item is stored, from a tin of chick peas to the fuse for the windlass to every last widget. No more desperately searching through endless lockers and plastic boxes looking for the stern gland seal or the gel coat filler, I will be able to locate their exact whereabouts in microseconds! That passed some of the time, as did playing Scrabble, until darkness came and it was time to alternate our watches again. I managed to sleep that night.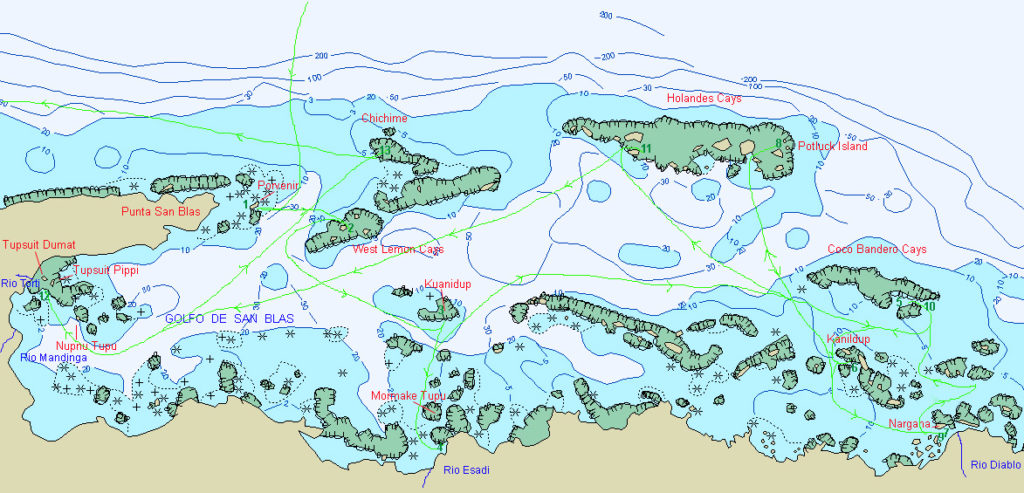 By midday we were approaching Holandes Cays, a group of 21 mostly uninhabited islands surrounded by reefs, the most northerly of the San Blas islands and the furthest from the mainland. As we neared the low lying islands topped by coconut palms we were joined by a pod of dolphins. More than a dozen large grey/brown speckled torpedoes with babies swimming closely by their mothers' sides. What a welcome!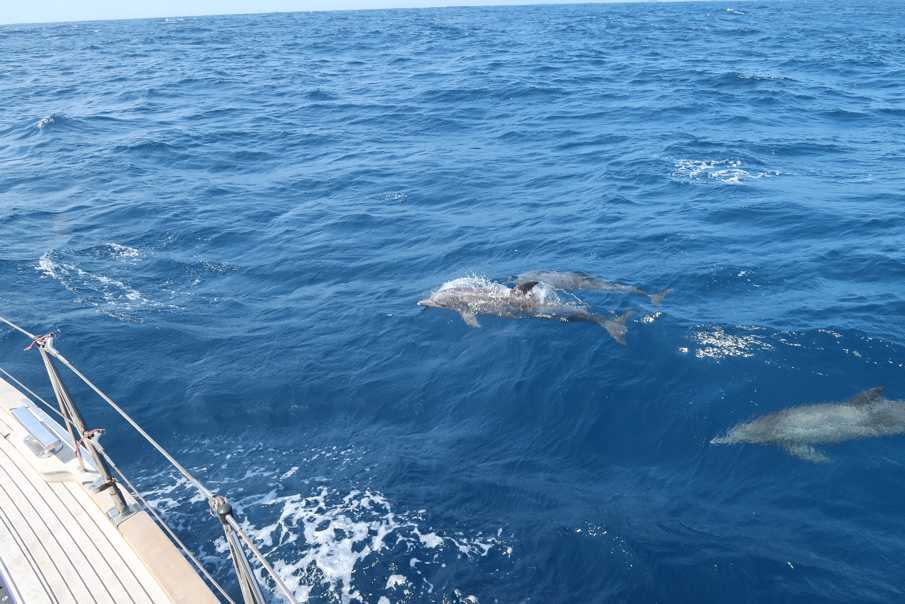 We dropped anchor in Chichime Cays amongst another twenty or so yachts after successfully negotiating our way around the reef guarding the enclosed bay. We passed the San Blas Ferry wrecked on the reef, which had clearly not been so successful.
The San Blas islands, of which there are supposedly 365 ("one for every day of the year"), lie off the coast of Panama of which they are part, and are home to the indigenous Kuna (or Guna) people. The majority of the small islands are uninhabited, covered in coconut palm trees, fringed by beaches of silver sand and surrounded by coral reefs. They are only a few feet above sea level and with global warming it is estimated that all of the islands will be underwater in the next 20 to 30 years.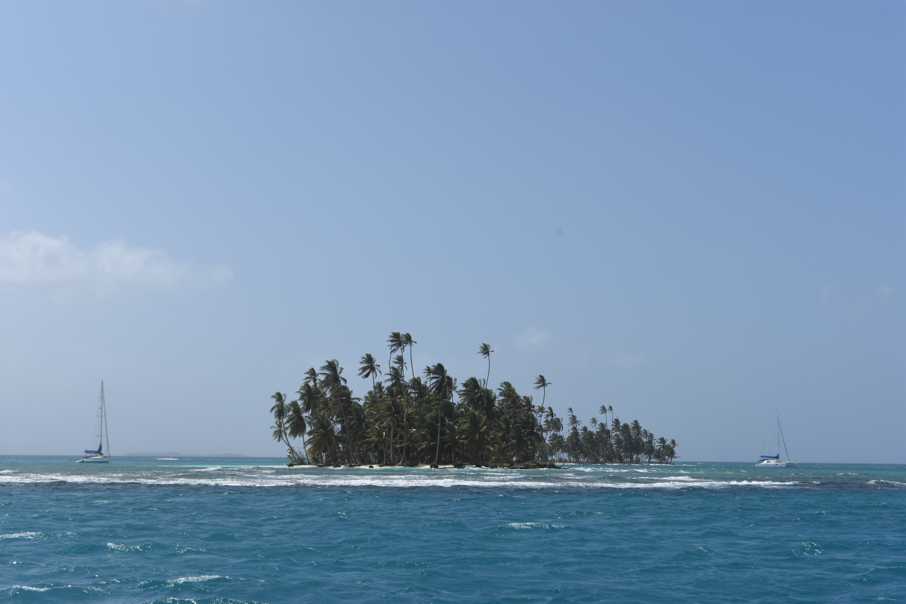 We were due to meet Jon and Jackie the following day, Ambling Band friends from Bristol who were joining us on Vega. They had flown in to Panama City two days earlier and were coming overland to San Blas by jeep then catching a water taxi for the 30 minute ride over to the island of Porvenir, which boasts a hotel and airport – a short landing strip built by the US in WWII which can just about cope with small aircraft flying in from Panama City. As we arrived and dropped anchor we saw their little boat arrive and them making their way by foot across the runway. We couldn't avoid the Immigration Officer on Porvenir as he was sitting in the shade under a tree watching us arrive so we paddled across to the island in the dinghy and visited the red roofed Immigration Office. It had only recently reopened after being closed for the last year due to a disagreement between the Kunas and the Panamanian authorities. Two charming and laughing Kuna women dressed in traditional dress gave us the requisite forms to complete, entered our details on their computer system and relieved us of US$60, dollars being the official currency of Panama. One of them was particularly proud of her beaded arm and calf bracelets which she showed to us. After the Immigration Officer had stamped our passports we went to find J&J who were having cold drinks at the hotel, a colourful but rather rundown, ramshackle place on the headland of the tiny island.
At anchor in Lemmon Cays that evening we swam over to Naguarchirdup island (aka Elephant island) and met 'Cannabis' a much tattooed Rastafarian Kuna who, as he told us, was born in water and loved life. As we lay in hammocks drinking beer and listening to Cannabis expounding his philosophy of life it all felt rather surreal, but a very wonderful introduction to San Blas.
The following morning 'Master Mola Maker' Venancio Restrepo motored over in his wooden canoe with two barrels full of molas, the beautiful reverse appliqué embroidered rectangles that are worn by the Kuna women as part of their blouses. The cheap ones he dismissed as 'tourist molas' and he showed us a succession of exquisite pieces, 'high class molas', until we chose two to buy that we especially liked.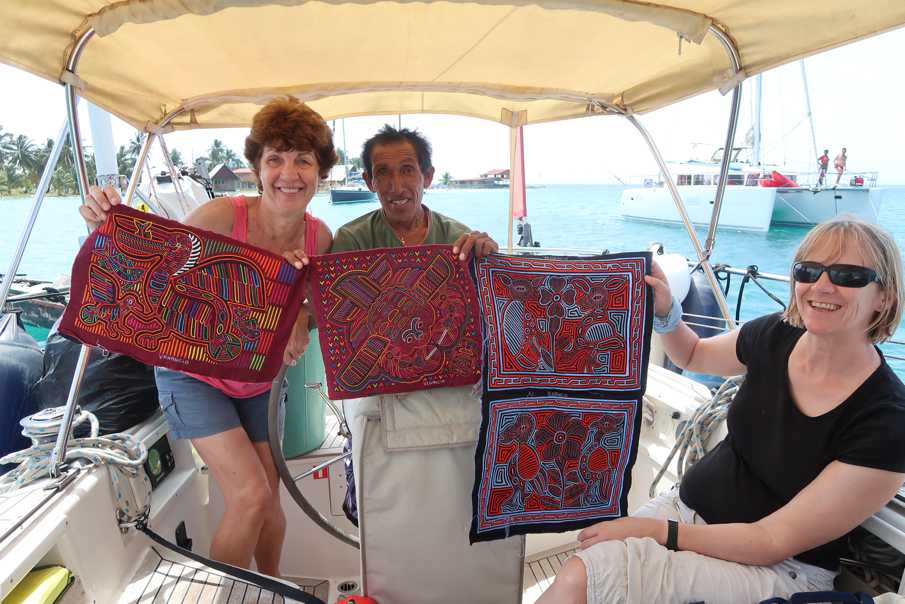 On beautiful Coco Bandero Cays, a group of idyllic islands protected by a long reef, we met two men living in a tiny hut on one small island with the two young sons of one of them. He was divorced and, his friend told us, hoping to meet a tourist (although it is forbidden for a Kuna to marry a non-Kuna, violation of this prohibition resulting in expulsion from the Kuna Yala). They asked for some water from us and we also took over pens, pads and sweets for the children.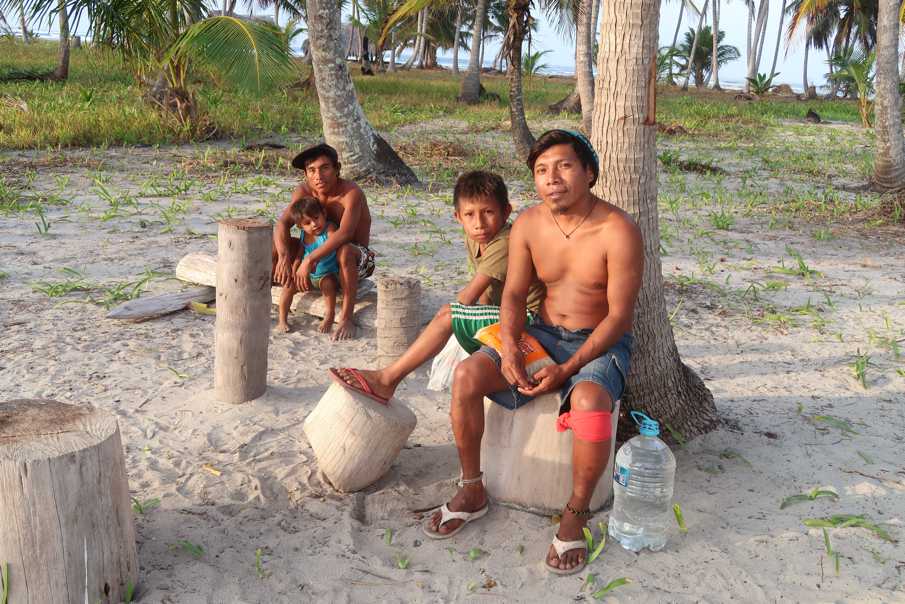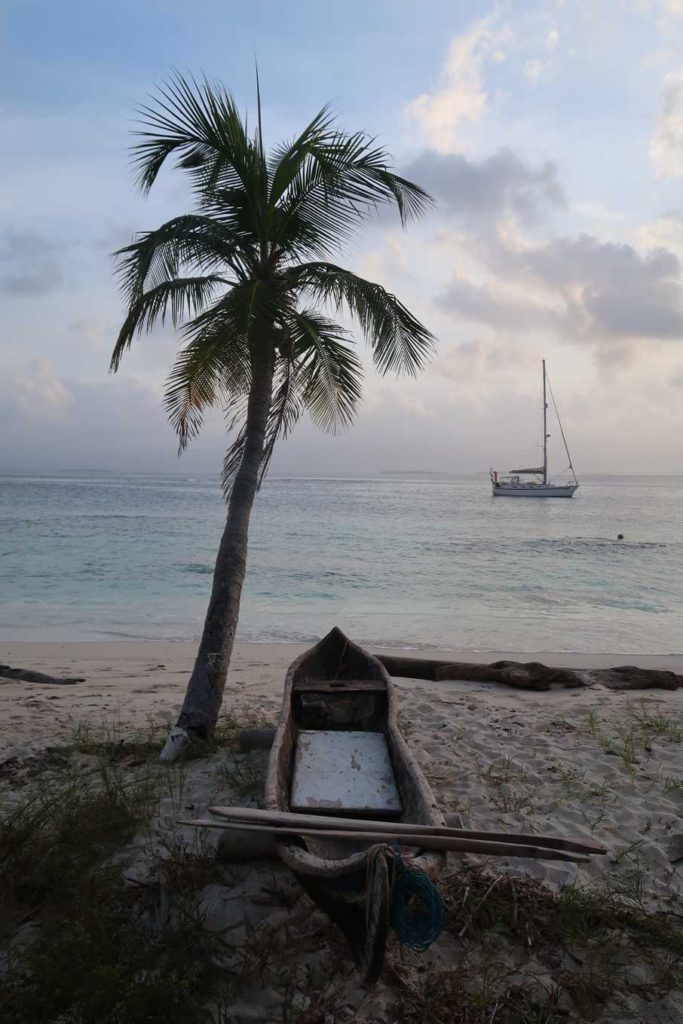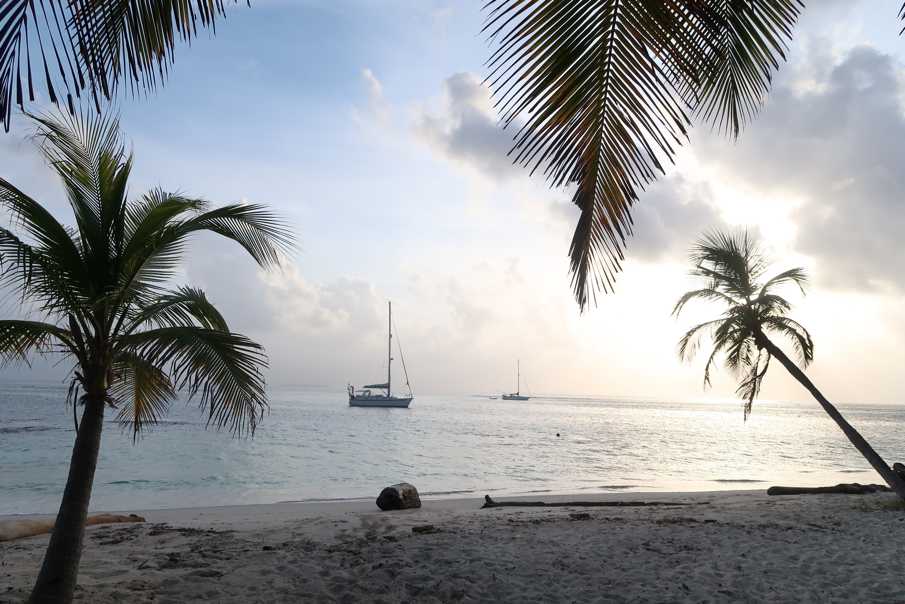 It became too windy to stay off Coco Bandero Cays, we were concerned that should our anchor drag we would end up on a nearby reef, so we moved on and spent two nights in the shelter of Green Island, which is covered in tall coconut palms. We walked across the island taking care to watch out for coconuts falling on our heads in the strong wind.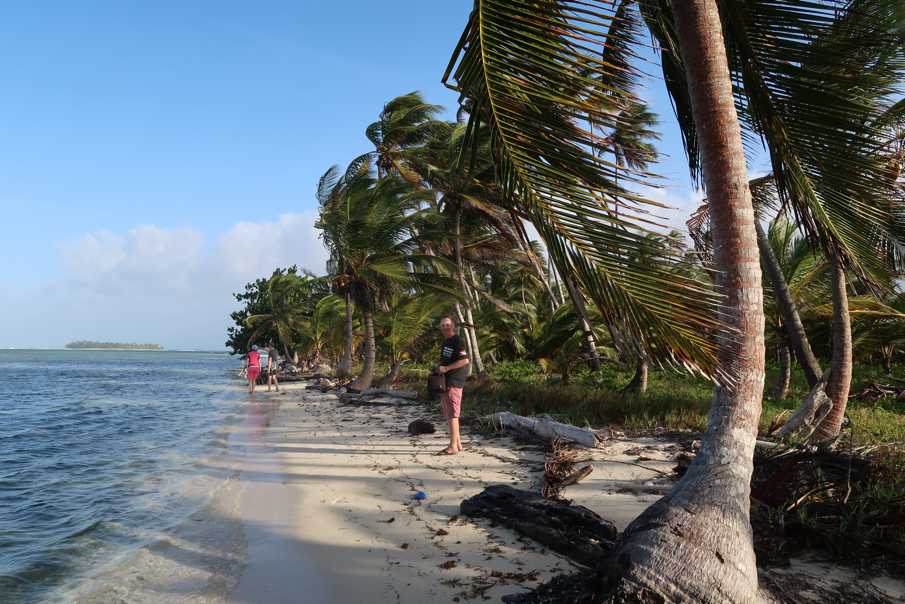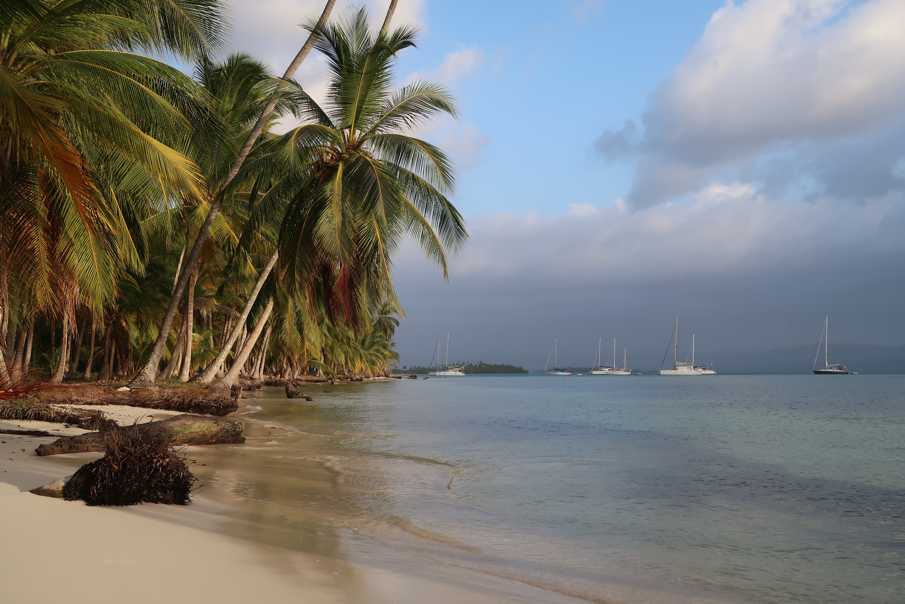 All the coconut trees belong to someone so you mustn't just help yourself to a fallen coconut. The main income of the Kuna people is from coconuts most of which are sold to traders coming from Colombia by boat, although in addition they also farm small gardens on the slopes of the mainland where the jungle rises to high peaks as a mountainous backdrop to the islands. They leave early in the morning for their gardens in dugout canoes known as 'ulus' which can be sailed or paddled.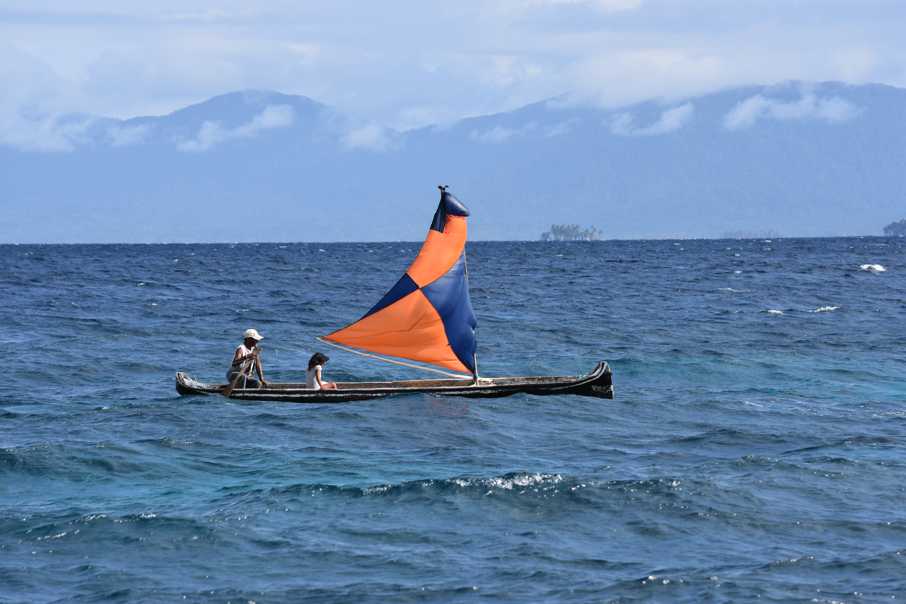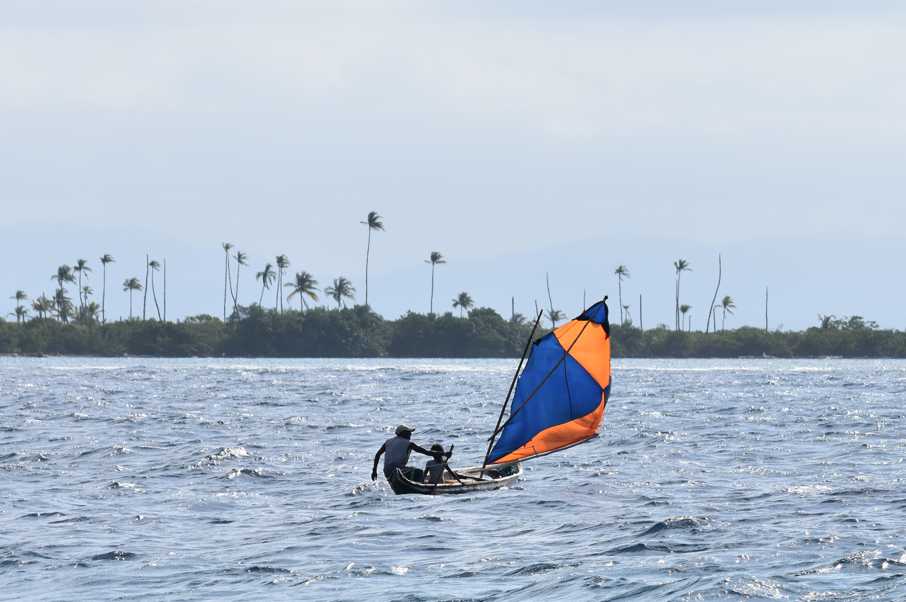 We took the dinghy over to a tiny island, which J&J named karaoke island after finding a discarded karaoke box on it, and snorkelled from the dinghy on a pretty reef with little fish hiding amongst the coral before eating lunch in the cockpit back on a Vega.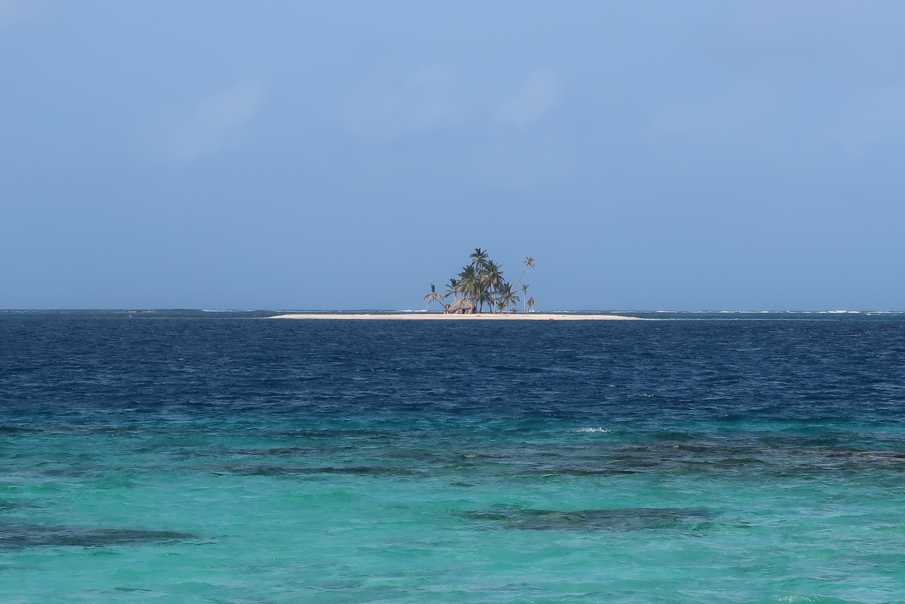 I was keen to see one of the 50 or so of the inhabited islands and we decided to visit the island of Maquina where Venancio, Master Mola Maker, lived, hoping to see molas being made. Unfortunately he explained that the wife of the chief had just died so he was unable to allow us to look around the island. We were introduced to his brother Idelfonso, who organises boat trips, hiking and fishing for tourists, and to some of his extended family which included a large number of very cute children. One lady allowed us to photograph her, the standard rate for photographs being one dollar. I read in our Cruising Guide that the tradition arose when they saw postcards of themselves selling in Panama City for one dollar.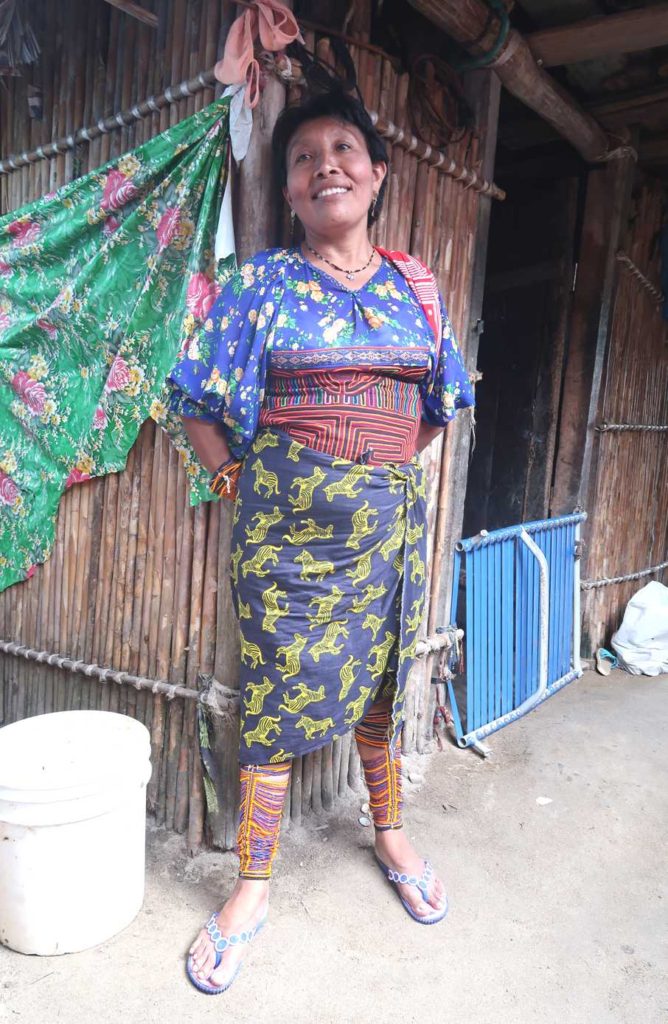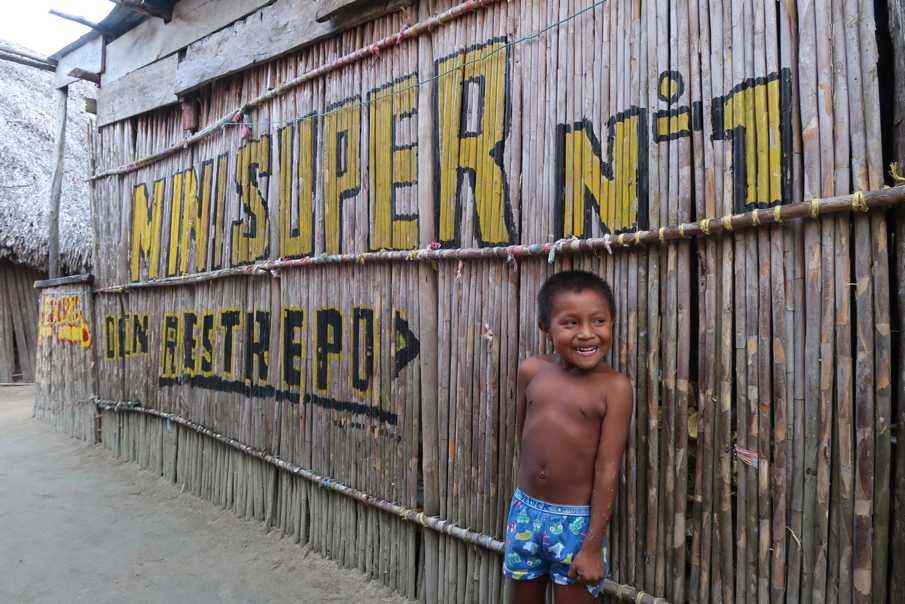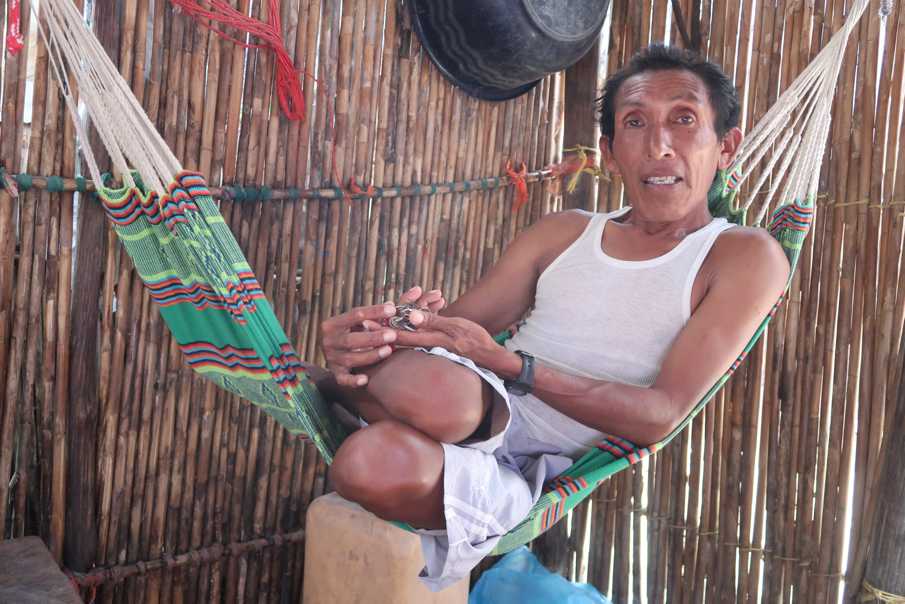 The village is crammed onto a tiny island, the huts tightly packed together with walls made from cane and roofs from palm leaves. Venancio showed us around his hut and his little store full of goods and coloured fabrics brought from Panama City. In the hut was a large flat screen TV, a cooking stove, rails of children's clothes, hammocks and a basket full of 20 or so 'Nuchus' – wooden carved statuettes of people about 15 inches tall. These act as a link between the spiritual and the physical world and are believed to be alive, representing their individual owner. When a Kuna is ill the nuchu is taken to the shaman who will determine what the problem is – usually a bad spirit. We were not allowed to photograph the nuchus or we would be dead in one hour and 15 minutes, and so would he!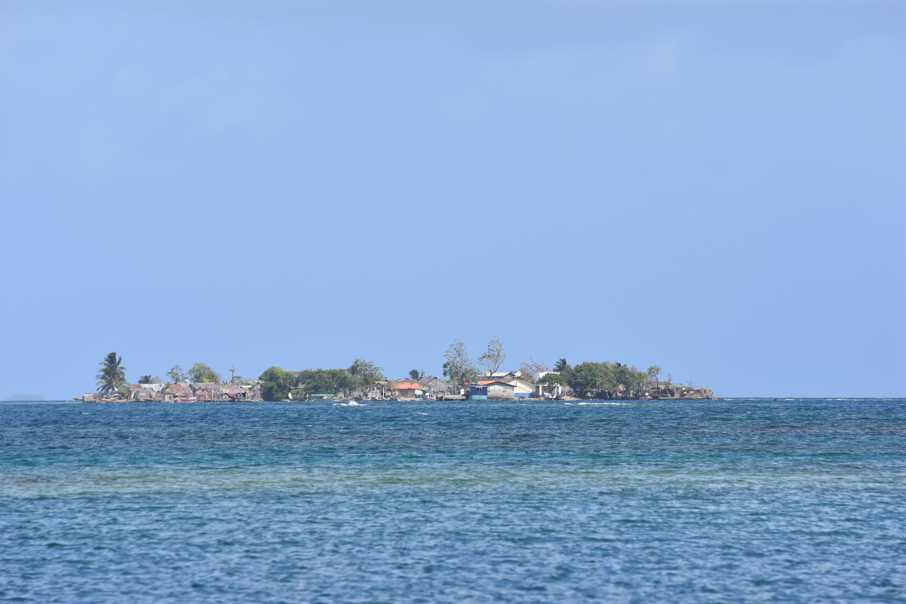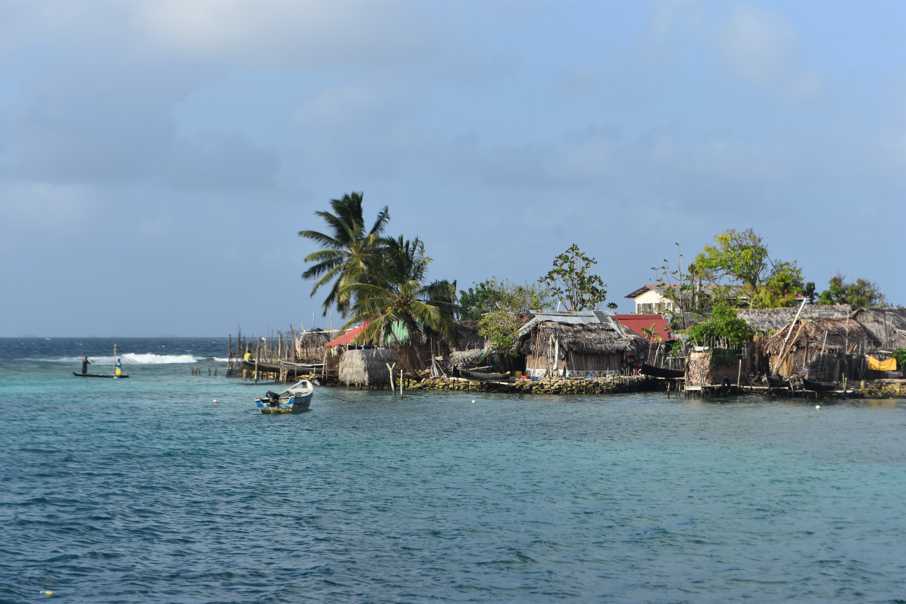 One night it was so windy that we anchored in a small bay on the mainland, surrounded by mangrove. At the entrance to the bay was a small ramshackle dwelling where a family lived on the tiniest islet and in the morning they headed off to fish in the surrounding waters.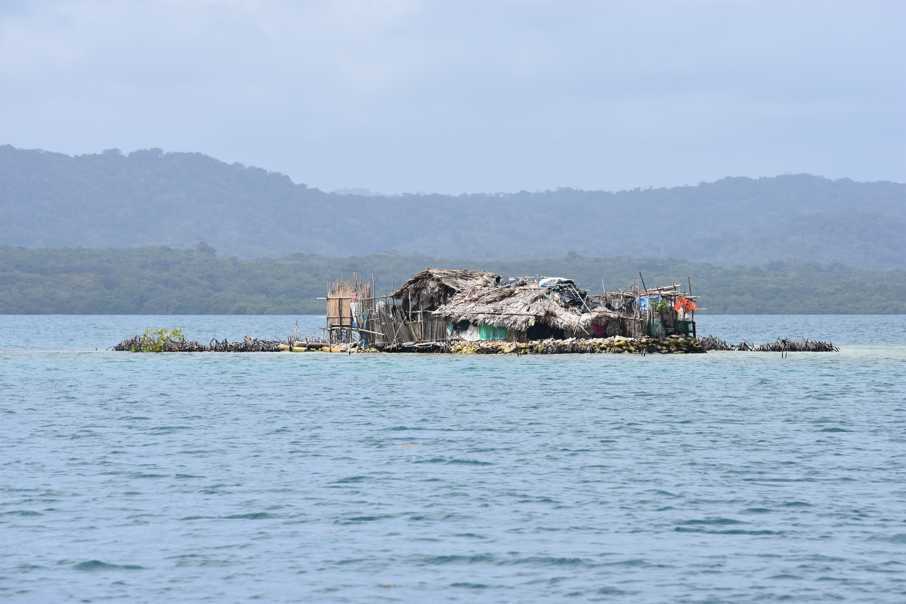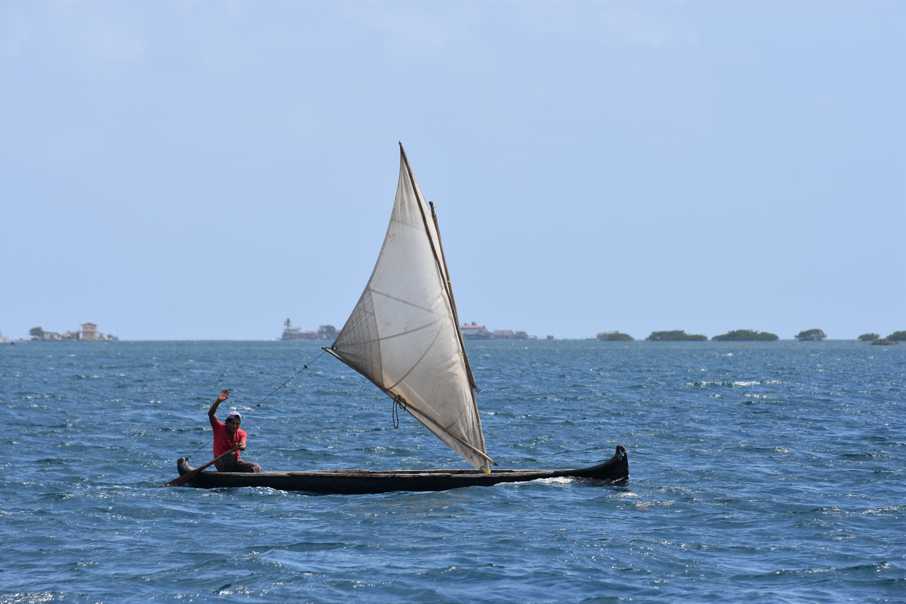 The waters around the islands were crystal clear and the best snorkelling we had was at Dog Island on the wreck of a small cargo ship which was sunk here in the 1950s when it sprang a leak. It was covered in corals and home to masses of pretty fish of every colour and a school of very strange looking cuttle fish.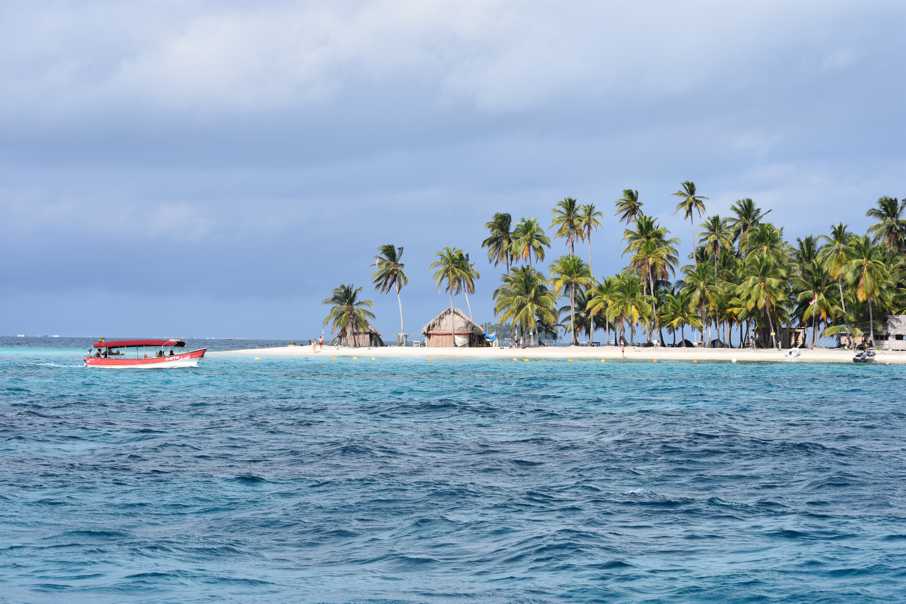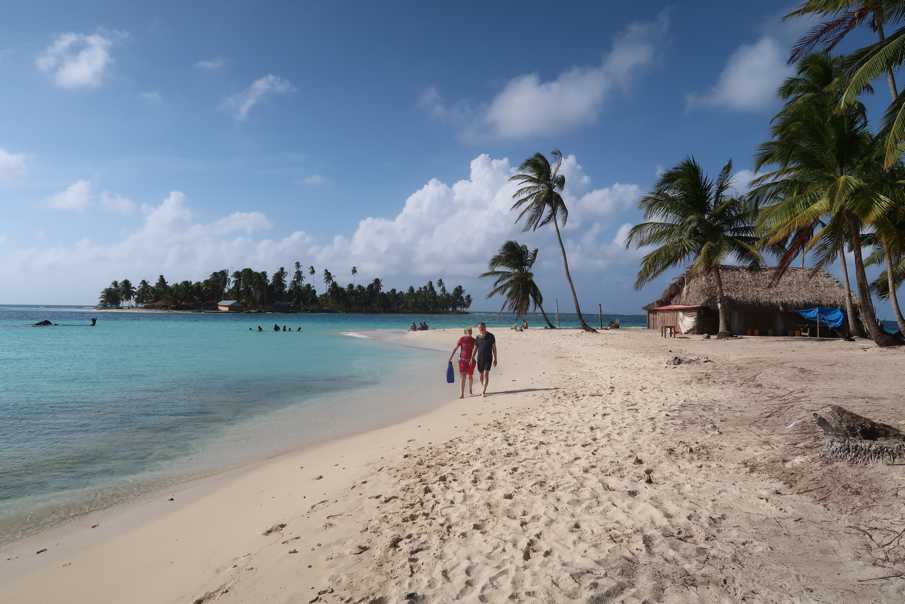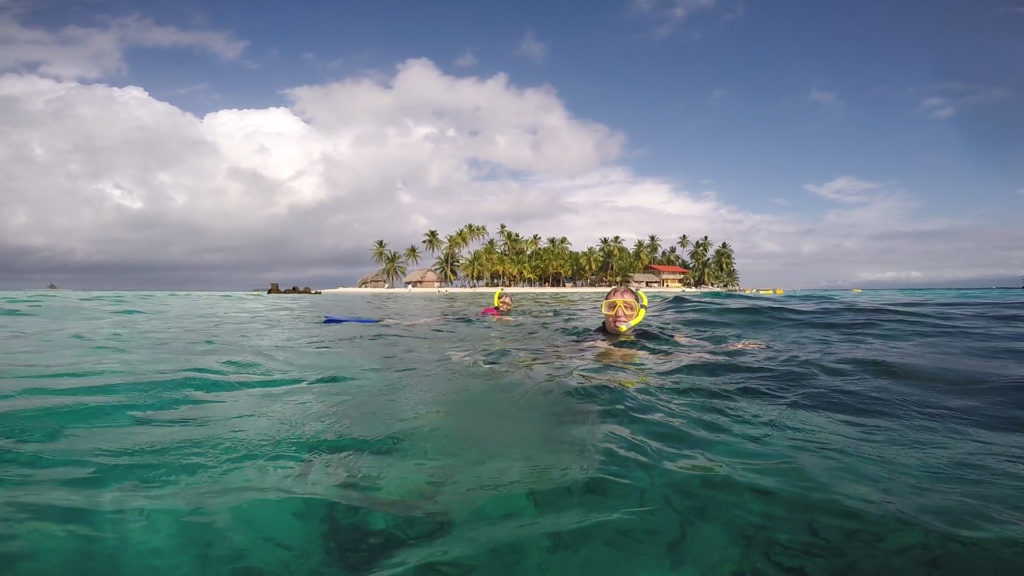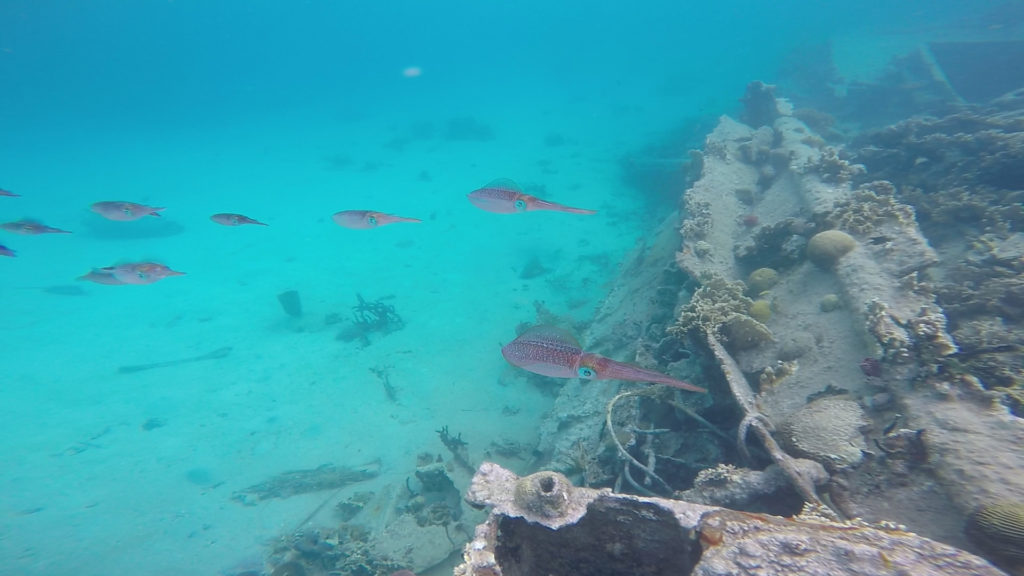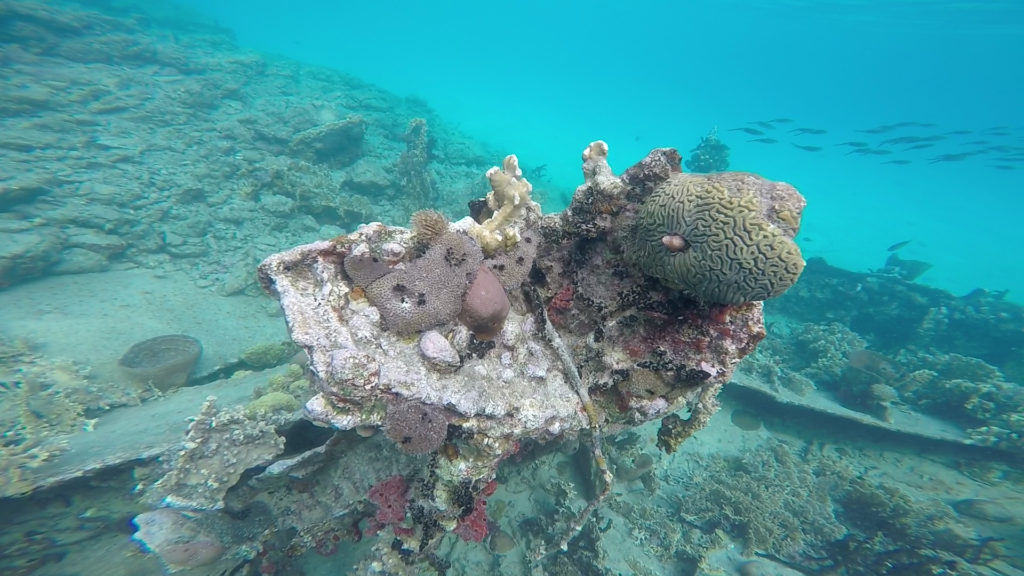 Back where we'd started, in the bay at Chichime Cays, walking around Uchutupu Dummat island it was sad to see how much rubbish had been dumped there – plastic bottles and heaps of rusting beer cans. There were some simple huts for tourists to stay in, a guest house and restaurant – the guests summoned to lunch by blowing through a conch shell – women sewing molas which were on display for sale, a few huts for the local people and their canoes pulled up on the beach.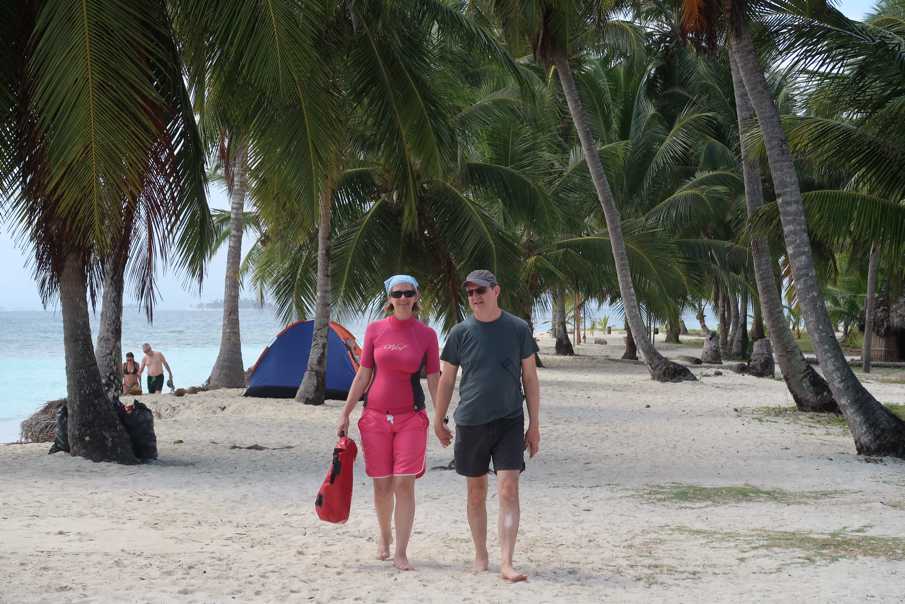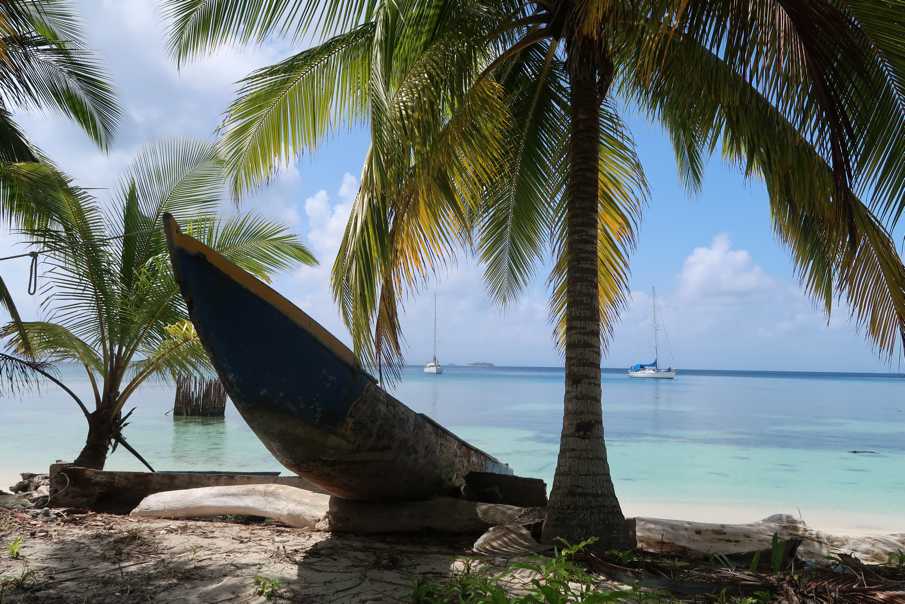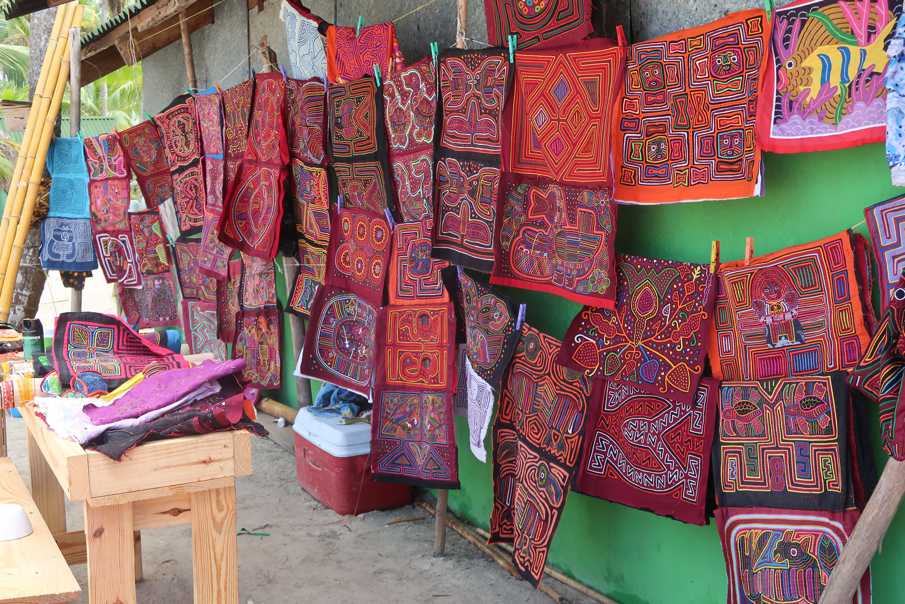 The flag of a reverse swastika, which can be seen on some boats on the islands, is a symbol of the rebellion against Panamanian rule, the 'Holocausto de la Razas', which took place in 1925 and led to a declaration of independence. Although Guna Yala (by which the San Blas islands and associated mainland territory are known) is officially part of Panama it is ruled by the Guna people through a general "congreso". The Guna fiercely maintain their traditional way of life and their independence from Panama and we found them to be a friendly, gentle and cheerful people.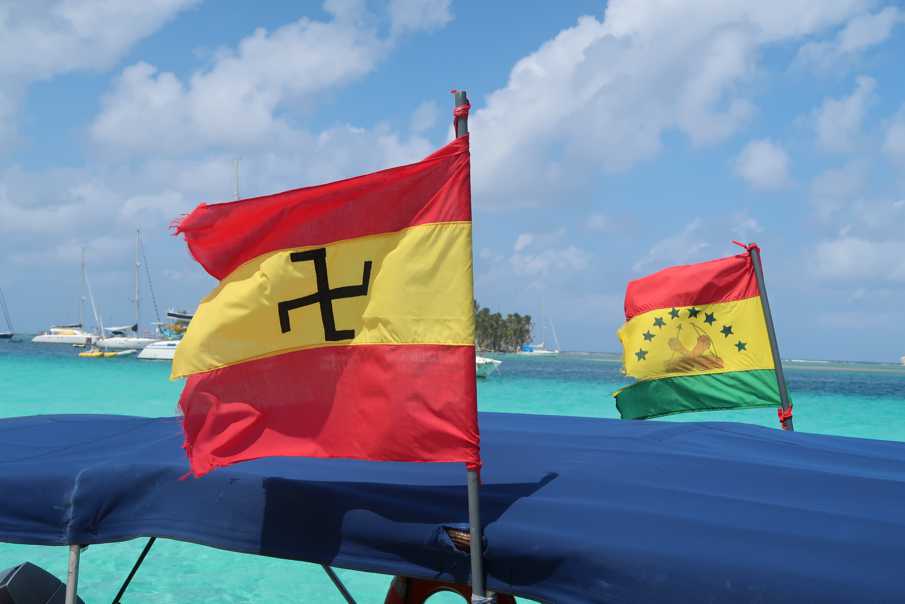 The week passed in San Blas. We sailed from island to island dropping anchor in yet another idyllic setting. J&J were useful shipmates. Jon got into the navigation and plotted our course from island to island avoiding the dangerous reefs and shallows. Jackie took the helm for a glorious sail close hauled in 15 knots of wind from Maquina to Dog Island. They both became extremely competent at anchoring. The vegetable boat visited occasionally so we could stock up with fresh fruit, vegetables and bread. We were offered lobsters by passing fishermen but refused these as no one was keen to plunge them alive into boiling water, although we did buy an octopus.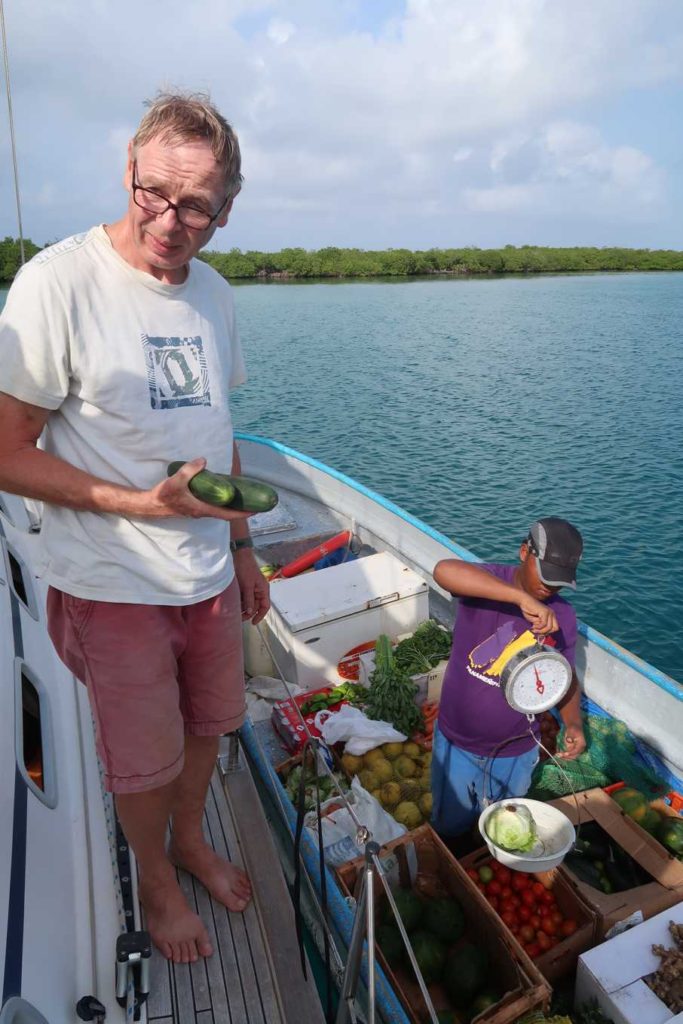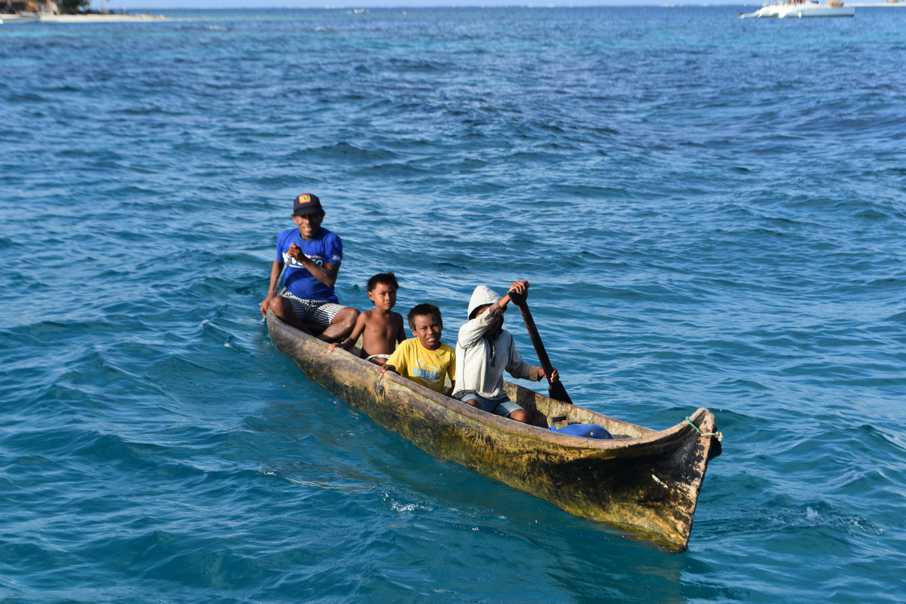 In the evenings we played scrabble, bananagrams, UNO and games that J&J had brought: Yahtzee and Dutch Blitz. The scrabble got even more competitive – there isn't much else to do on a boat at night, it gets dark near the equator at 6.30pm and light around 5.30am so we start the evening early with sundowners around 6pm then supper, games, bed early and up early. We met up with friends Ian and Stephanie on Nautilus at Green Island and they came over for drinks on board.
After nine days we had to leave to get to Colón – we had a canal to transit and Jon and Jackie had a flight to get home. There was not much wind so we motored for most of the day and spent the night en route in pretty Linton Bay amongst many other boats at anchor. We had G&Ts in the cockpit whilst Hugh cooked the octopus – but it was terribly tough and rubbery despite marinating it overnight and most went overboard (we have since learnt that octopus should be simmered for half an hour to make it tender). The evening sounds of howler monkey cries, shrill, echoing birdsong and barking dogs accompanied our supper as little swallows swooped around the boats.
From there it was a six hour motor on to Shelter Bay Marina where we were to stay for a couple of weeks arranging transit of the Panama Canal and provisioning Vega for crossing the Pacific Ocean.