St Vincent and the Grenadines together make up one country, with St Vincent being by far the largest island, one of high mountains and lush green forest. The Grenadines consists of a chain of much smaller islands, stretching south from St Vincent almost to Grenada, some tiny and uninhabited, some accommodating luxurious and exclusive homes and resorts, some poor and barren, each very different from the others. The distance from one island to the next is usually not much more than ten miles so I anticipated just a few hours of hopefully gentle sailing. My kind of sailing.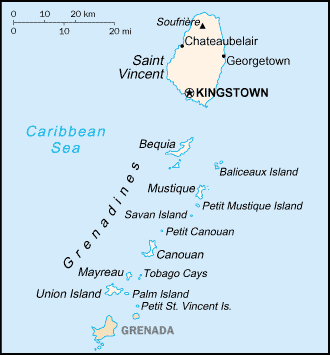 Bequia – Sunday 8th to Sunday 15th May
From St Vincent we headed over to Bequia across the Bequia channel, a stretch of water somewhat renowned for rough seas, high winds and strong currents. The eight mile crossing took rather longer than anticipated and as we neared Bequia, with Will at the helm, an inflatable dinghy approached with a man standing in it, steering using a spade handle attached to his rudder, and photographing Vega with a massive zoom lens, sounding a whistle before taking each shot. We had read about him in our guide to the islands and we all rushed up on deck, grinning and waving at the camera. This was Kenmore Henville who earns his living photographing arriving yachts. We bought a CD of his pictures and here is one: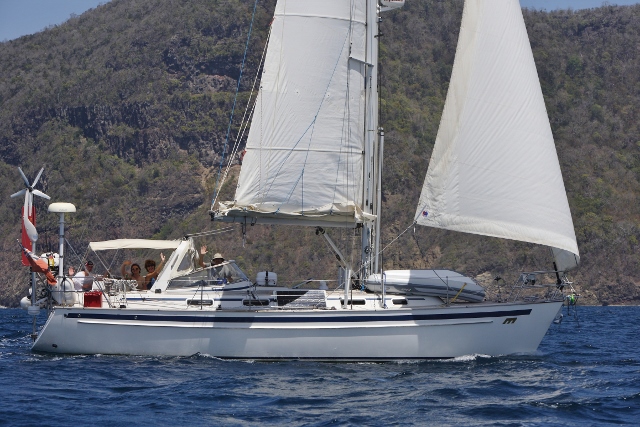 Bequia is a standard stop for yachts travelling up and down the Leeward and Windward islands. A low, dry and barren island island with little rainfall, only some six miles long. We entered Admiralty Bay and dropped anchor off the long stretch of golden sand that is Princess Margaret Beach (the Royal lady swam here once) and went swimming ourselves off the boat. The next day we took the dinghy over to the little town of Port Elizabeth, pretty and unsophisticated with small bars, shops, restaurants and hotels strung along the shore, a jumble of colourful houses climbing up the hillside, and a main dock where the ferries make regular trips to and from St Vincent. On a little jetty we watched a fisherman cleaning his catch and bought four small fish from him which we later marinated for supper, two red snappers and two bright red 'butter fish', although we were unable to identify these latter ones in our book on Caribbean fish. He had several big spotty fish which we discovered were rock hind, supposedly excellent to eat, but I was put off by their protruding eyes. When the fishermen have fish ready for sale they blow on a large conch shell and the sound rings out across the bay. We found the fruit and vegetable market and spread our custom amongst the various stall holders there, it being the end of the season and so there was little business for them. Several were gentle Rastas who were clearly philosophers. We bought mangoes, tomatoes and cucumbers, bananas and a papaya, and a pineapple. Most of the produce is grown on St Vincent and is brought in by ferry as so little grows on this dry island, although we later saw huge mango trees with windfall mangoes rotting on the ground underneath.
After two lazy days at anchor, eating lunch in town, swimming from the boat, watching the sunset, Will and Willa sadly had to leave us and we waved them off on the ferry back to St Vincent from where they were going to get an inter-island plane to St Lucia and have a few days luxuriating in a hotel and doing some sightseeing before flying home to the UK.
We moved to a mooring buoy owned by Dede, also known as Blessing, to be nearer to town. An interesting woman, she ran a water taxi and had skippered charter yachts around the Caribbean for years as well as working as a scuba diving instructor. We called up the very wonderful Miranda's Laundry on the VHF radio and Miranda arrived at 9am the next morning in her wooden boat to collect our bags of dirty sheets, towels and clothes, and delivered them back to Vega at 5pm all clean, dry and perfectly folded; one of the many services offered to visiting yachts, which also included water taxi, bread and fresh water delivery.
We bumped into Terry and Carol from Little Dove who we'd first met in Barbuda, and then again in Dominica, Martinique and St Lucia and whose trip is mirroring ours in many ways. We spent an evening on their boat drinking G&Ts at sundown, eating Terry's excellent chicken curry, catching up and putting the world to rights.
Before leaving Bequia for Mustique we visited the Whale Museum in Friendship Bay on the other side of the island. The people of Bequia are allowed to harpoon up to four whales a year which has historically been an important source of income for the island, and is still done using hand thrown harpoons from open sailing boats, a skill we trust will die out. Some years they apparently do not make any kills. The whaling industry was important in the late 19th century but by the 1930s went into decline as the humpback whales became scarce. We hope the International Whaling Commission totally bans the slaughter of such incredible and fascinating creatures, completely and worldwide. The Bequia national flag shows a whale agreeing with me: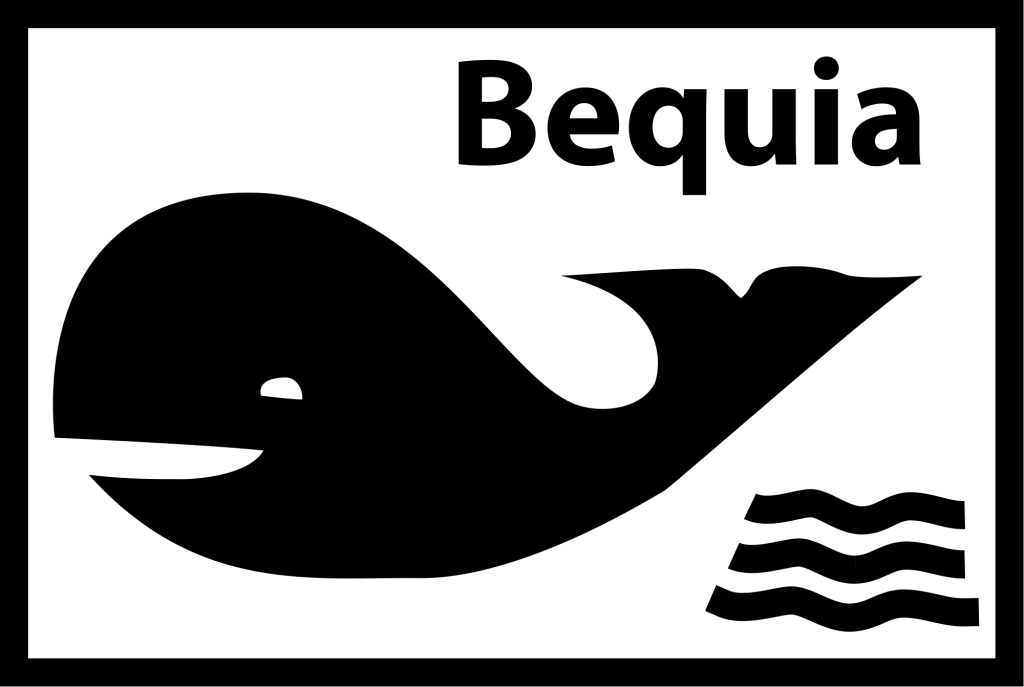 Mustique – Sunday 15th to Wednesday 18th May
Mustique is a private island run by the Mustique Company which is owned by the rich and famous residents who have built their fabulous villas on the beaches and the hillsides. It was originally made famous by Princess Margaret who brought her much younger boyfriend Roddy Lewellyn here in the 1970s to frolic away from the public gaze. Past residents and visitors include David Bowie, Paul Newman, Bryan Ferry and Amy Winehouse but now, mostly abandoned by the A-list celebrities, it is a favourite holiday destination of the Middletons, with Kate Moss being a recent visitor, David Bowie having sold his house to a publisher in 1995 (you can rent this property, Mandalay, for a mere £28,000 a week in low season). As yachties we are allowed to pick up a buoy in Brittania Bay but not in any of the other bays which may have private houses on them. At Christmas and Easter and in peak season most of the island is shut to visitors to preserve the privacy of the famous residents and their guests, and that of bankers who don't want to be mistaken for aging rock stars and followed by celebrity spotting tourists. It being low season we were able to wander freely around the island as long as we didn't venture down private driveways or take photographs of the residents.
You can understand why the rich and famous build their fabulous fantasy homes and villas here. The water in Brittania Bay as we moored was crystal clear and a deep azure blue, just inviting you to dive in, the sand was more golden, the air seemed cleaner, the hills more green and gentle, and the colour of the flamboyant trees a more vivid orange. Even the grass by the beach looked as if someone has been over it with a lawnmower and roller. Maybe they had! Along the crests of the hills were amazing mansions: one built in the Moorish style like a medina, a mock Roman villa, one with copper roofs catching the sun and reflecting bright light that could be seen from miles out to sea.
It is easy to forget that ordinary people live here too. On the Sunday morning that we arrived the bay was filled with the sound of an evangelical preacher passionately blasting out amplified warnings of hellfire and damnation from nearby. Most of the islanders live in modest homes in the one village in the north of the island and are either employed by the Mustique Company or are fishermen. Transport around the island is mostly in electric golf carts known as mules. Despite the wealth the island has a very peaceful, simple and unsophisticated feel to it and we were glad to hear that the Mustique Company has voted against having the airstrip lengthened to accommodate private jets, despite an increase in home ownership by international bankers and media tycoons for whom a Lear jet is, of course, an essential.
As we were leaving Bequia we had recognised another yacht leaving just ahead of us; Paul, Jayne and daughter Lily on Delphinus, who we'd first met in Montserrat. They were heading for Mustique as well, and we had a great sail close hauled on a port tack, doing 6 knots much of the way, and tied up on a buoy in beautiful Britannia Bay. As one does when cruising in the Caribbean we went over for sundowners on their yacht and tried to catch the elusive green flash – an optical phenomenon that can occur at sunset, that looks like, well, a green flash. I have yet to be convinced although Jayne was adamant she saw it.
We had planned to do a circular walk of the island with our new friends and on our walk we passed the entrance to Mick Jagger's relatively modest estate, Bryan Adams' place next door and Tommy Hilfiger's rather larger and more ostentatious mansion. We hadn't got further than a couple of miles when we were all invited, by a young man who Paul, Jayne and Lily had met the day before, into the hilltop villa of one of the Rich and Famous residents and so sat by the pool sipping chilled white wine, breathing in the fragrance of the frangipani from the gardens, admiring the artwork, chatting and and gazing down over the view to the coast. We had been asked to be discreet and not to take any photos (and not to get the caretaker of the villa where we were swanning around, into trouble) so I am not able to reveal the identity of our absent host here, I'm afraid.
We spent three days at anchor on Mustique. Sadly Basil's Bar, patronised ever since Princess Margaret's time by island residents and extending on stilts into the bay, was closed for refurbishment as Basil had retired and sold on his business. Basil himself had been a guest at Will and Kate's wedding and sounded a larger than life character, so we were sorry not to have been able to drink in his famous bar. We walked over to Macaroni Bay, a beautiful windswept beach on the east of the island, and around the salt pond in the south of the island bird spotting, Mustique being a conservation area. With Paul, Jayne and Lily we ate in the elegant Firefly restaurant overlooking Britannia Bay, and we decided that Mustique almost certainly had the poshest public conveniences in the whole of the West Indies. I decided not to buy a silk zebra print kaftan in the local shop (nothing to do with the US$1500 price tag) but we bought a 3lb 'rainbow runner' in the local fish market, a silvery fish with blue stripes and a very reasonable £10 price, before setting sail on to the next island south in the Grenadines, Canouan.