Wednesday 13th September to Wednesday 11th October 2017
The 240 mile sail west from Niue to Tonga took just under two days, initially motoring in winds so light that they were insufficient to fill our cruising chute. The first night there was bright phosphorescence in the waves breaking by the hull, like stars scattered in the water. Later that night the wind came up and we were hit by rain squalls and in heavy rain I discovered my waterproofs were leaking. I did the rest of my watch from the saloon letting the hydrovane keep Vega on a steady course and just putting my head above deck every 10 to 15 minutes to check all was ok. On the last morning as we approached Tonga we had to slow down to avoid arriving at an unfamiliar coastline in the dark.
On our way to Tonga we crossed the International Date Line and lost a day. We left Niue on Wednesday 13th, sailed over two nights and arrived on Saturday 16th, completely losing Friday 15th September somewhere, all because of some invisible line. And not even a straight line… one that wiggles back and forth from North to South Pole trying to please countries as to whether they are tomorrow or yesterday relative to their neighbours. It feels small compensation to know that as we have been sailing across the Atlantic and Pacific oceans we have gained an extra hour to the day every so often – 12 extra hours in total so far – all gone now.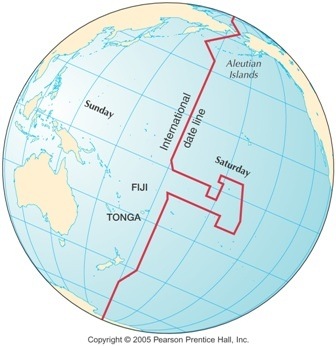 Tonga consists of four main groups of Islands and we made landfall in one of the northerly groups, Vava'u, 41 islands with pretty anchorages, coral reefs, palms trees, sandy beaches.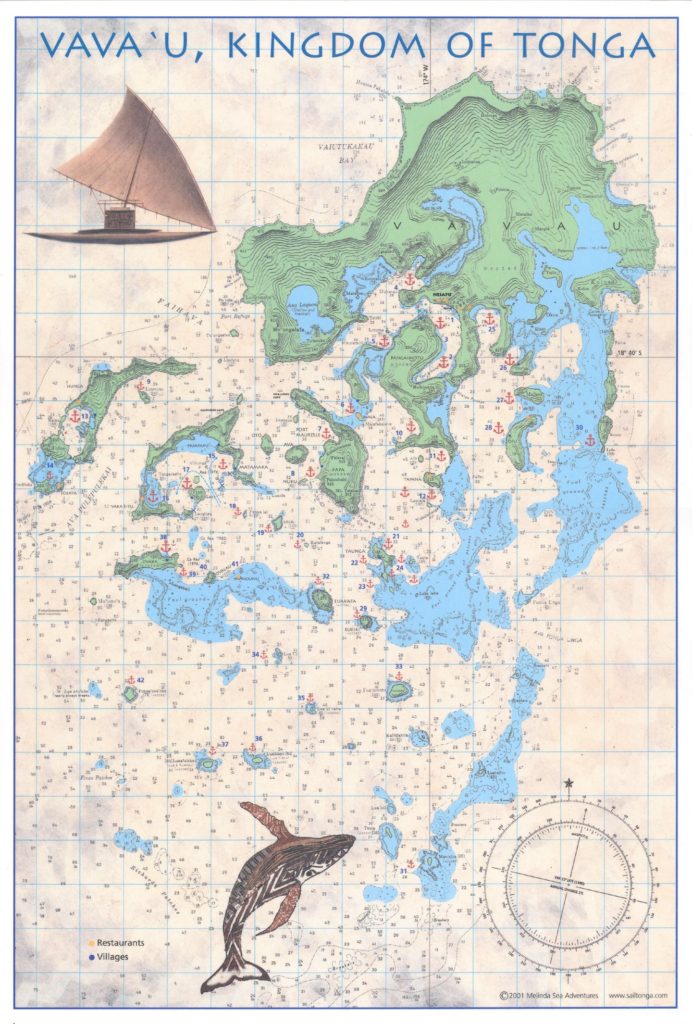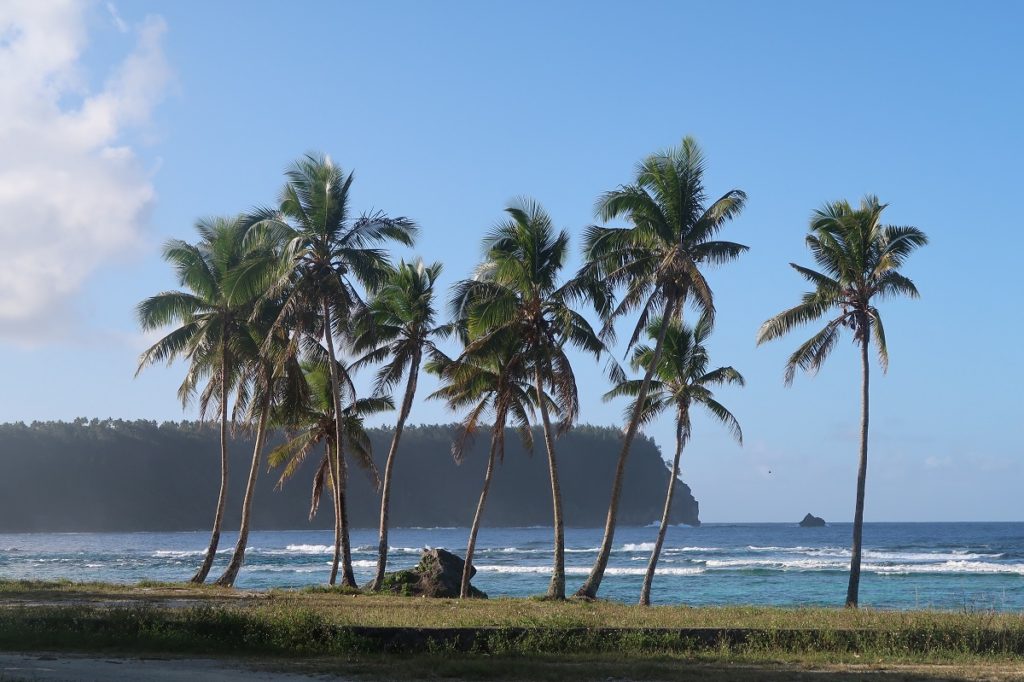 The capital of Tonga is Nuku'alufa which is on the island of Tongatapu, 160 miles to the south.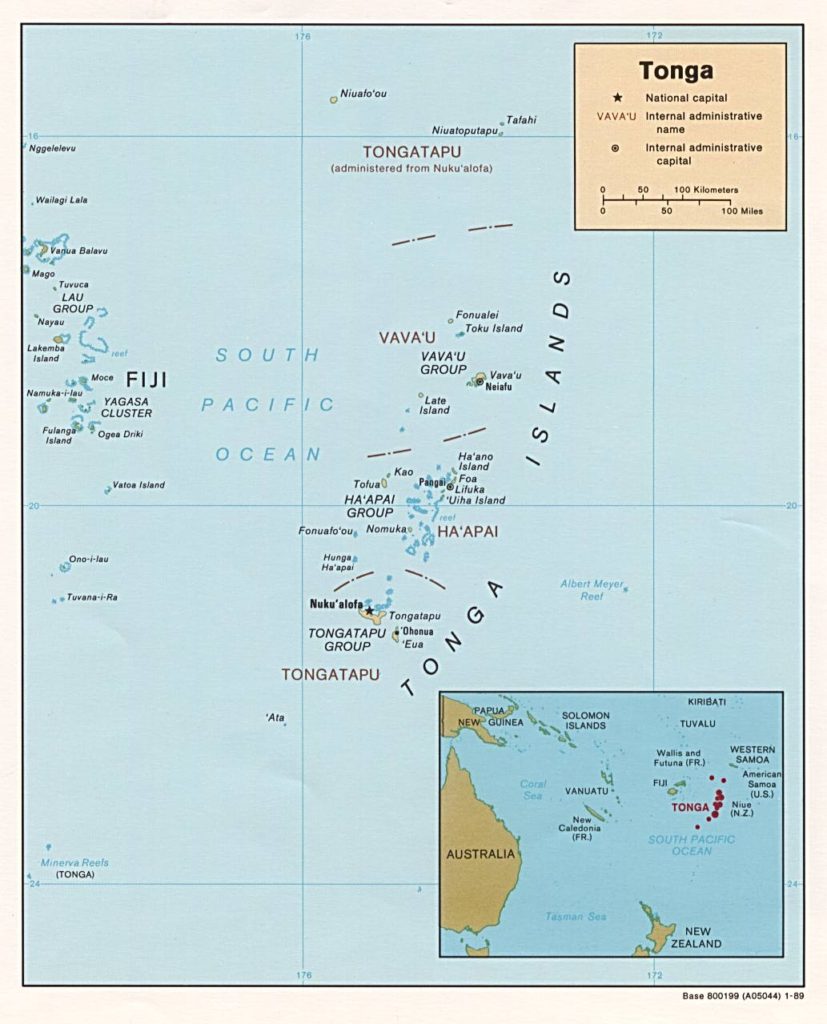 Tonga is also known as the 'Friendly Islands', named by Captain James Cook when he visited in 1773 and he and his men were treated to lavish feasting and entertainment by the local chief, Finau. What Cook didn't realise at the time was that there had been a conspiracy to kill him and his crew and raid his two ships Resolution and Discovery, but he left before the plot was carried out and the Friendly Islands they have remained.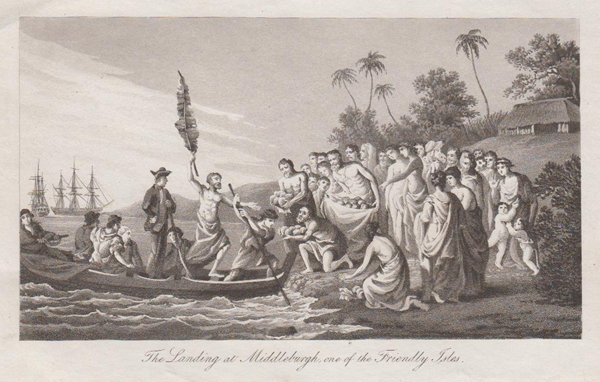 Arriving on a Saturday in Neiafu, the main town in Vava'u, we tied up on the fishermen's wharf alongside friends Ian and Steph on Nautilus who had arrived just ahead of us and were filling in the numerous Immigration, Customs and Health forms whilst providing the Immigration officer with cups of coffee in their cockpit. Formalities finally over and the Saturday overtime fee paid we moved to a mooring buoy in the sheltered harbour by the town.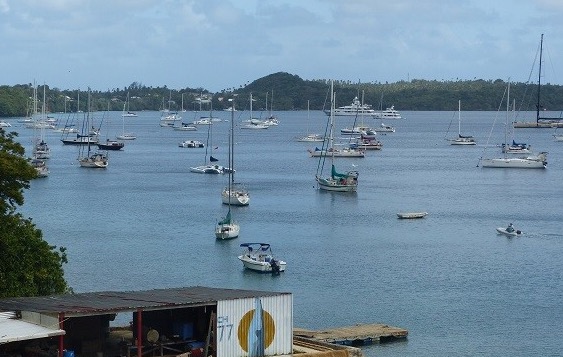 Neiafu is the main town of Vava'u and overlooks the harbour. It has a rather run-down main street with a dozen or so small supermarkets, several run by Chinese, a great fruit and veg market, a couple of banks, a pharmacy with an Italian pharmacist, a few tourist shops, bars and restaurants mostly owned by New Zealand and American expats, a Spanish tapas bar, a meat shop/ deli run by a Canadian and a large number of churches. Neiafu is physically dominated by the Catholic Church high on a brow overlooking the town and bay (although the Wesleyans and Mormons are big here too). Pigs wander the streets as do chickens and even cows on the outskirts of town.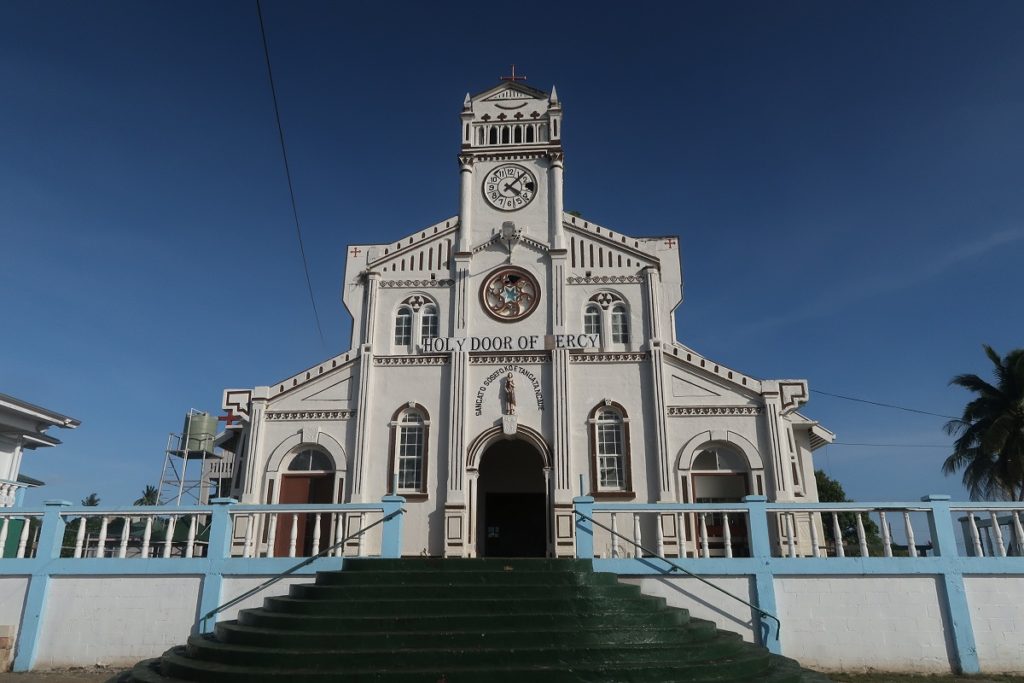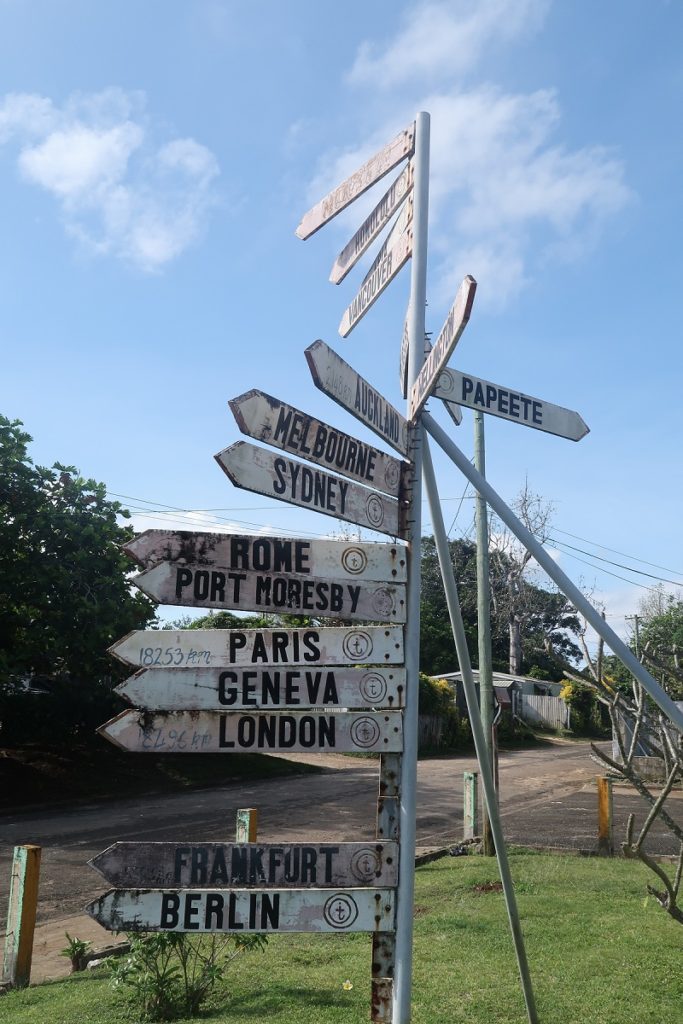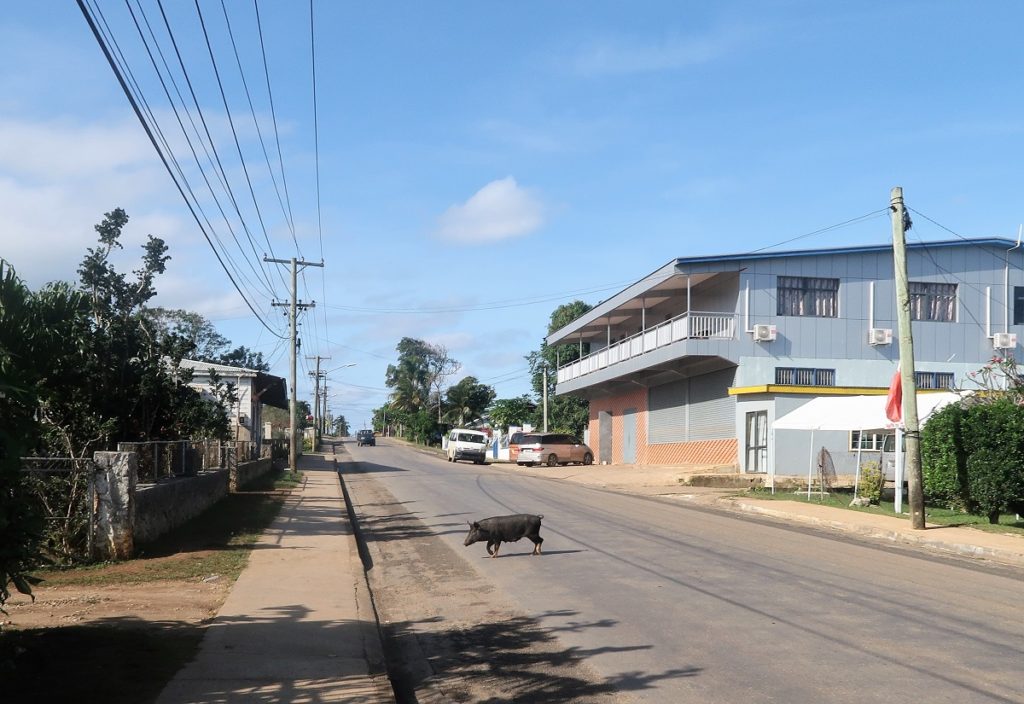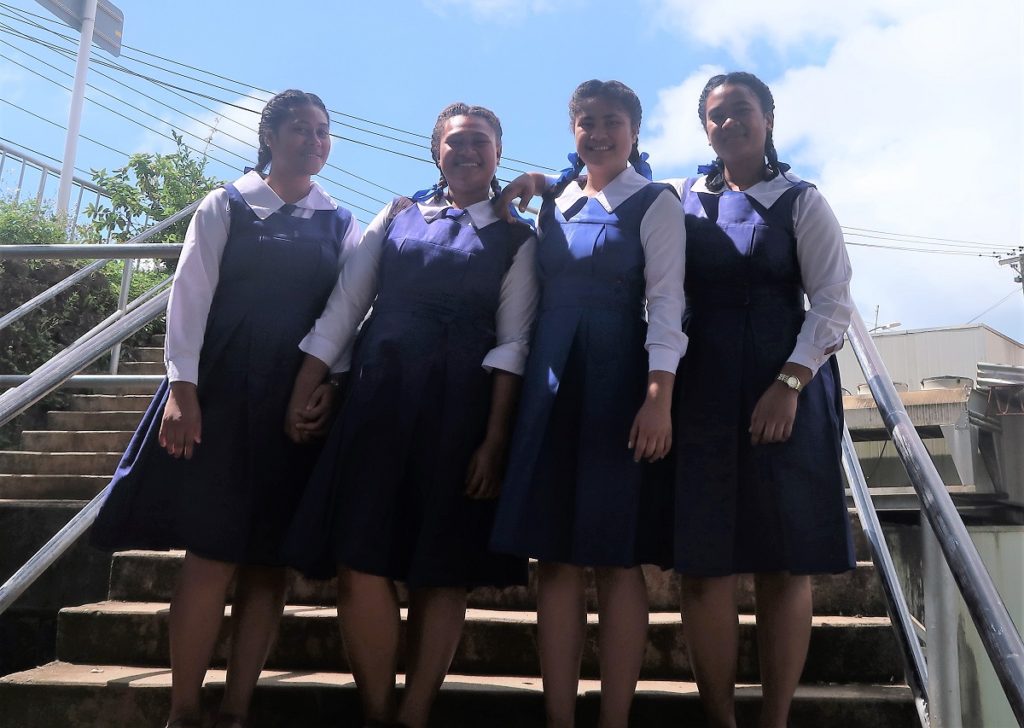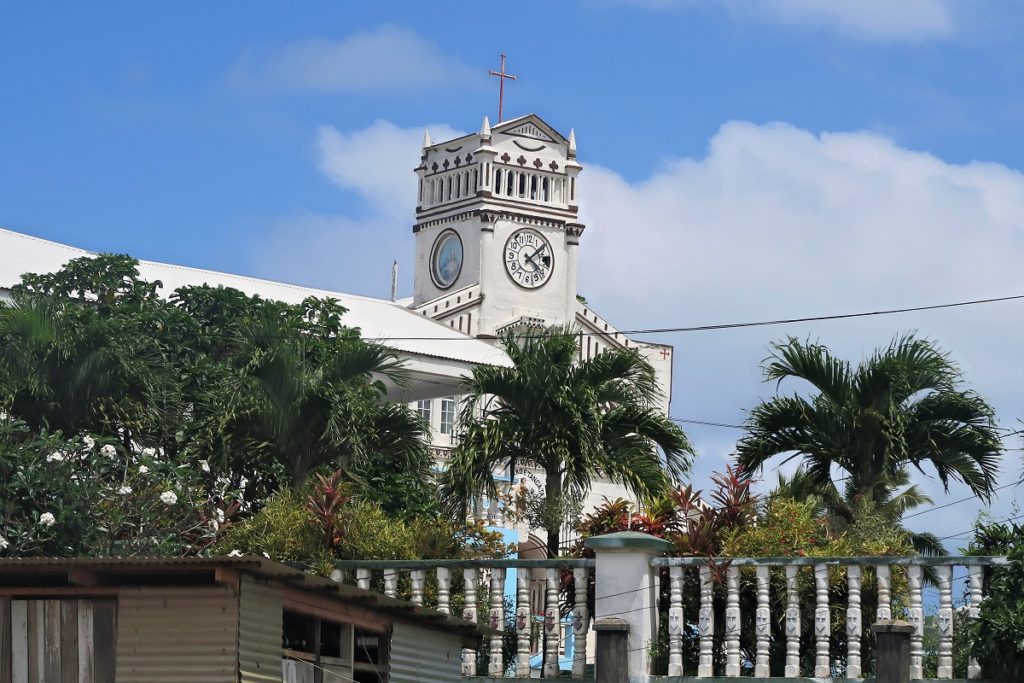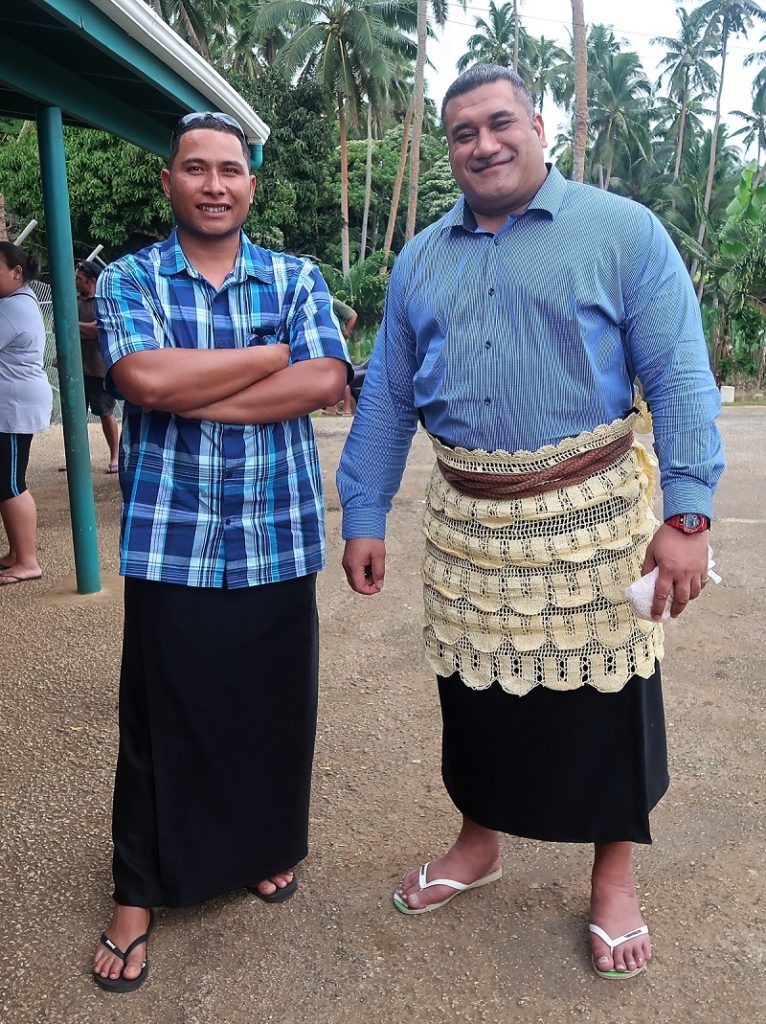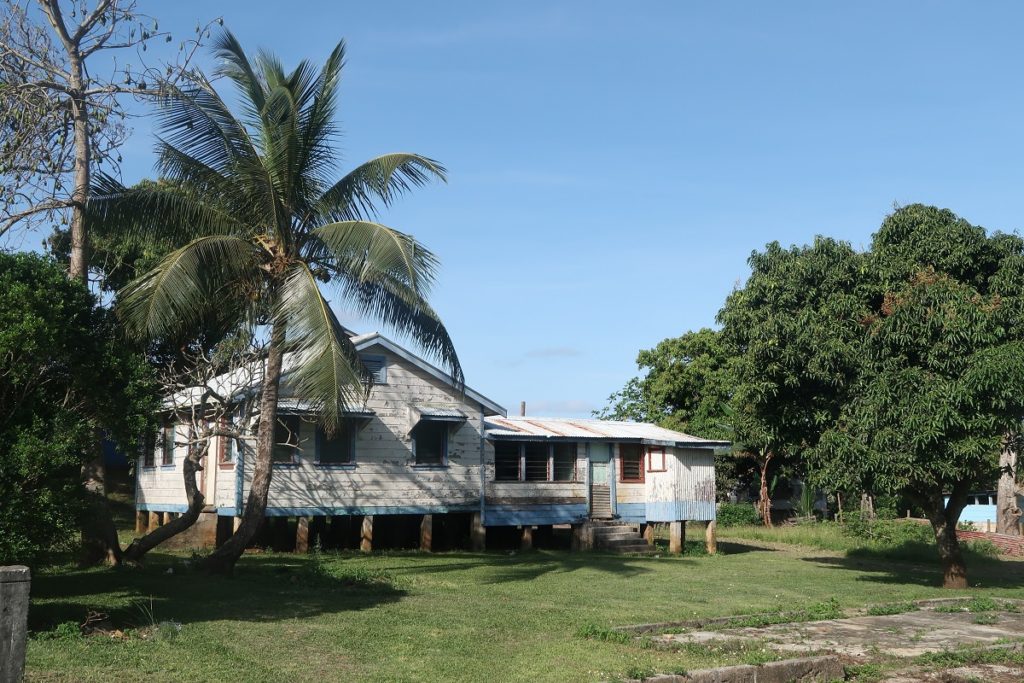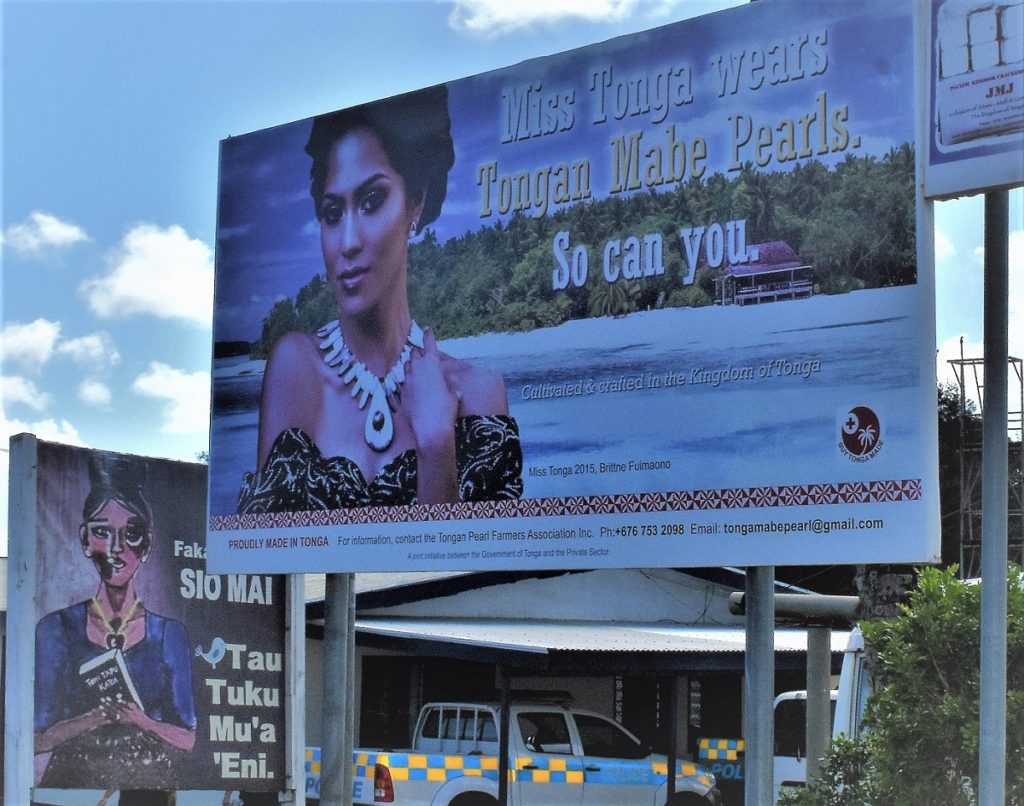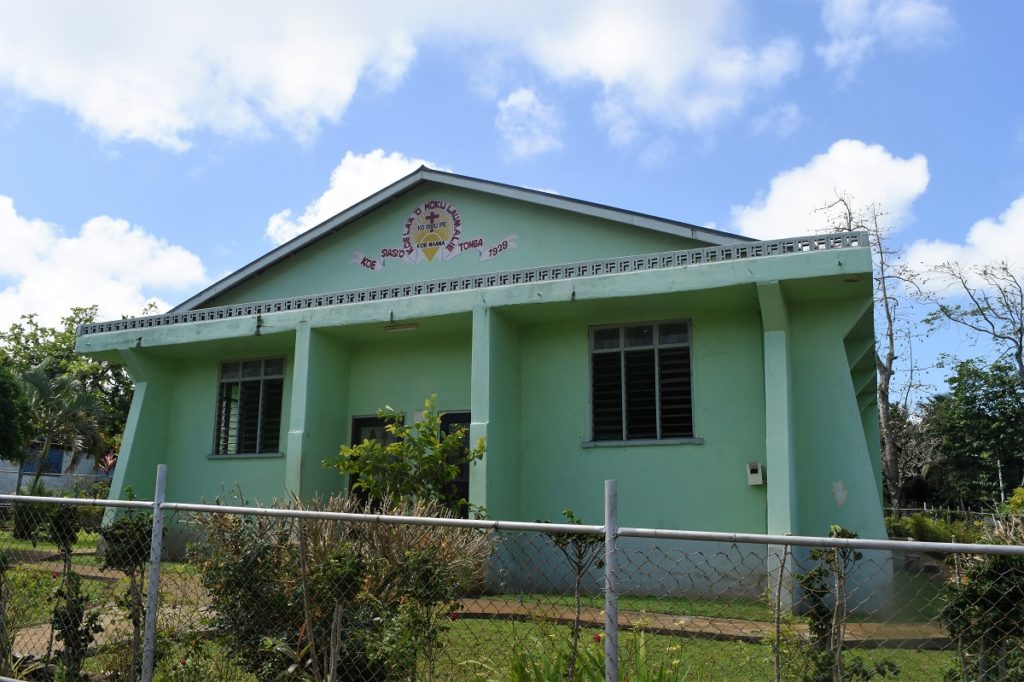 Neiafu was crawling with fellow yachties who arrive in Tonga during June to November either en route to Fiji or before heading south to New Zealand. There were also tourists who had flown in, most of whom had come to swim with the humpback whales which migrate from Antarctica to Tongan waters between June and November to breed and to bear their young (their gestation period being 9 to 12 months). Humpback populations have declined worldwide from estimated numbers of 150,000 in the early 1800s to 12,000 today and Tonga was the first country in the world to declare their waters a sanctuary for whales. Royal Proclamation by the King banned hunting and killing of whales in 1978 when the whales in Tonga came close to extinction, less than 50 whales remaining here, but numbers are thought to have recovered since then to around 2000.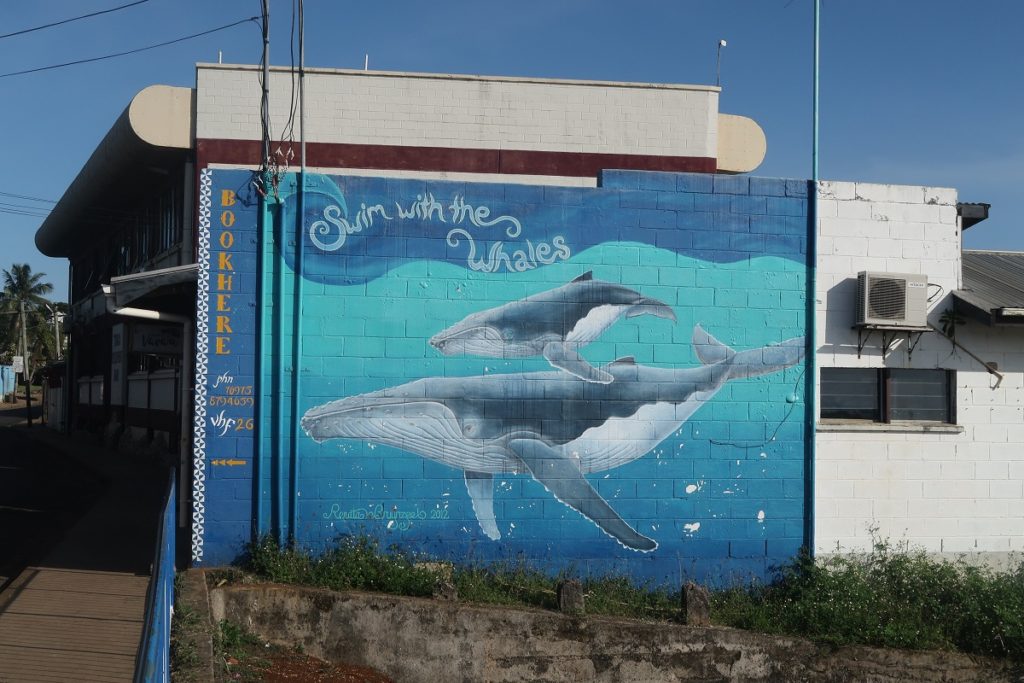 Sport fishing is also popular in the area with groups of anglers going out on little boats with huge rods sprouting from the decks, to catch tuna, mahi-mahi and blue marlin. We were told that they aimed to return these beautiful fish to the sea (if they were still alive when landed) but witnessed two huge marlin being brought back and weighed before being carried off, presumably to feed a village.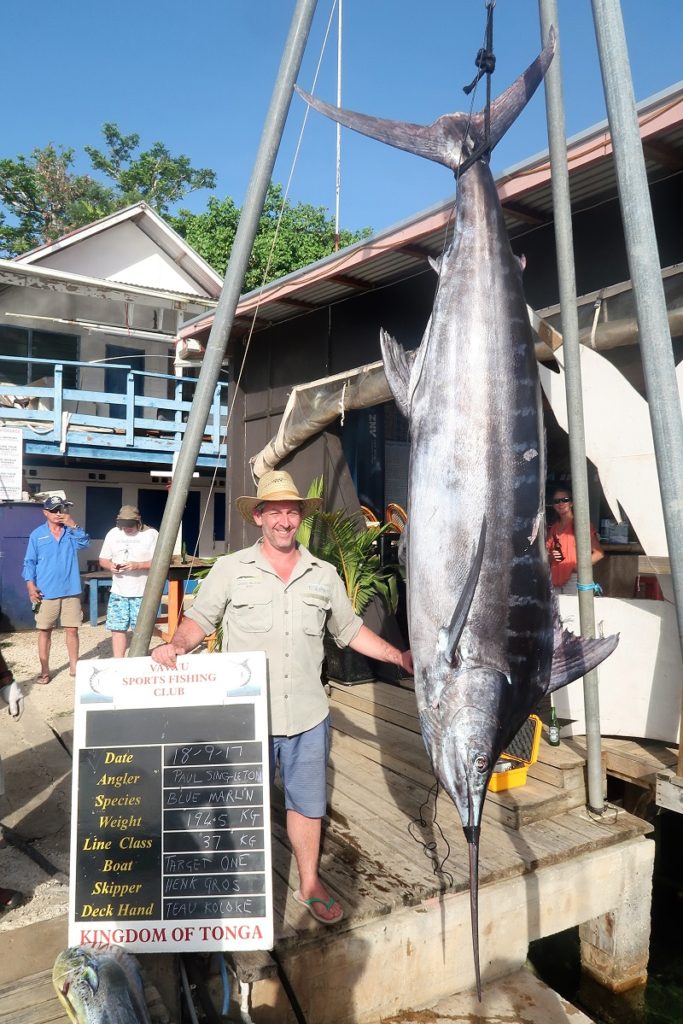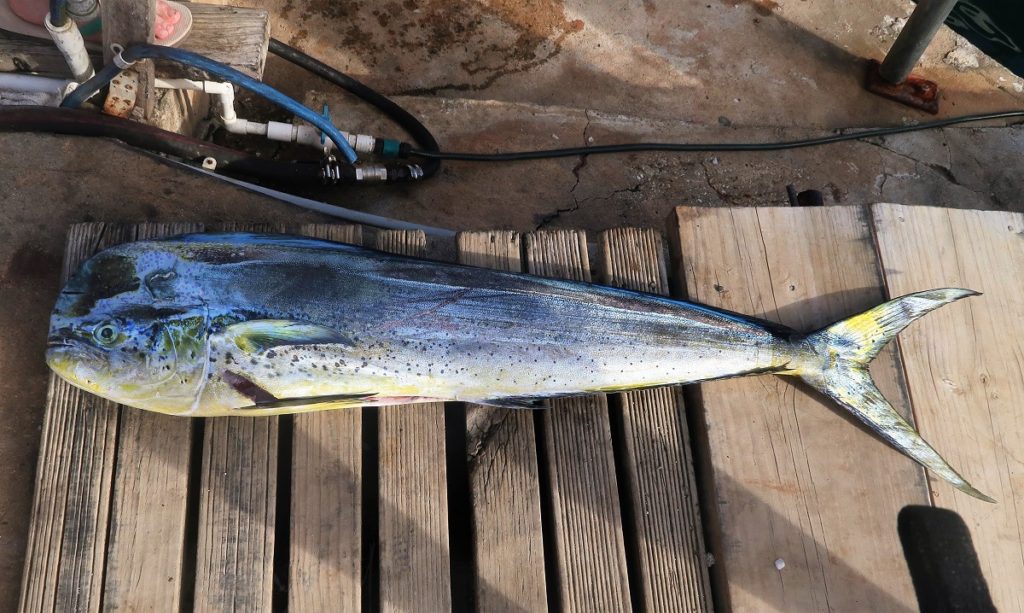 My son Alex joined us for two weeks on Vega having braved a long flight via Singapore, Auckland and Tongatapu, bringing parts for the boat and decent tea bags (a must for all visitors to Vega). The highlight of his visit was almost certainly the trip we did to go swimming with humpback whales. We went out in a group of eight in a small boat and headed out to sea looking for the whales. After over an hour the guides spotted a 'heat run' – a group of 15 to 20 males charging along on the surface at around 15 mph. They dropped four of us into the water in snorkelling gear with our guide ahead of the whales, which dived underneath us passing only about 5 to 10 meters below. They were so huge as they passed right under us it was quite surreal and almost felt as if we were watching this procession of magnificent creatures in slow motion in a 3D cinema.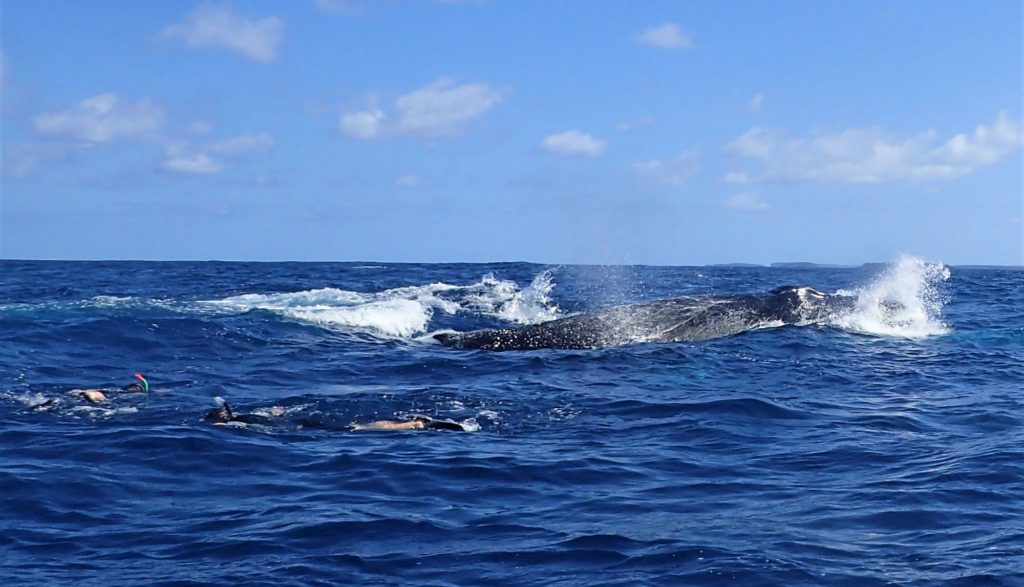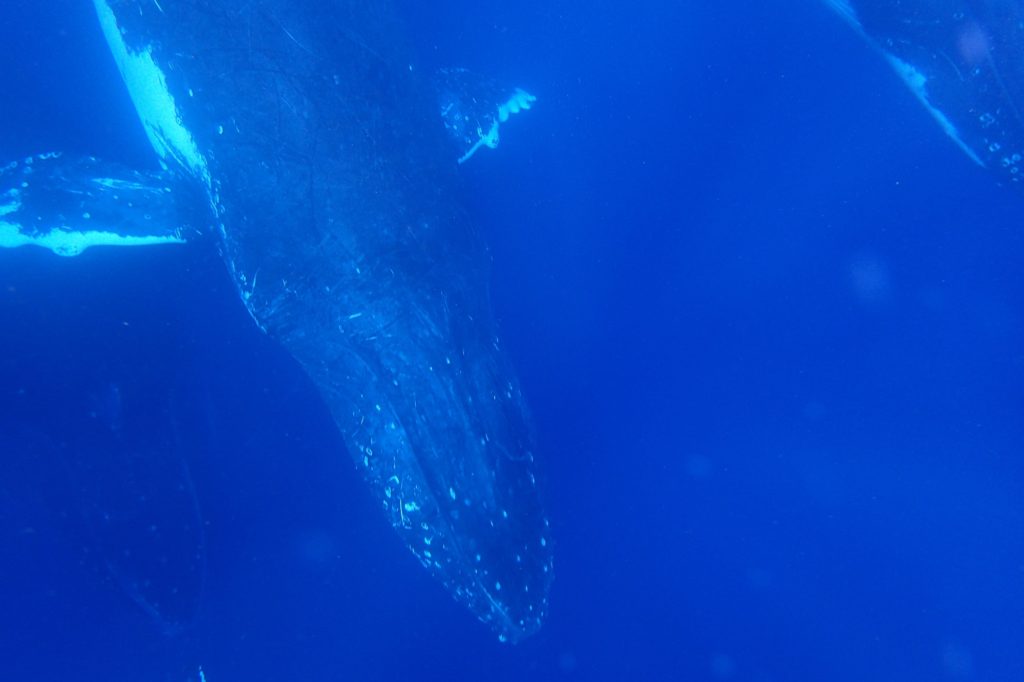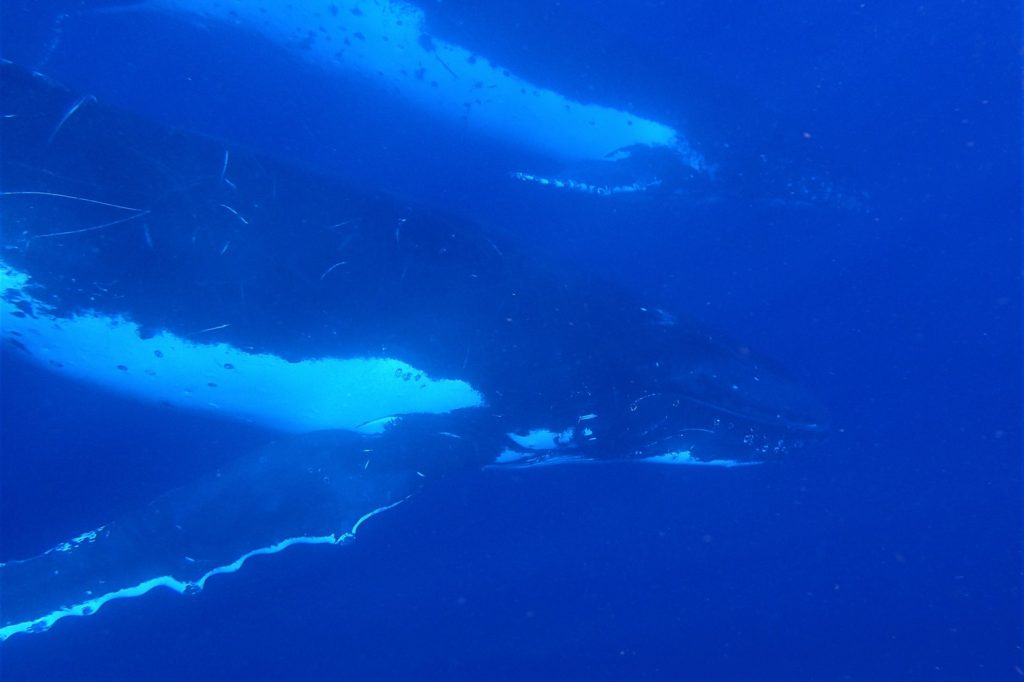 Later we swam near a mother and baby whale, the mother hanging about far below and the calf coming up frequently to breath near us. It is a bit controversial as to whether it disturbs the whales. We went out with an expat American who owns 4 whale swim boats here and was very aware of concerns about harassing the whales. The boats maintain radio contact and share information about the location of the whales but also strictly take turns to swim near to the whales and ensure that we don't approach too close to the mother and calf. They also limit the groups to 5 people in the water at a time to avoid disturbing the whales – the mother could have moved away if it felt threatened but appeared indifferent to the boats and people in the water and at one point the calf approached snorkelers who were told to back away from it. The operation provides employment for the locals and raises awareness of the need to protect whale populations and there are researchers based here monitoring whale populations and studying their behaviour. It is forbidden to approach a whale in your yacht or to swim with them without an official guide and there are big fines and penalties for doing so.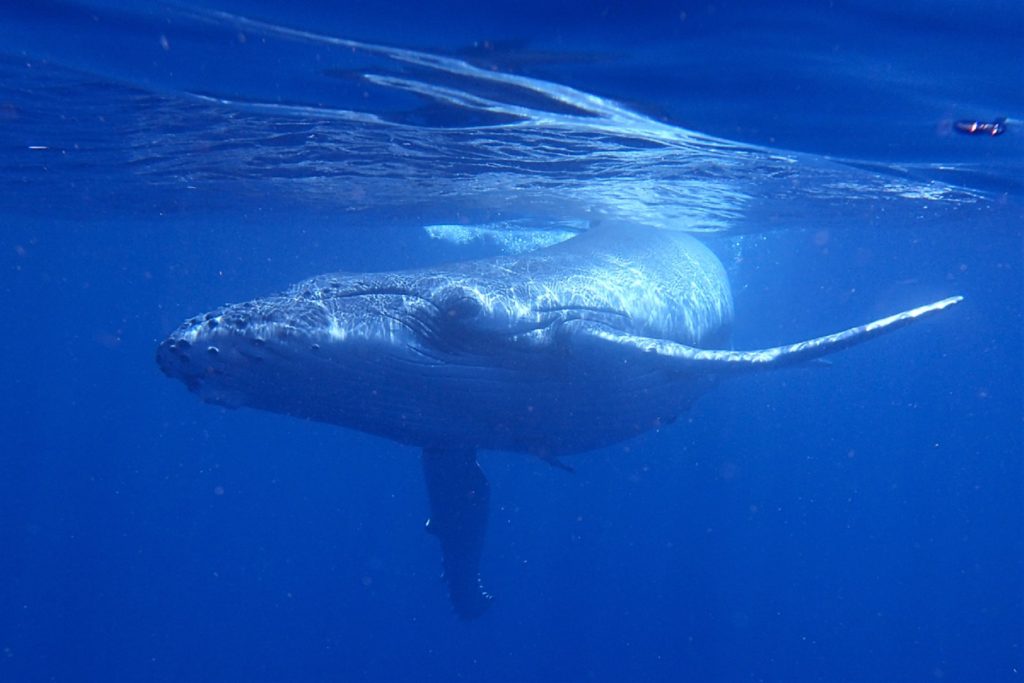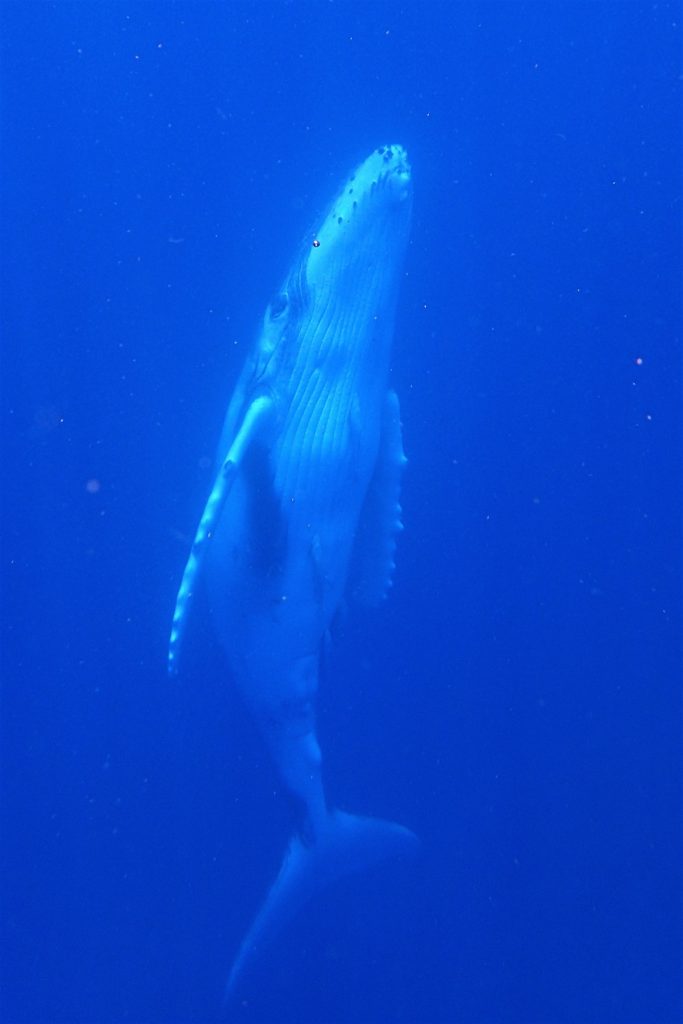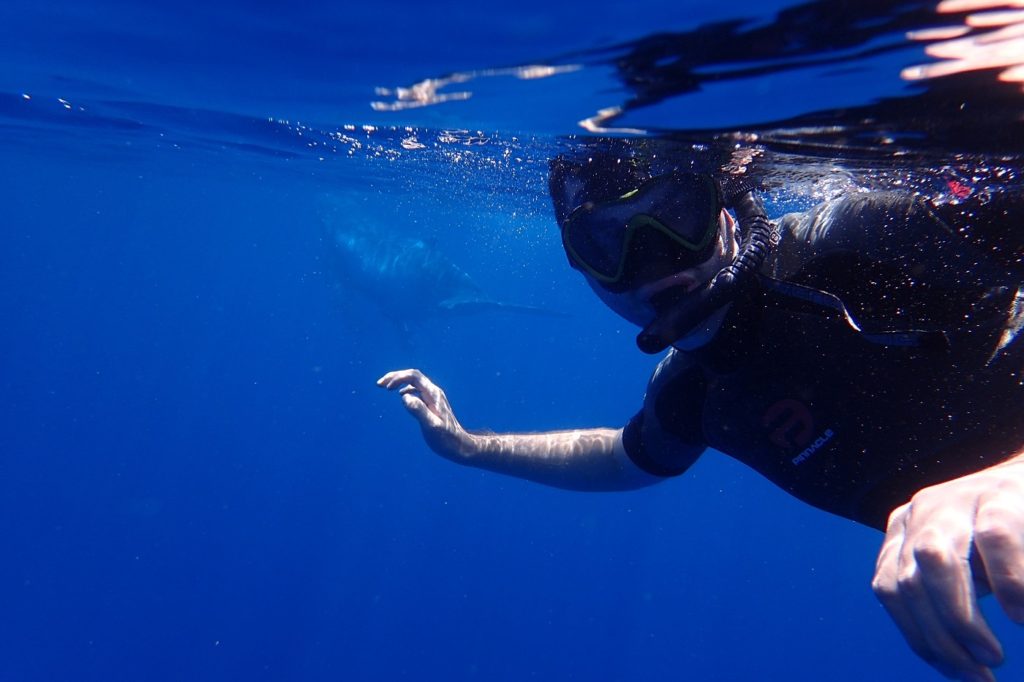 One evening a young humpback whale, about 15 foot long, was swimming around the bay we were anchored in and swam right under Vega – thrilling! We were a bit worried as there was no sign of its mother so hopefully she was around and it hadn't got separated from her. I sneaked down the ladder to take a few pictures of it under Vega.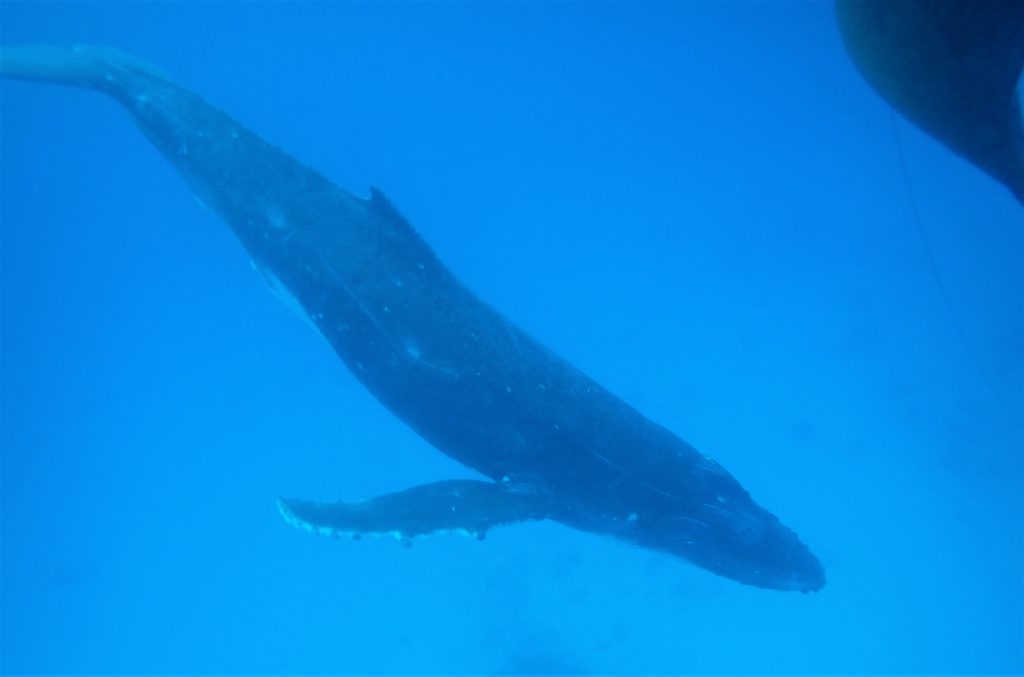 Sailing between islands Alex caught a large dogtooth tuna which fed us for three days… delicious and just as well as it might have been corned beef otherwise.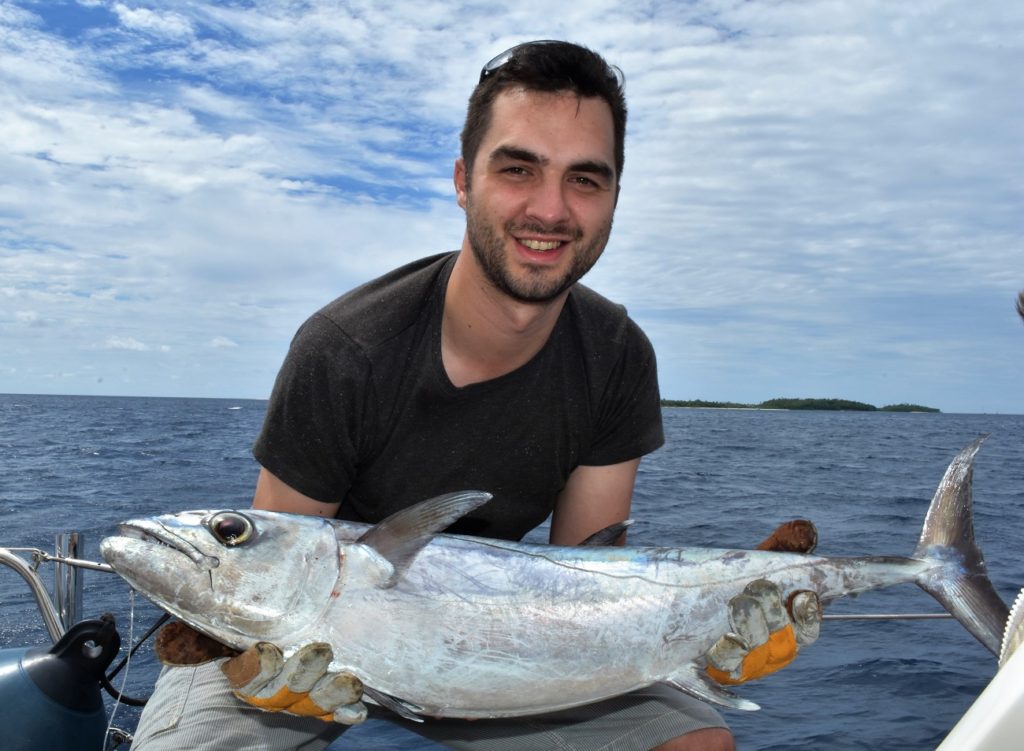 Apart from that we spent ten days exploring some of the smaller islands, anchored in pretty bays and going for walks. On many of the islands the villagers had plots of land for cultivation and grew taro root, banana and yam, there were papaya and breadfruit trees and huge, old mango trees as well as coconut palms. The Tongans here have more recently started to keep cows as well as their more traditional pigs.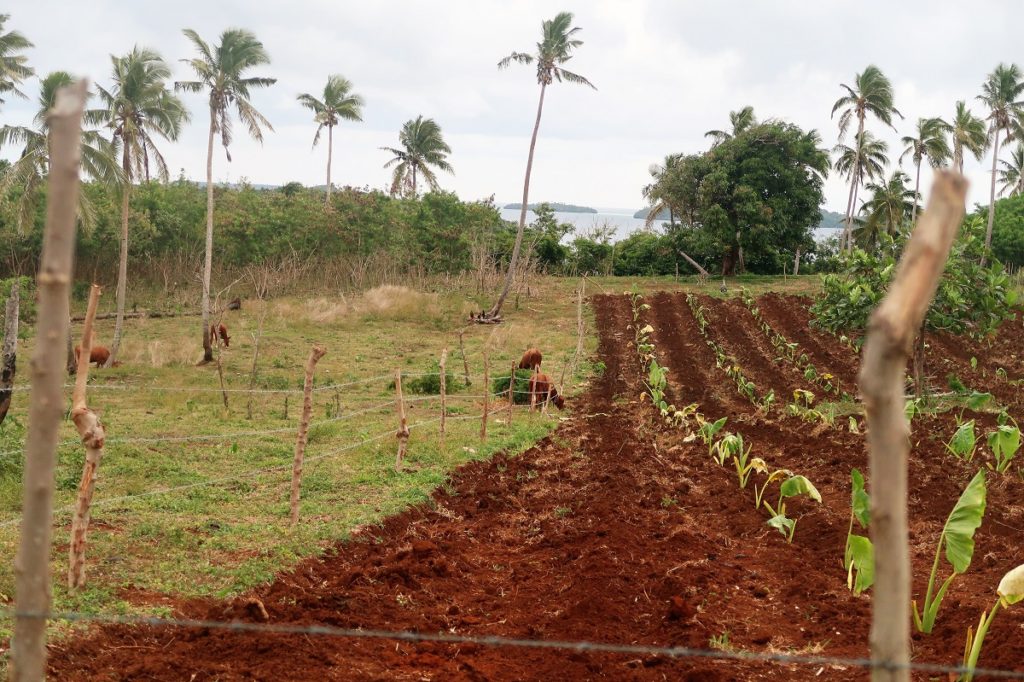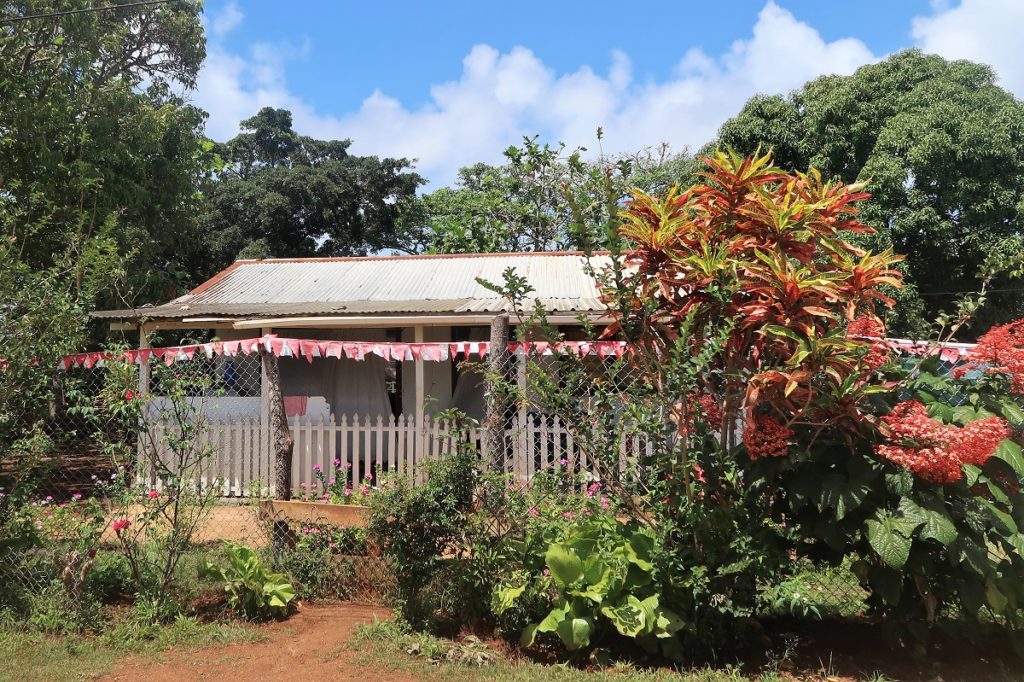 One night we went to a Tongan feast organised by a local family with 11 children who lived in a small house on the beach at Vaka'eitu island. After the meal, eaten by the beach, three of the girls performed Tongan dances for our entertainment and were very sweet.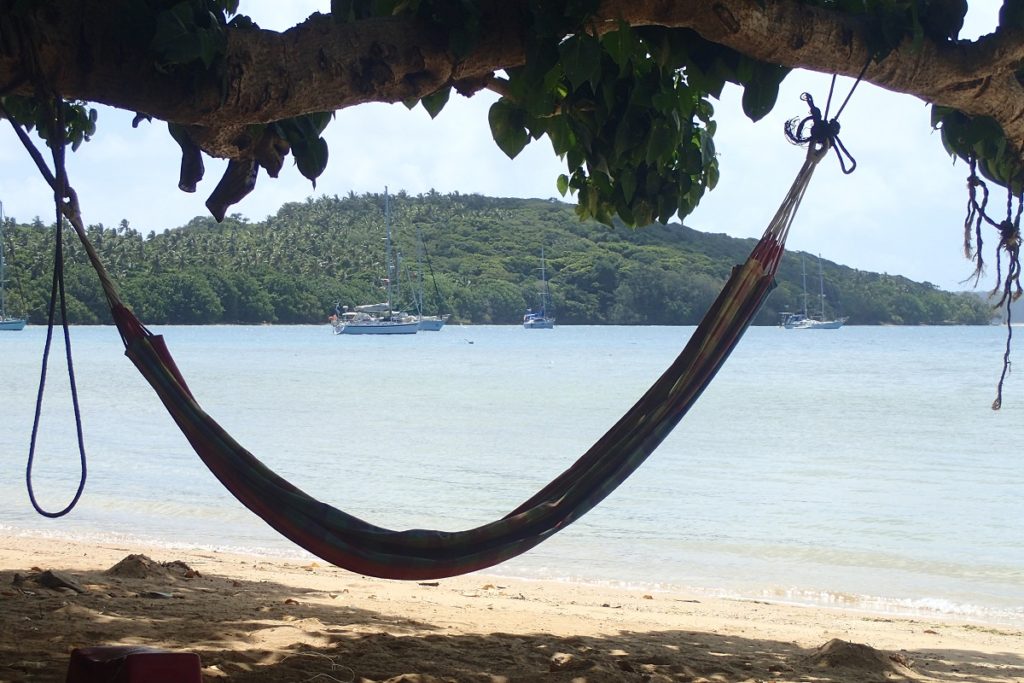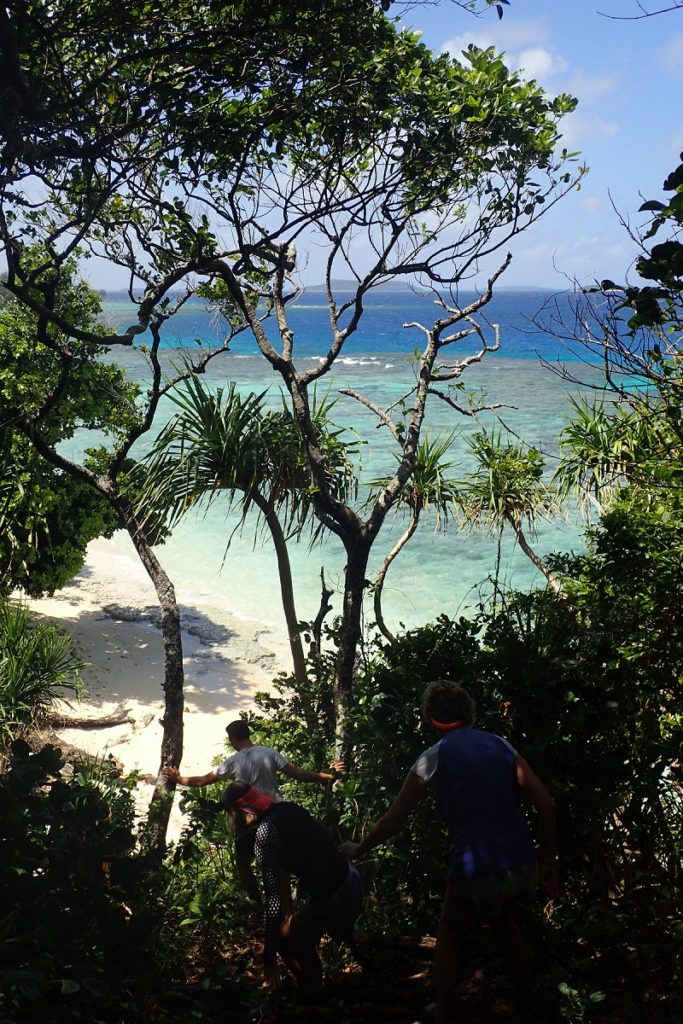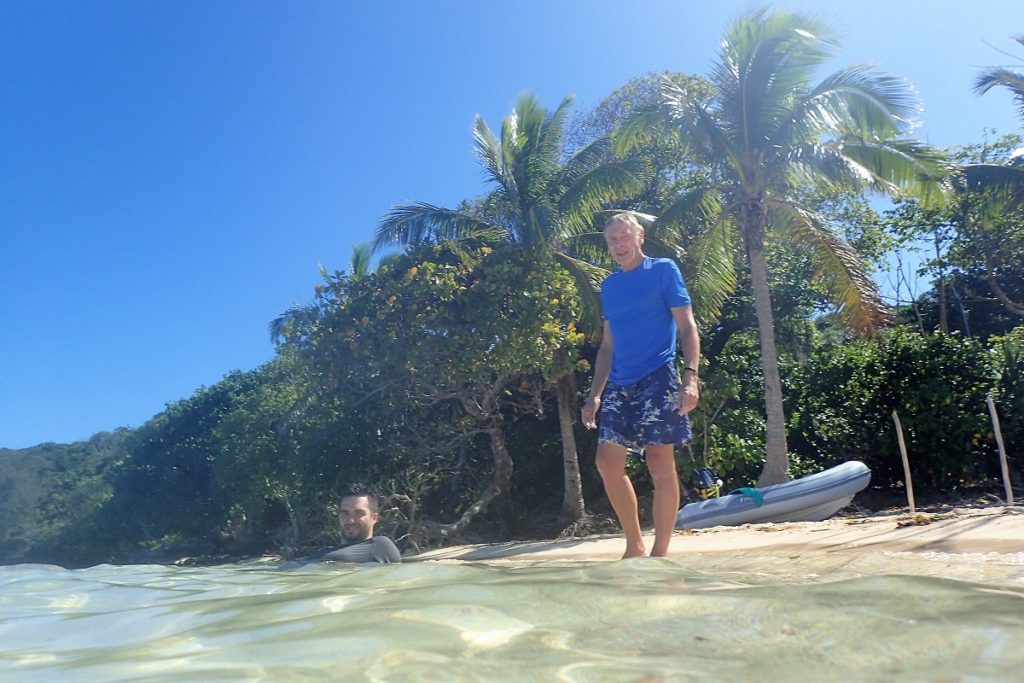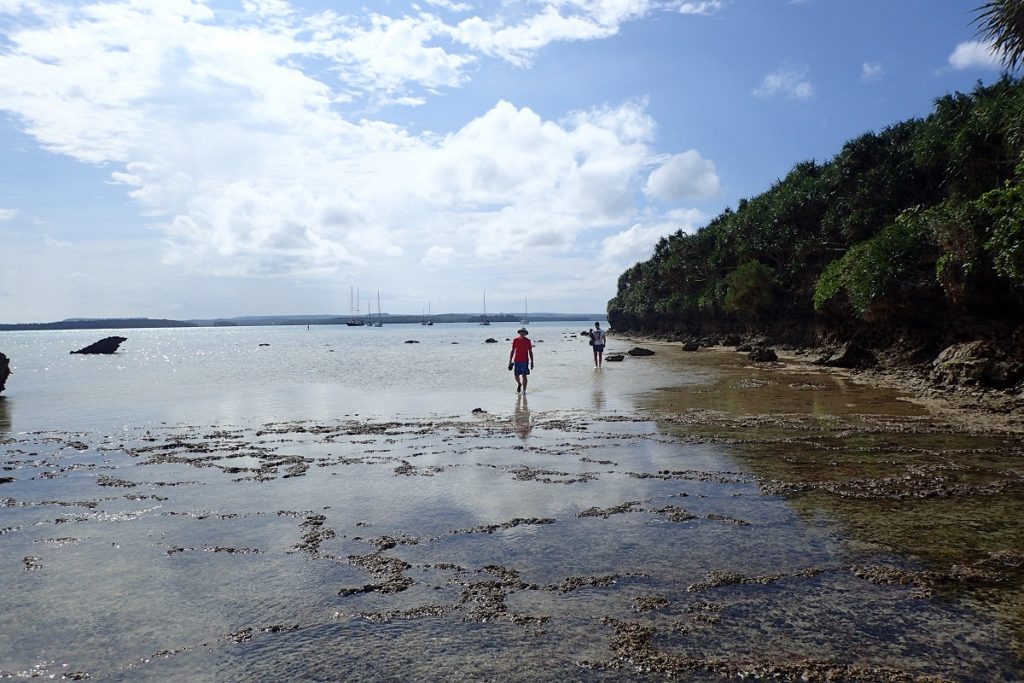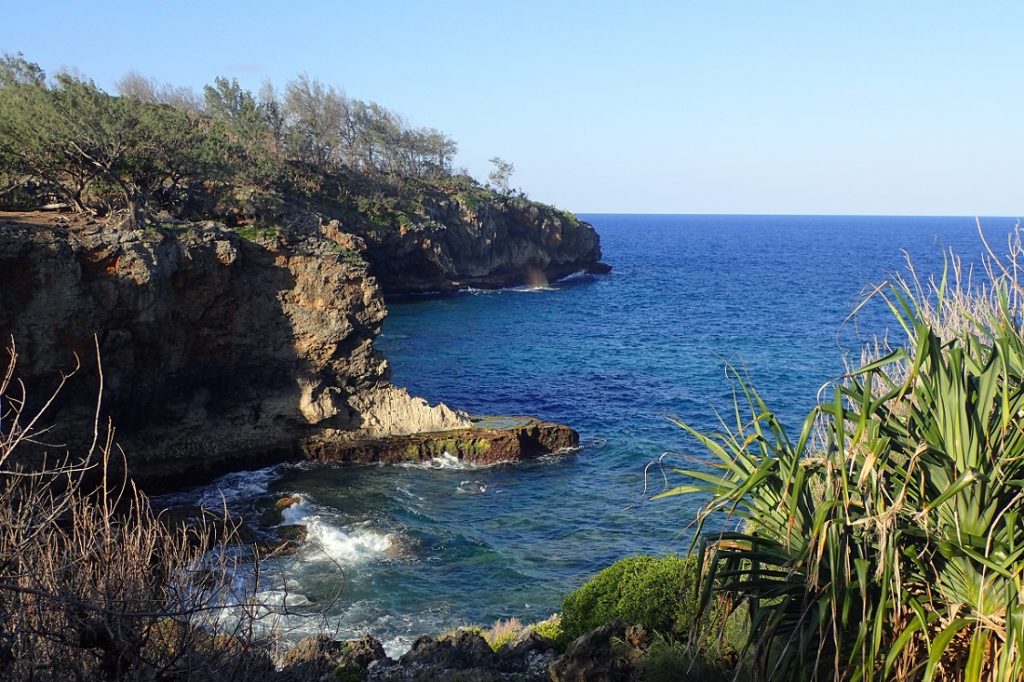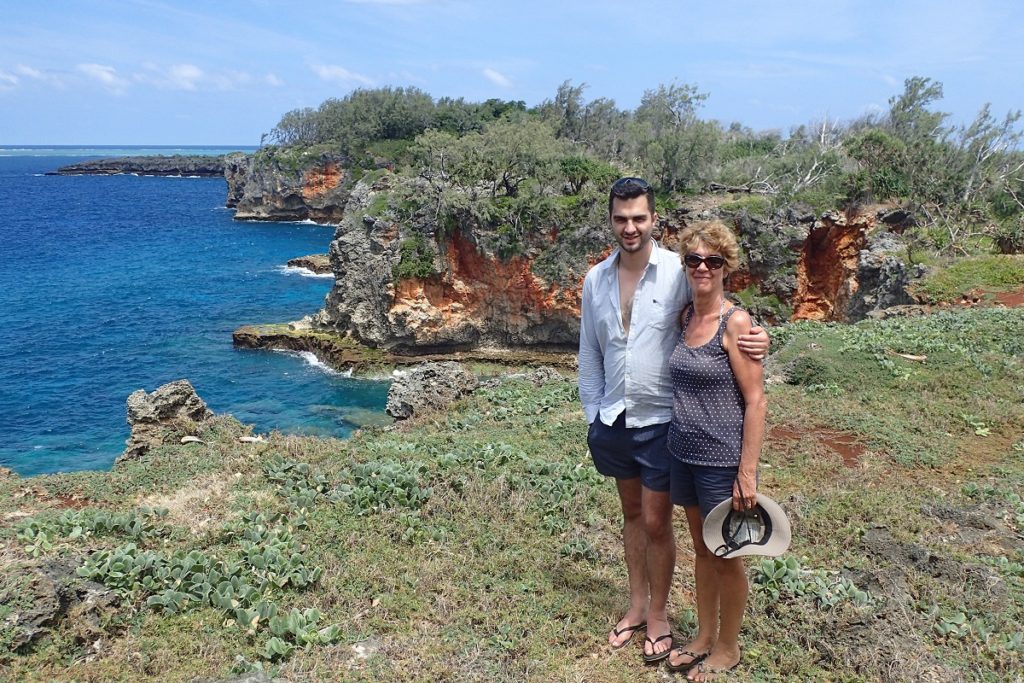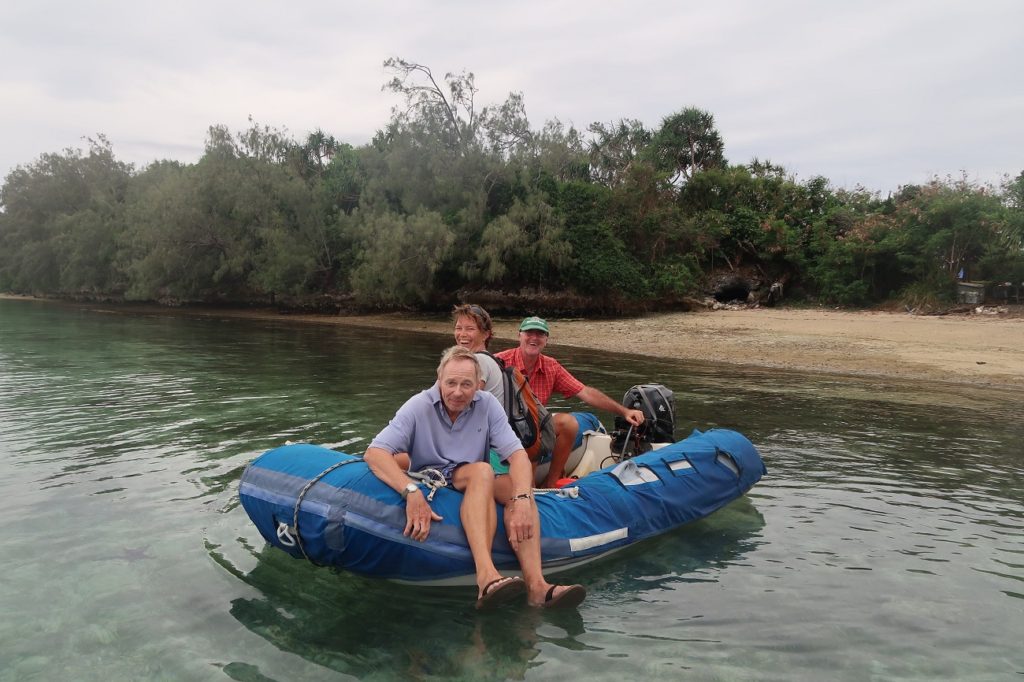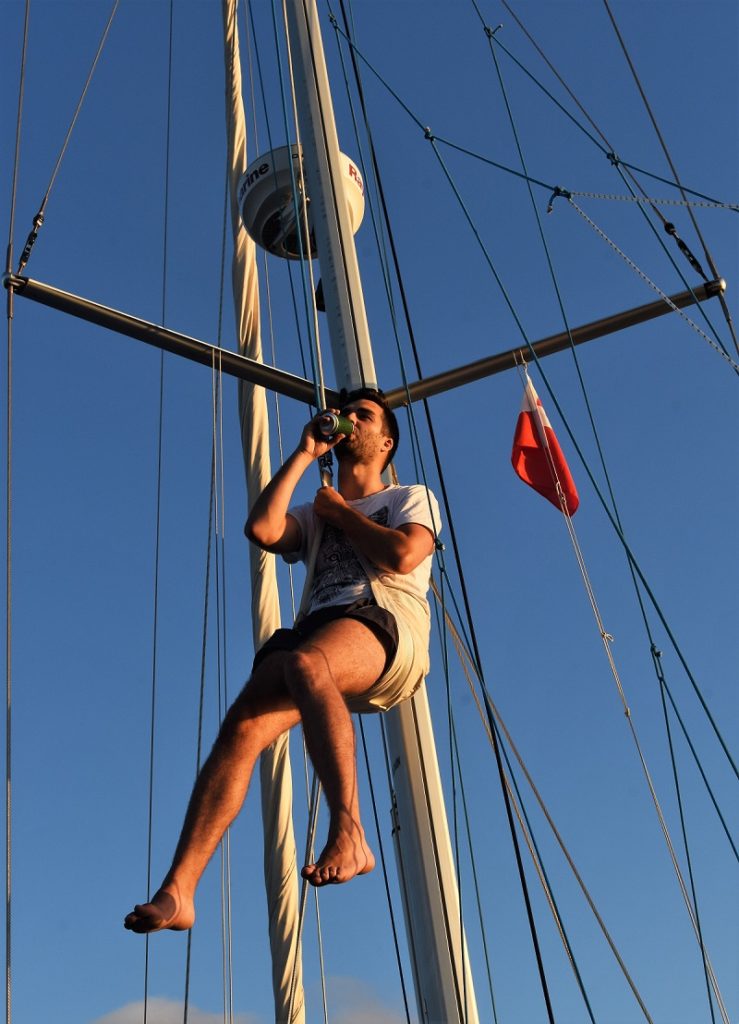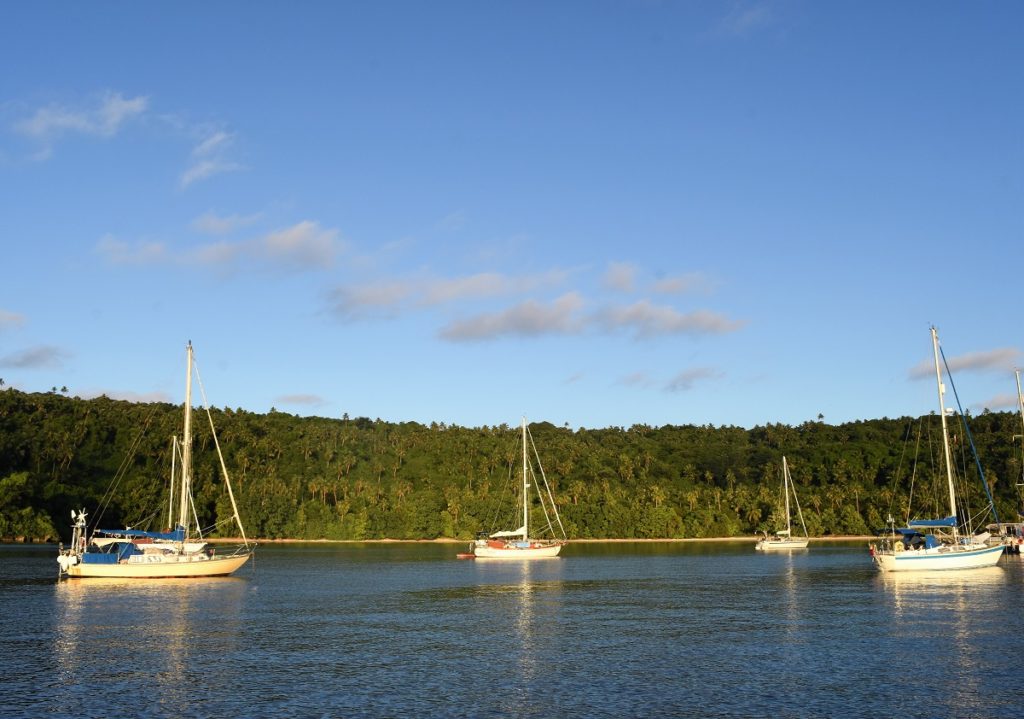 There was good snorkelling on some of the coral reefs and bommies (coral outcrops) although in places there was lots of dead coral due to cyclone damage. Where it had survived or started to regenerate vivid blue, orange and purple hard and soft corals attracted multitudes of small fish. The best places to snorkel were on the Coral Gardens by Vaka'eitu island and Japanese Gardens (so named as the coral formations supposedly look like bonsai trees).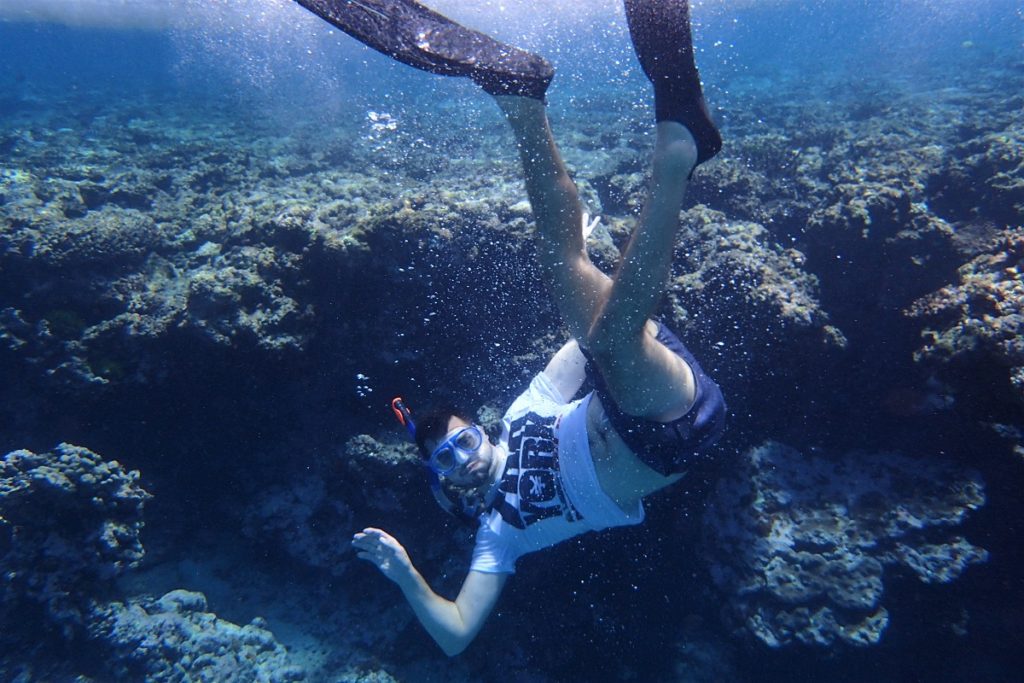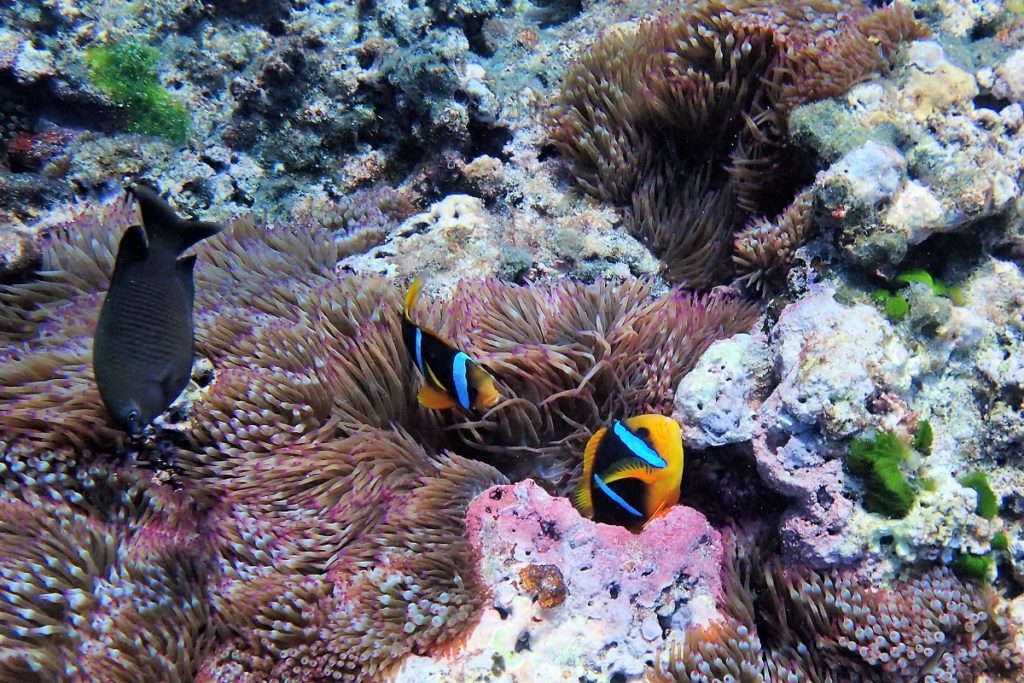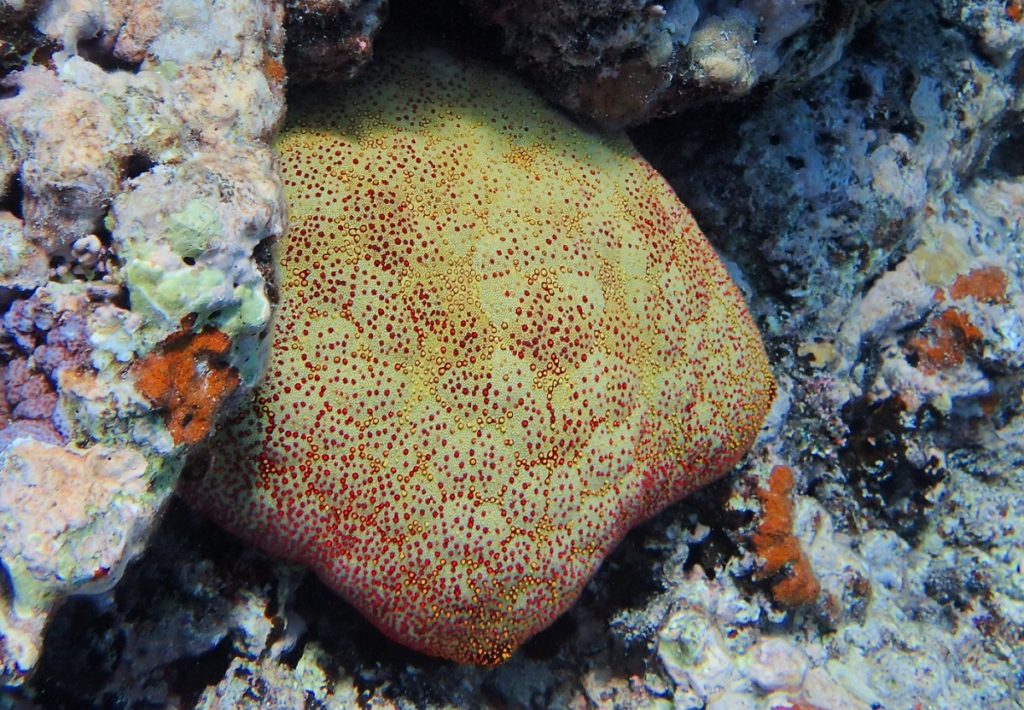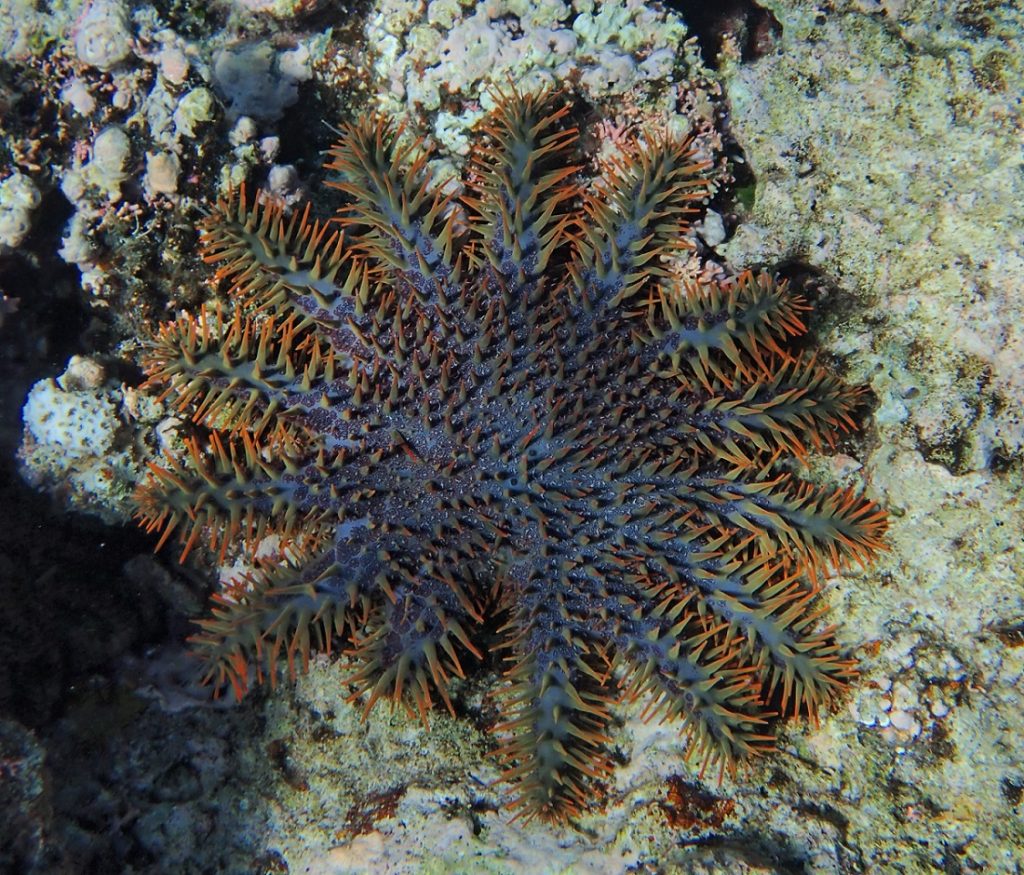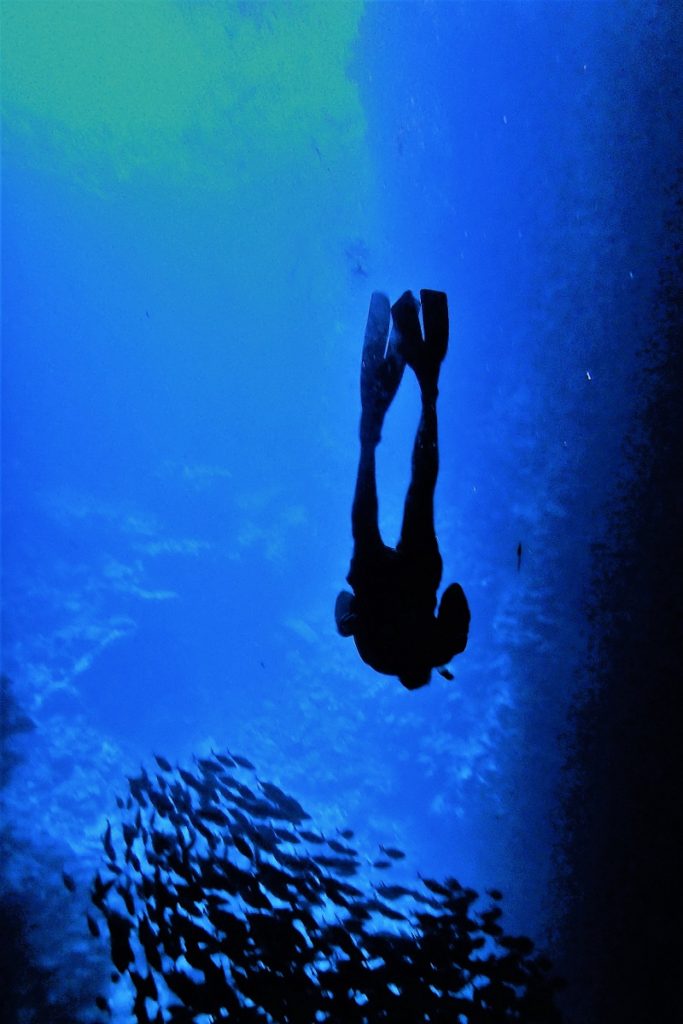 Swallows Cave cuts into the cliff on Kapa island and is named for the hundreds of swiftlets that swarm in the roof of the cave. Hugh and Alex went in first by dinghy, whilst I waited outside on Vega then Alex and I snorkelled in. There were wonderful rock formations decorated with graffiti, the bottom of the cave dropping down with a shoal of large fish circulating deep below in the crystal clear water.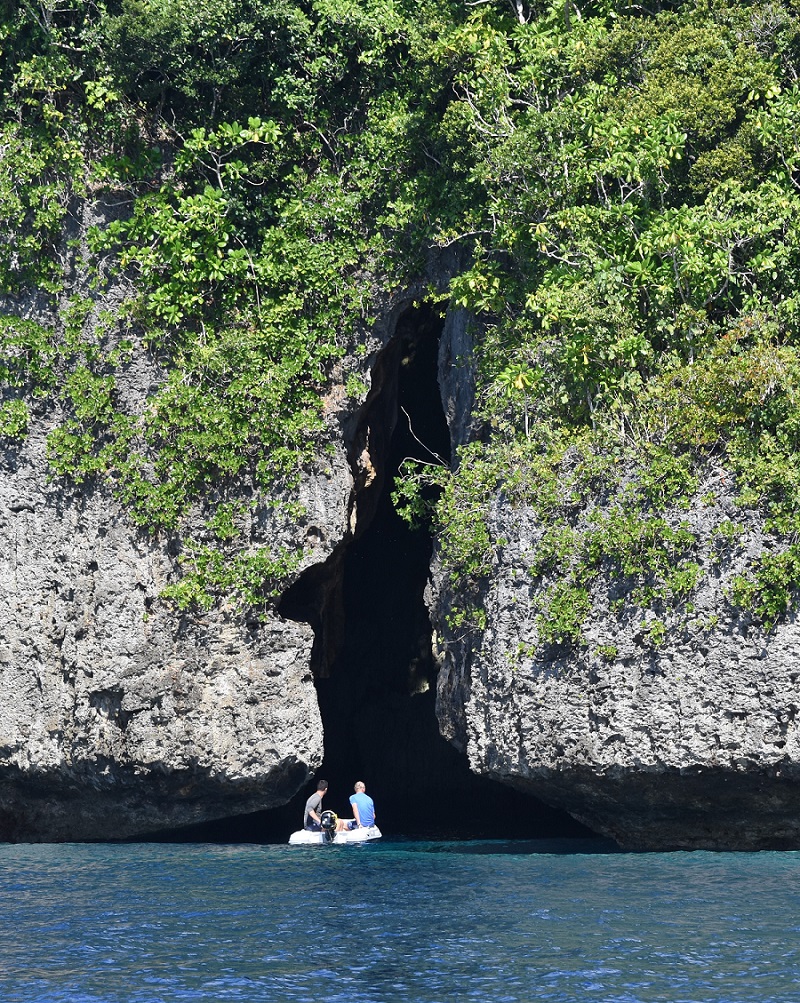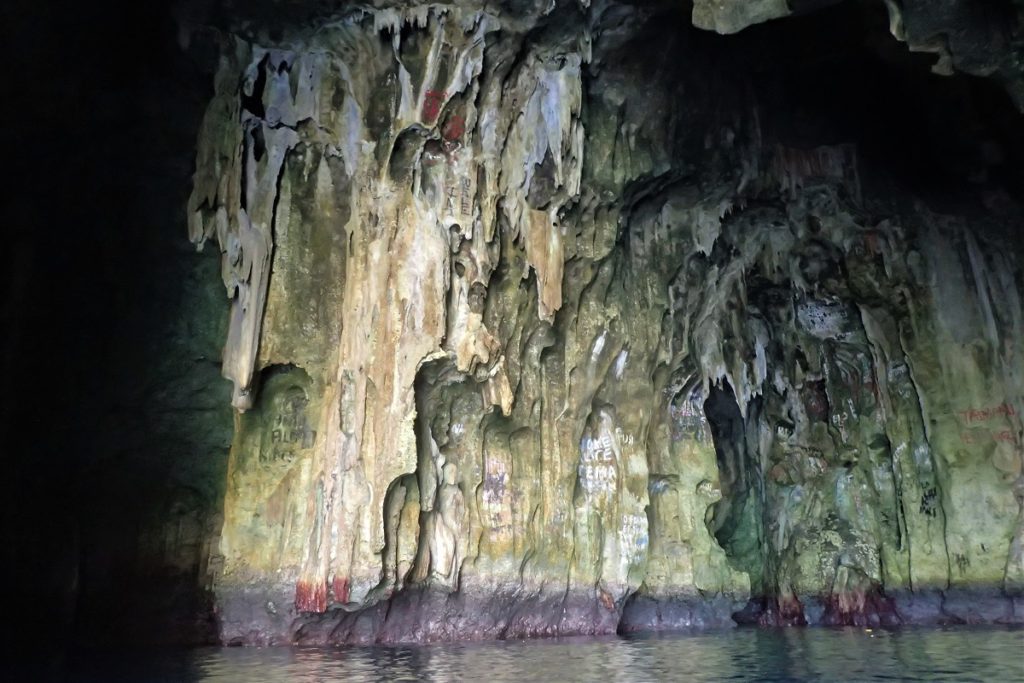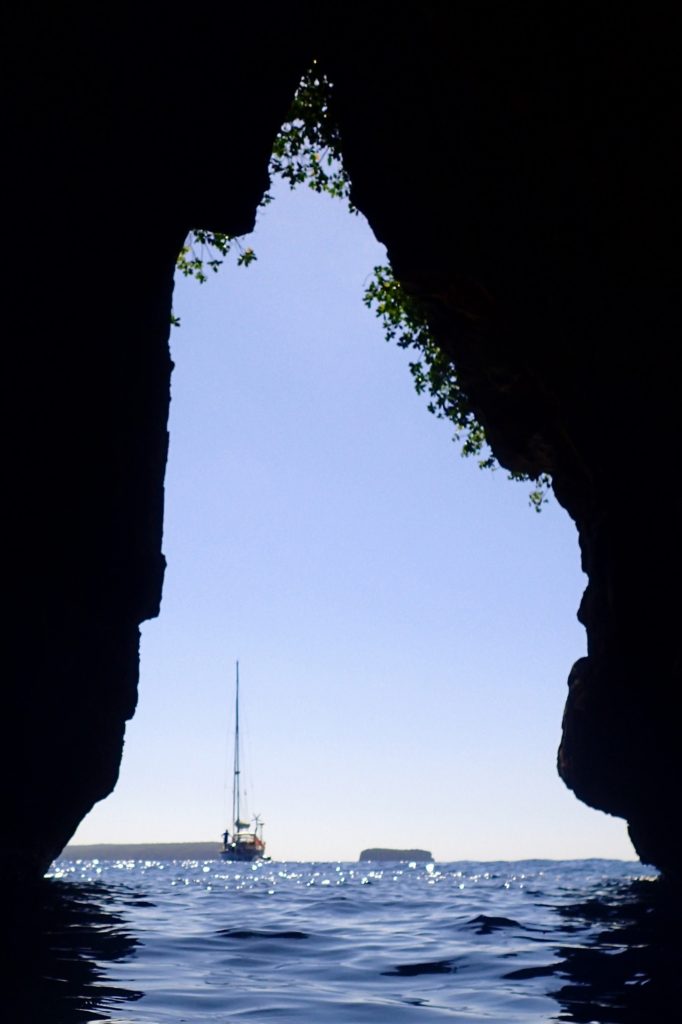 On our moorings and at anchorages we woke to the sound of bird song and at night there were cicadas chirruping. In the trees on shore were fruit bats (flying foxes) which flew above the boats in daylight. In Vaka'eitu bay green turtles came up to breath and look around.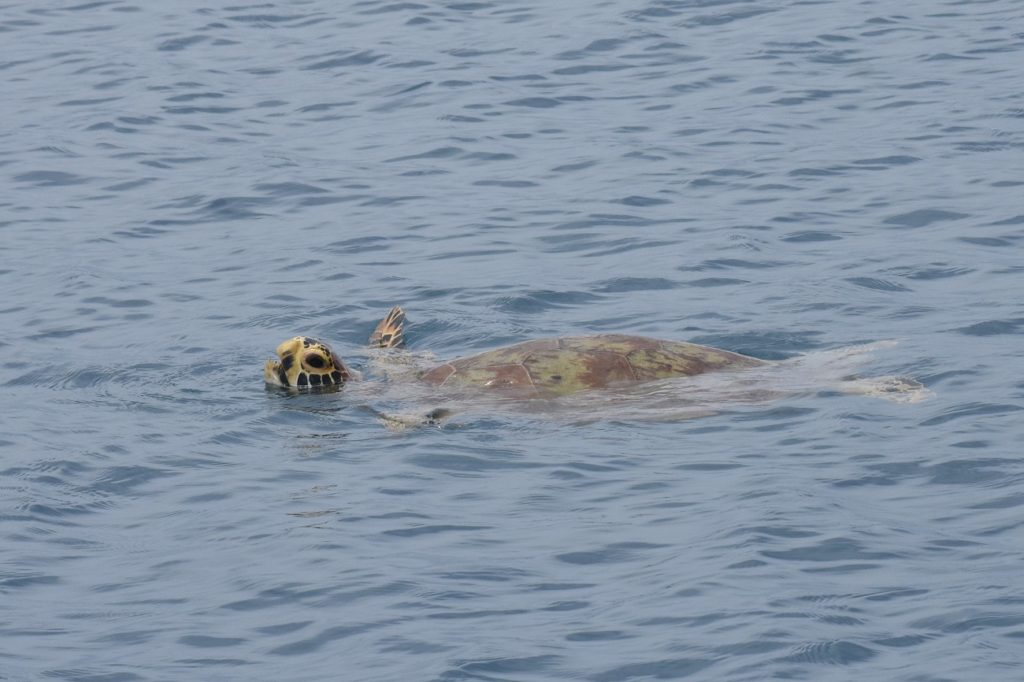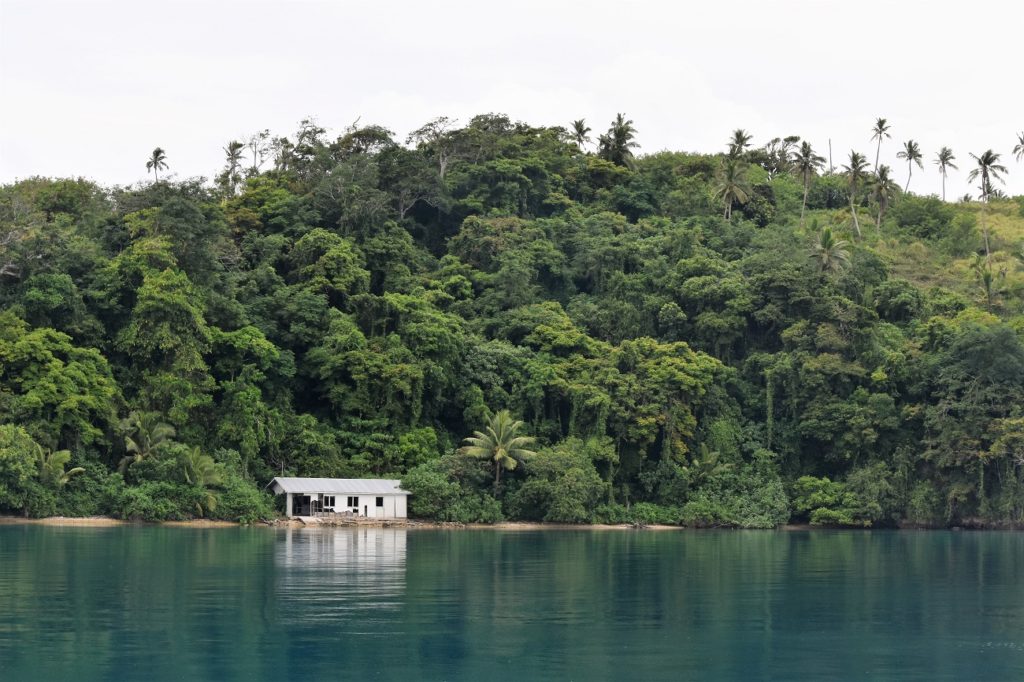 One of our most enjoyable meals was at La Paella restaurant owned by a Basque couple Eduardo and Maria, who served delicious tapas and paella as well as providing highly entertaining Spanish music after the meal.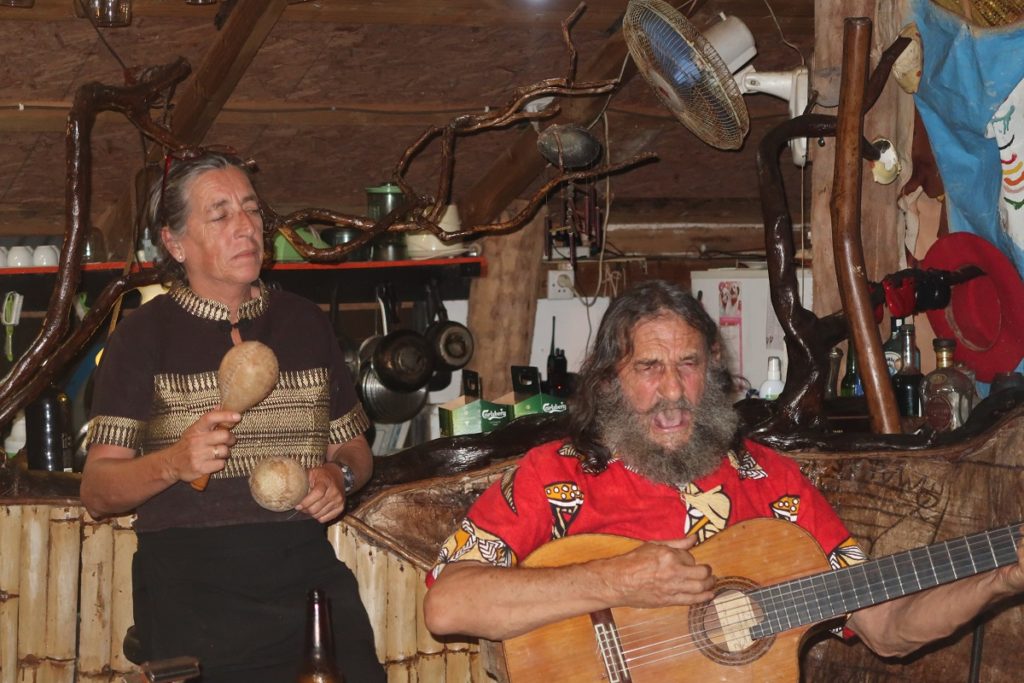 Before Alex left we rented dune buggies which took us off road to explore the main island of Vava'u. Hugh and Alex went in one buggy and I was passenger with Darren, an Australian, who was our guide. Darren was determined that we should get really muddy and when I was driving reassured me it would be fine to go through a large puddle. We got stuck and had to be pulled out by the other buggy which involved getting sprayed in liquid mud – I hadn't laughed so much for days…. not since the entertainment in La Paella.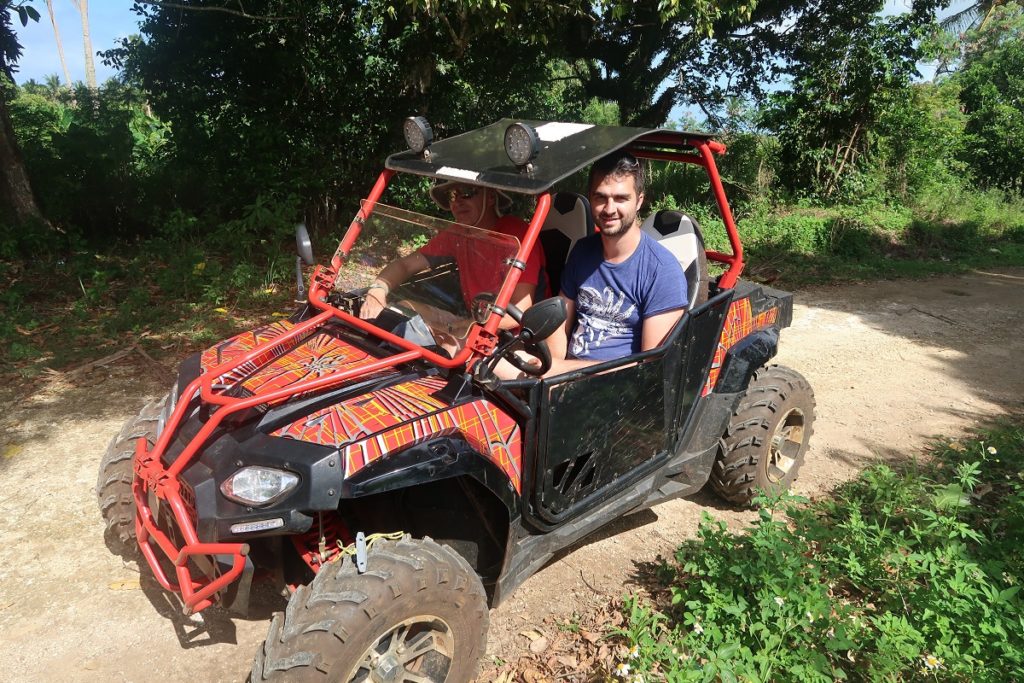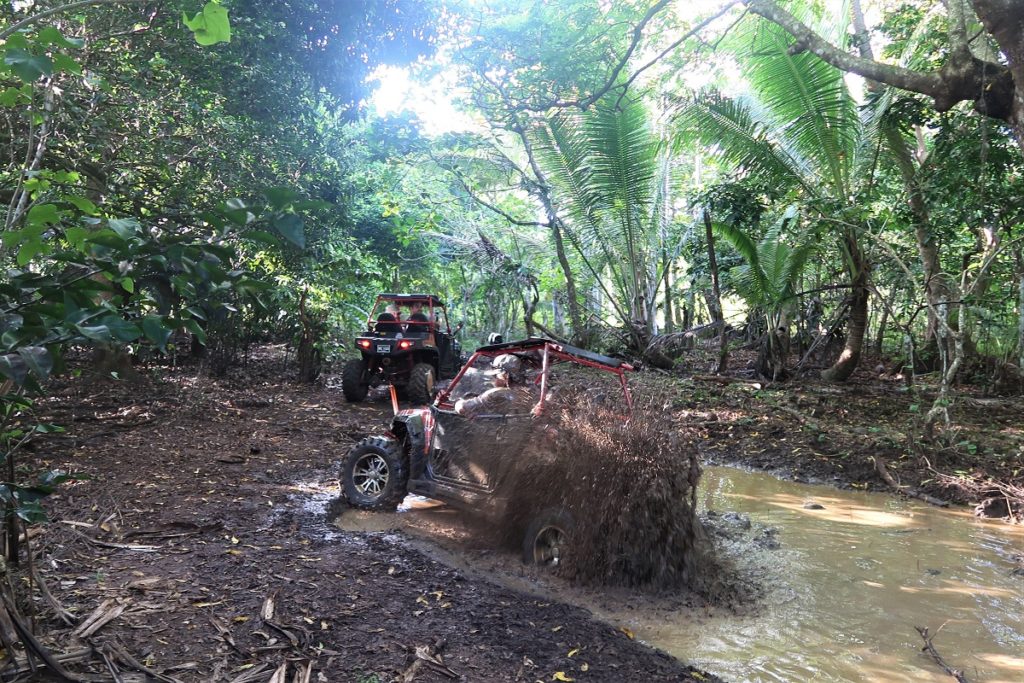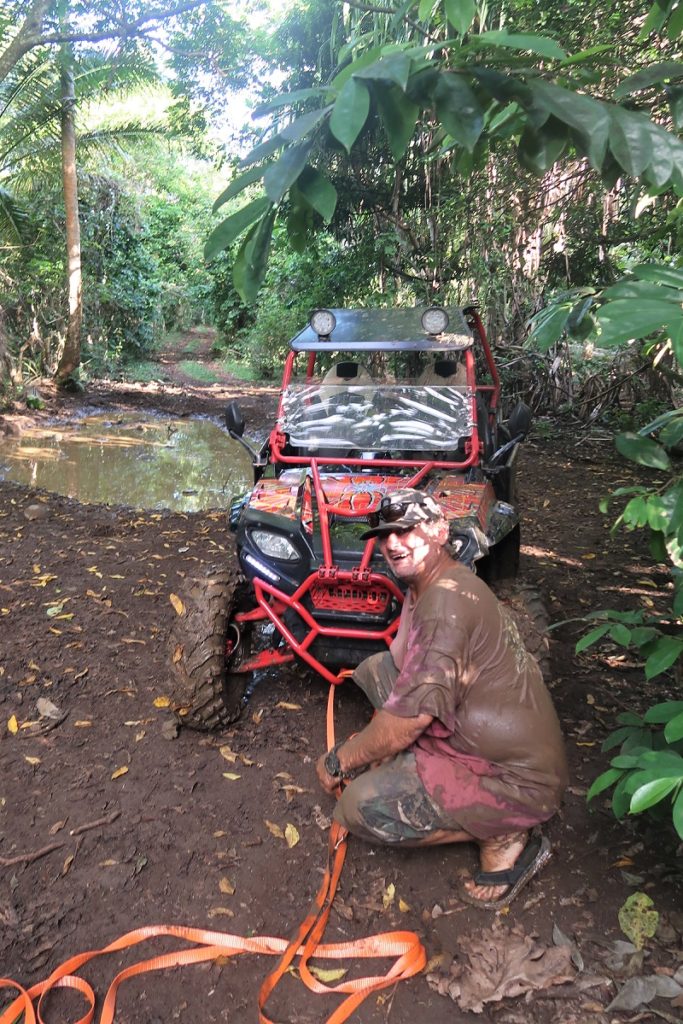 Back in Neiafu we were sorry to see Alex leave us, with over two days of travelling ahead of him to get home.
The Blue Water Festival was taking place in Vava'u with sailing and kayaking races, talks, meals and entertainments, all funded by a couple of marinas in New Zealand which were wanting the patronage of cruisers heading south to spend the six month South Pacific cyclone season there. One day the yachties were invited to visit a local primary school which put on a dancing display and lunch, particularly to raise money for a new roof for their school. It is the custom to stick small value bank notes on the dancers to show your appreciation. After the children had finished dancing we were dragged out to dance too and ended up doing a giant conga round the school grounds!  Despite the happy faces and cheeky children it was shocking to see just what poor resources the school had.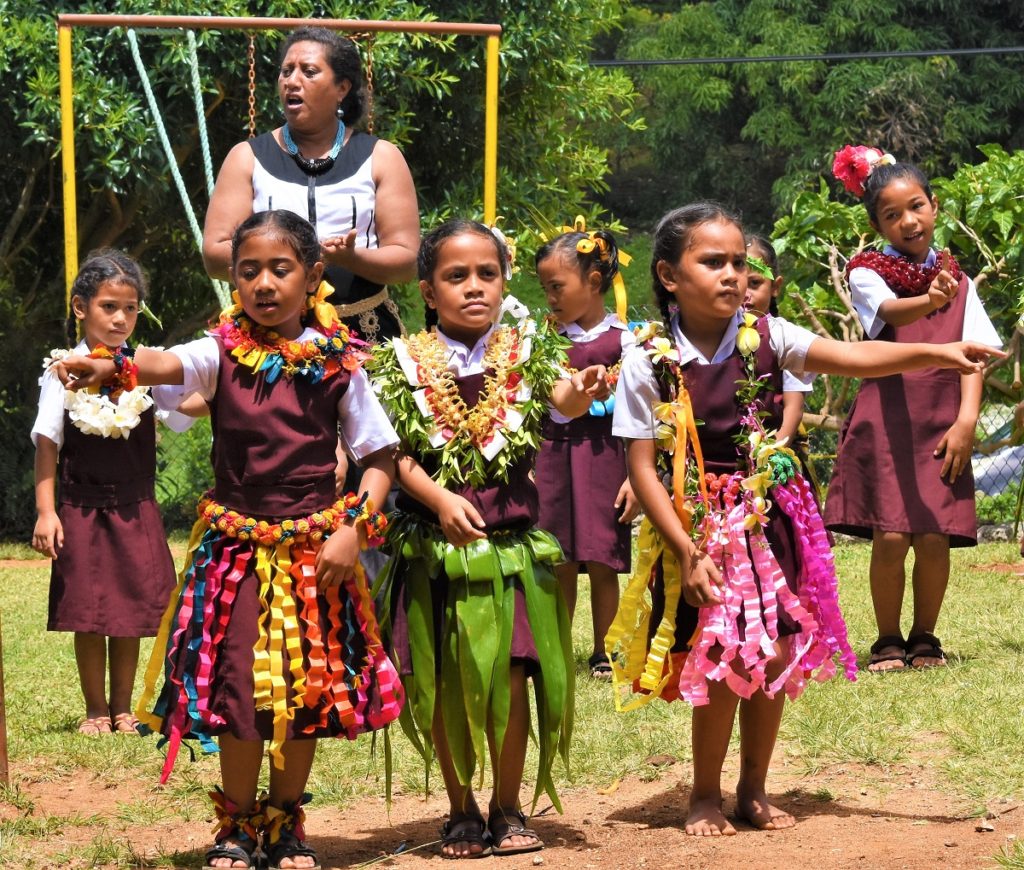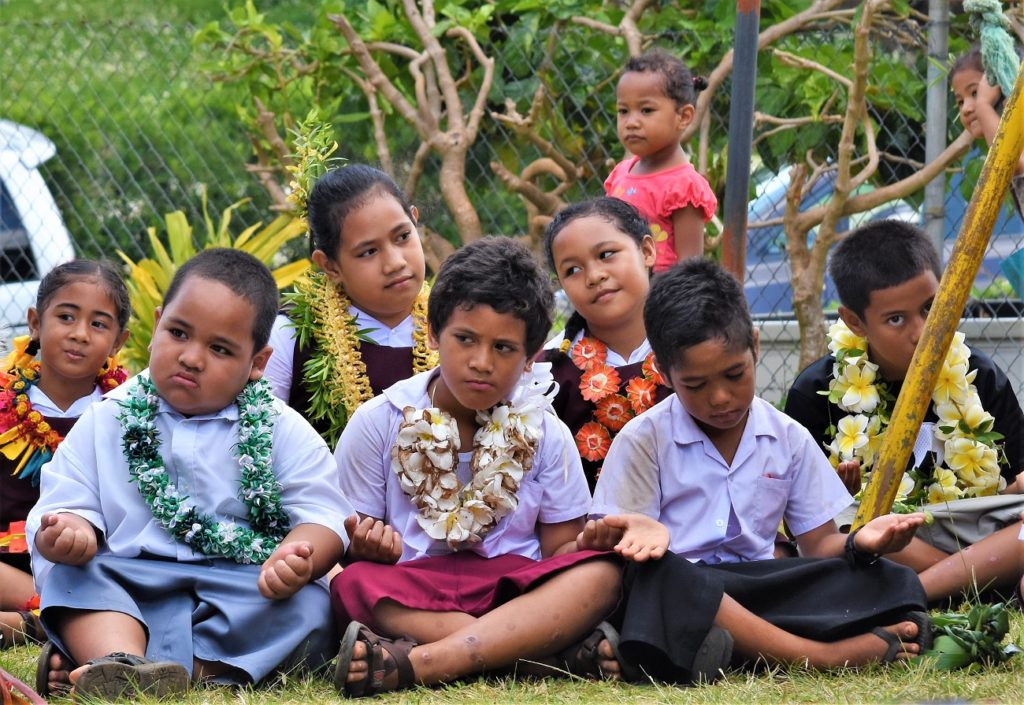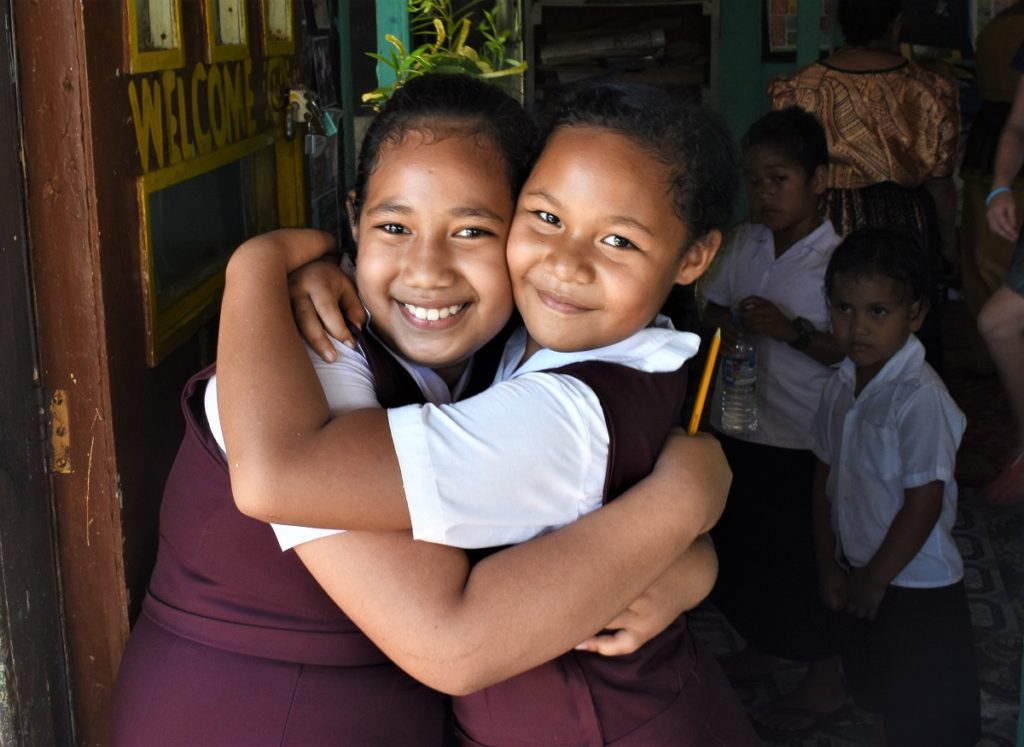 Tonga is one of the poorest countries in the South Pacific. Income for the islanders in Vava'u is from tourism, agriculture and fishing however their largest source of income is remittances from family members living abroad. Tonga is the only country in the Pacific that has never been colonised (although it was a British protectorate from 1900 to 1970) and this means it receives less support from overseas, unlike neighbouring countries Niue and the Cook Islands which receive substantial financial support from New Zealand, (having been handed over by Britain to them in 1901).
The Kingdom of Tonga has had a king or queen since the 10th century AD. King Taufa'ahau Tupou IV became ruler in 1965 and achieved renown as the world's heaviest monarch, weighing 210kg before becoming a role model for Tongans when he lost over 75kg in weight. The current King Tupou VI has ruled since 2012 and steps were being taken towards achieving a greater degree of democracy for the people of Tonga, however in August he dismissed his government accusing them of incompetence. Fresh elections should take place by mid November but we saw little evidence of electioneering.
Tonga does receive significant international aid… we saw examples of this when visiting a village on the small island of Hunga – solar powered street lights funded by the Chinese, solar panels to individual homes provided by the Japanese, giant water butts from the American people.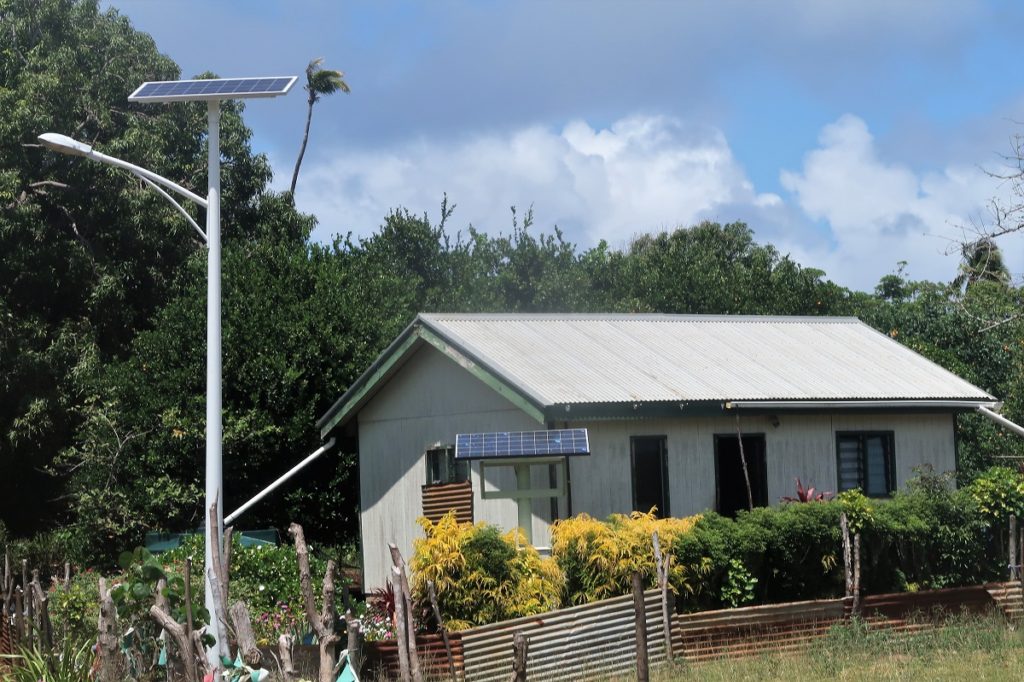 Whilst moored in the lagoon by Hunga island we attended church in the village. There are three hundred people living there and six churches – four Tongan, one Wesleyan and one Mormon. The Tongans are very religious and it is against the law to work on a Sunday – except for establishments that serve food to tourists. There are a wide range of different churches throughout Tonga with the Mormons increasing in popularity – they provide the best schools and facilities. We had been directed to the Wesleyan church by Barry (the Canadian who lived on the island and owned the mooring buoy we were tied to) and met his friend Suwanni at the church.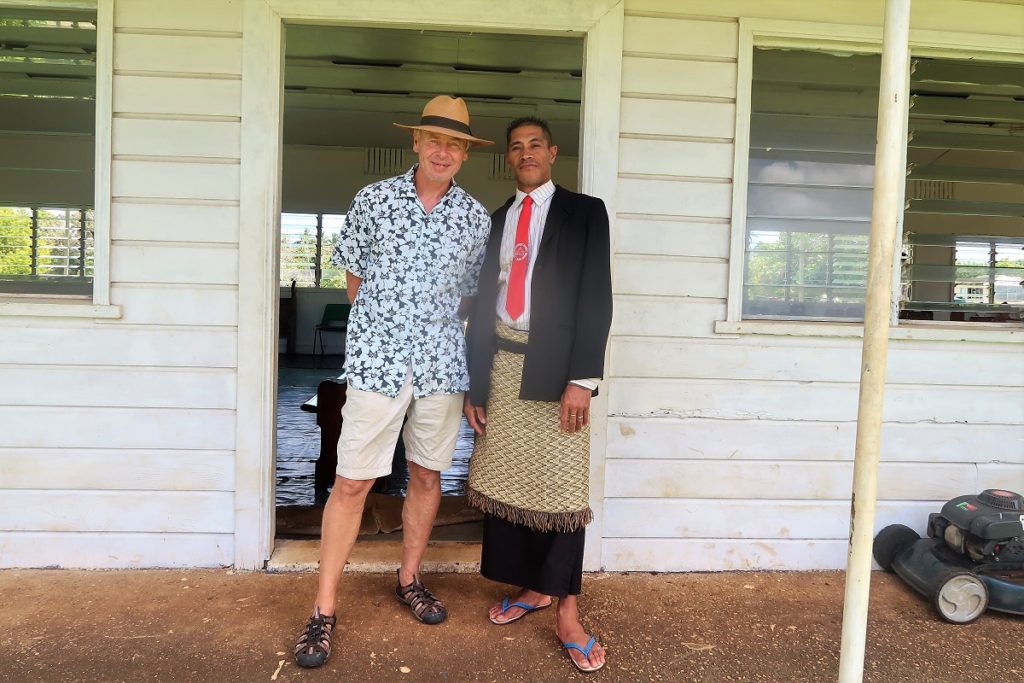 The sermon was in Tongan and very long and the boys in the pew in front of us soon started fidgeting and punching each other. We had come for the singing which was wonderful with deep rich bass notes from the men and both sweet and shrill harmonies from the women.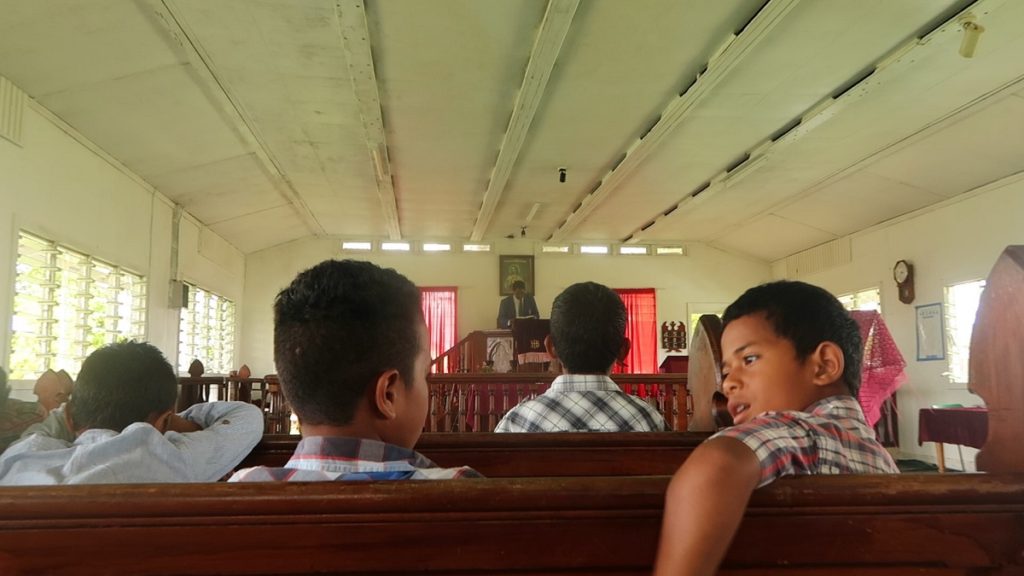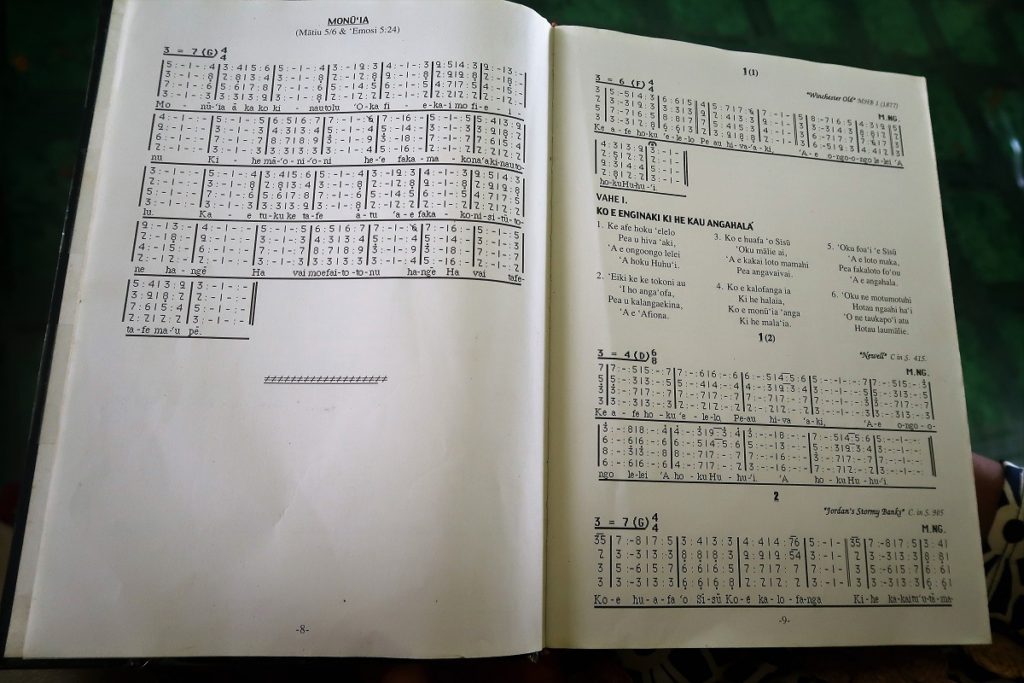 Tonga is relatively underdeveloped as a tourist destination and much of the tourist industry in Vava'u appears to be built up by expats – the bars and restaurants we visited were all owned by non-Tongans. There are a few low key tourist resorts on some of the islands and the Puataukanave International Hotel in Neiafu appeared closed for business.
We were not clear whether this lack of ownership by Tongans is due to a lack of interest, inclination, entrepreneurial instinct or capital and many of the expats living here had strong opinions on Tongan culture and mentality – something Hugh has covered more in his blog (link above). As the Lonely Planet guide says 'The expats seem determined to build a tourist industry but the locals just don't seem to care'. In our contacts with Tongans we found them almost invariably to be a warm, friendly, helpful and welcoming people who laughed a lot and with a tradition of hospitality and strong family ties.
It was hard to leave beautiful and relaxed Vava'u but we aim to be in New Zealand by early November and home to Bristol mid to late November. We will leave at first light tomorrow to spend a few days in the Ha'apai group of islands, sixty miles south of here, and will be watching out for the right weather to head on to New Zealand, some 1100 miles further on. We need to wait for a 'weather window' before heading south to avoid getting caught in strong winds caused by weather systems moving across the area. The cyclone season in the South Pacific is from December to April so Vega will be in a marina in New Zealand to allow us time at home and to explore New Zealand from the land.