Wednesday 2nd December to Sunday 6th December
 Lamin Lodge where we stayed after checking in to Banjul is a ramshackle edifice on Lamin Bolong (a bolong being a creek) an hour from the port. We motored there through, at times, shallow waterways, watching the depth carefully. Peter, the owner of Lamin Lodge, is a German who arrived 34 years ago by boat and stayed on. It has no electricity and unfortunately no showers but has a restaurant with delicious chicken and fish dishes and cold beer. The local monkeys know the meal times and approach along the walkway through the mangroves, jump over the rooftops and hang around for an opportunity to snatch some of your supper. Oumi in the restaurant stands by with a long stick as you eat, to keep them away.
There are a dozen yachts or so at anchor by the lodge; about five have long-term residents, a few, like us, are people passing through and the rest are left there whilst the owners return to Europe. Buba who works at the lodge helped us by arranging 300 litres of water from the nearby village to be delivered to Vega in 15 litre containers by donkey cart. He also brought us long loaves of fresh white bread at 7 dalasi (about 14p) a loaf. Buba called up, on his mobile phone, his friend Babu-Carr who has a taxi, to take us to the market at nearby Serekunda, the second largest town in The Gambia. We stocked up on fruit and vegetables, then went to the supermarket, full of non-perishables from Europe, with prices higher that in the UK. I felt uncomfortable spending so much in front of our young taxi-driver, even though at 2000 dalasi (about £40) it was considerably less than a visit to Waitrose, knowing that this to him was a massive sum, and particularly as we by then had spent all our dalasi including his taxi fare. Our cards were rejected by the ATM so we employed Babu-Carr the next day to take us to the airport to collect Alex, where we were relieved to be able to get some more cash out to settle his fare.
After another night at Lamin Lodge we headed back past the port and up the river Gambia.
The weather is hot and by late afternoon very hot. At night we lie under mosquito nets without sheets, but by the early hours it cools down and we pull a light duvet over ourselves. What little wind there is we are heading into. Motoring along there is a slight breeze and we shelter from the sun under the awning. The banks of the river are low lying with mainly mangroves and the occasional settlement. We motor about 25 to 30 miles a day and have hardly seen any other boats on the river apart from an occasional fisherman in the mangroves. As evening falls the surface of the river is almost glasslike.
After only a few hours of motoring up the river we were visited by dolphins. They were large dark common bottlenose dolphins, about 6 or 7 feet long, playfully swimming alongside the boat.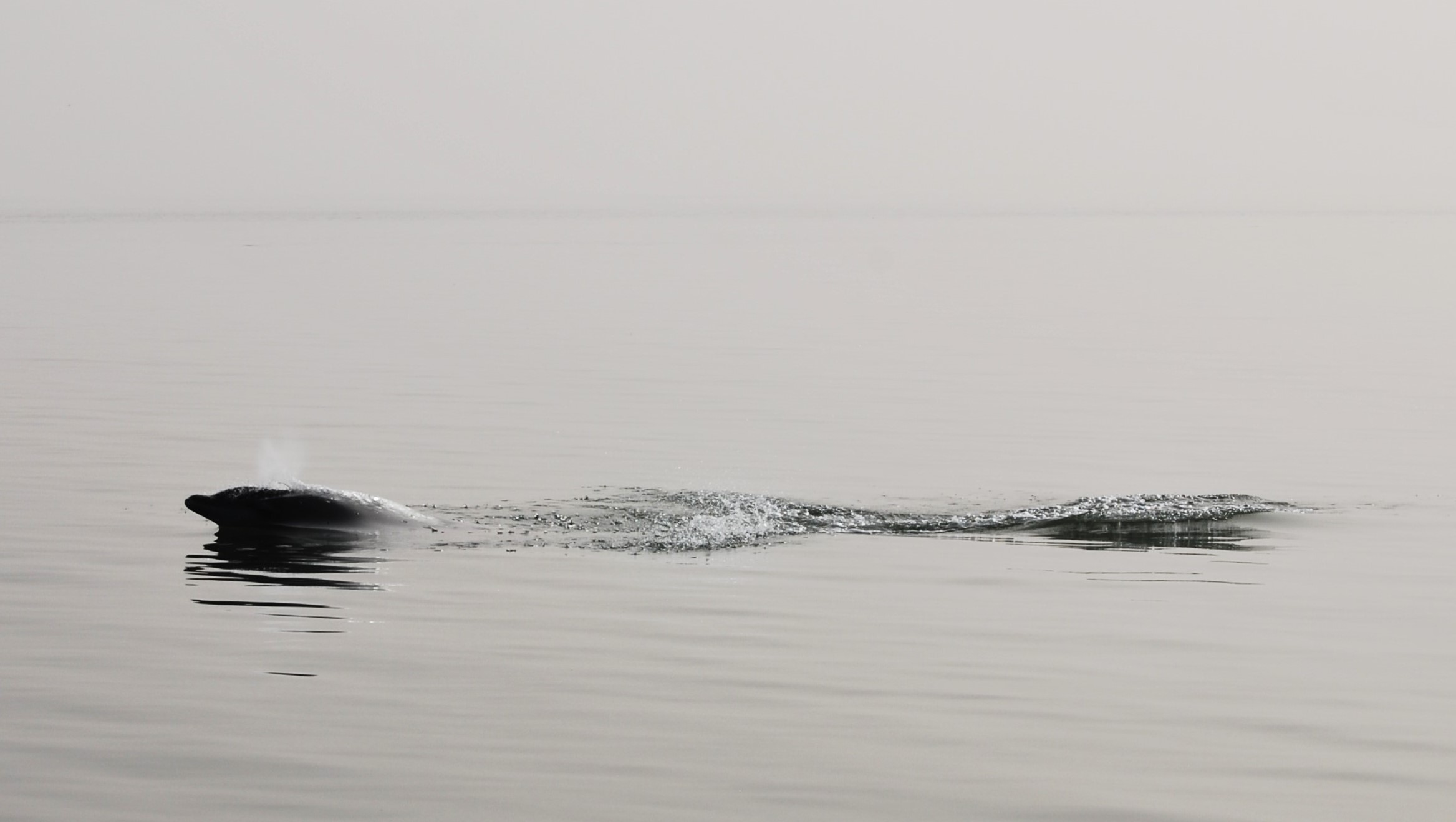 We have three fishing rods with us and are keen to catch our supper but so far no luck. We have read the book, tried different lures, but nothing. Any advice from you expert anglers out there? There are certainly lots of fish in the river as we can see them rising to the surface, although the water is too murky to see into any depth. The fishermen here net them from their pirogues.
The first night we diverted down a tributary before dropping anchor. Hugh and Alex continued to fish at dusk but were soon driven inside by the insects, many of whom managed to get inside the boat with them, despite insect screens over the gangway and hatches. It is all the insects that provides for such a variety and quantity of birdlife here. We have seen pelicans, herons, egrets, terns; and a pretty black and yellow bird landed on the boat, too briefly to manage to photograph, but which I identified as an African Golden Oriole. I'm not usually too bothered by creepy crawlies but the sheer volume of them here is a bit unpleasant. I am now quite heartless in my vendetta against the ones who dare invade our living quarters, and insect spray and fly swat are used without compunction.
That first night at anchor, seemingly in the middle of nowhere, there was drumming coming from nearby, and getting louder. I am currently reading Conrad's Heart of Darkness and had got to the point where Marlow, the captain, has sailed his tugboat up the river in search of the charismatic Kurtz and has been attacked by Africans with arrows and spears from the dense vegetation on the river bank. In the pitch dark of the night, with the sound of bats squeaking, cicadas, strange noises from creatures around, and the drumming still persisting after midnight, I found it impossible to sleep. It took determination to finally climb out from under our mosquito net to face the imaginary hordes of insects just waiting for me, to make some hot milk and check that we hadn't drifted at anchor into the surrounding mangroves and weren't being attacked by disaffected locals in dugout canoes.
In the morning the boat was covered with insect corpses inside and out, as well as bat droppings on the deck, and I made good with dustpan and brush to clear them. A six inch praying mantis was casually sitting on one of the metal struts in the cockpit, and sat there, almost motionless, all day long as we went along, seemingly watching us. In the evening he or she came to life, started preening itself, cleaning its antennae, looking a lot more alert and lively, and by the time we looked later in the evening had gone. Our second night we attempted to enter a small creek but the bar over the entrance was too shallow so we reversed and anchored on the main river nearby. Alex cooked supper. The bats are squeaking again tonight but fewer insects have managed to get inside.
The chart that we are using to navigate the river is Admiralty chart 609, with the survey of the river done in 1941 by Commander WC Jenks OBE, RN, and his officers of the surveying ship Challenger, with the survey further up the river done in 1826. Depths are shown in fathoms, with the boundaries between Senegal and Gambia annotated as the 'Boundary between French and British Territory'. It is beautifully drawn and annotated with comments such as 'Low and high mangroves', 'Canoe landing', 'Cotton tree (conspic)'.
By day three we are some 55 miles up the River Gambia, where it is still 1 ½ miles wide at points and is still salt water. The water becomes brackish and then there is fresh water about 90 to 100 miles upriver, after Elephant Island, and Alex is keen to get that far as he hopes to see hippos which are fresh water animals. Today we noticed fishing buoys strung right across the river with a small boat near one bank. We slowed and tried to reverse. Fortunately, we passed by without catching the net that might well have been strung between the buoys. We are planning to motor another 10 miles to where there is a ferry crossing and to visit the Sunday market at Farafenni.