Wednesday 9th to Friday 18th August
Although we had officially checked out of French Polynesia we wanted to visit Maupiti, 28 miles west of Bora Bora, another beautiful volcanic island with a high central mountain surrounded by a lagoon but with an outer reef through which there was only one narrow pass – dangerous to enter in strong winds from the south and big swells which were exactly the conditions that we had the morning we left Bora Bora. As the wind forecast was no better for the coming week we headed off anyway with friends on Nautilus and Jadean. As we approached the island it was clear that there were big waves breaking across the entrance to the pass – we decided it wasn't worth the risk of being caught by a wave and deposited on the reef there. So we turned away from Maupiti and continued on for a 100 mile overnight sail to the next island, Maupihaa, almost the most westerly of the islands of French Polynesia.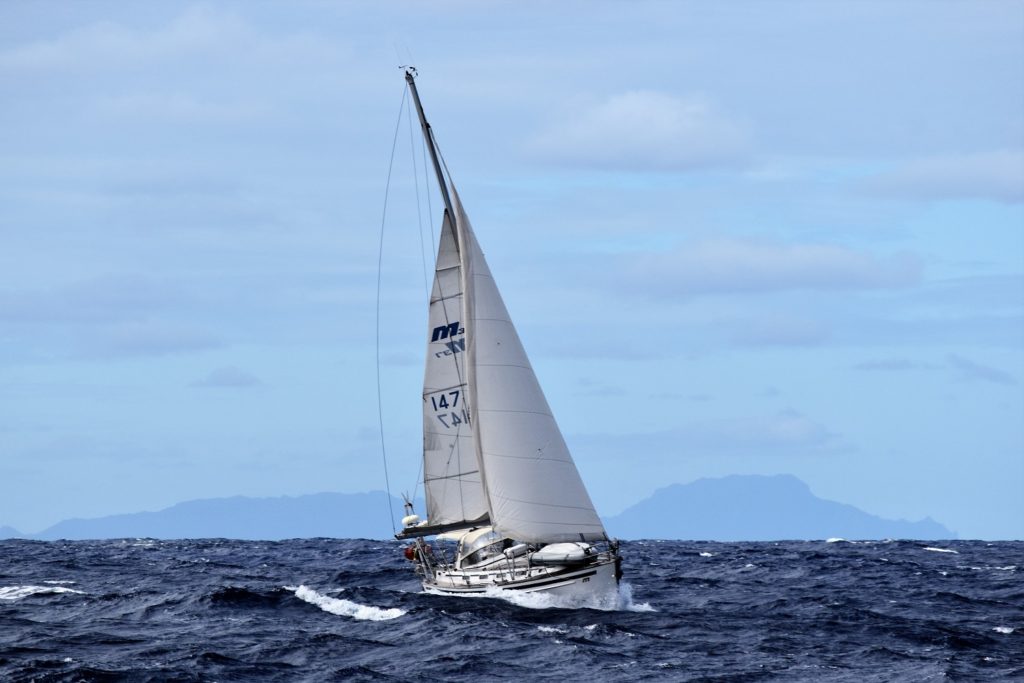 With such strong winds that day and throughout the night the sail was fast, rough, rolling and unpleasant. Initially we were racing along at over 7 knots which doesn't sound very much, after all a marathon runner completes the 26 miles at a faster pace than this, but with the wind howling and the boat rocking from side to side it felt fast. Overnight we dropped the mainsail and with a tiny scrap of genoa only we were still plunging on at over 5 knots in winds of 25 to 30 knots. I felt a bit seasick as I usually do but it was comforting to be buddy sailing with Nautilus and Jadean.
As we neared Maupihaa it was still dark and we hove to for a couple of hours to stay well away from the island and its reef. In the early morning light Barry on Jadean started fishing in the waters around the island and soon caught a large yellow fin tuna which they later barbecued on board and shared with us.
Maupihaa also has a difficult pass through its reef, one which is narrow with a constant outgoing current which can run at up to 9 knots. We were nervous of entering but a boat already at anchor within the lagoon had spotted us and called up on VHF to reassure that they had safely entered the previous day. Jadean motored in, followed by Nautilus then us. With an engine that can drive Vega at 6.5 knots at full throttle we progressed slowly in against the outgoing current of about 4 knots. I was at the bow watching out for the shallow ledge of reef on either side of the pass, directing Hugh at the helm and getting very wet in the spray. It was quite nerve wracking and a relief when we were safely through into the deeper waters of the lagoon and able to motor down to the sheltered southeast anchorage.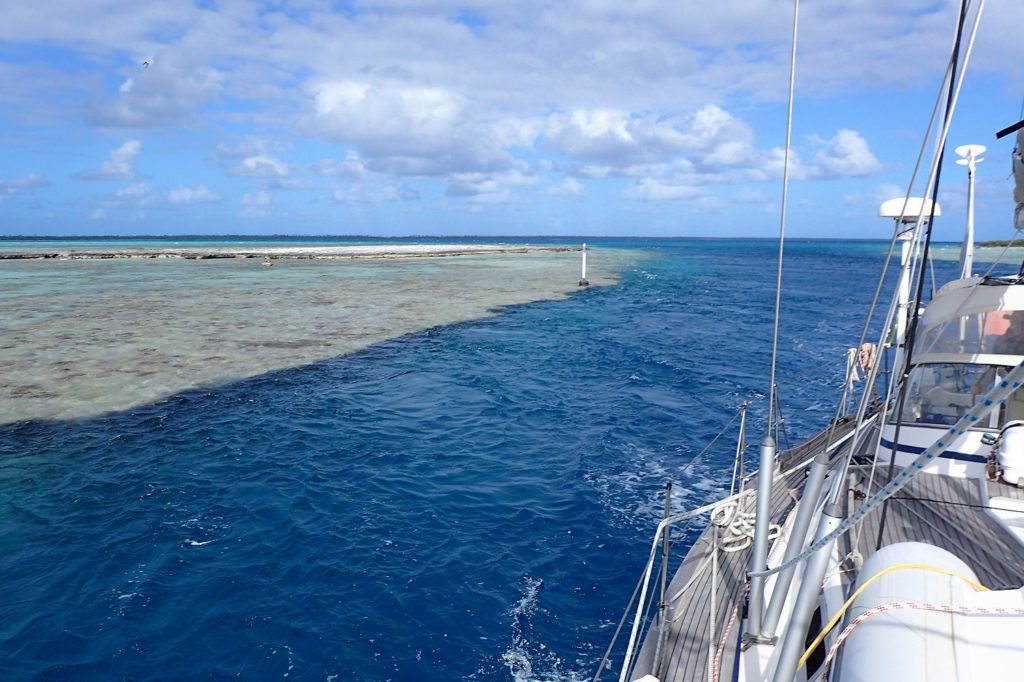 There was only one boat already at anchor when we three boats arrived in the anchorage. Strong winds and high waves were forecast for the following week and we weren't at all keen at being out at sea in 35 knots of wind and waves of up to 4 meters. There were no sheltered harbours or anchorages ahead where we would be sure of a mooring, until we reached Tonga over 1000 miles west, so we decided to stay put until the foul weather passed by. We weren't too upset – it looked like paradise here with clear blue azure water, palms trees and sandy beaches, and with manta rays passing by the boat at dusk. Clearly other boats had the same idea and over the next few days the number of yachts at anchor in our protected bay increased to eleven.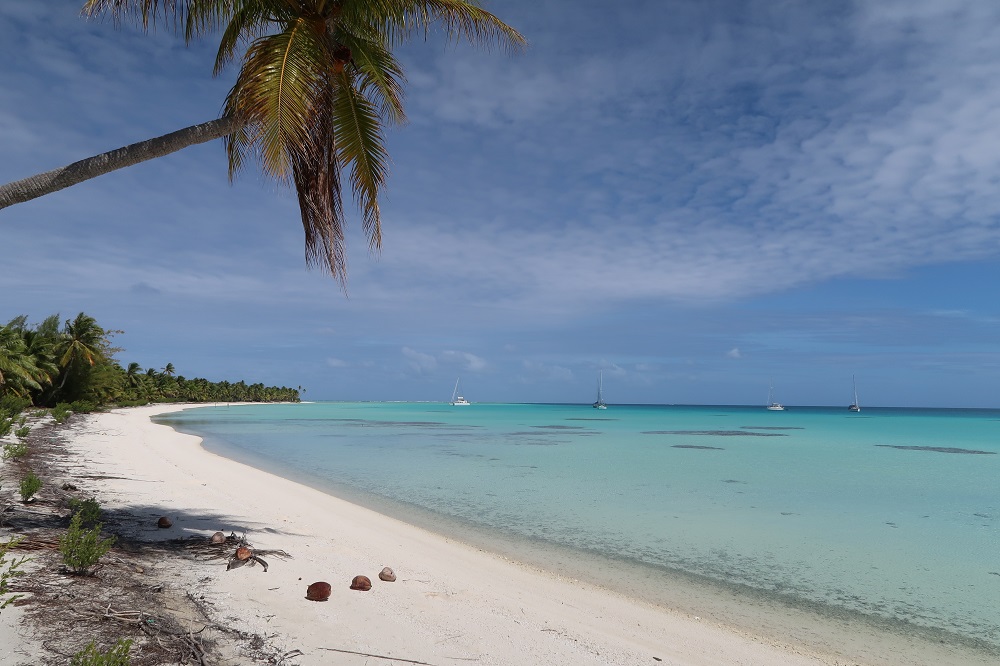 Maupihaa is an atoll consisting of a long, narrow motu (a small island) about 4 miles long, running along its east side from north to south with a low reef forming the other sides, all enclosing a central lagoon.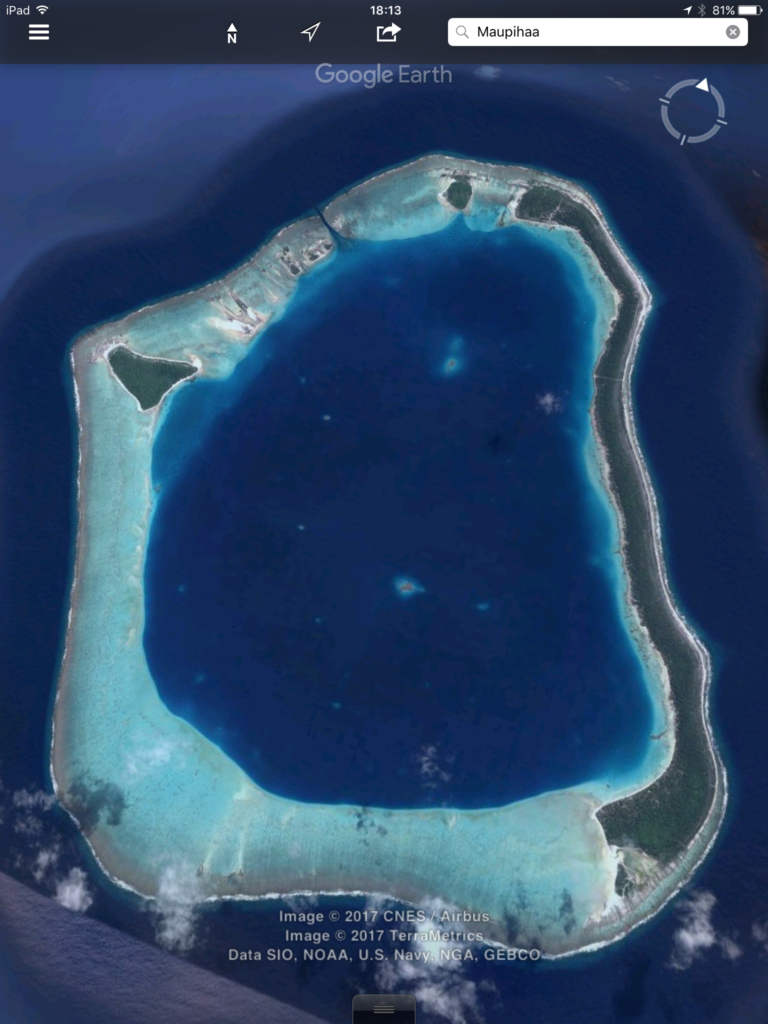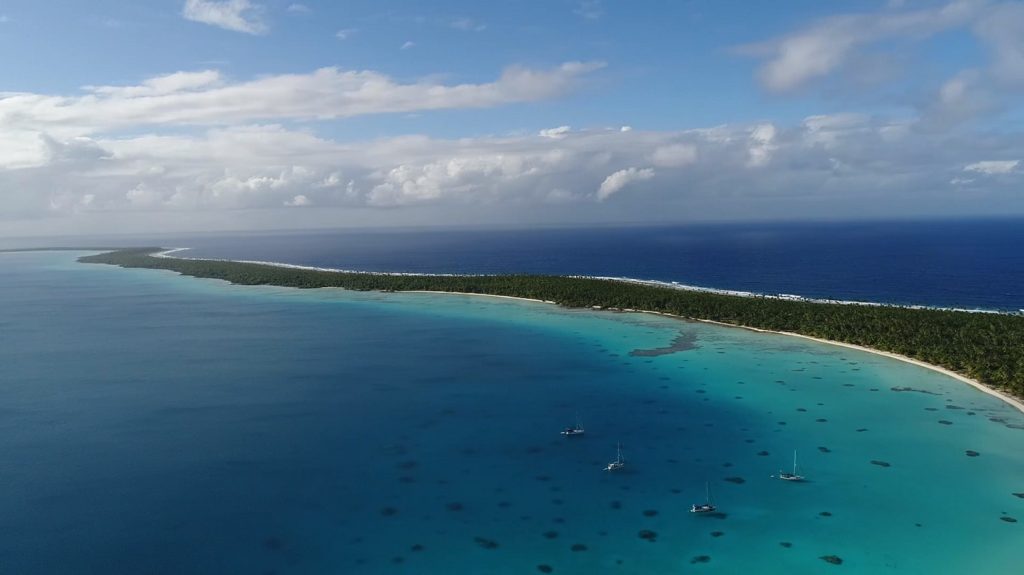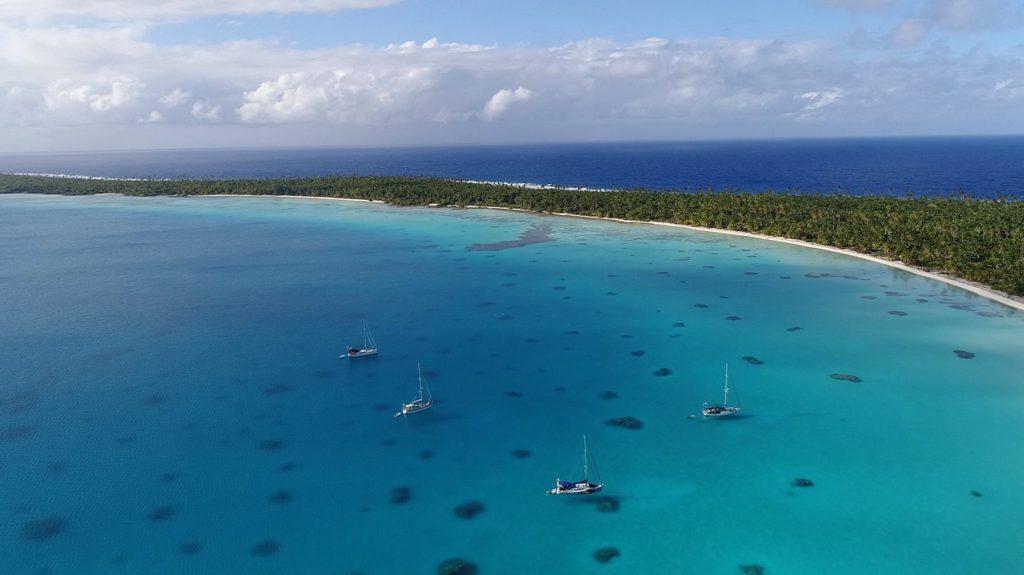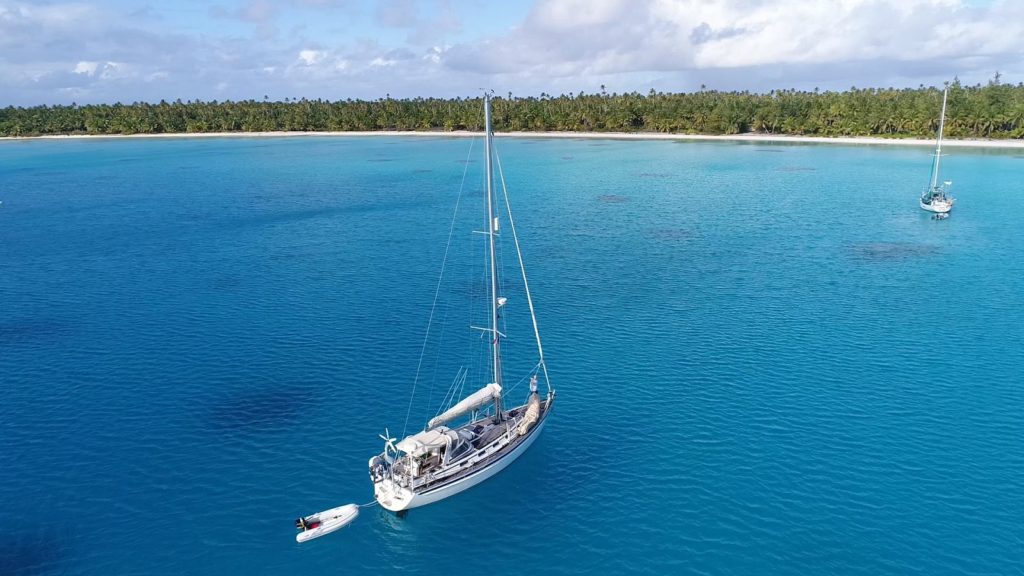 The motu is covered in a forest of coconut palms from which the 13 families here make a living. A ship comes once a year to collect the 'copra', the dried coconut flesh which is used to produce coconut oil. There is nothing here but palm trees, their simple homes and a dirt track road that runs the length of the motu….No shops, no airport, no electricity, no mobile phone reception, no wifi, no school……the children go to school on Maupiti, the nearest inhabited island, over 100 miles away and only come back for the holidays. We went for walks here and everyone we met was friendly, welcoming and chatty. They told us that up until now there had been few visiting yachts this year. They really appear to welcome the yachts who will sometimes carry goods and passengers to them from Maupiti where many of them were brought up and have family and friends.
We got out our folding bikes and cycled along the track up the island. At the very north end live a family who invited us in for a drink – they cut the tops off green coconuts and gave us coconut milk .. delicious! The two twenty-something daughters love their life here although Karina wished they had wifi so she could go on Facebook. The elder daughter, Fainami, has been to Tahiti but found it much too busy and stressful. She speaks good English which she taught herself from a dictionary, by listening to music and watching movies.They keep dogs and cats and a pet pig, Gourmand, who is put in a net for much of the day to stop him affectionately nudging them with his snout when they are trying to rest. He is part of the family and they could never eat him.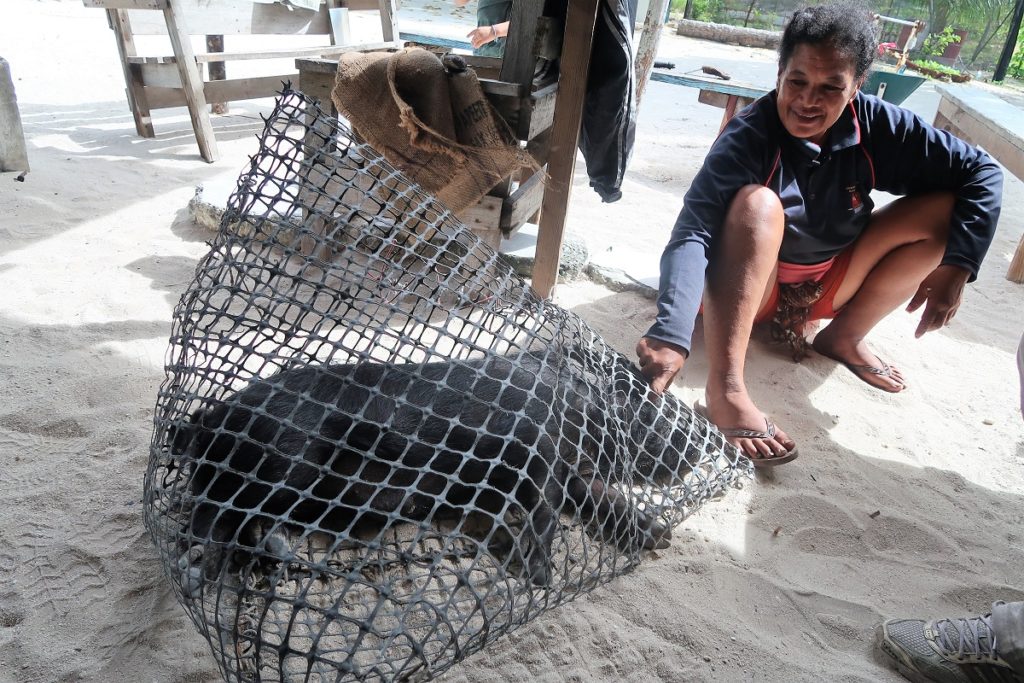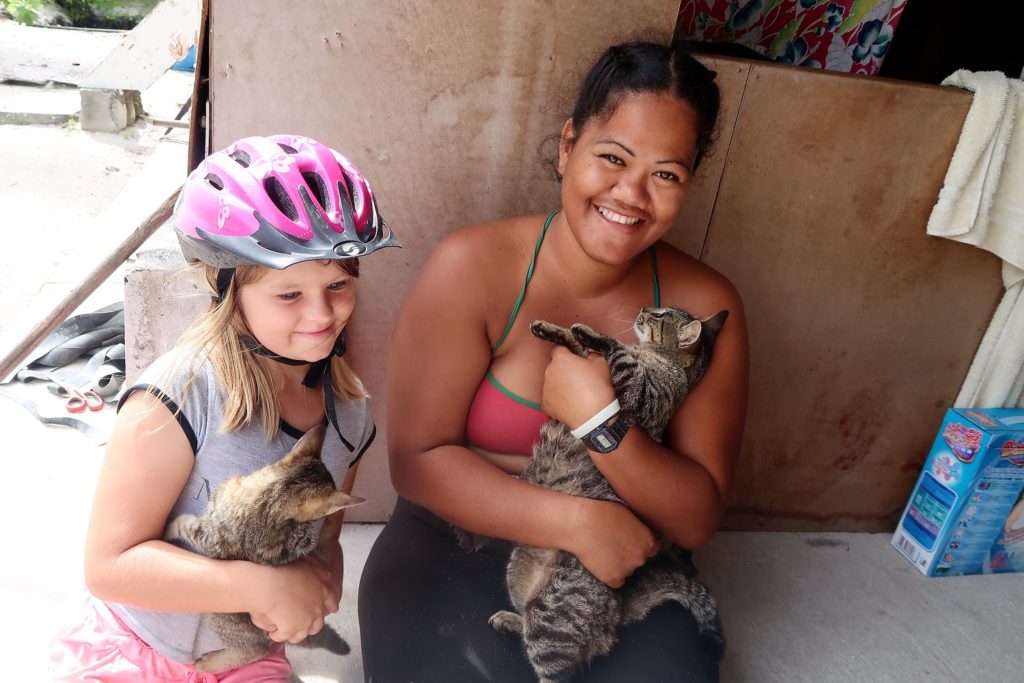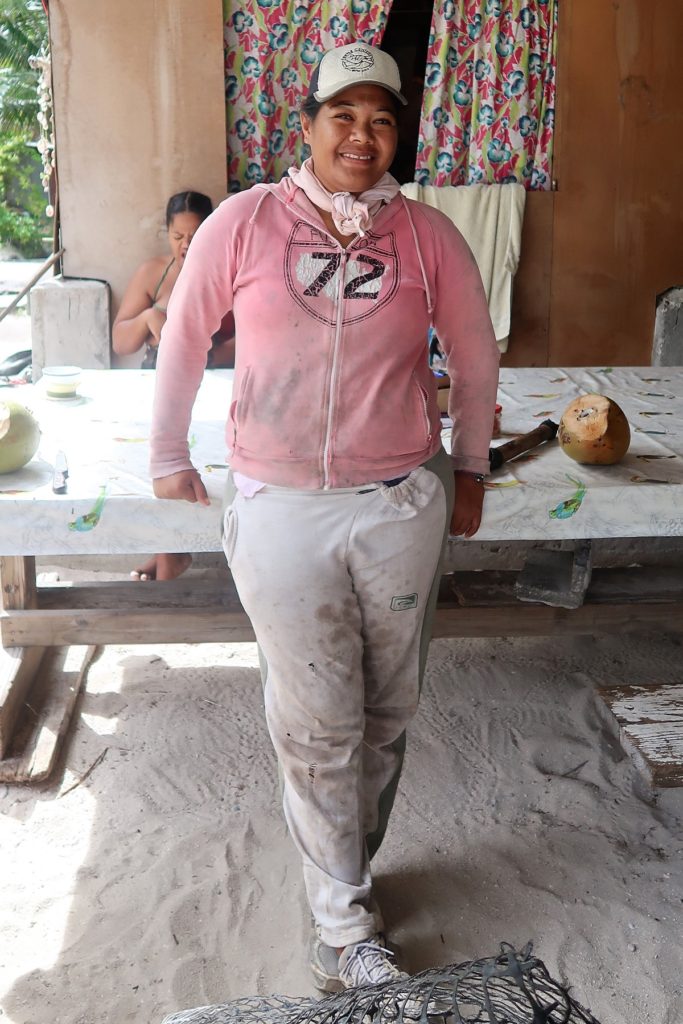 Each family member can have a 200 meter strip of the motu to make copra, for which they pay $50 rent. The community has to produce 40 tons of copra before the ship will come to collect it, which happens about once a year. They get paid US $1400 a ton and a ton takes several months to produce from the dried coconut meat.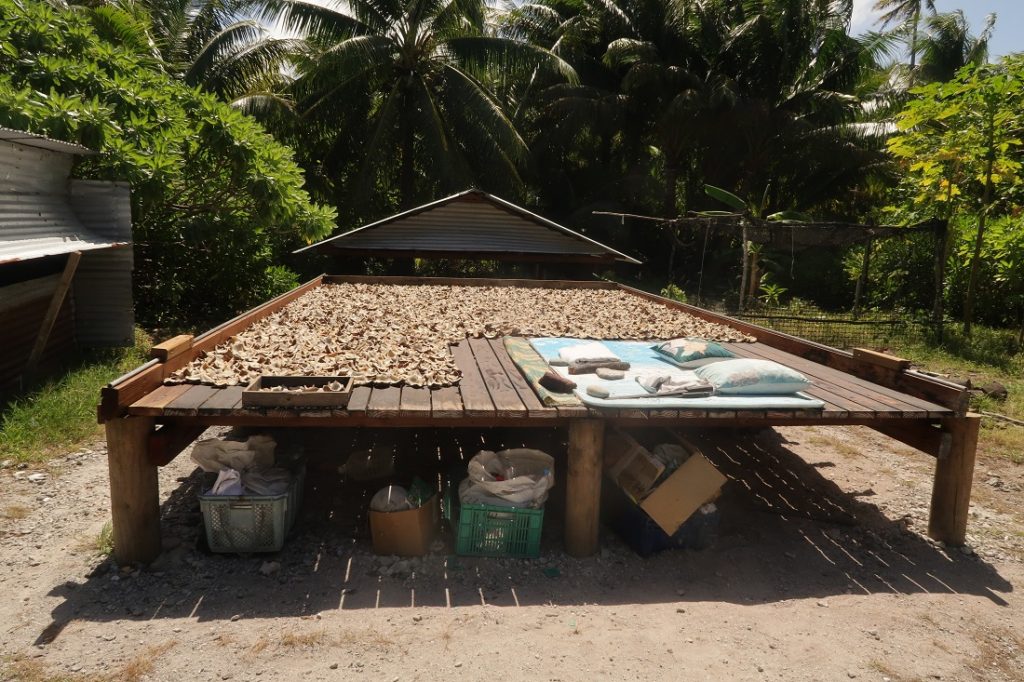 On one of our walks we met Christophe who had recently moved to Maupihaa with his wife and two year old daughter. They had been allocated two 200 hundred meter strips of land and were staying with his uncle and learning how to make copra from him whilst they established a life for themselves and built a home here.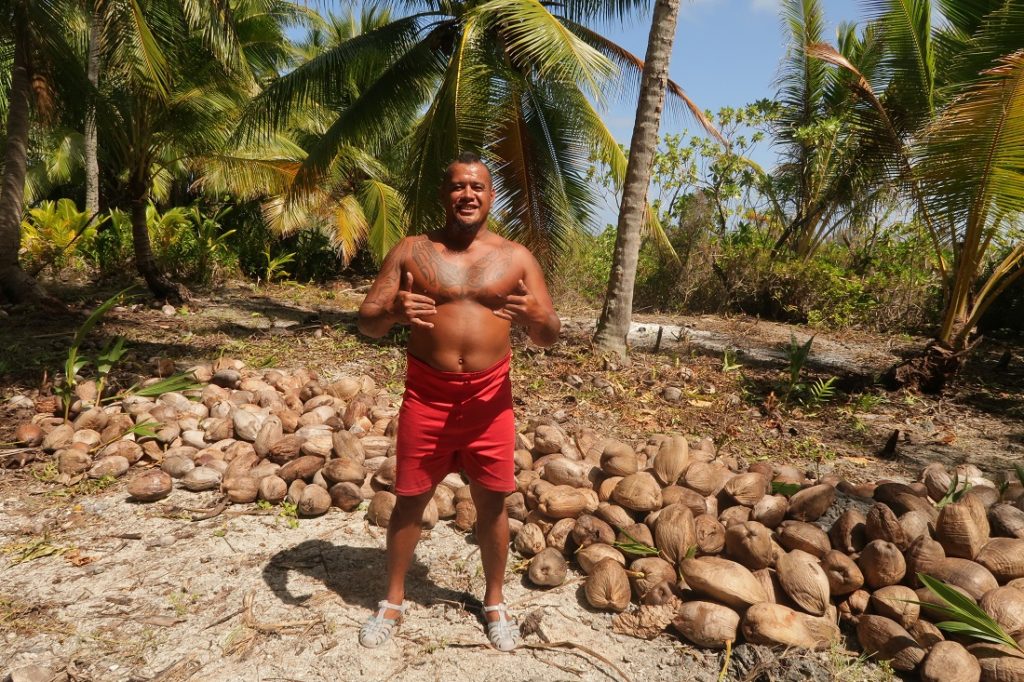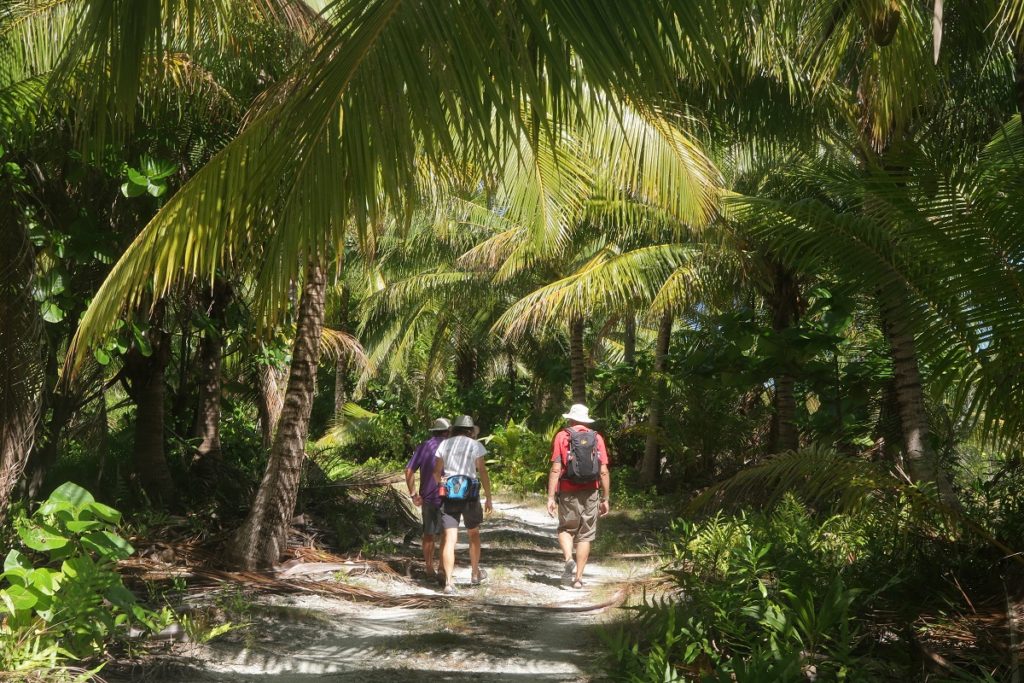 We also met several of the women who live on the island. Héré Tui lives with her husband in a hut with corrugated iron roof, a sand floor, two cooking rings fuelled by gas, with a separate sleeping hut open to the elements. They have a few pigs, grow some vegetables and make a living copra farming. Their four children have all moved away, two live in Aitutaki, one is in the army, and the fourth is being educated in France having been adopted by a French family.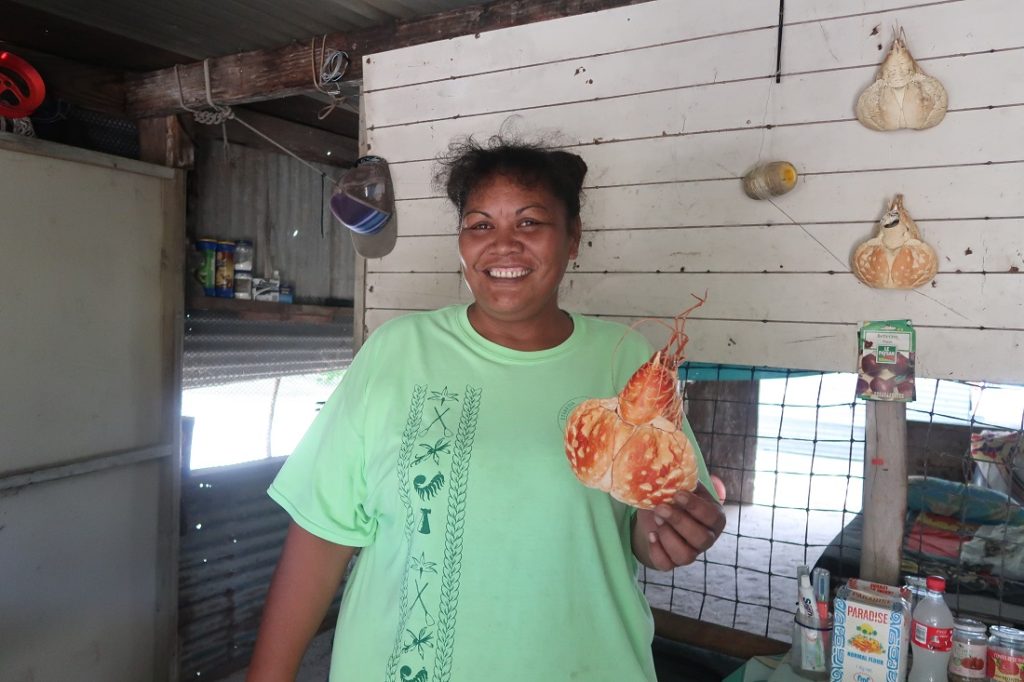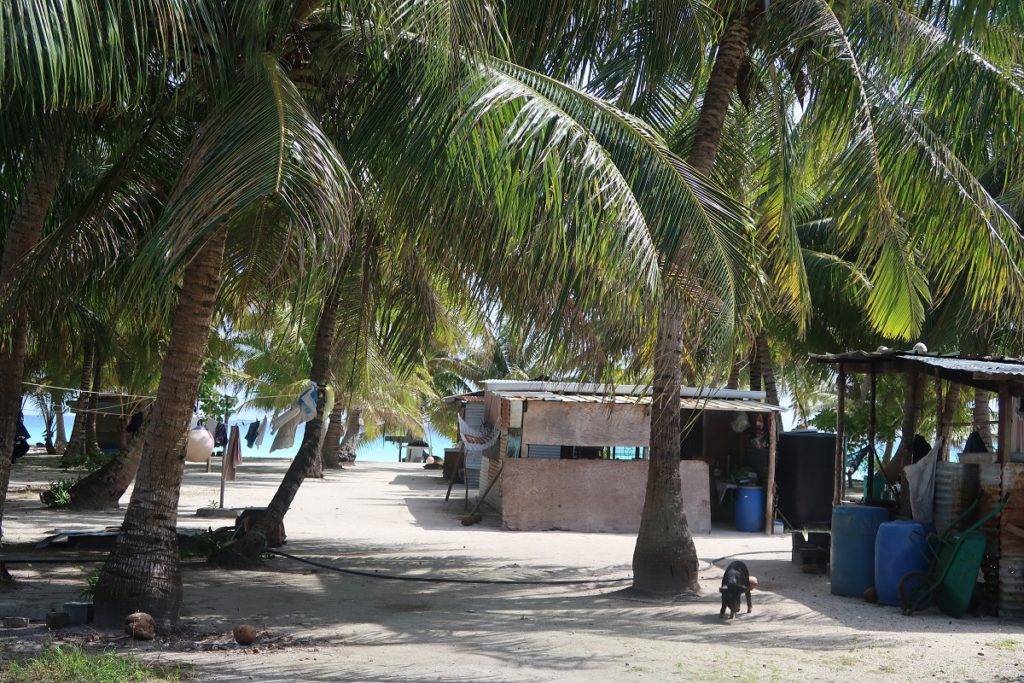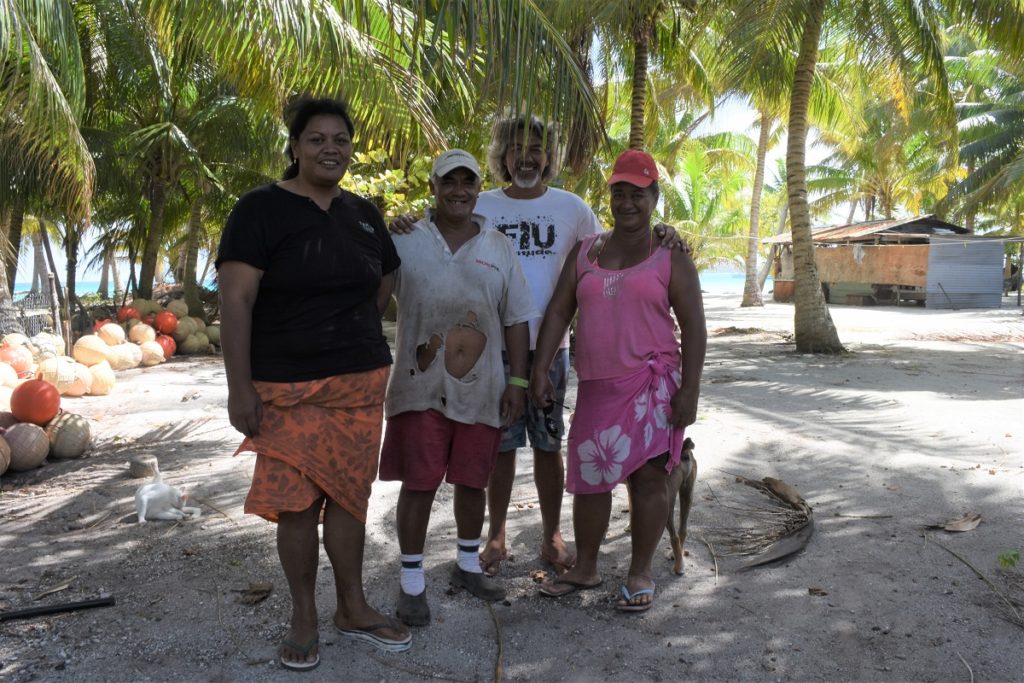 Her nearest neighbour, Hina, lives by herself in the only remaining 'community house' on the island… all the other houses were destroyed in the cyclone of 1998, which uprooted 75% of the coconut palms on the island. A huge wave also engulfed the land then which is only a few feet above sea level. Most of the islanders survived as they had been evacuated in time to Maupiti.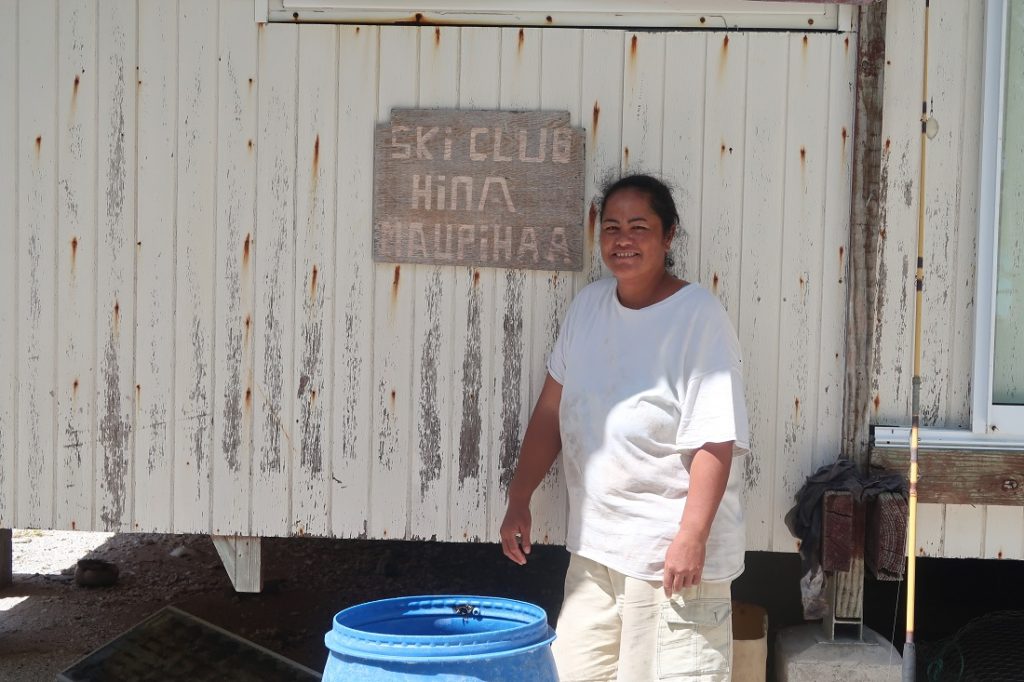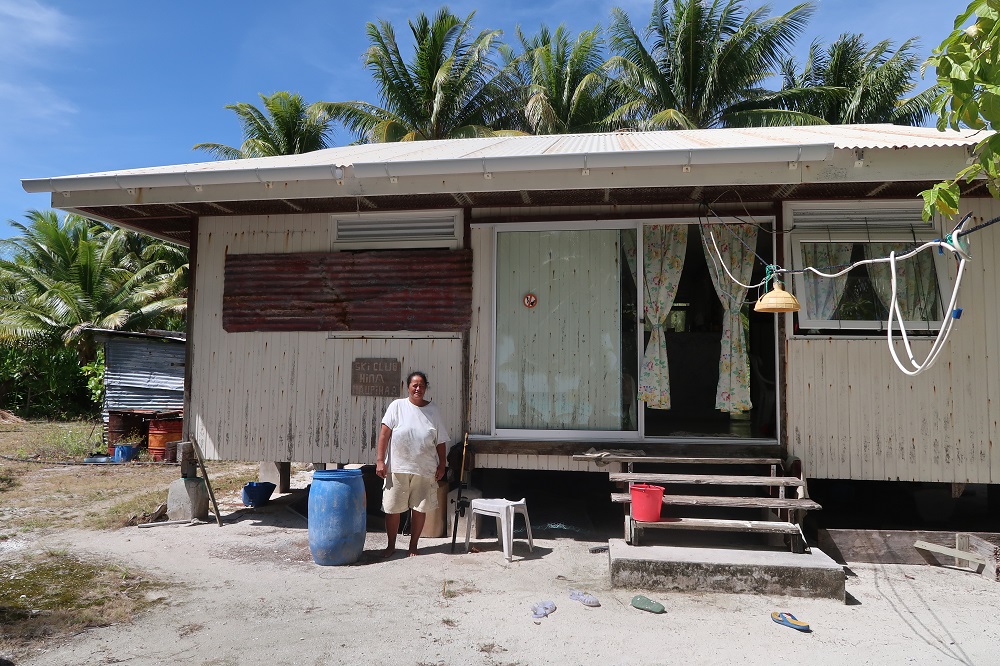 All the cruisers were invited to play boules with Hina and her friend and near neighbour Edgar one Sunday afternoon. We were all resoundingly beaten by the team of Hina and Edgar and suspected that they had played before – the island is part of French Polynesia after all.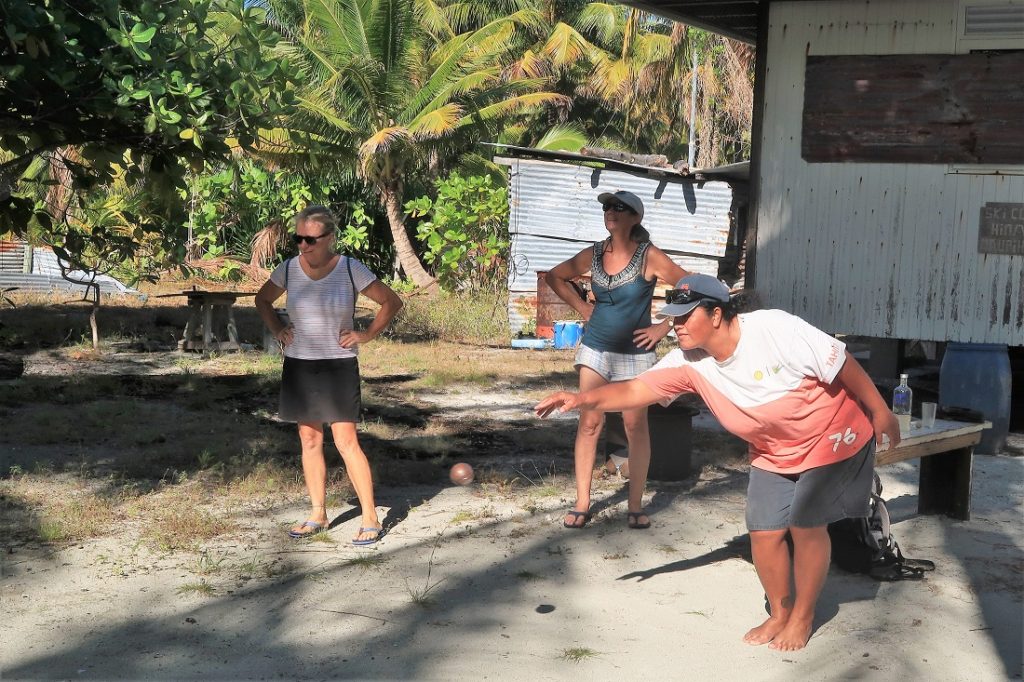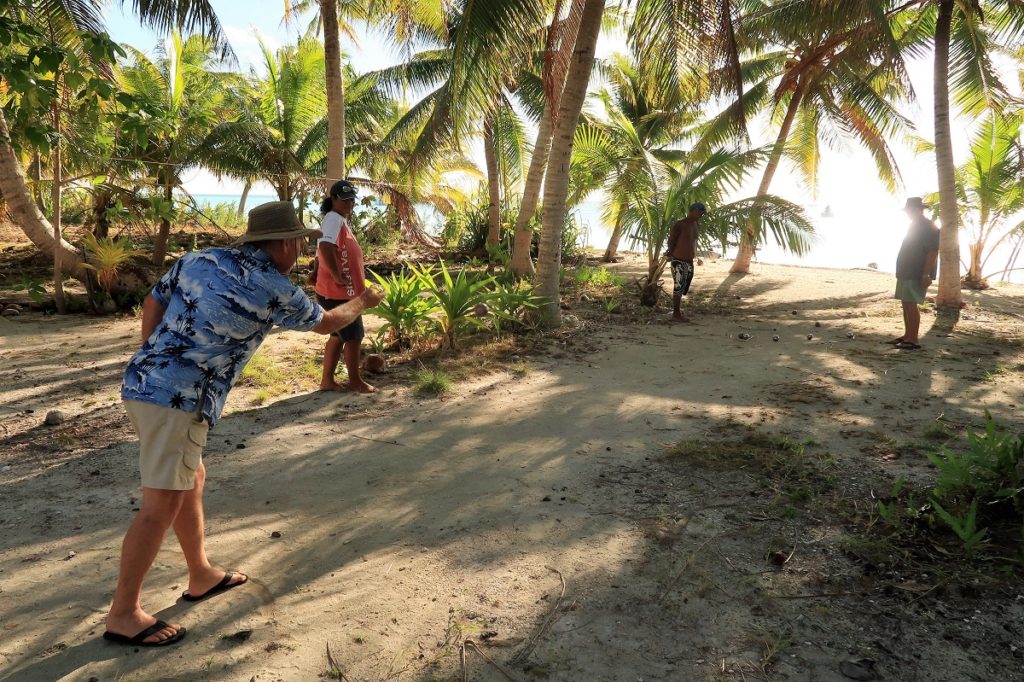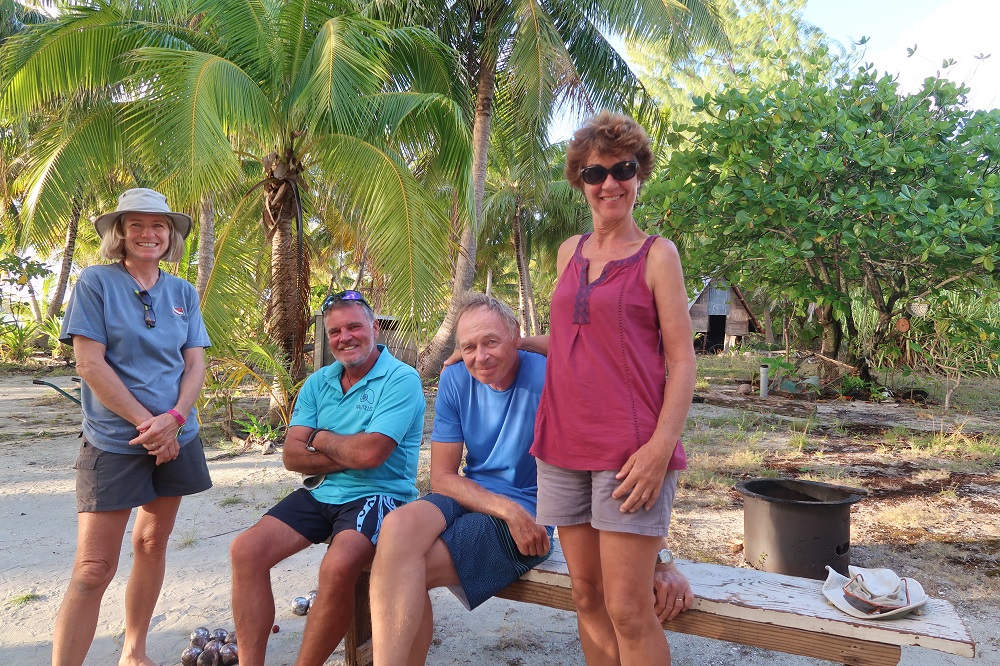 It was a sociable week. The cruisers organised a potluck supper on the beach and Hina and Edgar erected and decorated a long table. The guitars came out after the meal, playing both Polynesian and western songs.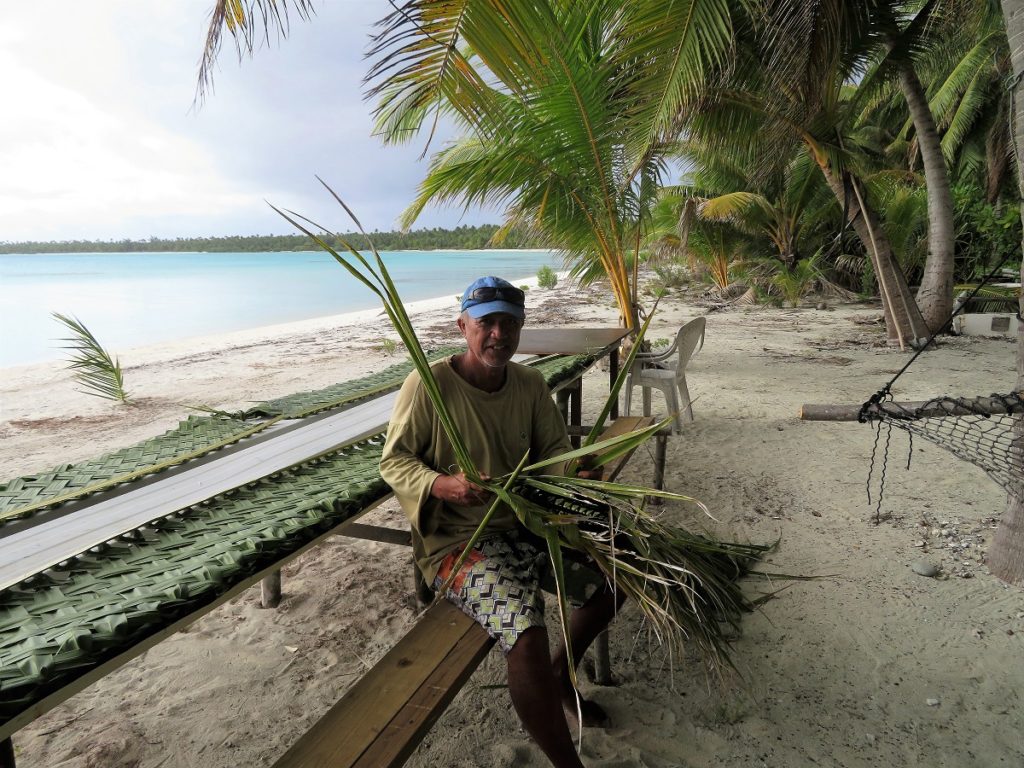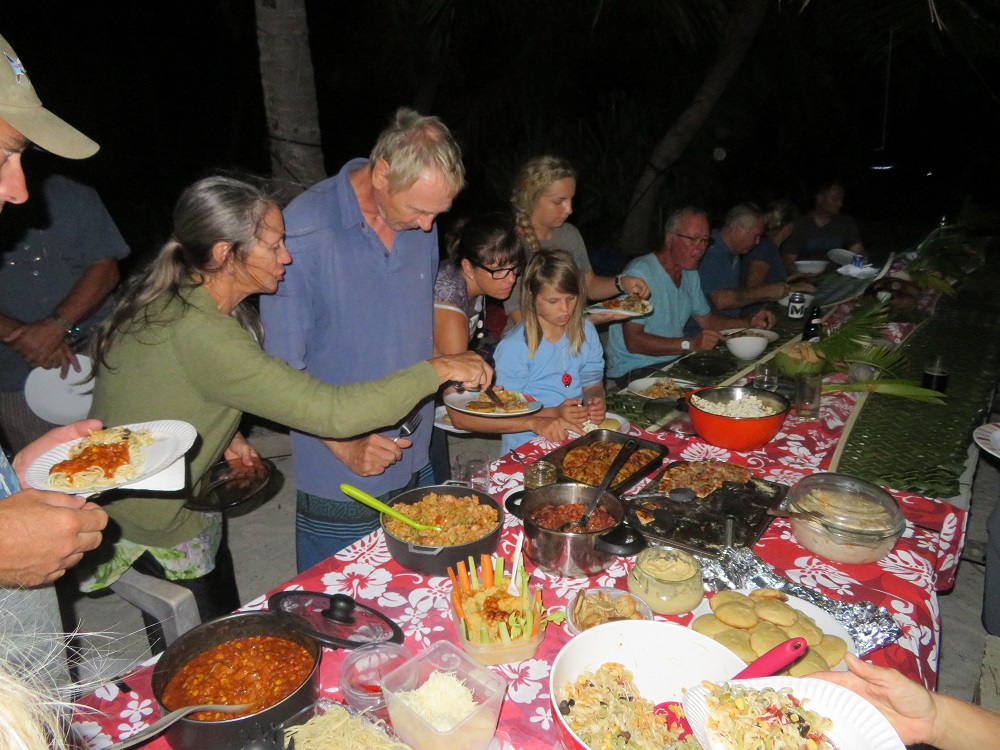 Barry and Kim on Jadean invited us to share lobsters that they had bartered for a bottle of whisky and we were given two parrot fish by Steph (who had exchanged them for an unwanted diesel container). Hugh had to cook them as I found the blue colour too off putting. He removed all the blue skin and they were delicious.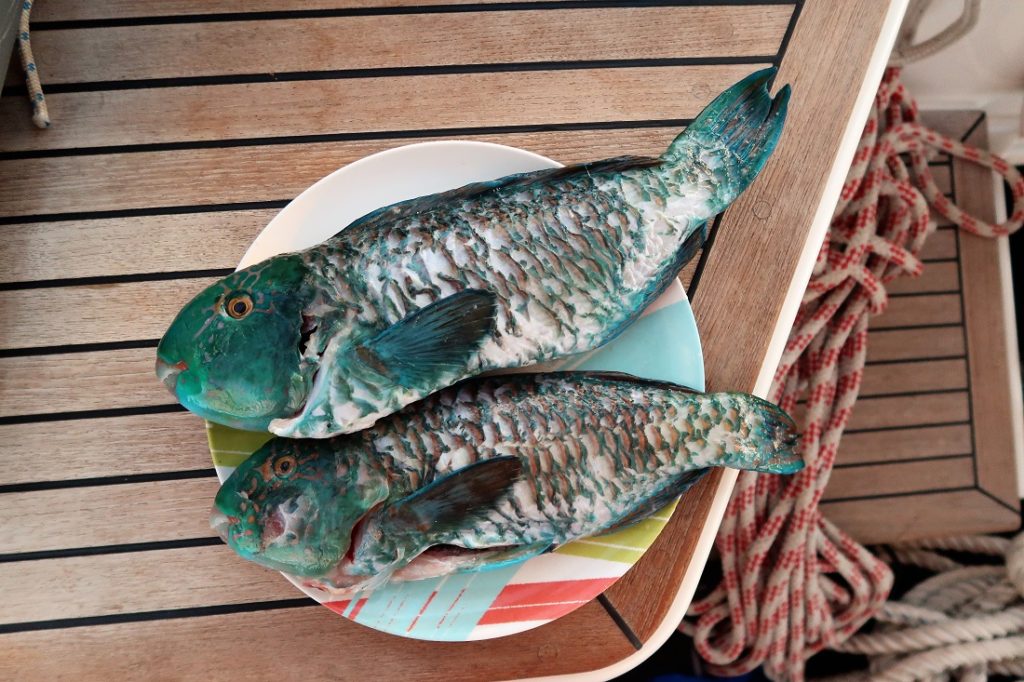 I went paddle boarding with Steph, my first time ever … I only fell off the once, right at the end. There were lots of sharks in the lagoon, mostly harmless black tip reef sharks which are about 4 foot long. We also saw bigger lemon sharks which can be aggressive and that rather put us off snorkelling although I went into the water a couple of times to scrape some of the weed off Vega's hull.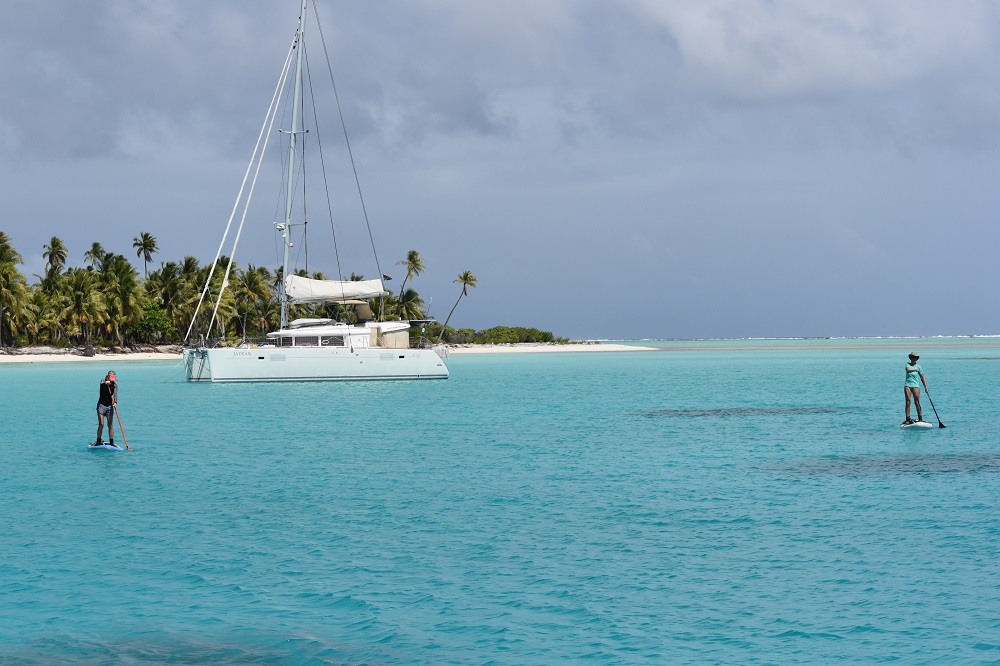 On our walks we could see the surf pounding the outside of the reef, throwing up huge waves, though our anchorage remained calm and sheltered.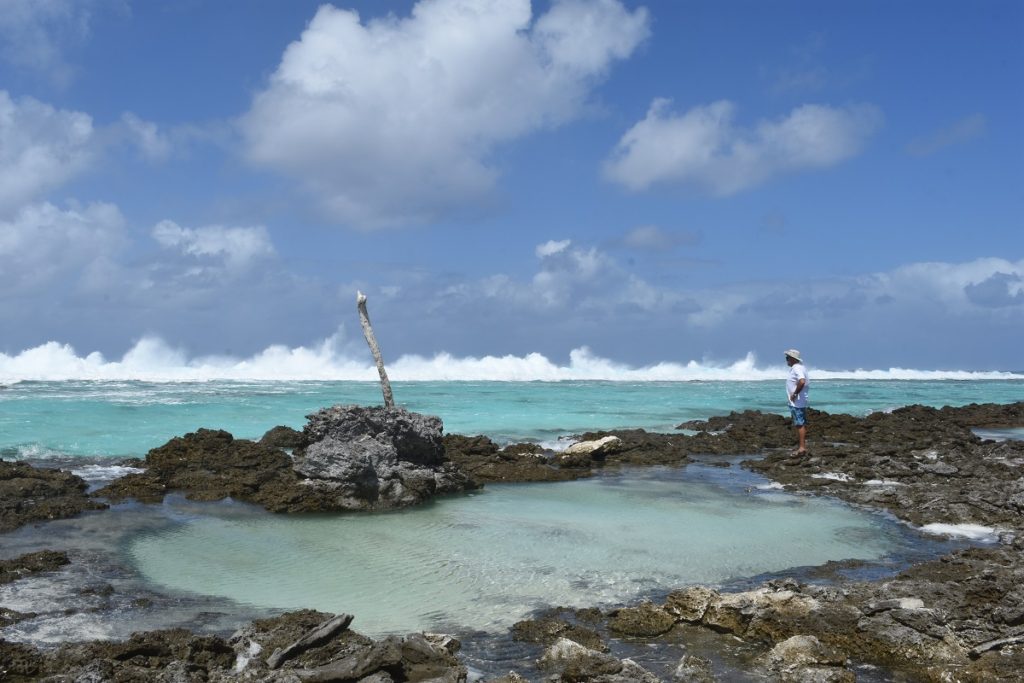 After a week the strong winds started to ease and on the Friday the anchorage started to empty, boats heading west to one of the Cook Islands, mostly to Aitutaki , Palmerston or more northerly to Suwarrow. We headed off ourselves in the afternoon, back through the narrow pass in the reef. Just after we exited the pass we were thrilled to see two humpback whales, a mother and calf, not far from Vega, blowing several times before they dived, showing tail fins. Luckily my camera was right next to me…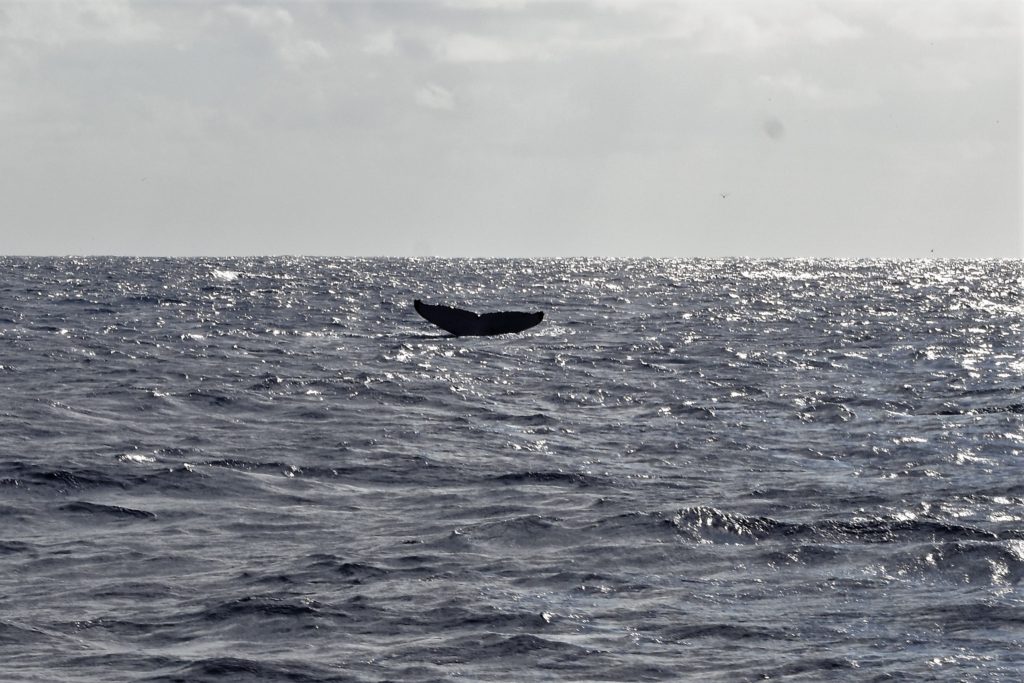 We were heading west with Nautilus towards Aitutaki in the Cook Islands, a three day sail away.