Monday 28th May to Friday 8th June
Monday
We are finally ready to leave New Zealand. There is a good weather window to get to Fiji, perhaps stopping en route at Minerva Reef for a few days. There is quite an exodus of boats leaving the marina today as there was yesterday. We will communicate via satellite with daily email reports on our progress: position, weather conditions, fish caught etc.
Friends on yachts Hakuna Matata, Loupan and Mezzaluna leave Opua just ahead of us. Rick and Amanda on Duplicat left the day before and SheSan and Osprey have set off from Whangarei, further south.
We motor out of the bay into the open sea and raise the mainsail and unfurl the genoa as the winds strengthen, increasing to over 20 knots with a choppy swell on the sea.
Before leaving I had made enough chicken casserole to last for the first three days at sea. Neither of us feels very hungry. We are unused to sailing after seven months on land and I always find that the first few days of any long passage I feel apathetic and slightly sick before my body adjusts to the motion of the boat.
On watch at night there is a bright, full moon. We sit in the cockpit, thermals under sailing jacket and trousers, huddled in sleeping bags… it is very cold. When I put the heater on there is an overpowering smell of diesel. Hugh investigates and finds a trickle of diesel running into the bilges, not from the engine but from a pipe leading from the fuel tank. The fuel tank is hidden away and practically inaccessible. We try to empty the side lazarette (a large locker in the cockpit) under which it is located but in the dark with a boat rolling from side to side, we both feel sick and exhausted and give up.
Tuesday
Date: 29 May 2018 at 09:21 GMT+12
To: Seapower
Subject: Diesel tank in Vega – URGENT!
Bruce/John,
We have a leak of diesel that is trickling down the bilge.
There is no diesel on or under the engine that i can see and as far as I am aware the engine sump is not directly connected to the bilge.
I can access the top of the fuel tank from the side lazarette to see where the filling pipe enters and there is no leak visible.
What i cant see to access is the inner side of the tank with the pipe connections for the engine and heater. I will now try via the rear engine compartment but other than this i just cannot work out how you gain access to the tank!
Any advice you can offer would be greatly appreciated and how I can manage things with diesel in the bilge
Regards
Hugh
SY Vega
Date: 29 May 2018 at 10:32 GMT+12
Subject: Heading for Fiji group
Good morning from the seas.
Unfortunately Vega has a problem. Having fixed the leaking pipe and coolant hose in the engine, we now have a new leak. The saloon started smelling of diesel last night and we have a slow leak of diesel, which appears to be from a pipe from the fuel tank, though it's proving hard to identify the exact location as the tank is inaccessible.
We are currently 1030hours at 33deg 52.3S 175deg 47.02E, approx 5nm behind Hakuna Matata. Hugh is trying to sort it out and has emailed Bruce at Opua so hopefully we can fix it. Any suggestions welcome. We are hoping we won't have to return to Opua.
Looking forward to hearing how you're getting on.
Annie and Hugh
Vega
Date: 29 May 2018 at 12:48 GMT+12
Subject: Heading for Fiji group
Hello again at noon
Vega's position in 33deg 45.5S 175deg54.8E
Wind force 5 from south
A rather rolly and very disturbed night, the smell of diesel not helping the seasickness!
No fish caught
Leak ongoing
Hakuna Matata 5 Miles north of us, their satellite is not currently working
Hope you're all doing better
Vega
Having a boat stinking of diesel is horrid, headachy, along with sleep deprivation from trying to work out where the leak is coming from. We finally empty out the side lazerette of all the accumulated junk, spare outboard, anchor, lines etc etc for Hugh to be able to get the floor up to access the fuel tank and to locate the problem… a nut not properly tightened back up after the tank had been emptied and cleaned out by Seapower, with diesel oozing out. But no fun doing all this in a rolling boat when we're both tired. A reason to do these jobs yourself… a better understanding of how the boat is put together too. We've both been sea sick, even Capt. Iron-guts himself has been retching, and off our food.
Date: 29 May 2018 at 17:05 GMT+12
Subject: Heading for Fiji group
Just to advise that we think we have sorted the diesel problem. We managed to find a small hatch cover in the bottom of the lazarette that revealed the hose connections and inspection cover on the tank. Diesel was welling up around one of the bolts securing the inspection cover and by tightening this and the other bolts the leaking stopped.
So, we are hunkering down to try and get some sleep tonight and hope you all have a good night also.
Hugh and Annie
Vega
Another very cold night. In the bed we make up in the saloon for long passages I wear thermal long johns, tracksuit bottoms, vest and long sleeved top plus bed socks, curled up under two duvets. The wind and seas have eased so we're catching up on sleep.
Wednesday
An easier day, the smell of diesel is subsiding. Hakuna Matata and Mezzaluna are sailing within 10 miles of us. Sailing well in 10 to 15 knots of wind
Date: 30 May 2018 at 12:48 GMT+12
Subject: Heading for Fiji group
Hello all at sea and on land
We've had a much more restful night, with the winds and seas easing and the diesel leak sorted (fingers crossed) and are catching up on our sleep. We are heading for Minerva Reef but will decide as we get nearer whether to stop or to continue to Fiji.
Our noonday position is 32deg 07.2 S 177deg 08.3 E
Winds f3-4 SSE
Sea state – waves 1.5 m every 8 secs
SOG 4.5knots COG 35degT
Fish caught none
Attempts to catch fish none – must get the line out.
Hoping you are all well and happy out there
Annie and Hugh
Vega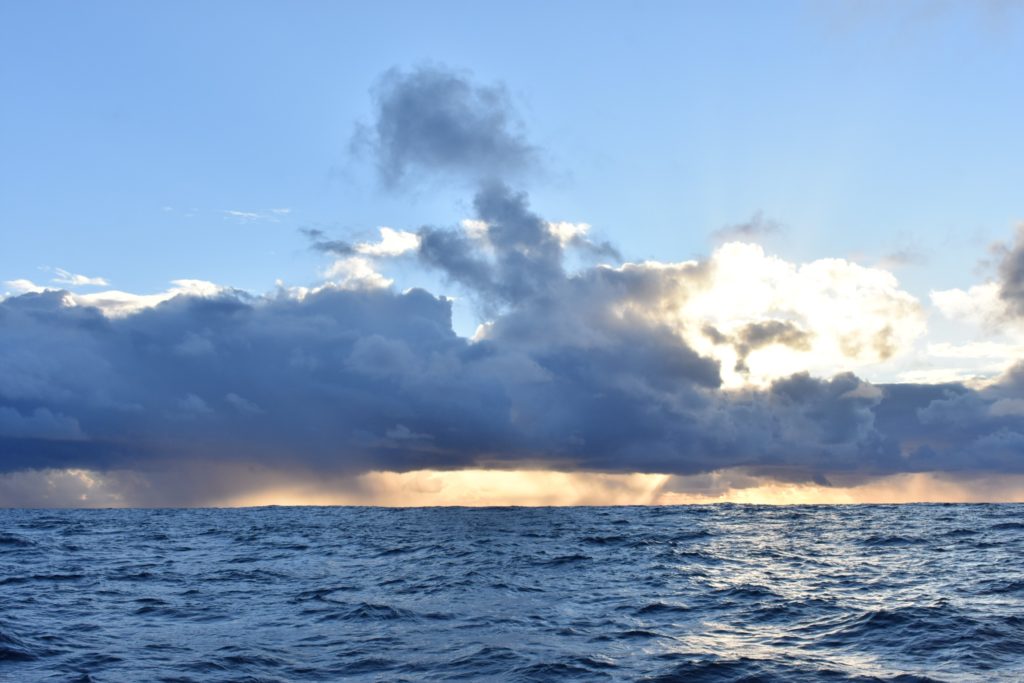 We catch up on sleep by napping in the day. At night we alternate three hour watches, three hours in bed, though Hugh will often let me have four hours… partly because I lack his gift of being asleep within 30 seconds of his head hitting the pillow, and partly because he is kind (or perhaps as I get so ratty when I am sleep deprived).
In the early hours a large cargo ship is heading towards us at 15 knots, but eventually passes on our starboard side a few miles away.
Thursday
Date: 31 May 2018 at 13:13 GMT+12
Subject: Heading for Fiji group
Hi all
We have had a great night of sailing, doing 5.5 to 6 knots with a reefed main and genoa in force 3 to 4 winds, until about 7am when we hit a squall, then the wind died. We've been motoring since then at 5.5 knots cog 40T. Still, it has allowed us to get on with boat stuff and relax a bit.
For those following on, it has got progressively warmer every night as we sail north after the first really cold night.
Noon position 30 30.9S 178 46.5E
Wind F1-2 SSW
Weather warm and sunny, clouds 1/8
Sea state – gentle 2m swell
Fish caught nil (line out for the last 2 hours so plenty of time before supper, but Rick, info re equipment and technique appreciated, although i understand you have enough for us all in your freezer?)
Love and successful fishing to you
Annie and Hugh
SY Vega
I don't think I'll ever be a proper sailor. Proper sailors long for strong winds to fill the sails and carry the boat forward swiftly towards their destination, plunging through the waves exhilaratingly. The trouble with strong winds is that they are almost invariably accompanied by high seas and when making a meal the difficulty is ensuring the dishes don't slide off the worktops.
For me a perfect day's passage means gentle winds and calm seas, I don't even mind motoring as I love the flat glassy sea that you can get even in the middle of a huge ocean (we motored across the Bay of Biscay in such conditions at the start of this adventure, almost three years ago). It allows me to get on with things or just to read peacefully. Meanwhile the proper sailors are moaning and fretting about when the winds will be back. As I write this we are motoring and have been all day, a beautiful warm, clear, sunny day. The seasickness has gone and I've been busy…cleaning, writing etc etc. No wind forecast for tomorrow either.
Today two albatross circled Vega then glided away on their expansive wings, just a few feet above the water. That night, motoring across a calm sea, the full moon shone through a gap in the clouds to brightly illuminate a patch of the sea. It was very peaceful and very beautiful. I feel very lucky to be having these experiences.
Friday
Date: 1 June 2018 at 12:41 GMT+12
Subject: Heading for Fiji group
Dear all
We have just crossed the international date line and by some extraordinary coincidence it was exactly at noon on Friday 1st June… only now it is Thursday 31st May again. Not for long though as we intend to turn right around and head back into Friday, toasting Neptune in both directions with a quick nip of Jamesons Irish Whiskey, with a drop for the sea lord too of course to keep our passage safe.
We crossed in the midst of a rainy squall, with Mezzaluna less than two miles away.
Yesterday and overnight we motored at 40 degrees 4.5 knots on smooth seas. The wind came up this morning and is now force 3 WNW but has been very squally and all over the place the last hour. Once it settles we hope to head NW.
noonday position 29 08.267S 179 59.999 E or W?
SOG not very much now
Wind can't make up its mind
Fish caught none
Happy sailing
Annie and Hugh
SY Vega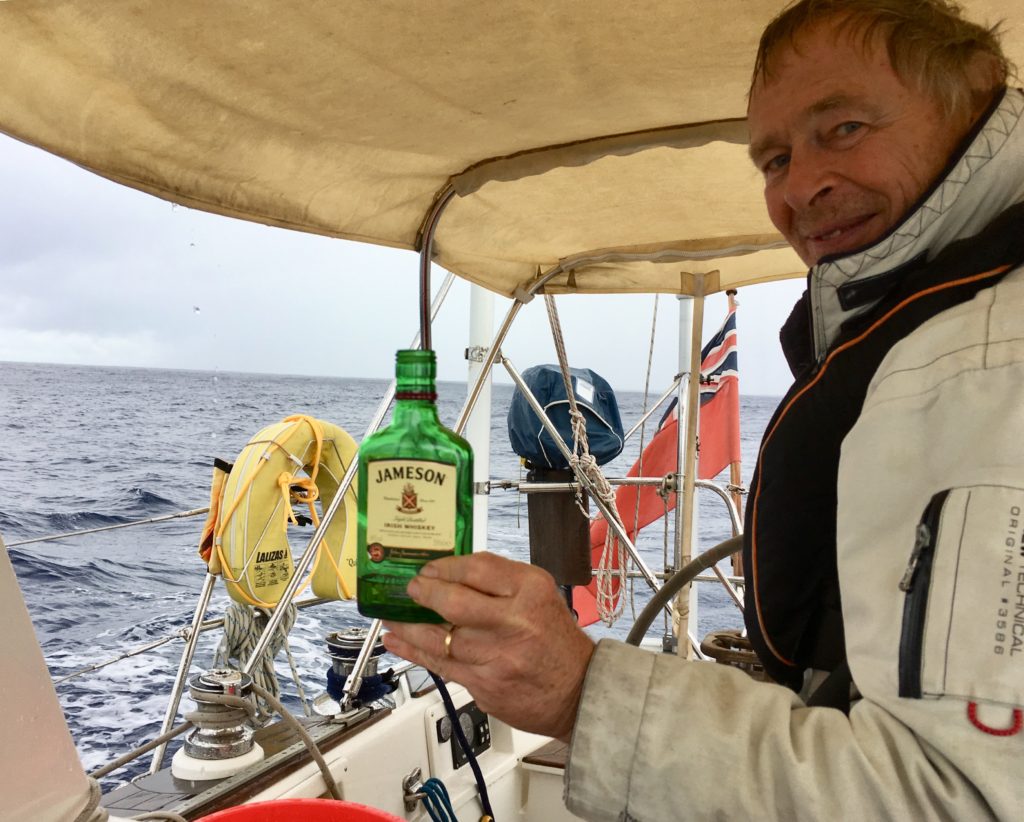 We are following a zigzag route to Fiji via Minerva Reef that has been planned around the forecast direction and strength of the wind. We use an app called Predict Wind, that you feed dates, start and end point of the route into and it generates possible sailing routes to follow based on four different models of forecasting. After a few days at sea we also emailed Met Bob (New Zealand weather forecasting guru) for advice on a suitable route .
As the afternoon wore on the wind gradually increased as forecast. Mezzaluna, the yacht behind us, decided to reef their mainsail and in doing so it shredded. Soon after, they reported a leak from the stern gland (the seal on the prop shaft to stop water coming into the boat) which they were pumping out intermittently, but which also meant that they were unable to use their motor. We said we'd slow down to stay with them. We'd already reduced our mainsail and genoa and were still doing over 7 knots, so decided to drop the mainsail completely to slow enough. On watch I tried to nap lying curled up on the floor of the the cockpit until a wave came over the side of Vega and drenched me.
After three hours in bed but unable to sleep, the wind had increased to 30knots and Vega was tearing along at 6 knots with just a tiny triangle of foresail. Every five seconds eight foot waves crested by white horses hit us from the side and rolled her sideways. The boat is noisy in these conditions, the wind whistling, rattling and knocking noises, but Vega is quite capable of handling these winds and seas, which are far from severe… less so the wimpy crew. The captain sleeps soundly off watch, regardless.
Saturday
Date: 2 June 2018 at 12:46 GMT+12
Subject: Heading for Fiji group
Good afternoon all
Well, not my idea of a fun night. Big winds and big seas as predicted and a very bouncy ride, but we've had lots of good company with Mezzaluna nearby all night and yachts Luna C and Lettin Go passing by. Pleased to see Hakuna Matata appear on AIS again this morning.
We dropped the mainsail in the evening to slow down for a more restful night as we were doing over 7 knots, running on reefed genoa alone overnight. This morning we had an exciting time raising the mainsail, with Hugh going forward to put in the third reef and raise the storm gib…. so if you spot a boat with a fluorescent orange foresail, that's us.
Miles to Minerva.. 234nm as the albatross flies
Noon position 27 27.7S 178 57.3E
Winds 20 to 25kts NNE, we've had gusts of up to 39knots
Sea rough
Cloud and rain
SOG 5.5kts
COG 310
Fishing? I don't think so.
Thinking with envy of Duplicat and SheSan at Minerva and Loupan celebrating there with a G&T
Happy sailing and looking forward to a more peaceful ride tomorrow
Annie and Hugh
SY Vega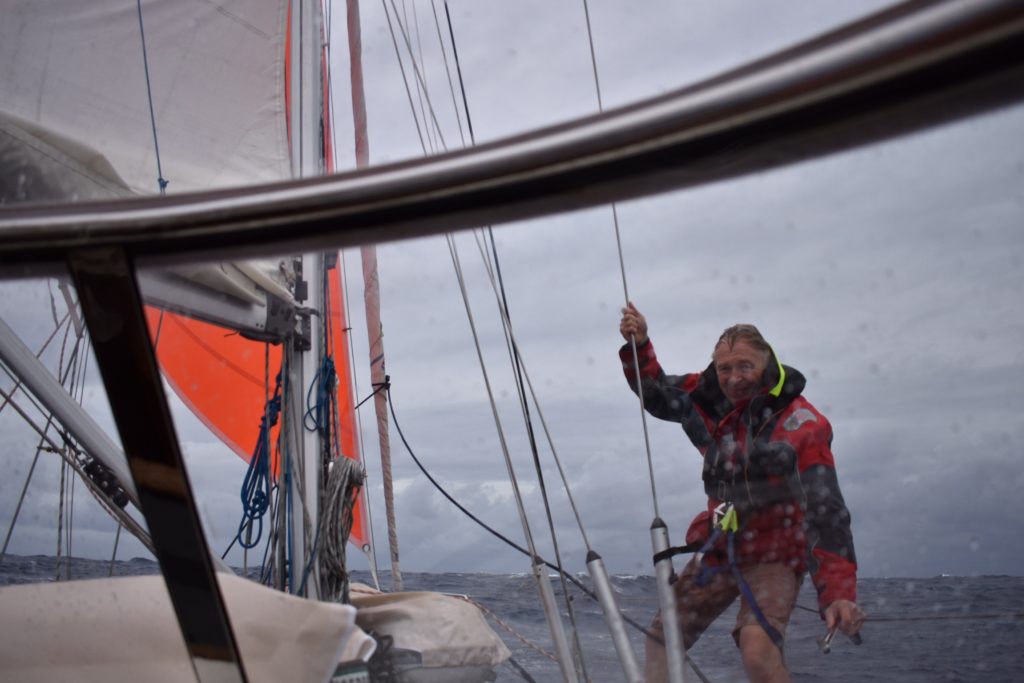 A vile day. Wind 20 to 25kts, sea and wind driving across the starboard beam, wind howling, heavy low grey sky raining, boat bobbing on top of evil looking sea, the occasional loud crash as an extra large wave hits side. Feel exhausted and at end of tether, but I know that tomorrow this strong weather is forecast to pass through.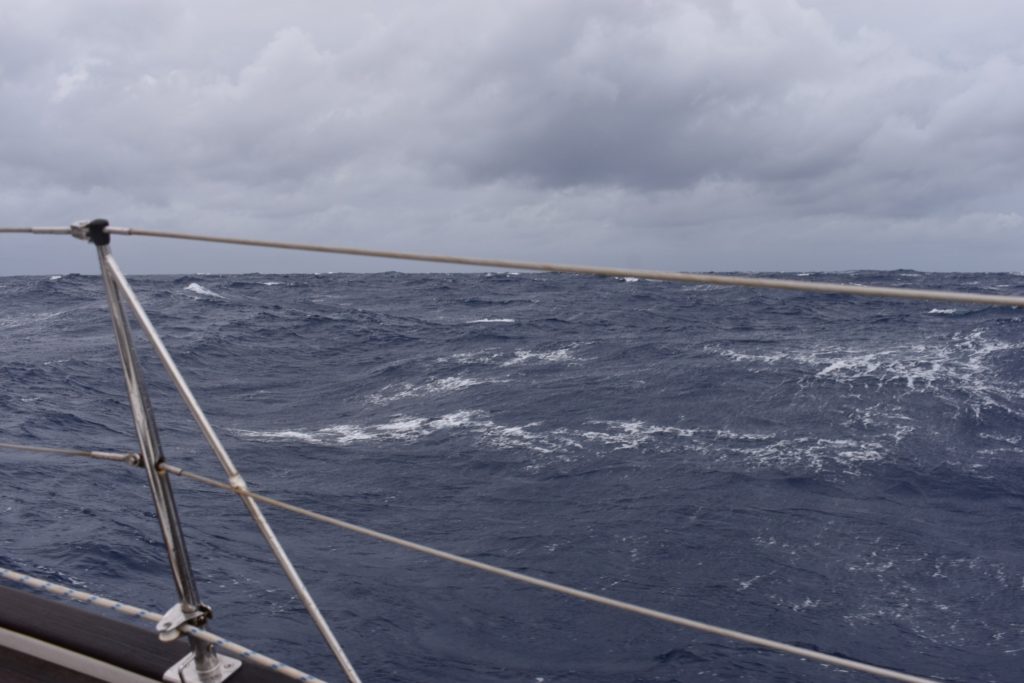 The next 24 hours took on a nightmarish quality. The winds and seas got stronger, we were hit by rain squalls. We discovered that the hatch above the bed where I had dumped all the spare bedding, saloon cushions and clothes had been leaking, pouring water onto them every time an especially large wave broke over the bow. Hugh fixed the leak – a line caught up in the hatch – and added some extra sealant and I mopped up the water with towels and made a heap of the sodden stuff. We heard from Hakuna Matata that their electronic navigation system including their plotter and AIS and auto helm had gone down, meaning they were having to steer by hand, exhausting at any time let alone these conditions. We slowed our speed to be able to keep in touch on VHF and in case they needed assistance.
On Vega we were both tired and feeling a bit seasick. Sleep deprivation is a part of any sea passage, especially if there are only two of you, but with difficult conditions, changeable winds, big seas, rain squalls, it is more likely that I will be asking Hugh's assistance and so disturbing his sleep too.
I had made a pasta sauce the previous night and boiled some pasta that evening, rather wary of the pan of boiling water as the boat lurched, despite the stove being on a gimble to keep it horizontal. Hugh finally ate supper at 11pm, although I felt too sick to eat.
Sunday
Now at last, as forecast, the wind dropped and Vega has taken on a cheery aspect with bedding and towels hanging off the railings, drying in the sun. The diesel smell is only occasionally in evidence although we have an ongoing leak in the loo. Despite dismantling it and a new pipe it is still a problem. Not nice but one we can deal with in Fiji.
Date: 3 June 2018 at 14:15 GMT+12
Subject: Heading for Fiji group
Hi all
A horrid night with strong winds again, big seas and rain squalls, under 3 reefs in MS and storm gib. Since this morning the wind eased and the sun is out, allowing me to dry all the bedding and clothes that got saturated due to a leaking hatch in our forecabin (now fixed). Otherwise all well on Vega and we are now motoring. We are considering whether to stop at Minerva, but we wouldn't get there until the early hours of Tuesday morning so will most probably aim direct for Fiji now.
Noon position 25 54.2S 178 16.5E
Winds 4 kts
SOG 5.5kts
COG 10deg
Sea state mod
Fish caught – none yet but when Vega is no longer festooned with drying sheets we'll get the lines out.
We understand that Mezzaluna is going direct to Fiji now? What about Hakuna Matata? Glad that SheSan and Loupan have been celebrating in Minerva and interested to hear about Minerva South from Duplicat. Osprey a day ahead of us en route to Fiji. Look forward to all your news.
Happy sailing
Annie and Hugh
SY Vega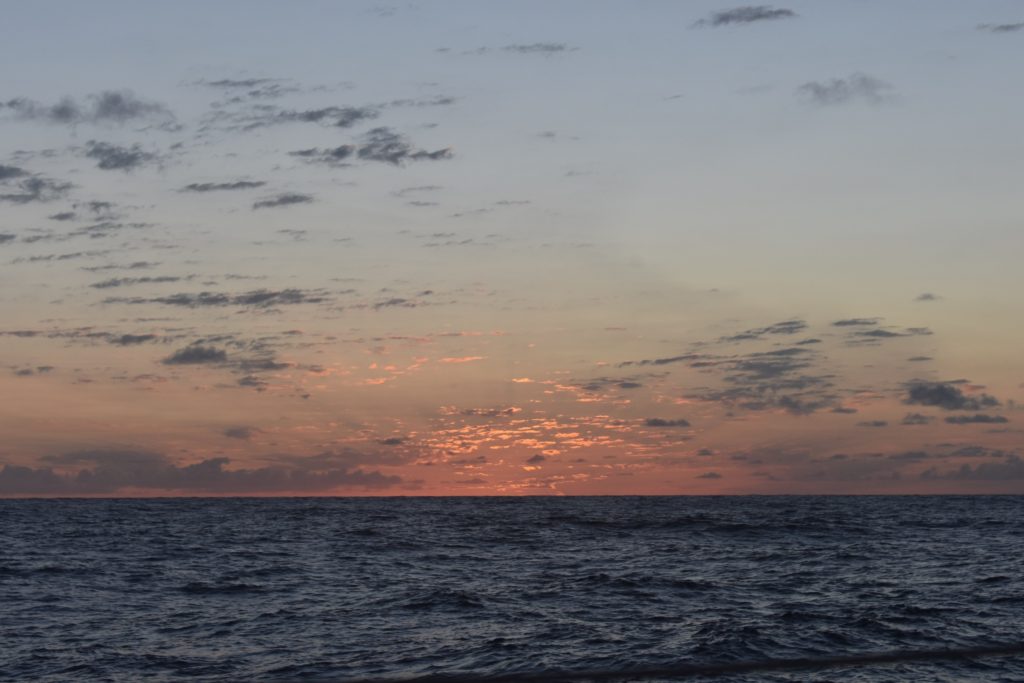 Monday
Date: 4 June 2018 at 13:06 GMT+12
Subject: Heading for Fiji group
Hello sailors
What a difference a day makes! We have had a glorious 24 hours of initially motor sailing, then overnight the winds have gradually come up allowing us to sail. A beautiful sunny morning it is now clouding over. We are romping along with full MS and genoa but anticipating a couple of days motoring along the way.
Noon position 24 08.4S 178 48.4E
SOG 5-6kts
COG 350T
Sea state slightly choppy
Cloud 6/8
Fishing line out with attractive new blue/silver lure but no takers yet. Hoping for mahi mahi for supper but happy with tuna or most anything fish-like.
Heading straight for Savusavu now, 440nm to go. Should arrive Friday morning.
Hakuna Matata 7nm away
Hope you get your leaking shaft seal fixed soon Mezzaluna and safe passage to Fiji.
Happy sailing and fair winds
Annie and Hugh
SY Vega
Jeff and Katie on Mezzaluna decide to divert west to Vuda marina on the main Fijian island of Vitu Levu where there are haul-out facilities. Their engine is completely out of operation and they will have to rely on sail-power alone. ( They eventually got there four days after we arrived in Fiji. For the last 16 hours of their passage, completely becalmed, they lashed their dinghy to the side of the yacht and used the outboard motor on the dinghy to propel them to land).
We are motoring now and life on board returns to enjoyable. We are looking at heading straight to Fiji as the winds over the next five days look reasonable……It has got warmer day by day with layers being gradually discarded so I am now enjoying the afternoon sun in t-shirt and shorts.
The nights are getting warmer as is the sea temperature. After the sun sets the night is black with cloud cover obscuring the stars. There is phosphorescence, like tiny stars streaming away in the bow wave. At last, around 2300hrs the waning gibbous moon appears to relieve the dense blackness.
Tuesday
Date: 5 June 2018 at 13:56 GMT+12
Subject: Heading for Fiji group
Afternoon all
Despite the miserable weather there are smiles on Vega as we now have mahi mahi for supper (and possibly lunch too) for the next few days. A beautiful 1.05meter fish caught this morning on our handline (sorry, lovely fish).
We motorsailed all night steadily north over a glassy sea in the moonlight. It has been raining on & off for the last 2 to 3 hours. Hakuna Matata are sailing parallel within 3 miles so nice to have the company. We passed very near to Shesan's 6.49am position a few hours ago, so are approximately 4 hours behind you and 6 hours behind Rick.
Noonday position 22 13.1S 179 00.9E
Wind 7 kts SE
SOG 5.8 kts
COG 00deg
Savusavu now 330nm away so Friday morning arrival, all being well.
Now hoping for sunshine and a little bit of wind.
Annie and Hugh
SY Vega
After several days of trailing a line with a lure behind the boat with no success, we finally hooked a beautiful 1.05m Mahi Mahi. I still find it incredibly distressing killing the poor creatures and it seemed to spasm for 5 minutes. Apparently there are YouTube videos on how to dispatch fish quickly…… anyway, we enjoyed the offcuts fried with scrambled egg for lunch and have marinated the rest in lime juice, olive oil and ginger. For supper Hugh did fish in coconut milk with leeks and peppers… delicious (even more so as he'd been promising me lentil stew). There is enough fish in the fridge for two more suppers, so no lentils.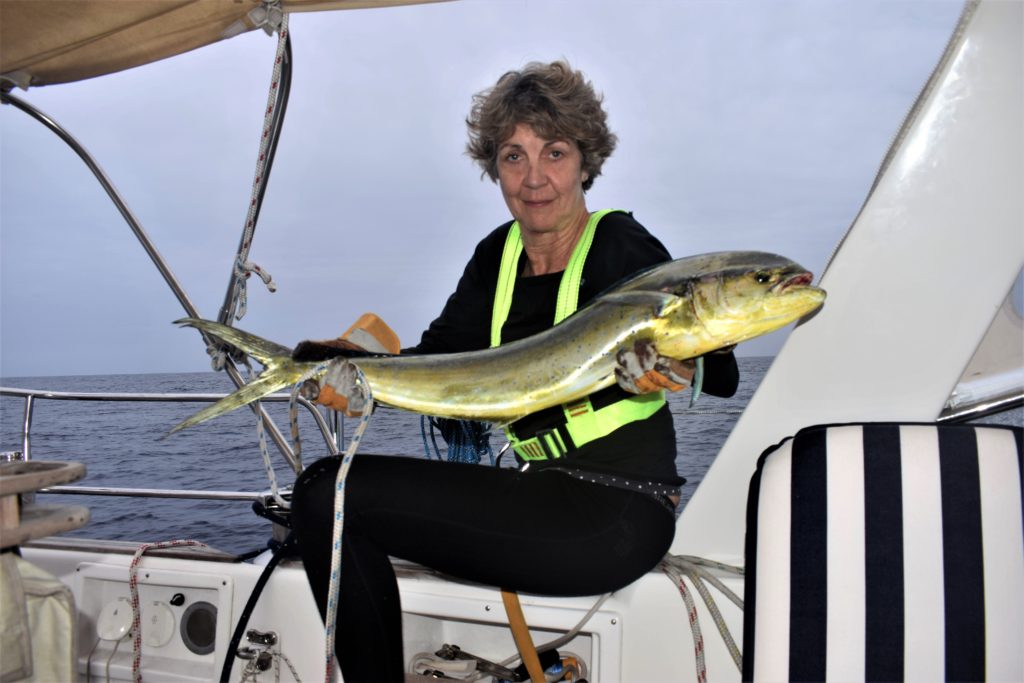 In the afternoon we had absolutely torrential rain when visibility was reduced to not very much at all and Hugh was giving the teak in the cockpit a much needed scrub after accumulating filth in the boatyard. We devised a simple but effective way of collecting rainwater (not for drinking) from the awning which involves a bucket, a short length of line and a clothes peg.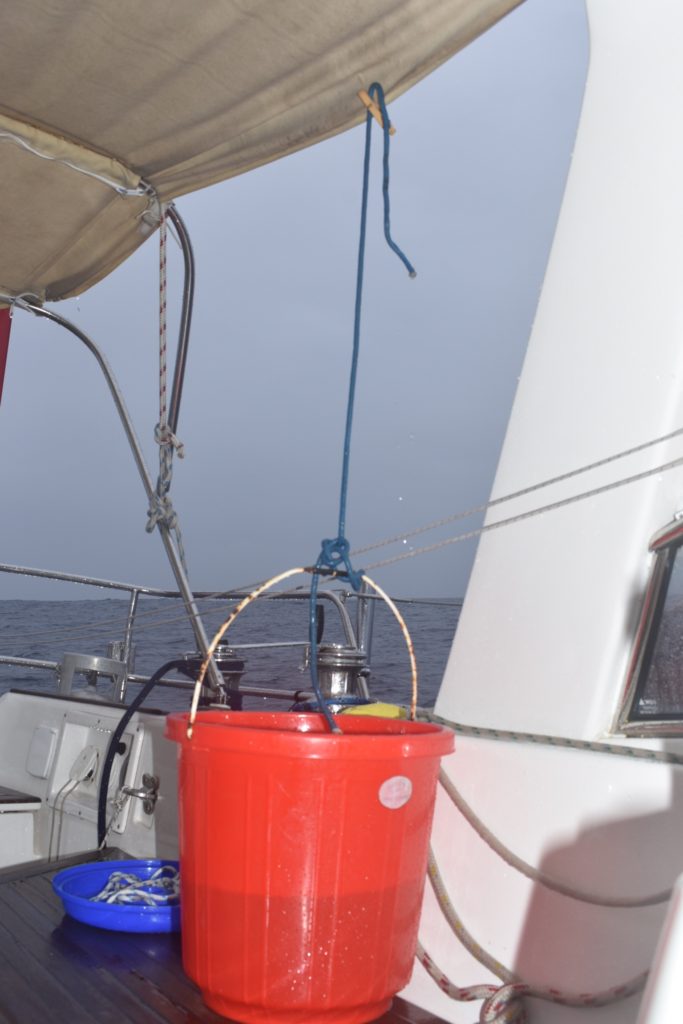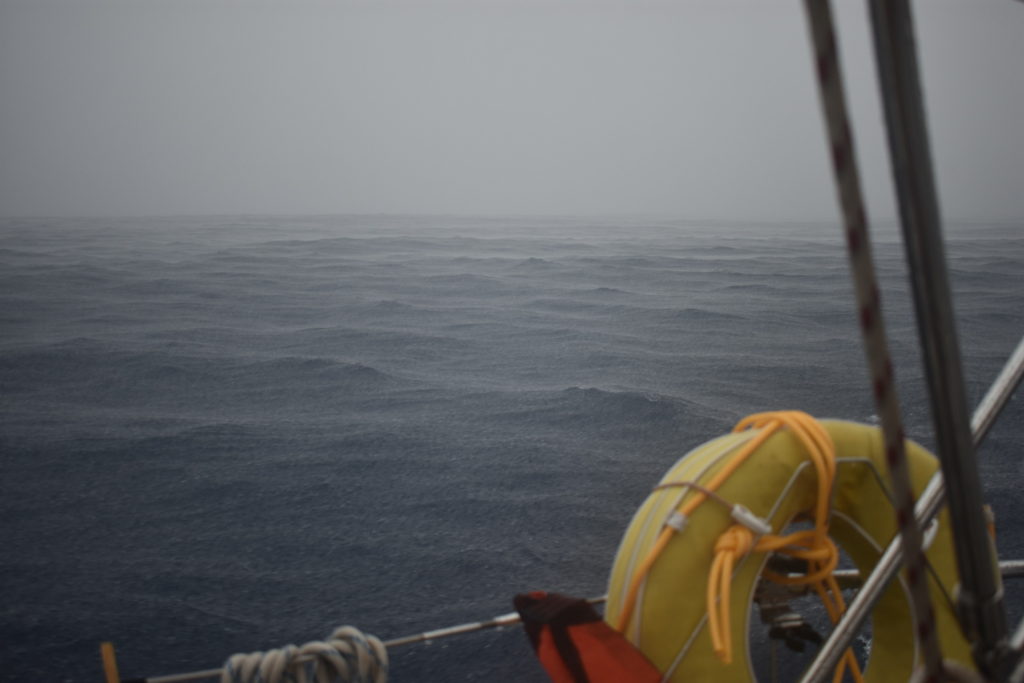 Wednesday
A beautiful, sunny day motoring. I enjoyed a wash and hair wash on deck in the sunshine using the rainwater we'd collected in buckets which was just wonderful.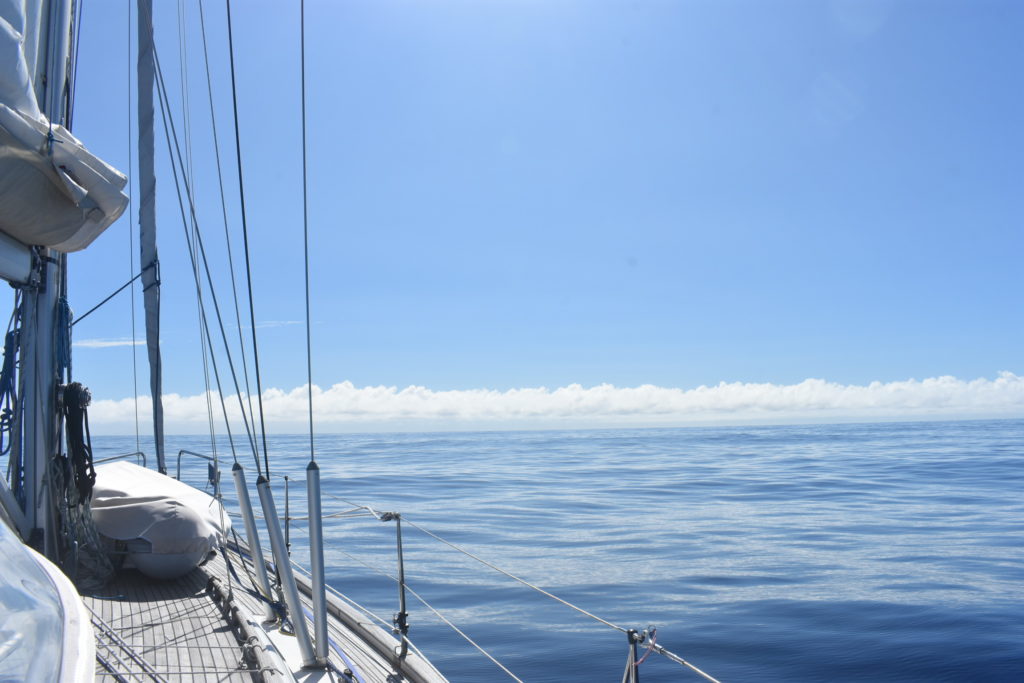 Date: 6 June 2018 at 13:02 GMT+12
Subject: Heading for Fiji group
Greetings to all on this gloriously warm, sunny day.
After an afternoon yesterday of absolutely torrential rain at times which continued on and off in the evening with lightening flashes on the horizon, it finally eased after midnight and the moon appeared from behind the clouds. The teak got a good cleaning though and we collected buckets of rainwater. Between the heavy downpours we had some great sailing but today are motoring.
Hakuna Matata are closing in fast, just over a mile away. In the flat, calm conditions we will soon be near enough for some mutual photography, we hope.
Noonday position 20 08.8S 179 21.2E
SOG 5kts
COG 10T
Wind 3-4 kts SSW
Sea state smooth
Fishing – none. Still enough Mahi Mahi marinating in the fridge for two suppers. Plenty of veg and eggs to use up (are eggs ok to bring into Fiji?)
Alcohol on board, well within permitted allowance, honest.
Anticipating a bit more wind overnight. 210nm to Savusavu. Some serious celebrating soon i hope.
Annie and Hugh
Vega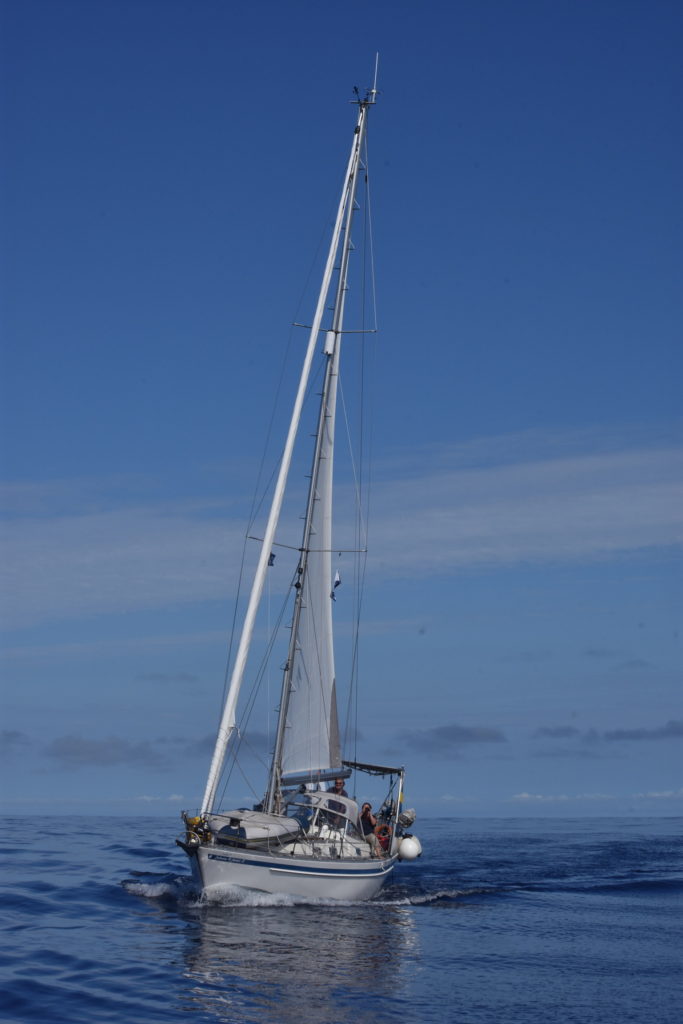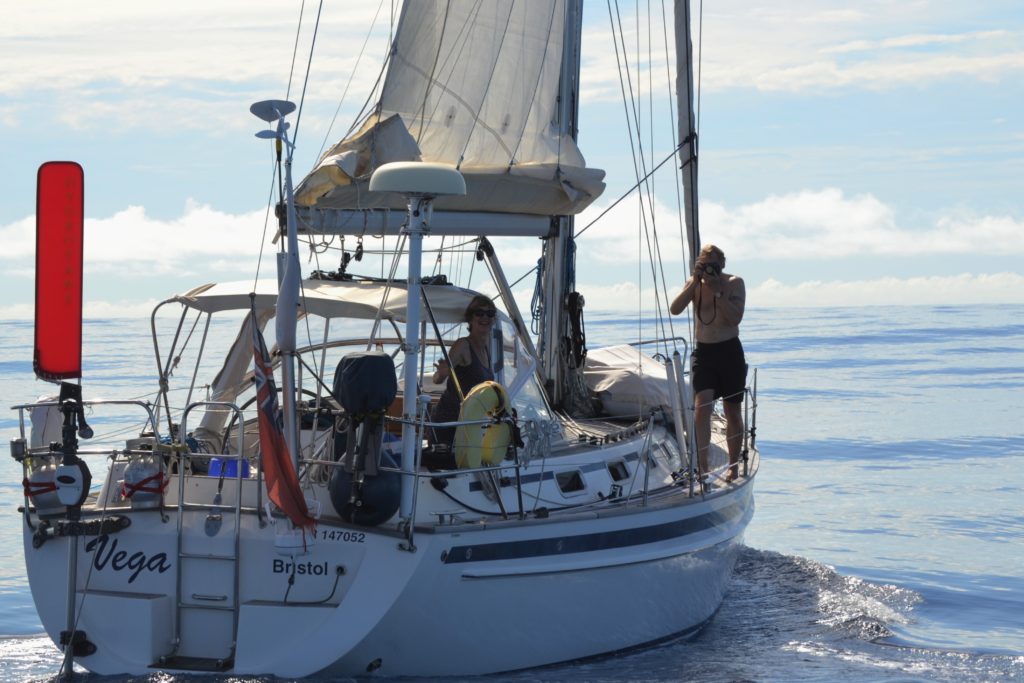 That evening we sat at the bow with a drink (non alcoholic of course, this being a dry boat on passage) watching a just glorious sunset with the clouds turning a fiery red.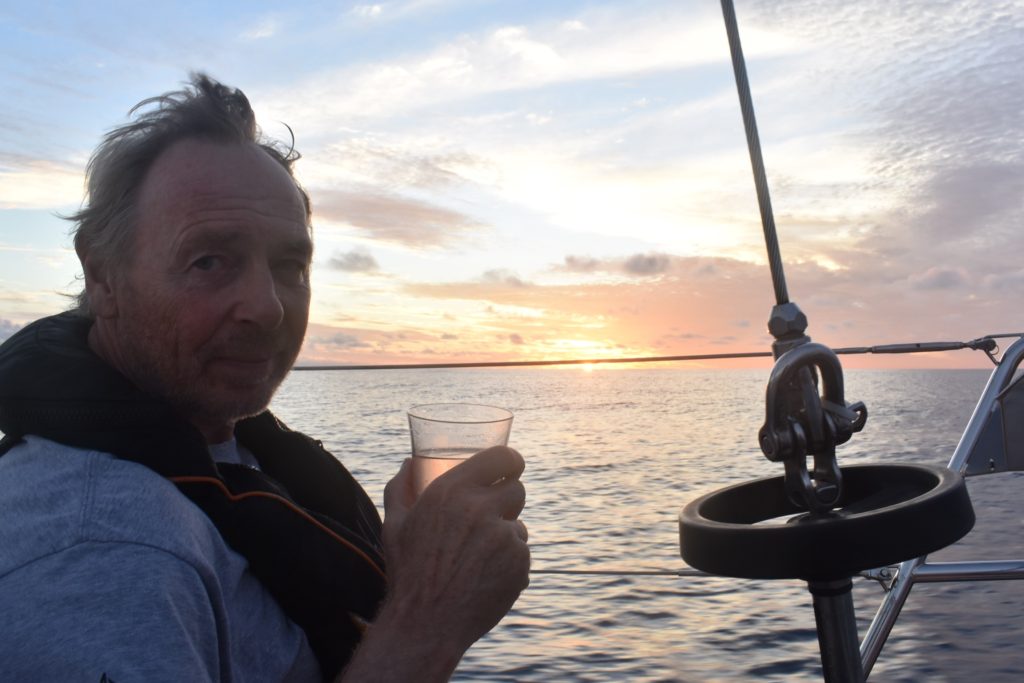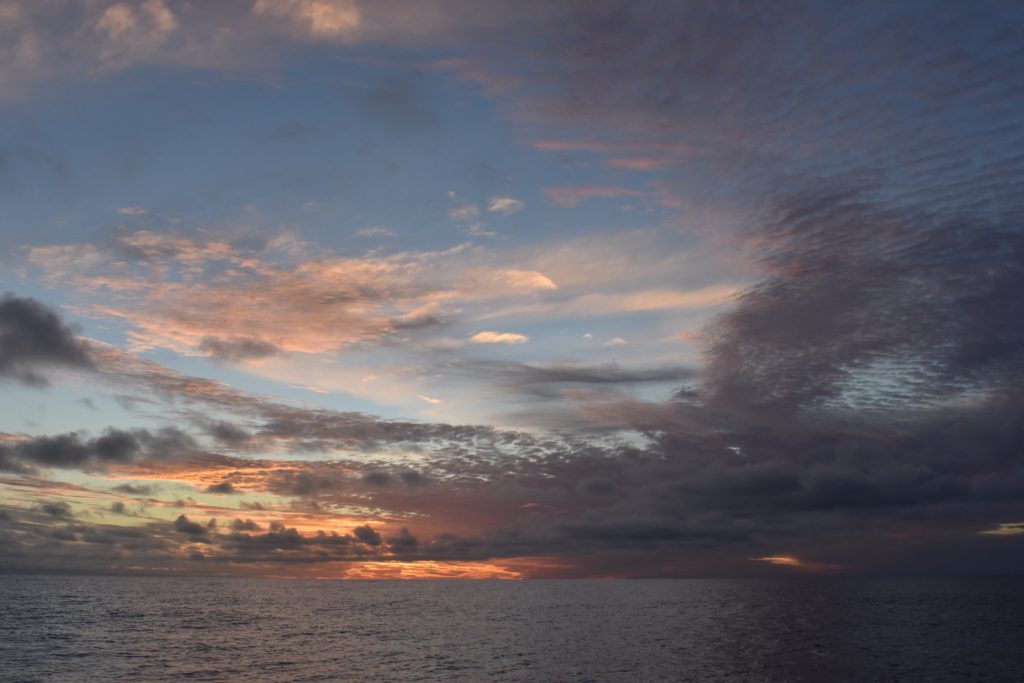 We had more Mahi mahi for supper and overnight I made bread, wrote emails and read. A dark night, the moon hidden behind dense cloud.
Thursday
In the morning we are heading due north, passing between some of the smaller islands of Fiji: Toyota and Moala on starboard, Gau and Nairai to port, through the Koro Sea. Feeling bright and cheerful knowing we will be arriving tomorrow in Fiji.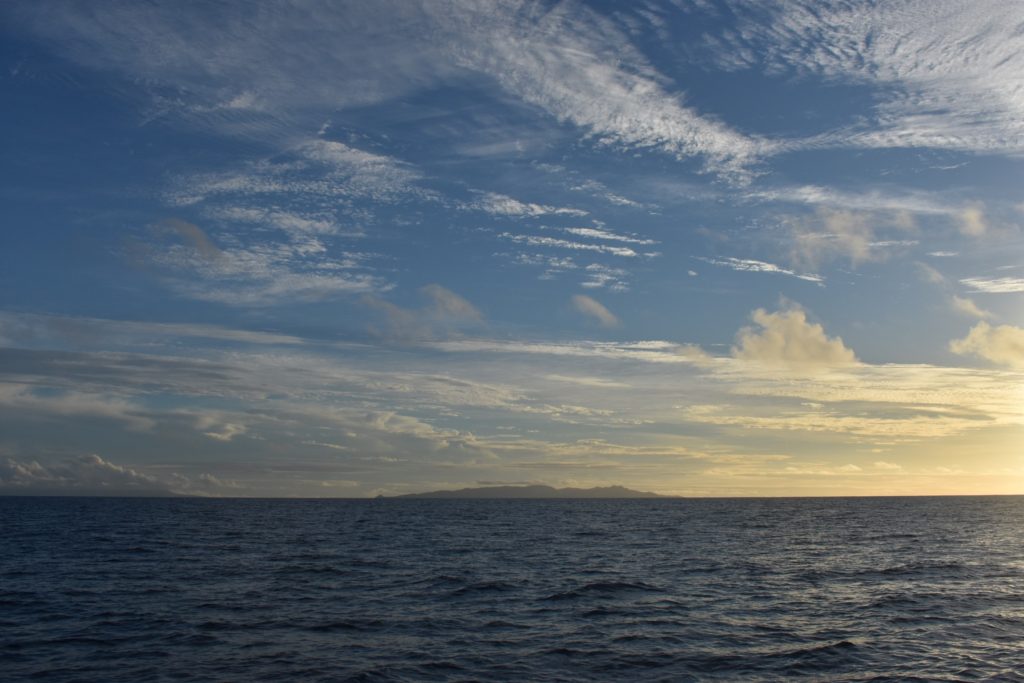 Date: 7 June 2018 at 13:54GMT+12
Subject: Heading for Fiji group
Almost there!
As I write we are having a lovely, gentle sail towards Savusavu doing 3 knots in 7-8 knots of wind. About 80nm to go. We were motorsailing since yesterday and overnight, until the wind came up mid morning and we have had a glorious sail for the last three hours. The wind has only just died and I'm hoping it will pick up otherwise we'll have to put the engine back on to make sure of that early morning arrival in Savusavu. Hakuna Matata are 1nm away but yesterday we approached close by to say hello and take photos of each other.
Noonday position 18 07.3s 179 35e
SOG 4.8kts'
COG 6T
Wind 8-10kts E
Sea slight
Sunny and warm
Looking forward to getting together tomorrow with those of you in Savusavu and before too long with those of you still in NZ or elsewhere. Safe sailing and fair winds to all, especially to Mezzaluna en route to Vuda.
Annie and Hugh
SY Vega
From: metbob
Date: 07 June 2018 at 20:33 GMT+12
To: Vega – Hugh
Subject: RE: Vega
Hi there Hugh and Annie
Fingers crossed, a nice S to SE wind of 10 to 15 knots fills in for you overnight.
Regards from bob
….'It is 9pm we are motor sailing along on a calm sea in a very dark night only 50nm from our destination of Savusavu in Fiji and we can see the lights of three other yachts all heading in the same direction'……
…..and then at 22:00hrs, with little warning, and not predicted by any of our weather forecasts, or by MetBob, the wind hit. From motor sailing in 8 knots of wind with a reefed mainsail the wind came up within a few minutes to 25 knots and rising, the seas started to boil and the rain whipped across the boat. I called Hugh who was asleep and he came up on deck, struggling into his life jacket. I took the helm and turned the boat into the wind whilst Hugh got the mainsail down, then we managed to turn back onto our more northerly course. I went down below to dry off and to put on warm clothes and waterproofs, and survey the chaos; windows and a hatch had been left open allowing the rain in, pans and a toaster had been flung across the galley, everything was in disarray. We spent the next six hours struggling with big seas, winds of 35+knots gusting over 43knots and heavy rain, concerned to keep away from the other six boats who were also dealing with these unexpected conditions and also the wind from the south carrying us towards the main island of Vanuatu Levu to our north, some 15 miles away, a potential lee shore – the biggest fear of every mariner. What if our engine failed? What if we got wrecked or one of the other boats perished? I asked Hugh if we were in real danger. He said, no, we were fine. I decided to believe him.
Friday
Date: 8 June 2018 at 13:02 GMT+12
Subject: Heading for Fiji group
Just in case you haven't heard we arrived this morning in Savusavu at about 10am, limping in with Hakuna Matata after the other 5 boats with whom we shared a horrendous night.
All was going very well yesterday. A glorious sunny day of mixed sailing and motoring, we were settling in for our last night with maybe 10-15 knots of wind if we were lucky and some showers if unlucky, as predicted by Bob. Hugh had gone to bed when I cast a glance at the radar. What was that bright yellow patch 6 miles away? Surely not the island 12 miles away? Maybe a huge squall….. when over a few minutes the wind increased from 8 to 25 knots and veered to the south, behind us. Hugh came up and we managed to get the reefed MS down rather untidily as I struggled with the wheel as the wind increased into the 30s and the skies opened….
As the hours passed and the wind gusted up to 43 knots with drenching rain and huge waves, we realised that this was more than a passing squall and were concerned at our speed under bare poles towards a potential lee shore, not wanting to enter the pass at night. We managed to heave to by turning the wheel hard into the wind and lashing the wheel. In this way the wind came over the beam and we drifted sideways at 2 knots until the early hours when the wind and seas slowly eased and we ran downwind towards Savusavu. We arrived at the pass through the reef into Savusavu Bay an hour or so after dawn, no sleep all night.
Similar stories from Duplicat, Loupan and SheSan and glad we all survived!
Out for a well deserved meal and drink tonight.
Annie & Hugh
Vega
The wind had dropped to a few knots by the time we entered the creek by the town of Savusavu and tied up at the Copra Shed Marina, Hakuna Matata arriving within minutes next to us.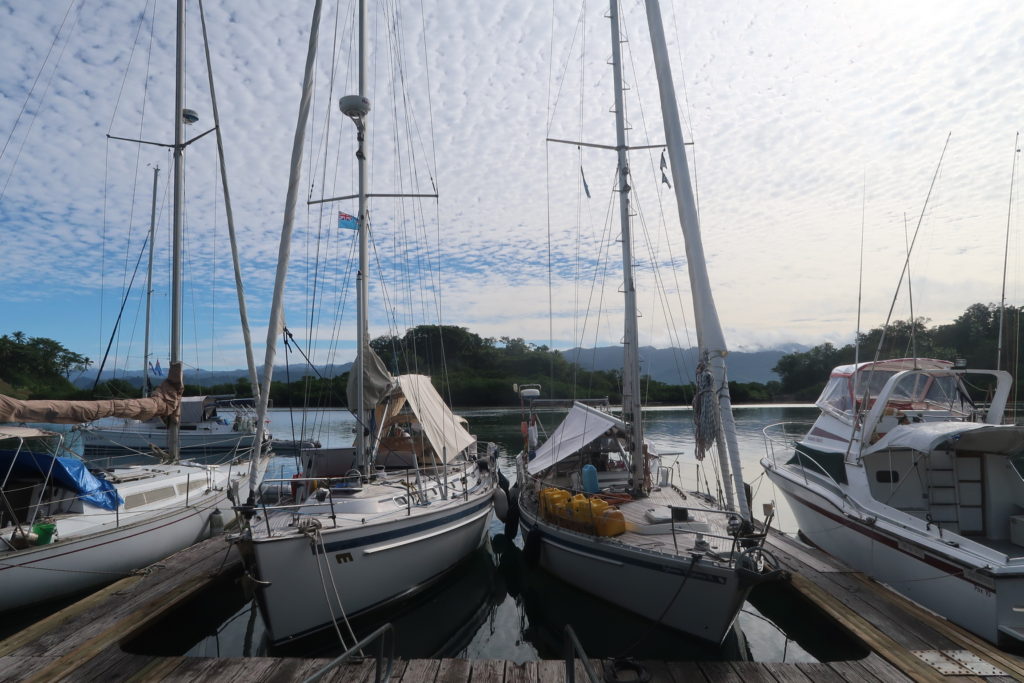 We tidied up the chaos above and below deck and prepared for the arrival of Biosecurity, Customs and Immigration. Eventually they arrived, friendly, smiling and in a hurry. We were expecting to have our remaining fruit, vegetables and honey confiscated and our alcohol on board scrutinised to ensure we weren't importing more than the allowed limits, but we were the seventh boat they'd checked in that morning and they were in too much of a rush to be bothered. They helped us fill in the necessary forms and stamp our passports before hurrying off to their next meeting.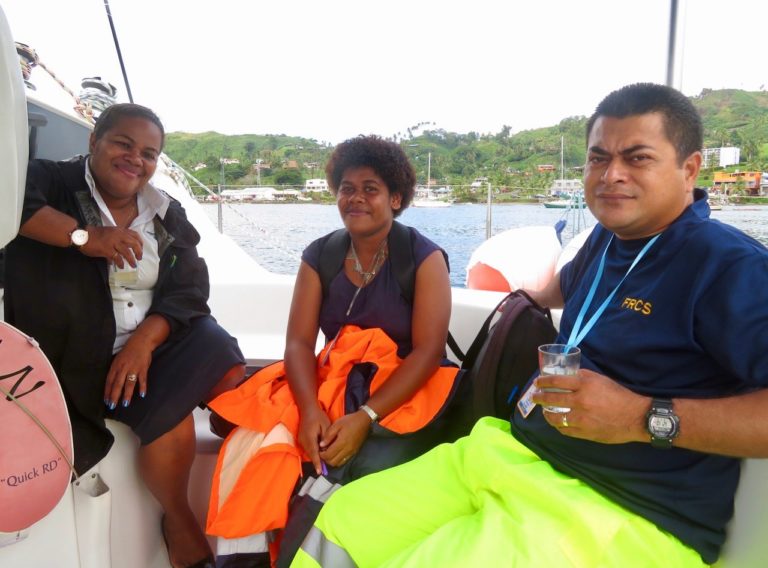 We were having a beer in the bar when Jona, from Health and Quarantine, finally arrived. He was crestfallen to discovered we had already taken our yellow Q (for Quarantine) flag down. We returned with him to Vega to ensure he was satisfied that there was noone on board with an infectious disease and to give us a talk on avoidance of Dengue Fever and Meningococcal Disease, both recent problems in Fiji.
That night we headed out for a meal with friends from Duplicat, Loupan, Hakuna Matata and Osprey to celebrate our arrival… and survival.
Appendix – Meals on passage.
We have had several people (ok, two actually) asking what we eat on passage. So this is for you, Carol and Jerry:
Breakfast each day is usually cereal (with UHT milk) or maybe toast if we have bread, or I have made some. We have been known to have pancakes.
During the day fresh fruit.
Lunch                                             Supper
Monday              In cafe before leaving           Chicken casserole with lentils added
Tuesday             Too rough to bother              Chicken casserole
Wednesday       Cereal and toast                     Casserole with olives, sun dried tomatoes and sweet corn
Thursday           Cheese & tomato omelette   Pasta with salmon, cream and veg
Friday                 Cheese sandwich                    Pasta with smoked salmon
Saturday             Avocado & hard boiled egg  Pasta & tomato, pepper, chorizo sauce
Sunday                Avocado & cheese wraps      Pasta & aubergine, sun dried tomato & chorizo sauce
Monday               Left over pasta                        Avocado starter and risotto main
Tuesday               Scrambled egg & fried fish   Mahi mahi in coconut milk with leak & peppers
Wednesday         Frittata                                      Mahi mahi marinated in lime & ginger, in coconut milk
Thursday             Potato and egg salad              Fried mahi mahi with mashed potato & sweet potato