Sunday 29th April to Sunday 27th May 2018
Having returned from Sydney to the Bay of Islands marina, we imagined that it would take just a week or two to get ready for the 1200 mile voyage north to Fiji.
The marina is rather isolated here in Opua, being a 15 minute drive from the nearest town, Paihia. There is the marina office, laundrette, cruisers lounge and showers, a café (open daytime only), two chandlers and a number of workshops with marine engineers, riggers, electricians, plumbers, sailmakers etc. There is also the Opua Cruising Club with bar and food in the evenings, run by local sailors but welcoming to cruisers. Opua is just a small settlement and, although there's a small shop at the marina, for a decent supermarket you have to go to touristy Paihia, on the Bay of Islands, or to Kerikeri, about 30km further away. Customs and Immigration have an office here and it is where most yachts arriving from Tonga and Fiji will stop first, though many then carry on to Whangarei or Auckland, further south.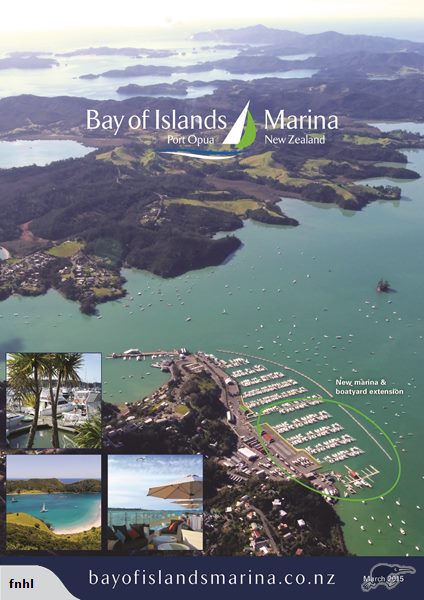 One of our first jobs was to provision for the trip and for the months ahead on islands where shopping could be limited. Friends on catamaran Jadean kindly lent us their car and we filled a couple of trolleys with non-perishables in the big Countdown supermarket in Kerikeri. Then I had to sort and store the tins and cartons in the big locker under our bed in the front cabin, keeping a note of where everything was hidden (using the iStorage app, for you organisational freaks out there, with which we can locate exactly what is where in every locker, lazarette and cupboard on Vega… really).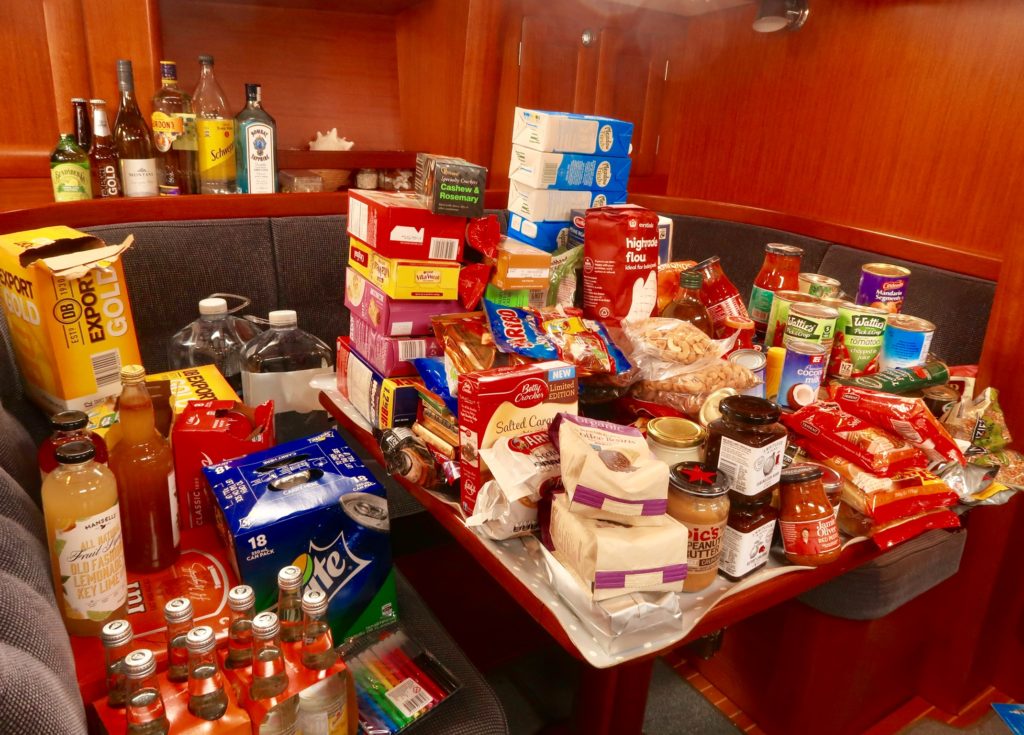 There was lots of work still to do. A voyage half way round the world is quite a strain on a boat and our ropes had been checked and replaced where necessary – we had a new furling line and sheets for the genoa, the front sail. The sails had been taken off for inspection and repair by the sailmakers whilst Vega was out of the water and on one windless day we got them back on to her. There was a mechanic fixing the fuel injectors, the rigger repairing the forestay, an electrician installing an inverter and sorting the VHF cockpit handset and radio aerial, engineers straightening bent anchor flukes, a new sprayhood made and fitted by the canvas makers. Also a new furling system made for our cruising chute by the riggers and new copper coat painted on her hull. A knocking noise on the prop shaft when motoring meant two more lift outs to identify the problem and a replacement part ordered from the USA. On reading the manual we found out that we should have been replacing the perished plastic bearing on the rope cutter annually ( we have several bulky files of manuals, largely unread).
We try to do what we can ourselves. Hugh fixed folding wheels onto our dinghy to make it easier to haul up beaches, reattached the now straightened anchor, put new depth markers on the anchor chain, fitted a new cockpit radio and a new lifebuoy, serviced the wind vane, sorted out the lockers as well as a multitude of other jobs. I washed mildewed curtains and cushions, sewed replacements for the bathroom curtains and shower curtain using my mother's 70 year old Singer sewing machine and fitted an extra fire extinguisher, a towel rail and various useful clips around the boat.
Marine toilets and their plumbing tend to become encrusted thickly with calcium deposits (something to do with the interaction of salt water and urine), narrowing the outlet pipes which with time can become totally blocked… not much fun, particularly if it happens at sea, usually in bad weather when you've just used the loo. We'd had the main outlet pipe replaced by the electrician (who for some reason also does plumbing) but then the pump system on the loo started leaking. As maintainer of the bog (I get the best jobs) I took the pump apart, soaked the parts overnight in vinegar to dissolve thick calcium scale and replaced worn rubber valves, flanges, seals and O rings. It was still leaking. Hugh replaced the seawater inlet pipe. It is still leaking.
Our outboard engine for the dinghy was a 4 stroke 6HP Mercury. Very heavy and very slow. We were tired of chugging along behind friends with their more powerful outboards watching them disappear over the horizon and Hugh had his eye on a Tohatsu 9.8HP 2 stroke… more powerful than our old one, no heavier and simpler to maintain. 2 strokes are no longer sold in Europe and much of the world as they are more harmful to the environment, burning off all that excess oil, but were still available in New Zealand. I put our old outboard up for sail on TradeMe, the NZ equivalent of Ebay and within 24 hours we had sold it and were in the market for a new 2 stroke engine (feeling only a little guilty… we promise to do lots of good things for the environment to compensate and get an electric car when we need a new one).
We had the discussion again as to whether or not to get a small, portable freezer. It would be good to be able to prepare and freeze meals in advance of a long passage and to freeze fish if we caught it. On the downside there is nowhere obvious to keep a freezer on Vega, it would have to be wired into the 12volt system and they use a lot of power… we would have to run the engine for an hour or two each day to maintain a freezer.. noisy and using up diesel. Again we decide not to buy one.
We did decide, however, to buy our own scuba diving equipment as the diving in Fiji is supposed to be amazing. I ordered it to be sent from a dive shop in Auckland and it arrived within days. We also bought a paddle board and updated our fishing equipment with a new rod and reel, so there will be lots of toys on board for us and visitors to play with and hopefully fresh fish for supper.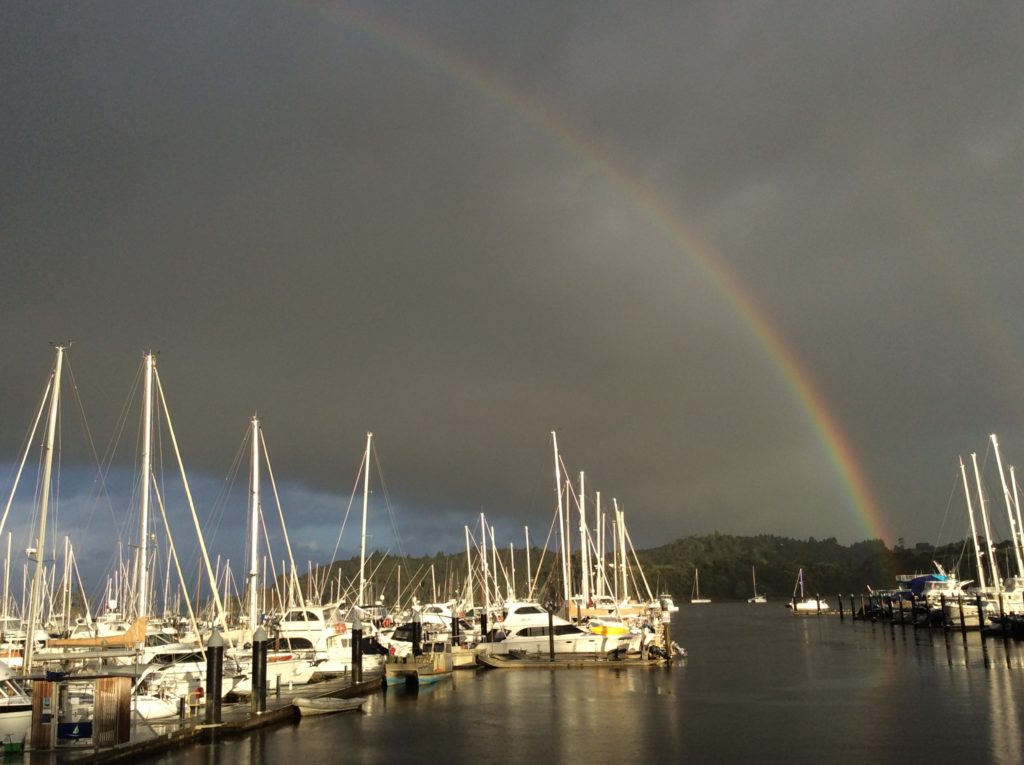 Life at the marina settled into a routine. Shower, check emails, get on with some job around the boat. There were lots of cruisers around in the marina also getting ready to head off north to Fiji, Tonga, Vanuatu or New Caledonia and lots of socialising going on, usually on someone's boat with drinks at 6pm. Most evenings supper on Vega, an episode of The Crown or some series on the laptop, bed by 9.30pm or earlier. We knew quite a few of the other cruisers having met them along the way in the Caribbean, Panama, Tahiti etc, and had made friends through shared experiences and sundowners on some Pacific Island. Friends Ian and Steph drove up from Whangarei, where Nautilus was having work done, for Ian's 60th birthday and we went out with them and the crews of Jadean and Duplicat to celebrate. We enjoyed sociable evenings with our next door neighbours in the marina. On one side lived Graham and Carol on their boat 'Black Coffee', two GPs originally from the U.K. who have bought an organic mandarin orchard in Kerikeri where they plan to build a house. They jobshare in a health centre caring for largely Maori people. On the other side is At, a retired South African merchant navy officer in his 80s, who is renovating his boat 'Anna'. He lives on board with his ginger cat Kitty, who he assures me doesn't need a cat litter tray as it balances on top of the toilet to do its business. I am sceptical. He shows me YouTube footage as proof.
Every morning on VHF channel 77 at 8am is the Opua Cruiser's Net. We listen in avidly to morning greetings from boats in the marina plus weather and tide forecasts, Treasures of the Bilge (selling or giving away unwanted gear), lifts to Paihia etc. There are all nationalities and ages around the marina, including families with children. The boat kids appear to have a great time, a lot of freedom and they make friends quickly. A group of older boys have taken over the 'quiet room' in the Cruisers Lounge and behind the closed door are free to noisily play computer games all day long.
There are talks and meetings organised in the marina. One is on the Pacific Islands we will be visiting, another on fishing – we all hope to catch tuna or mahi mahi on passage. One evening a young Australian woman, Lisa Blare, gives a talk on her solo circumnavigation of Antarctica which included sailing through storms, avoiding icebergs, getting repeatedly soaked and hypothermic, the boat getting knocked right over, demasted etc. At one point, totally exhausted and desperate, she felt ready to give up and rang her mum. Instead of saying, 'it's ok darling, you've done really well' like any normal mother would, she encouraged her daughter to continue. It sounded like my worst nightmare but here was this chirpy young woman thirsting for her next 'adventure'.
Despite good intentions to stay fit after all our hiking, we never quite made it out for those regular runs. We did walk along the coastal path to Paihia and on the Waitangi Treaty Grounds, a three hour walk around several pretty bays, up through forest and along a boardwalk crossing a marshy inlet. The Waitangi Treaty Grounds are where, in 1840, the Waitangi Treaty was signed by representatives of Queen Victoria and Māori Chiefs. It is an important historical document in terms of the establishment of New Zealand as a colony of Britain and was intended to give the Māori the rights of British subjects and protection of their lands, however subsequent to this they lost ownership of much of their land in unfair land deals or outright seizure. There was a fascinating museum we could have spent longer in learning about the history of this country as well as a tour around the grounds. Most fun was a performance of Māori music and dance with much protruding of tongues. Very high energy and the dancers looked like they were really enjoying themselves.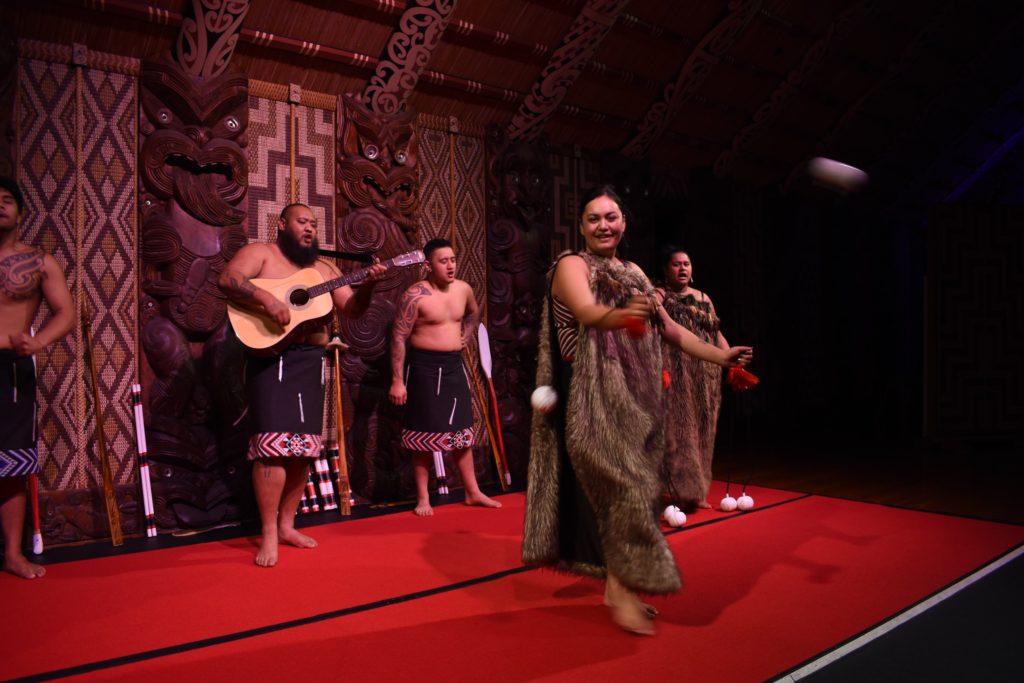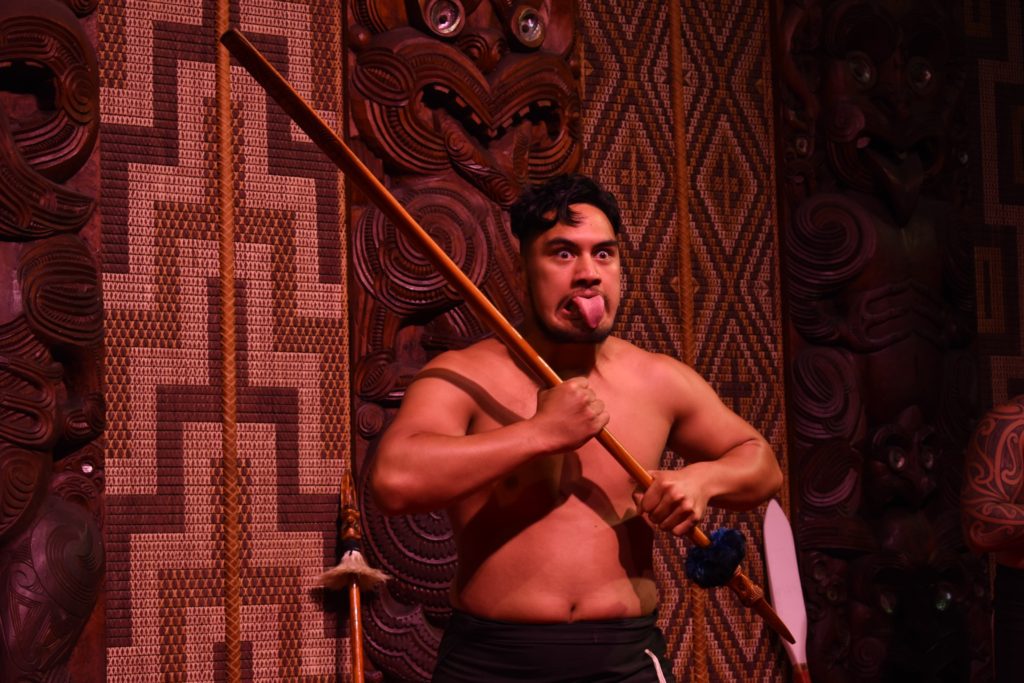 To get north to Fiji you have to wait for the right 'weather window'. Every ten days or so a low weather system sweeps east from across the Tasman Sea bringing strong winds and rain. The idea is to get in on the back of one of these and head north, hopefully getting good winds and weather and without having to motor too much, before the next low comes through. As the next weather window approaches conversation around the marina is focused on when it will be OK to set off; people are huddled over their laptops looking at possible passage plans on the PredictWind app and at emails from the New Zealand weather forecasting guru MetBob. Then a group of yachts set off and those of us left behind feel a bit anxious and disappointed that we're not on our way too. It is getting colder here too, especially at night. Even more reason to get going, north towards the sun.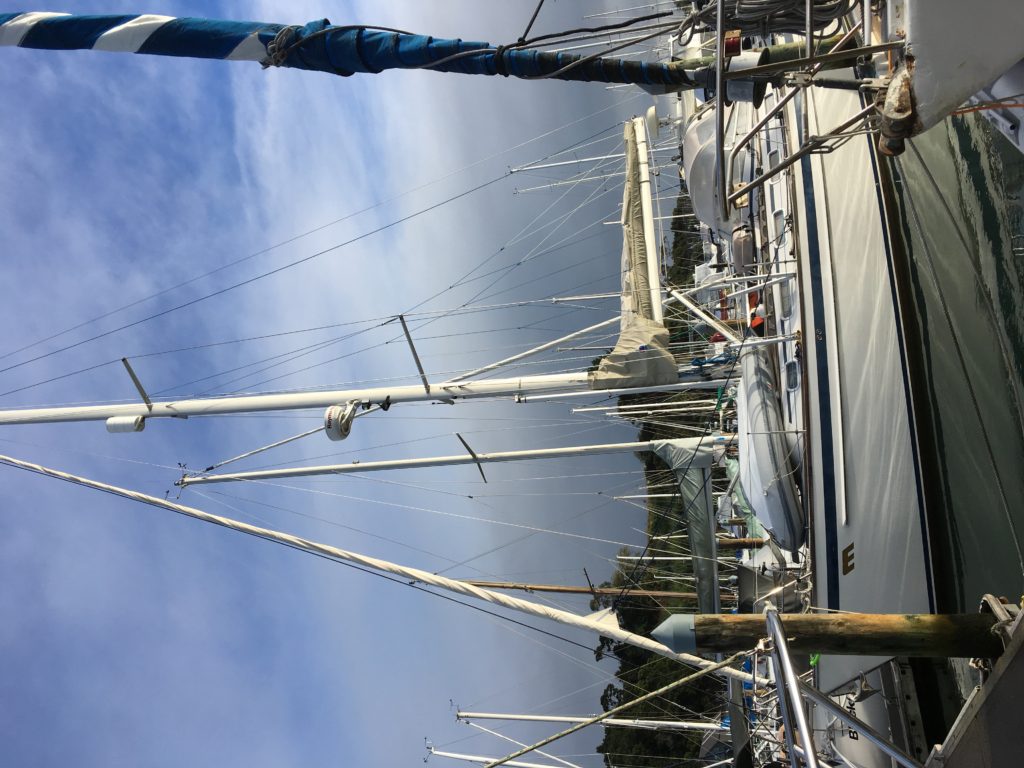 The Bay of Islands is a fabulous cruising ground of 188 islands as well as being a significant area historically, where the Māori first arrived from Polynesia 700 years ago and Captain Cook was the first European to visit in 1769. It was the first area in New Zealand to be settled by Europeans, whalers arriving towards the end of the 18th century and the first missionaries settling in 1814.
We are desperate to get out to do a shakedown sail, to check all is working ok on Vega and to see just a little of the Bay of Islands from the sea before we leave, but when we next run the engine to recharge the batteries it starts leaking diesel and coolant. We discover that the diesel return pipe is perished and the coolant hose has been cut through by the fan belt. A new coolant hose is ordered from Australia. It appears that there is a good weather window approaching for the following weekend and we are at last just about ready apart from this. John, the marine engineer puts a temporary fix on the coolant hose and we finally head out into the bay for a brief motor and short sail…. better than nothing.
We fill the tank and spare fuel containers with diesel and come Monday morning our new coolant hose has arrived and John fits it for us. We go to customs to check out of New Zealand, pay our bills at the chandlers and our marina fees, buy a few last minute provisions at the shop, fill up with water, say goodbye to friends at the marina and we are off at last, just after lunchtime.
We motor out into into the bay on a bright but overcast day, only 1200 nautical miles to Fiji, a little apprehensive since it's been seven months since we've done any sailing but glad to be away at last and hoping for an easy passage.