Sunday 10th June
We are now safely tucked up in the sheltered creek at Savusavu in Fiji after a rather unpleasant, at times, 1200 mile passage from the safety of the marina in Opua, getting used to hot and humid weather after the cold of New Zealand. A little behind on the blog but here is one from our trip to Sydney……
20th to 28th April 2018
We were more attracted to touring around New Zealand than seeing Australia. I had lived in Melbourne for a year with my family when I was 16 and had also spent two months in a hospital in Sydney as part of my medical school training in 1987, so felt that I had 'done' Australia. Hugh, well, he just wasn't that interested. But I had good friends John and Jenny living in Sydney, who I'd shared a flat with in West Kensington in London in the 1970s, and I hadn't seen them for years, as well as other friends and family there, and it was only a four hour flight from Auckland.
So we booked a flight through the bargain website e-dreams. Please, never book a flight through this website – we were relieved that we made it intact with our luggage although we almost didn't as I had overlooked the need to apply for an Australian visa (fortunately it was not too late to get one at Auckland airport).
Arriving in Sydney, the sun was out and the temperature considerably warmer than New Zealand. We caught the train from the airport to Circular Quay and then the ferry over to Mosman, where John and Jenny live. I had very happy memories of Sydney and it was a joy to be back in this fabulous, vibrant city. The trip across the inner harbour, passing the harbour bridge and the opera house must be one of the world's best commutes to and from work – many people live on the north shore and commute across the harbour by ferry to work in the city.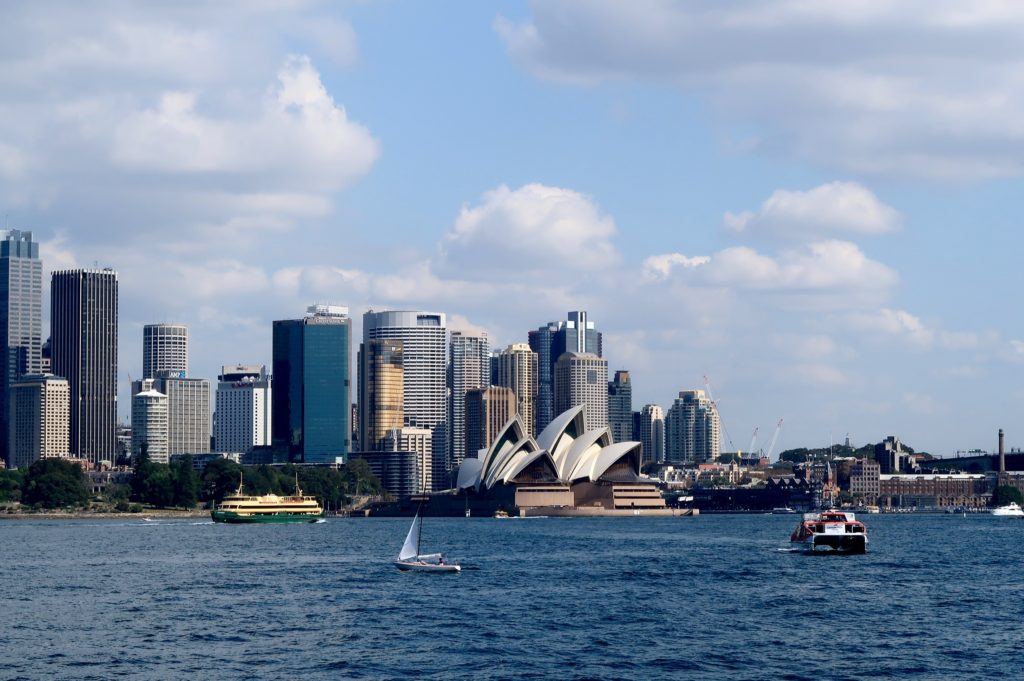 Jenny and John had very kindly invited us to stay. They were unchanged from when I last saw them some 20 years ago in Bristol, though I suppose we all look just a little bit older nowadays. They have a son Ed, who is a competitive runner at a high level, as testified by the number of trophies in their house and the cupboards full of running shoes. He was out on training runs, usually twice a day and had been competing in Switzerland in early April, as part of the Australian team in the World University Cross Country championships.
Tish, the sister of my ex partner Chris, her husband Ebbe and son Casper also live in Sydney and had invited us all over for a barbecue that night, two days before Tish headed off to England. It was great see them, to catch up and see their home. Sarah and Roger had us round for brunch just days before they too headed off to Europe. My parents and Sarah's had been good friends in Oxford since the 1940s, and I used to babysit for Sarah as well as sharing family holidays, so we have memories going back a long way.
Jenny and John live in Mosman on the Lower North Shore of Sydney in a house built in the 1890s. To get into the city we would catch the ferry from Mosman Bay, just down the road from their home, across the harbour to busy Circular Quay, right by the Sydney Opera House and the Harbour Bridge.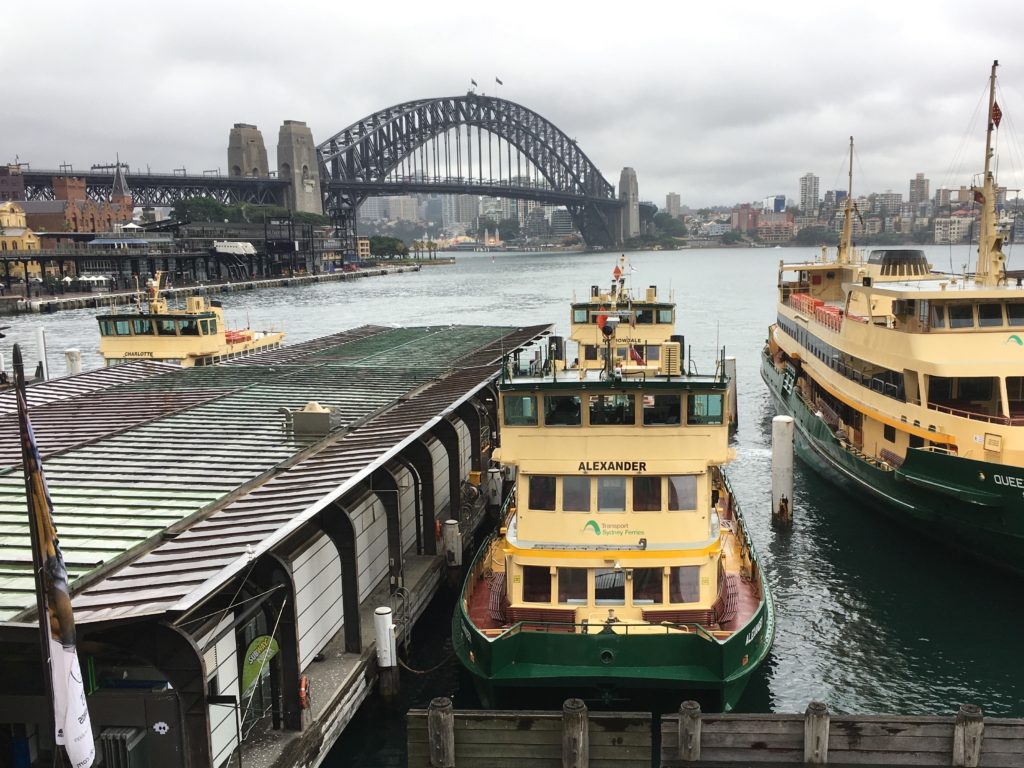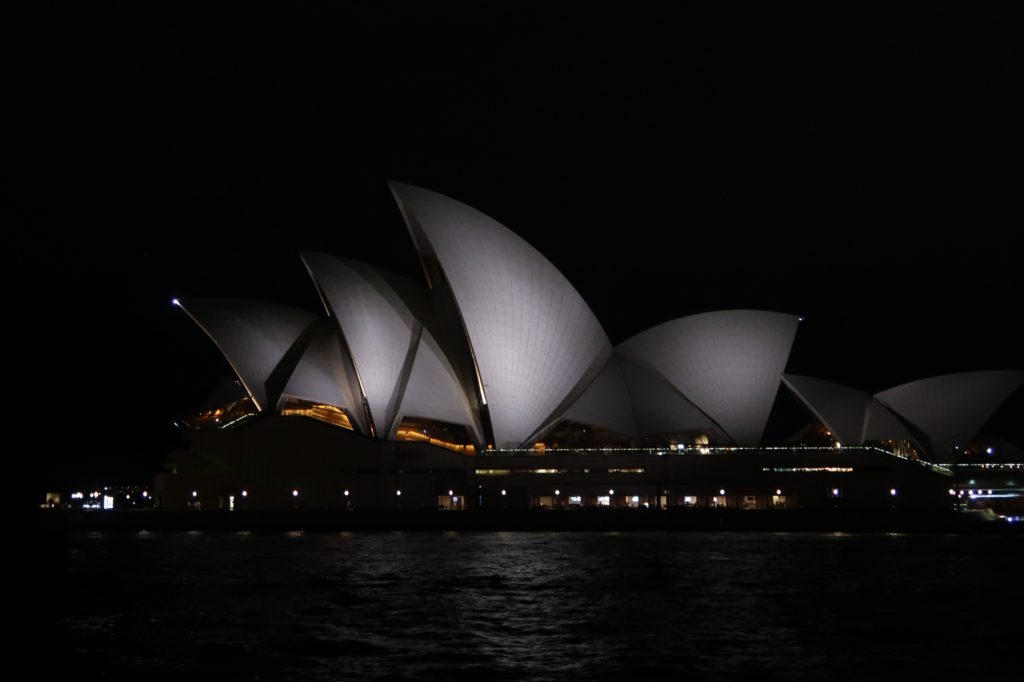 There are walking trails in quiet pockets of bushland along large parts of the harbour foreshore where the establishment of the Sydney Harbour National Park prevents further development, with yachts moored in pretty bays and views of the harbour bridge. We walked to a romantic spot, 'Curlew Camp', where in the 1980s a group of artists and bohemians lived in tents, painted and led an alternative lifestyle. We spotted a kookaburra in a gum tree and even a couple of koala bears (though this was by peering over the wall into Taronga Zoo where they lived). Some of the small bays have mesh shark nets enclosing safe areas to swim, but more recently many of the nets have been removed as shark attacks are so uncommon, the last fatal attack being over 50 years ago. We saw people jumping off their boat and swimming in the bay… we weren't sure that we'd be so brave; bull sharks are known to lurk here. Captain Cook of course never visited Sydney Harbour. Having first landed in Australia in April 1770, in Botany Bay, which is some 10 miles to the south of Sydney, he passed the entrance to Sydney Harbour, sailing north up the east coast little realising what a magnificent harbour lay out of sight past the headlands.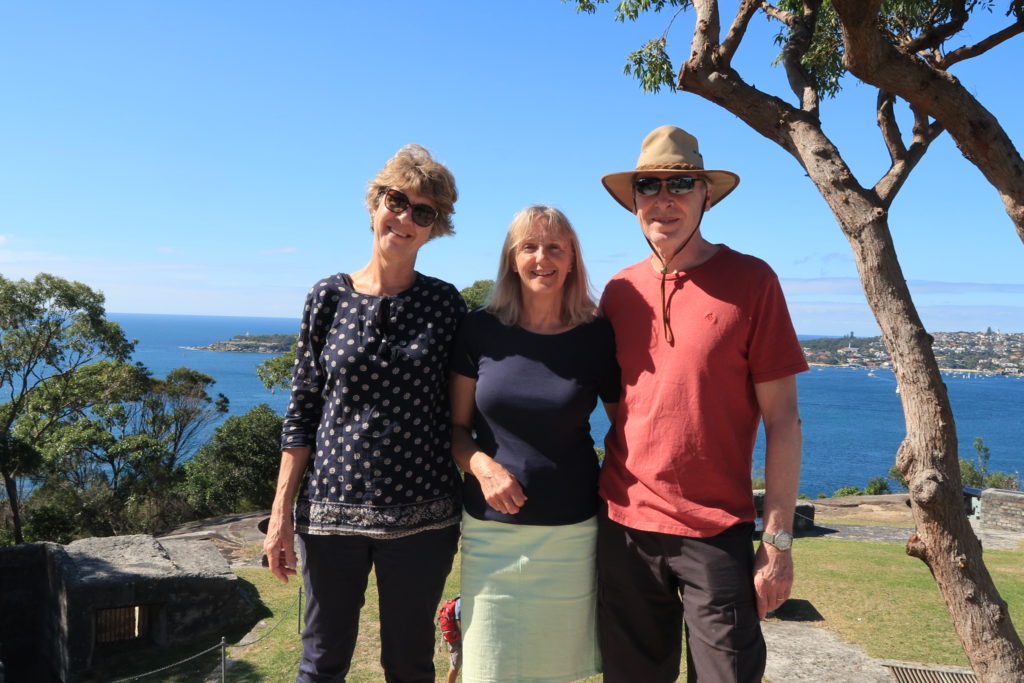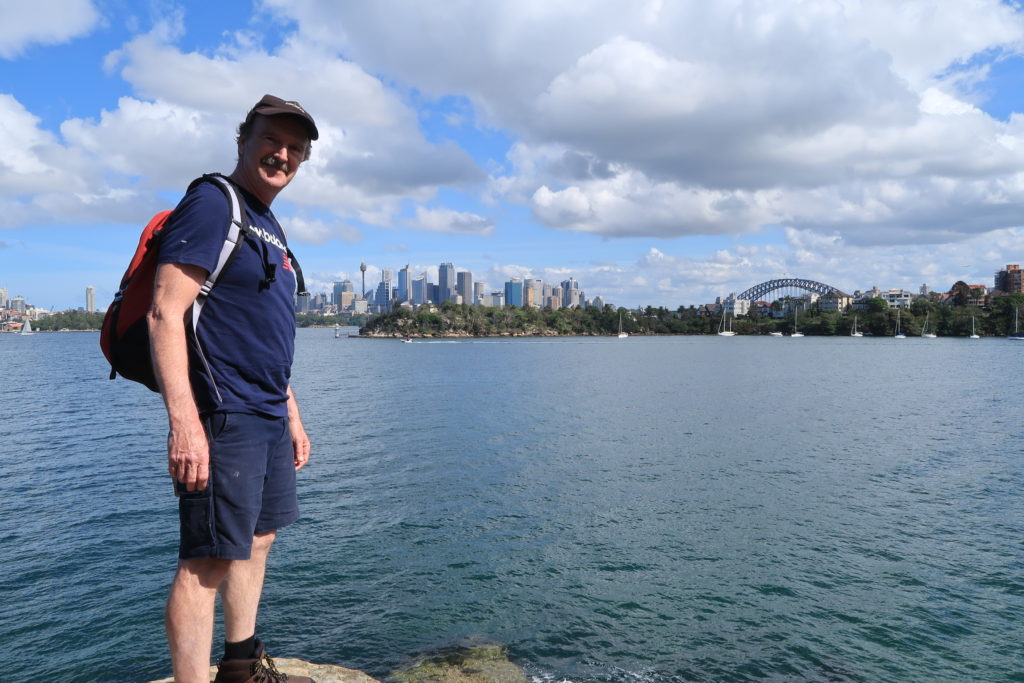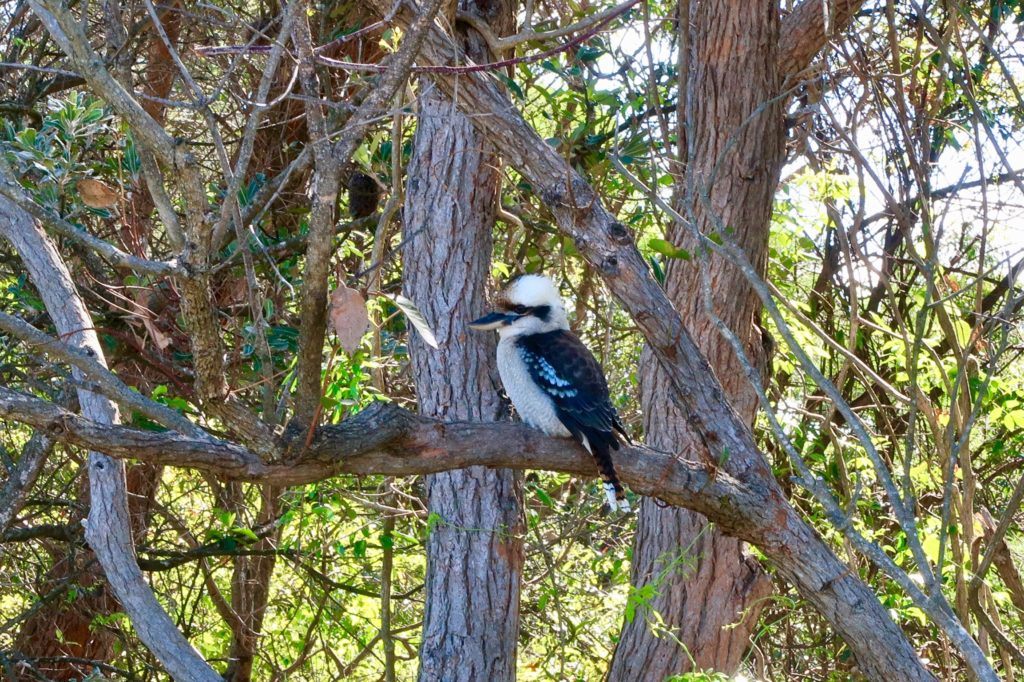 Australian birds and their calls are on a bigger scale than birds at home and we were woken each morning by a raucous 'dawn chorus' of screeching. Pairs of colourful parakeets ignored us as we walked down the road and at night fruit bats swooped around the trees overhanging the garden. Hugh was more worried about the arachnids but Jenny was reassuring that there are no funnel-web spiders in Sydney.
John and Jenny have a 'weekender' home in the hills above Berry, a small rural town some two hours drive south of Sydney. They were buying the plot of native bush when I visited them in Australia in 1987/88 and had since built a brick bungalow on it (apparently wooden houses get eaten by termites), hidden from the winding hill road down a drive and surrounded by tall eucalyptus. From the verandah there were views out across the bush and down to the coast, miles below. We walked up a steep trail to Drawing Room Rocks for more views over the bush stretching out below from the escarpment.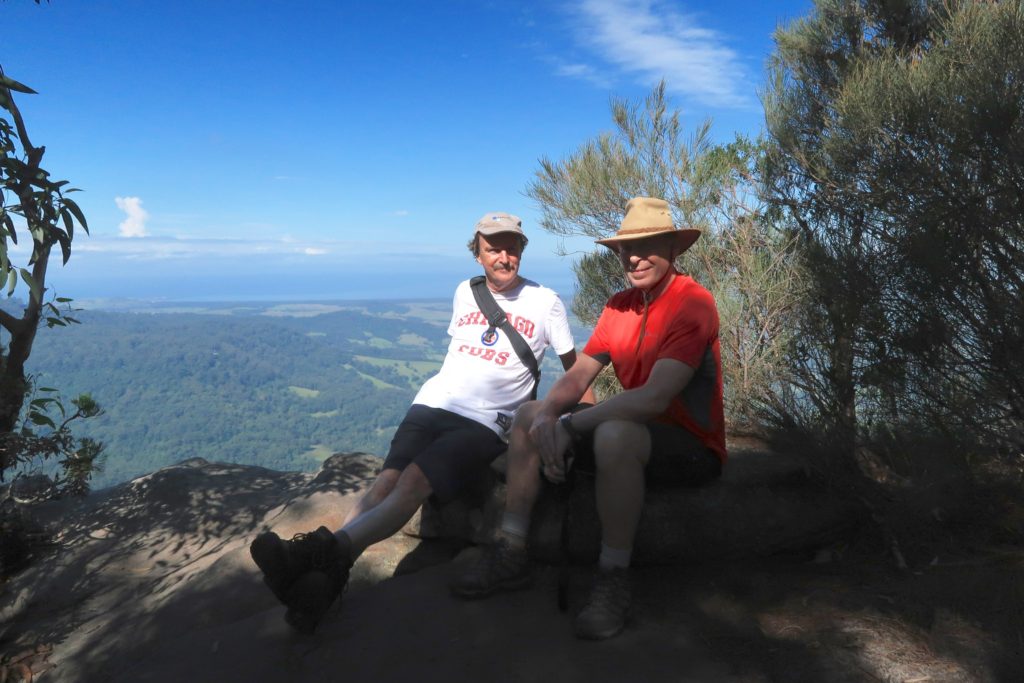 We also took the train out from Sydney to Katoomba In the Blue Mountains. The small town was crawling with tourists of all nationalities. The main attraction is the Three Sisters, rock formations caused by erosion of sandstone by wind, rain and rivers which according to Aboriginal legend are three sisters turned to stone to prevent them running off with men from another tribe. The lookout point there was crowded with people taking selfies. The landscape beyond seemed to stretch out endlessly suggesting the vastness of this country. I was engaged in conversation by an elderly Polish gentleman who explained why the the Blue Mountains are so named …. due to the blueish haze in the air from eucalyptus oil. As I said goodbye he gave me a leaflet about how The Lord would save my soul.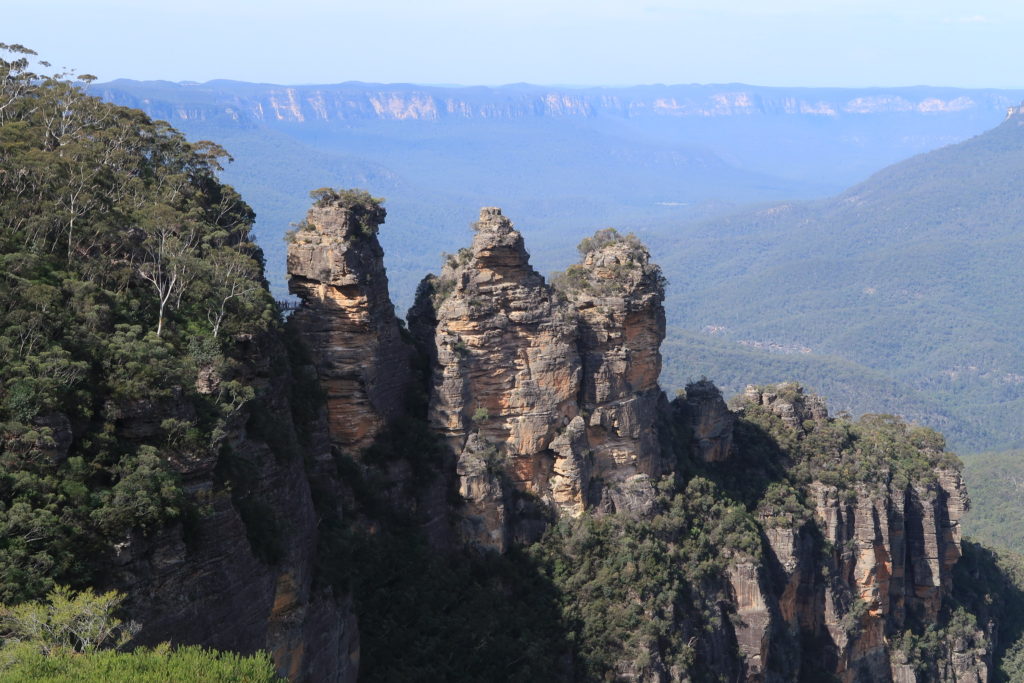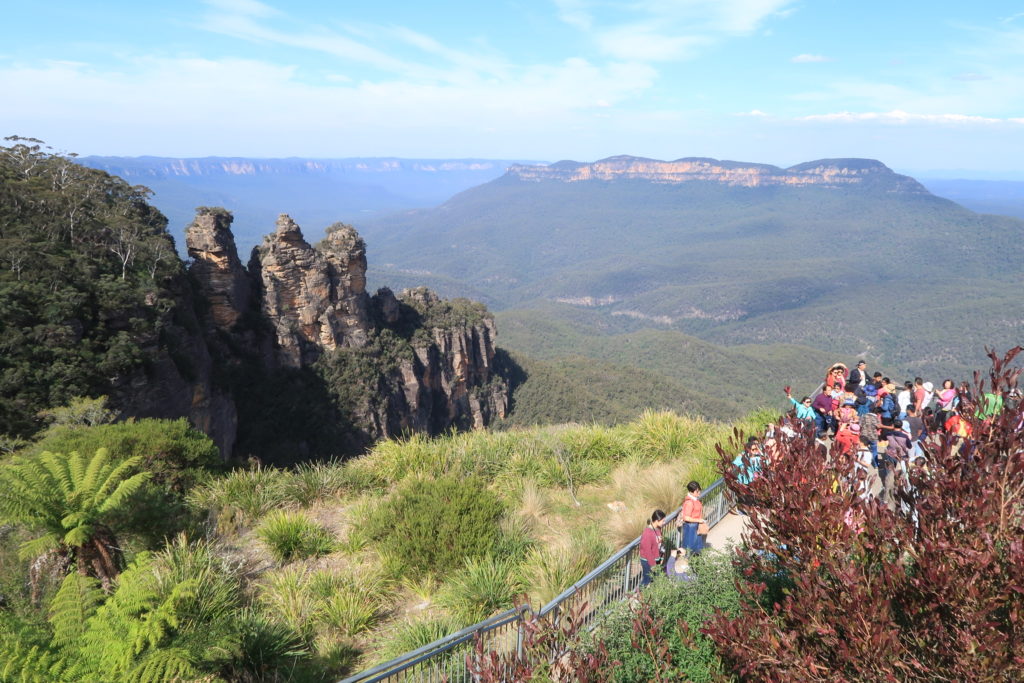 We descended down the 800 'Giant Steps' to the valley below and followed a path through the bush for a few miles. In a clearing a turkey bird came to share our energy bars. It was very peaceful with only the occasional other walker, though Australian bush is never quiet due to the many loud and harsh bird calls. Then a steep climb back up to the top of the escarpment, past waterfalls.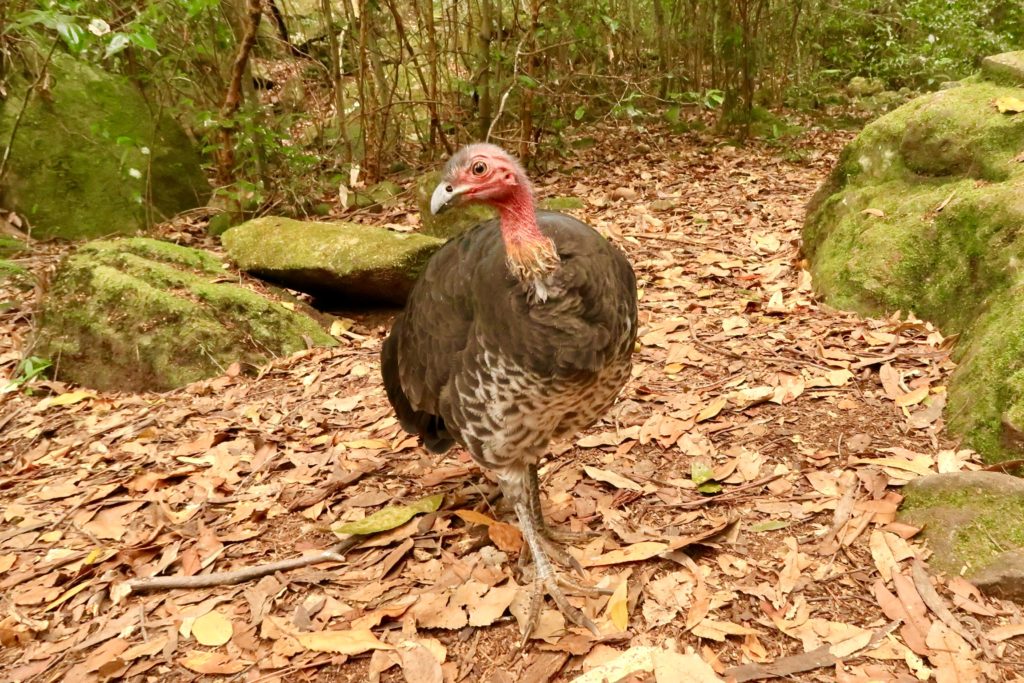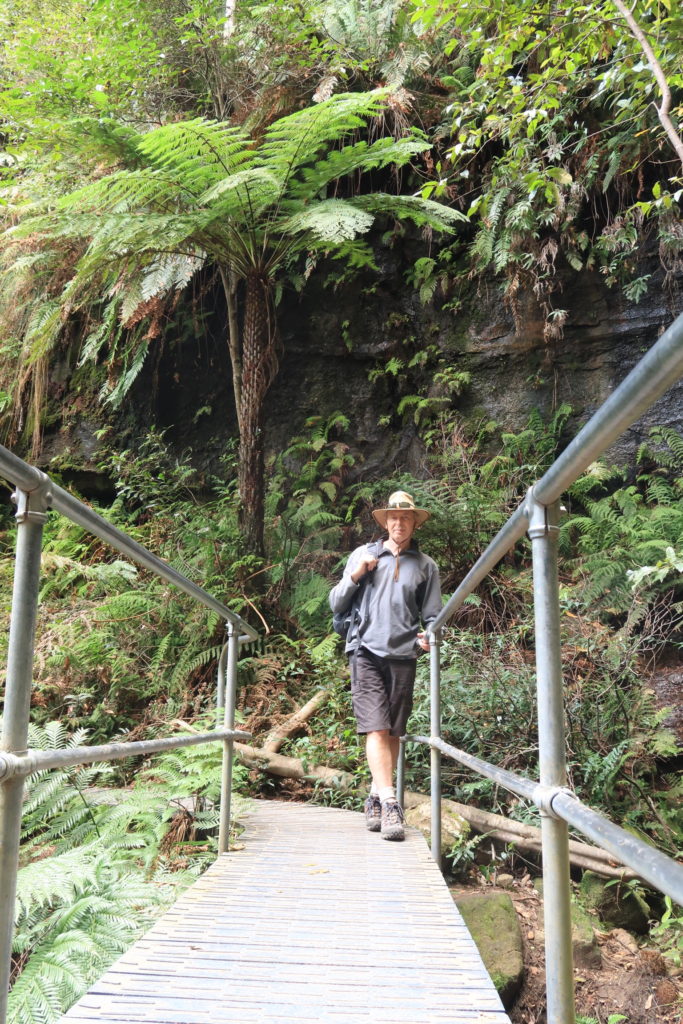 We were good tourists and went to see the Sydney Opera House but from the outside only – unfortunately there weren't any operas being performed whilst we were there. The city has a vibrant feel with new and old architecture complementing each other. It is prosperous and house prices have skyrocketed in recent years, particularly in the wealthier suburbs and probably influenced by Chinese immigration and investment. As I remembered from my time here in 1987 Sydney has many good restaurants with food from around the world. We went to two great Thai restaurant and for Hugh's birthday ate at an excellent Southern Indian restaurant, with delicious Masala Dosas.
We caught the bus to Bondi Beach through the suburbs of Southern Sydney. The beach is a wide expanse of windswept sand and swimmers are kept at one end of beach in a narrow area between flags and under the eye of the lifeguards. I made sure to keep other swimmers between me and any sharks that might be lurking out there and had an exhilarating swim in the surf.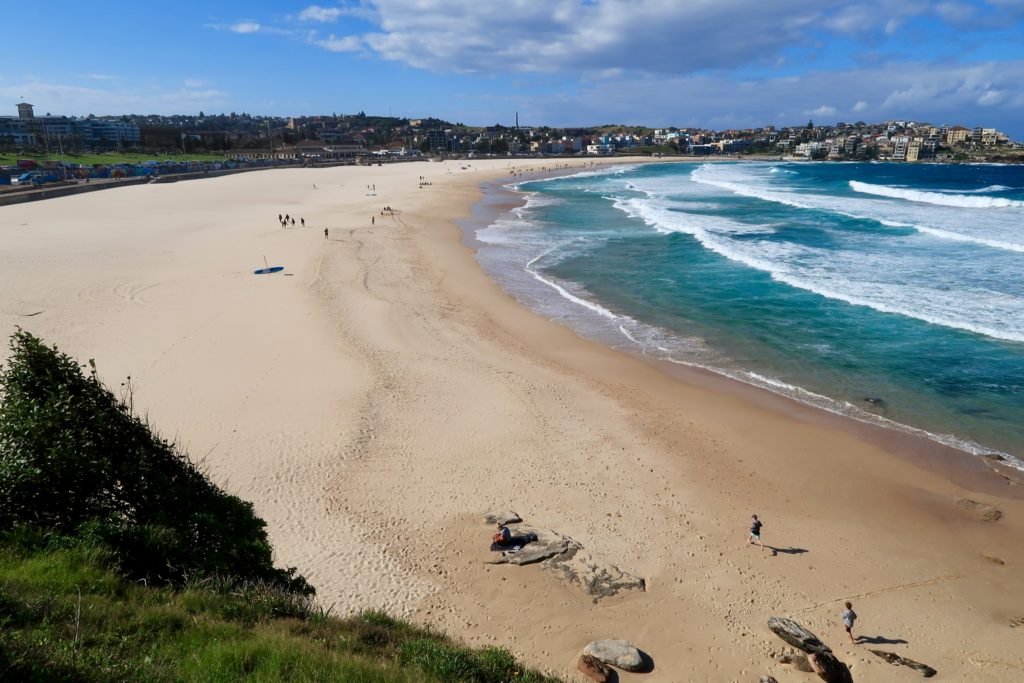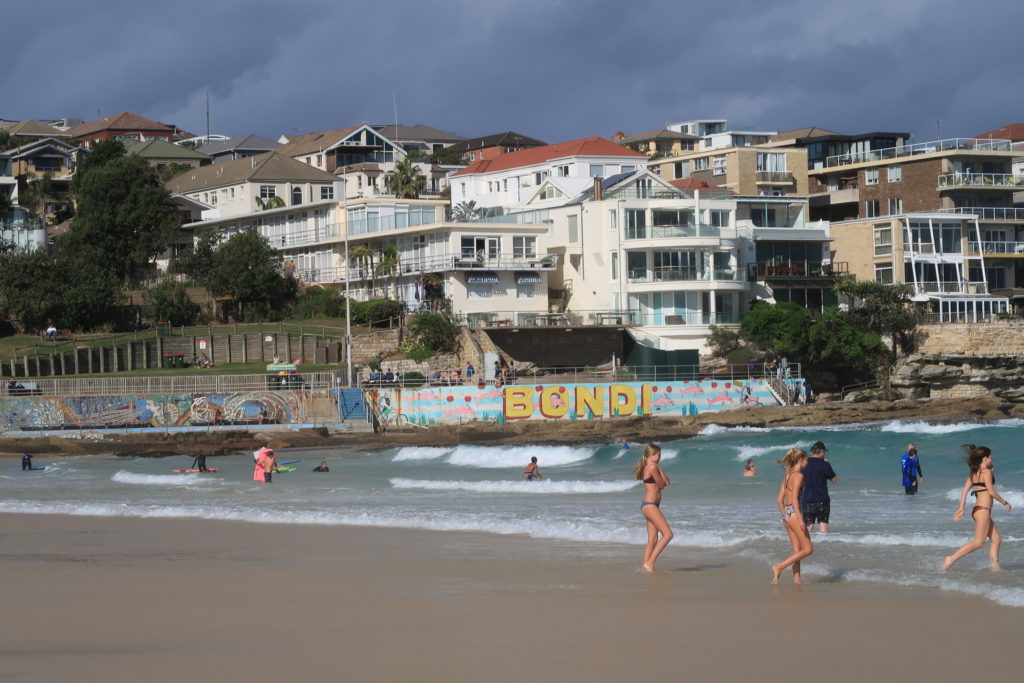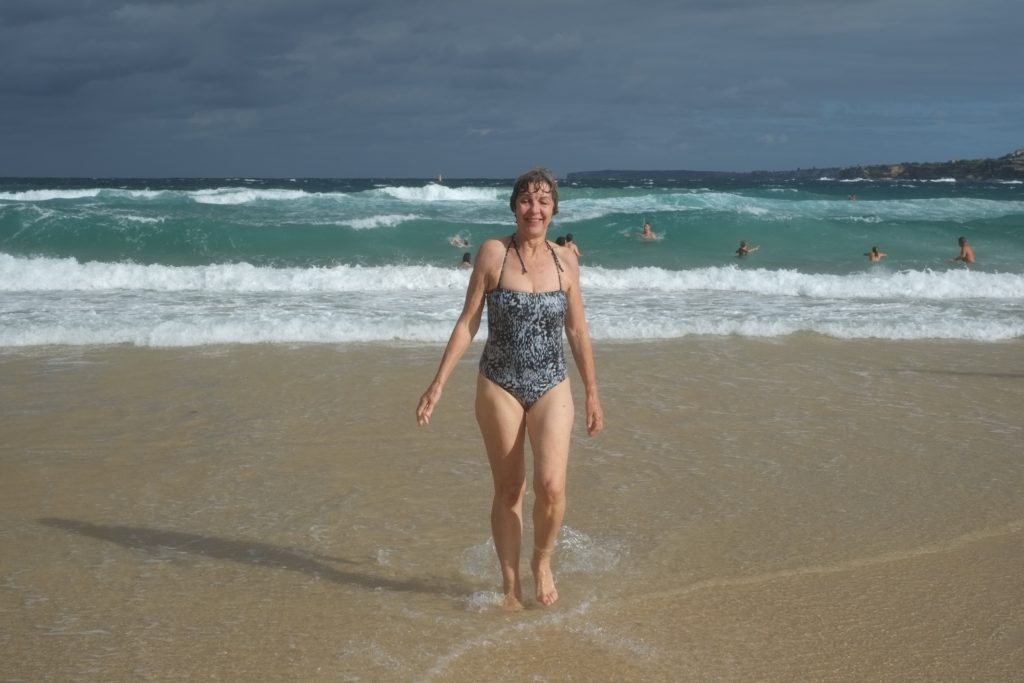 We finished the week with a Squeeze Concert, the venue crammed full of other similarly more mature punters. Hugh recalls taking his sons to see Squeeze in the 1990s. Even I knew the words to most of their greatest hits.
At Sydney airport we were a little concerned for a moment that we wouldn't be allowed to board the flight to Auckland (we had no 'plane ticket to evidence that we would eventually be leaving New Zealand). After showing all our boat documentation, letter from marina, sailing itinerary etc and the airline had checked with NZ Immigration, we were finally allowed to board.
Up until recently our plan for 2018 had been to leave New Zealand for Fiji in May, after the end of the cyclone season in the South Pacific, then sail via New Caledonia, Vanuatu, the Solomon Islands and Papua New Guinea to Darwin, Northern Australia, in time to join a rally through Indonesia to arrive in Singapore for October. We have increasingly realised that it is just not feasible to try to fit in so much in just six months and since visiting Sydney we want to see more of Australia. So we will end this year on the east coast of Australia, maybe around Brisbane, and continue on through Indonesia next year.